Sizzling Gambas with garlicky tomato sauce has all the big, bold flavors you'll love! This spicy shrimp dish is easy to make and delicious as an appetizer or main entree.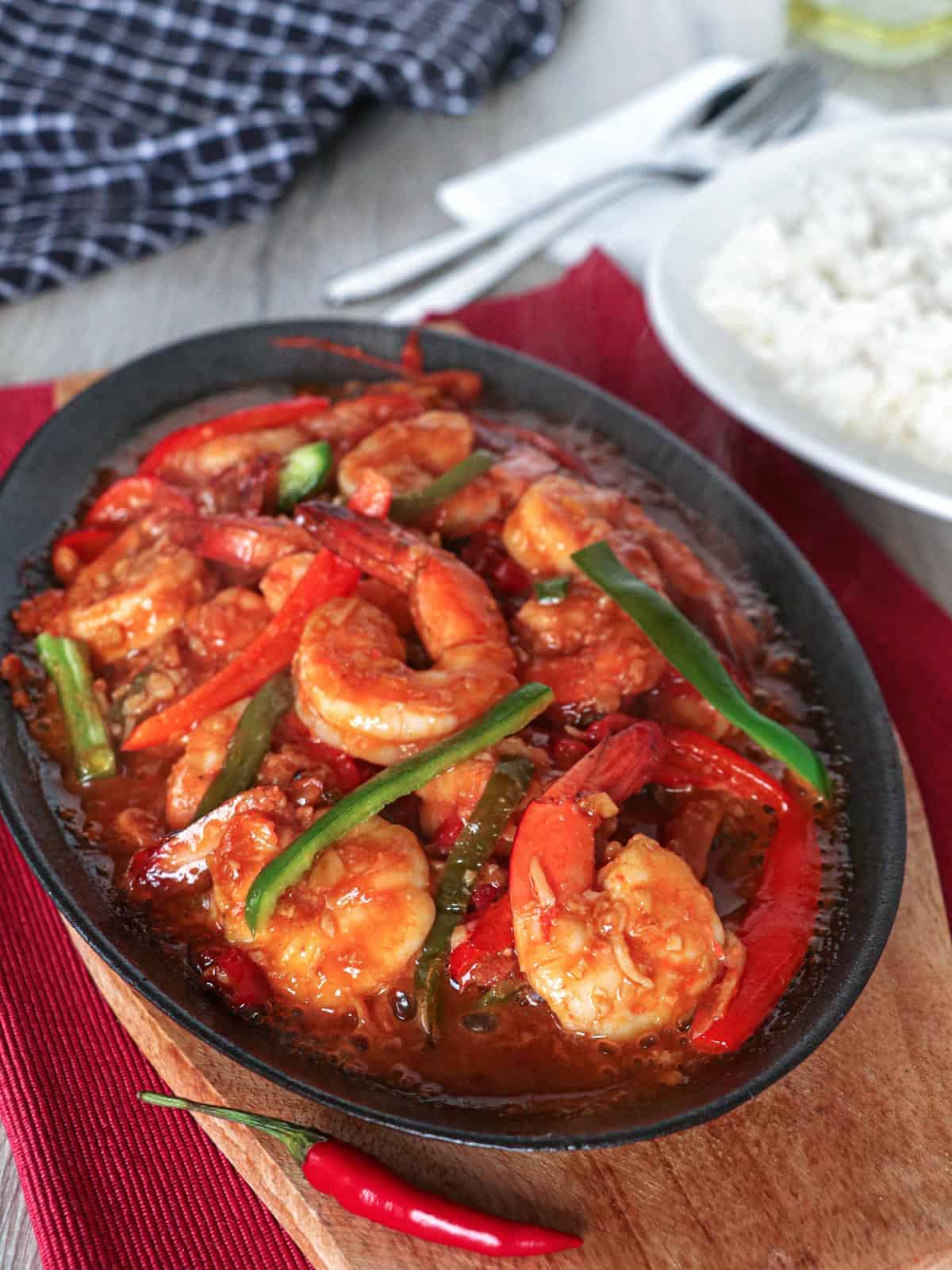 Want to level up your seafood game? Gambas al ajillo recipe is easy on prep yet big on flavor. It requires simple ingredients and is ready in no time. You'd be pleased with how tasty it turns out in minutes!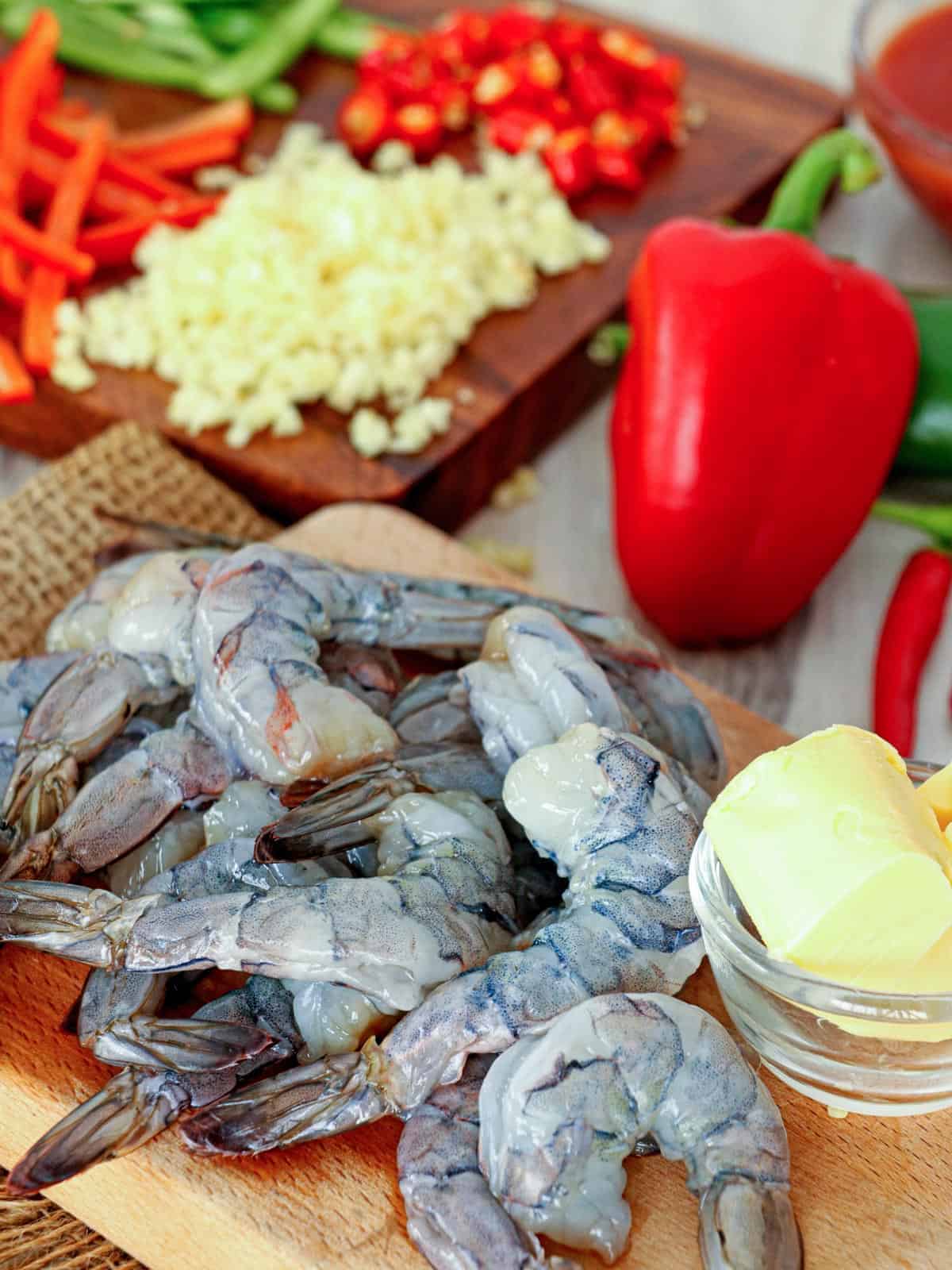 What is sizzling gambas
Sizzling gambas is a classic Spanish dish usually offered in tapa bars as an appetizer and served as a full meal with rice, pasta, or bread. Traditionally made of prawns, dry sherry, olive oil, garlic, and spices such as sweet paprika and red pepper flakes, it has been adapted to fit our local ingredients.
These spicy garlic shrimp are a great party food or a main dish. The garlicky pan juices are delicious, sopped up with crusty bread or spooned over steamed rice.
Like sisig, the dish is commonly served at the table in "sizzling" metal plates for presentation and prolonged heat.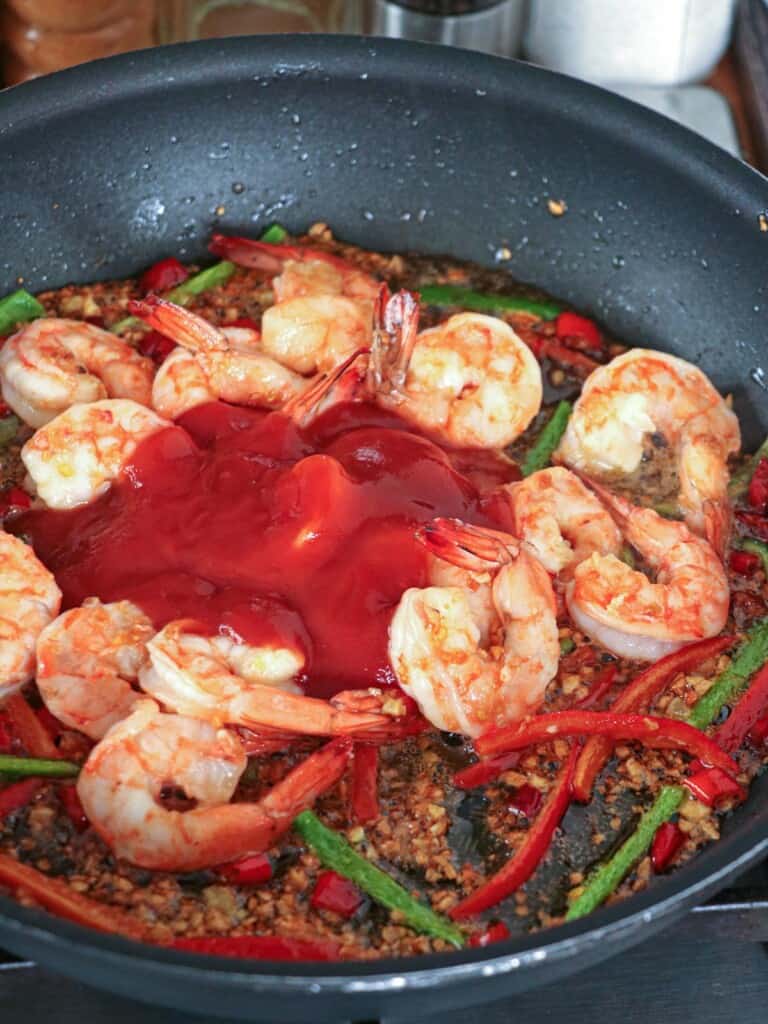 Cooking tips
For best results, use shell-on shrimp and peel them yourself. Already peeled frozen shrimps tend to take on a rubbery texture when cooked. Choose the freshest seafood you can find as it will make a big difference in the flavor.
Drain the shrimp very well. You want them to sear nicely and not cook in their own steam.
Garlic is the heart of this dish, imparting a wonderful flavor and aroma to the dish, but it does burn rather quickly. As with my beef salpicao, I cook the garlic in warm (not hot) oil to draw out maximum flavor as it gently browns.
Once the oil is infused with flavor and the garlic is lightly brown, crank up the heat to high before adding the rest of the ingredients. You want to sear the shrimp quickly and not overcook and toughen.
In the mood for other seafood? Substitute bay scallops!
I use Chinese cooking in the recipe, but dry sherry, white wine, or cognac work as well. For a non-alcoholic option, you can use apple cider diluted with water.
You can skip the bread topping if you like, but it does add a buttery crunch to the dish. You can also toss in about one tablespoon of ground pili or almond nuts to the crumb mixture for added texture.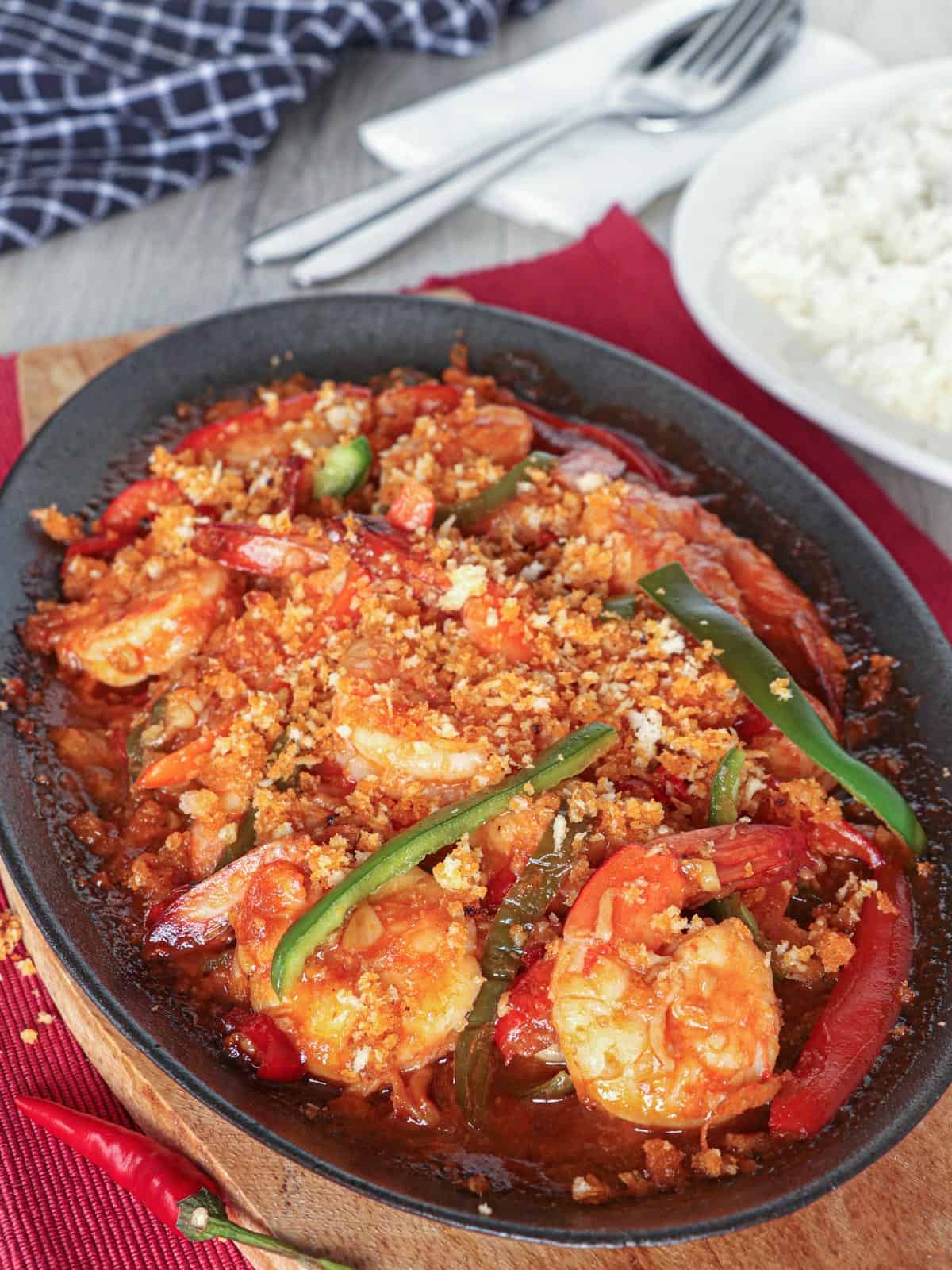 How to store leftovers
Spicy shrimp in garlic is best enjoyed freshly cooked as they tend to toughen with prolonged cooking. To store for future use, skip the bread crumb topping as it will taste stale over time.
Allow the leftovers to cool, and transfer them to a container with a tight-fitting lid. Refrigerate for up to 3 days.
To reheat, place the shrimp in a single layer on a lightly greased pan over medium heat—Cook for about 2 to 3 minutes on each side.
Spicy Garlic Shrimp are easy to make and delivers big, bold flavors. Delicious as an appetizer or main dish. Sop up the garlicky pan juices with crusty bread or spoon over piping hot steamed rice!
4 Servings
Ingredients
1 pound large shrimp, peeled, deveined, leaving tail intact
2 tablespoons cold butter
1 tablespoon canola or olive oil
1 head garlic, peeled and minced
4 Thai chili peppers, stems trimmed and minced
½ small red bell pepper, seeded, cored and cut into thin strips
½ small green bell pepper, seeded, cored and cut into thin strips
2 tablespoons Chinese cooking wine
½ cup tomato sauce
salt and pepper to taste
¼ cup Panko bread crumbs
Instructions
In a wide pan over medium-low heat, add butter and oil.

When butter just begins to melt, add garlic and chili peppers. Cook, stirring occasionally, for about 1 to 2 minutes or until garlic lightly browns.

Increase the heat to high, stirring regularly to prevent garlic from burning.

Add bell peppers and cook, stirring regularly, until tender-crisp.

Add shrimp and cook, stirring regularly, for about 2 to 3 minutes or just until color changes.

Add wine and cook, stirring regularly, for about 1 minute or until wine is almost absorbed.

Add tomato sauce and continue to cook, stirring and tossing regularly, for another 2 to 3 minutes or until shrimp are cooked and sauce is thickened.

Season with salt to taste. Remove shrimp from pan and transfer onto sizzling plates.

Add bread crumbs to the pan and cook, stirring regularly, for about 1 minute or until lightly browned (the bread crumbs will absorb some of the leftover sauce in the pan).

Sprinkle bread crumbs over gambas and serve hot.
"This website provides approximate nutrition information for convenience and as a courtesy only. Nutrition data is gathered primarily from the USDA Food Composition Database, whenever available, or otherwise other online calculators."