Rich, silky-smooth, and with a hint of tropical flavor, this coconut flan is a delicious sweet treat that's a sure crowd-pleaser.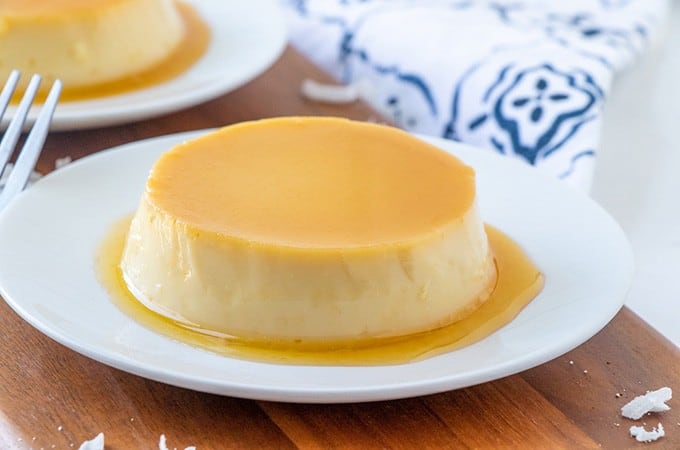 If you love leche flan, then you've to the right place because it's a favorite around here, too! In fact, I love this creme caramel so much I have many versions of it on the blog such as coffee, dulce de leche, cheesecake, and coconut flan.
Other than these tasty flavors, I also have delicious mash-ups pairing the custard with other Filipino classics like ube halaya and graham cake. Make sure to check them out and treat yourself to two-in-desserts!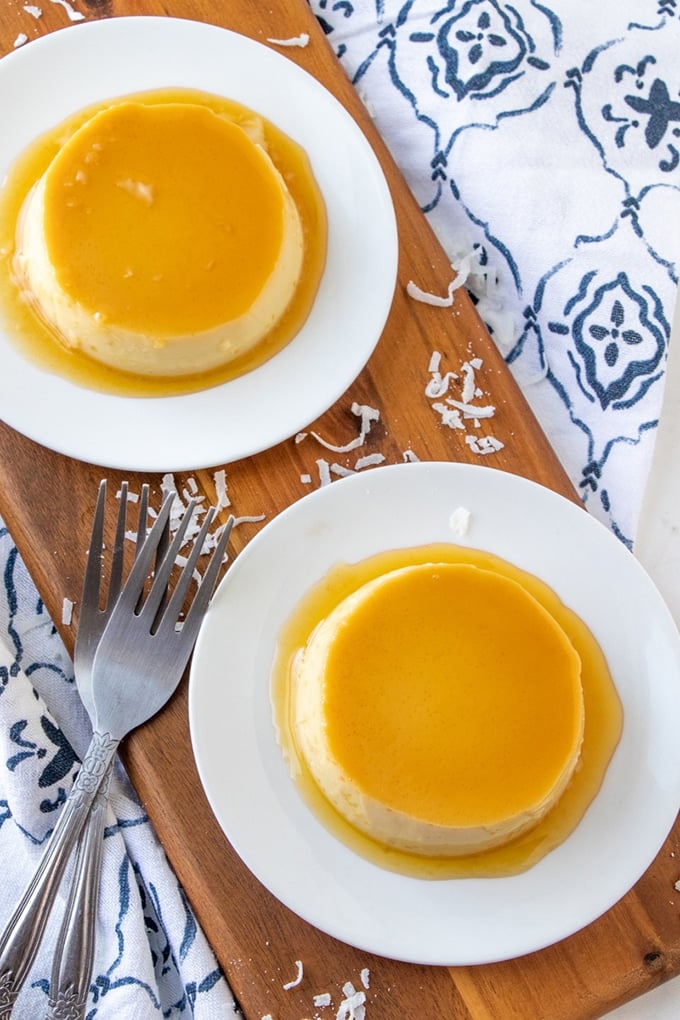 What sets this coconut custard from our traditional flan is that part of the evaporated milk is swapped with coconut milk. It also uses whole eggs for less waste, and the caramel topping is done in the microwave for less work.
Rich, silky-smooth, and with a delicious hint of tropical flavor, it makes a great addition to any dessert menu!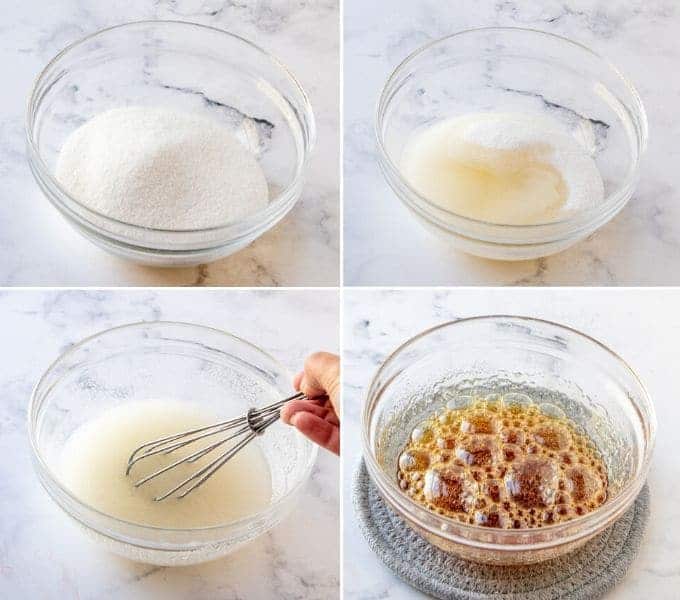 How to make caramel
You can caramelize the sugar in a saucepan on the stovetop using the dry or wet method. The quickest and easiest way, however, is in the microwave.
To accurately gauge the change in color, use a clear or light-colored microwave-safe bowl.
Remove the caramel from the microwave a share lighter than desired as it will continue to cook and darken in the residual heat. Go for a honey-gold tone as the caramel bitters as the color deepens.
Pour in the ramekins immediately as it will thicken and harden as it cools.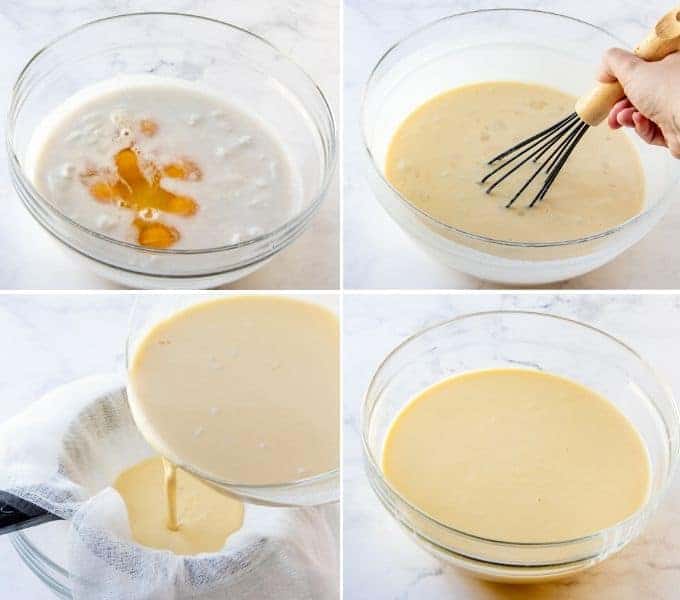 Coconut custard mixture
For another layer of flavor, add ground cinnamon to taste.
Whisk the eggs together with the condensed milk before adding evaporated milk to make mixing easier.
Stir in one direction to keep from introducing too many bubbles in the mixture. Gently tap the ramekins on the counter to release any trapped air pockets.
Strain the mixture using a cheesecloth or fine-mesh sieve to remove any stray egg whites for a smooth consistency.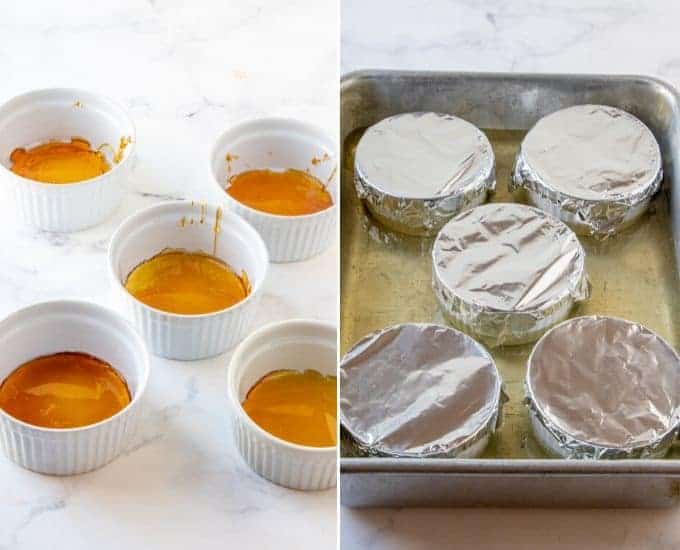 Cooking tips
If baking the flan in the oven, makes sure to use a water bath for a gentle and even cooking temperature. If steaming,  cook low and slow to prevent from overheating or overcooking the custard which may result in a coarse consistency.
I used 1-cup size ramekins but you also use round cake or bundt pan, llaneras, or muffin tins.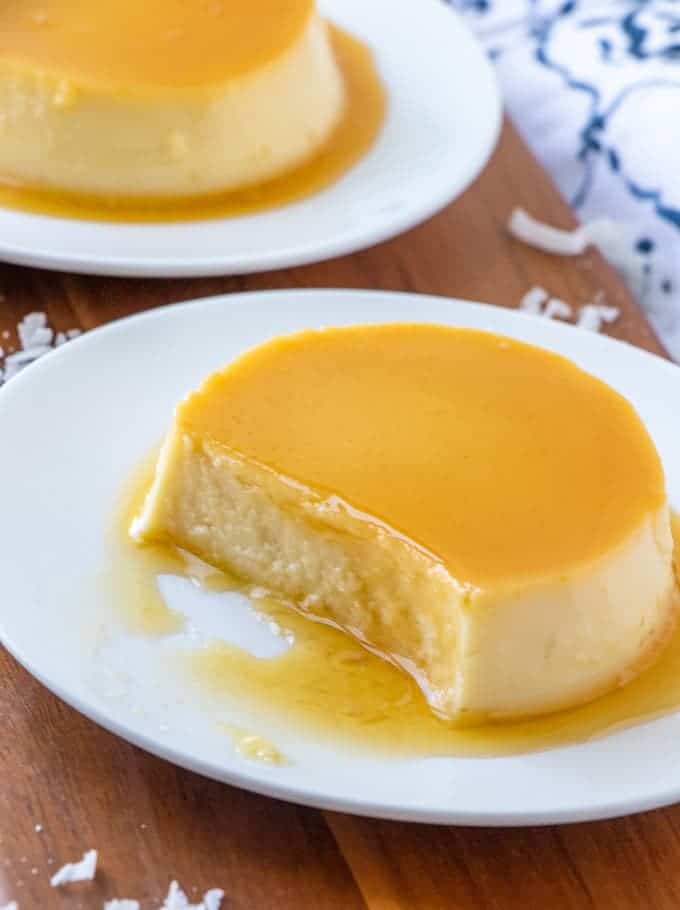 How to serve
Flan de coco is best served chilled. Enjoy as a midday snack or after-meal dessert.
Top with toasted shredded coconut or sweetened macapuno strings for an extra special treat.
The custard will keep in the refrigerator for up to 3 days.  Store in the ramekins and covered in foil or transfer in a container with a tight-fitting lid to extend freshness.
Coconut Flan
Flan de Coco is easy to make using a simple hack of caramelizing sugar in the microwave. It's sweet and creamy with a hint of tropical flavors the whole family will love.
Ingredients
1

cup

sugar

1/4

cup

water

6

eggs

1

can

(13.5 ounces) coconut milk

1

can

(12 ounces) evaporated milk

1

can

(14 ounces) condensed milk
Instructions
In a microwave-safe bowl, combine sugar and water. Stir well until sugar is completely dissolved. Microwave on high for about 6 to 7 minutes or until color changes to honey-gold.

Immediately pour caramel into the 6 ramekins, swirling to fully cover the bottom.

In a medium bowl, combine eggs, coconut milk, evaporated milk, and condensed milk. Gently stir in a circular motion until blended.

With a cheesecloth or fine-mesh sieve, strain egg-milk mixture. Pour strained mixture into prepared ramekins.

Cover ramekins with foil and arrange in a wide, oven-safe dish with about 1-inch of water (water bath).

Bake in a 375 F oven for about 40 to 45 minutes or until a toothpick inserted in the middle of custard comes out clean.

Remove from oven, allow to cool and refrigerate to completely set.

To serve, turn flan over on a serving plate, ending with caramel on top.
Nutrition
Calories:
609
kcal
|
Carbohydrates:
77
g
|
Protein:
16
g
|
Fat:
28
g
|
Saturated Fat:
20
g
|
Cholesterol:
203
mg
|
Sodium:
218
mg
|
Potassium:
624
mg
|
Sugar:
75
g
|
Vitamin A:
555
IU
|
Vitamin C:
3
mg
|
Calcium:
378
mg
|
Iron:
3
mg