Spanish-style Sardines Bangus in Oil in Oil is easy to make in the pressure cooker and so delicious with steamed rice! And great for gift-giving, too!
We kicked off our holiday recipe series a few weeks with a party-worthy ham with pineapple made easy in the slow cooker and today, I'm following it up with a spicy sardines bangus in oil that's sure to thrill your tastebuds!
Sardinas is not exactly what comes to mind when planning a Noche Buena feast and if you're wondering why I'm including it on our list, it's because like my yummy tropical magic bars, Spanish-style milkfish are great for gifting. If you're on a tight budget this year or just want to make something special for the people in your life, homemade food gifts are a delicious way to spread Christmas cheer.
Ingredients
You can adjust the amounts to suit your personal tastes and double or triple the batch depending on the size of your pressure cooker.
Bangus/milkfish- if you have access to baby bangus, so much better!
Olive oil- or other neutral-tasting oil such as corn, canola, or vegetable oil
Carrots-cut into florets for a decorative touch
Green olives-pitted
Sliced Pickles- use sweet gherkins for a touch of sweetness
Garlic, peppercorns, bay leaves-for depth of flavor
Thai chili peppers-add more or less depending on the desired level of heat
Cooking instructions
Clean and gut the fish, but leave the scales intact. Slice into serving portions, keeping in mind the size of the jars you're using for storage.
Soak in a salt solution for about 30 minutes to improve flavor and help the fish retain moisture.
Make sure to use rock salt and not regular table salt.
Layer the bay leaves, carrots, and garlic on the bottom of the pressure cooker first to keep the milkfish from sticking.
Arrange the fish in a single layer over the carrots and aromatics. Top with the sliced sweet pickles, pitted green olives, chili peppers, and peppercorns.
Season with rock salt. If using regular table salt, decrease the amount.
Pour the olive oil over the fish. You can substitute corn, canola, or other vegetable oil as a more cost-effective option.
If substituting, make sure to use a neutral-tasting oil lest it affects the flavor of the dish.
Add enough water to cover the milkfish at about one inch. Depending on the width of your pressure cooker, it will take about 2 to 3 cups.
This will look like a lot of liquid, but the water will evaporate during cooking, leaving the foil only.
While you can make this homemade sardines in a regular pot over low heat,  pressure cooking allows even the bones and scales to become soft and tender without the fish falling apart.
The cooking time begins when the pressure cooker valve whistles as it means the inside has come to pressure.
Most pressure cookers have a safety mechanism that keeps them from opening until the pressure is released. Carefully lift the valve with tongs until all the pressure dissipates.
DO NOT try to open the lid during cooking.
I usually make just enough to enjoy for a meal or two and transfer leftovers in an air-tight container. Stored properly, the sardines keep in the refrigerator for up to 3 days.
To prolong life, use sterilized jars. Check out the steps below and visit the National Center for Food Preservation for canning guidelines.
How to sterilize jars
Check jars for any cracks or chips. Discard the jars if there's any.
Wash empty jars in hot water with detergent and rinse well by hand, or wash in a dishwasher. Unrinsed detergents may cause unnatural flavors and colors. Soak for a few hours in a solution containing 1 cup of vinegar (5 percent acidity) per gallon of water as needed to remove any scale or hard-water films.
To sterilize, place the cleaned jars right side up on the rack in a boiling-water canner and fill the canner and jars with hot (not boiling) water to 1 inch above the tops of the jars. Boil 10 minutes at altitudes of less than 1,000 ft. Add an extra one minute for boiling time for each additional 1,000 ft elevation.
When ready to fill, remove and drain hot sterilized jars one at a time.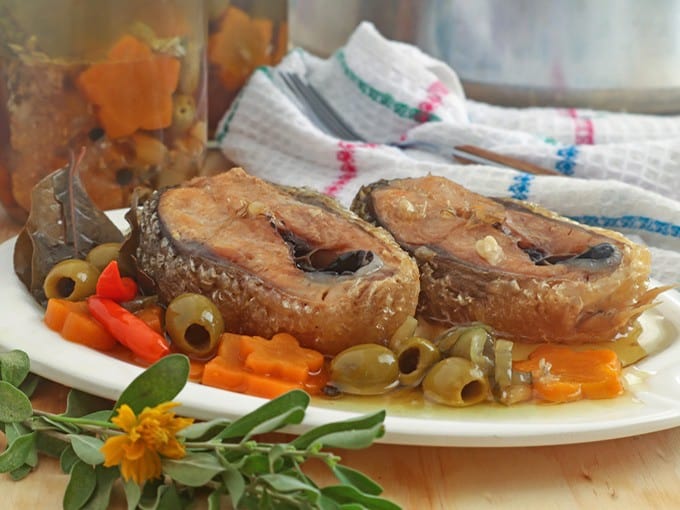 Serving suggestions
Serve this homemade sardines bangus for breakfast, lunch, or dinner with piping hot steamed rice. Or enjoy as a midday snack and use as a sandwich filling for tasty bread or pandesal.
Turn into an easy version of Bangus sisig by tossing with chopped onions, minced chili peppers, and freshly squeezed calamansi juice. Great as an appetizer!
Homemade Spicy Sardines Bangus in Olive Oil is easy to make in the pressure cooker and a delicious way to enjoy your favorite fish. Super tender and delicious and great for gift-giving, too!
6 servings
Ingredients
water
rock salt
2 large bangus, cleaned, gutted, and cut into serving portions but leaving scales intact
¼ cup bay leaves
1 large carrot, peeled and cut into florets
1 head garlic, peeled and crushed
¼ cup green olives, pitted
¼ cup sweet gherkins pickles, sliced
1 tablespoon peppercorns
4 Thai chili peppers
2 cups olive oil
Instructions
In a large bowl, combine 6 cups cold water and ¾ cup rock salt. Stir until salt is dissolved.

Add bangus and soak for about 30 minutes. Drain well, discarding liquid.

In a pressure cooker, layer bay leaves, carrots, and garlic to cover the bottom of the cooker.

Arrange fish in a single layer over the vegetable and spices.

Evenly distribute green olives, sliced sweet pickles, peppercorns, and chili peppers.

Season with 1 tablespoon rock salt.

Add olive oil over the fish.

Add enough water to fully cover the fish at about 1 inch.

Close and lock the lid of the pressure cooker. Cook over medium heat until the valve begins to whistle.

Lower heat and continue to cook for 1 hour and 10 minutes.

Turn off the heat and release the pressure by lifting the valve with tongs.

When the pressure fully dissipates, carefully open the pressure cooker lid and allow the sardines to cool.

Transfer into airtight containers or sterilized jars if using.
Video
"This website provides approximate nutrition information for convenience and as a courtesy only. Nutrition data is gathered primarily from the USDA Food Composition Database, whenever available, or otherwise other online calculators."