Korean BBQ Bulgogi flavored with a sweet and salty homemade marinade and cooked to perfection over charcoal or tabletop griddle. This Asian BBQ beef is tender, flavorful, and delicious with steamed rice!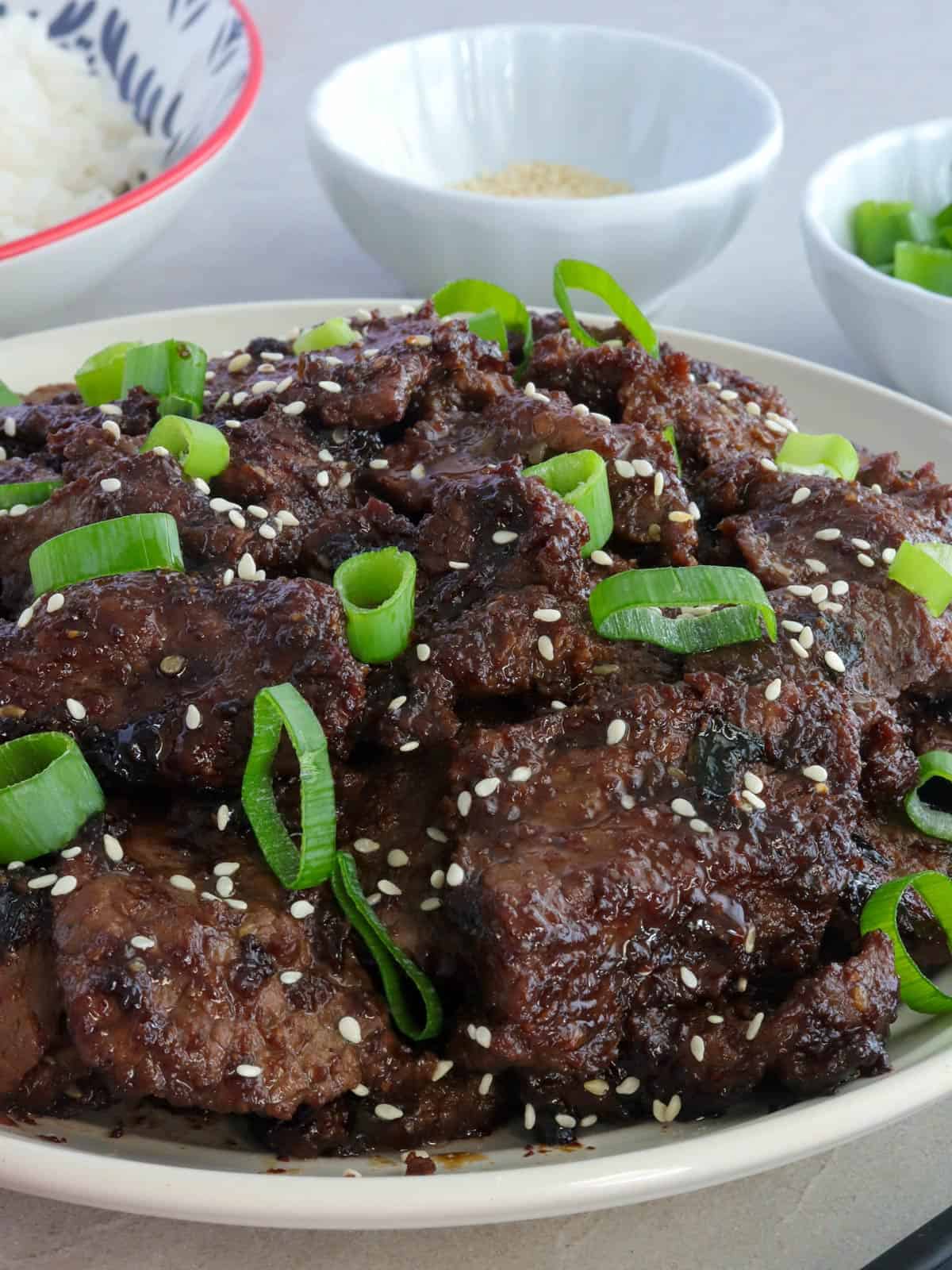 With Spring just around the corner, we're starting to see gorgeous weather here in our neck of the woods. We experienced the full brunt of winter this year, and we're so looking forward to warmer temperatures. Because, folks, that means backyard BBQs!
One of the activities G enjoys most is grilling outdoors. Any sign of a sunny day, he is out on the patio firing up the charcoal, and that's just fine by me. A simple meal is a lot more fun when enjoyed al fresco, and of course, bonus points that I get to lounge around reading a book while he mans the pit preparing MY lunch. 🙂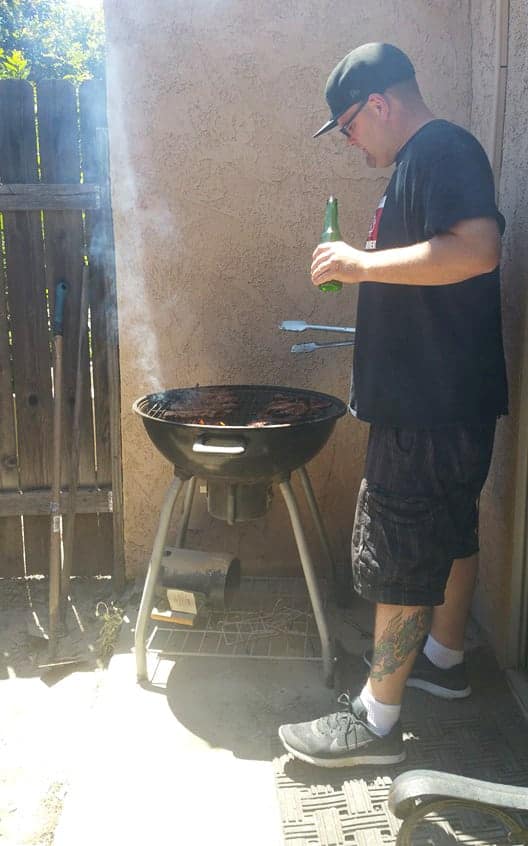 The meat he was grilling in the picture above happens to be our favorite type of barbecue ever, Kalbi.
We're so obsessed with these Korean short ribs we'd go through a good few pounds before you can say Korean short ribs twice. Sweet and salty, tender and flavorful meat between bones are the stuff barbecue dreams are made of!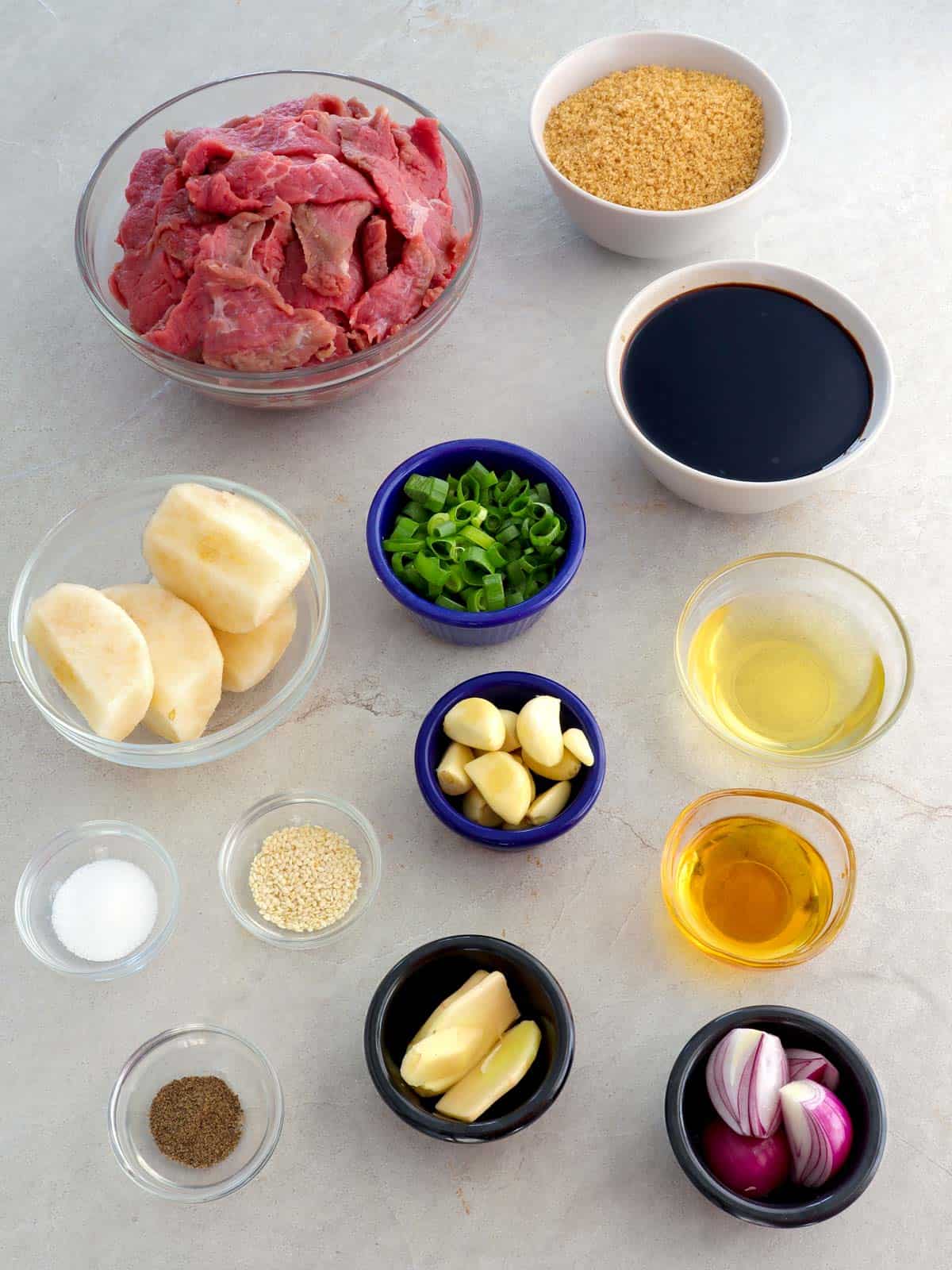 Unfortunately, they're obscenely expensive, especially for something that weighs half-bones. Fortunately, Korean BBQ Bulgogi delivers the same flavors we crave with much more meat!
Beef bulgogi is a popular Korean classic made from thin slices of top sirloin, tenderloin, or other prime cuts of beef marinated in a sweet and salty soy sauce mixture. The seasoned meat is traditionally grilled over charcoal or tabletop/indoor grill but can be pan-cooked just as easily.
Cooking methods
Tabletop/indoor grill- the best way, in my opinion, to enjoy Bulgogi is to cook at the table using a tabletop grill as the meat is cooked during the meal and enjoyed hot and fresh from the griddle.
Charcoal grill- skewer the meat slices, so small pieces don't fall between the grates.
Stovetop- use a wide, heavy-bottomed skillet; don't overcrowd the pan so the beef will sear nicely.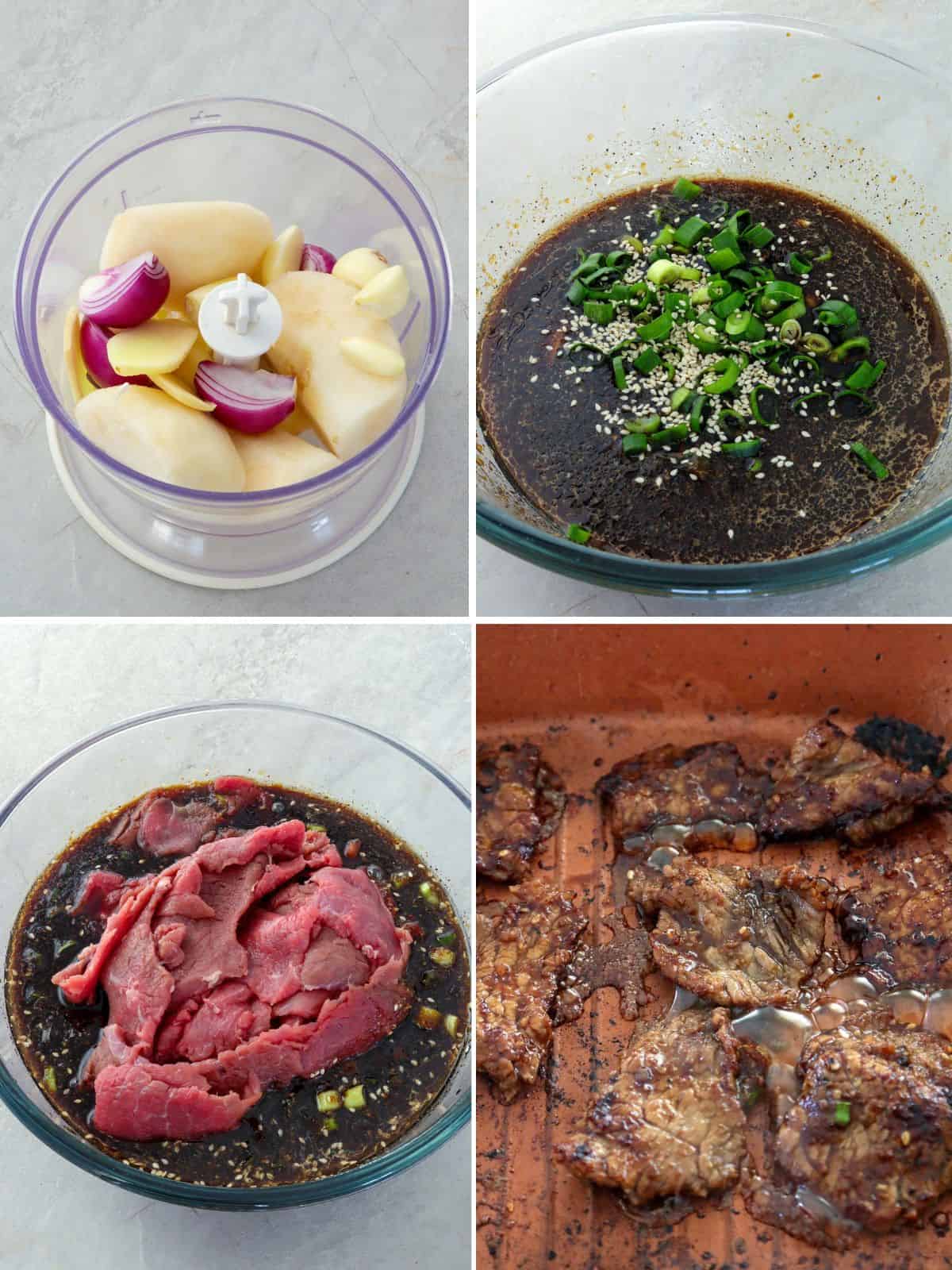 Cooking tips
Pears (Korean pears are best) is an essential ingredient in the marinade as they help tenderize the beef as well as adding a nice touch of sweetness. I've tried Gala apples on occasions I didn't have pears on hand and they worked beautifully.
I usually have the butcher slice the meat for me or buy the pre-sliced beef specifically used for bulgogi when I visit my favorite Asian supermarket. If you need to slice the beef, freeze it for about 20 to 30 minutes until slightly frozen to make cutting easier and cut the meat across the grain for the tenderest chew.
As the meat is cut into thin slices, a good half hour of marination is usually enough to impart flavor. I don't recommend marinating the beef for more than 8 hours as the acids might break down the meat.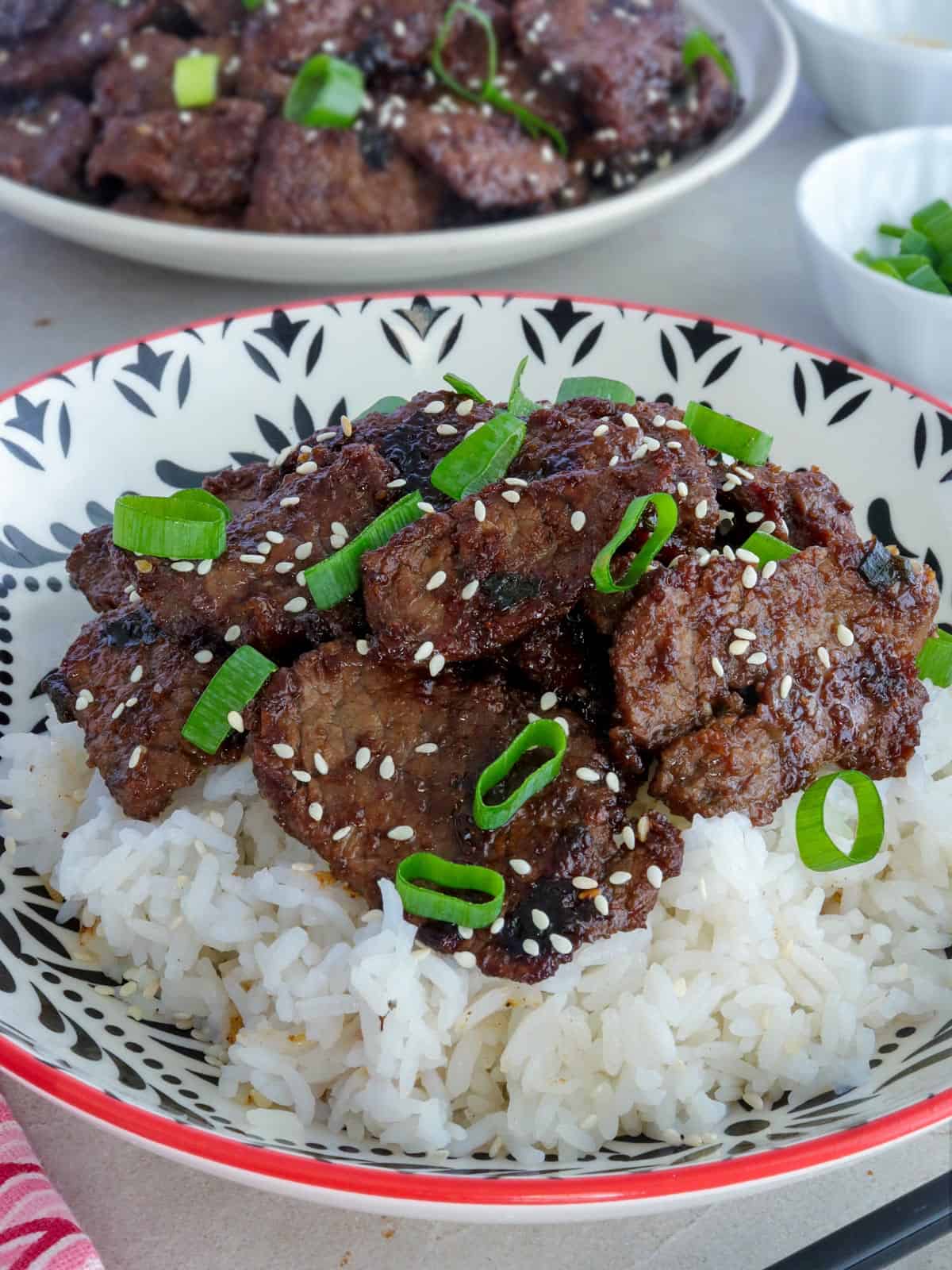 How to serve
Serve beef bulgogi for lunch or dinner with steamed rice and assorted banchan or Korean side dishes such as kabocha salad.
Storing leftovers
Store leftovers in a covered container and refrigerate for up to 3 days or freeze for up to 2 months.
Reheat on a tabletop grill or on the stovetop in a hot pan for about 3 to 5 minutes or until completely heated through.
More Asian favorites
Level up your BBQ game with Korean Beef Bulgogi! So easy to make with a homemade marinade and turns up tender and full of flavor. Perfect with steamed rice!
6 Servings
Ingredients
1 large pear, peeled, seeded, and quartered
1 head garlic, peeled
1 small onion, peeled and quartered
1 thumb-size ginger, peeled and sliced
1 cup soy sauce
1 cup brown sugar
¼ cup rice vinegar
3 tablespoons sesame oil
1 teaspoon salt
½ teaspoon pepper
½ cup green onions, chopped
½ teaspoon sesame seeds
2 pounds top sirloin or tenderloin, sliced very thinly
Instructions
In a food processor, process pear, onions, garlic, and ginger until pureed (the texture of applesauce).

In a bowl, combine soy sauce, sugar, rice vinegar, sesame oil, salt, and pepper. Stir until sugar and salt are dissolved. Add puree pear mixture, green onions, and sesame seeds. Stir until well-combined.

Add beef, massaging to fully incorporate marinade. Cover with film and marinate in the fridge for 4 hours but not more than 8 hours. Drain beef from marinade.

Over a tabletop grill pan, arrange beef slices in a single layer and cook for about 2 to 4 minutes on each side or until slightly charred and tender.

If using a skillet, add a tablespoon and heat over high heat. Add beef slices and cook, turning as needed, until tender and lightly browned. Serve hot.
Notes
If you need to slice the beef, freeze it for about 20 to 30 minutes until slightly frozen to make cutting easier and cut the meat across the grain for the tenderest chew.
"This website provides approximate nutrition information for convenience and as a courtesy only. Nutrition data is gathered primarily from the USDA Food Composition Database, whenever available, or otherwise other online calculators."