Try this delicious take on our classic Filipino sour soup! Sinigang na Inihaw na Liempo, made with grilled pork belly, vegetables, and tamarind broth is a delicious medley of smoky and tangy flavors. Serve with steamed rice or enjoy on its own for the perfect cold day comfort food.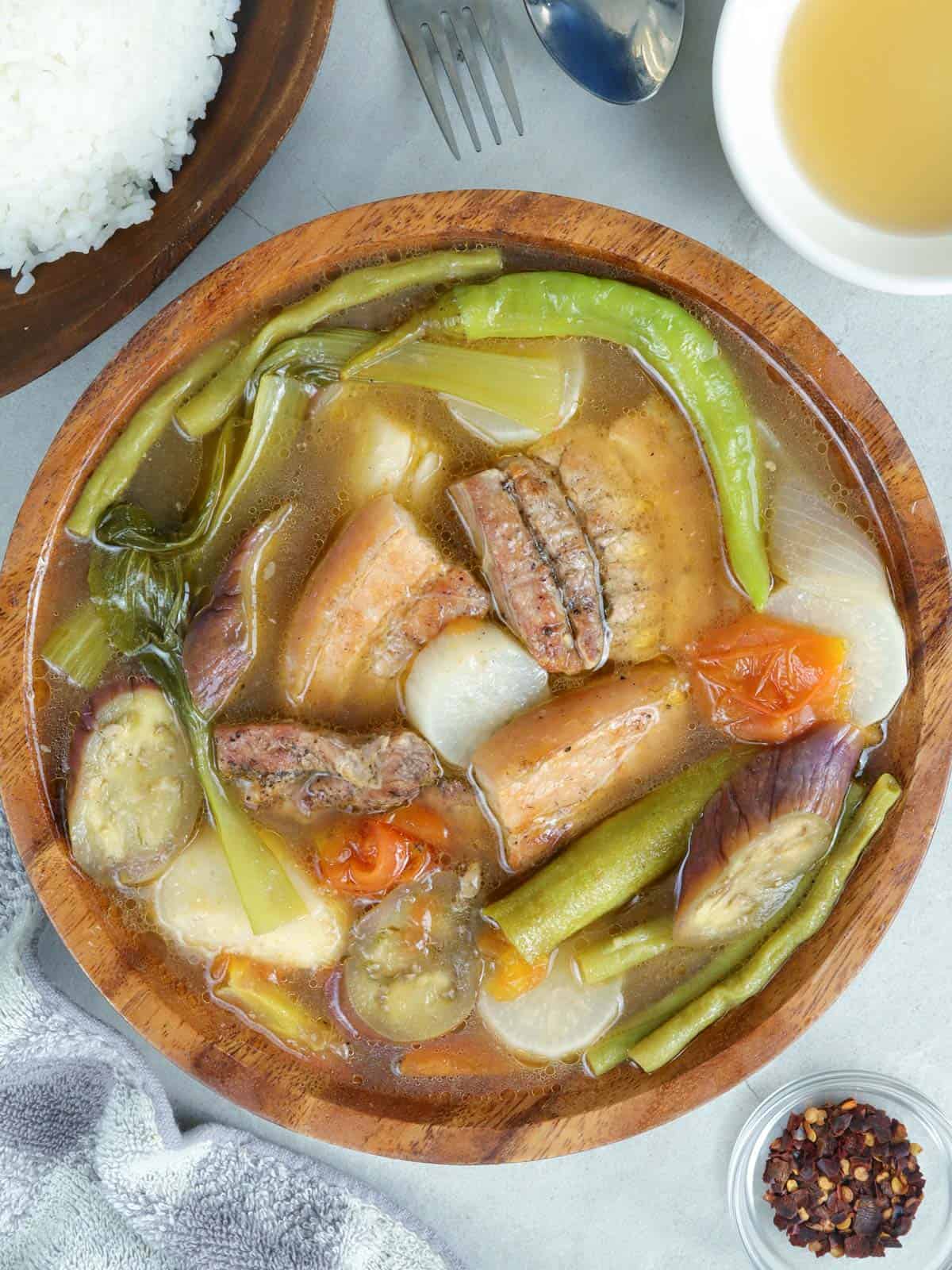 Do you love sinigang but crave a bit of variety? This sinigang na inihaw na liempo is a simple but delicious recipe to take our classic Filipino sour soup up a notch.
Grilling the pork belly first before finishing it off in the usual sinigang fixings is an easy way to level up this otherwise everyday dish. The meat's smoky flavor and the tamarind's sour notes marry into a delectable medley that's sure to hit the spot!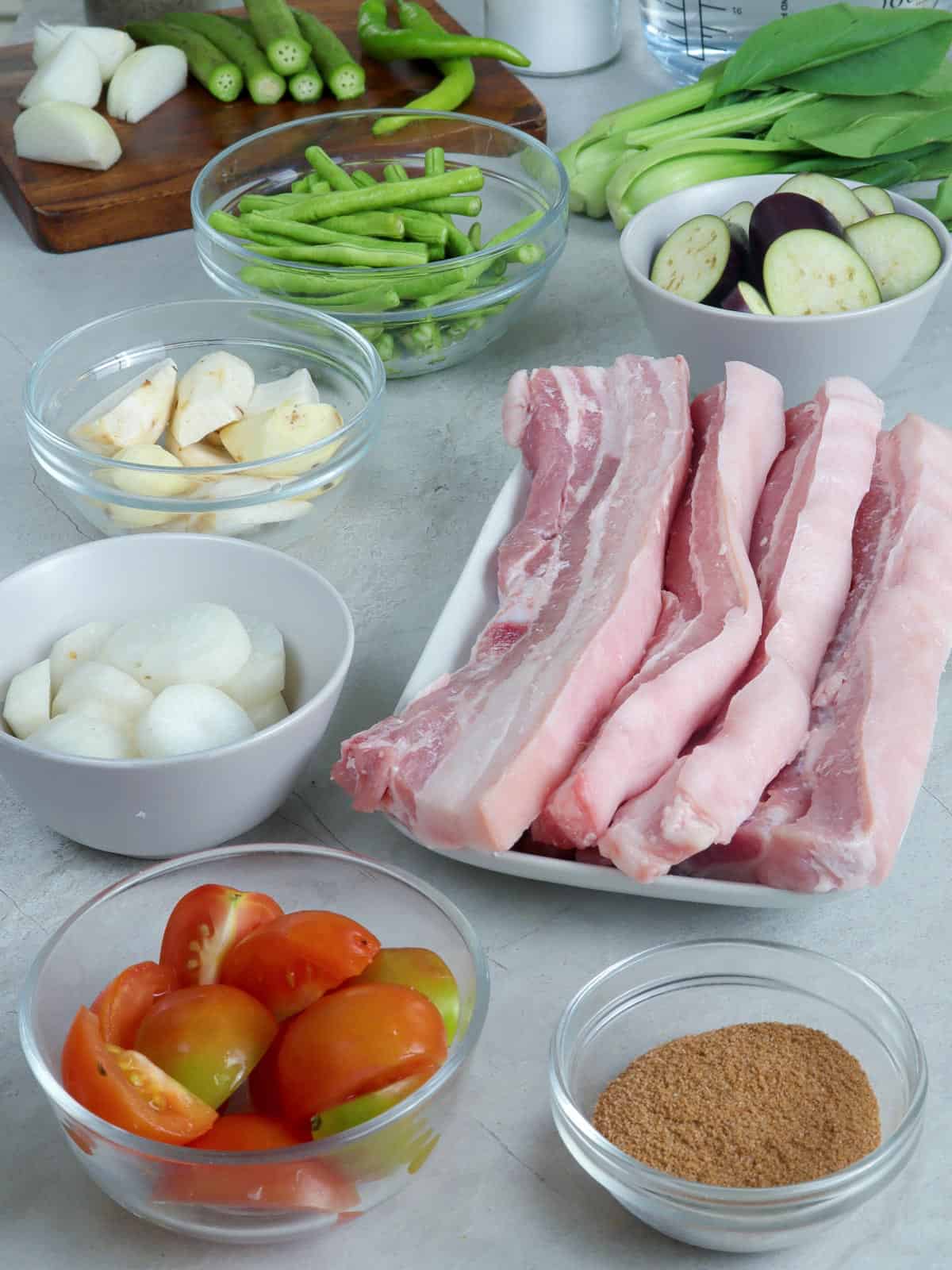 Ingredient notes
Pork- the best cut to use is the belly which grills easier and quicker and has a good mix of fat and meat for flavor.
Tomatoes- I like to use the Roma variety as I find them juicier and sweeter.
Vegetables- the recipe includes the usual sinigang fixings such as bok choy, yard beans, okra, radish, and eggplant, but feel free to use other leafy greens such as kangkong (water spinach) or mustard leaves.
Gabi- also called taro; adds texture and helps thickens the broth
Tamarind- you can use fresh pods, powder base, or paste
Finger chili peppers- siling haba or pangsigang is optional, but recommended if you want to add a mild heat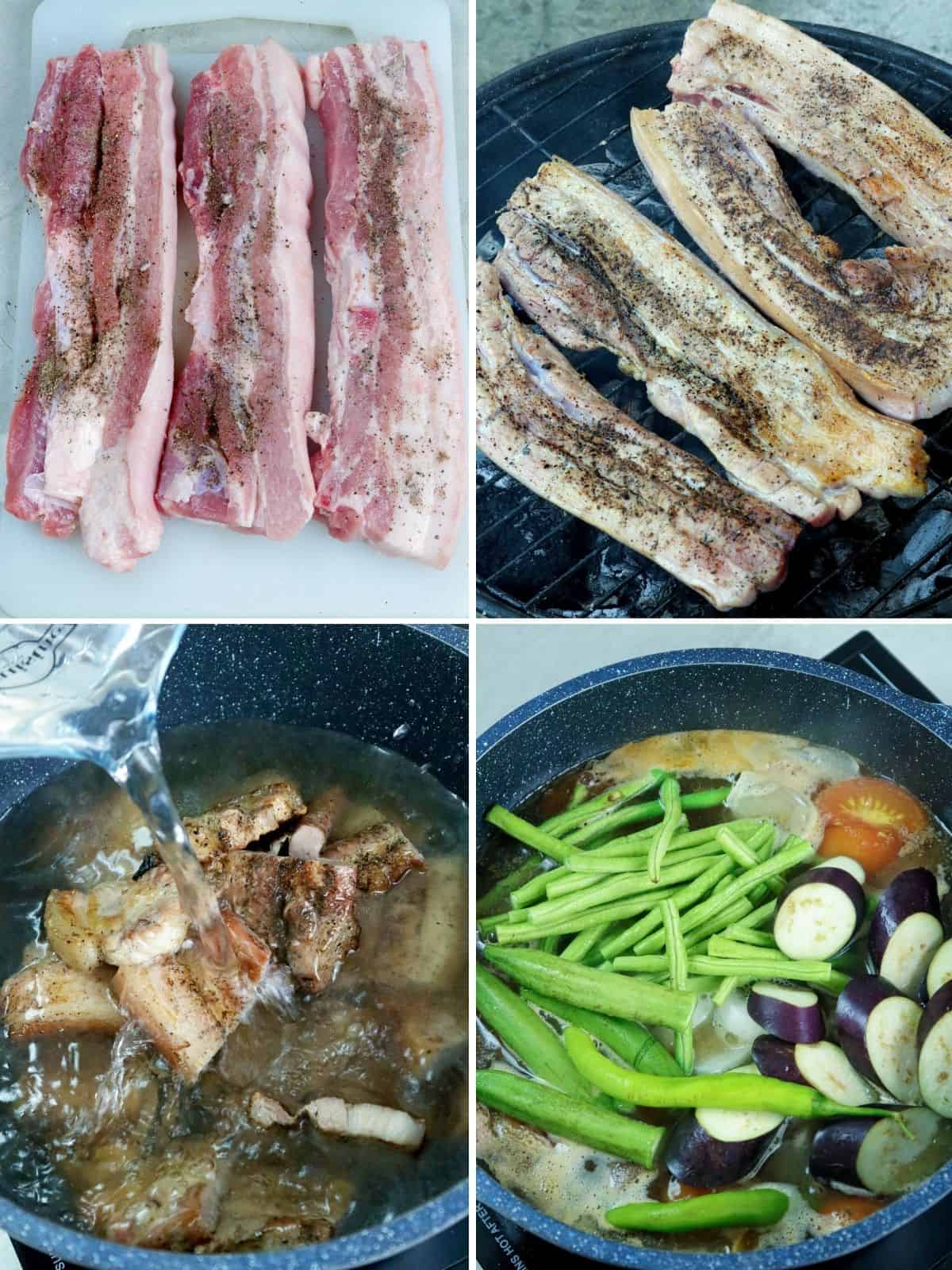 Grilling steps
Season with a simple salt and pepper, or check out my inihaw na liempo recipe for a more intense flavor.
Cook the meat over charcoal or on a tabletop grill.
Quick tip
Slice the pork belly in uniform thickness to ensure even cooking. I suggest about ½-inch thickness so they'll cook to tenderness quicker.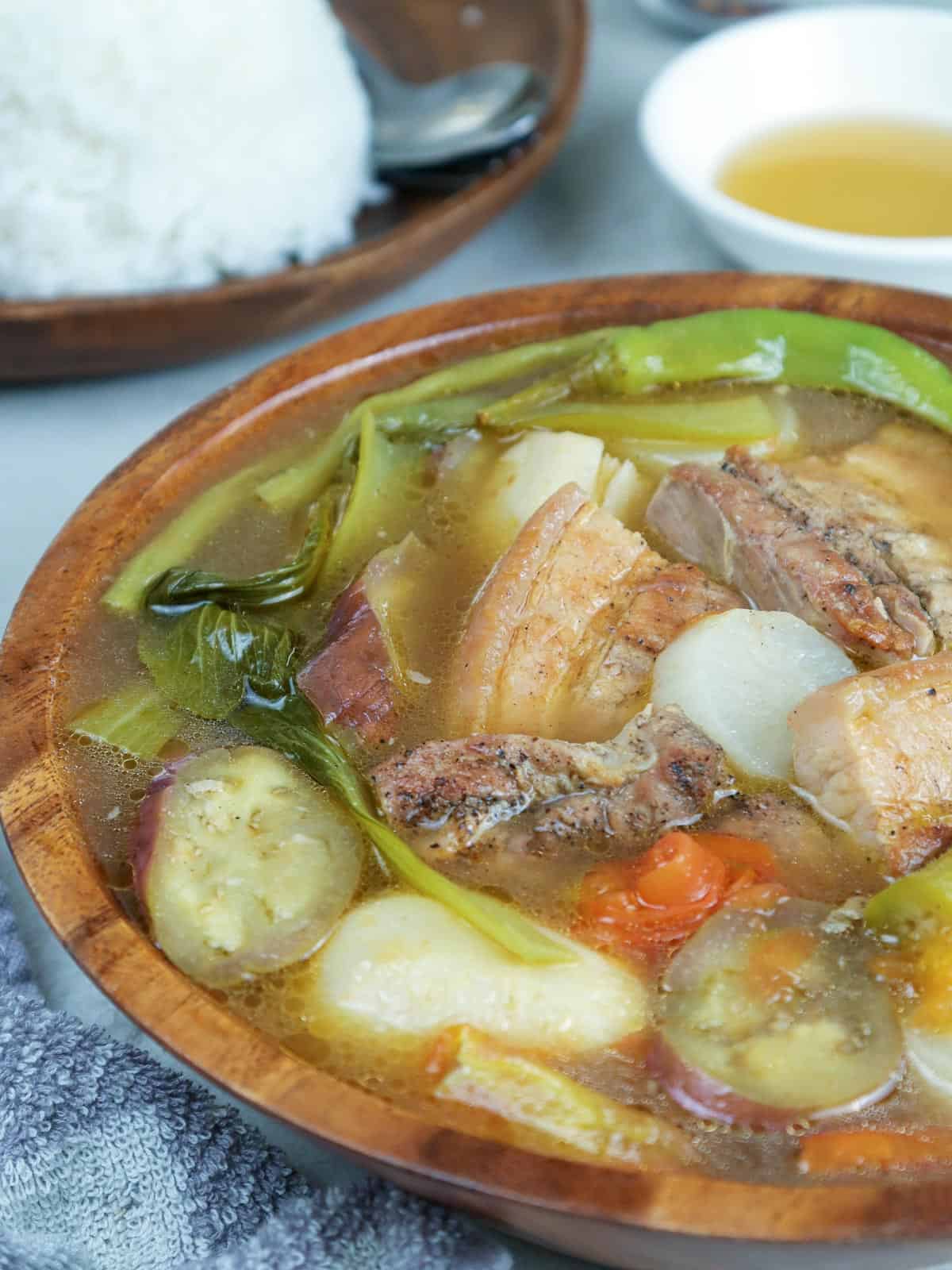 How to serve and store
Sinigang na inihaw na liempo is delicious on its own or with steamed rice. Serve it with spiced fish sauce for dipping to kick the umami taste.
Transfer leftovers to a container with a tight-fitting lid and refrigerate for up to 3 days.
Reheat in a saucepot to an internal temperature of 165 F or in the microwave at 2 to 3-minute intervals until completely warmed through, stirring well after each interval to distribute heat.
Level up your everyday sinigang! This Sinigang inihaw na liempo is a delicious take on our classic Filipino sour soup using grilled pork belly for a hint of smoky flavor. The perfect comfort food for a chilly day!
6 Servings
Ingredients
2 pounds pork belly, sliced into ½-thick strips
salt and pepper to taste
8 cups water
1 medium onion, peeled and quartered
2 large tomatoes, quartered
4 pieces gabi, peeled and halved
1 (6-inch) radish, peeled and sliced to ½-inch thick half-rounds
½ bunch long beans, ends trimmed and cut into 3-inch lengths
1 eggplant, ends trimmed and sliced to ½-inch thick half-rounds
6 pieces okra, ends trimmed
2 banana or finger chilies
15 large tamarind pods or 1 ½ packages (1.41 ounces each) tamarind base powder
1 bunch bok choy, ends trimmed and separated into leaves
Instructions
Season pork with salt and pepper and marinate for about 10 to 15 minutes.

Grill over hot coals until nicely charred and cooked through, turning on sides as needed. Remove from heat and cut into serving pieces.

In a pot over medium heat, combine pork and water and bring to a boil.

Add onions and tomatoes. Lower heat, cover, and simmer for about 3 to 5 minutes.

Add gabi and cook for about 6 to 8 minutes or until almost tender.

Add radish and cook for about 2 to 3 minutes.

Add long beans. Continue to cook for about 2 minutes.

Add eggplant, okra, and chili peppers. Cook for another 1 to 2 minutes.

If using packaged tamarind base, add to pot and stir until completely dissolved. Season with salt and pepper to taste.

Add bok choy and continue to cook for about 1 minute. Serve hot.
If Using Fresh Tamarind
Wash tamarind and place in a pot with 1 cup water. Bring to a boil and cook until soft and outer skins begin to burst.

With a fork, mash tamarinds. In a fine-mesh strainer set over a bowl, pour tamarind and liquid. Continue to mash with a fork, returning some of the liquid into the strainer once or twice, to fully extract the juice. Discard seeds and skins.

Pour tamarind juice into the pot.
Notes
Slice the pork belly in uniform thickness to ensure even cooking. I suggest about ½-inch thickness so they'll cook to tenderness quicker.
"This website provides approximate nutrition information for convenience and as a courtesy only. Nutrition data is gathered primarily from the USDA Food Composition Database, whenever available, or otherwise other online calculators."