This Christmas Fruitcake is a dense yet moist cake chockful of dried fruits and nuts laced with liquor. It's a festive baked treat that's delicious as a dessert and perfect for holiday gift-giving!
Although I try to visit my mom in the Philippines at least twice a year, I am not always able to take the trip around the holidays. Christmastime is a busy season for us, food bloggers, and I usually spend the last quarter of the year cooped up at home, testing and developing new content for the blog.
This year, though, I came prepared and adequately armed for work.  I brought along with me my camera, tripod, and laptop. I also had a background board made and bought a few plates, bowls, and props to use for photography.
Since I will be staying here for three months, I thought I might as well combine business with pleasure and get some recipes done. And as if on cue, a highschool classmate of mine messaged me on Facebook asking if she could contribute a few recipes on the blog.
I know she runs a home-based bakeshop, so I was excited to learn from her cool baking tricks. Along with this holiday fruitcake, we also worked together on a list of baked goodies such as Spanish bread, ham and cheese bread buns, cheesy ensaymada, and ube pandesal. Stay tuned for these tasty treats coming soon!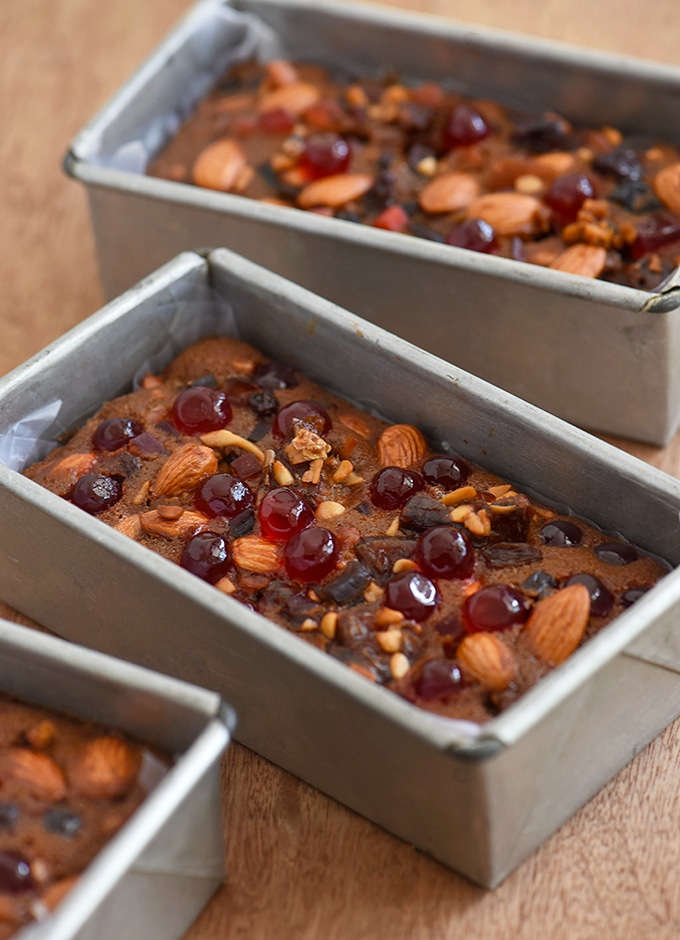 What is fruitcake
A Fruitcake is a type of fruit bread made with dried fruits, nuts, and spices.  It's traditionally served for wedding celebrations as well as during the Christmas season.
Depending on the regional variation, texture can range from light and airy crumbs to rich and dense. Some are topped with nuts and glazed fruits; others are covered in buttercream or ganache fondant while the more traditional are brushed with orange marmalade, and then wrapped in Marzipan and Royal Icing.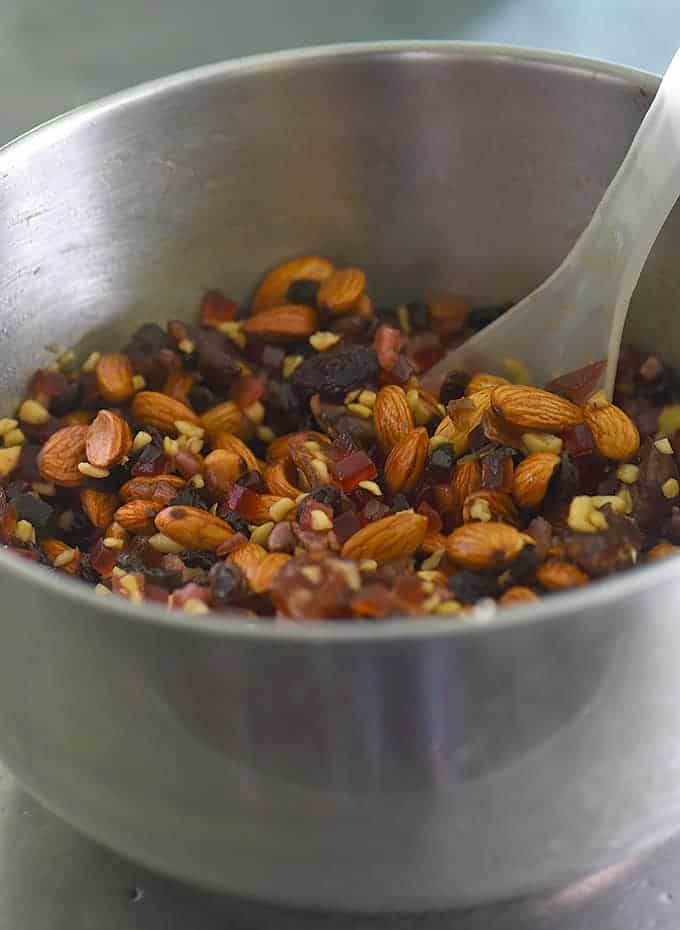 Although some versions are alcohol-free, fruitcakes are usually laced with spirits such as bourbon, rum, brandy, whiskey, or flavored liqueurs, which along with the spices, give the cakes their distinct flavor.
The nuts and dried fruits are soaked in alcohol, preferably overnight,  to soften and make the cake moist. After baking, the cakes are wrapped in liquor-soaked cheesecloth/muslin or brushed liberally with the alcohol and wrapped tightly.
This step of the aging process acts as a preservative treatment that prevents yeast and mold growth and hinders spoilage.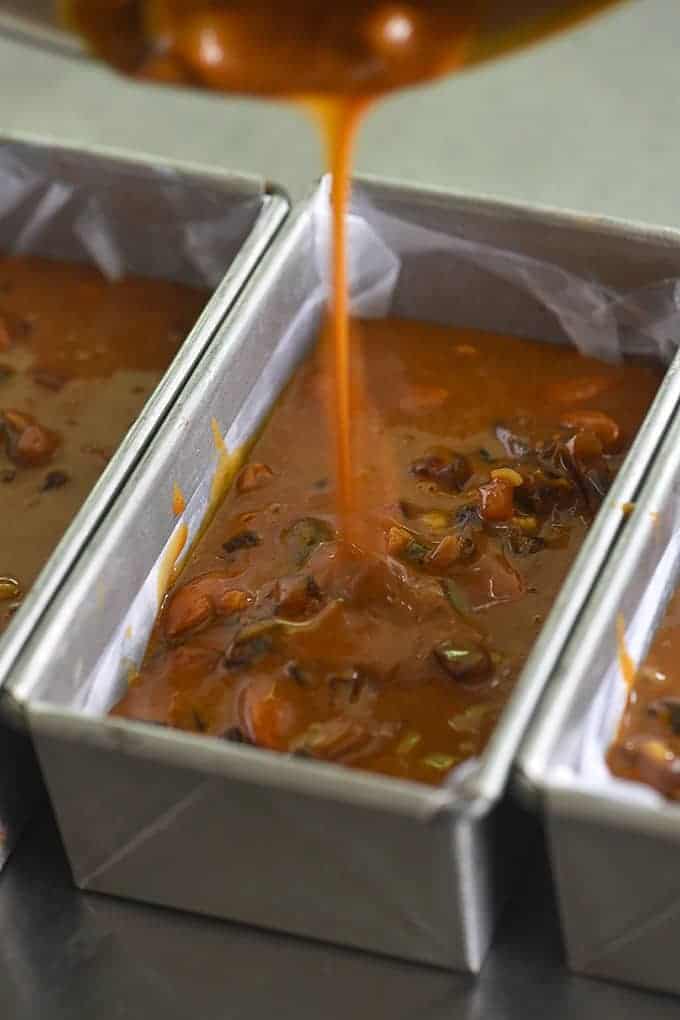 Baking tips
Soak the dried fruits and nuts in liquor overnight or up to two to three days to rehydrate and to keep them from drawing moisture from the cake batter.
Line the baking pans with parchment paper on all sides to insulate the batter from drying out and to prevent the outer edges from burning due to the long baking time.
To prevent excessive browning, use shortening instead of butter to lightly grease the pans.
Bake low and slow at 300 F to 325 F. To keep the cake nice and moist, place a pan of hot water on the floor of the oven.
Fill the baking pans with batter up to ⅔ full.
Don't touch the fruitcake with bare hands and use clean gloves to prevent the introduction of bacteria.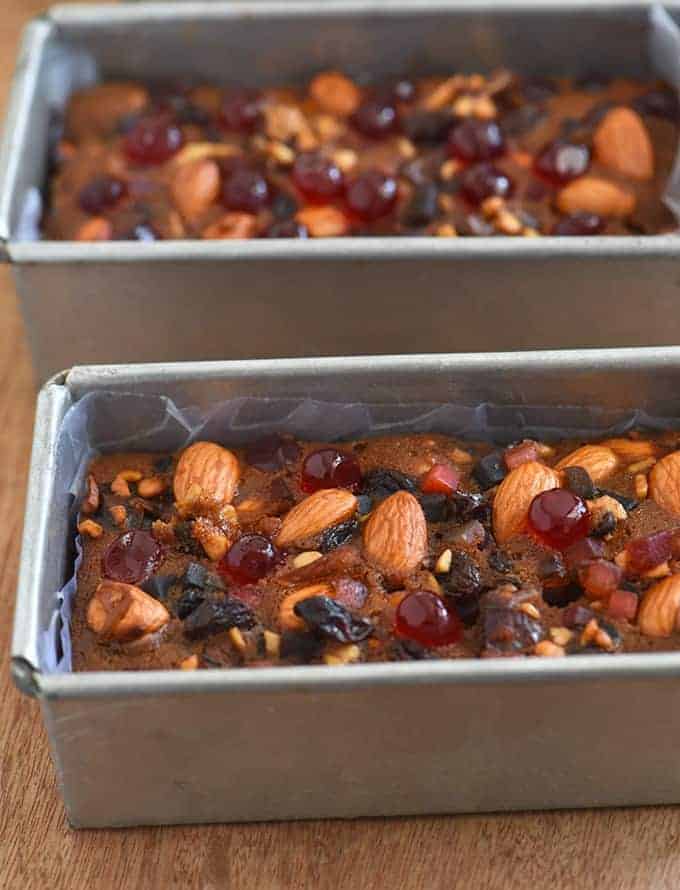 Non-alcoholic fruitcake
For fruitcakes without alcohol, you can use fruit juices such as apple, grape, cranberry or orange.
Please note that these cakes lack the bacteria-inhibiting properties of high alcohol content. If you like, you can add ½ teaspoon potassium sorbate to prolong shelf-life.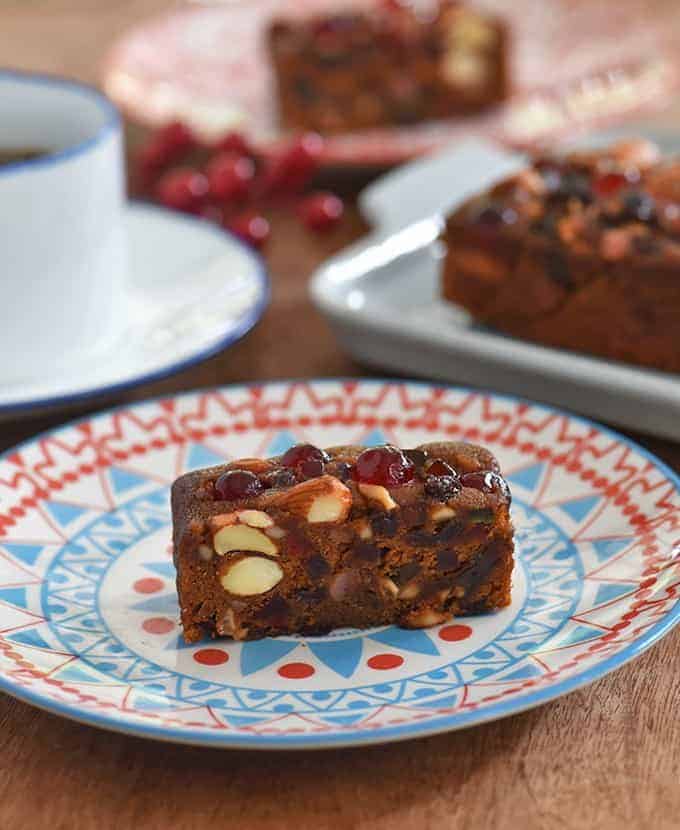 Give this Christmas fruitcake a try. Not only is it a festive addition to your holiday dessert menu, but also perfect for gift-giving. Dense yet moist and bursting with warm spices, it's a satisfying loaf that's just the right kind of sweet!
Looking for more homemade baked goods? Coconut macaroons are easy to make and make a scrumptious sweet treat.
Easy Holiday Fruitcake loaded with glazed fruit and nuts. A dense yet moist cake laced with liquor, it's a great holiday treat perfect for dessert or gift-giving.
Course:
Baked Goods, Dessert
Servings
Ingredients
Fruit and Nuts Mixture
2 cups glazed fruits
1 cup raisins or sultanas
½ cup pitted dates
1 cup toasted almonds or cashews
1 cup pili nuts
½ cup brandy
Instructions
Preheat oven to 300 F to 325 F.

Lightly grease sides and bottom of three 6 x 3 x 2 loaf pans with shortening and line with parchment paper or brown baking paper. Set aside.

In a non-reactive bowl, combine dried fruits, nuts, and the ½ cup brandy. Soak overnight.

In another bowl, combine margarine, sugar, syrup, eggs, orange concentrate, molasses, and 2 tablespoons brandy. With an electric mixer, beat until well blended.

Add flour, baking powder, salt, nutmeg, and allspice. Beat until well-blended.

Add ½ the fruit and nut mixture and stir to combine.

Pour batter in prepared loaf pans. Spoon the remaining half of the fruit and nut mixture over the batter. Decorate with glazed cherries.

Place batter-filled pans in the preheated oven. Place a separate pan of water in the oven either on a rack underneath the fruitcake.

Bake at 300 F to 325 F for 1 ½ to 2 hours or until a toothpick inserted into the center comes out clean.

Remove from oven, place on a wire rack and allow to cool for about 5 minutes.

Carefully lift the fruitcakes from baking pans and let cool completely.

Brush all sides with brandy or rum.

Wrap with heavy-duty aluminum foil and store at room temperature in a styrofoam box or tin can.

Brush fruitcake with brandy every week for four weeks, then every two weeks.
Notes
If unable to find pili nuts, substitute pecans or walnuts. 
Video
Nutrition Information
Calories: 384kcal, Carbohydrates: 54g, Protein: 9g, Fat: 14g, Saturated Fat: 3g, Cholesterol: 113mg, Sodium: 179mg, Potassium: 424mg, Fiber: 3g, Sugar: 36g, Vitamin A: 311IU, Vitamin C: 7mg, Calcium: 83mg, Iron: 2mg
"This website provides approximate nutrition information for convenience and as a courtesy only. Nutrition data is gathered primarily from the USDA Food Composition Database, whenever available, or otherwise other online calculators."