Make your family meals extra special with Morcon! This Filipino-style roulade stuffed with eggs, cheese, pickles, and sausage is juicy and tasty with tangy and savory tomato gravy. Perfect for family dinners or special occasions.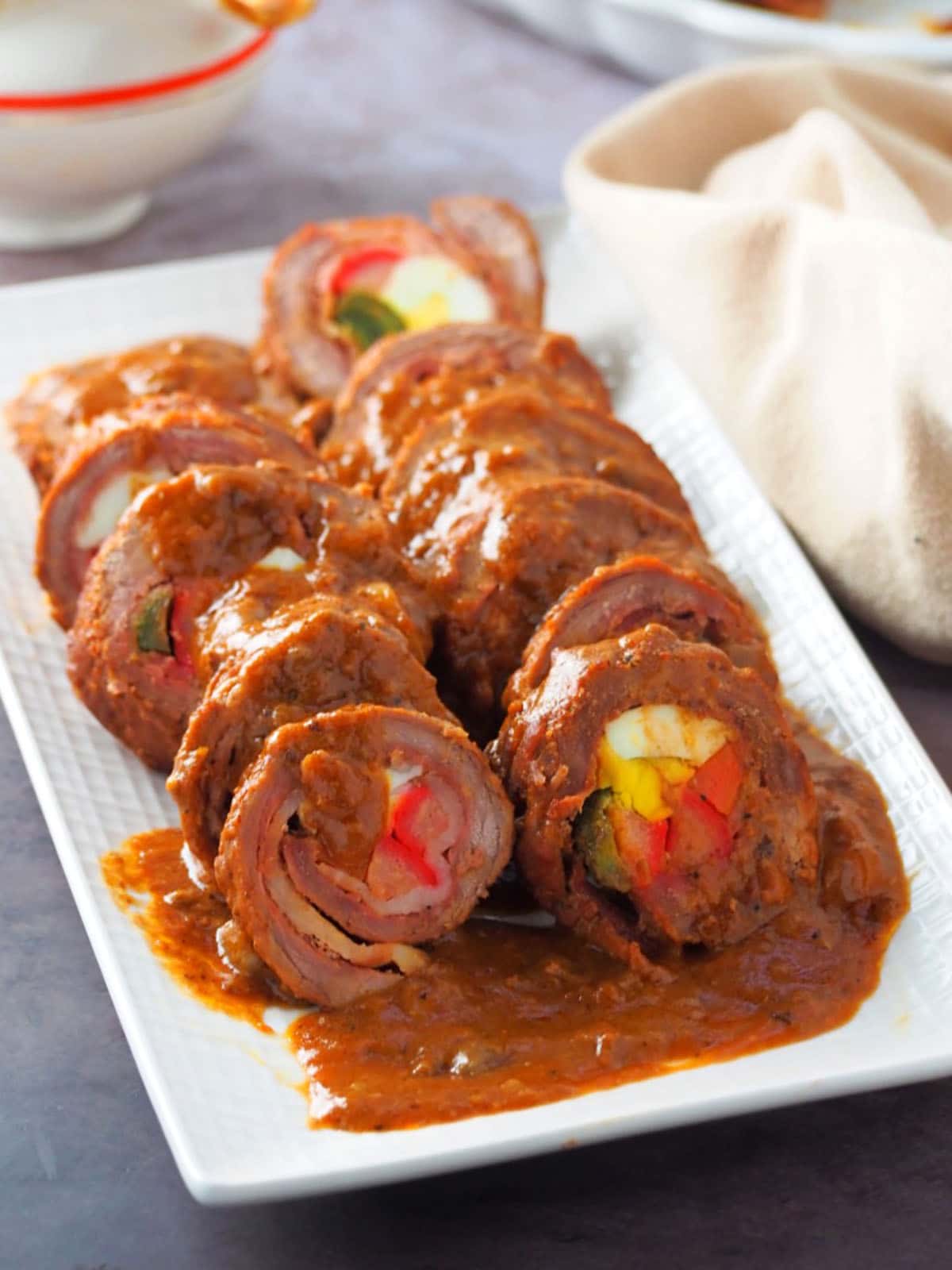 What is morcon
Morcon is a popular Filipino dish commonly served on holidays and special occasions. Like its European counterpart, this Filipino-style roulade consists of thinly sliced beef rolled around choice fillings such as cheese, eggs, carrots, pickles,  bacon, and sausages.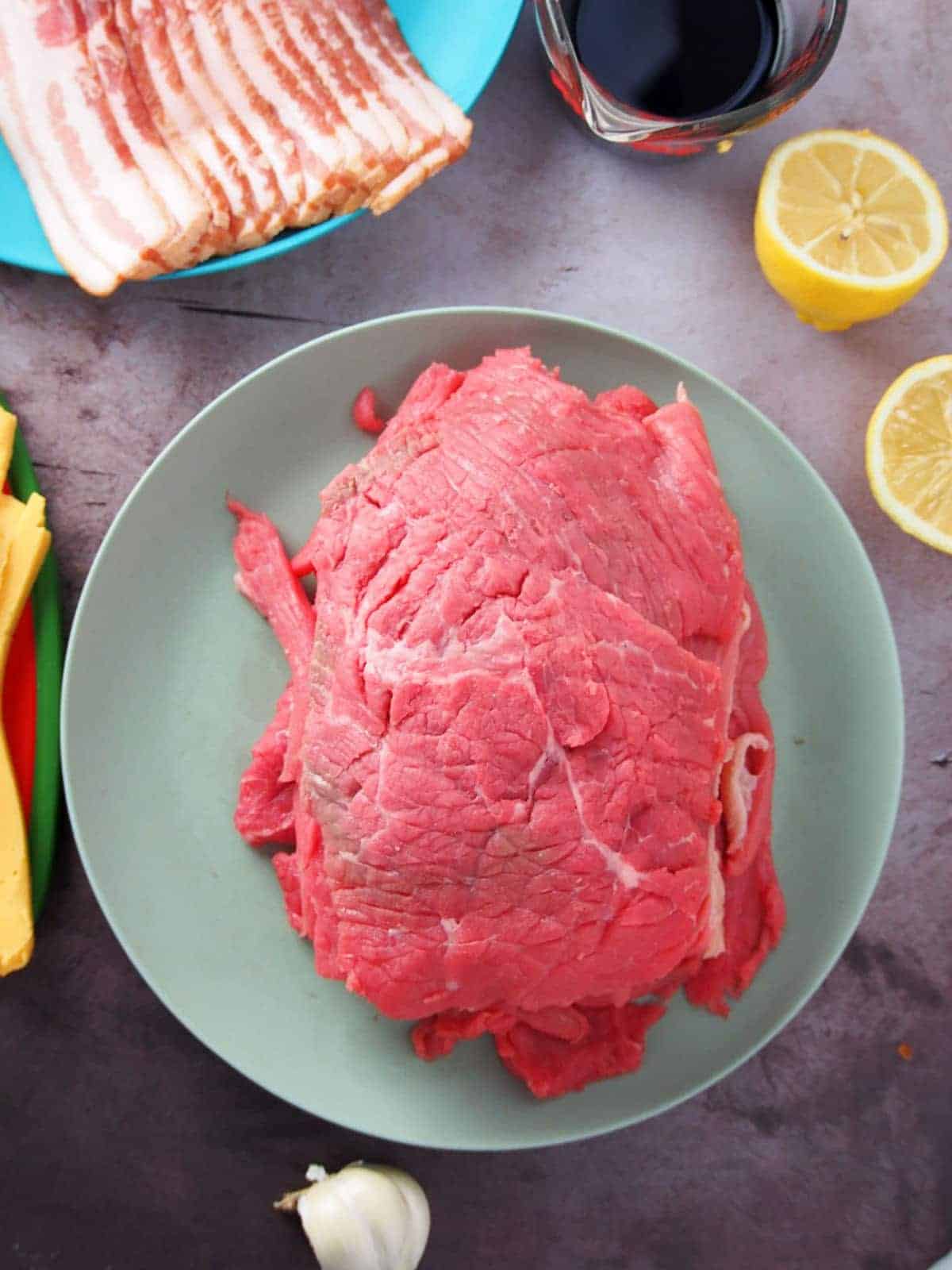 The prepared beef roll is first pan-seared on high heat to brown and seal flavors and then cooked low and slow to perfect tenderness. The braising liquid, usually a combination of stock and tomato sauce, is then finished with other flavorings to serve as sauce or gravy.
Morcon is mostly reserved for holidays and special occasions, but there's no reason not to enjoy it more regularly. Albeit time-consuming, all it takes is three simple steps and kitchen twine to prepare this festive meat roll for everyday family dinners.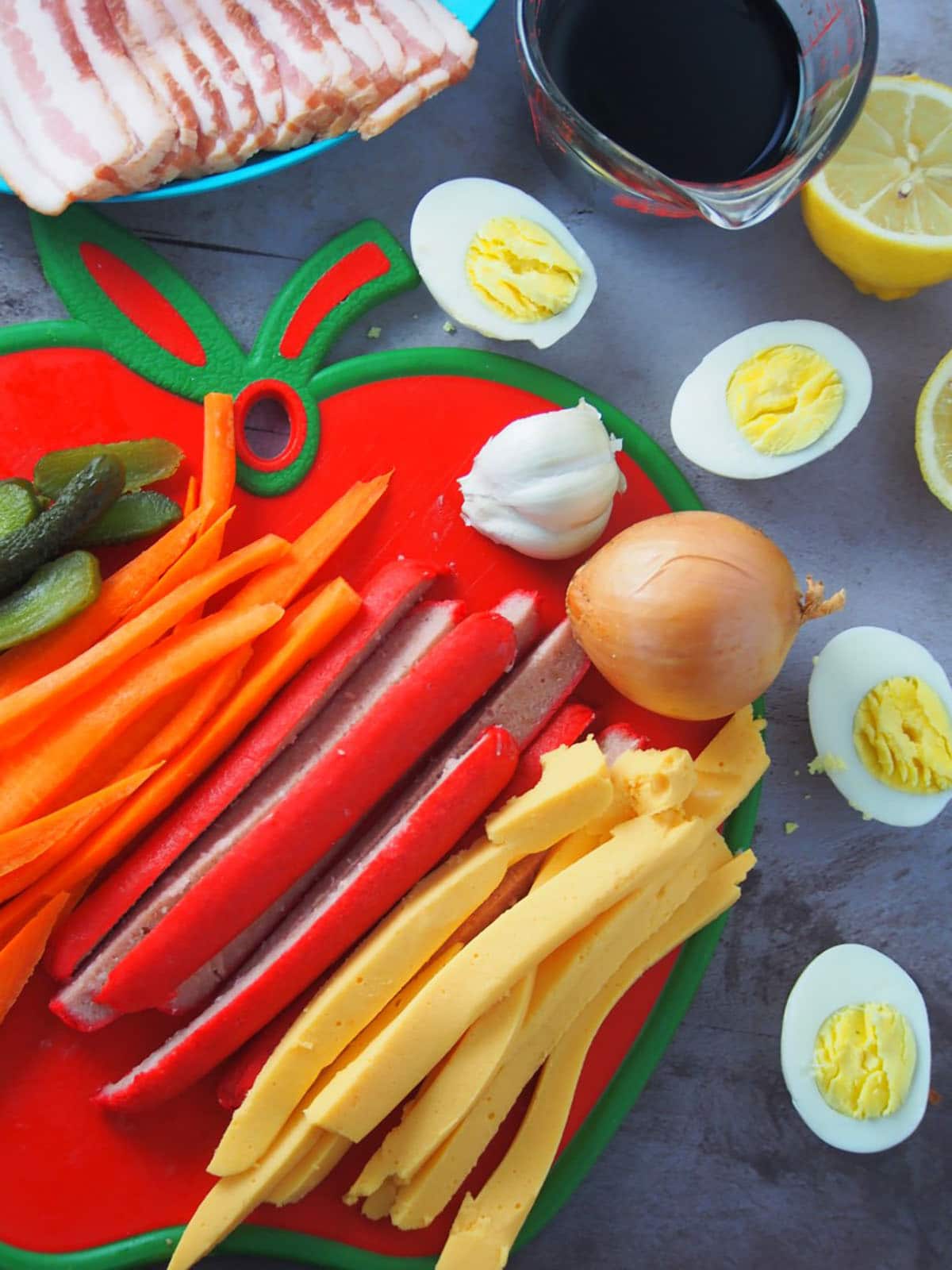 Ingredient notes
Beef- use cheap, tough cuts of meat such as bottom round or chuck roast that are perfect for braising. If buying from the wet market or a Filipino grocery store, ask the butcher to cut thinly a la morcon.
Lemon juice- seasons and helps tenderize the meat; you can substitute calamansi juice.
Soy sauce- adds a salty, savory taste
Bacon- for a smoky layer of flavor; sliced ham is also a good option.
Fillings- pickles, hot dogs, carrots, cheese, and hard-boiled eggs add texture, flavor, and a festive look.
Tomato sauce and beef broth/water- braising liquid
Liver spread- thickens and enriches the sauce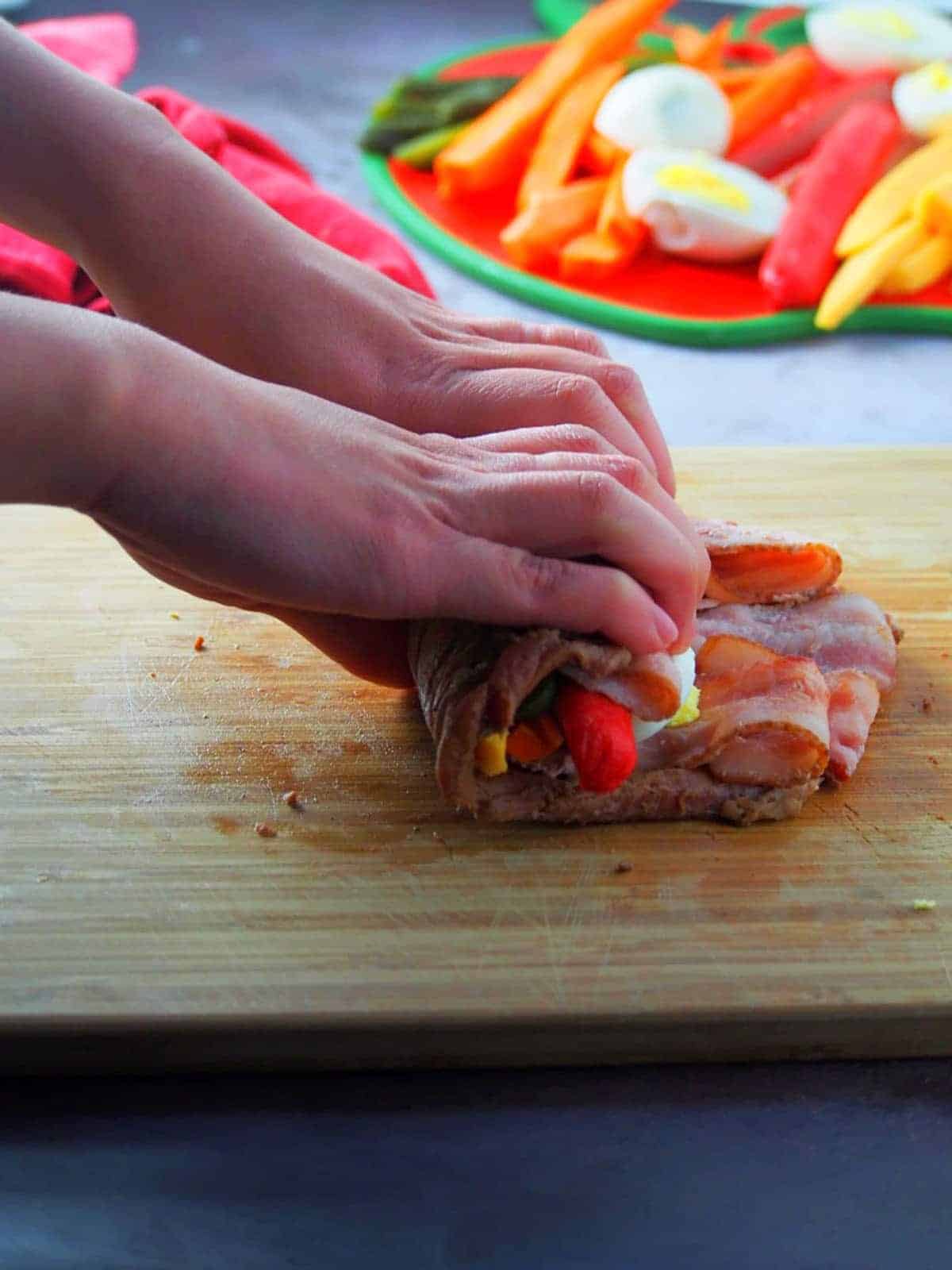 Making the sauce
The beef roulade is delicious and impressive, but the thick, flavorful sauce takes it over the top. Sarsa pa lang, ulam na.
There's no need to clean the pan after browning the meat. Those browned bits bring incredible flavor.
The liver sauce thickens and adds a rich, savory flavor. You can replace it with shredded quick-melt cheese for extra creaminess.
You can replace part of the water with pineapple juice for a hint of fruity tang and sweetness.
Quick tips
Do not marinate the beef for too long, as the acids in the marinade might break down the protein fibers and make the meat mushy.
Do not tie the rolls with the twine too tightly, as the meat will expand during cooking.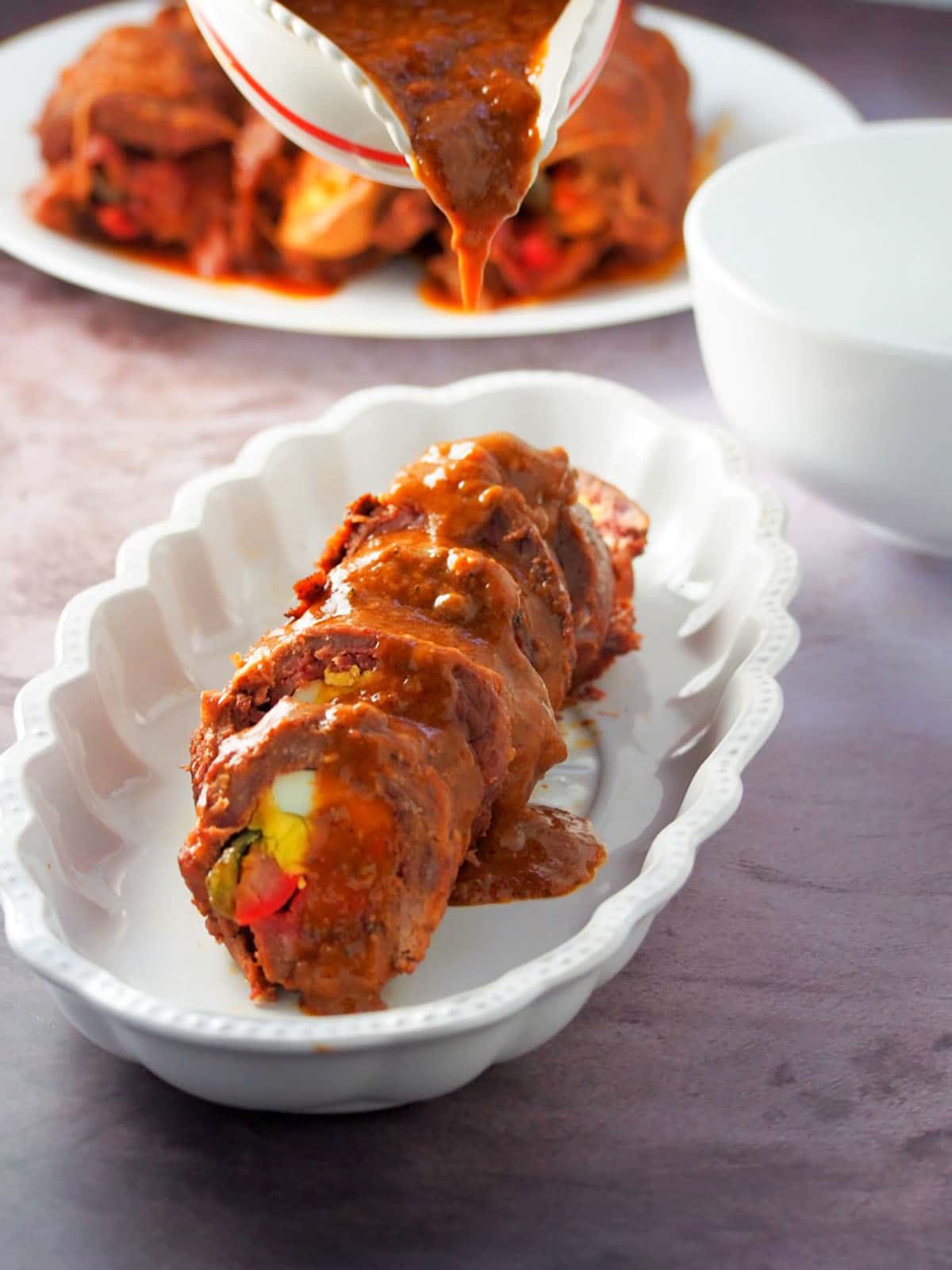 Serving suggestions
Remove the twine and slice the beef into about 1-inch thickness. Arrange on a serving platter and top with the gravy. Serve as a main dish with steamed rice.
Storing leftovers
For best results, store the morcon and sauce in separate containers and refrigerate for up to 3 days or freeze for up to 2 months.
Beef Morcon is a Filipino-style roulade cooked to perfect tenderness in rich tomato sauce. It makes a tasty dish for everyday family dinners and festive addition to holidays or special occasions.
8 servings
Ingredients
For the Morcon
2 pounds beef bottom round
juice from 1 lemon
½ cup soy sauce
pepper to taste
12 slices bacon
1 medium carrot, peeled and sliced lengthwise into strips
2 hot dogs, sliced lengthwise into strips
4 pieces Gherkins sweet pickles
4 ounces cheddar cheese, sliced lengthwise into strips
4 hard-boiled eggs, peeled and cut lengthwise into halves
½ cup flour
¼ cup oil
For the Sauce
1 onion, peeled and chopped
2 cloves garlic, peeled and minced
reserved marinade, from marinating beef
1 cup tomato sauce
2 cups beef broth or water
1 bay leaf
salt and pepper to taste
½ cup liver spread
Instructions
Ask the butcher to cut the morcon-style (wide beef slices). Arrange each beef slice between two heavy-duty plastic film and with a meat mallet, pound to about ½-inch thick (or thinner). Repeat with remaining beef slices. Trim sides of meat to shape it as close to a rectangle.

In a bowl, combine beef, lemon juice, soy sauce, and pepper to taste. Marinate for about 30 minutes.

In a pan over medium heat, fry bacon until cooked but still limp (not crisp). Remove from pan and drain on paper towels.

Drain beef from marinade, squeezing any excess liquid and reserving marinade.

Lay beef on a flat work surface and arrange bacon in a single layer on top of beef.

Arrange strips of carrots, hotdogs, pickles, and cheese, and halves of eggs lengthwise over bacon.

Gently gather the end of beef upwards and roll neatly into a log, enclosing filling. With kitchen twine, tie beef roulades snugly at both ends and center to fully secure. Lightly dredge with flour.

In a wide, heavy-bottomed skillet over high heat, heat oil. Gently add beef roll and lightly brown on all sides. Remove from pan and drain on paper towels.

Discard oil from skillet except for about 1 tablespoon. Add onions and garlic and cook until softened.

Add reserved marinade and bring to a boil, scraping sides to deglaze the pan.

Add tomato sauce, beef broth, and bay leaf. Season with salt and pepper to taste. Bring to a boil.

Gently add beef rolls in a single layer. Lower heat, cover, and cook for about 45 minutes to 1 hour or until beef is tender.

Remove beef rolls from pan and allow to stand for about 3 to 5 minutes. Slice into 1-inch thick rounds and arrange slices on a serving platter. Keep warm.

Add liver spread to the sauce and stir until dissolved. Continue to cook for about 5 minutes or until sauce is thickened.

Pour sauce over morcon slices and serve hot.
Notes
Do not marinate the beef for too long, as the acids in the marinade might break down the protein fibers and make the meat mushy.
Do not tie the rolls with the twine too tightly, as the meat will expand during cooking. 
Video
"This website provides approximate nutrition information for convenience and as a courtesy only. Nutrition data is gathered primarily from the USDA Food Composition Database, whenever available, or otherwise other online calculators."