Rellenong Hipon stuffed with meat filling and wrapped in spring roll wrapper are the perfect appetizer. They're crispy, tasty, and seriously addictive!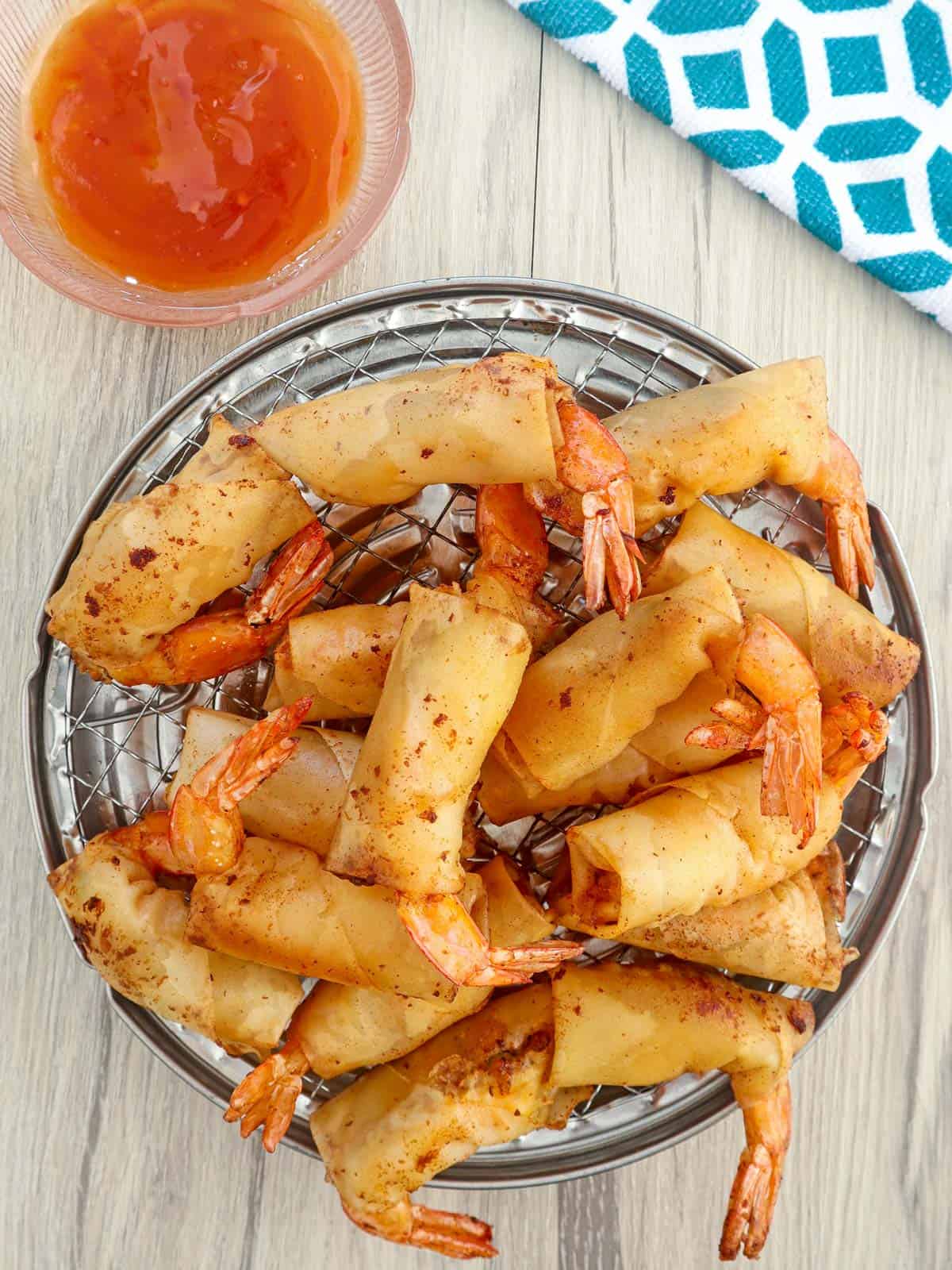 I'm a big proponent of meal planning and bulk cooking. I usually spend the weekends making tocino, tapa, embutido, and other freezer-friendly favorites I can quickly thaw and serve when pressed for time or have unexpected company.
I also like to freeze steamed rice for stir-fries or stock up on multi-purpose items such as poached chicken, which I use for sandwich spreads, potato salads, and noodle soups.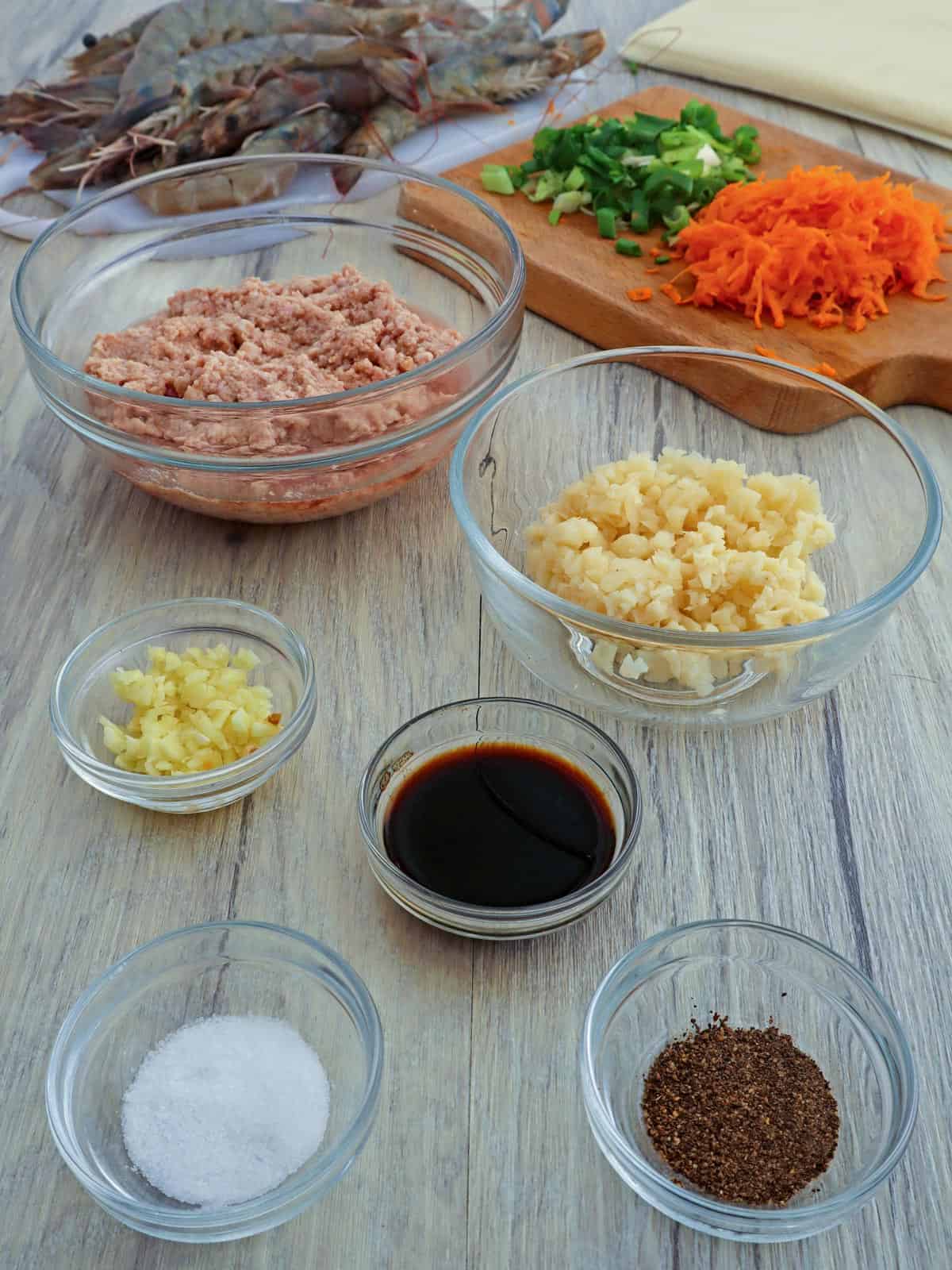 When I make lumpiang shanghai, I double the filling and divide it into zip-lock storage bags. By batch-prepping, sotanghon at bola-bola soup, and various appetizers such as siomai, Chinese pearl balls, and this rellenong hipon are just a matter of minutes!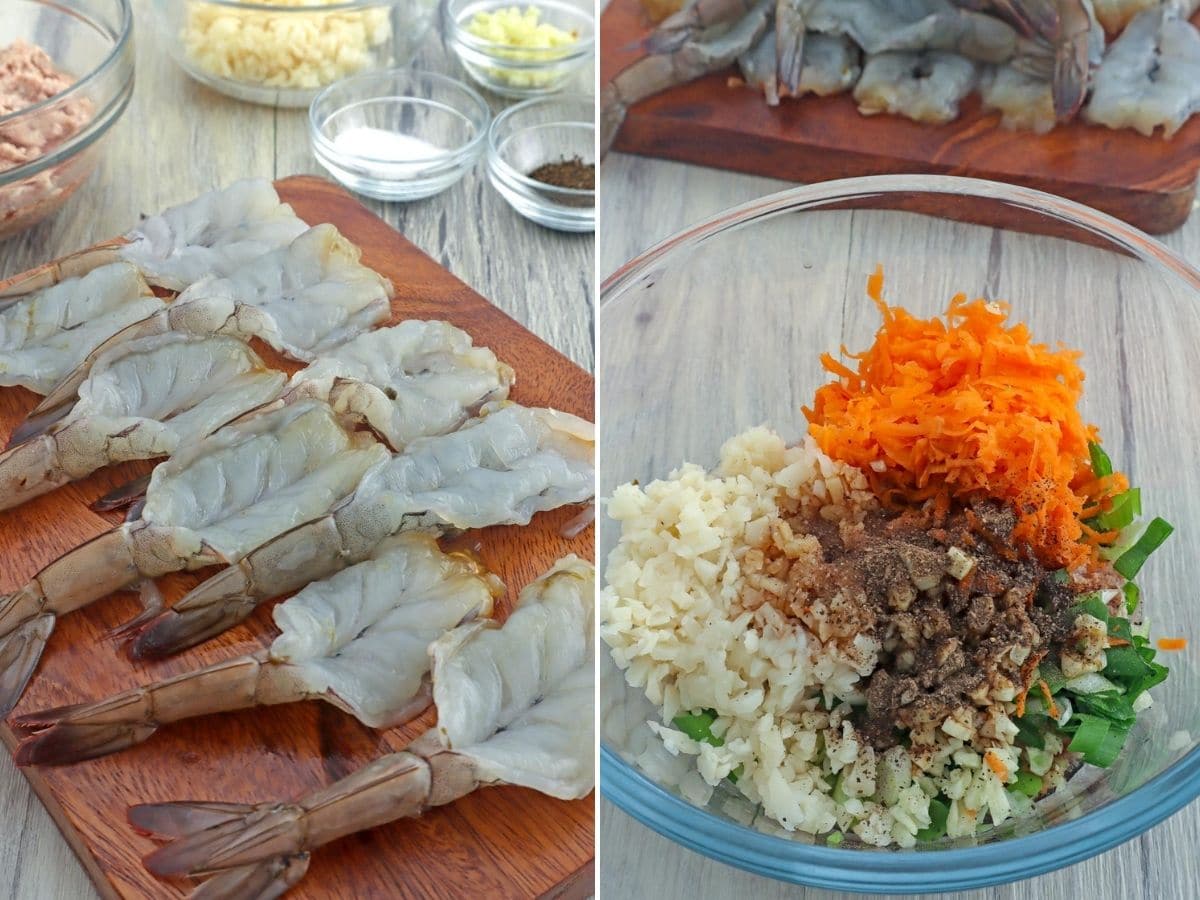 Quick tip
Canned water chestnuts are sold at major Asian supermarkets, either whole or sliced. If you can't find them, you can subsitute singkamas or jicama for extra crunch.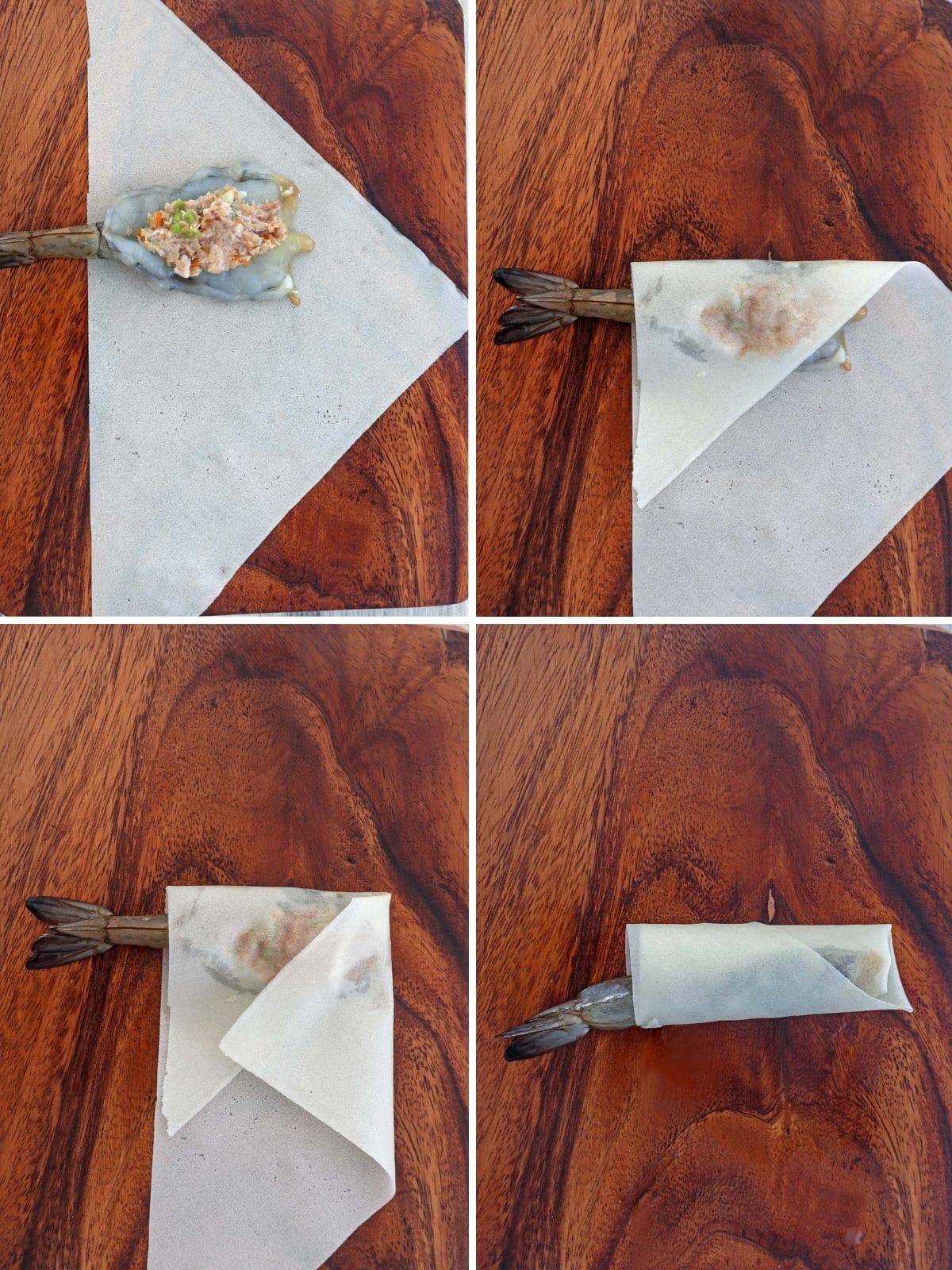 Assembly
Make a small incision on the inside of the shrimp close to the tail to keep them from curling during frying.
Do not over-stuff so the pork filling will cook quickly.
Loosely cover the wrapped stuffed shrimp with a paper towel until ready to fry to prevent the spring roll wrapper from drying.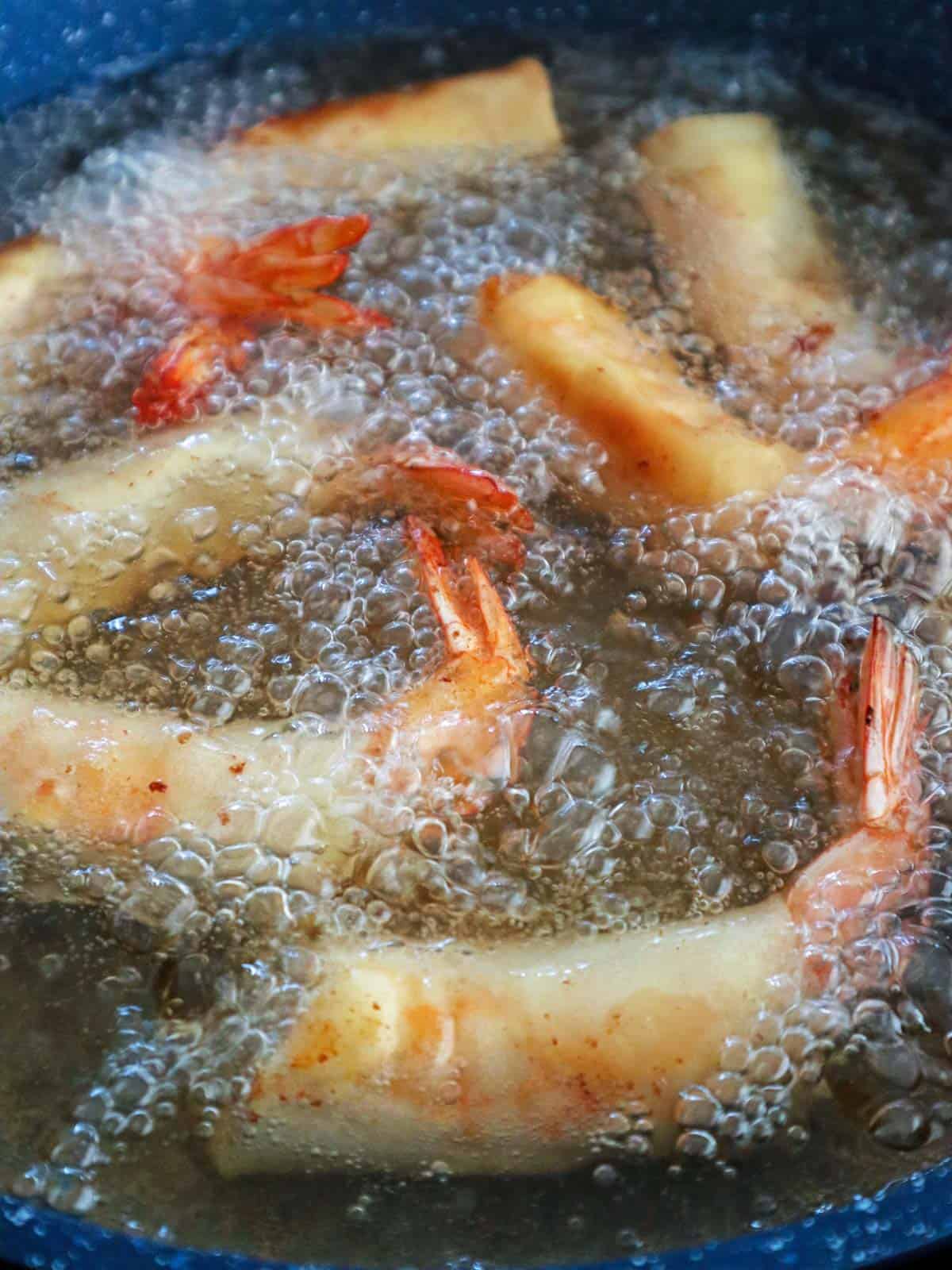 Deep-fry
For a crispy texture, fry in hot oil deep enough to cover the shrimp.
Use oil with high smoke points like canola, safflower, or corn oil and maintain at the optimal temperature range of 350 to 375 F. Too hot and the wrappers will burn before the filling is fully cooked; too low and the fried shrimps will absorb more grease.
For the best crisp, do not overcrowd the pan and deep-fry in batches as needed.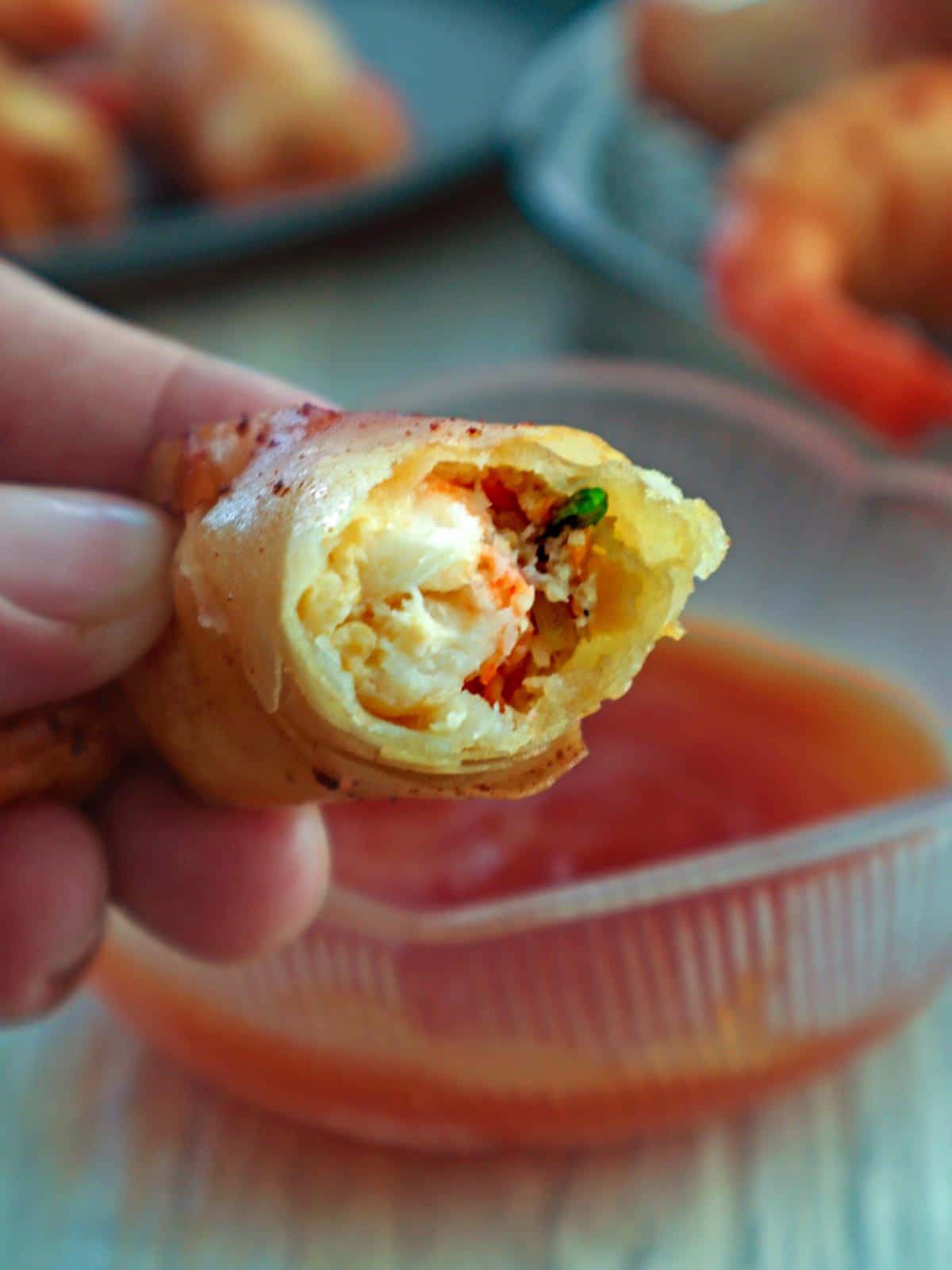 Serving suggestions
Serve rellenong hipon as an appetizer or main dish with a choice of dipping sauce, such as sweet chili sauce, plum sauce, or sweet and sour sauce.
For a sweet-fruity dip, mix 3 tablespoons Thai sweet chili sauce (Mae Ploy) with 1 tablespoon of peach preserves or mango jam. For a sweet-creamy dip, stir about 1 tablespoon of mayonnaise and 3 tablespoons of sweet chili sauce.
How to store
Enjoy freshly cooked as the spring roll wrapper gets soggy over time. For best results, store assembled but uncooked and fry when ready to serve.
To store uncooked, arrange the prepared shrimp in a single layer on a baking sheet. Cover with film and freeze until firm. Transfer to a freezer-safe container or bag and freeze for up to 3 months.
Need a party dish idea? These rellenong hipon shrimp treats stuffed with meat filling and wrapped in spring roll wrappers are perfectly crispy!
8 servings
Ingredients
1 pound large shrimps (31-35 count)
¼ pound ground pork
¼ cup green onions, chopped
¼ cup water chestnuts, finely chopped
¼ cup carrots, shredded
2 cloves garlic, peeled and minced
1 teaspoon soy sauce
½ teaspoon salt
¼ teaspoon pepper
15 pieces spring roll wrappers, cut diagonally into two triangles
canola oil
Instructions
Peel shrimps and remove heads, leaving tail intact. With a small knife, make an incision near the head and all the way down the center of the shrimp's back to the tail. With the tip of knife, remove and discard vein. Using hands, open flesh of shrimp until it lies flat.

In a bowl, combine ground pork, green onions, water chestnuts, carrots, garlic, soy sauce, salt and pepper. Gently stir until well distributed.

Place about ½ teaspoon meat filling in the center of the butterflied shrimp and press to close around filling.

On a flat working surface, arrange spring roll wrapper with pointed side facing up. Place stuffed shrimp on wrapper. Fold one side of wrapper over shrimp and the then fold the pointed side down. Roll wrapper tightly around shrimp moistening sides with water and pressing lightly to seal.

Place in a single layer, seam side down, on a dish and loosely cover with moist paper towel until ready to fry.

In a pan over medium heat, heat about 2-inches deep of oil to 350 F.

Add prepared shrimps into oil with seam side down. Cook, turning on sides as needed, until golden, crisp and cooked through.

Remove from heat and drain on a wire rack set over a baking sheet. Serve hot with sweet and sour sauce.
Notes
You can substitute water chestnuts with singkamas or jicama.
To keep them straight, make a small incision on the inside of the shrimp close to the tail to keep them from curling during frying.
Video
"This website provides approximate nutrition information for convenience and as a courtesy only. Nutrition data is gathered primarily from the USDA Food Composition Database, whenever available, or otherwise other online calculators."