Pinaupong Manok, which means "seated chicken," is a Filipino-style dish steam-cooked on a bed of rock. It's moist, tender and delicious to the bone!
G returned from his Jujitsu class just before noon today and found me bending and contorting every which way, trying to take a decent shot of this pinaupong manok.
He took one look at my roasted chicken with its legs up in the air and said, "that is one weird-looking bird." Well, Smartypants, if you've spent the last two hours sitting and sweating on rock salt, you won't be looking too swell either.
And then, of course, we had the chicken for lunch, and he couldn't stop raving about how moist and flavorful it was, how the meat was so tender and delicious. Ha! Justice for my little winged friend.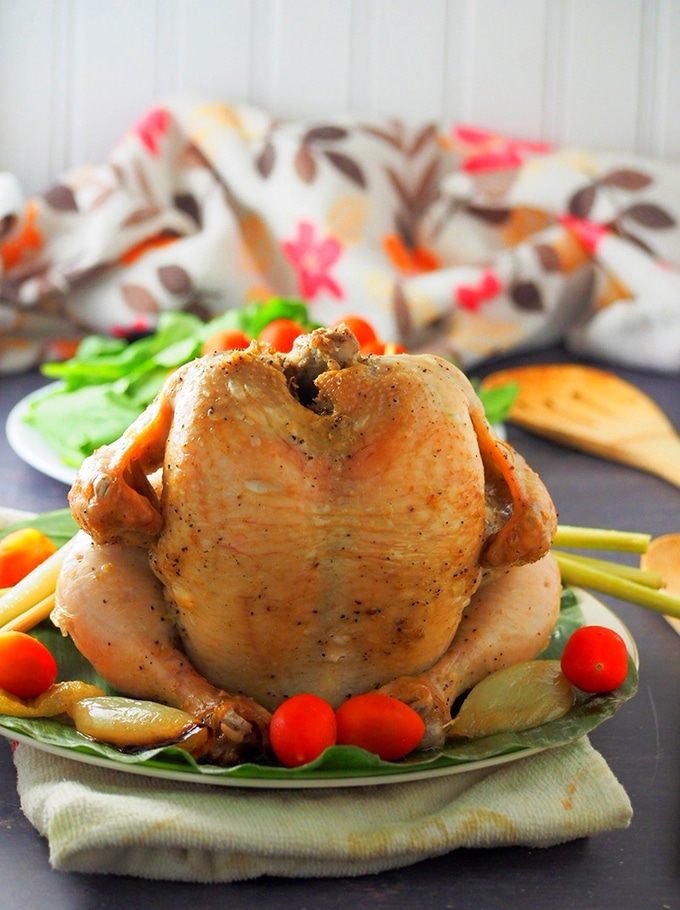 What is Pinaupong Manok sa Asin
Pinaupong manok is a Filipino dish wherein a whole chicken is seated upright on a banana-lined bed of salt and steam-cooked in a palayok until tender and flavorful.
This is the olden method of "roasting", with the build-up of heat in the tightly-lidded earthenware creating an oven-like environment that cooks the chicken in its own juices.
Tips on How to Make Filipino-style Roast Chicken
I season the whole chicken with salt, pepper, garlic, and lemongrass, but feel free to experiment with your choice of herbs and spices such as rosemary, thyme, paprika, ginger or tamarind leaves.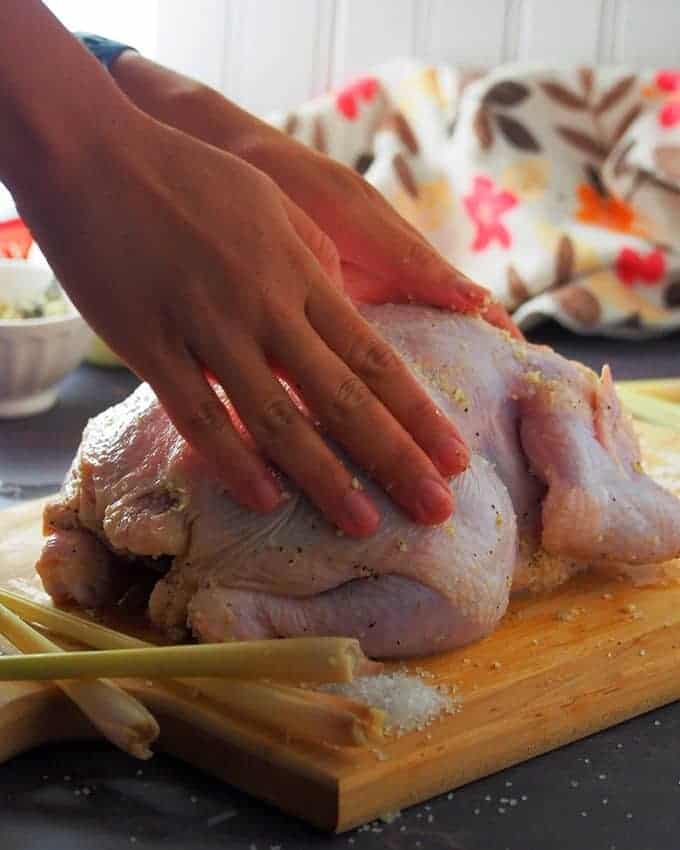 Under cold running water, rinse the chicken and pat dry. Generously rub inside and outside with the pureed salt and garlic mixture and marinate for about 30 minutes for maximum flavor.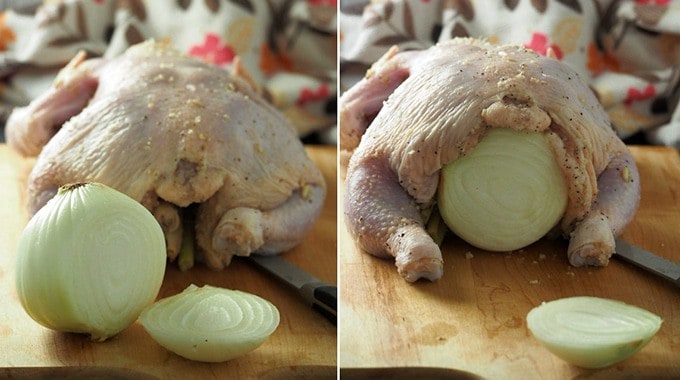 As the chicken should be sitting upright to cook evenly, peel and level off one side of a whole onion and insert it in the cavity after the lemongrass. The onion not only boosts flavor but also balances the chicken to help it "sit" upright.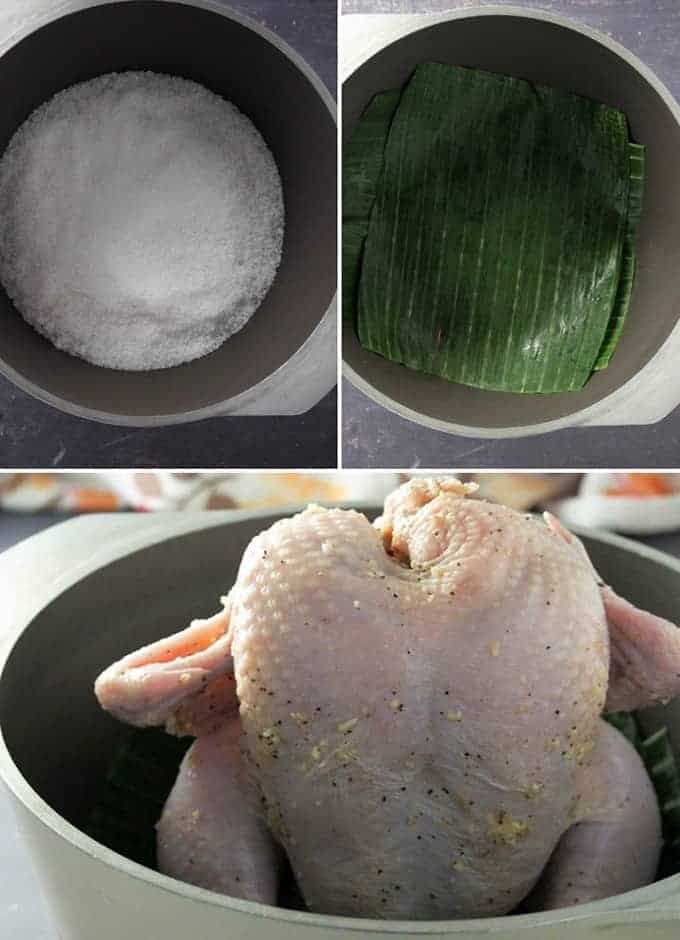 Use a thick-bottomed pot with a tight-fitting lid and make sure not to open, so the steam doesn't escape and to ensure a steady temperature.
The pot should be deep enough to accommodate the height of the seated chicken. It should have wide enough space around the chicken to keep it from touching or sticking to the sides.
Do NOT add water or liquids; the chicken will cook in its juices while the bed of salt will keep it from burning at the bottom.
The amount of rock salt will vary depending on the width of the pot; have the bed of salt at about 1 1/2 to 2 inches deep. Cook time depends on the size/weight of the chicken. You can use a meat thermometer to gauge doneness. Insert in the thickest part of the chicken; if it reads 165 F, the chicken is ready to enjoy!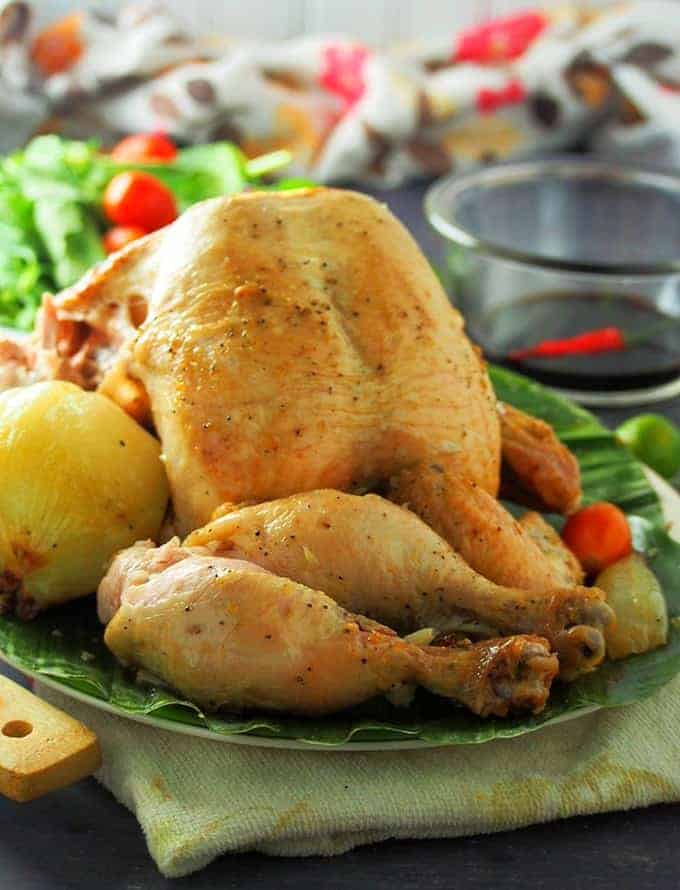 Give this Filipino "roast" chicken a try for dinner tonight. It's so easy to make, you'll be amazed how it turns out super moist, tender, and flavorful with hardly any tending.
Chop it up and serve with piping-hot steamed rice and calamansi-soy sauce for dipping. Delicious to the bone talaga!
In the mood for more chicken recipes? Try this Crispy Soy Chicken
Chowking copycat or this Fried chicken a la Max's. Enjoy!
Did you make this? Be sure to leave a review below and tag me @kawalingpinoy on Facebook and Instagram!
Pinaupong Manok, which means "seated chicken," is a Filipino-style dish steam-cooked on a bed of rock. It's moist, tender and delicious to the bone!
Servings
Ingredients
1 whole (about 4 to 5 pounds) chicken
1 head garlic, peeled
1 teaspoon pepper, freshly ground
rock salt
2 stalks lemongrass
1 large onion
Dipping Sauce
fish sauce or soy sauce to taste
calamansi juice
Instructions
Remove the gizzards and any internal organs inside the chicken's cavity. Under cold running water, rinse chicken well. Thoroughly dry the chicken inside and out.

In a food processor, pulse garlic until smooth. In a small bowl, combine pureed garlic and pepper.

Generously rub the chicken inside and out with rock salt. Massage the chicken inside and out with the garlic and pepper mixture. Let stand for about 20 to 30 minutes. 

Remove and discard the dark green layers of the lemongrass until you get to the lighter green part. With a knife, cut into lengths that will fit inside the chicken's cavity. Using the back of the knife, pound ends of lemongrass to release flavor.

Peel the onion and cut one end to level.

Stuff lemongrass into the chicken cavity. Insert onion with cut side facing outwards.

In a large, thick-bottomed pot, add rock salt to about 1 1/2 to 2 inches deep. Line banana leaves on top of the salt. 

Position chicken on an upright, "sitting" position on banana leaves.

Cover pot with a tight-fitting lid. Over medium heat, cook chicken for about 1 1/2 to 2 hours or until a thermometer inserted in the thickest part reads 165 F.

Gently lift chicken from pot and arrange on a serving platter. Serve hot with dipping sauce.
Dipping Sauce
In a bowl, combine lemon juice and fish sauce or soy sauce to taste.
Nutrition Information
Calories: 397kcal, Carbohydrates: 1g, Protein: 34g, Fat: 27g, Saturated Fat: 7g, Cholesterol: 136mg, Sodium: 127mg, Potassium: 361mg, Vitamin A: 255IU, Vitamin C: 4.4mg, Calcium: 28mg, Iron: 1.7mg
"This website provides approximate nutrition information for convenience and as a courtesy only. Nutrition data is gathered primarily from the USDA Food Composition Database, whenever available, or otherwise other online calculators."