Crispy Fried Calamari is a delicious way to enjoy your favorite squid! Learn the simple tricks on how to make this seafood appetizer super tender yet deliciously golden and crunchy.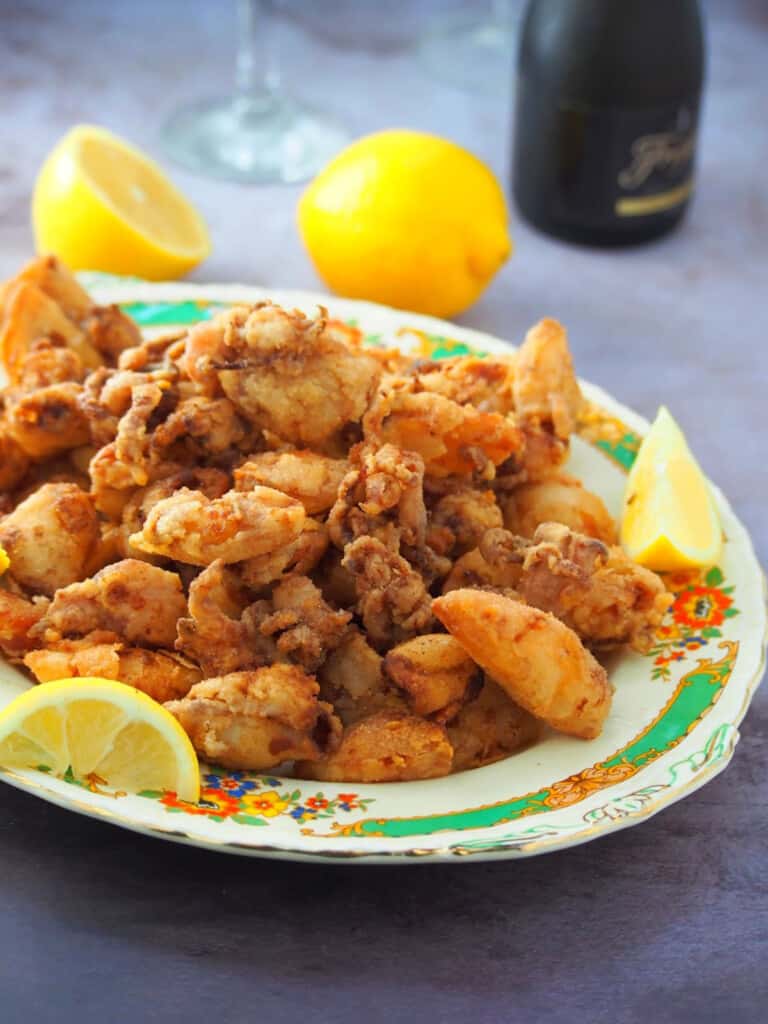 This crispy fried calamari recipe was first posted on the blog in 2014 but I am bringing it back to the forefront with brand new photos and another simple hack/tip I learned recently.
I attended a birthday party last weekend and as expected from a great company of friends, I had my fill and then some of the delicious food and amazing conversations. The celebrant had such an impressive spread, from the classic Filipino pancit to crowd-favorite leche flan dessert, I didn't stray far from the buffet table all evening.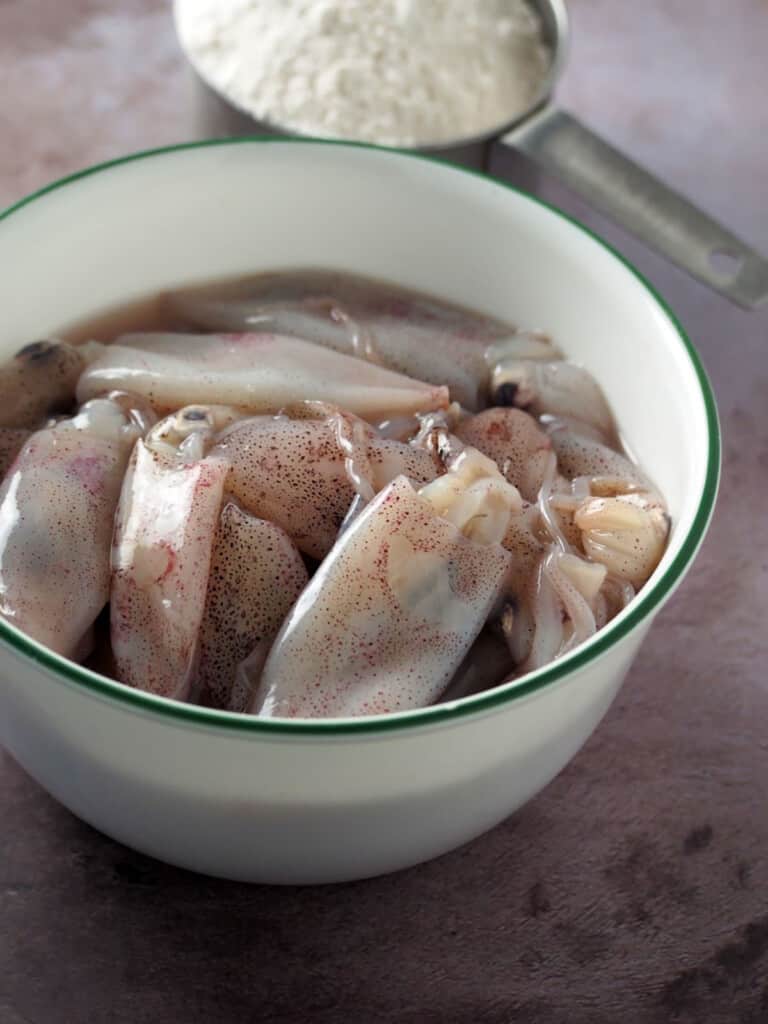 But although there were quite a few dishes I can't wait to recreate at home and share on the blog, what caught my full attention was a platter of fried calamari our hostess served as appetizers. You see, instead of preparing the squid into rings, she used really small ones and battered and fried them whole.
OK, this is not really a world-changing hack but I thought it was ingenious and time-saving at the very least. 🙂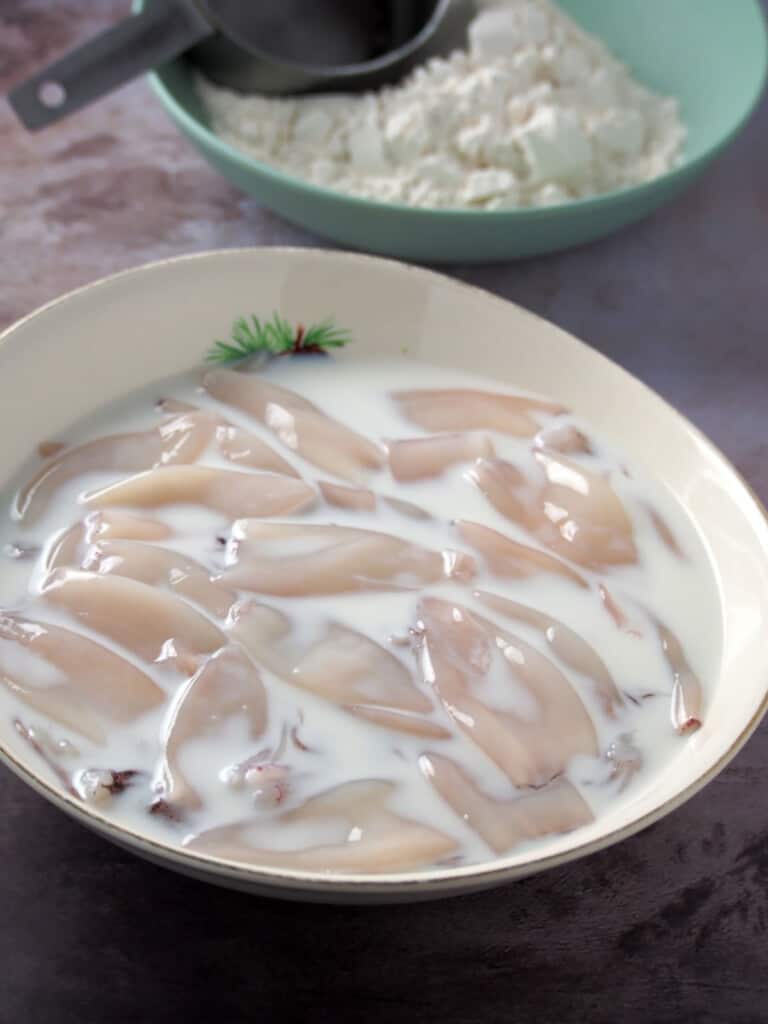 Now for the real tricks/tips on how to make deliciously golden and crunchy yet super tender calamari, here is my original post in 2014.
My friends, I know I tend to get overly excited about the recipes I post here on Kawaling Pinoy but when I tell you that these calamares are the tenderest, crispiest, yummiest ever, EVER, please believe me. Because O.M.G, they are!
I went to a girlfriend's house over the weekend and in between sips of sex on the beach and talks about sex (just kidding), we polished off roughly three pounds of these crispy squid rings all by ourselves. They were seriously addicting, we kept popping one after the other nonstop and had to battle it out on who gets the dibs on the last squid left.
Fortunately for you and me, I was able to wrangle from her not only the coveted last piece but also the tricks to making the best seafood appetizer!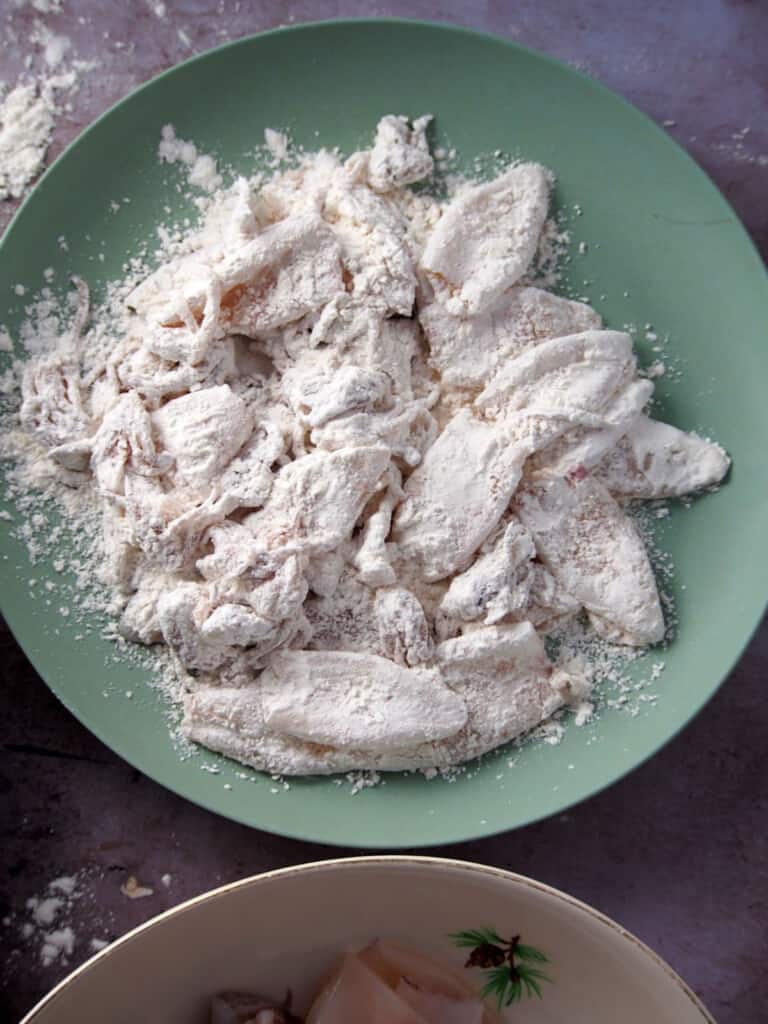 Cooking tips
Soak the cleaned squid in milk to tenderize.  I am not sure what chemical wizardry happens here but this simple trick keeps the squid nice and tender.
Use equal parts of flour and cornstarch for an unbelievably crunchy coating.
Don't scrimp on the amount of oil for frying and use the right one for the job. Vegetable, safflower, or canola oil have high smoke points and are perfect for deep-frying.
Maintain optimal oil temperature of 350 F to 375 F.  You want to brown and crisp the coating ASAP so as not to overcook the squid underneath.
Do not overcrowd the pan and cook in batches as needed to prevent the temperature from plummeting.
While the squid are hot and fresh from the fryer, season generously with garlic powder, salt, and freshly ground pepper or any of your favorite spice blends.
How to serve and store
Enjoy these crispy calamares as pulutan with an ice-cold beer or as a main dish with steamed rice and roasted veggies. Serve with choice of dipping sauces such as spicy vinegar, tartar sauce, garlic aioli, or marinara sauce.
For maximum quality, this seafood appetizer is best enjoyed freshly cooked. If saving leftovers, place in an airtight container and refrigerate for up to 2 days.
To reheat, arrange in a single layer on a baking dish and bake in a preheated 375 F  oven for about 6 to 7 minutes.
Looking for more crunchy seafood appetizers? Try this crispy tahong and crunchy drunken shrimp recipes!
Crispy Fried Calamari is your next favorite appetizer! Learn the simple tricks on how to make them super tender yet deliciously golden and crunchy.
Servings
Ingredients
3 pounds large squid
1 cup milk
1 cup flour
1 cup cornstarch
canola oil
garlic powder to taste
salt and pepper to taste
lemons, cut into wedges
Instructions
Holding the squid firmly, pull the head from the body including internal parts and tentacles. Pull out the clear cartilage inside the tube and discard.

With a knife, cut the head and the ink sack from the tentacles.  Set aside the tentacles. Peel the spotted outer membrane from the squid and discard.

Under cold running water, wash the tentacles and the tubes inside and outside to remove any remaining tissue or debris. Drain well and pat dry.

Cut the body into rings by slicing vertically or keep them whole depending on size.

In a bowl, place milk and cleaned squid. Marinate in the refrigerator for at least 30 minutes or up to 4 hours. Drain squid and discard milk.

In another bowl, combine flour and cornstarch. Stir to combine. 

Toss the squid in the flour mixture to fully coat.

In a wide pan or wok over medium heat, heat about 3-inches deep oil to 350 F. Add coated squid in batches and deep-fry, turning as needed, for about 1 to 3 minutes or until crisp and golden.

With a slotted spoon, remove from pan and drain on a wire rack set over a baking sheet.

Season with garlic powder, salt, and pepper to taste. Serve immediately with lemon wedges or spicy vinegar.
Video
Nutrition Information
Calories: 390kcal, Carbohydrates: 44g, Protein: 38g, Fat: 4g, Saturated Fat: 1g, Cholesterol: 532mg, Sodium: 119mg, Potassium: 633mg, Sugar: 2g, Vitamin A: 140IU, Vitamin C: 10.6mg, Calcium: 122mg, Iron: 2.6mg
"This website provides approximate nutrition information for convenience and as a courtesy only. Nutrition data is gathered primarily from the USDA Food Composition Database, whenever available, or otherwise other online calculators."