Steamed Lapu-Lapu with Mayonnaise is a traditional Christmas dish made with steamed grouper fish topped with mayonnaise and garnished with chopped eggs, sweet pickle relish, carrots, and bell peppers. It's as pretty as it is tasty!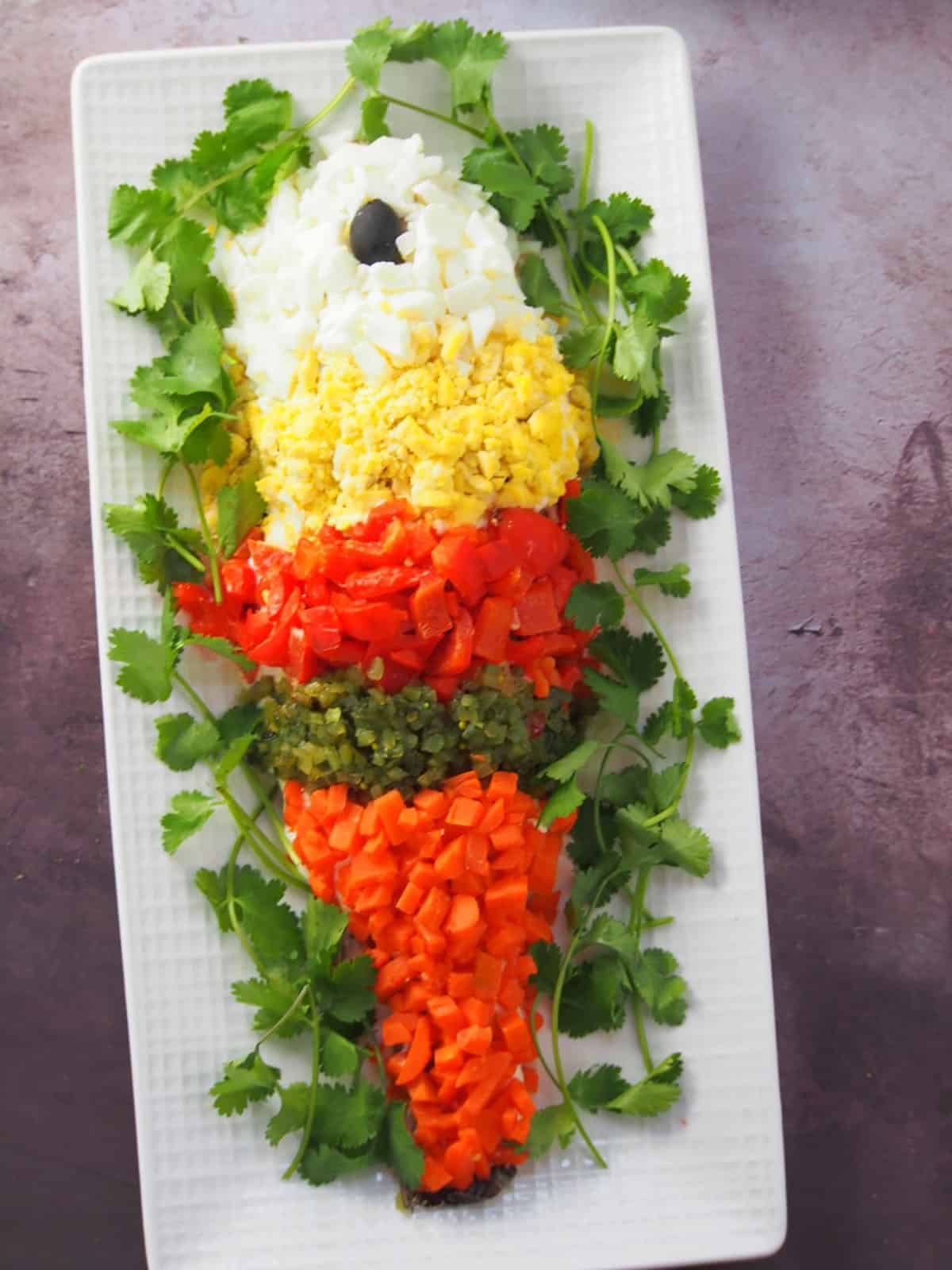 This steamed lapu-lapu with mayonnaise has been on my to-do list since last Christmas, but I couldn't find fresh grouper big enough for the recipe until the holidays passed. Imagine my delight when I finally chanced upon ones that are upward of 3 to 5 pounds in size at our neighborhood Asian mart.
They weren't exactly cheap at $5.99 a pound. I almost choked, coughing up twenty-five dollars for my fish at the checkout counter. But, oh my, was every morsel worth the stiff price!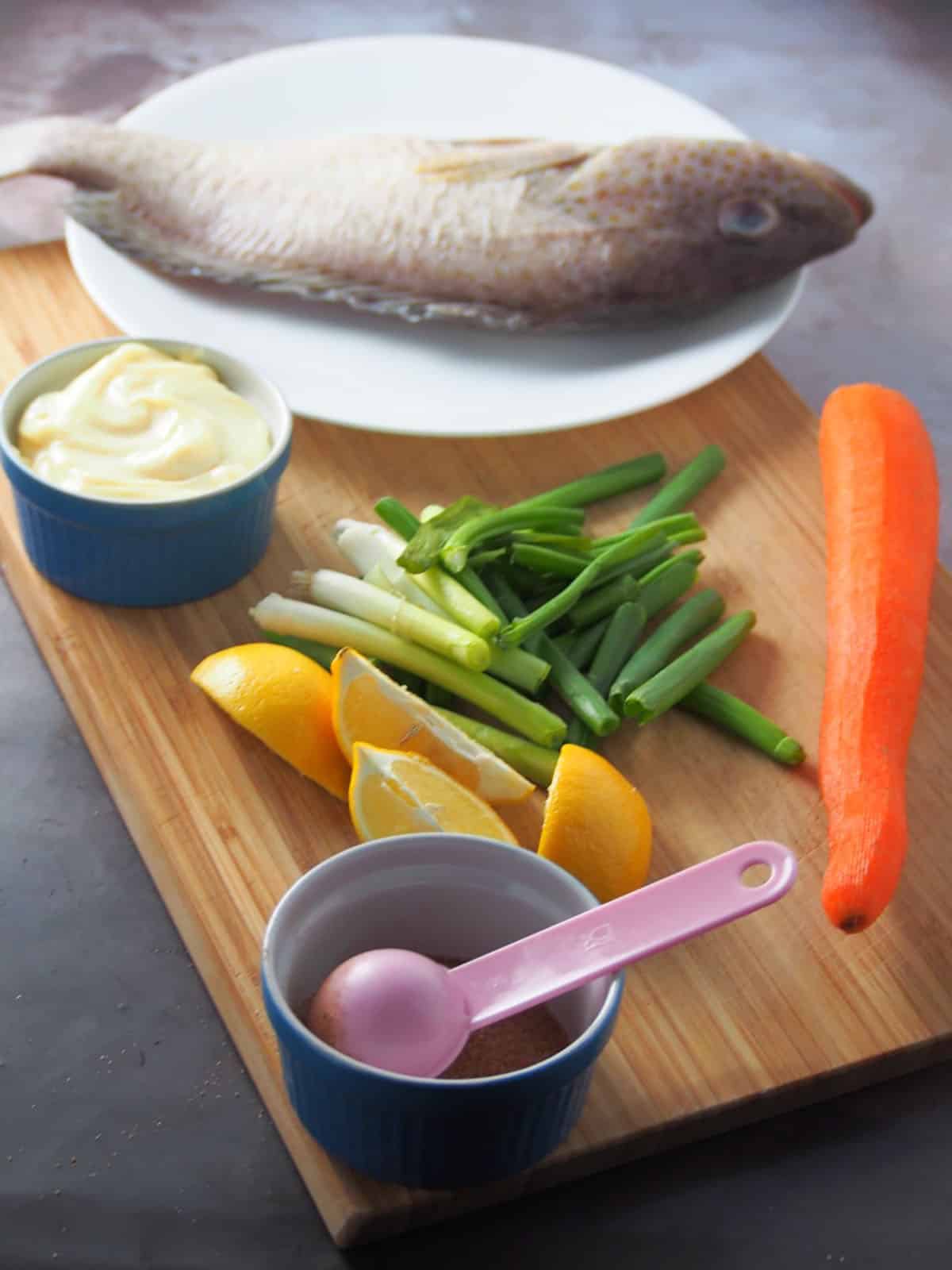 If you're looking for an impressive Noche Buena centerpiece, this Lapu Lapu de la Reyna is it! This recipe is an easy way to level up your favorite fish into a holiday-worthy dish that's sure to wow your guests.
The generous smothering of mayo adds a creamy flavor while the array of toppings complements the exquisite flavor of the steamed fish, and the festive color combination jazzes it up in Christmas style.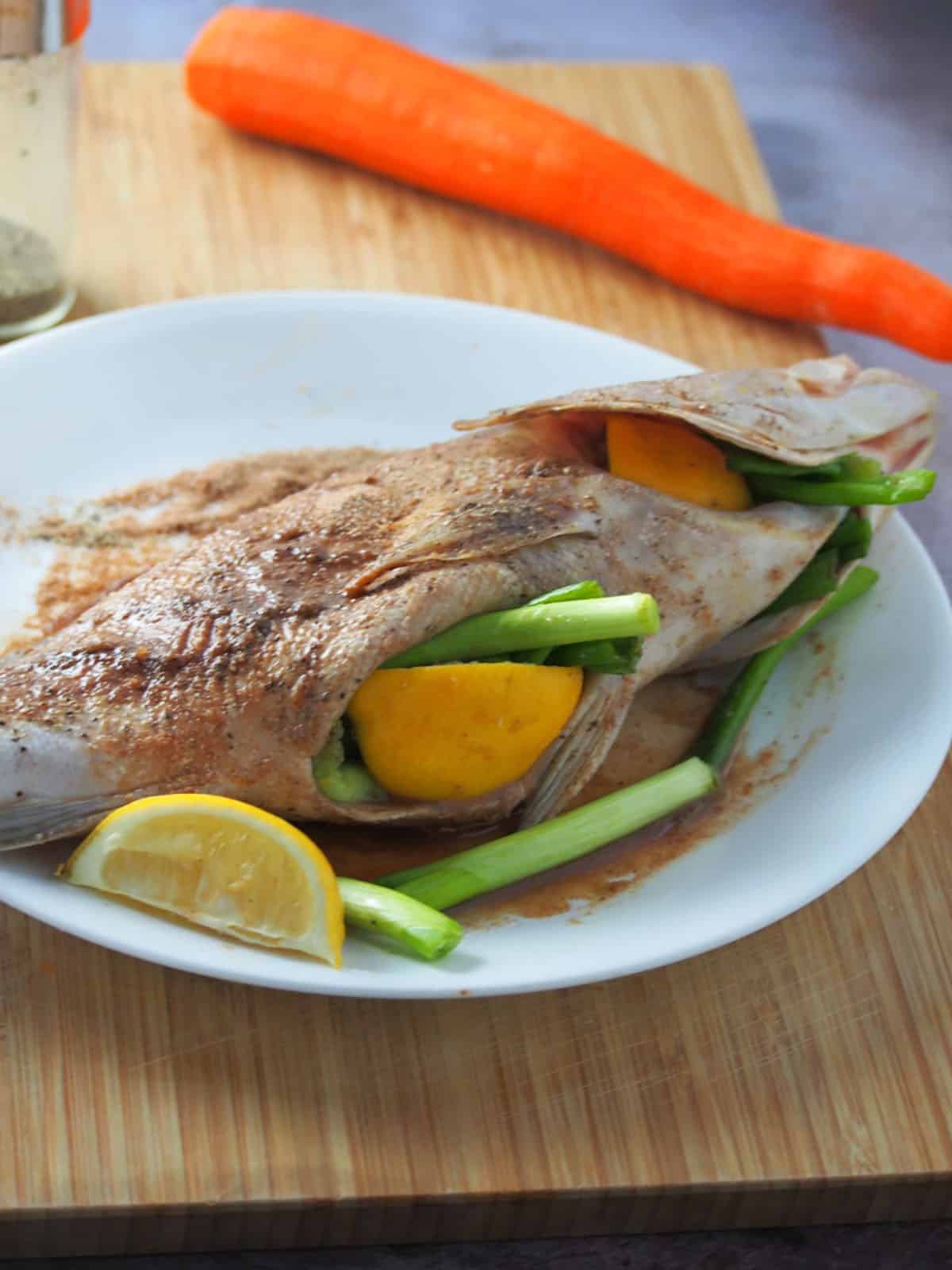 Ingredient notes
Grouper is traditionally used in pescao de mayonesa, but any large white-fleshed fish such as maya-maya and tilapia will also work.
I like to season the fish inside out with salt, pepper, and tamarind powder. You can also use garlic powder for more flavor and dried red chili pepper flakes for a touch of heat. Stuff the cavity with lemon wedges and green onions to add flavor.
If you'd like to cut down on calories, swap the mayonnaise with sour cream or plain Greek yogurt.
Garnish the steamed fish with chopped egg whites, yolks, carrots, roasted red bell peppers, and sweet pickle relish. Chopped red onions, olives, and celery are also great options.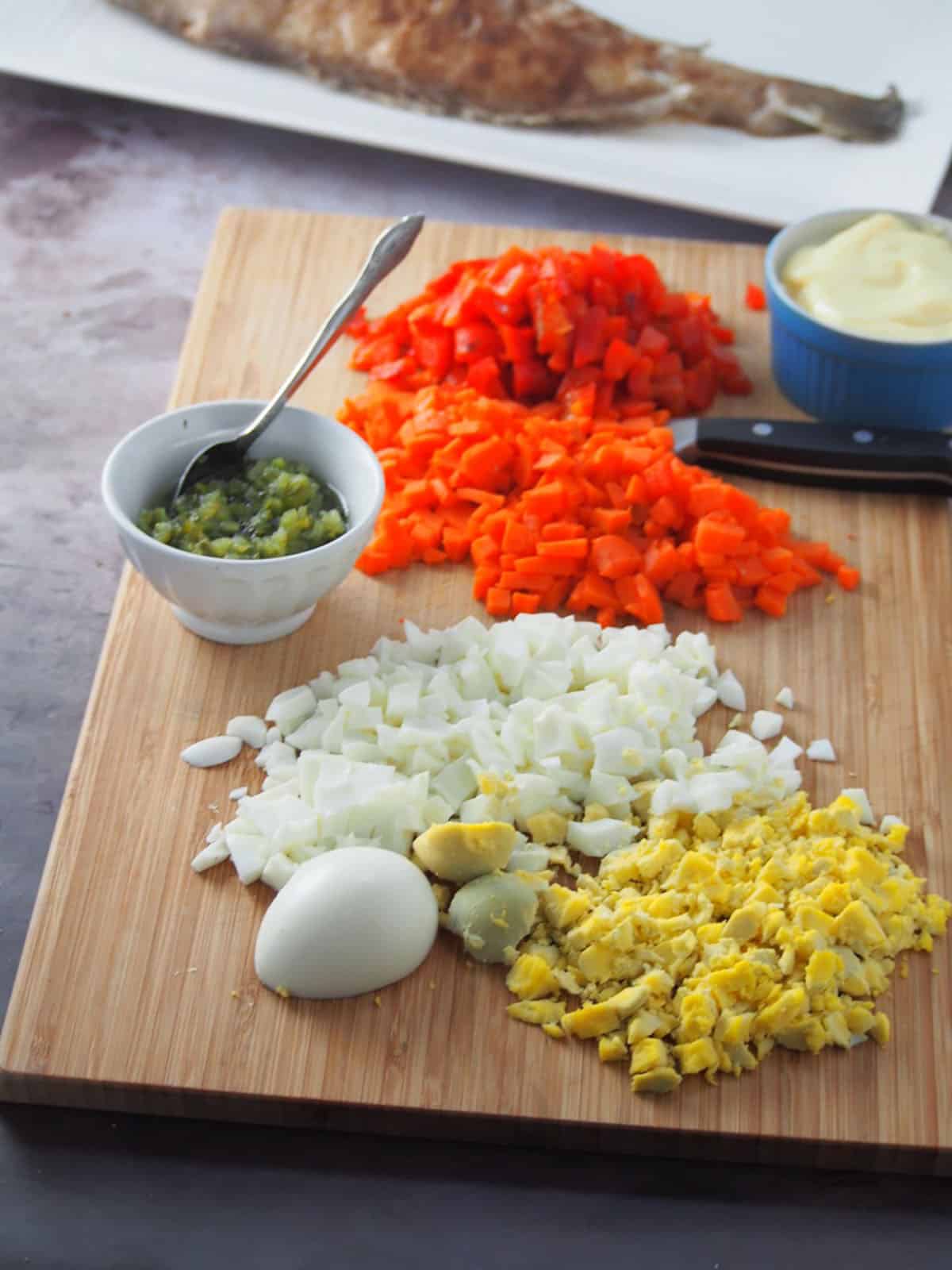 Helpful tips
Clean, scale, and gut the fish, making sure all innards are removed as they can leave a malodor.
Refrigerate the fish to cool completely before adding the toppings, as the mayonnaise might melt from the escaping heat.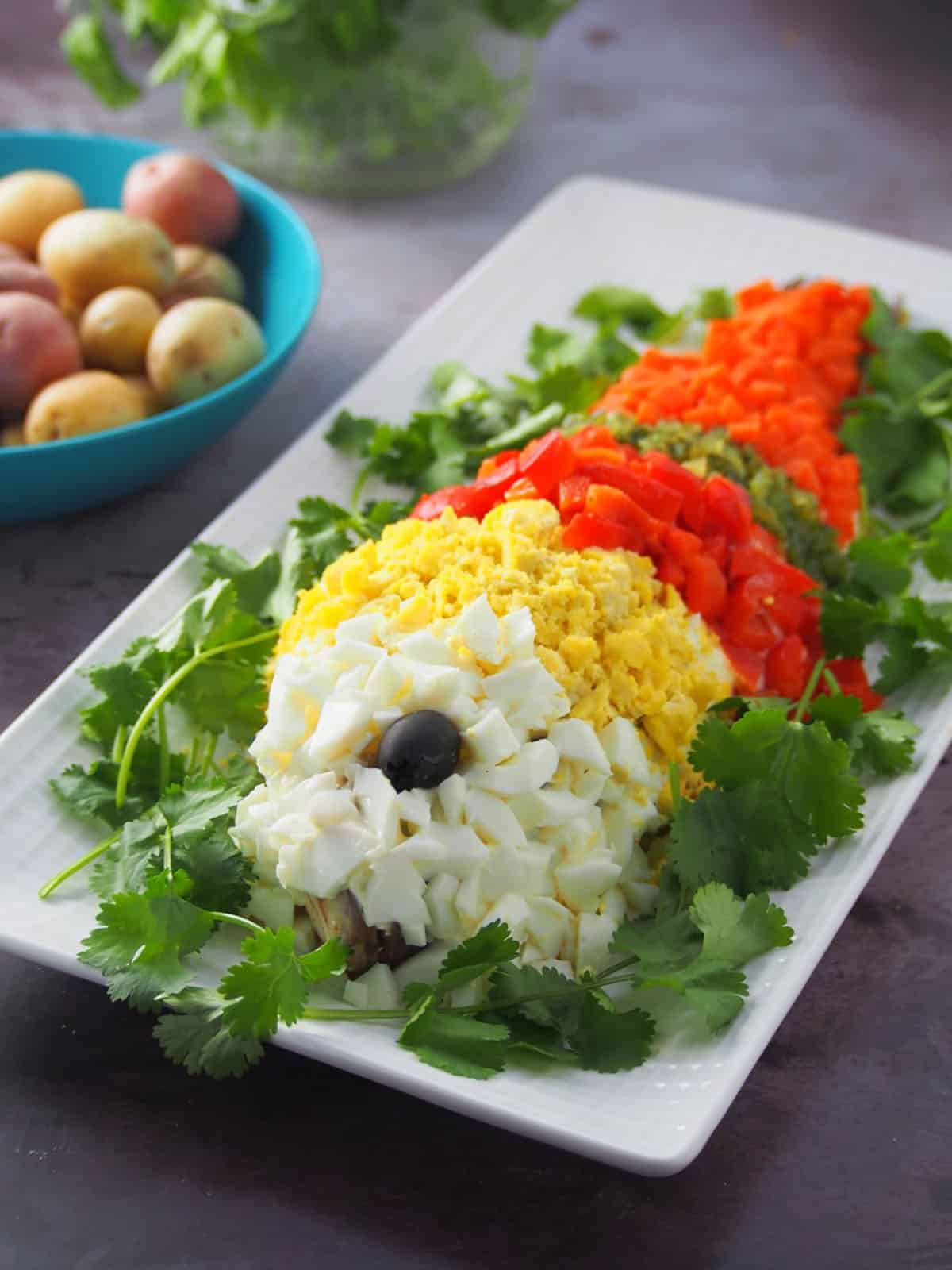 How to serve and store
This steamed fish with mayonnaise is a classic Filipino dish usually served for the Christmas season, fiestas, and other special occasions. It makes a great addition to your Noche Buena, along with this slow cooker ham with pineapple.
Enjoy the lapu-lapu chilled. Keep it refrigerated until ready to serve to maintain quality and food safety.
Keep leftovers in a storage container with a lid and refrigerate for up to 3 days.
Level up your favorite fish into a festive holiday dish! Steamed and topped with mayonnaise and various garnishes, it's moist, flavorful, and delicious as it is pretty.
6 Servings
Ingredients
1 large grouper (lapu-lapu), scaled, cleaned, and gutted
2 tablespoons tamarind powder
salt and pepper to taste
1 lemon, cut into wedges
1 bunch green onions, cut into 3-inch lengths
1 large carrot, peeled
1 red bell pepper
4 hardboiled eggs, peeled
1 cup mayonnaise
¼ cup sweet pickle relish
1 black olive, pitted (for the eye)
Instructions
Rinse fish under cold running water, removing all blood and innards. Pat dry.

Rub tamarind powder all over fish, inside and out. Season with salt and pepper to taste. Let stand for about 10 to 15 minutes.

Stuff cavity with lemon wedges and green onions.

Arrange the fish on a large flat steamer rack and steam fish for about 20 to 25 minutes or until it easily flakes with a fork.

While fish is steaming, prepare toppings.

Separate white part of eggs from yolk and finely chop.

Over open gas flames, roast bell pepper until skin is charred. Remove from heat and allow to slightly cool. Under cold running water, peel the skin and discard. Remove stem and seeds and discard. Finely chop the flesh.

In a pot over medium heat, bring lightly salted water to a boil. Add carrot and cook for about 3 to 5 minutes or until tender but crisp. With a slotted spoon, remove from pan and allow to cool. Dice.

Carefully remove fish from steamer and transfer onto a serving platter. Remove lemon and green onions inside fish and discard.

Allow to cool and refrigerate until completely cold.

Spread mayonnaise all over the top of part of fish.

Arrange toppings over mayonnaise as desired. Place a pitted olive on the head of the fish for the "eye".

Chill in the refrigerator. Serve cold.
Notes
Clean, scale, and gut the fish, making sure all innards are removed as they can leave a malodor.
Refrigerate the fish to cool completely before adding the toppings, as the mayonnaise might melt from the escaping heat.
Video
"This website provides approximate nutrition information for convenience and as a courtesy only. Nutrition data is gathered primarily from the USDA Food Composition Database, whenever available, or otherwise other online calculators."