Shrimp in Black Bean Sauce stir-fry is quick and easy to prep yet full of spicy, bold flavors that are sure to be a hit with the family. Perfect with steamed rice!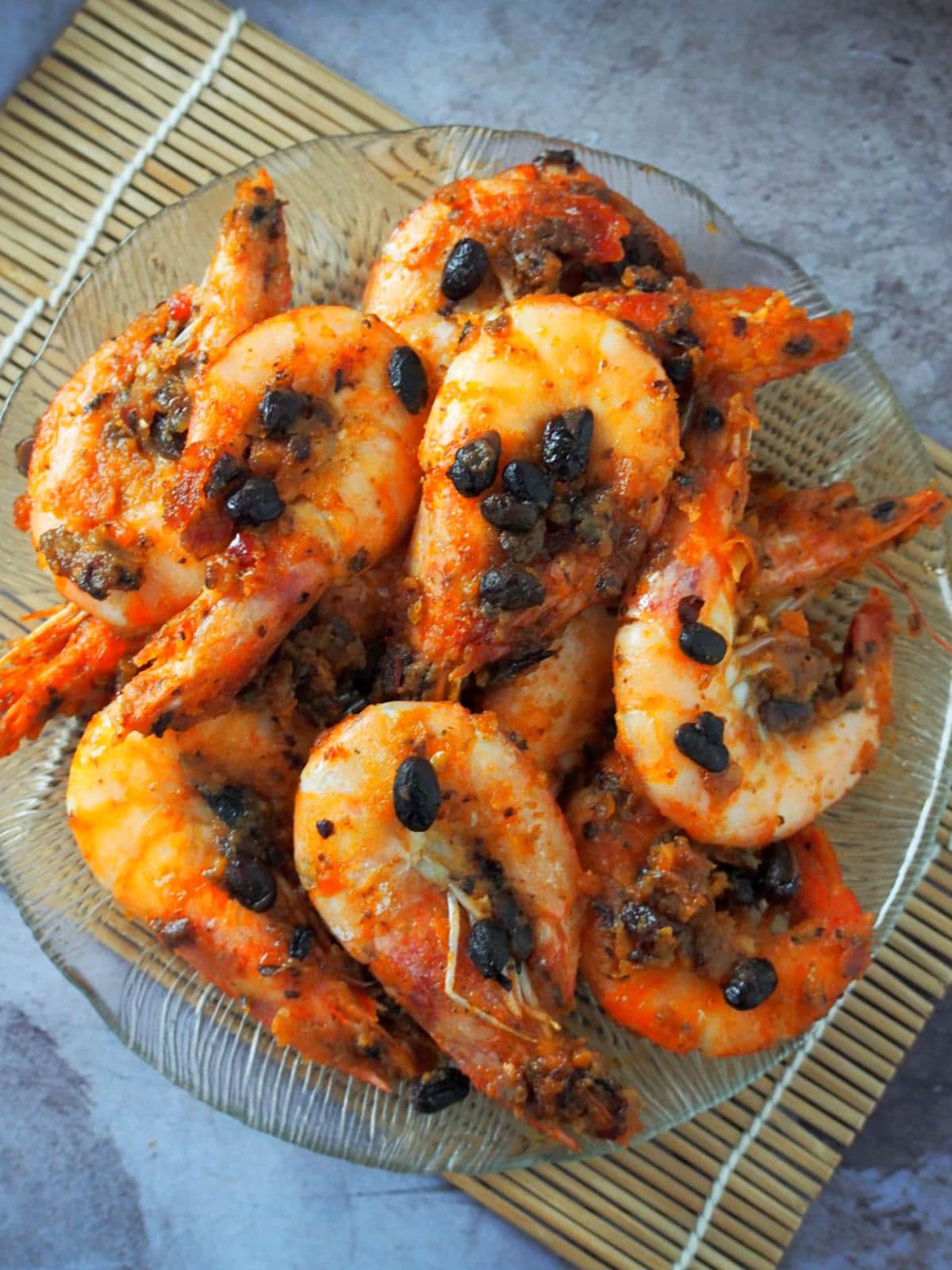 This shrimp in black bean sauce was inspired by a tilapia dish, one of my favorite recipes on the blog. I love the spicy and garlicky flavors of the black bean sauce and often incorporate it in many seafood dishes I cook at home.
You can easily swap the shrimp with crab, mussels, or clams, and it will be just as impressive. Just steam your choice of shellfish and then quickly stir-fry in the black bean sauce.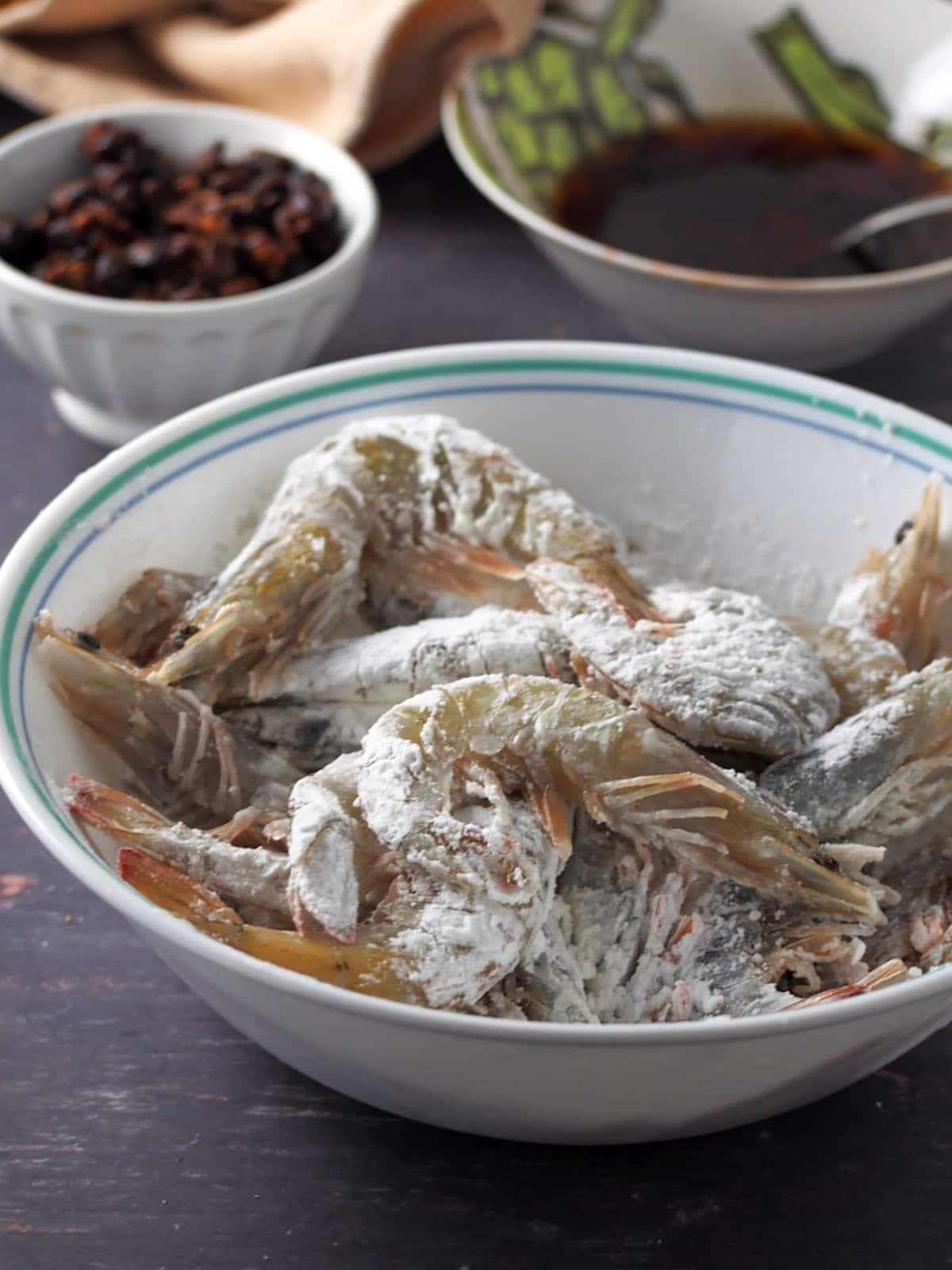 This Asian stir-fry recipe is fast and easy to prepare; you'll have a delicious dinner ready in a pinch. It turns out so full of flavor; you'll wow everyone at the dinner table with hardly any effort.
Most of the work involved is dredging the shrimp in cornstarch and deep-frying until golden and crunchy. Everything else is easy, peasy, and just a quick stir-fry.
Ingredient notes
The recipe uses head-on shrimp for extra texture, but feel free to swap it with peeled shrimp for easy eating.
Fermented black beans are packed in salt. Make sure to rinse and drain well to remove the excess sodium.
The chili garlic sauce adds a lot of spice; decrease the amount if you want to tone down the heat.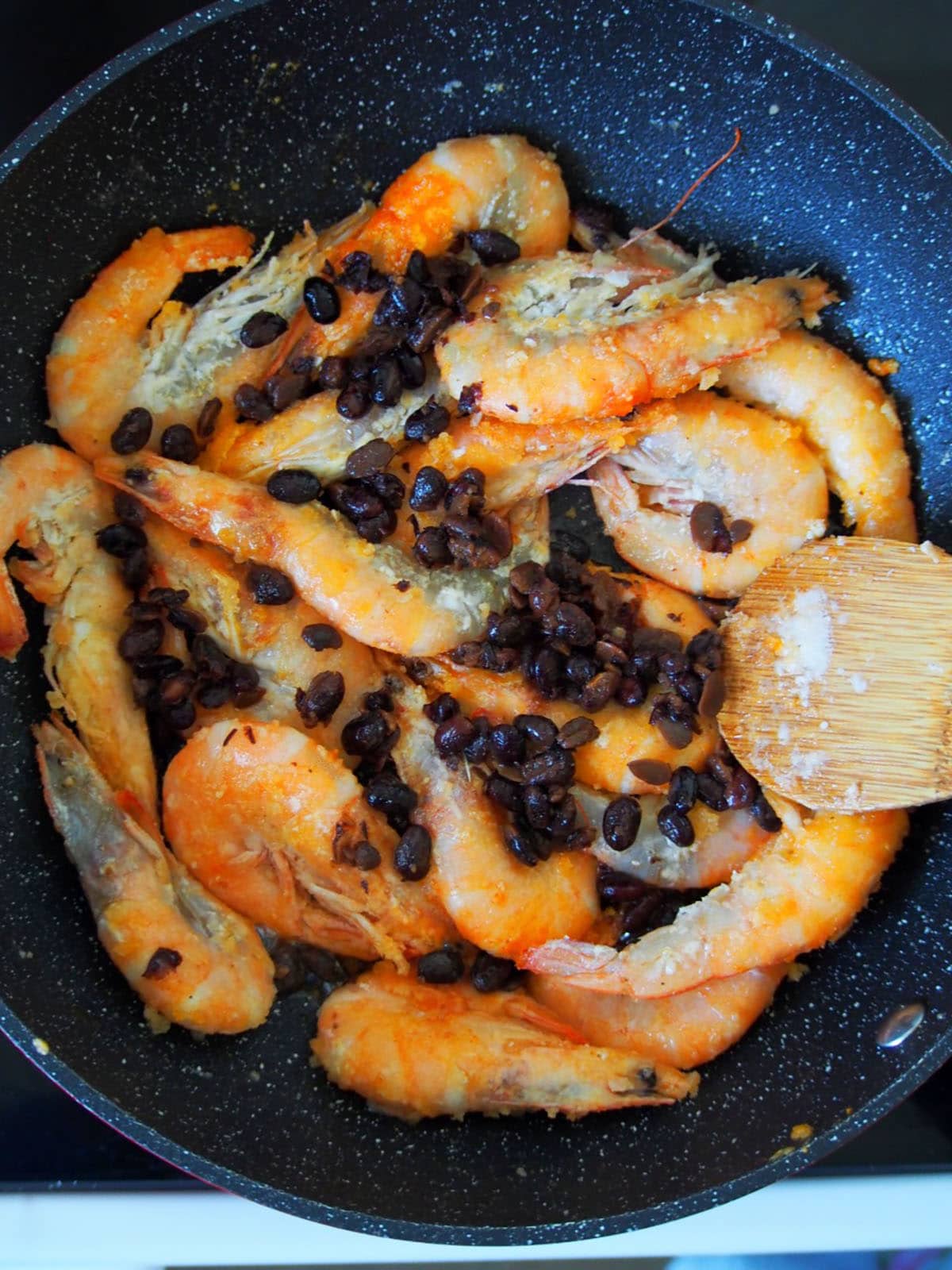 Cooking tips
Prepare the shrimp by trimming off the tendrils and rostrum (sharp point by the head). Drain the shrimp well and pat dry with paper towels to help the cornstarch coating adhere and crisp well during deep-frying.
For best results, use oil with high smoke points such as peanut, corn, canola, or safflower oil for deep-frying. Maintain at the optimal temperature of 350 F to 375 F.
Use a wide pan with high slopes and stir fry on high heat to allow for plenty of space for the ingredients to sear nicely instead of cooking in the steam.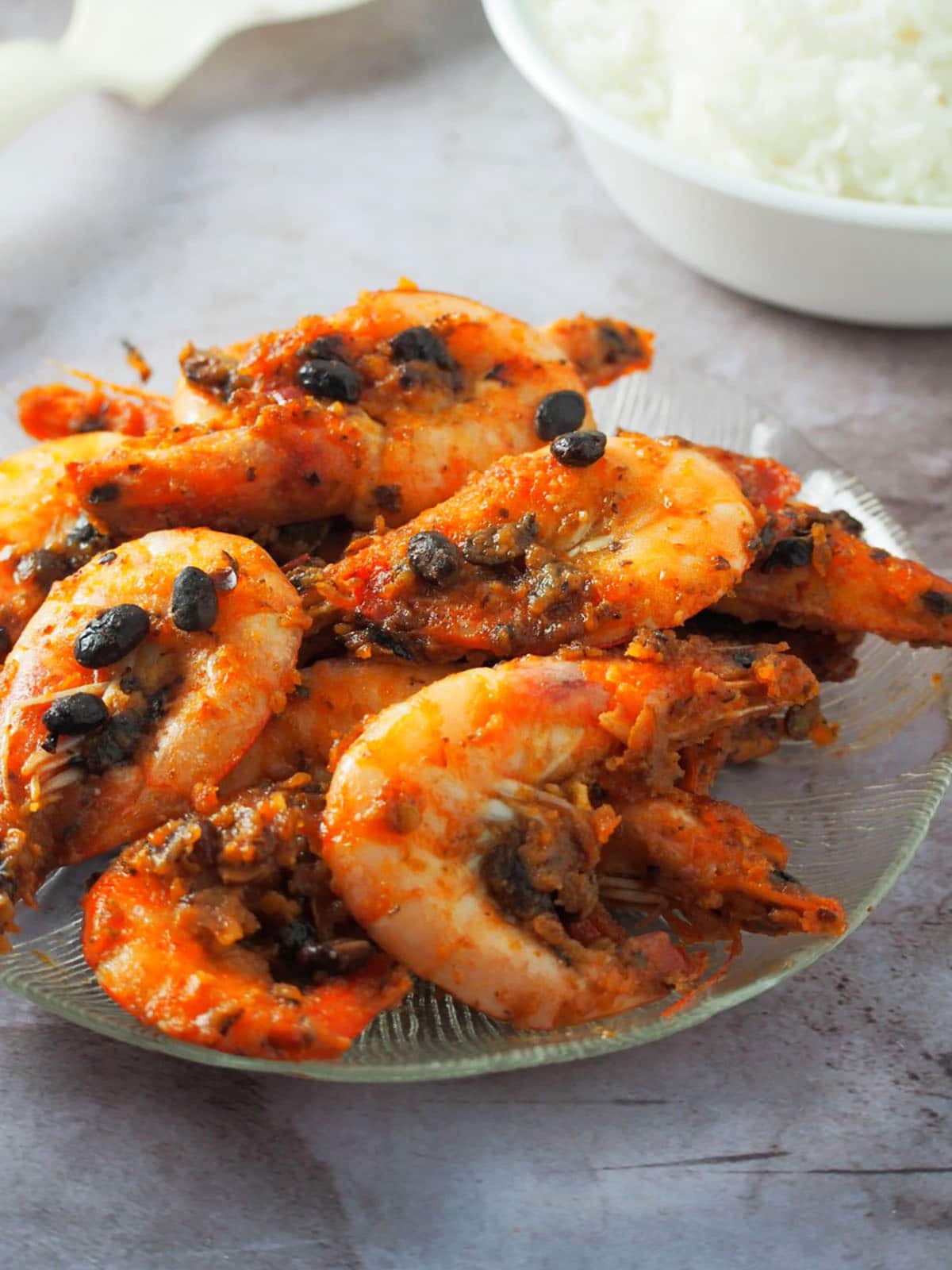 How to serve and store
Shrimp with black bean sauce is delicious as a main dish for lunch or dinner and goes really well with steamed rice.
Transfer leftovers to a container with a tight-fitting lid and refrigerate for up to 3 days.
Reheat in the microwave at 30-second intervals until warmed through. Note seafood tends to become tough and chewy when overcooked.
Asian Shrimp stir-fry with a spicy garlic black bean sauce is easy to make and full of flavor. This Asian seafood dish is great with steamed rice!
4 Servings
Ingredients
canola oil
2 pounds shrimp, tendrils trimmed, rinsed, and drained well
2 tablespoons cornstarch
1 cup water
¼ cup Chinese cooking wine
3 tablespoons chili garlic sauce
2 tablespoons soy sauce
2 teaspoons sesame oil
1 small onion, peeled and chopped
2 cloves garlic, peeled and minced
1 can (6 ounces) salted black beans, rinsed and drained
Instructions
In a wide pan, heat about 2 inches deep of oil.

In a bowl, combine shrimp and cornstarch until coated.

Add one by one into the hot oil and deep-fry, turning as needed, until golden and crunchy.

With a slotted spoon, remove shrimp and drain on a wire rack. Keep warm.

In a small bowl, combine water, chili garlic sauce, soy sauce, Chinese cooking wine, and sesame oil. Stir until well combined and set aside.

In a wide skillet over high heat, heat about 1 tablespoon oil. Add onions and garlic and cook until softened.

Add sauce mixture and black beans and stir to combine. Bring to a simmer for about 1 to 2 minutes.

Add shrimp and toss to combine just until heated through. Serve hot.
Notes
Drain the shrimp well and pat dry with paper towels to help the cornstarch coating adhere and crisp well during deep-frying.
Video
"This website provides approximate nutrition information for convenience and as a courtesy only. Nutrition data is gathered primarily from the USDA Food Composition Database, whenever available, or otherwise other online calculators."