Shrimp Broccoli Stir Fry is a quick and tasty way to serve dinner tonight! It's easy to make and so tasty. With tender-crisp veggies, succulent shrimp, and a savory sauce, it's a delicious and nutritious meal the whole family will love.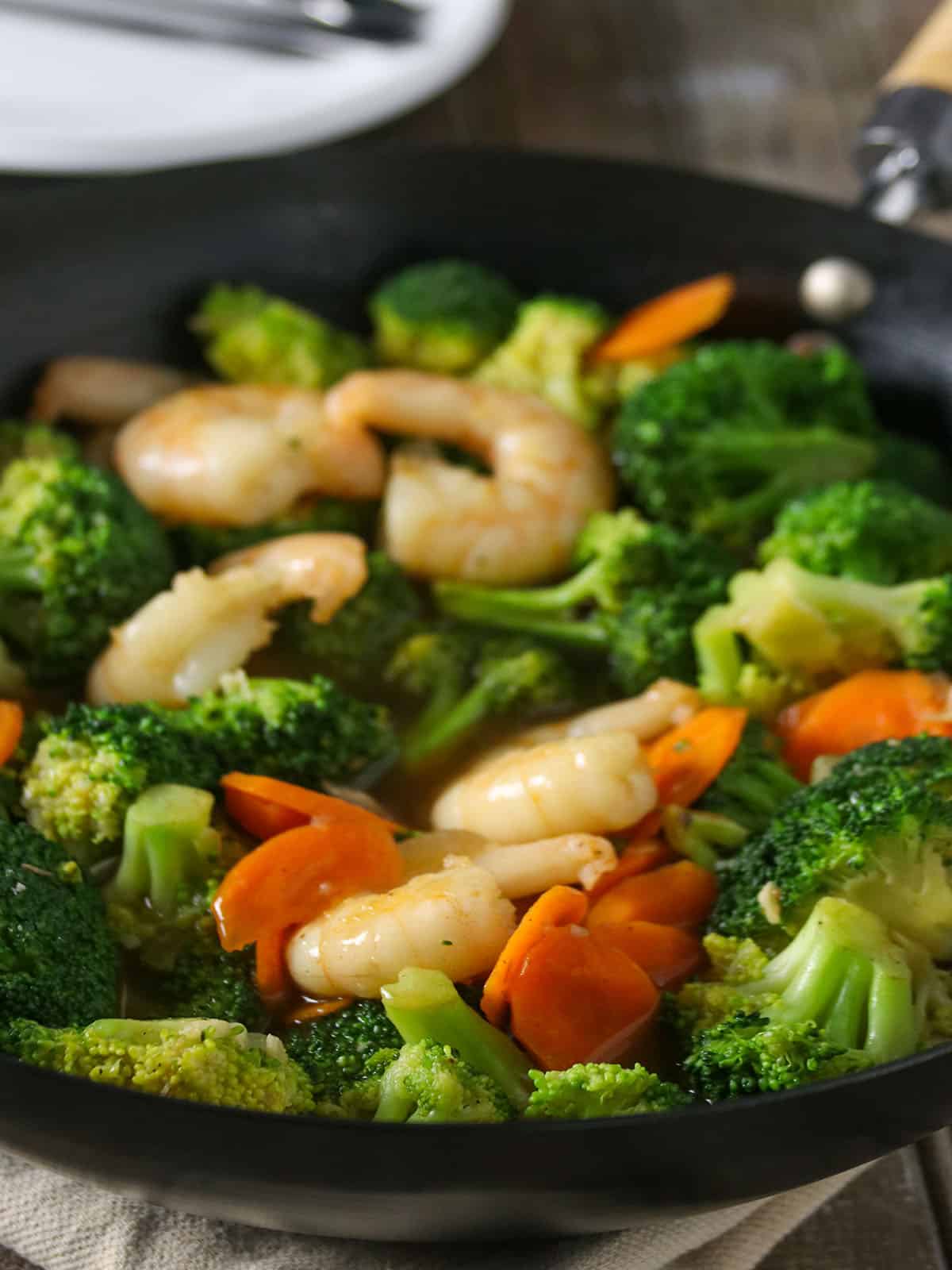 Shrimp broccoli stir fry is a favorite in our house and one you'll regularly find at our dinner table. I love to cook, but there are days when I want a meal in a hurry, and this delicious vegetable dish gets me out of the kitchen with a hot meal in no time.
What is stir-frying
Stir-frying is a Chinese cooking technique in which ingredients are quickly "fried" in a small amount of oil over high heat until nicely seared. This high-temperature cooking not only locks in flavor and texture but also retains the nutritional value of food due to quicker cook time.
If you're looking for a delicious yet economical meal to serve the family, stir-fries creatively use up whatever random assortment of veggies and meat you have on hand.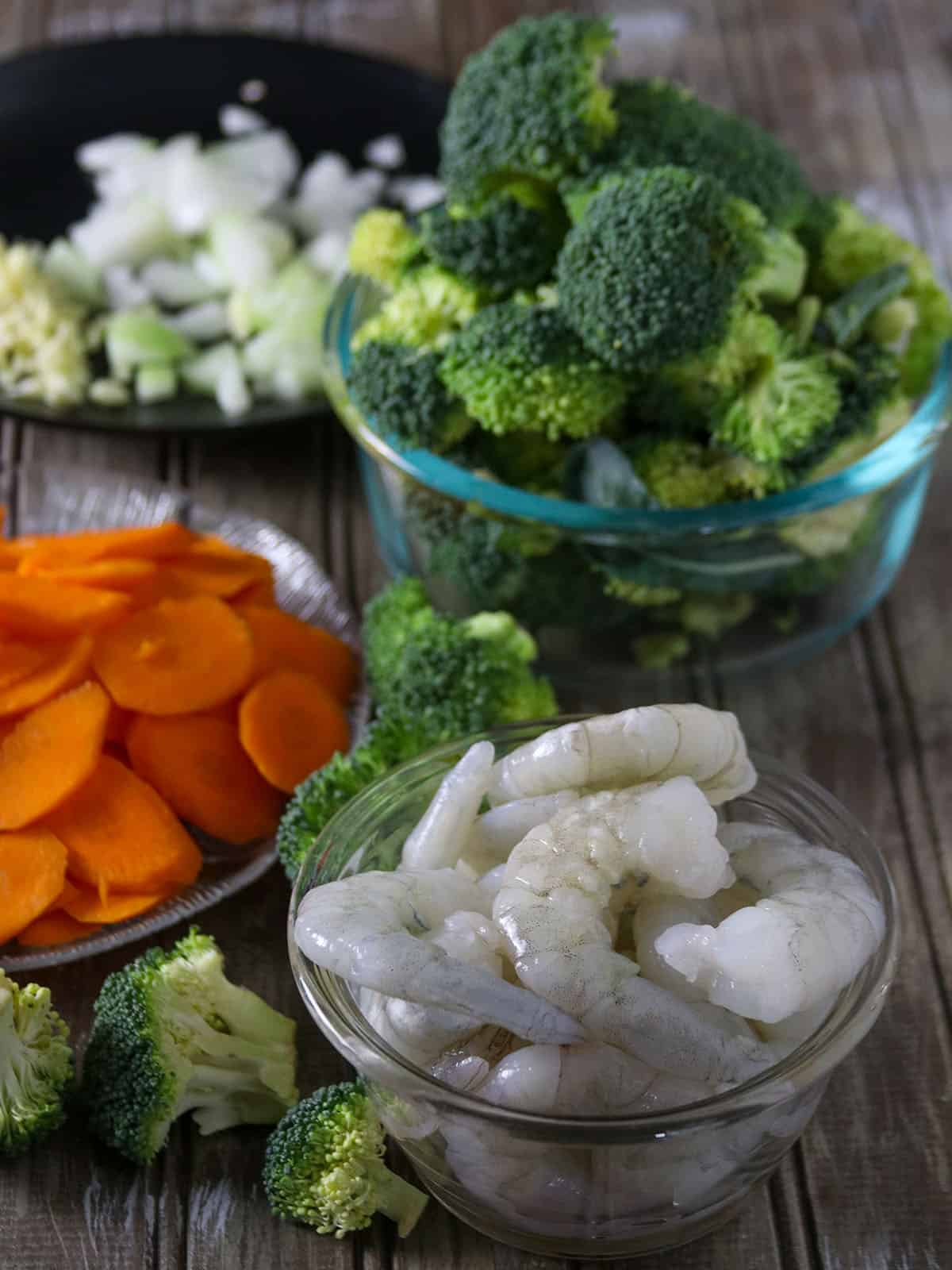 Equipment to use
Although a wok is the recommended cooking vessel, it's not really necessary for making stir-fries at home. However, you need a wide-bottomed pan with high sides to allow even distribution of heat and quick stirring of ingredients without spilling over.
Cooking tips
Stir-frying is a speedy process, so ensure all your ingredients are prepared and ready to go. Cut your meats and veggies in uniform sizes to ensure even cooking.
Do not overcrowd your pan and cook in batches depending on the pan size; you want the food to sear and not cook in the steam.
Make sure your pan is hot before adding oil, and give the oil a few minutes to heat up to ensure the food doesn't stick to the pan.
Not all oils are suitable for high temperatures. Use a neutral taste and high smoke points, such as safflower, canola, or vegetable oil.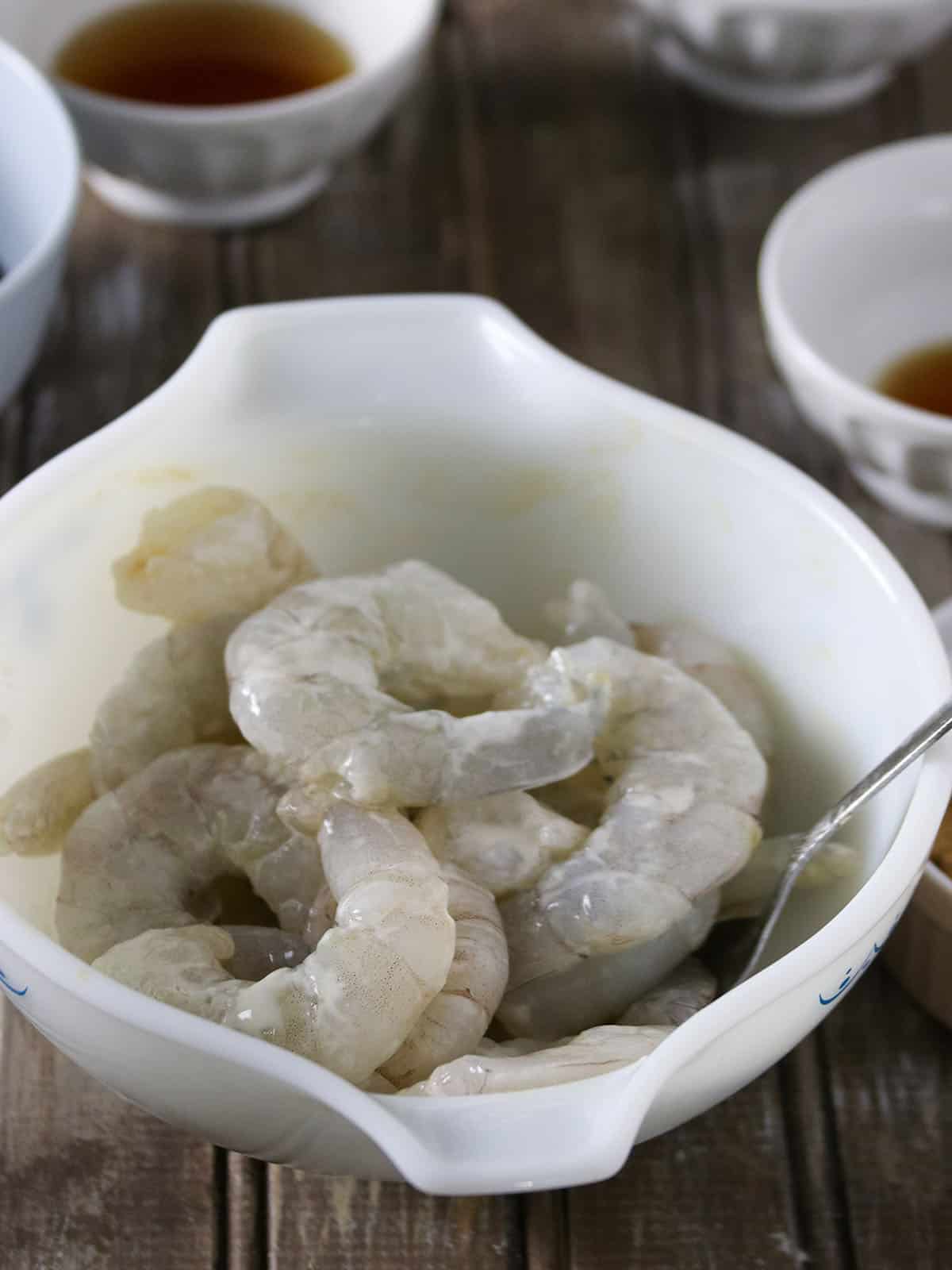 Velveting the shrimp
Velveting is a Chinese cooking technique where beef, chicken, or seafood are marinated in cornstarch to help seal in moisture and keep the meat moist even with the high heat cooking.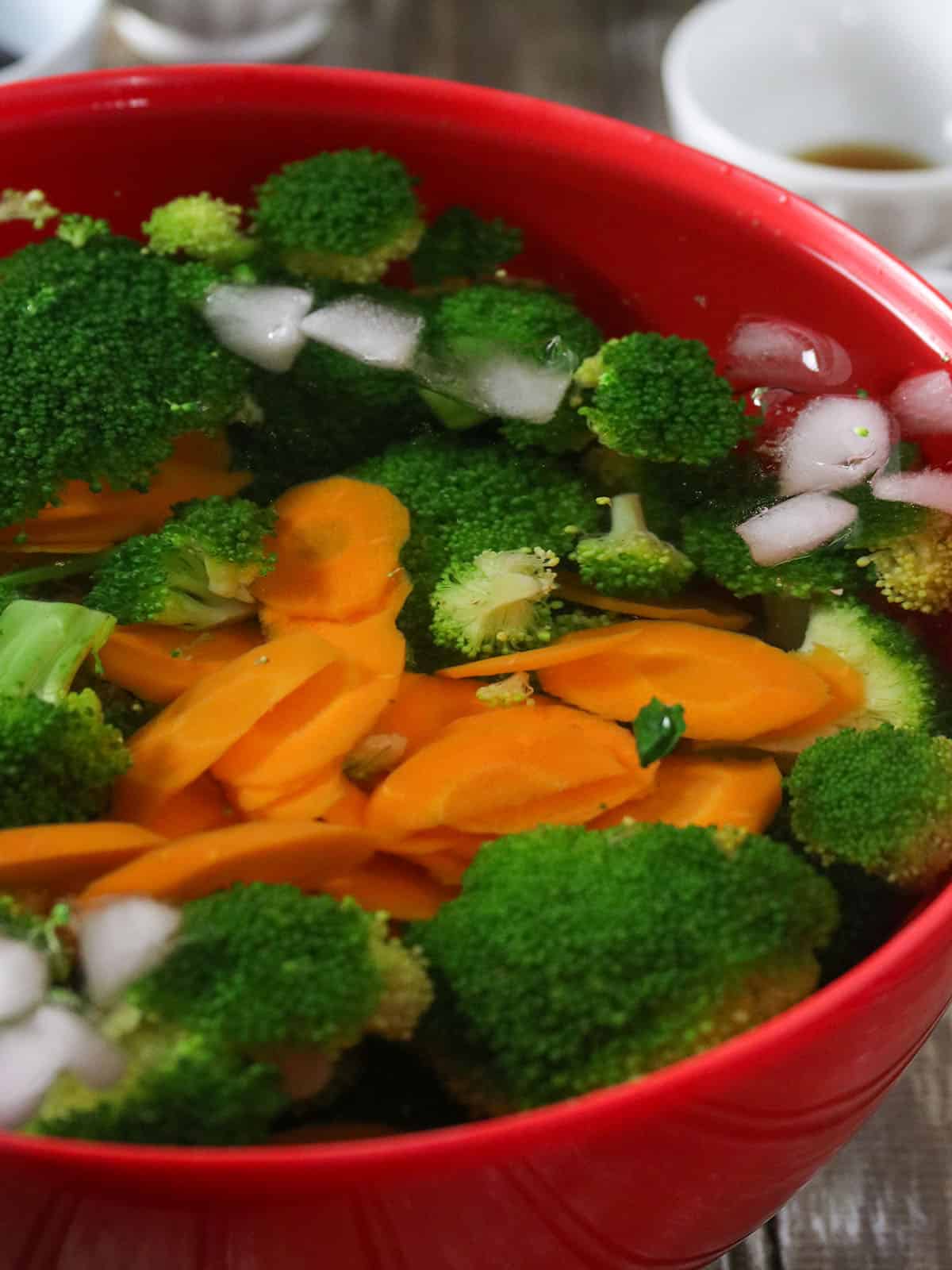 Blanching the vegetables
Before stir-frying, I like to blanch sturdier vegetables like carrots and broccoli. Not only does it help maintain the vegetables' vibrant color and crisp texture, but it also helps for faster and even cooking.
With the carrots and broccoli already tender yet crisp, pulling together the stir-fry dish is all a matter of tossing them in the stir-fry sauce.
Stir-fry sauce
I used my tried and tested sauce stir-fry recipe for this shrimp broccoli stir-fry dish. Its big, bold flavors go well with almost any meat, seafood, or veggies in stir-fries, and it also makes a tasty marinade for meat or seafood.
It's a simple mix of soy sauce, brown sugar, oyster sauce, rice vinegar, Chinese cooking wine, sesame oil, and cornstarch that's super easy to put together. I have weeknight dinners from stove to table in 30 minutes or less with it in my arsenal!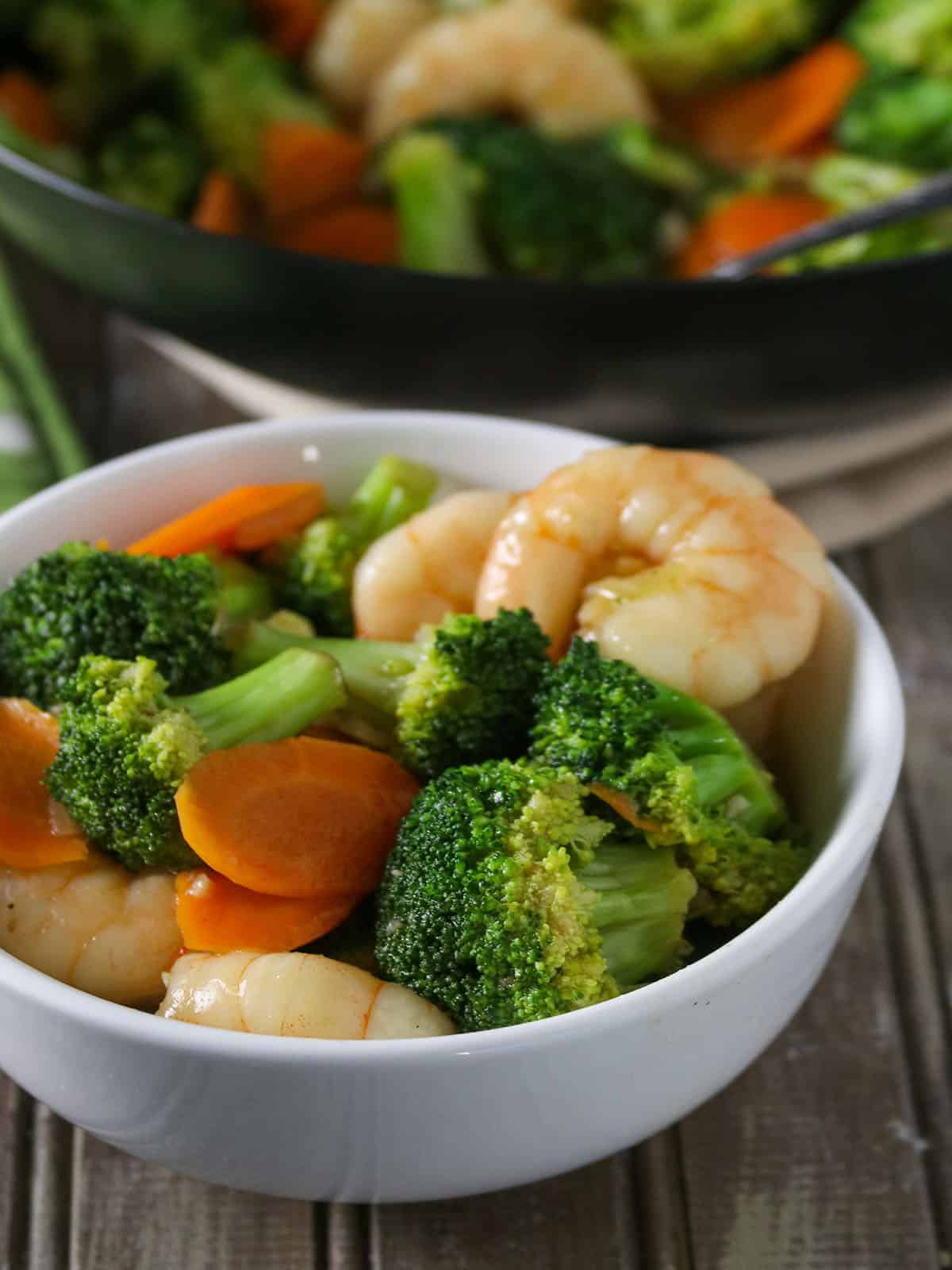 How to serve
This vegetable stir-fry is a delicious and nutritious dish the family will love for lunch or dinner. Serve with steamed rice and chow-mein for an Asian meal at home!
Want a quick and easy dinner idea? This shrimp broccoli stir fry is ready in minutes yet turns out so tasty. It's loaded with tender-crisp veggies, shrimp, and a savory sauce for a delicious and nutritious meal the whole family will love.
4 Servings
Ingredients
1 pound large shrimp, peeled and deveined
1 tablespoon cornstarch
1 tablespoon Chinese cooking wine
2 head broccoli, cut into florets
2 large carrots, peeled and cut thinly on a bias
2 tablespoons canola oil
1 onion, peeled and sliced thinly
2 cloves garlic, peeled and minced
For the Stir-fry Sauce
½ cup poaching liquid, reserved from parboiling the broccoli
⅓ cup oyster sauce
2 tablespoons Chinese cooking wine
2 tablespoons rice vinegar
1 tablespoon brown sugar
2 teaspoons sesame oil
1 tablespoon cornstarch
Instructions
In a bowl, combine shrimps, corn starch, and Chinese cooking wine. Massage shrimp to fully coat and marinate for about 8 to 10 minutes. Drain shrimps well, squeezing any excess liquid.

In a sauce pot over medium heat, bring about 1 quart of salted water to a boil. Add broccoli and carrots and cook for about 1 to 2 minutes or until tender yet crisp.

With a slotted spoon, remove the vegetables from pot and plunge the vegetables into a bowl of ice water. Reserve ½ cup of the parboiling liquid.

When completely cold, drain the vegetables well in a colander.

In a wide, heavy-bottomed pan over high heat, heat 1 tablespoon of the oil. Add shrimp and cook, turning as needed, just until color changes. Remove from pan and drain on paper towels.

Wipe down the surface of the pan if needed. Increase heat to high and add the remaining 1 tablespoon of oil. Add onions and garlic and cook, stirring regularly, for about 30 seconds or until softened.

In a bowl, combine the sauce ingredients and stir until well-blended. Add to the pan and bring to a simmer until slightly thickened.

Add shrimp and cook for about 1 to 2 minutes.

Add broccoli and carrots and cook, stirring to combine and fully coat with sauce, for about 1 to 2 minutes or until heated through.

Season with salt and pepper to taste.
Notes
Cut the vegetables in uniform sizes to ensure even cooking.
"This website provides approximate nutrition information for convenience and as a courtesy only. Nutrition data is gathered primarily from the USDA Food Composition Database, whenever available, or otherwise other online calculators."