This beef broccoli is a delicious combination of protein-rich sirloin and nutritious greens combined with a homemade stir-fry sauce. It's easy to make and the perfect addition to an Asian theme meal!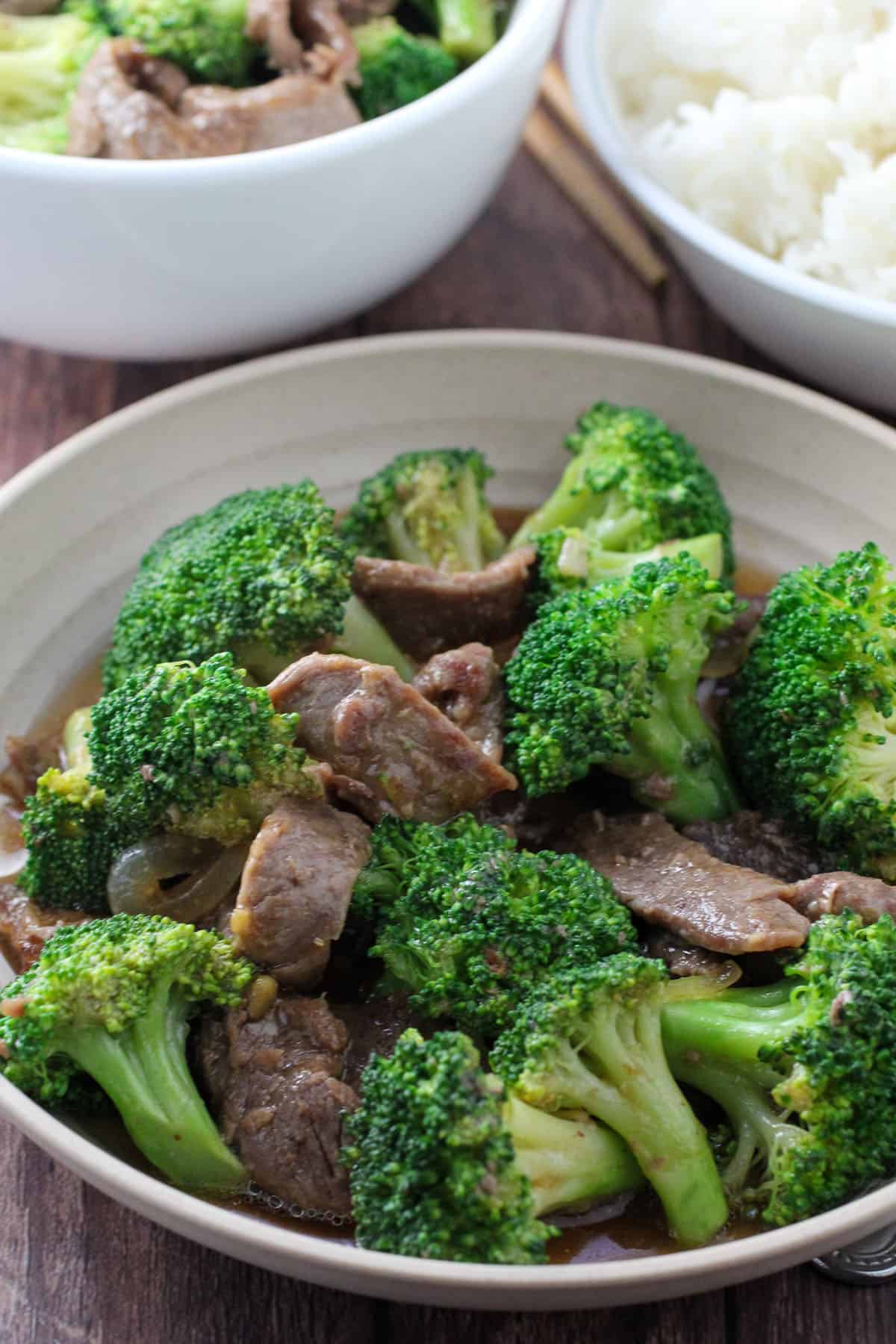 Beef broccoli is a classic Chinese-American dish. In traditional Chinese cuisine, the combination of beef and broccoli is not typical; however, this dish has been modified to suit the taste preferences of Western diners.
My version of this popular take-out makes use of an interesting cooking technique known as "velveting," which involves tenderizing the beef strips by coating them in a marinade of egg whites, cornstarch, rice wine, and salt. I also parboiled the broccoli florets to help maintain their vibrant green and delightful crunch.
These steps mean a bit more work than if I just tossed everything in the hot wok, but the reward of meat that's super tender and moist and broccoli florets that are tender yet crisp is worth the effort.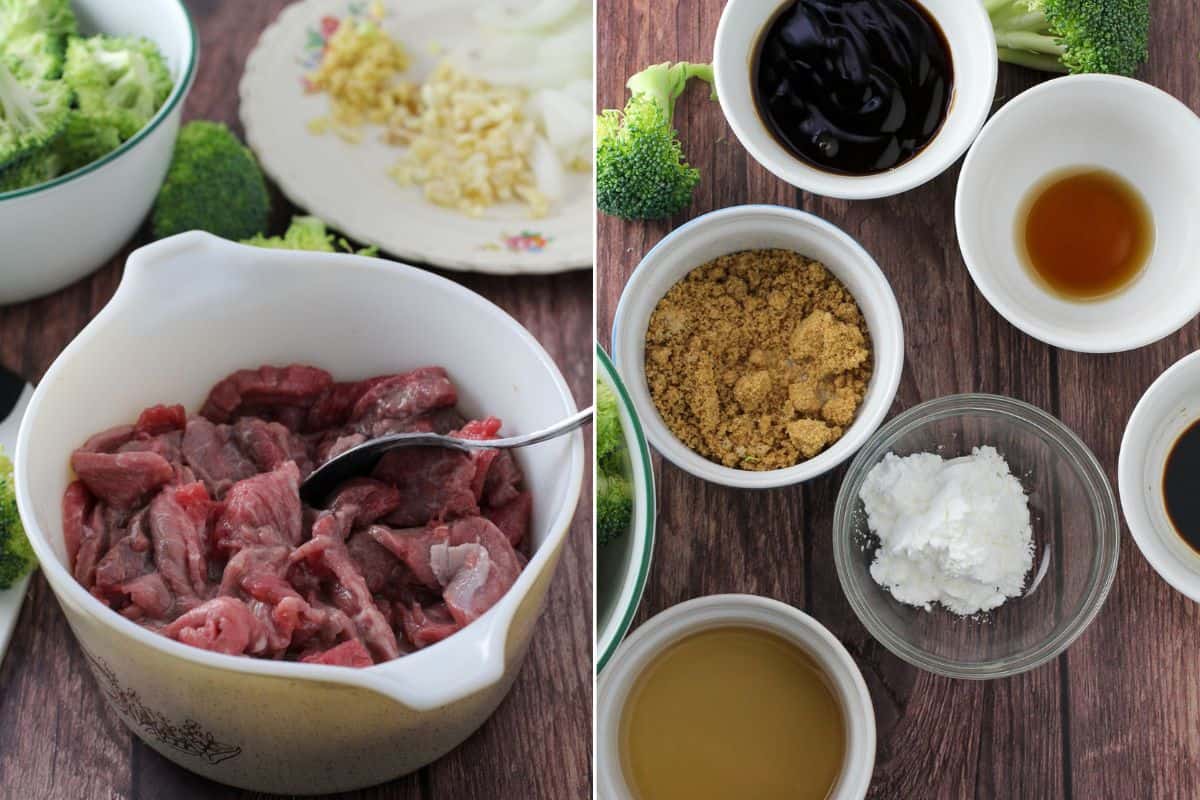 Ingredient notes
Beef sirloin and flank steak are the best cuts of beef for making beef and broccoli. They are tender, super flavorful, and cook quickly. Other cuts of beef, such as ribeye or New York strip steak, can also be used, although they tend to be more expensive.
Other vegetables, such as carrots, mushrooms, and bell peppers, can be added for texture, color, and a higher nutritional value.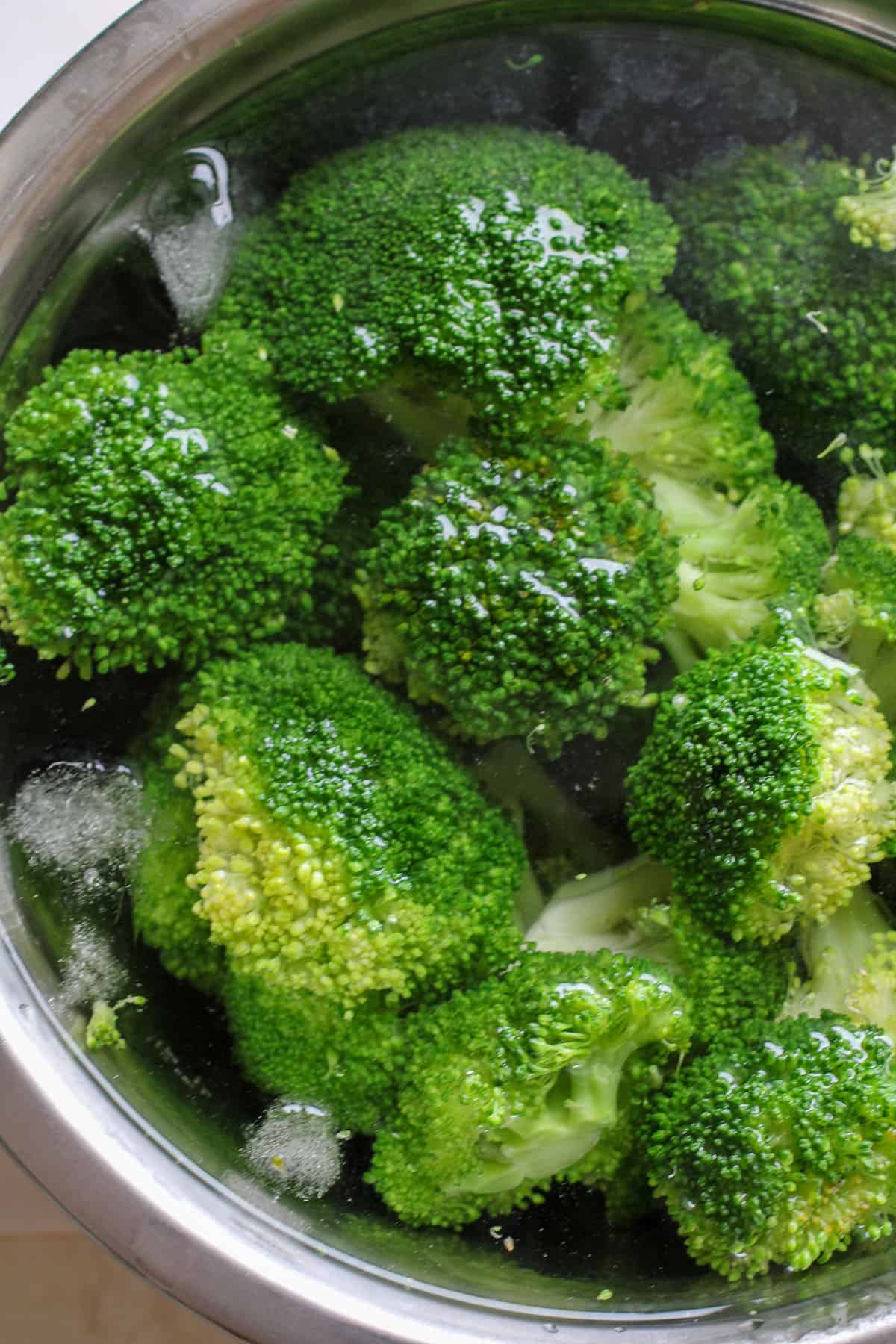 Quick tip
Slice the beef thinly and against the grain so that it cooks quickly and remains tender. Freeze the meat for about 30 minutes or until slightly firm to make slicing easier.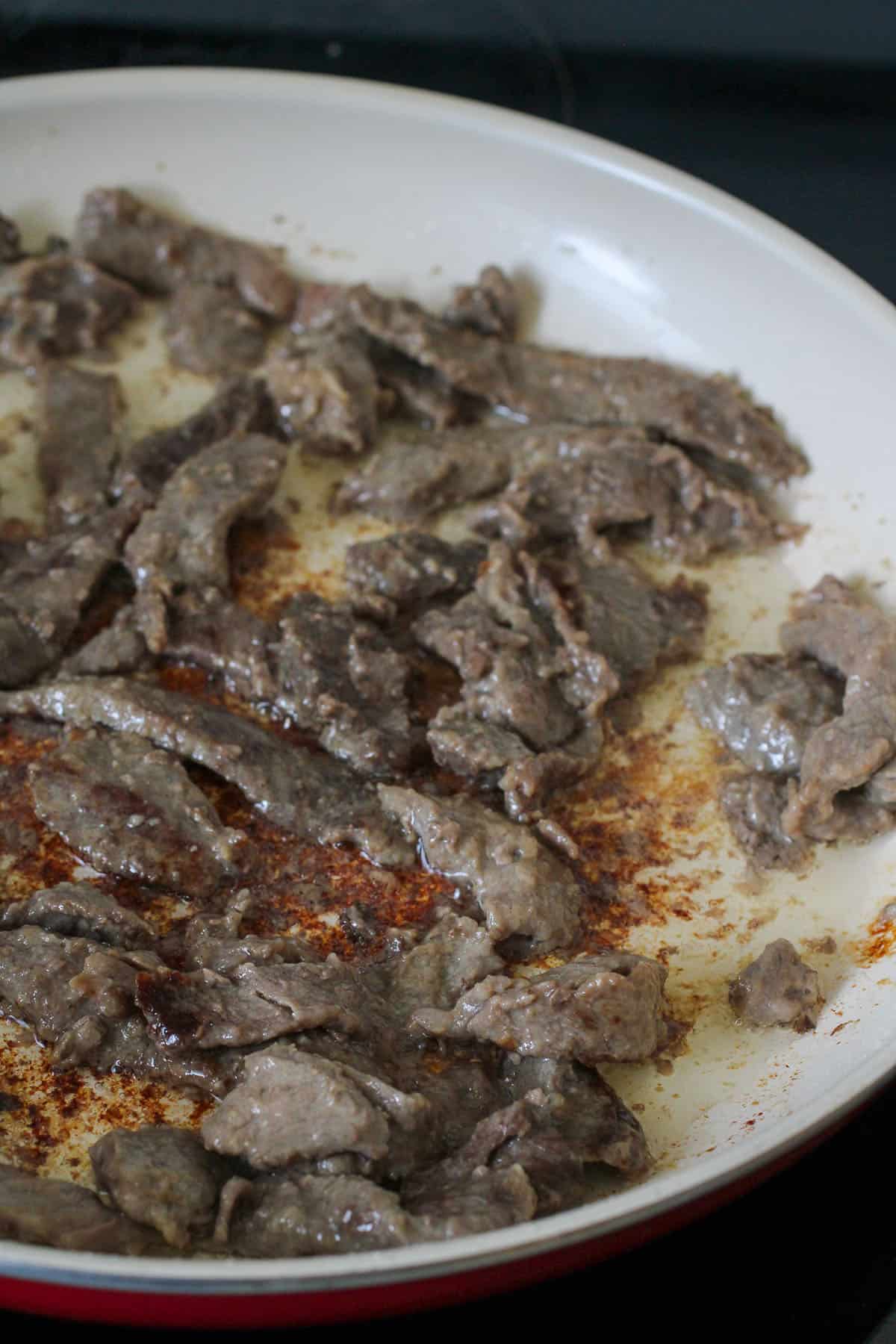 Frequently Asked Questions
IS BEEF BROCCOLI HEALTHY?

Beef broccoli can be a healthy meal option. Beef is a good source of protein, while broccoli provides fiber, vitamins, and minerals. 
Using a homemade sauce for this dish is also a healthier alternative to store-bought stir-fry sauce. You can use low-sodium soy sauce, reduce the brown sugar, or use a healthy sweetener.
CAN I MAKE THE STIR-FRY SAUCE IN ADVANCE?

Yes, you can! The sauce can be made in advance and stored in the fridge for 1 week before use in this recipe. You will need to use regular water when making this sauce ahead of time instead of the water from the parboiled broccoli.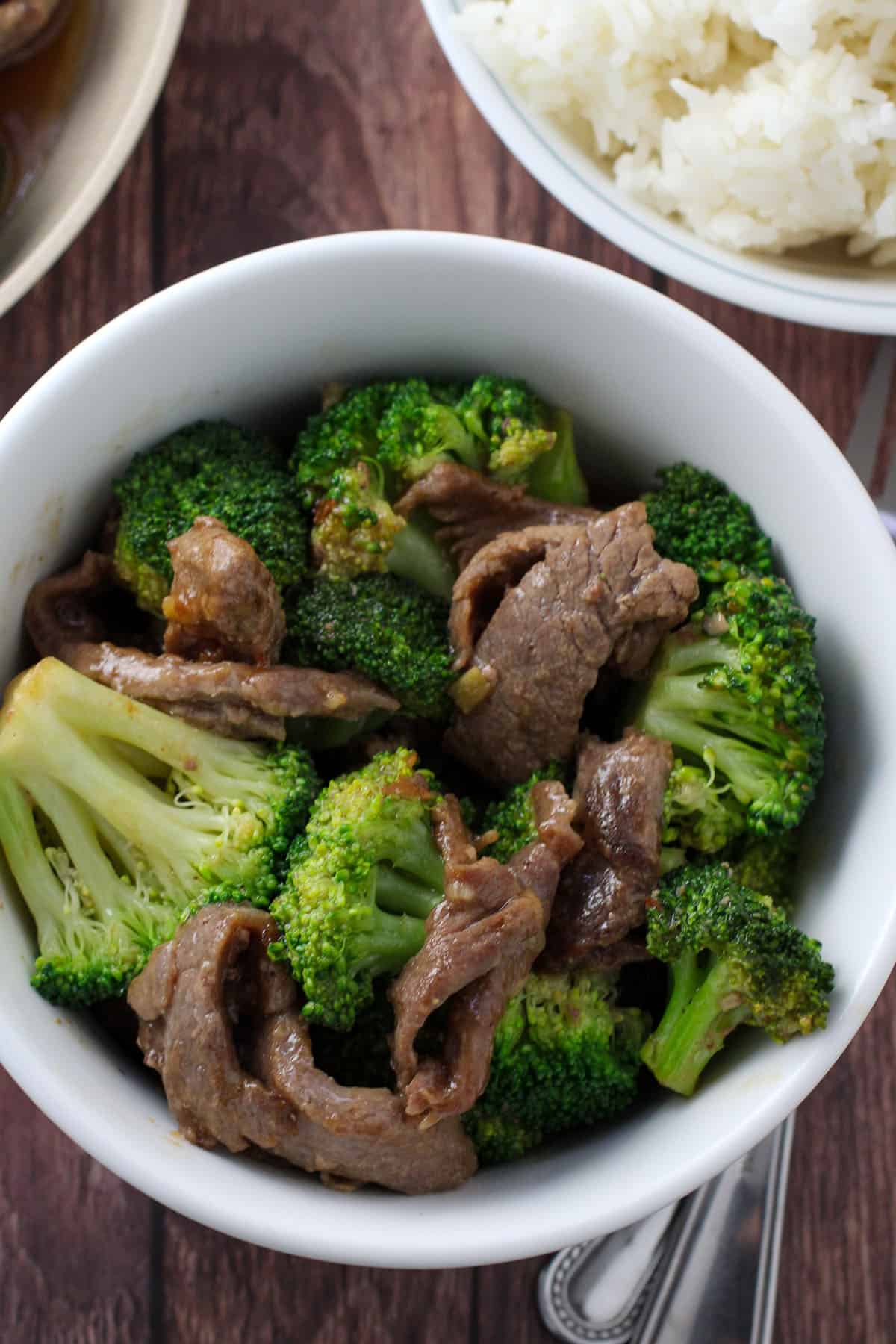 Serving suggestions
Enjoy this delicious beef broccoli dish with steamed or fried rice and stir-fried noodles for an Asian theme meal.
Storage and reheating instructions
Once cooled, store leftover beef broccoli in an airtight container and refrigerate for up to 3 days or freeze for up to 2 months.
Reheat in the microwave on high for 1-2 minutes or on the stovetop in a non-stick pan.
Don't refreeze beef broccoli frozen previously for food safety reasons. 
Forget takeout! Beef Broccoli is quick and easy to make at home with simple ingredients and under 30 minutes. It's a nutritious and delicious addition to your dinner rotation!
4 Servings
Ingredients
1 pound beef sirloin, sliced thin and cut into strips
1 egg white
1 tablespoon cornstarch
1 tablespoon Chinese cooking wine
½ teaspoon salt
oil
2 heads broccoli, cut into florets
water
1 onion, peeled and sliced thinly
3 cloves garlic, peeled and minced
1 thumb-sized ginger, peeled and grated or finely minced
For the Stir-fry Sauce
½ cup poaching liquid, reserved from parboiling broccoli
⅓ cup oyster sauce
¼ tablespoons Chinese cooking wine
2 tablespoons rice vinegar
2 tablespoons soy sauce
1 tablespoon brown sugar
2 teaspoons sesame oil
1 tablespoon cornstarch
Instructions
Rinse beef and drain well.

In a bowl, combine egg white, cornstarch, rice wine and salt. Whisk together until well-blended. Add beef and stir to fully coat. Marinate in the refrigerator for about 30 minutes.

In wide pan or wok over medium heat, heat about 1 cup oil. Add beef slices and cook, stirring occasionally, for about 2 to 3 minutes or until lightly browned. Remove from pan and drain on paper towels.

In a pot over medium heat, heat about 4 cups of water to a boil. Add broccoli and cook for about 1 minute or until half-done.

With a slotted spoon, remove broccoli from the pot and plunge into a bowl of ice water. When completely cool, drain very well. Reserve ½ cup of the liquid.

In a wok or wide pan over high heat, heat about 1 tablespoon oil. Add onions, garlic and ginger and cook, stirring regularly, for about 30 seconds or until aromatic.

Add stir-fry sauce and cook for about 1 minute or until it boils and thickens enough to coat back of spoon.

Add beef and broccoli and cook, stirring regularly to cover with sauce, for about 3 to 5 minutes or until meat is heated through and broccoli florets are tender yet crisp.
For the Stir-fry Sauce
In a bowl, combine reserved poaching liquid, oyster sauce, Chinese cooking wine, rice vinegar, soy sauce, brown sugar, sesame oil, and cornstarch. Stir well until sugar and cornstarch are dissolved and well-dispersed.
Notes
Slice the beef thinly and against the grain so that it cooks quickly and remains tender. Freeze the meat for about 30 minutes or until slightly firm to make slicing easier.
"This website provides approximate nutrition information for convenience and as a courtesy only. Nutrition data is gathered primarily from the USDA Food Composition Database, whenever available, or otherwise other online calculators."