Hello, folks. Here I am again with another Chinese-inspired recipe. Since discovering a couple of weeks ago the cooking method, velveting, I've been eager to incorporate this simple technique in a lot of my favorite stir-fry dishes.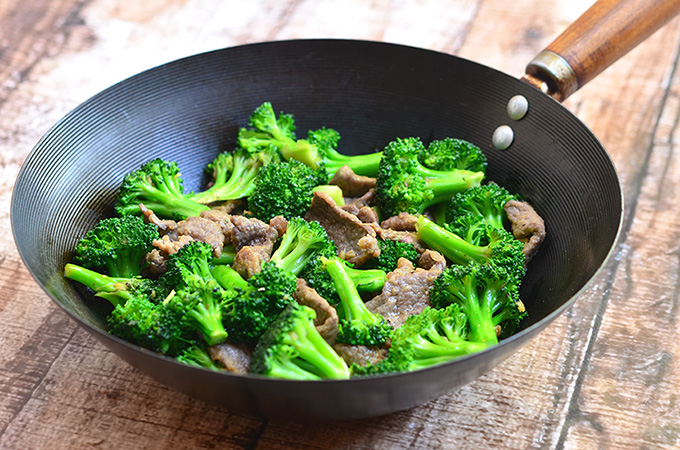 In this quick and easy beef broccoli, I marinated the meat in a mixture of egg white, cornstarch, Chinese wine and salt but instead of blanching in water as in our black pepper chicken, I quickly passed the beef in hot oil. I also parboiled the broccoli florets to help maintain their vibrant green and delightful crunch. I admit these steps meant a bit more work (and a lot more oil!) than if I just tossed everything in the hot wok but trust me, my peeps, the reward of meat that's super tender and moist and broccoli florets that are tender yet crisp makes the effort so worth it.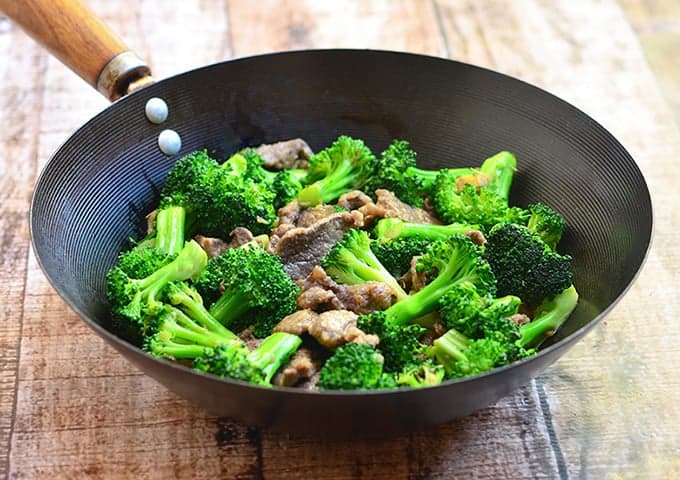 Beef Broccoli
Ingredients
1 pound beef sirloin, sliced thin and cut into strips
1 egg white
1 tablespoon cornstarch
1 tablespoon Chinese cooking wine
½ teaspoon salt
oil
2 broccoli crowns, cut into florets
water
1 small onion, peeled and sliced thinly
3 cloves garlic, peeled and finely minced
1 thumb-sized ginger, peeled and grated or finely minced
For the Stir-fry Sauce
¼ cup poaching liquid (reserved from parboiling broccoli)
3 tablespoons oyster sauce
2 tablespoons Chinese cooking wine
1 tablespoon rice vinegar
1 tablespoon soy sauce
1 teaspoon brown sugar
1 teaspoon sesame oil
1 teaspoon cornstarch
Instructions
Wash beef and drain well.
In a bowl, combine egg white, cornstarch, rice wine and salt. Whisk together until well-blended. Add beef and stir to fully coat. Marinate in the refrigerator for about 30 minutes.
In wide pan or wok over medium heat, heat about 1 cup oil. Add beef slices and cook, stirring occasionally, for about 2 to 3 minutes or until lightly browned. Remove from pan and drain on paper towels.
In a pot over medium heat, heat about 4 cups of water to a boil. Add broccoli and cook for about 1 minute or until half done. With a slotted spoon, remove broccoli from pot and plunge into a bowl of ice water. When completely cool, drain well. Reserve ¼ cup of the liquid the broccoli florets were blanched in.
In a wok or wide pan over high heat, heat about 1 tablespoon oil. Add onions, garlic and ginger and cook, stirring regularly, for about 30 seconds or until aromatic.
Add stir-fry sauce and cook for about 1 minute or until it boils and thickens enough to coat back of spoon. Add beef and broccoli and cook, stirring regularly to cover with sauce, for about 3 to 5 minutes or until meat is heated through and broccoli florets are tender yet crisp. Serve hot.
For the Stir-fry Sauce
In a bowl, combine reserved poaching liquid, oyster sauce, Chinese cooking wine, rice vinegar, soy sauce, brown sugar, sesame oil and cornstarch. Stir well until sugar and cornstarch are dissolved and well-dispersed.