Pork Embutido is a Filipino-style meatloaf made with a festive mixture of ground pork, carrots, and raisins wrapped around slices of eggs and sausage. Steamed to perfection, they're great for everyday dinner meals as well as special occasions. And freezable, too!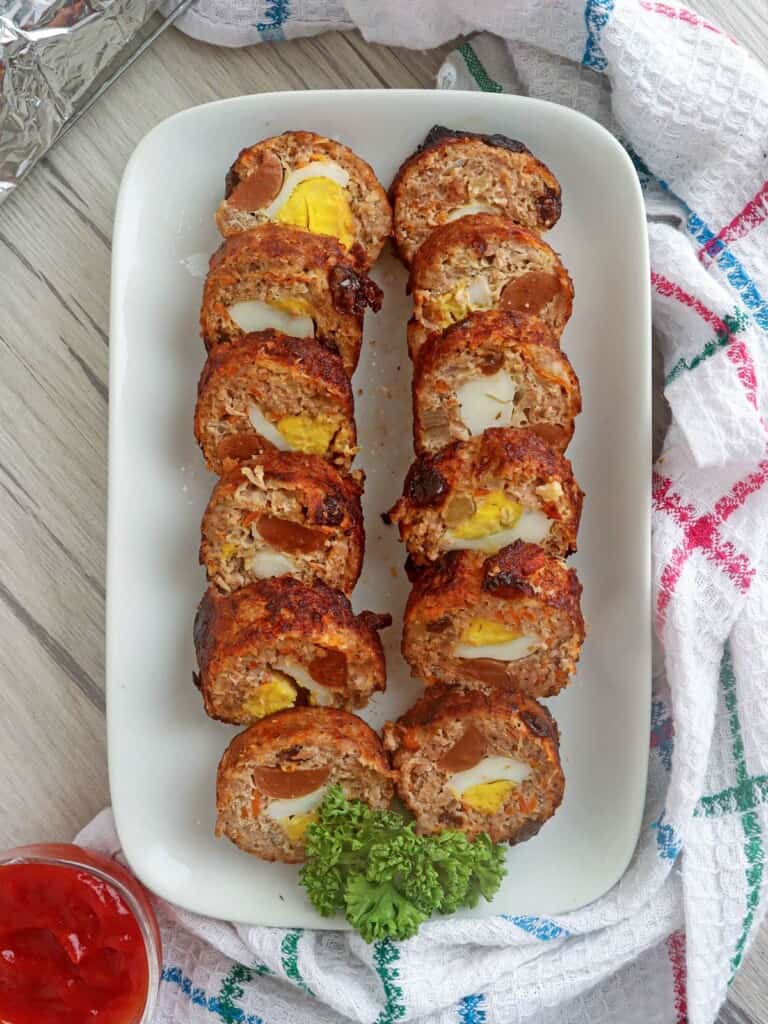 I have tweaked my pork embutido recipe many times over the years, experimenting and trying different additions (here's looking at you, liver spread) until I finally arrived at that sweet spot of flavor and texture I've been looking for. If I may, ahem, say so myself, my version of embutido is always a party hit and a frequent request of family and friends. 🙂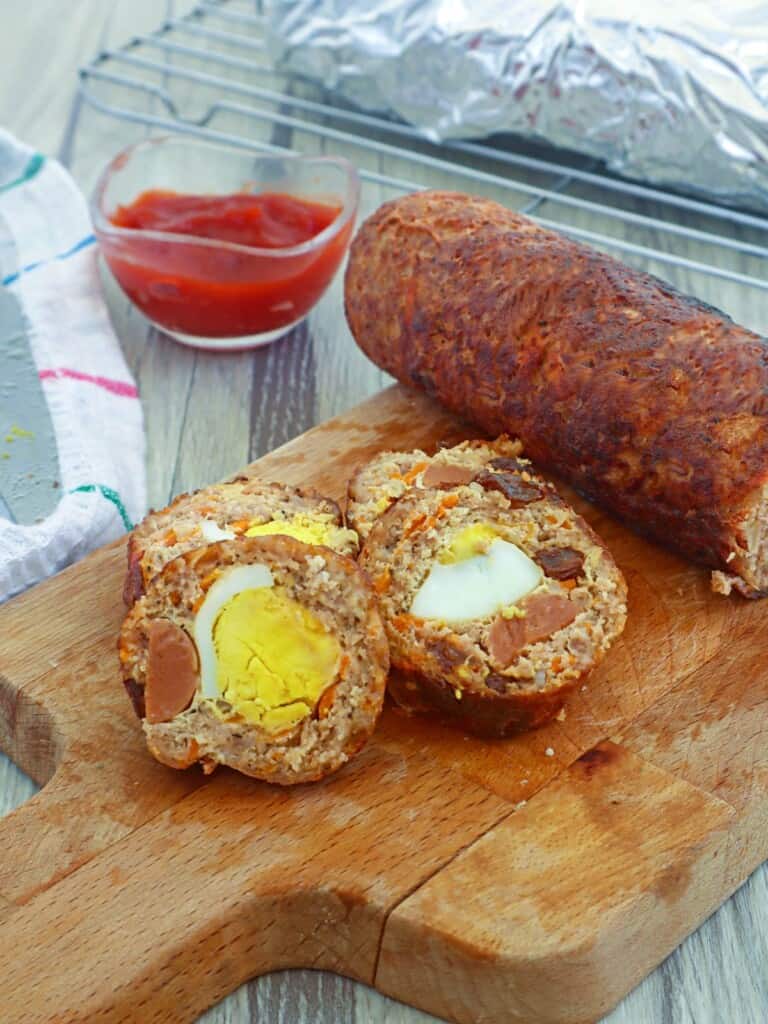 What is Embutido
Embutido is a Filipino-style meatloaf made with ground pork, chicken or beef, shredded carrots, crushed pineapple or sweet pickle relish, and raisins. The meat mixture is rolled around hard-boiled eggs and sausage into a cylindrical log and wrapped tightly in foil.
The foil-wrapped loaf is then steamed or baked in a water bath until cooked through and set. They can be served cold or lightly fried until golden brown.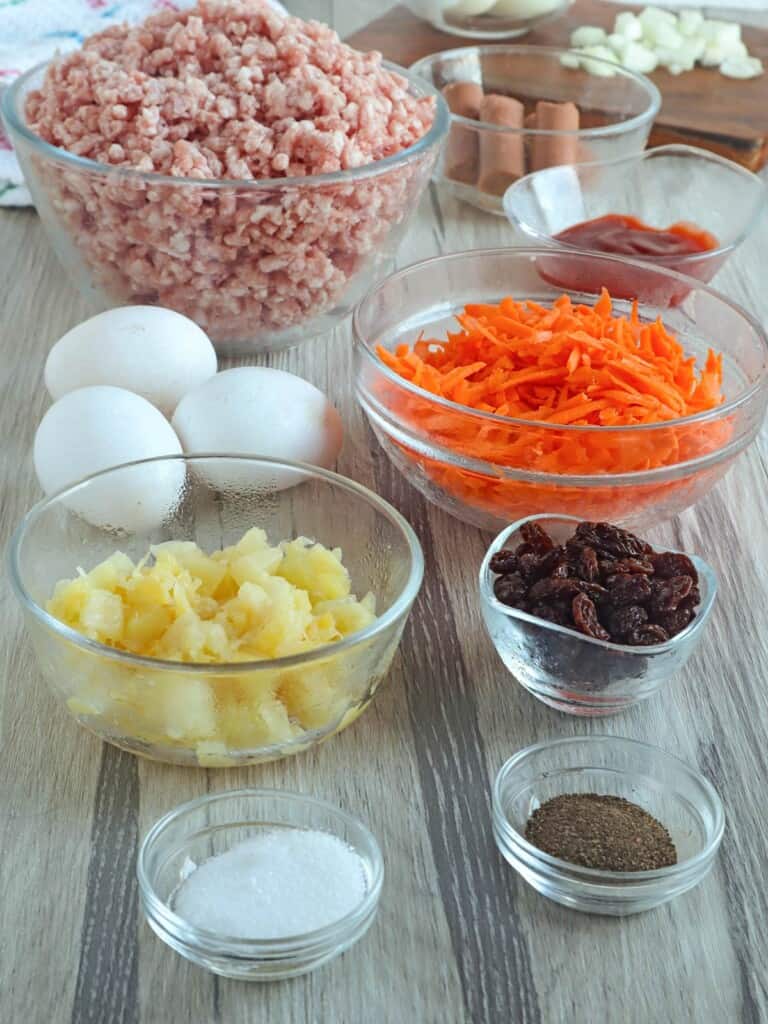 Ingredient notes
Don't skip browning the onions! This step caramelizes the onions, drawing out their natural sweetness.
I like the fruity sweetness of canned crushed pineapples but feel free to substitute sweet pickle relish if you like.
If banana ketchup is not available, you can use tomato sauce or ketchup. 
You can add finely chopped red or green bell peppers along with the shredded carrots for color, texture, and extra nutritition.
You can also add shredded cheese if you want a touch of savory and creaminess.
I use vienna sausage for the stuffing, but Filipino hot dogs, Chinese sausage, and ham or luncheon meat strips will work, too.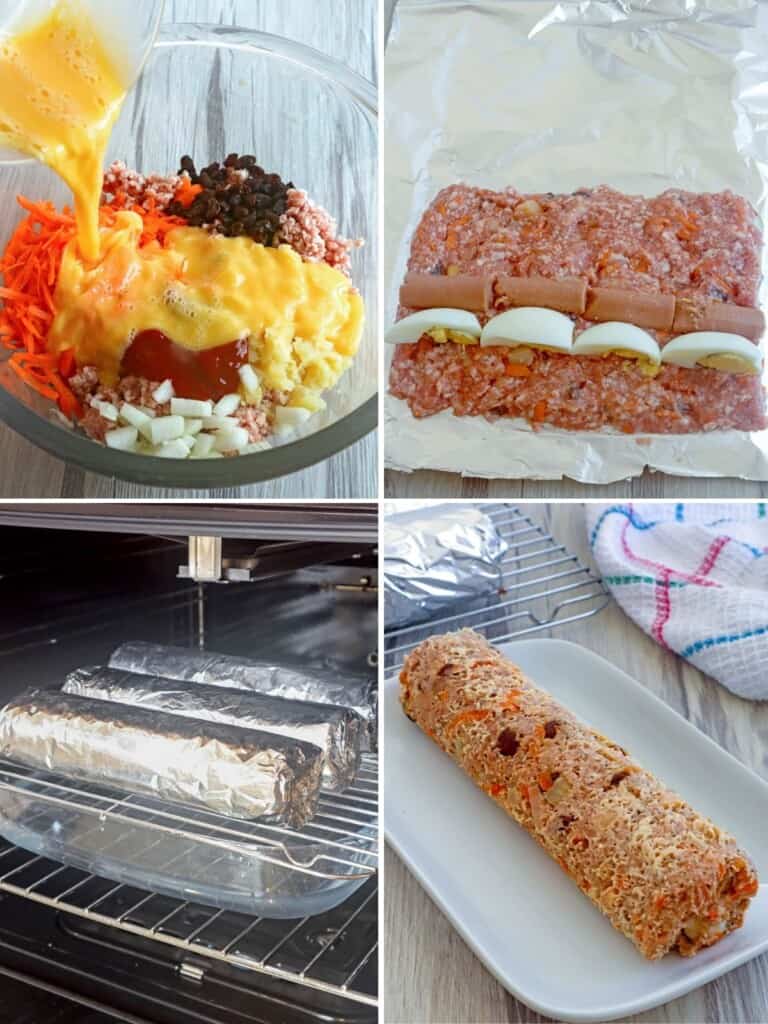 Quick tips
I use beaten eggs as a binder and skip the bread crumbs as I don't like adding extenders and I find the embutido will hold it shape without them.
Make sure the meat is fully thawed and canned ingredients such as crushed pineapples are well-drained as the extra moisture might affect the loaf consistency.
Let the steamed meatloaves stand for about 10 minutes before opening the foil for the juices to redistribute, keeping the loaf moist.

Cool completely before frying and slicing so it won't fall apart.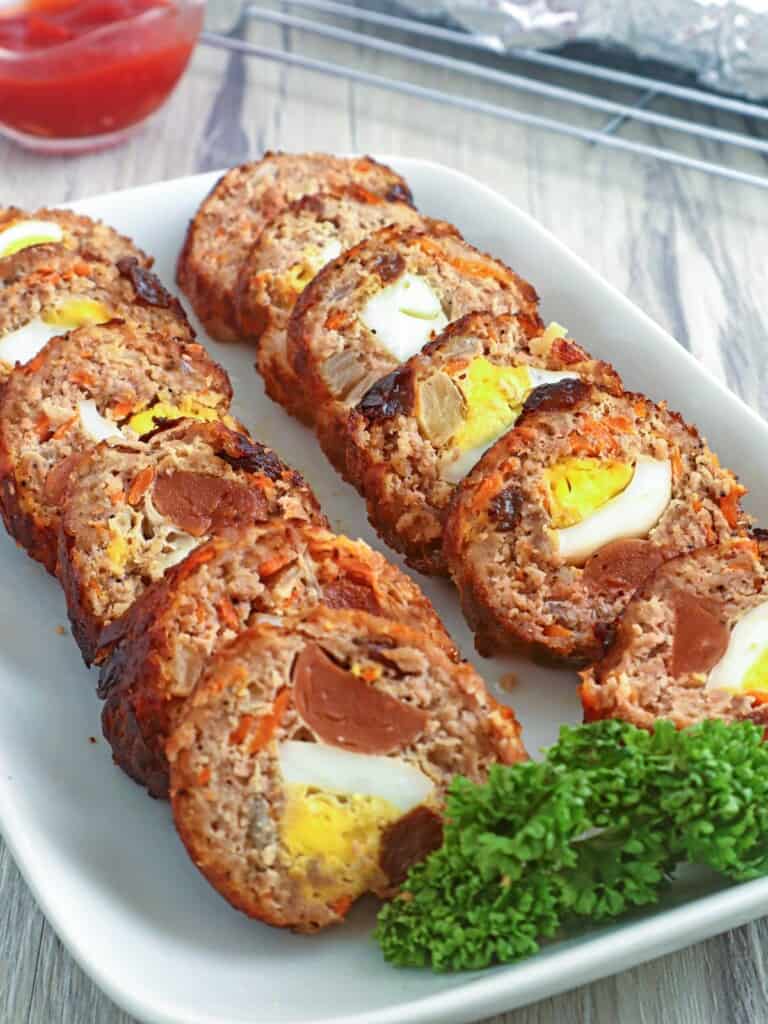 Embutido is usually reserved for holidays or fiestas due to its somewhat elaborate prep process, but I see no reason why you have to wait for a special occasion to make them. Not only can you easily double (or triple) the recipe, the steamed loaves will keep well in the freezer for up to 3 months and can be easily reheated for a quick meal.
Once or twice a month, I roll up my sleeves, roll up a dozen or so meatloaves, and store them in the freezer to have handy when craving hits. Keeping a steady supply in the freezer has certainly saved me from having to worry about dinner on busy weeknights or when I have unexpected guests.
Serving suggestions
You can never go wrong with a few of these pork rolls in the fridge! Pair them with rice and banana ketchup or sweet chili sauce for a satisfying dinner or sandwich between pandesal for a quick mid-afternoon snack.
Pork Embutido is perfect with steamed rice or mashed potatoes! With a colorful ground pork mixture rolled around hardboiled eggs and sausage and steamed to perfection, this Filipino-style meatloaf is as pretty as it is tasty!
Servings
Ingredients
canola oil
1 onion, peeled and chopped
1 1/2 pounds ground pork
1 cup crushed pineapple, drained
1 large carrot, peeled and shredded
1/4 cup raisins
1/4 cup banana ketchup
3 eggs, well-beaten
2 teaspoons salt
1 teaspoon pepper
For Filling
3 eggs, hardboiled, peeled and quartered
3 pieces vienna sausages, cut into four lengthwise
Instructions
In a pan over medium heat, heat about 1 tablespoon of oil. Add onions and cook until softened. Remove from pan and allow to cool completely.

In a large bowl, combine ground pork, crushed pineapple, carrots, sauteed onions, raisins, ketchup, beaten eggs, salt and pepper. Mix well until evenly distributed.

On the center of a 12-inch aluminum foil, spread 1/3 of the pork mixture creating a rectangular shape.

Arrange sliced eggs and Vienna sausages in the middle of pork mixture.

Carefully roll mixture to form a log of about 3-inch in diameter. Wrap the foil around the meat and crimp ends of foil to seal tightly. Double wrap roll with foil. Repeat with remaining pork mixture.

In a roasting pan, add about 2 inches of water. Arrange foil-wrapped pork mixture on a roasting rack and position rack on top of the water-filled pan.

Bake in a 375 F oven for about 50 to 60 minutes or until juice runs clear when pork rolls are pierced with a knife. Let stand for about 8 to 10 minutes before opening foil. Cool completely before frying.

In a pan, heat about 1 inch deep of oil. Add embutido and cook, turning occasionally, until lightly browned on all sides. Let stand for about 3 to 5 minutes before slicing into desired thickness. Serve hot.
Video
Nutrition Information
Serving: 239.4g, Calories: 366kcal, Carbohydrates: 23g, Protein: 33g, Fat: 17.5g, Saturated Fat: 5.7g, Polyunsaturated Fat: 0.6g, Monounsaturated Fat: 4.9g, Cholesterol: 227mg, Sodium: 1194.5mg, Potassium: 690mg, Fiber: 1.6g, Sugar: 15.8g, Vitamin A: 1250IU, Vitamin C: 18.2mg, Calcium: 40mg, Iron: 2.5mg
"This website provides approximate nutrition information for convenience and as a courtesy only. Nutrition data is gathered primarily from the USDA Food Composition Database, whenever available, or otherwise other online calculators."