Yang Chow Fried Rice is the perfect use for day-old rice. Chock full of sausage, shrimp, green peas, eggs, and green onions, it's a delicious one-pot meal!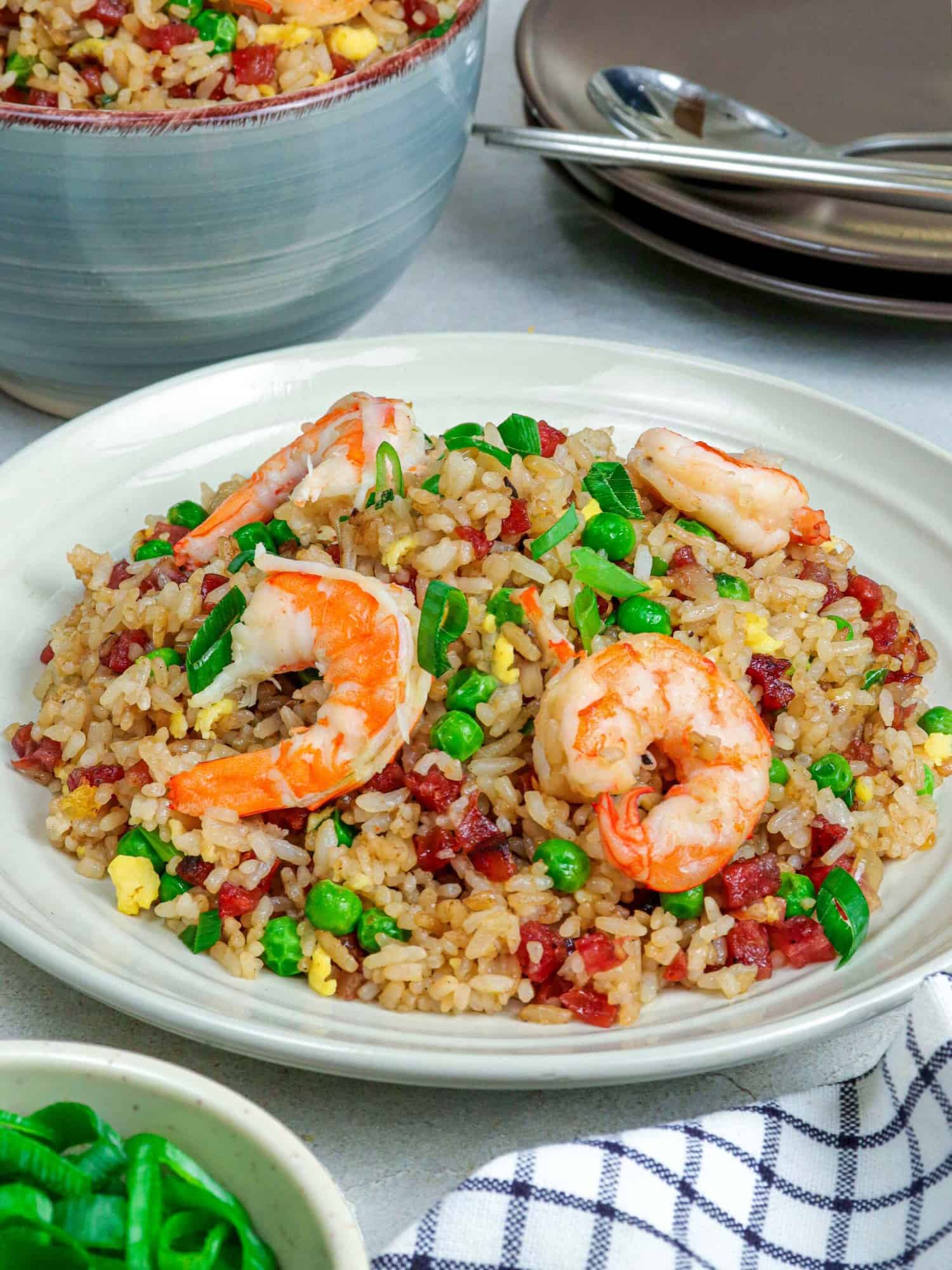 Since G is more of a potato and bread kind of guy, I'm the only one who eats rice at home. Even with my downsizing to a small 4-cup rice cooker, we often end up with leftover rice in the refrigerator.
Not that it's a problem. Cold, day-old rice in the fridge has been a blessing on the many times I roll out of bed at 11 AM hungry for my first bite of the day or on the many occasions I roll in from work too beat to spend more than 30 minutes fixing a meal.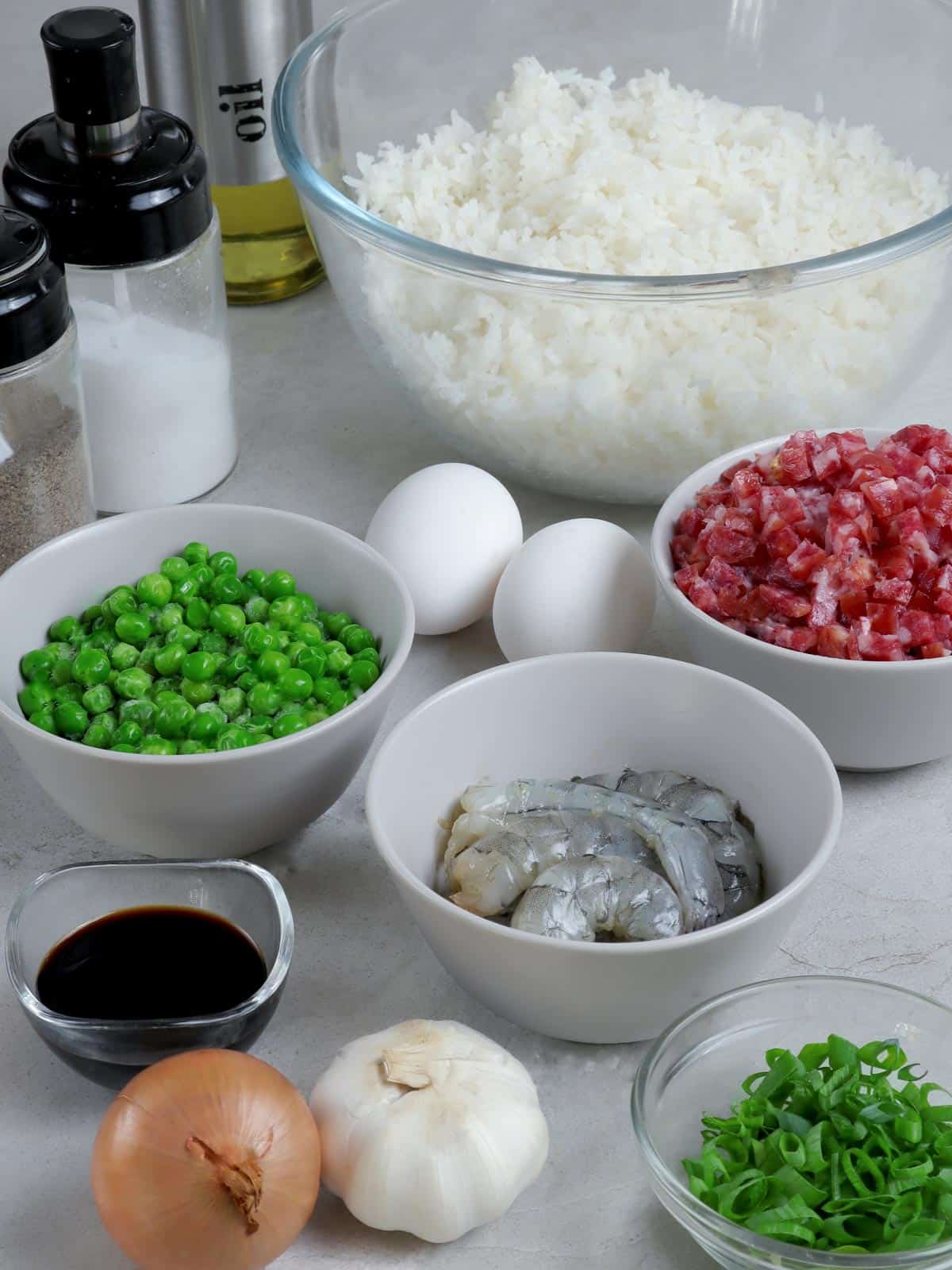 Ingredient notes
Yang Chow fried rice is not only a quick and easy one-pot meal to pull together, but it's also customizable. It's a great way to use bits and pieces in the fridge that might have otherwise gone to waste.
Baby corn, carrots, bamboo shoots, chicken, diced ham, bacon, and BBQ pork are just some of the common additions to this meal-in-itself dish.
I used the Chinese sausages, shrimp, and green peas I had in the fridge for this recipe. I love how the sweet and salty sausage bits pulled all the delicious elements into one lovely Saturday lunch!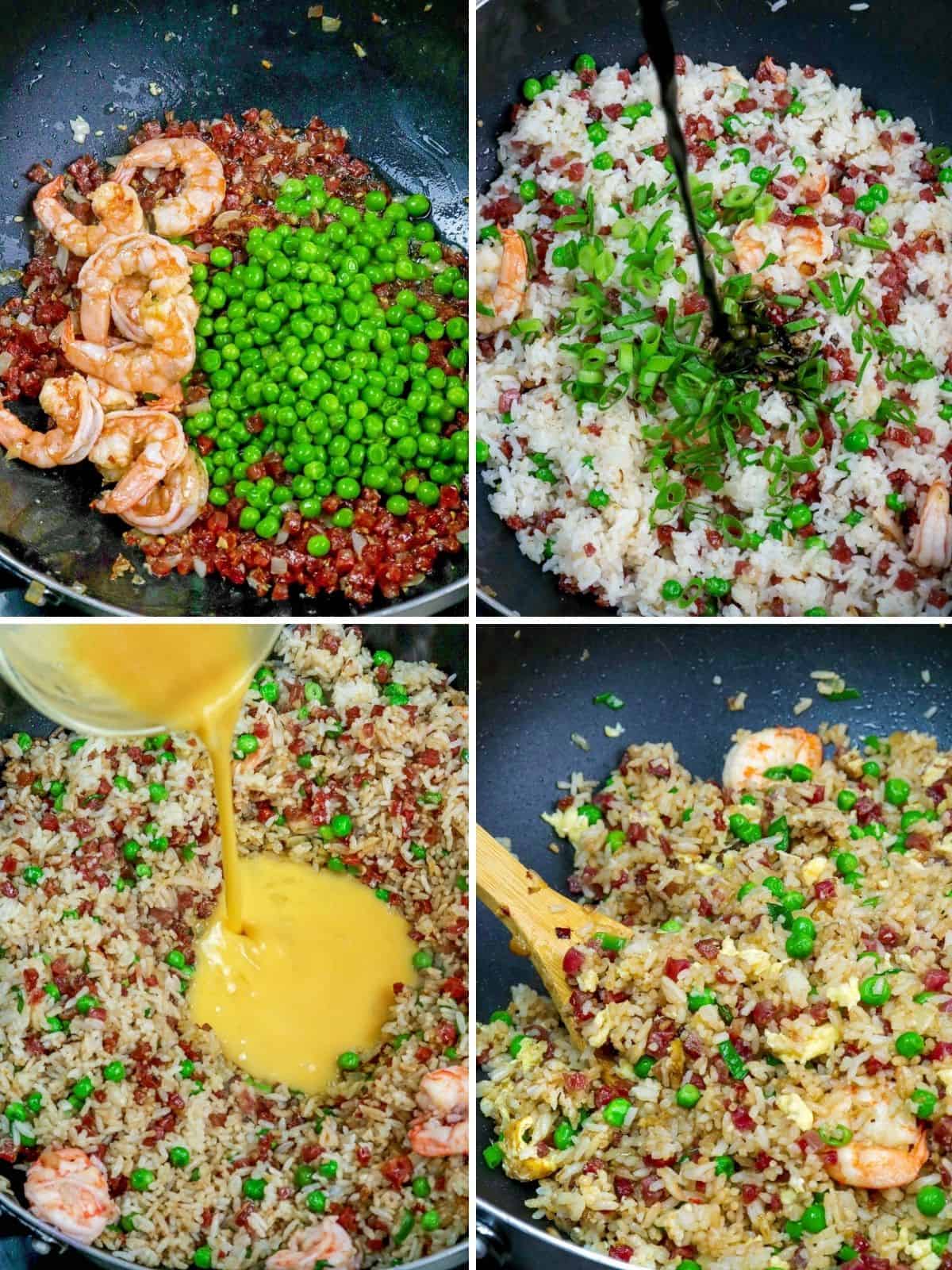 Best rice to use
Cold-day-old rice is best for making fried rice, as leaving the rice in the fridge removes the grains of excess moisture and allows them to firm up. If you have only freshly cooked rice, spread it in a thin layer on a baking sheet and stick it in the fridge for a few hours to dry and completely cool.
Cooking tips
Making fried rice is a very quick process so have all your ingredients prepared and ready to go for the brief stir-frying. Cut in small and uniform sizes to ensure quick and even cooking.
Use a wok or a wide pan with high sides to allow a good distribution of the ingredients without spilling and to give the rice enough space to nicely toast.
Stir-fry on high heat to prevent the rice from sticking to the surface and to give it a nice, toasty flavor.
Add liquid seasonings such as soy sauce or fish sauce sparingly to keep the fried rice from getting mushy from excess moisture.
I add the eggs by making a well in the center of the fried rice. You can cook the eggs separately in another pan and just add during the last minute or two. Cook the eggs until just set and still slightly wet as they will continue to cook when added to the fried rice.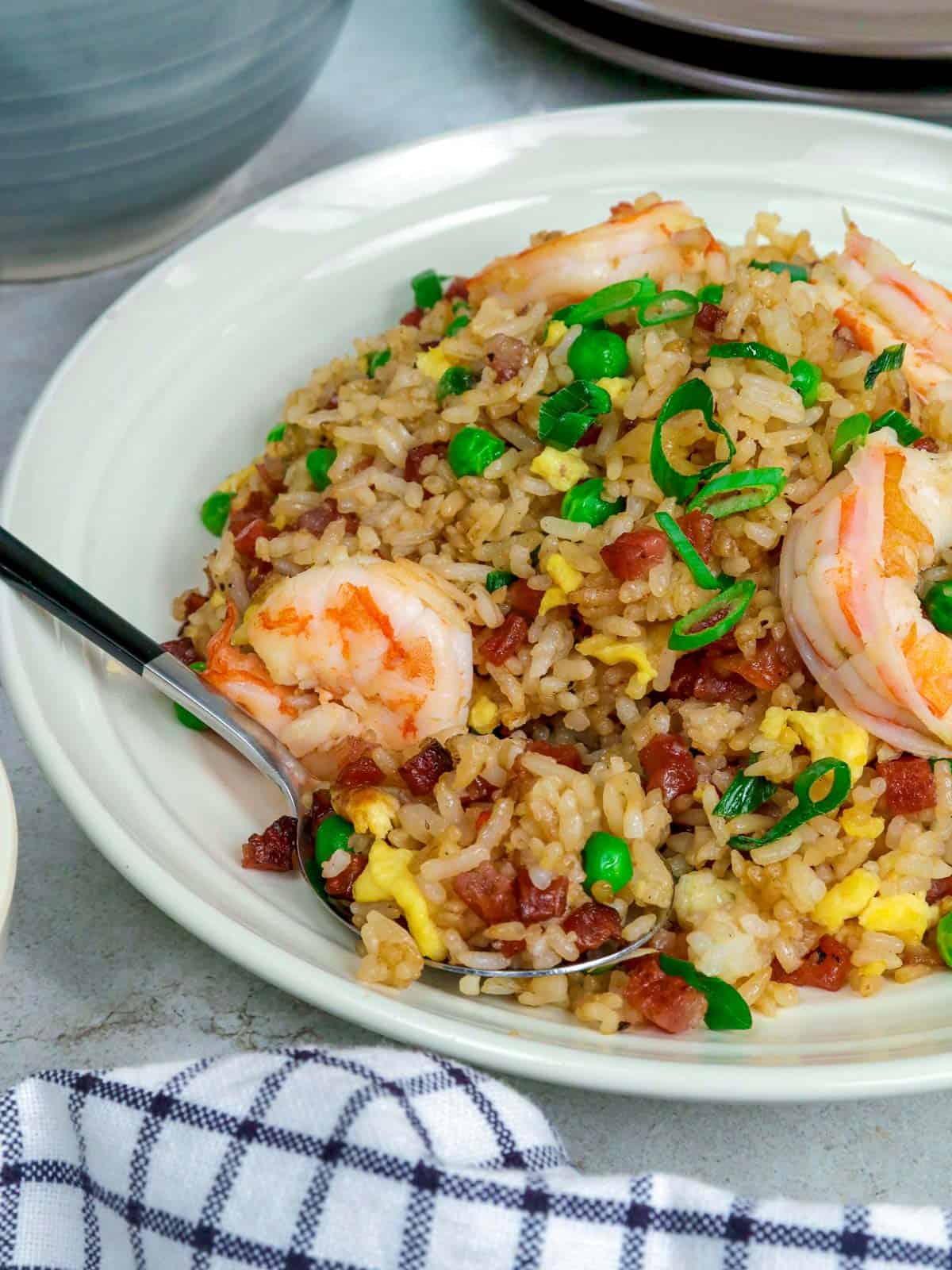 Serving suggestions
Enjoy this delicious yang chow fried rice as a complete meal for lunch or dinner. You can also check out the list below for more tasty ways you can turn leftover rice into a fresh dish for the family:
Storage and reheating instructions
Allow to cool completely and transfer to an airtight container or resealable bag. Refrigerate for up to 3 days or freeze for up to 2 months.
Reheat in a wide pan over medium heat or microwave at 2 to 3-minute intervals to 165 F, stirring well to distribute heat.
Turn day-old rice into a hearty and tasty one-pot meal! This Yangzhou Fried Rice is quick and easy to make yet so delicious and filling. Perfect for busy weeknight dinners!
Course:
Main Entree, Side Dish
servings
Ingredients
4 cups cold day-old rice
2 tablespoons oil
1 small onion, peeled and chopped
2 cloves garlic, peeled and minced
½ pound (about 5 to 6 pieces) Chinese sausages, diced
¼ pound shrimp, peeled and deveined
1 cup frozen sweet peas, thawed
2 tablespoons soy sauce
¼ cup green onions, chopped
2 eggs, lightly beaten
Instructions
In a bowl, break cold cooked rice to separate grains.

Heat wok or wide pan over high heat. When the pan is very hot, add 1 tablespoon of the oil and swirl around the bottom of the pan to coat. Heat oil until shimmering.

Add onions and garlic and cook until softened.

Add sausages and cook for about 2 to 3 minutes or until heated through.

Add shrimp and cook until color changes to pink.

Add green peas and cook until heated through. Remove the mixture from the pan and keep warm.

In the pan, add the remaining 1 tablespoon oil and heat until almost smoking.

Add rice and cook, spreading the rice on the entire cooking surface of the pan, for about 45 seconds or until grains start to sizzle and then toss to redistribute. Repeat a few times until rice is heated through.

Add sausage and shrimp mixture, soy sauce, and green onions. Toss gently to combine.

Make a large well in the middle of rice and add the eggs. Allow the eggs to set for about 30-40 seconds and then break into pieces with back of the spoon.

Season with salt to taste and generously with pepper.

Continue to cook for about 1 to 2 minutes and then stir into the rice. Serve hot.
Notes
You can cook the eggs separately in another pan and just add during the last minute or two. Cook the eggs until just set and still slightly wet as they will continue to cook when added to the fried rice.
Video
Nutrition Information
Serving: 340g, Calories: 430kcal, Carbohydrates: 53g, Protein: 16g, Fat: 15g, Saturated Fat: 3g, Cholesterol: 91mg, Sodium: 1019mg, Potassium: 291mg, Fiber: 3g, Sugar: 4g, Vitamin A: 350IU, Vitamin C: 19mg, Calcium: 80mg, Iron: 2.2mg
"This website provides approximate nutrition information for convenience and as a courtesy only. Nutrition data is gathered primarily from the USDA Food Composition Database, whenever available, or otherwise other online calculators."