Panda Express Sweet Fire Chicken Copycat is a delicious medley of sweet, tangy, and spicy that tastes just like the original, if not better. It's so easy to make and cheaper than eating out!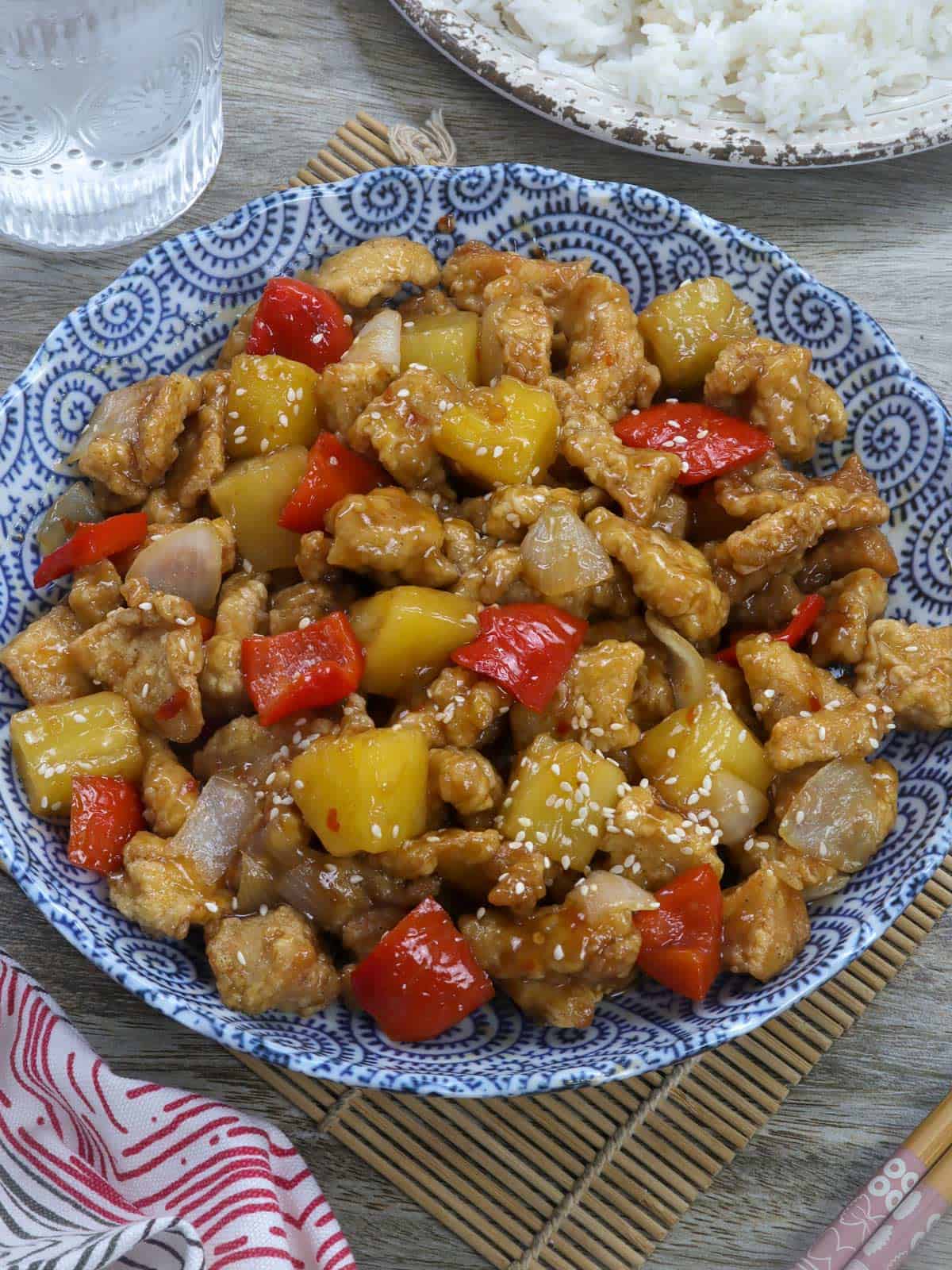 One of the things I find so much fun about food blogging as a living is the challenge of recreating restaurant favorites at home. Although often involving a series of trial and error, it's very rewarding to come up with a homemade version that's pretty close to, if not better, than the original.
If I may, ahem, say so myself, I've had a number of successes with copycatting recipes. Below are a few of my favorites if you'd like to check them out.
And now, the latest on the list, Panda Express sweet fire chicken copycat!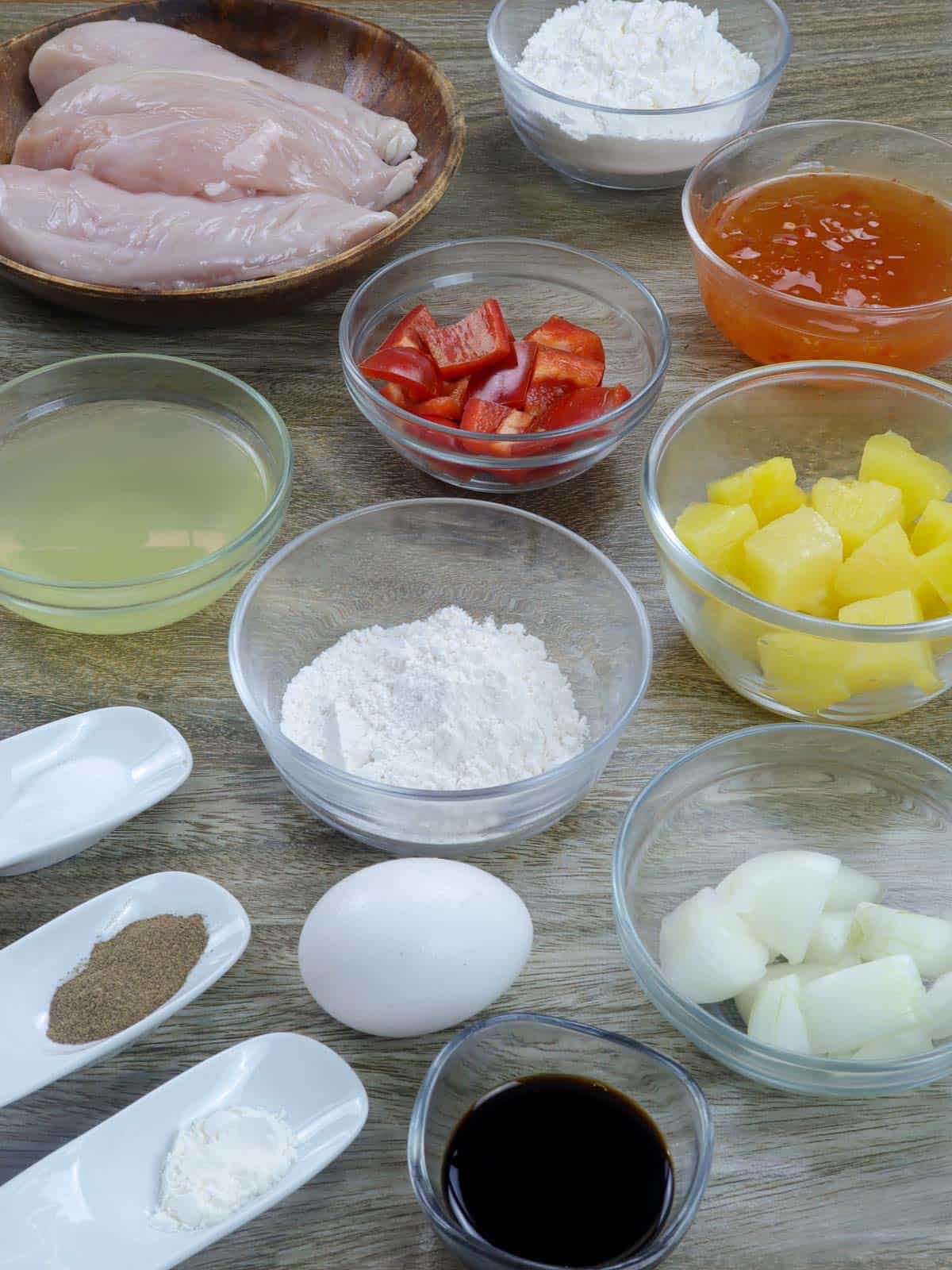 How do I even begin to describe this delectable dish? First, there's the sauce. It has the delicious flavors of your classic sweet and sour but with a kick of heat from the addition of sweet chili sauce. Sweet, tangy, and slightly spicy. and soo good, you can eat it with a spoon!
Sauce ingredients
Pineapple juice- for fruity and tangy tastes
Sweet chili sauce- adds sweetness and spice
Light soy sauce- for salty, umami flavor
Cornstarch- thickens the consistency
And then there are the tender-crisp bell peppers, onions, juicy pineapples, and crunchy chicken morsels.  Smothered in the sweet fire sauce, they're pure heaven piled high on steamed rice!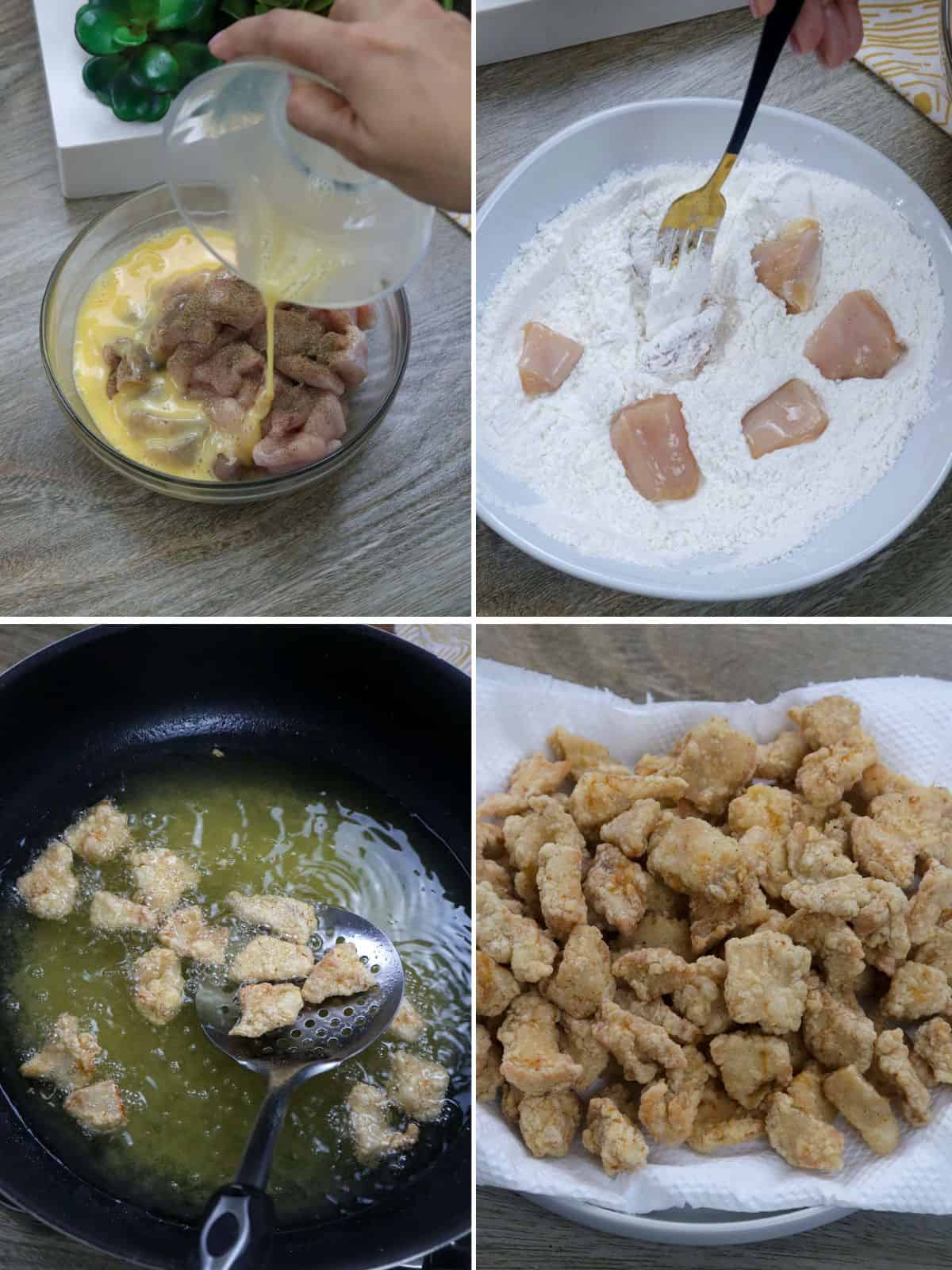 Battered chicken for stir-fry
Cut the chicken into uniform, bite-size pieces to ensure even and fast cooking.
Replacing part of the flour with cornstarch makes for a crunchier coating. Cornstarch prevents gluten formation, which can make the batter chewy, and its high amylose content adds crispness to foods.
Use the right kind of oil. Safflower, avocado, canola, or grapeseed oil have a neutral taste and high smoke points suitable for deep-frying.
Maintain the oil at the optimal temperature of 350 F to 375 F when deep-frying. Do not overcrowd the pan; cook in batches as needed to allow enough space to move the chicken freely and keep the oil temperature from plummeting.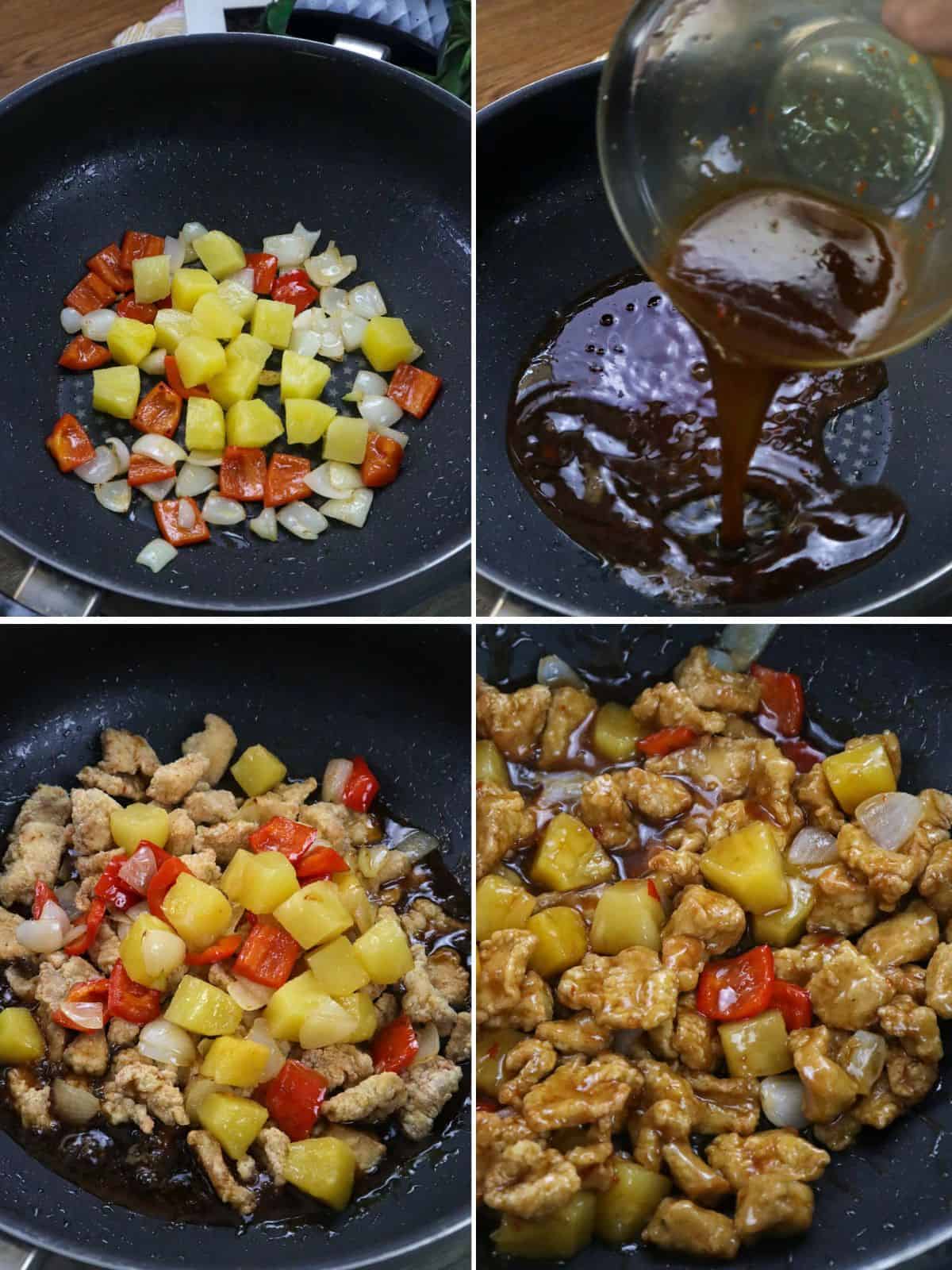 Quick tip
As the packing juice is used in the sauce, choose canned pineapple chunks packed in juice and NOT in heavy syrup as it can make the dish overly sweet.
Frequently Asked Questions
Is Panda Express Sweet Fire Chicken spicy?

This copycat recipe, in particular, has a slight kick from the sweet chili sauce but is not overly spicy. Its flavor is a delicious medley of sweet and tangy with a mild heat. You can stir a dollop of Sriracha sauce into the sauce if you want to add more spice.
Why is Panda Express chicken so soft?

Chinese restaurants use a cooking technique called velveting. One method is to marinate the meat with cornstarch to create a moist, velvety soft texture. Another method is to coat the meat in baking soda for about 20 to 30 minutes, rinse, and use in the recipe as directed.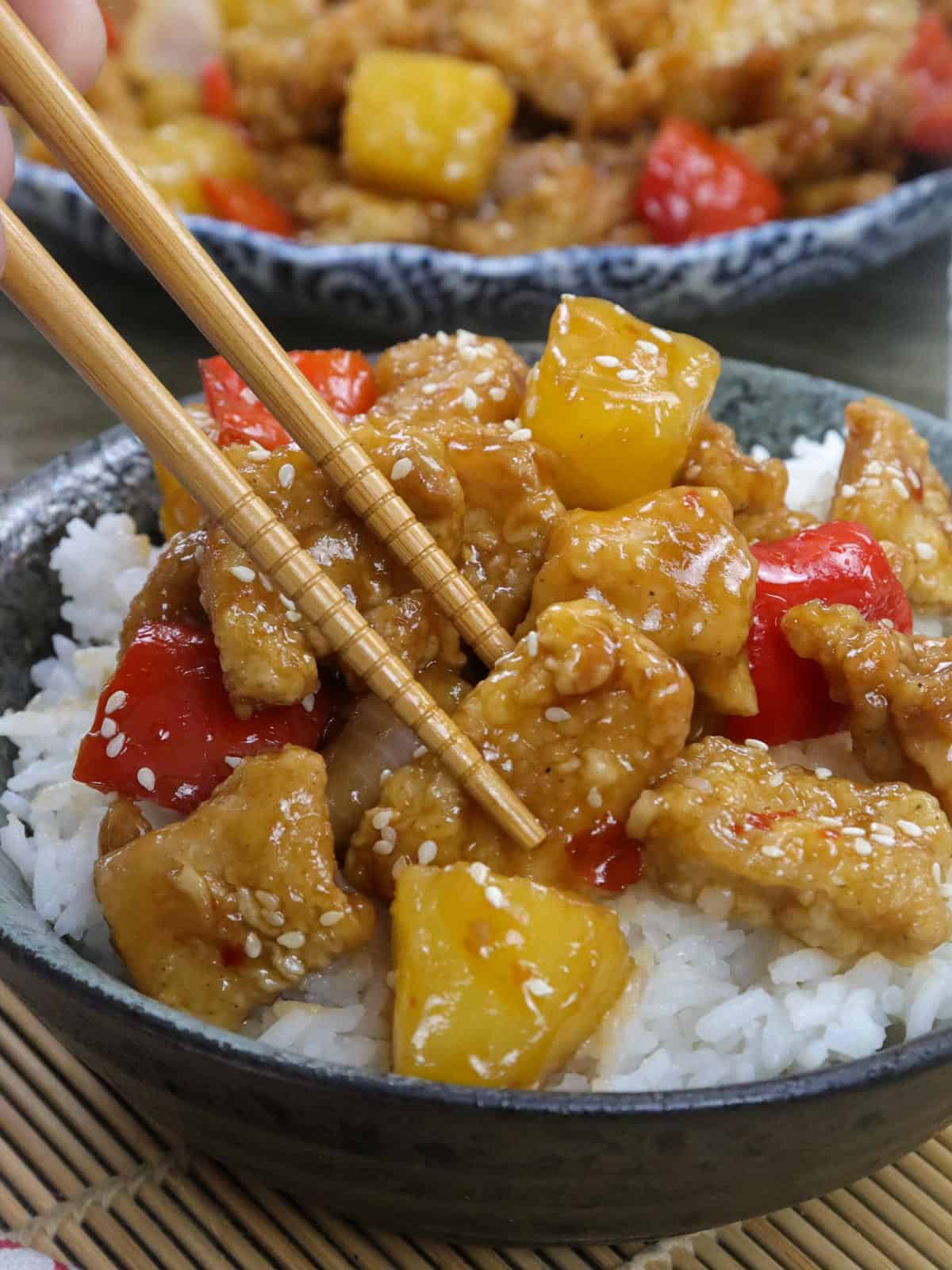 How to serve and store
Serve with fried rice and chow mein noodles for a full Chinese takeout experience!
Allow leftovers to cool completely and transfer to an airtight container. Keep in the refrigerator for up to 3 days or in the freezer for up to 2 months.
Reheat in the microwave at 2 to 3-minute intervals until completely heated through, stirring well between intervals.
Sweet Fire Chicken Panda Express copycat recipe tastes just like the restaurant's, if not better. So easy to make and cheaper to make at home!
4 Servings
Ingredients
1 pound boneless skinless chicken breast, cut into ¼-inch thick and 1-inch length
½ teaspoon salt
½ teaspoon pepper
1 large egg, well beaten
¾ cup cornstarch
¼ cup flour
canola oil
1 small onion, peeled and cubed
1 small red bell pepper, cored, seeded and cut into 1-inch cubes
1 cup pineapple chunks
½ cup pineapple juice
⅔ cup sweet chili sauce
1 tablespoon light soy sauce
½ teaspoon cornstarch
Instructions
In a wok or skillet over medium heat, heat about 2- inches deep of oil to about 350 F.

In a bowl, combine chicken, ¼ teaspoon salt, ¼ teaspoon pepper, and beaten egg. Stir until well-coated.

In a wide bowl, combine cornstarch, flour, the remaining ¼ teaspoon salt and ¼ teaspoon pepper. Whisk until well distributed.

Add chicken a few pieces at a time and coat with cornstarch mixture using a fork.

Add chicken pieces to hot oil and stir gently to separate. Deep-fry for about 3 to 5 minutes or until golden brown and crisp. With a slotted spoon, remove chicken and drain on paper towels. Keep warm.

In a bowl, combine pineapple juice, sweet chili sauce, light soy sauce, and cornstarch. Stir until well-blended. Set aside.

Remove excess oil from the wok except for about 1 tablespoon. Increase heat to medium-high heat.

Add onions and bell peppers and cook, stirring frequently, for about 1 to 2 minutes or until tender yet crisp.

 Add pineapples and cook for about 1 minute or until heated through. With a slotted spoon, remove from the wok and keep warm.

Stir the sweet chili sauce mixture to redistribute and add to the pan. Cook for about 30 to 40 seconds or until bubbly and thickened.

Add chicken, bell peppers, onions, and pineapples back into the pan. Gently toss to fully coat with sauce. 

Transfer onto a serving platter and garnish with sesame seeds, if desired. Serve hot.
Notes
As the packing juice is used in the sauce, choose canned pineapple chunks packed in juice and NOT in heavy syrup as it can make the dish overly sweet.
"This website provides approximate nutrition information for convenience and as a courtesy only. Nutrition data is gathered primarily from the USDA Food Composition Database, whenever available, or otherwise other online calculators."