Skip the takeout and recreate your favorite noodle dish cheaper and better at home! Panda Express Chow Mein Copycat recipe is ready in minutes and tastes just like the restaurant. This vegetarian stir-fry is hearty, tasty, and sure to satisfy your Chinese food cravings!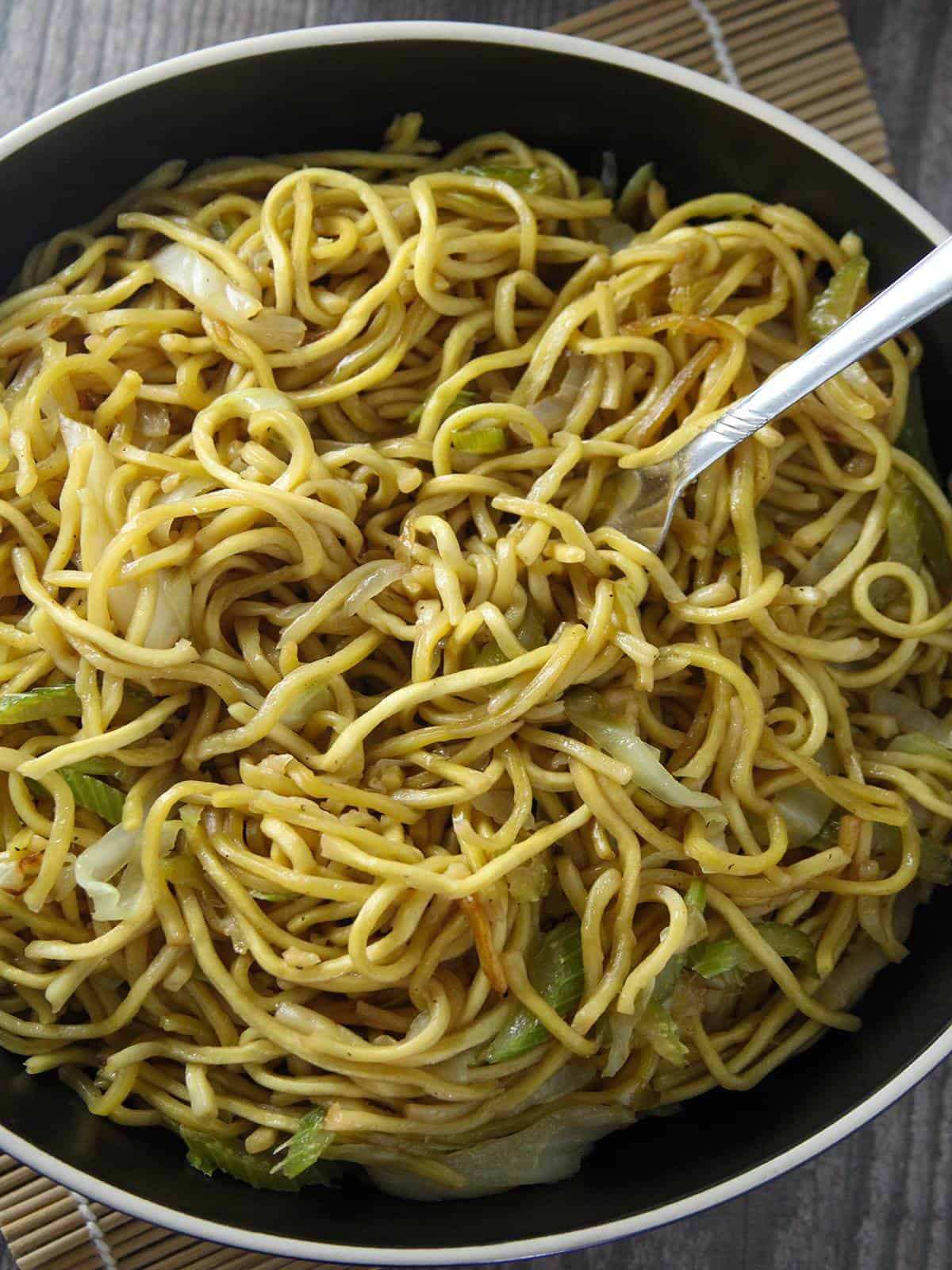 Back in the day, when I worked 9 to 5, Panda Express was my lifeline. Although I love to cook, the last thing I wanted after a long day's toil was to worry about what's for dinner, and a couple of combo plates picked up on my way home from work regularly saved me from having to throw together a meal.
Now that I am blogging full-time at home, I no longer have the excuse of "I'm too tired" to cook. Besides, G and I agreed to streamline our household food expenses, which means less eating out and more home-cooked meals.
So what does one do when craving her favorite Panda Express chow mein, but she's too cheap to cough up the dough? She learns how to make it herself.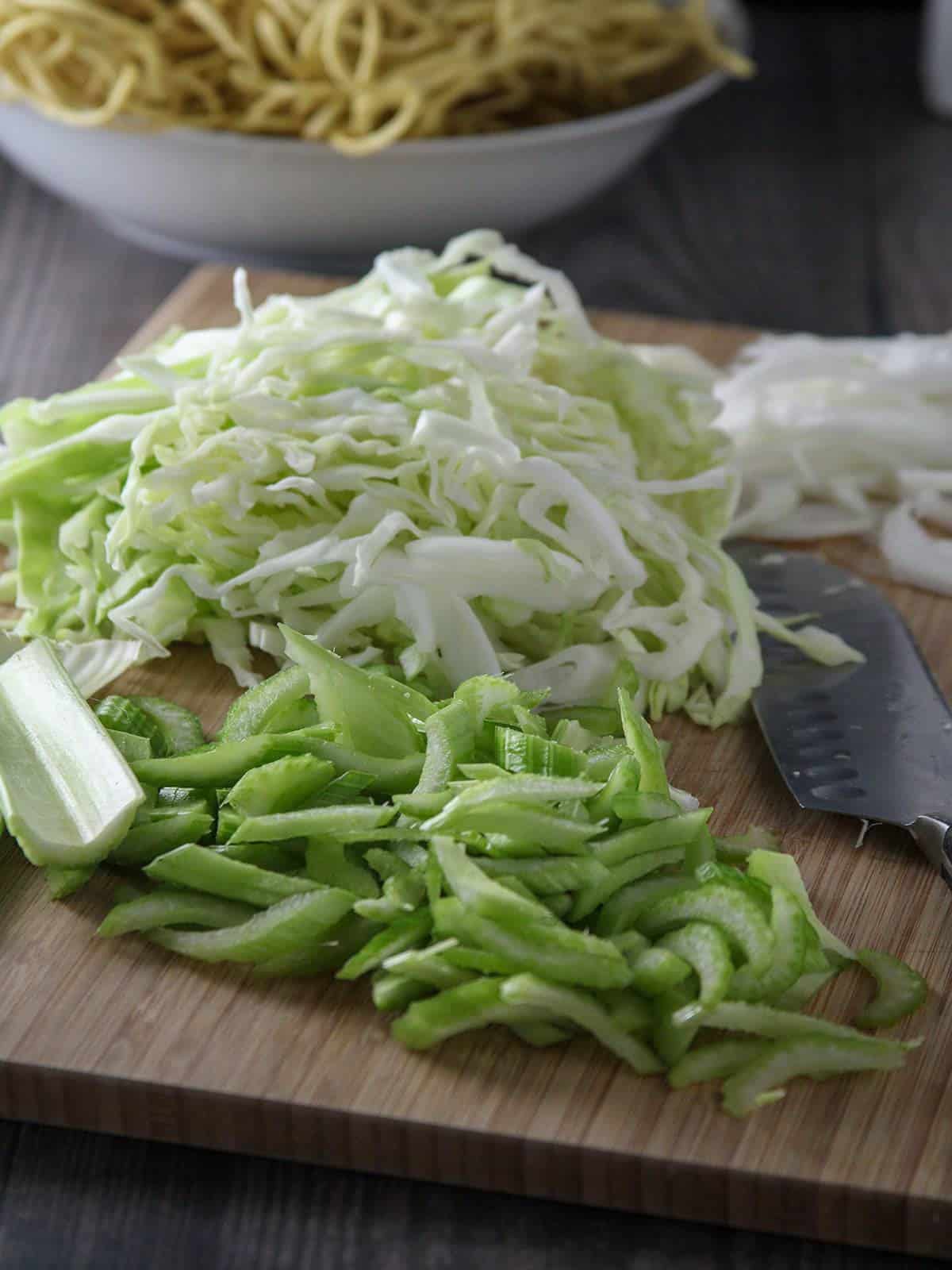 Good thing Panda Express Chow Mein Copycat is quick and easy to recreate at home. So quick and easy, in fact, it's ready to enjoy in less time than it would take to wait in line at the restaurant!
Plus, there are no fancy ingredients to drive around town for. Well, maybe the noodles, but everything else you can find at most major supermarkets.
This popular side dish is a simple medley of stir-fried noodles, onions, celery, and cabbage that is hearty and delicious. If you want to bulk it into a complete meal, feel free to add protein such as shrimp, chicken, or pork and more veggies such as carrots, snap peas, and bean sprouts.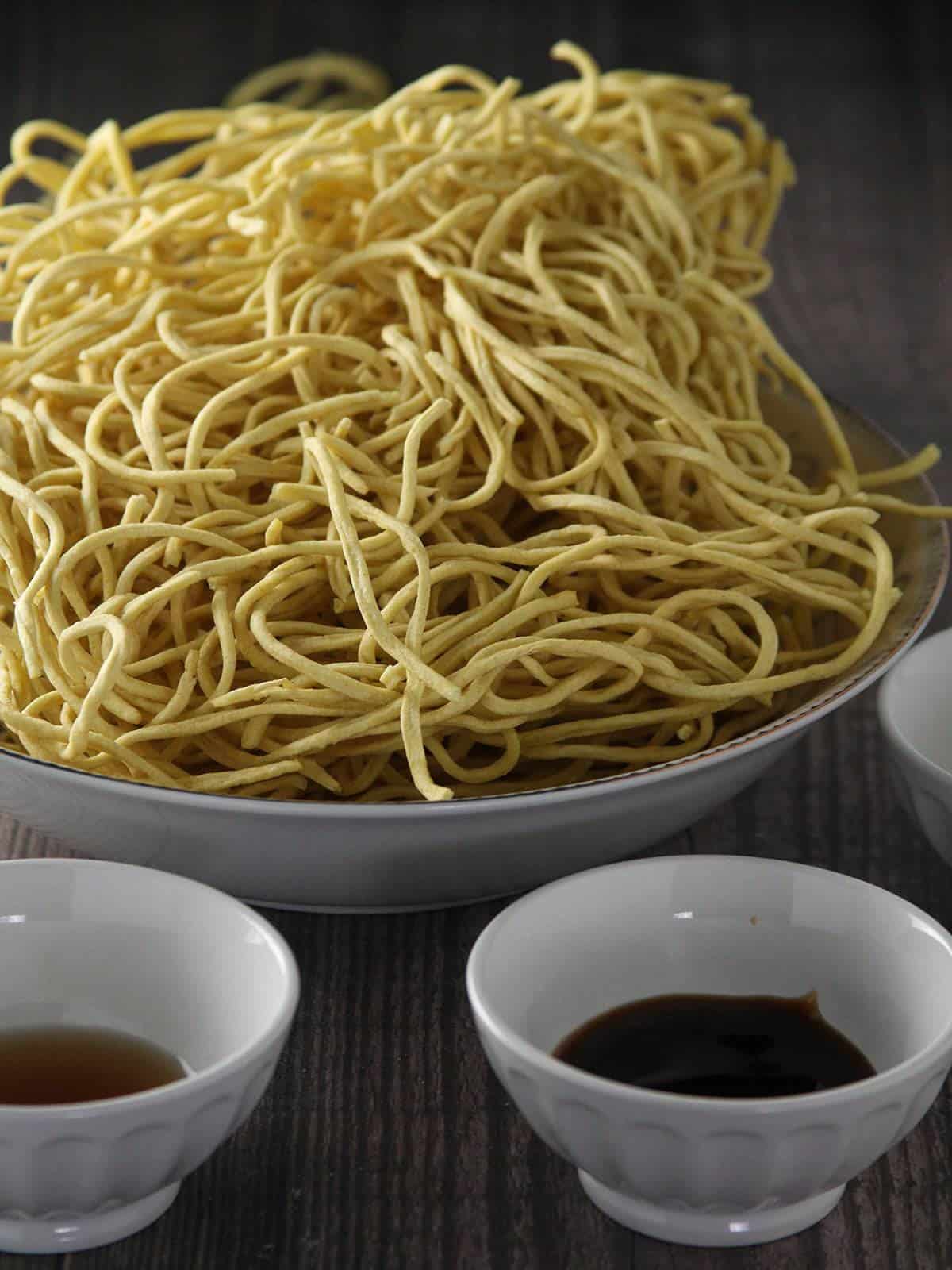 Noodles to use
What sets Panda Express chow mein apart is its delicious noodles. These wheat noodles have a soft yet chewy texture, making them the perfect canvas for savory sauce and stir-fried veggies.
Fresh chow mein noodles are available at most Asian supermarkets, but Japanese Yakisoba or our very own Pancit canton are good options if you can't find them. Whatever type of noodles you buy, check their package directions on preparing them properly for stir-frying.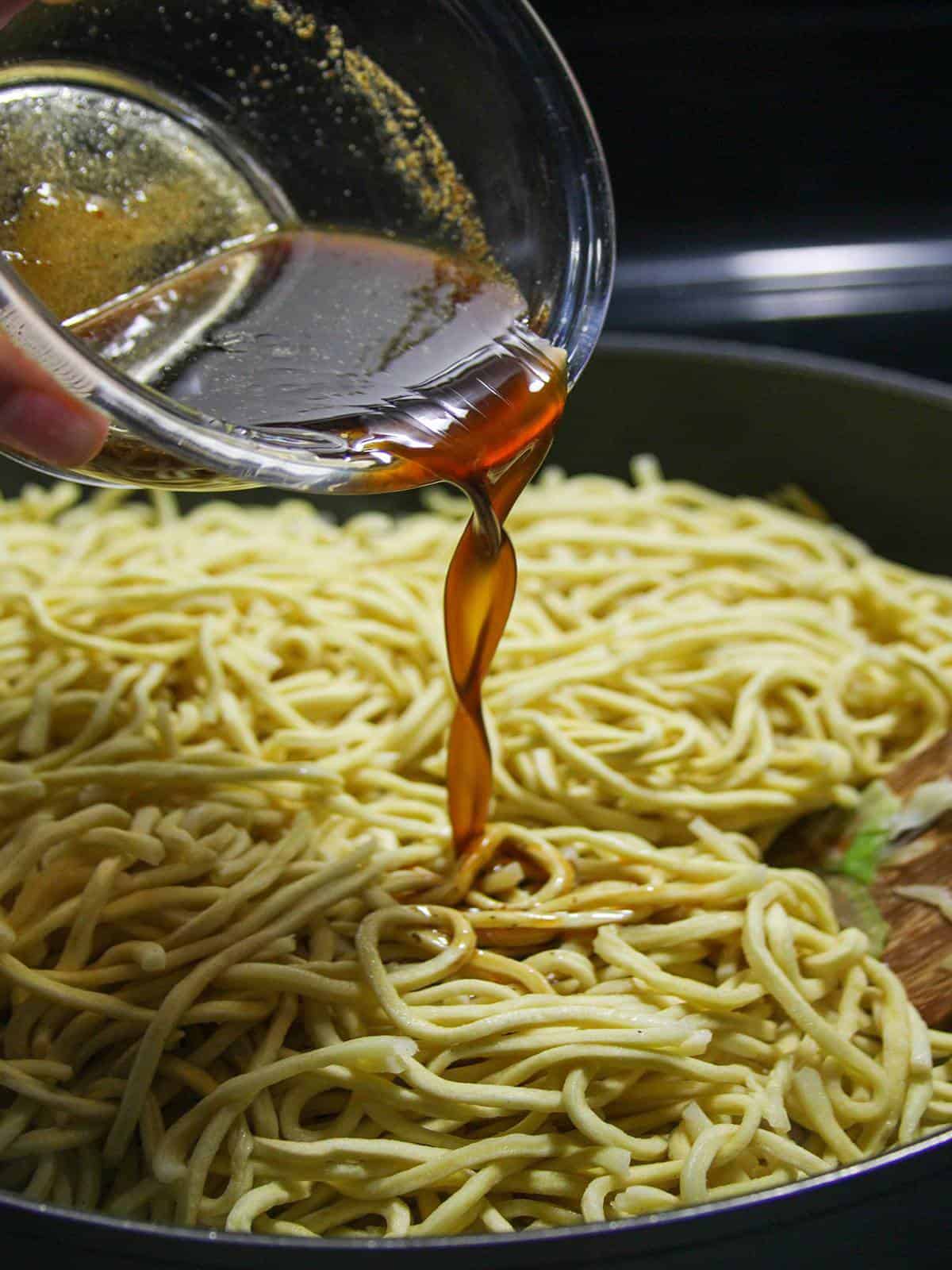 Cooking tips
Stir-frying is a quick process so have all your ingredients prepped and ready to go before you start.
To prevent the noodles from getting soggy, cook them about 1 minute or so less than the suggested cook time on the package and rinse in cold water right away. They will finish off when stir-fried with the rest of the ingredients.
Cut the vegetables in uniform and bite sizes to ensure even and fast cooking.
The sauce will taste pretty strong and salty but don't worry, it will balance out once mixed in with the rest of ingredients.
To toss the ingredients freely and without spills, use a wok or a wide skillet with high sloping sides.
Use tongs to stir-fry to help keep the noodles intact and lessen breakage.
Cook on high heat to sear the food quickly and to lock in the vegetables' natural juices.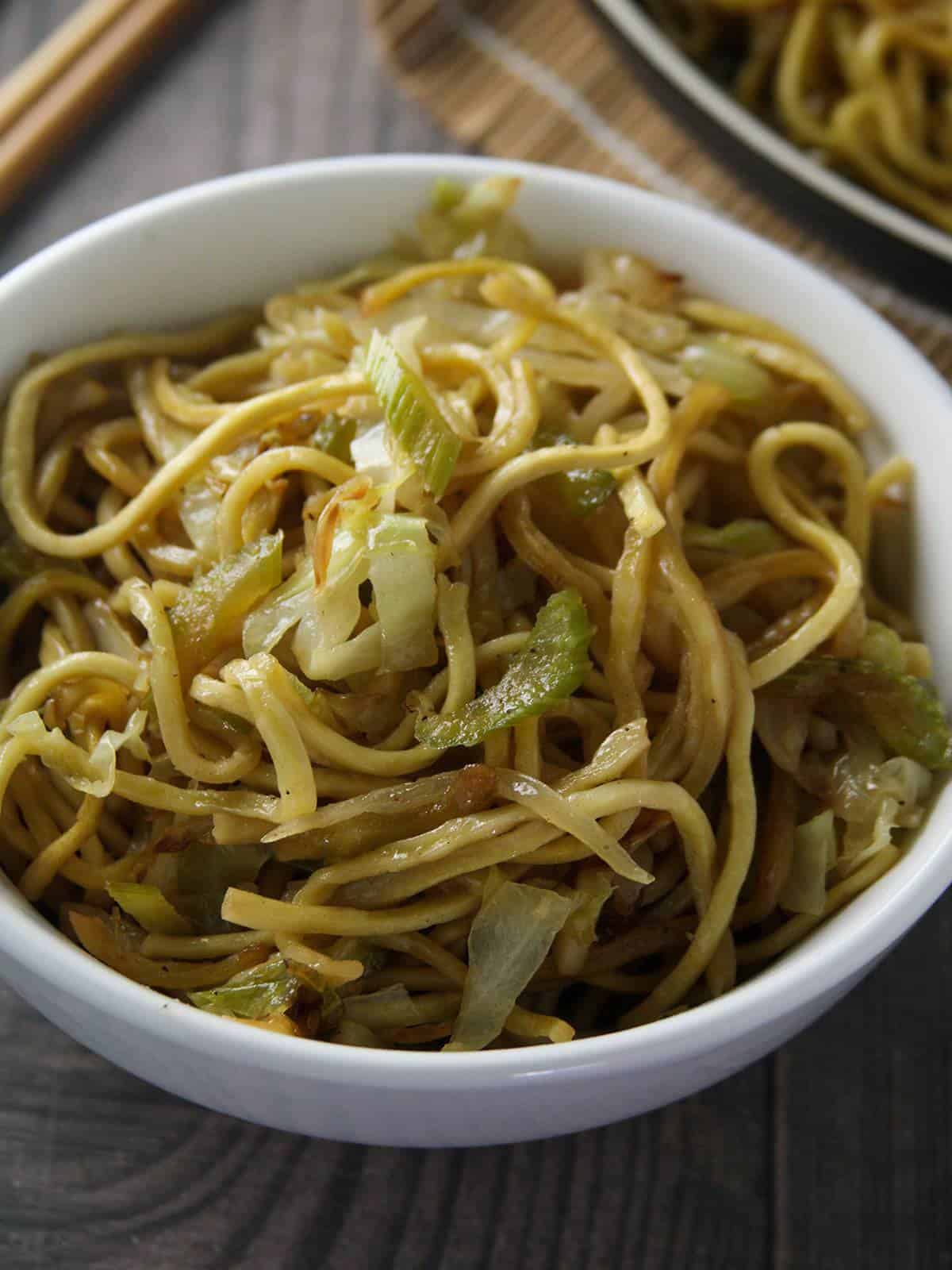 Serving suggestions
How to store leftovers
Keep in a container with a tight-fitting lid and refrigerate for up to 3 days. Reheat in the microwave at 1 to 2-minute intervals or until completely warmed.
Recreate your favorite Panda Express Chow Mein at home! This copycat recipe is quick and easy to make and tastes just as good, if not better, than the restaurant's. And it's cheaper, too!
4 Servings
Ingredients
14 ounces fresh chow mein noodles
2 tablespoons canola oil
¼ cup soy sauce
2 tablespoons oyster sauce
2 tablespoons Chinese cooking wine
1 tablespoon brown sugar
1 teaspoon sesame oil
¼ teaspoon pepper
1 onion, peeled and sliced thinly
½ head cabbage, sliced thinly
4 stalks celery, sliced thinly on a bias
Instructions
Loosen the yakisoba noodles and remove excess oil by gently rinsing under warm water. Drain well.

In a small bowl, combine soy sauce, oyster sauce, cooking wine, brown sugar, sesame oil, and pepper. Stir until blended and sugar is dissolved.

In wok or wide pan over high heat, heat canola oil.

Add onions, cabbage, and celery. Cook for about 2 to 3 minutes or until the vegetables begin to caramelize.

Add noodles and sauce mixture. Using tongs, gently stir together until combined and evenly coated with sauce.

Continue to cook for about 2 to 3 minutes or until heated through and sauce is mostly absorbed. Serve hot.
Notes
If you can't find fresh chow mein noodles, you can use yakisoba or dry Pancit canton noodles
"This website provides approximate nutrition information for convenience and as a courtesy only. Nutrition data is gathered primarily from the USDA Food Composition Database, whenever available, or otherwise other online calculators."