Cashew Chicken with moist chicken, crunchy cashews, and tender-crisp snow peas in a savory brown sauce. Easy to make and super tasty, this stir-fry dish is sure to be a family favorite!
Has it been a week since my last recipe? Guys, I am sorry. I am way over my head with work! Between updating recipe cards for both my sites, creating new content, and preparing to launch my new blog, I am barely able to keep up.
To top it all, G sprained his ankle and has been off his feet for the past week. With him semi-incapacitated, I now have to cook AND wash dishes.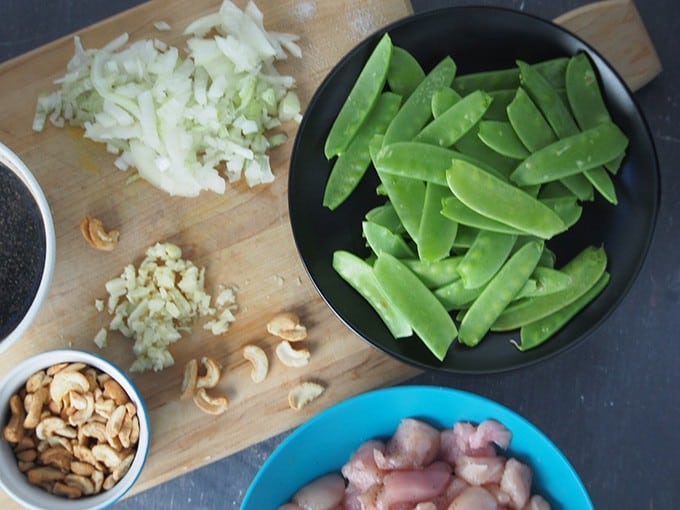 Experimenting in the kitchen is not as much fun when you have to contend with a mountain of dirty pots and pans after. 😂
Thank goodness for easy stir-fries such as this cashew chicken recipe, we get to enjoy fabulous meals without a lot of effort. Looking for an easy-to-prep dish for busy weeknights? This one is for you! It has a simple list of ingredients, is ready in minutes, and cooks in one pan.
Sauce Ingredients
To pull this chicken cashew recipe, I use my tried and tested brown sauce made of light soy sauce, oyster sauce, Chinese cooking wine, cornstarch, sugar, and pepper. This fabulous concoction is my go-to sauce for all my favorite stir-fry dishes such as this beef and corn and this shrimp and snow peas.
It's a base recipe you can easily tweak to suit your tastes. Want it sweeter? Adjust the amount of sugar. A little spicy? Toss in red pepper flakes.
The cornstarch the chicken is marinated in should help tenderize the meat as well as thicken the sauce. If the sauce is not as thick as you like, just whisk in a cornstarch slurry (about 1/2 teaspoon cornstarch mixed with 2 to 3 tablespoons water until smooth should do the trick here) during the last few minutes of cooking.
How to Roast Cashews
An essential component of this chicken stir-fry is the cashews. Make sure to toast them to bring out their best flavor and aroma. Here are three ways to roast them:
In the oven: Arrange the cashews in an even layer on an ungreased baking sheet. Bake in a 350 F oven for about 8 to 10 minutes or until golden. For even browning, stir the nuts or shake the pan halfway through roasting. Remove from the oven and transfer to a container immediately. Let cool.
On the stovetop: Heat a wide, ungreased pan over medium heat. Add a single layer of cashews and roast, frequently stirring, for about 1 to 2 minutes or until golden brown are golden brown and give off a toasty aroma.
In the microwave: Spread nuts in a single layer on a flat microwaveable dish. Microwave on HIGH in one-minute intervals, stirring after each minute until they are crunchy and have a toasty fragrance.
How to Serve
Serve with steamed rice and chow mein for a Chinese take-out feast right in your own home!
If making ahead for future meals, add the cashew nuts when ready to serve for best texture.
Store in resealable bags or airtight containers. It will keep in the fridge for up to 3 days or in the freezer for up to 2 months.
Chicken stir-fry with cashews and snow peas perfect for busy weeknights. It's so easy to make and tasty, there's no need for take-out!
Servings
Ingredients
1 1/2 pounds boneless, skinless chicken thigh or breast, sliced into 1-inch pieces
1/2 teaspoon salt
1/4 teaspoon pepper
1 tablespoon cornstarch
1/4 cup water
6 tablespoons soy sauce
1/4 cup oyster sauce
2 tablespoons Chinese cooking wine
1 tablespoon sugar
3 tablespoons canola oil
1/4 pound snow peas, ends trimmed
1 onion, peeled and sliced thinly
2 cloves garlic, peeled and minced
1/2 cup cashews, toasted
Instructions
In a bowl, season chicken with salt and pepper. Add cornstarch and stir to coat meat thoroughly. Marinate for about 20 minutes.

In a bowl, combine water, soy sauce, oyster sauce, Chinese cooking wine, sugar, and pepper to taste. Stir until well-blended and sugar is dissolved. Set aside.

In a wide, heavy-bottomed pan or wok over medium-high heat, heat one tablespoon of oil. Add snow peas and cook for about 20 to 30 seconds or until tender-crisp. Remove from pan and drain on paper towels.

Add another tablespoon of oil as needed. Add chicken and cook, occasionally stirring, for until lightly browned and fully cooked. 

Add onions and garlic and continue to cook for about 1 to 2 minutes.

Add sauce mixture to pan, stirring to combine. Bring to a simmer until it begins to thicken.

Add cashews and snow peas. Continue to cook for about 1 to 2 minutes or until heated through. 

Remove from pan and transfer to serving platter. Garnish with additional cashews, if desired. Serve hot.
Nutrition Information
Calories: 463kcal, Carbohydrates: 19g, Protein: 43g, Fat: 23g, Saturated Fat: 3g, Cholesterol: 109mg, Sodium: 2399mg, Potassium: 880mg, Fiber: 2g, Sugar: 7g, Vitamin A: 359IU, Vitamin C: 22mg, Calcium: 47mg, Iron: 3mg
"This website provides approximate nutrition information for convenience and as a courtesy only. Nutrition data is gathered primarily from the USDA Food Composition Database, whenever available, or otherwise other online calculators."