I was up all night last night watching for the umpteenth time past seasons of The Walking Dead on Netflix. Like the rest of the world's female population, I just can't get enough of Daryl Dixon. He's got to be the tastiest, I mean, the sexiest man alive.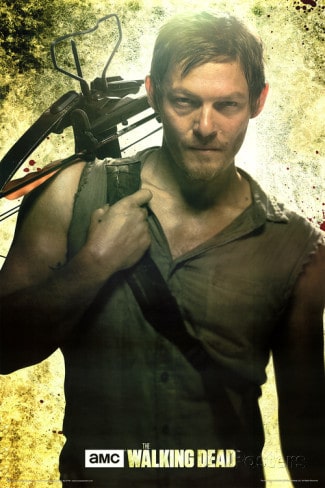 Anyway, #wipingdrooloffmyface, when I rolled out of bed this morning, I had a pounding headache and was in dire need of a massive jolt of both caffeine and sugar. My morning cappucino was just a matter of a Kuerig button but a piece of something sweet to pair with my cup required a bit more effort. G and I like to graze throughout the day so we always keep cookies, muffins or danishes around the house. But today when I needed one sugary piece the most, we had none. NONE. No white chip chocolate cookies. No mini cherry cheesecakes. No banana bread loaves. No cheese cupcakes. No coconut macaroons. NONE.
I was about to make a fast run to the nearby donut shop when I spied on a bunch of saba bananas sitting on the kitchen counter. Amen for little blessings. They were ripe and soft and perfect for fritter-making. Oh yeah, a quick batter later, I was savoring nicely-crisp, sugar-dusted maruya with my morning jo. Best way to start the day.
Maruya
Ingredients
1 cup flour
½ cup sugar
1 teaspoon baking powder
¼ teaspoon salt
1 egg
1 cup milk
2 tablespoons butter, melted
1 cup oil
5 to 6 ripe but firm saba bananas, peeled and sliced lengthwise into about ¼ inch-thick
Instructions
In a bowl, sift together flour, ¼ cup of the sugar, baking powder and salt.
In a large bowl, beat egg. Add milk and butter and whisk together until blended.
Add flour mixture to milk mixture and stir until just moistened. DO NOT OVERMIX.
In a pan over medium heat, heat oil.
Dip banana slices into batter to fully coat and gently slide into hot oil. Cook for about 1 to 2 minutes on each side or until golden and crisp. Remove from pan and drain on paper towels.
Using a fine mesh sieve, dust maruya with the remaining sugar. Serve warm.