This Kung Pao Shrimp recipe has big, bold flavors with plenty of crunch from the veggies. It's tasty, versatile, and easy. The perfect weeknight meal!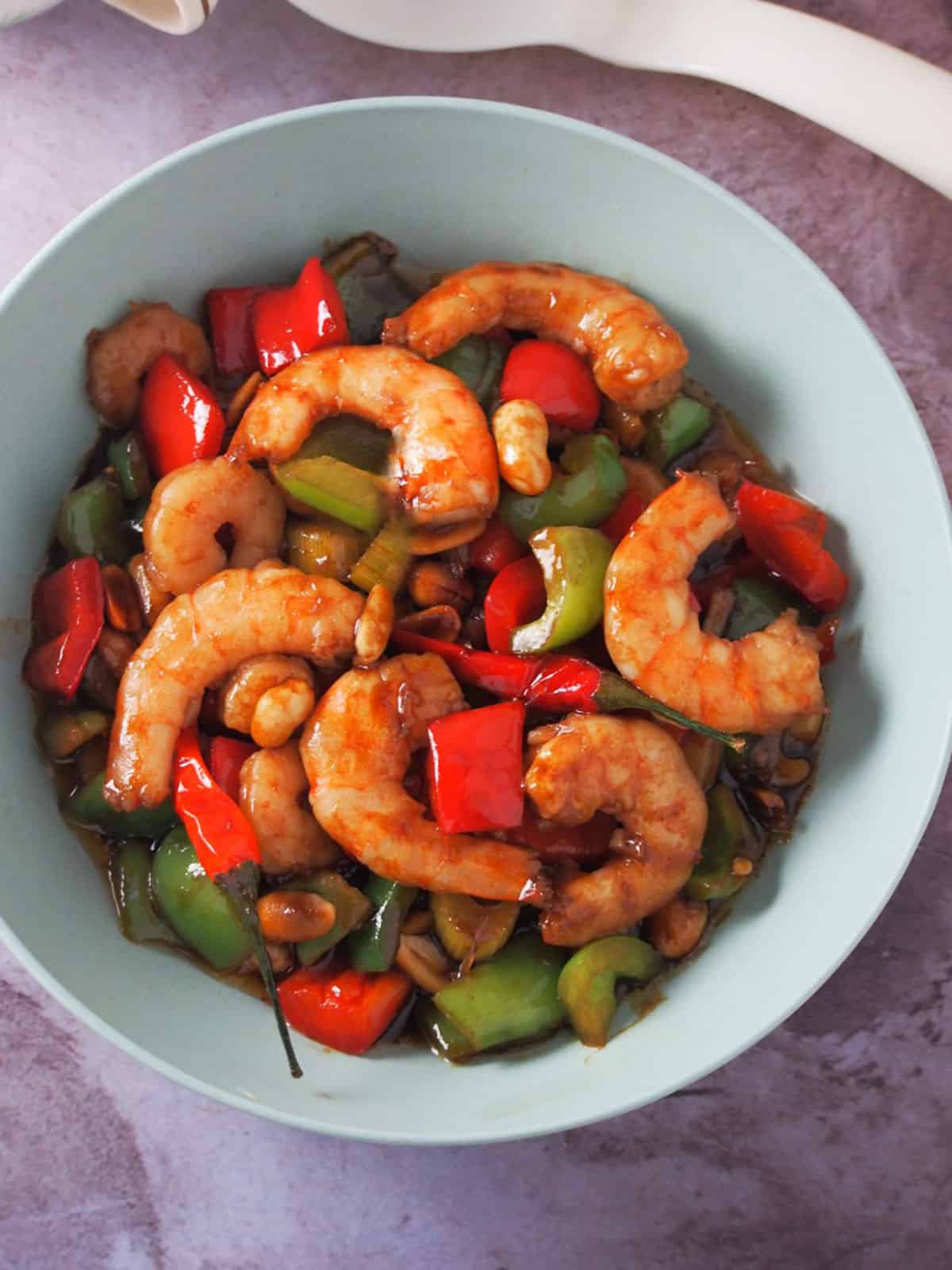 If you're more of the chicken type, head over to my other blog, Onion Rings and Things, for the kung pao chicken version of this recipe. If you are the seafood kind of gal, please, stay awhile and be ready to have your taste buds rocked!
Flavors can't get any bigger and bolder than this Kung Pao shrimp. With succulent shrimp, crunchy peanuts, crisp bell peppers, and celery doused in a sweet, savory, and spicy sauce, this dish begs for generous rice helpings to spoon over.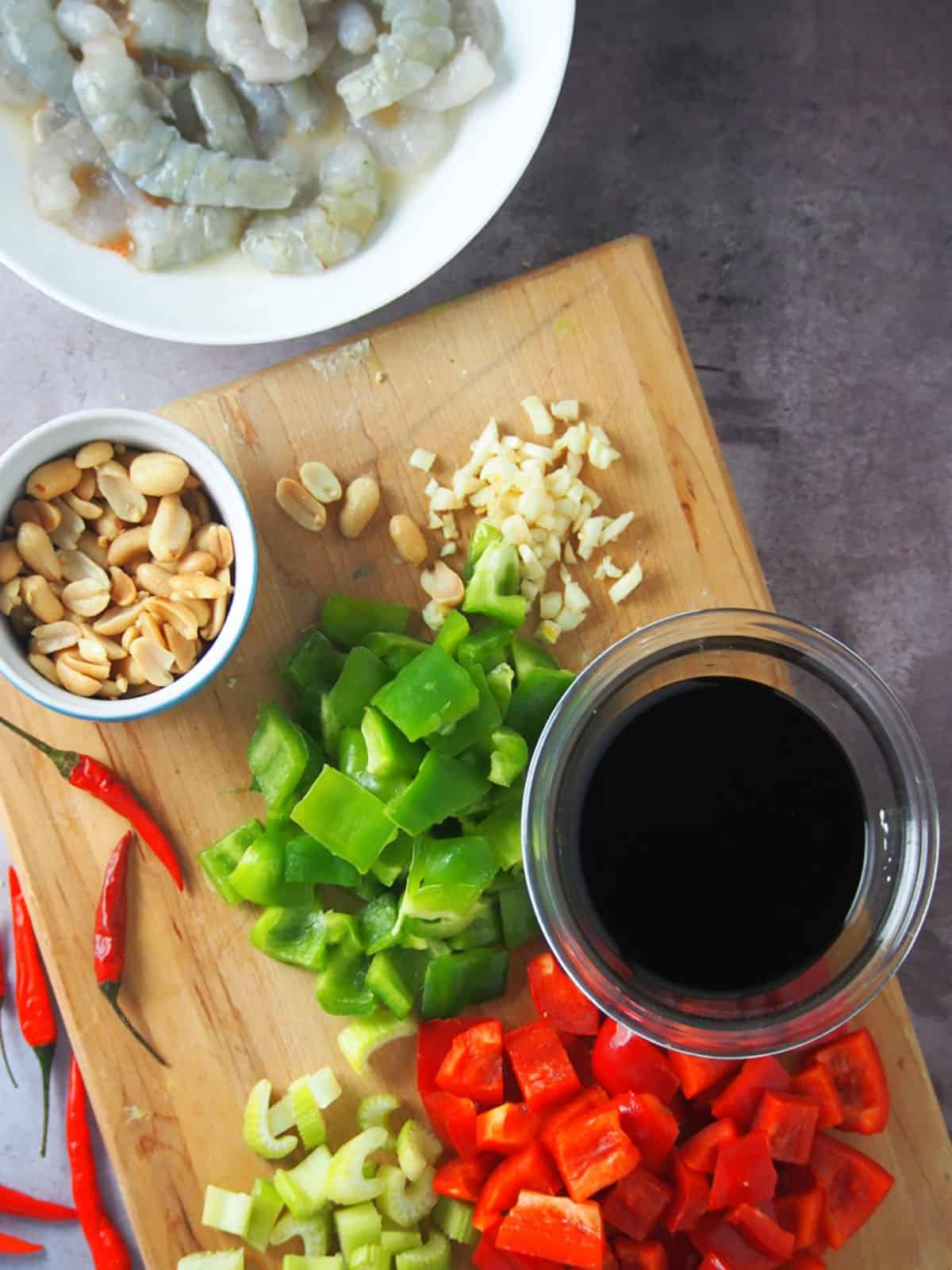 What is Kung Pao
Kung Pao or Gong Bao is a Chinese stir-fry made with bite-sized meat, vegetables, peanuts, and dried red chili peppers in a sweet, savory, and spicy sauce. The traditional recipe uses Sichuan peppercorns for its distinctive flavor.
Originating from the Sichuan province, the dish has gained popularity in America as a takeout favorite and has been adapted to accommodate western tastes. Some versions swap specialty ingredients such as black vinegar and Sichuan peppercorns for common pantry staples that are easier to source at major supermarkets.
While chicken is the most popular, other proteins such as beef, shrimp, or a combination can be used. Meaty mushrooms or tofu also provide a tasty vegetarian option.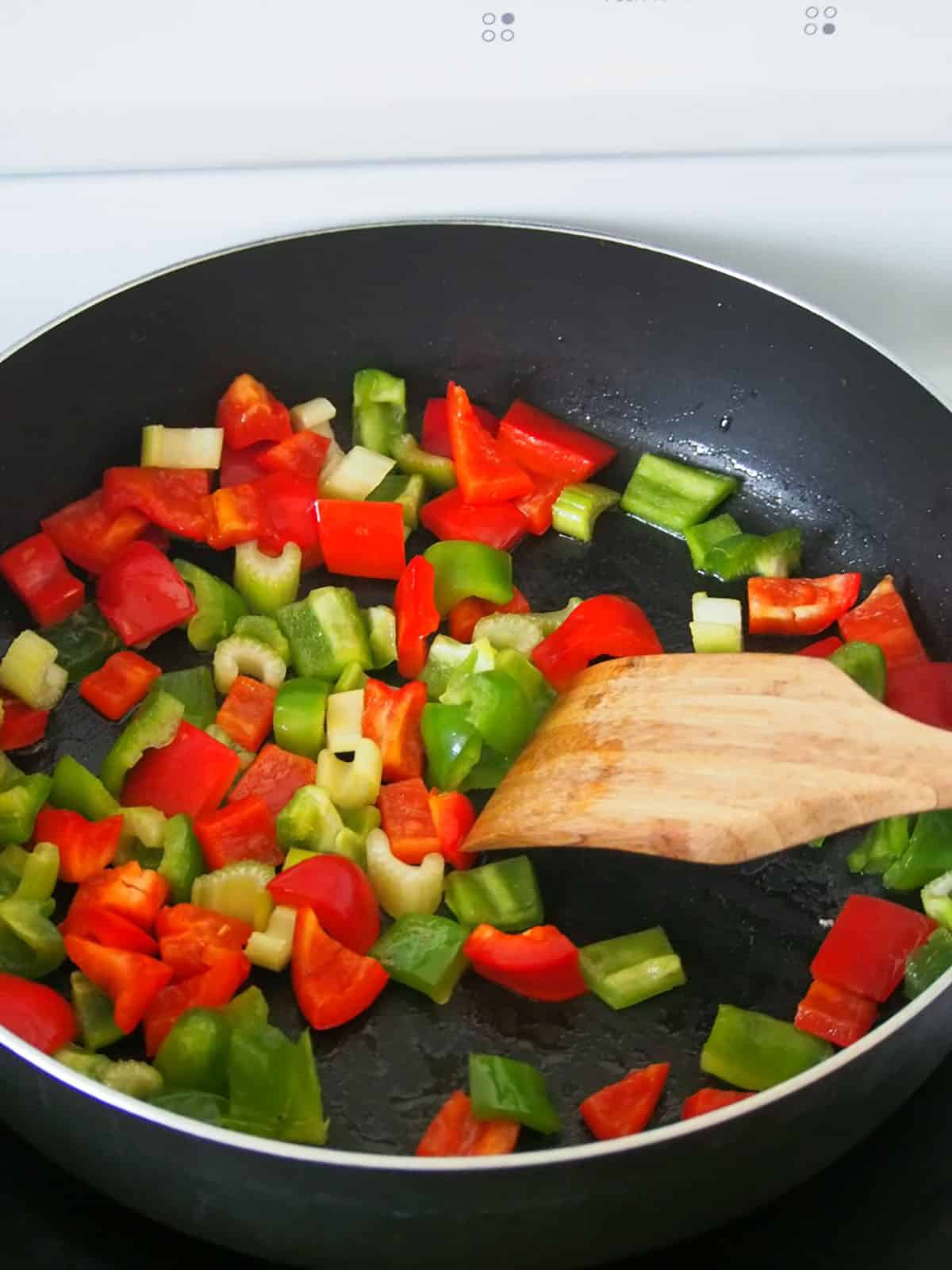 Ingredient substitutions
Chinkiang vinegar- also known as Chinese black vinegar. You can substitute white rice vinegar or rice wine vinegar. You can also use balsamic vinegar, but make sure to taste test as some brands can be overly sweet.
Sichuan or Szechuan pepper- has a lemony, floral flavor and causes a tingling, mouth-numbing sensation. If unavailable, add about 1 teaspoon of salt-free lemon pepper seasoning or a mix of ground white pepper and lemon zest to mimic this spice.
Shaoxing wine- a type of Chinese cooking wine made of rice. You can substitute dry sherry or Japanese mirin.
Crispy Peanuts- use unsalted without skin for best results. You can swap with roasted cashews for variety.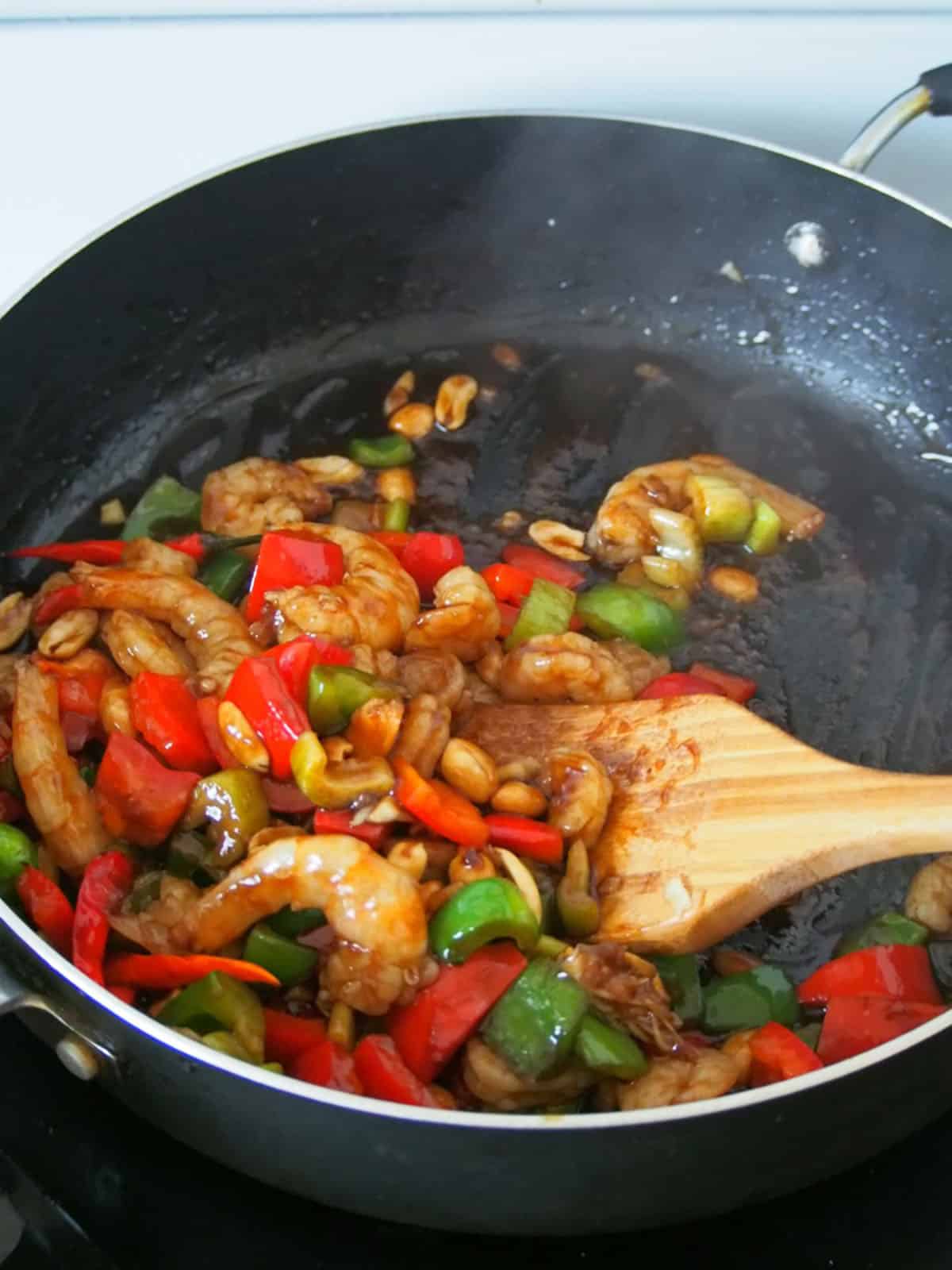 Preparing the shrimp
For the best taste, use the freshest shrimp available. Choose head-on, shell-on shrimp and peel them yourself. In my opinion, shrimp that has been peeled and flash frozen turn tough and rubbery when cooked. Don't forget to save the heads and shells to make stock.
An important step in making Kung Pao is marinating the meat in cornstarch, rice wine, oil, and salt. This velveting process locks in moisture and keeps the shrimp juicy while stir-fried at high heat. It should take about 15 to 20 minutes. Make sure to drain the shrimp well after.
Cooking tips
Cut the vegetables in equal sizes to ensure uniform cooking.
This is a quick recipe; have your mise en place ready. Prepare your veggies, shrimp, and sauce before cooking.
Use a wok or wide pan with high sides to prevent spills. Do not overcrowd pan and cook in batches as needed to allow enough space for the ingredients to move around.
Stir-fry on high heat so the ingredients sear nicely and not overcook in their steam.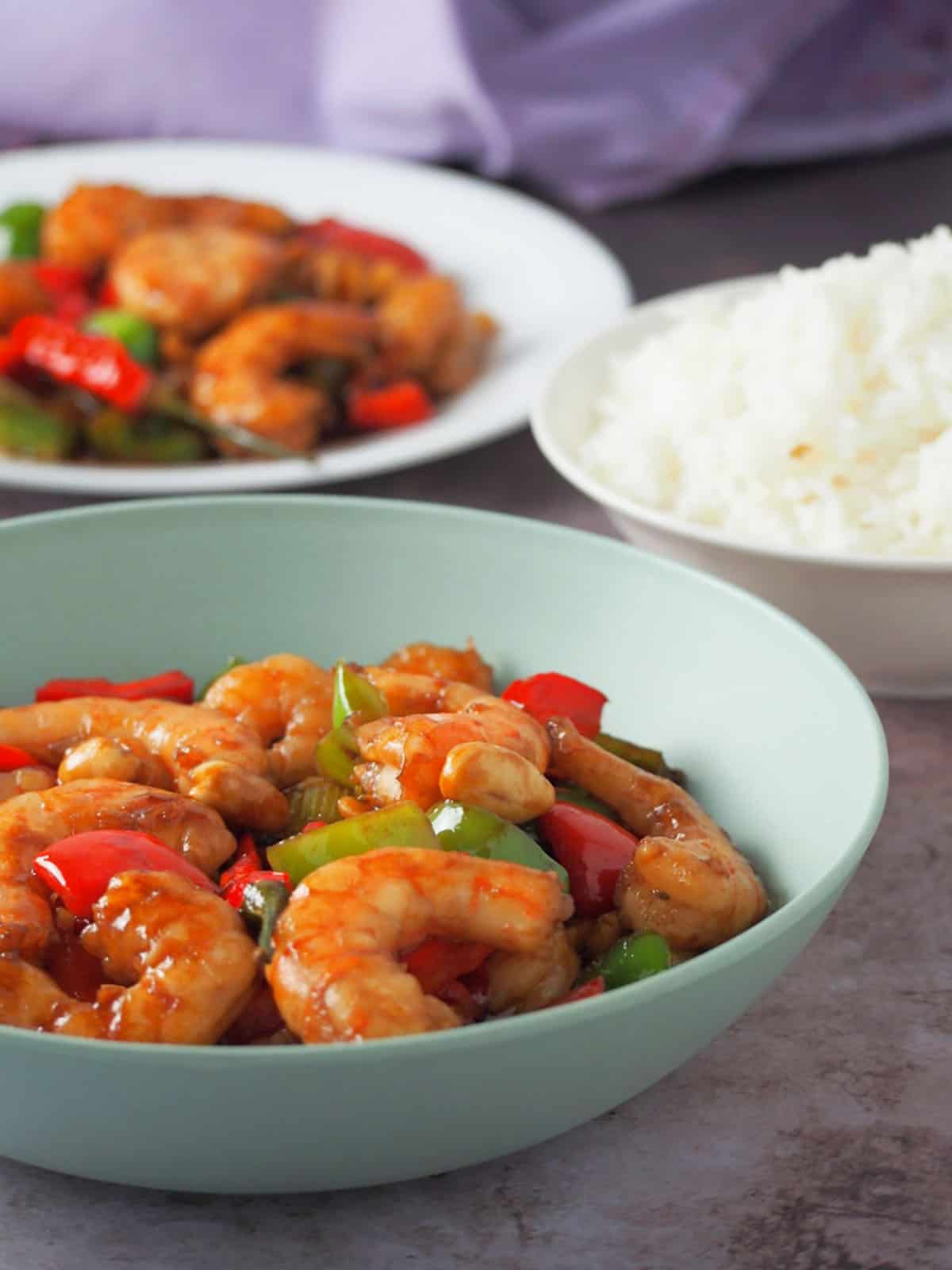 Serving suggestions
Steamed rice, in my opinion, provides the perfect canvas for the dish's bold flavors. For a full-on takeout fakeout meal at home, make it a combo plate with sides of shrimp fried rice and Panda Express chow mein.
Storage and reheating instructions
Store in a container with a tight-fitting lid and refrigerate for up to 3 days or freeze for up to 2 months.
Reheat in a wide pan over high heat or microwave at 1 to 20-minute intervals until completely warmed through.
Easy Kung Pao Shrimp Recipe has all the bold flavors of your favorite restaurant takeout cooked in one pan and in under 30 minutes!
4 servings
Ingredients
For the Marinade
2 tablespoons Chinese cooking wine
1 tablespoon cornstarch
1 teaspoon oil
1 teaspoon salt
1 pound large shrimp, peeled and deveined
For the Stir-fry Sauce
2 tablespoons light soy sauce
2 tablespoons dark soy sauce
2 tablespoons Chinese cooking wine
1 tablespoon Chinese black vinegar
1 tablespoon chili oil
¼ cup water
1.5 tablespoons sugar
1 tablespoon cornstarch
For the Stir Fry
3 tablespoons canola oil
1 small green pepper, seeded, cored, and cubed
1 small red green pepper, seeded, cored, and cubed
2 stalks celery, cut into 1-4 inch thick
6 dried Chinese chili peppers
½ cup peanuts
3 cloves garlic, peeled and minced
1 thumb-size ginger, peeled and minced
½ teaspoon ground Sichuan pepper
Instructions
In a bowl, combine marinade ingredients: Chinese rice wine, oil, salt, and cornstarch. Whisk together until blended. Add shrimp and marinate for about 10 to 15 minutes. Drain well.

In another bowl, combine stir-fry sauce: soy sauce, Chinese rice wine, rice vinegar, chili oil, water, sugar and cornstarch. Whisk together until smooth and blended. Set aside.

In a large skillet or wok over high heat, heat one tablespoon of the oil. Add peanuts and roast, stirring regularly, until lightly browned. Immediately remove from pan and keep warm.

Add bell peppers and celery and cook, stirring regularly, for about 1 minute or until half-done. Remove from pan and keep warm.

Add another tablespoon oil and heat. Add shrimp and cook until color changes to pink. Remove from pan and keep warm.

In the skillet, add the remaining 1 tablespoon of oil and heat. Add garlic and ginger and cook, stirring regularly, until softened.

Add dried red chili peppers and ground Sichuan pepper. Cook, stirring regularly, for about 30 seconds.

Add back the shrimp and cook, stirring regularly, for about 30 seconds.

Stir the stir-fry sauce mixture and add to the pan. Cook, stirring regularly, until sauce is thickened.

Add bell peppers, celery, and peanuts.

Gently toss until evenly coated with sauce. Serve hot.
"This website provides approximate nutrition information for convenience and as a courtesy only. Nutrition data is gathered primarily from the USDA Food Composition Database, whenever available, or otherwise other online calculators."