Crispy Pork Shoulder is made easy in the oven and without deep-frying! It's golden and crunchy on the outside and moist and flavorful inside for the ultimate homemade "lechon" experience!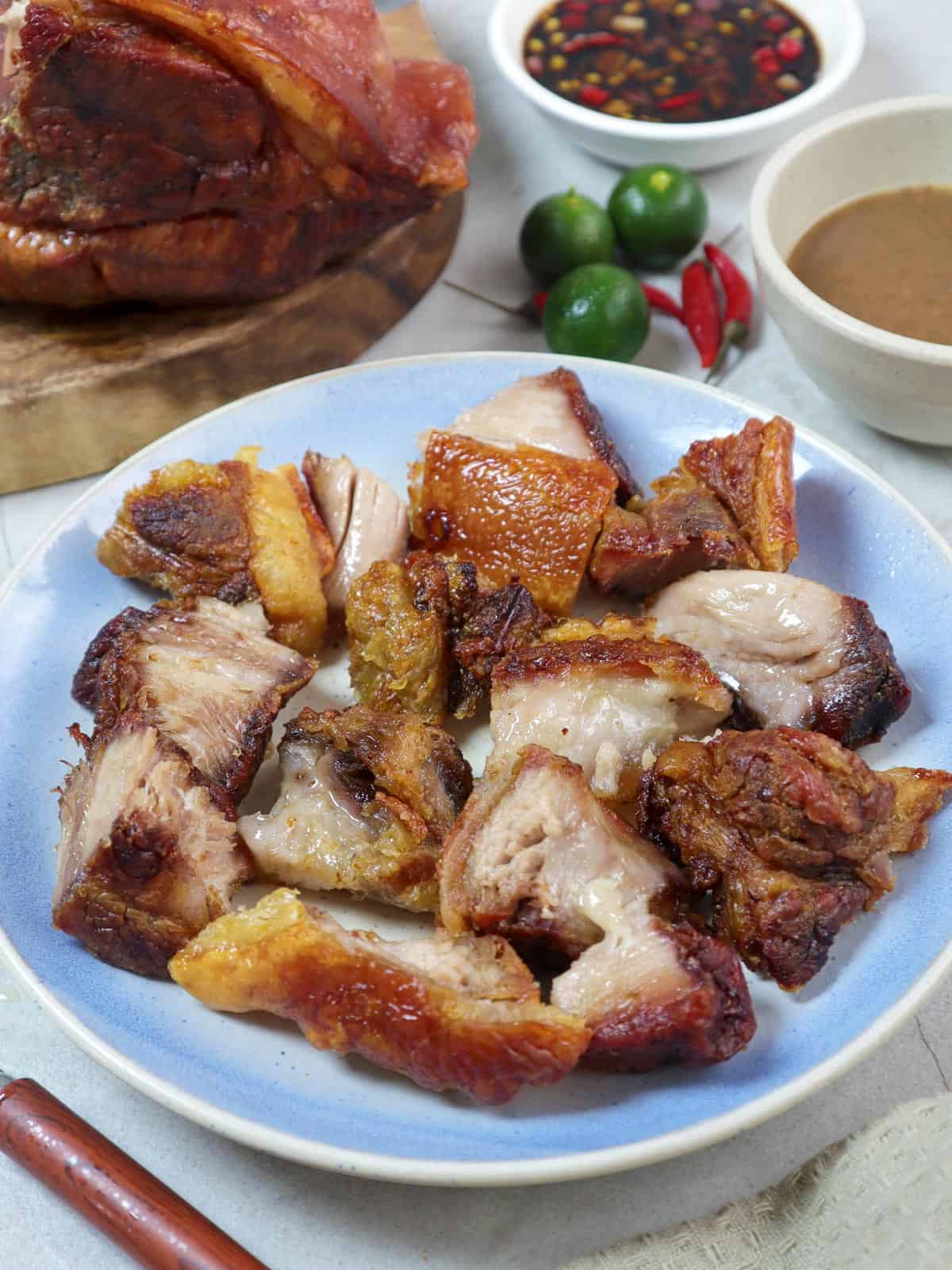 Guys, I apologize. I know it's Lent season, and the last recipe you're probably searching for right now is a sinful slab of crispy pork shoulder. But look at this beauty below; so golden and crisp I can NOT wait to share!
I have many favorites (ginataang talong, pretty please!), but if I have to choose one of the almost 500 recipes we have on Kawaling Pinoy that I am extremely proud of, lechon sa hurno be the runaway winner. With crackling-crisp skin and super juicy meat, it's hog heaven in every morsel!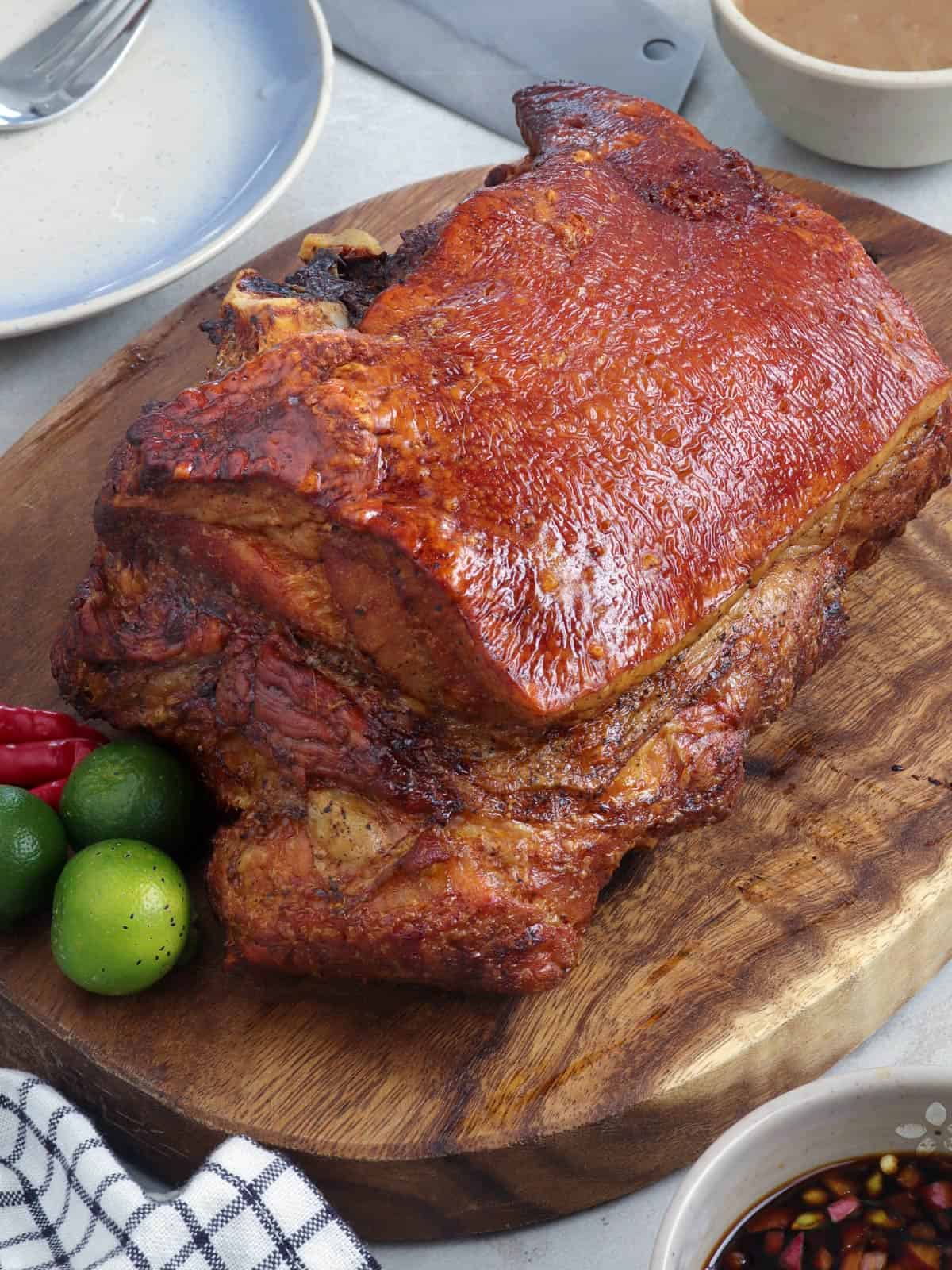 It's the crispiest, moistest lechon in my opinion and judging from your positive feedback in the comments, you all agree. And since many of you asked if the method will work on other cuts of pork aside from belly, I decided to experiment on pork shoulder and the answer is a resounding YES!
The pork turns out golden and crunchy on the outside and super moist and flavorful on the inside; It's like making your own roast pig at home!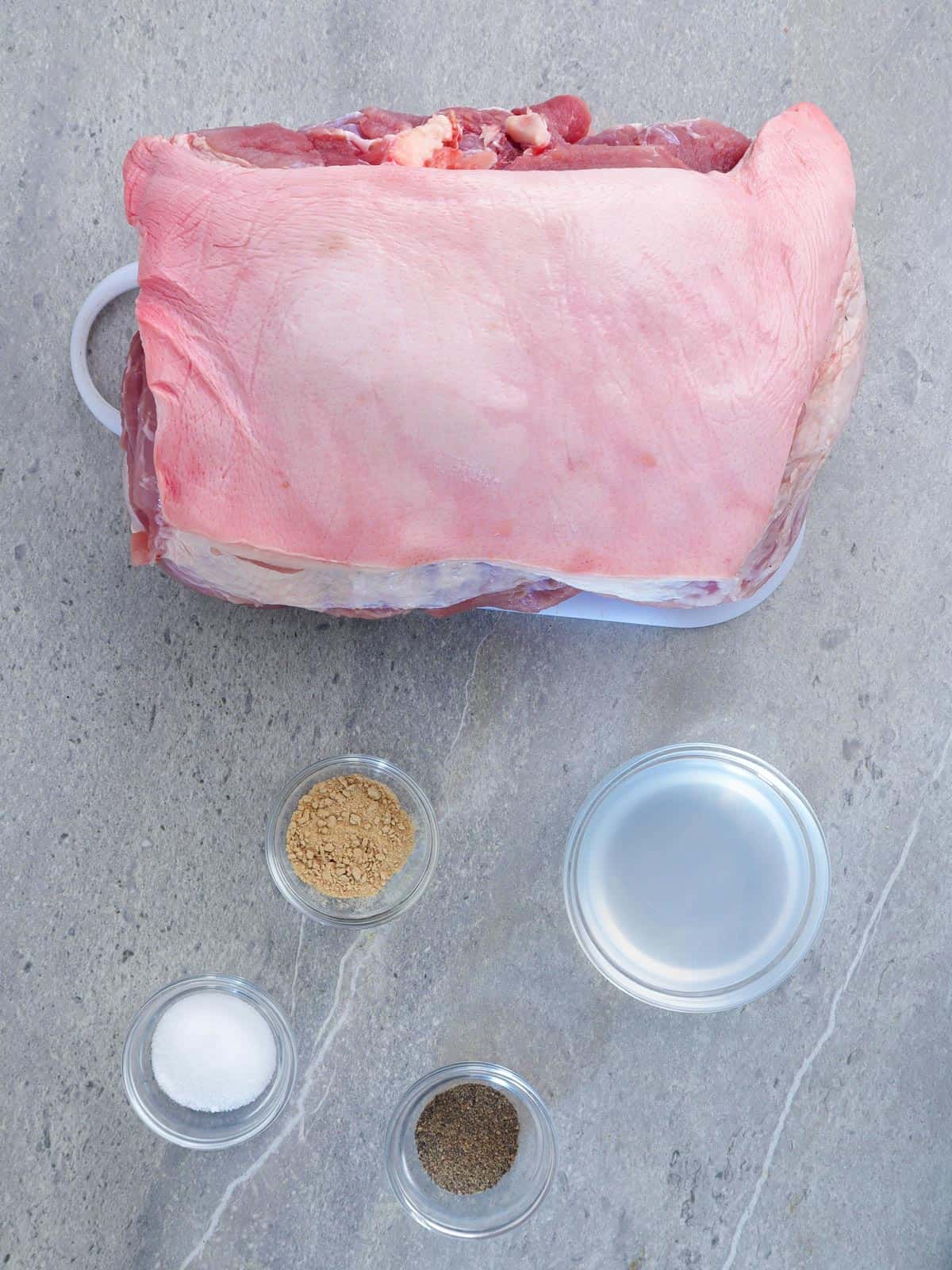 What you'll need
Skin-on pork shoulder- For the best results, skip the pork loin and choose pork shoulder with a thick cap skin. this cut is a leaner alternative to pork belly, but still has relatively good fat marbling to be juicy and tasty.
Vinegar- softens the skin so it roasts in a light crisp and not a hard crunch; also helps dry out the skin
Salt- draws out excess moisture for super crispy skin
Garlic powder and ground pepper- adds flavor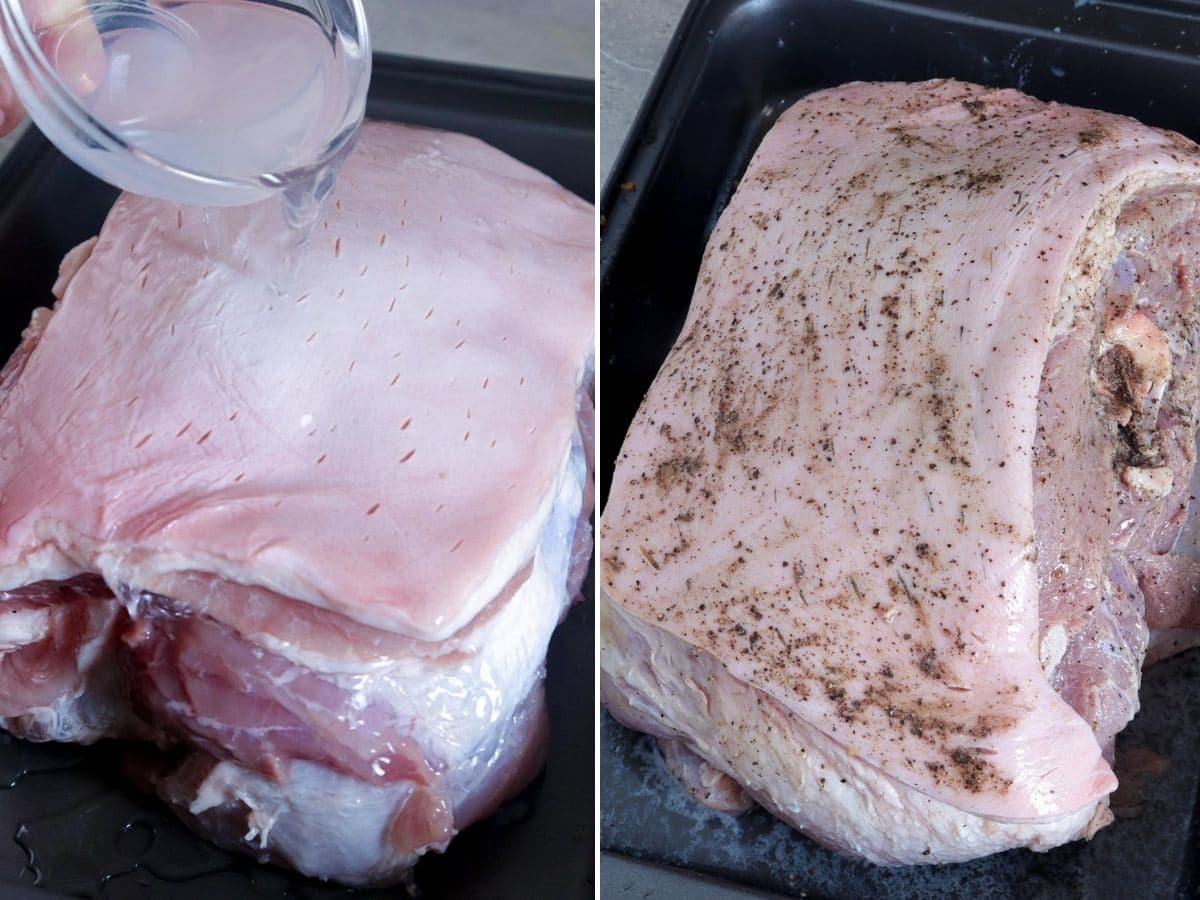 This crispy pork shoulder is pretty effortless, but it does take a few hours to cook in the oven after sitting out in the fridge overnight to dry out. I suggest using the largest piece of pork shoulder you can get to make it worth the time.
The good thing is the roasted pork stays nice and crisp for hours, and you can enjoy it longer. Plus, you can use leftovers in a variety of recipes, such as ginisang munggo soup, sisig, or pinakbet.
Cooking tips
Pierce the skin carefully, making sure not to cut through the meat as juices might bubble up during roasting which can cause rubbery areas.
Refrigerate the meat uncovered and with skin side up, overnight to dry out.
After marinating, pat the pork well with paper towels until very dry.
Use a roasting rack to allow even heat circulation.
Roast uncovered as covering the meat will create steam and interfere with the crisping.
For a moist meat, let the roast rest before cutting for the juices to redistribute.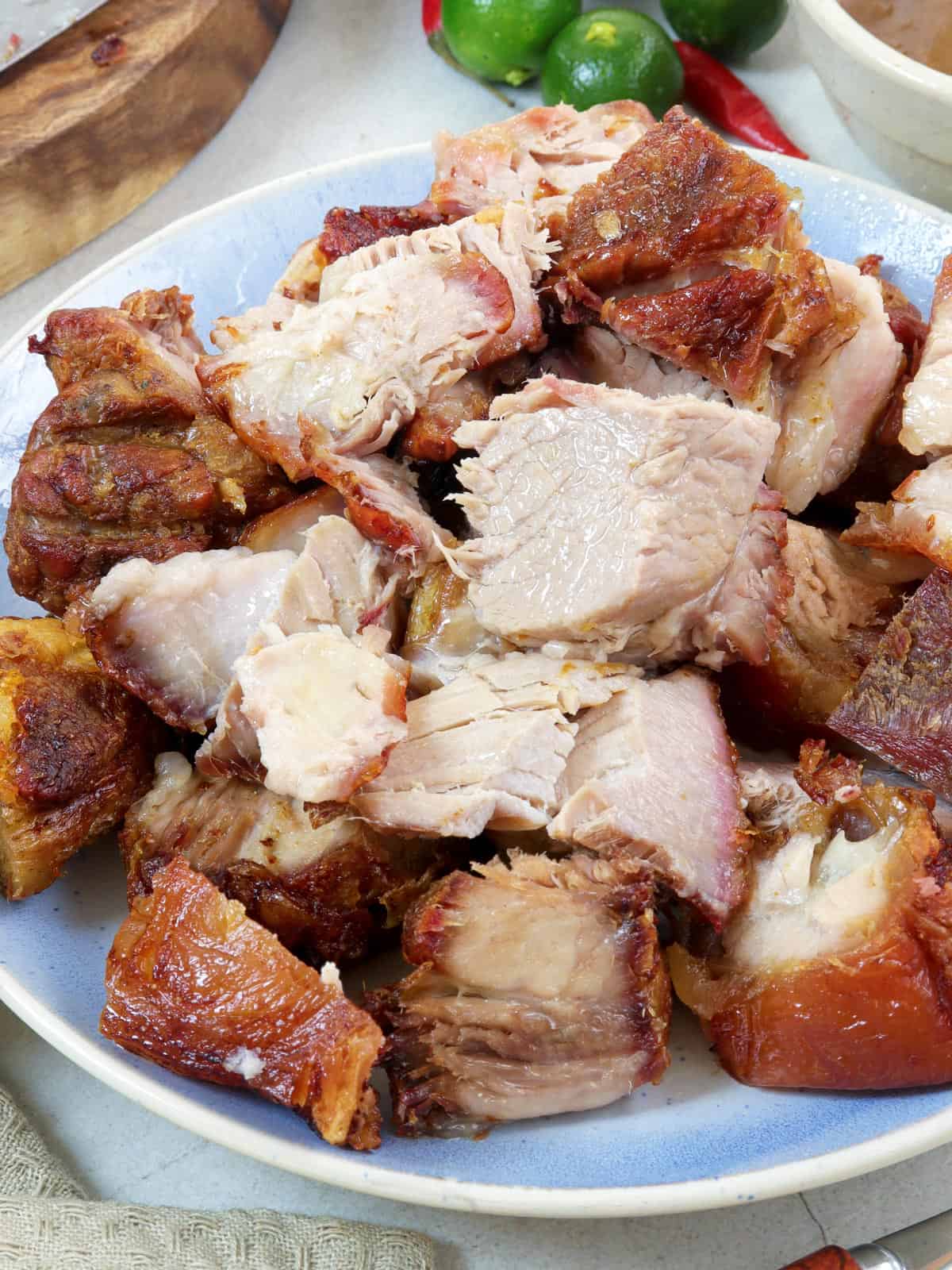 How to serve and store
Crispy oven-roasted pork shoulder is delicious as an appetizer or main dish. Chop up into serving pieces and enjoy with lechon sauce, spicy vinegar, or toyomansi.
Store leftovers in a container with a lid and refrigerate for up to 3 days or freeze for up to months.
How to reheat
Lechon loses its crunchiness over time, especially when refrigerated. To crisp up the skin again, reheat in a 375 F oven, turbo broiler, or toaster oven for about 8 to 10 minutes.
More crispy pork recipes
Slow Cooker Lechon-this is an easy and convenient technique as it does not require any cooling in the fridge, and the crockpot does most of the work. The meat is tenderized in the slow cooker without added liquids and then finished off in the oven to crisp the skin. However, make sure not to overcook the pork in the slow cooker, or you'll end up with pretty dry meat.
Lechon Kawali-this is the classic and most widely used way of making lechon. One thing I like about this traditional method is I can boil a huge batch at one go, store them in the freezer in resealable bags, and thaw and fry a piece or two when the craving hits. The major disadvantage, of course, is the obscene amount of oil needed for frying. And let's not forget the royal mess in the kitchen from the spluttering oil!
Lechon sa Hurno- is the same technique I used for this crispy pork shoulder. It's mostly hands-off cooking as the pork tenderizes and roasts in the oven with hardly any tending. What's great about doing the lechon this way is you draw out a lot of fat from the meat, which will pool in the pan. However, cooking in the oven takes forever and a day, which is not always practical, especially during the hot summer months.
Crispy Oven-Roasted Pork takes a few hours to make, but it is so worth the effort! It's ultra-tender with super crispy skin that's perfect for everyday dinners or special occasions.
16 Servings
Ingredients
1 whole (about 8 to 10 pounds) pork shoulder with skin on
½ cup vinegar
1 tablespoon salt
1 teaspoon garlic powder
1 teaspoon pepper
Instructions
With a knife, pierce the skin a few times, making sure not to cut through the meat.

Pour vinegar over and massage on meat. Rub salt, garlic powder, and pepper all over the meat.

Refrigerate, uncovered and skin side up, overnight to chill.

With paper towels, pat down surfaces of meat to completely dry. Arrange on a roasting pan fitted with a rack.

Bake, uncovered, in a preheated 180 F oven for about 4 ½ to 5 hours.

Increase temperature to 320 F and continue to cook for about 1 ½ to 2 hours or until meat is cooked through and browns.

Increase temperature to 430 F and continue to cook for about 30 to 40 minutes or until skin is very crisp and a thermometer inserted in the center of the pork reads 145 F.

Remove from oven and allow to rest for about 10 to 15 minutes before slicing.
Notes
Pierce the skin carefully, making sure not to cut through the meat as juices might bubble up during roasting, which can cause rubbery patches of skin.
Roast uncovered as covering the meat will create steam and interfere with the crisping.
For 4 to 6 pounds of meat, decrease cook time by about 30 minutes.
"This website provides approximate nutrition information for convenience and as a courtesy only. Nutrition data is gathered primarily from the USDA Food Composition Database, whenever available, or otherwise other online calculators."