Rock your tastebuds with this creamy, spicy, and tasty Ginataang Talong! It's easy to make in one pan and ready in an hour for an easy weeknight dinner. Serve with steamed rice, and watch the whole family gobble it up!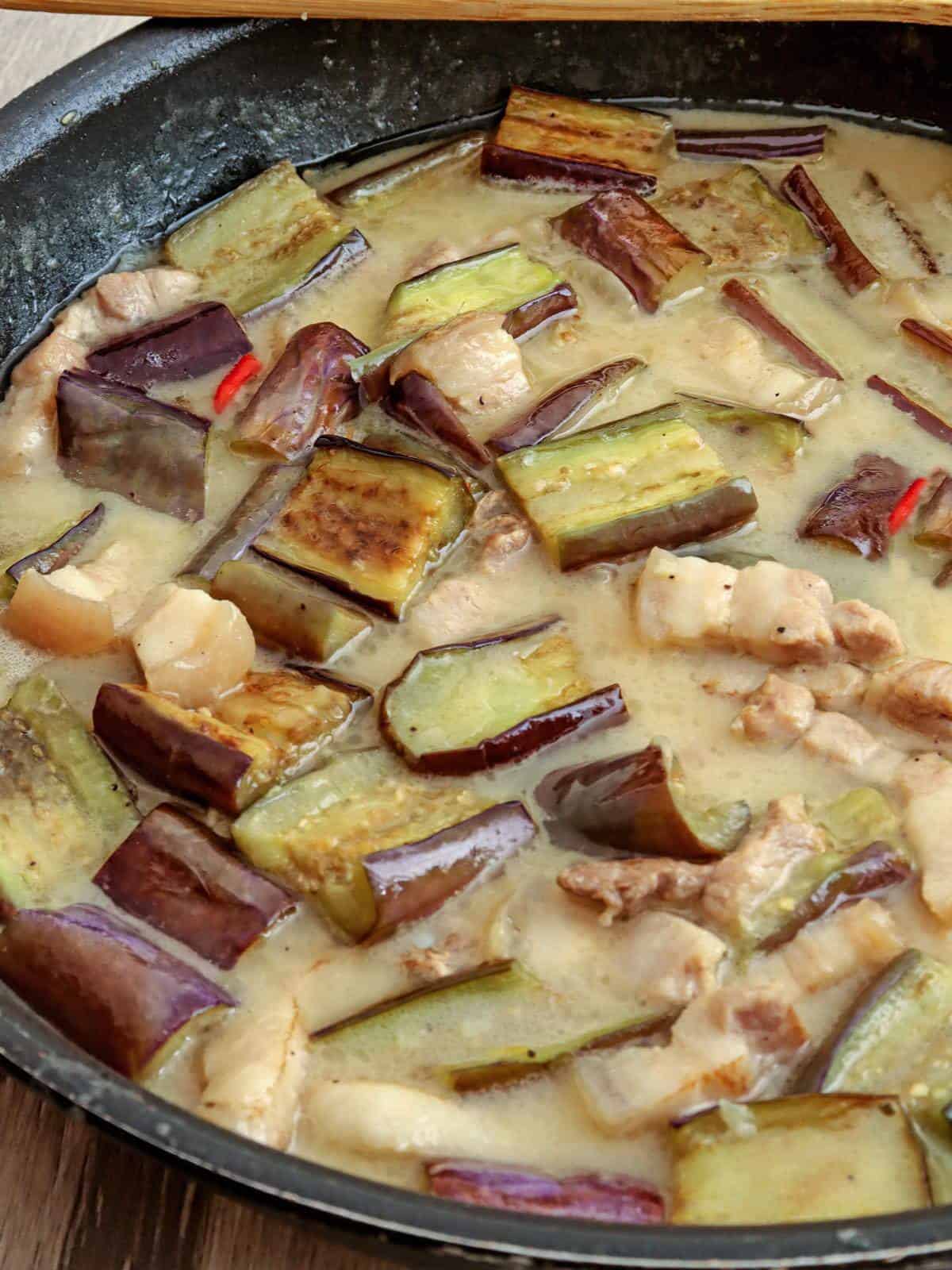 I know I tend to exaggerate and get overly excited about every recipe I post here at Kawaling Pinoy. But let me tell you, I am excited now for a good reason. Just look at those tasty pork morsels and smoky eggplant pieces swimming in all that luscious sauce; I am sure you understand.
If there is but one recipe here you must try, let it be this ginataang talong. Trust me; it's pure indulgence!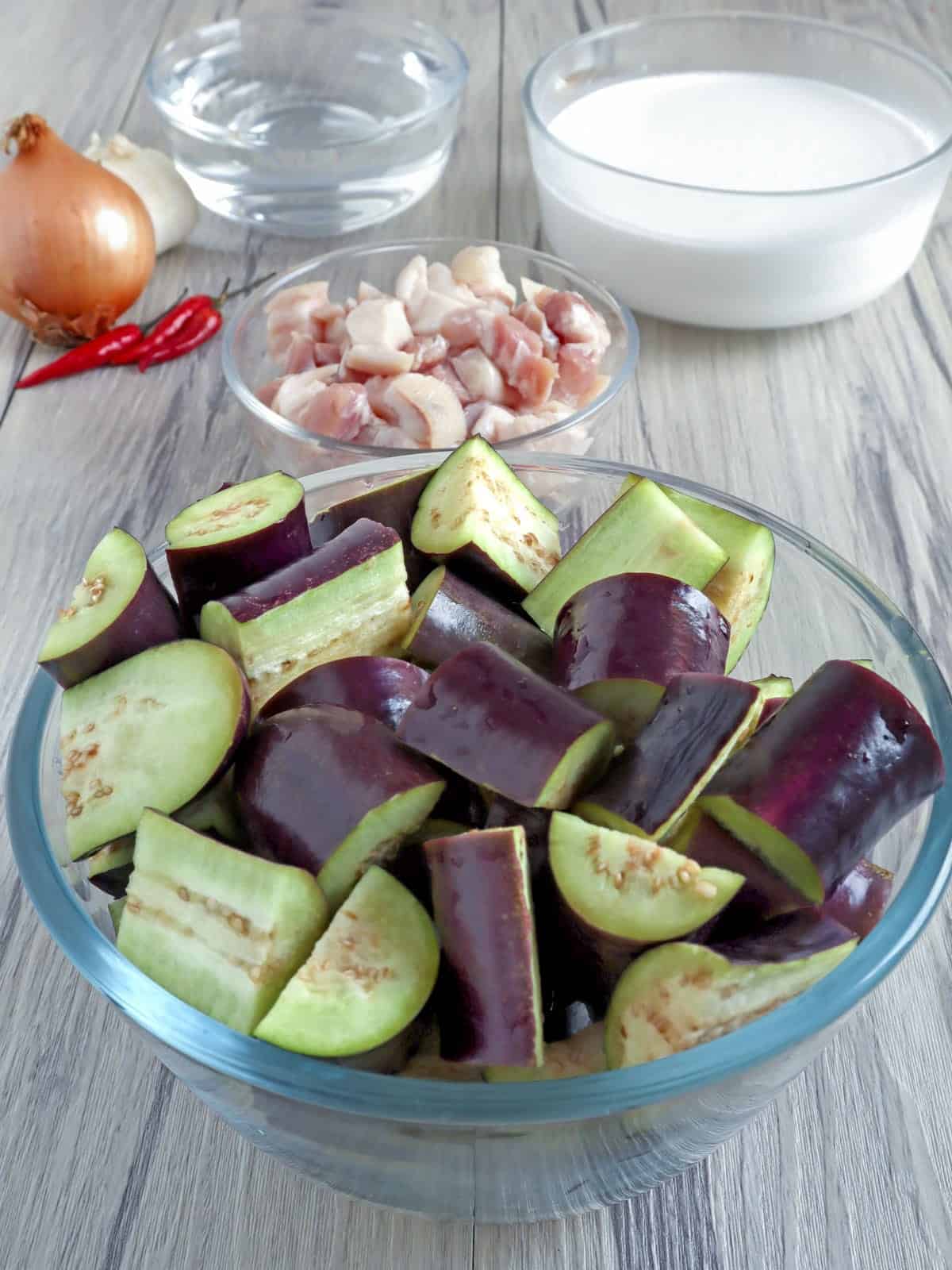 Not only is this eggplant stew so delicious, but it's also super easy to make. It cooks in one pan and readies in under an hour for the perfect busy weeknight dinner!
Eggplant pieces are briefly pan-fried and then simmered with fatty pork belly strips to finish in a slightly spicy coconut sauce. The resulting dish is rich, creamy, and absolutely heaven over heaps of steamed rice.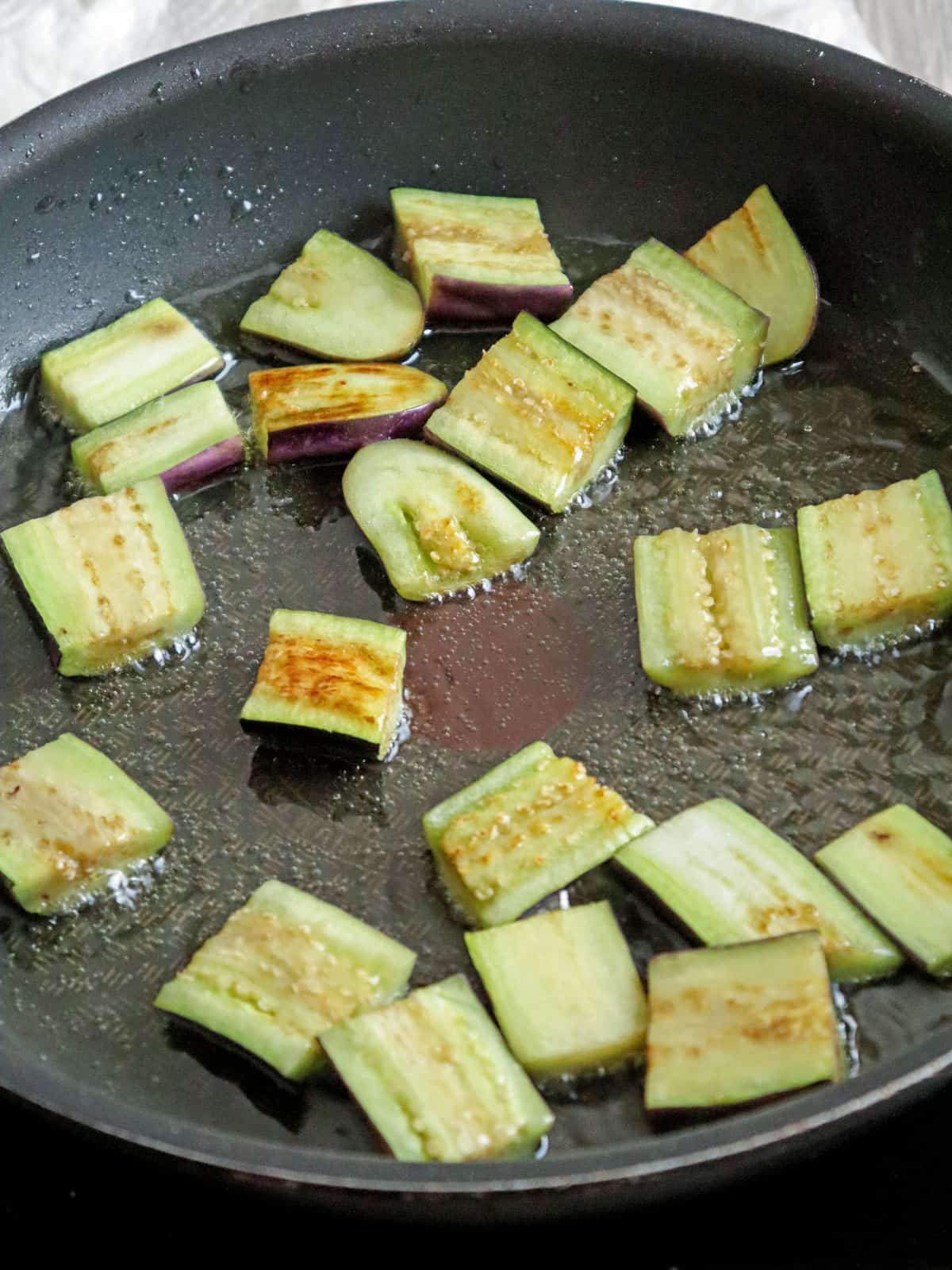 How to choose eggplants
Check for smooth, shiny skins free of wrinkling or blemishes and fresh-looking green stems without signs of molds.
Pick small to medium eggplants as they are sweeter and less bitter in taste, and have thinner skin and fewer seeds than extra-large ones.
Choose eggplants that are heavy for their size and feel slightly firm but not hard.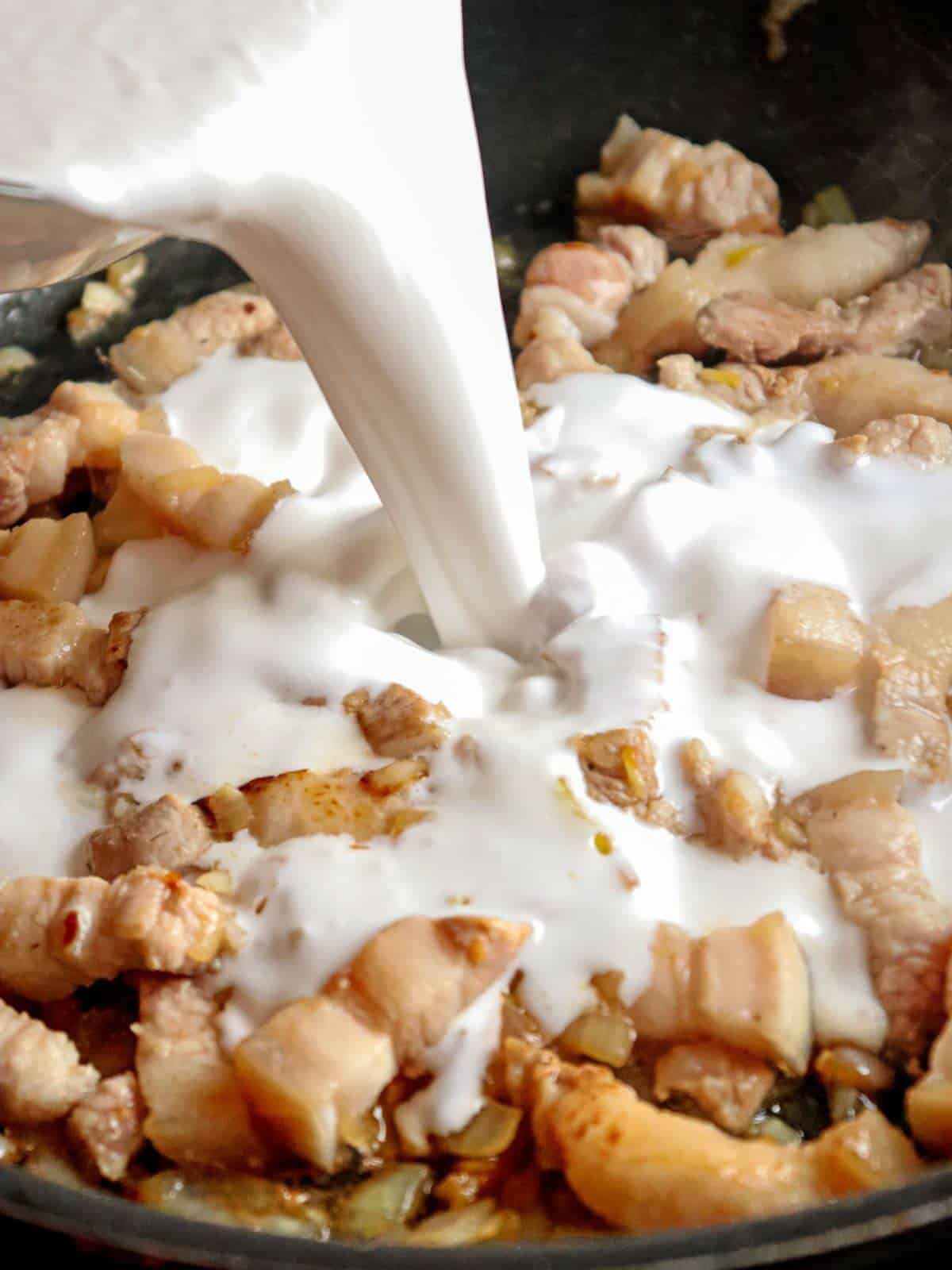 Cooking tips
No need to peel the fruit (yes, it is a fruit and not a vegetable); the skin is edible and packed with fiber and nutrients.
Keep the cut eggplant in a bowl of water until ready to cook to prevent darkening.
Eggplants are like sponges and tend to absorb a lot of oil when fried. Make sure to drain well on paper towels to keep the sauce from becoming overly greasy.
If you want to skip the pan-frying altogether, arrange them in a single layer on a baking sheet, brush with olive oil, and roast in a 425 F oven for about 10 minutes. Remove from heat and use in the recipe as directed.
For a smoother consistency, simmer the coconut sauce and do not boil lest it curdles and separates.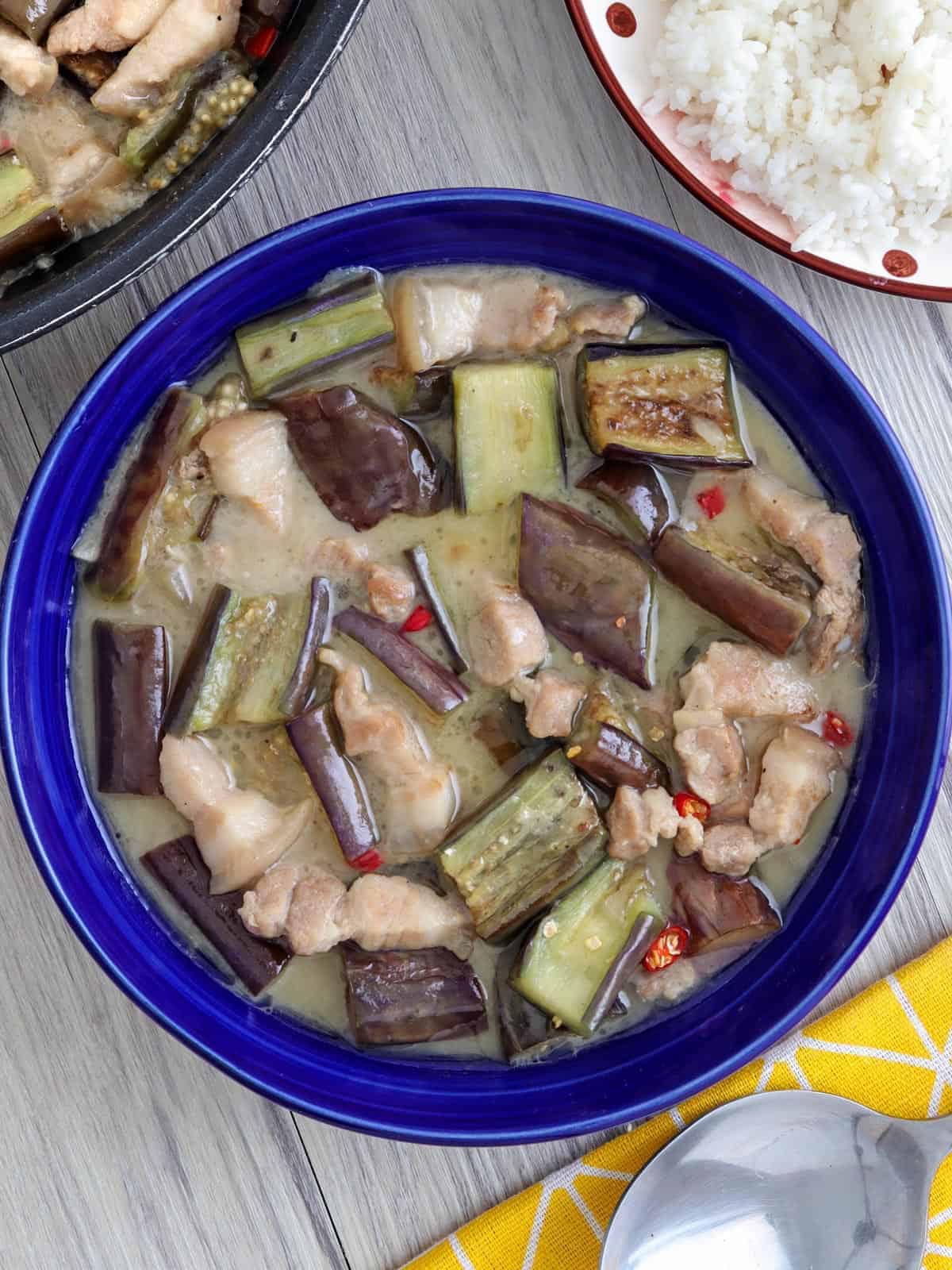 How to serve
Ginataang Talong makes a great main dish for lunch or dinner. Pair with steamed rice and your favorite grilled or fried fish!
Storing leftovers
Since it contains coconut milk, this dish spoils rather quickly, especially in warm weather and outside refrigeration. Store leftovers in an airtight container and refrigerate for up to 3 days.
Reheat in a saucepan over low heat until completely warmed through. Or microwave at 2 to 3-minute intervals until heated through, stirring well after each interval.
More ginataan recipes
Try my mom's special Ginataang Seafood, or this super easy Ginataang Manok recipe, and have plenty of rice ready.
Eggplant in Spicy Coconut Sauce is rich, creamy, and perfect with steamed rice. It's easy to make and sure to be a family favorite!
6 Servings
Ingredients
canola oil
5 large eggplants, stems removed and cut into 1-inch pieces
1 onion, peeled and chopped
2 cloves garlic, peeled and minced
1 pound pork belly, cut into ½-inch strips
1 tablespoon fish sauce
1 can (13.5 ounces) coconut cream (kakang gata)
1 cup water
3 Thai chili peppers, stemmed and minced
salt and pepper to taste
Instructions
In a wide pan over medium heat, heat about two tablespoons of oil.

Add eggplant and cook, turning as needed, until lightly browned. With a slotted spoon, remove from the pan and drain on paper towels.

In the pan, add another 1 tablespoon oil if needed. Add onions and garlic and cook until softened.

Add pork belly and cook, stirring occasionally, until lightly browned.

Add fish sauce and cook, stirring occasionally, for about 1 to 2 minutes

Add coconut cream and water and stir to combine. Bring to a simmer.

Add chili peppers.

Lower heat, cover, and cook for about 15 to 20 minutes or until pork is tender and sauce is reduced. Add more water in ½ cup increments if the liquid is drying out before pork is fully cooked.

Add eggplant and gently stir to combine. Continue to cook for about 3 to 5 minutes or until eggplants are tender and sauce begins to thicken and render fat.

Season with salt and pepper to taste. Serve hot.
Notes
Eggplant absorbs plenty of oil, and you may need to add more oil a tablespoon at a time during the brief pan-frying. Drain them on paper towels to rid of excess grease.
As an alternative method to pan-frying, arrange them in a single layer on a baking sheet, brush with olive oil, and roast in a 425 F oven for about 10 minutes. 
Video
"This website provides approximate nutrition information for convenience and as a courtesy only. Nutrition data is gathered primarily from the USDA Food Composition Database, whenever available, or otherwise other online calculators."