Ginisang Munggo at Chicharon is a delicious mung bean stew flavored with crispy pork cracklings. Thick, hearty, tasty, and budget-friendly, it's the ultimate comfort food!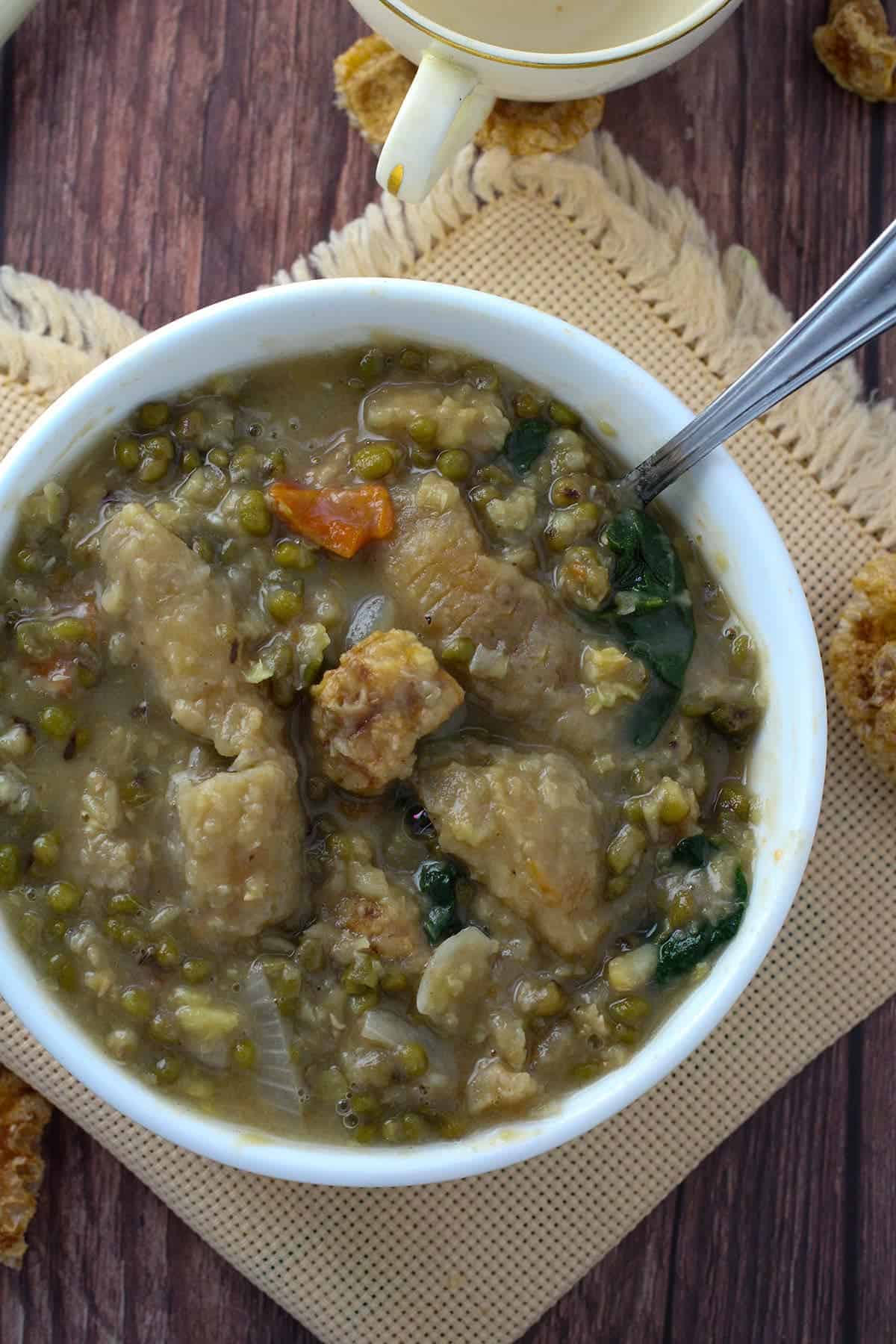 Mung beans are a staple ingredient in my kitchen. Not only are they easy to cook in both sweet and savory dishes, but they are also an economical source of protein and fiber.
A typical peasant fare, a one-pound package of beans that costs roughly $2 can generously feed a large crowd with plenty of leftovers to spare. #winner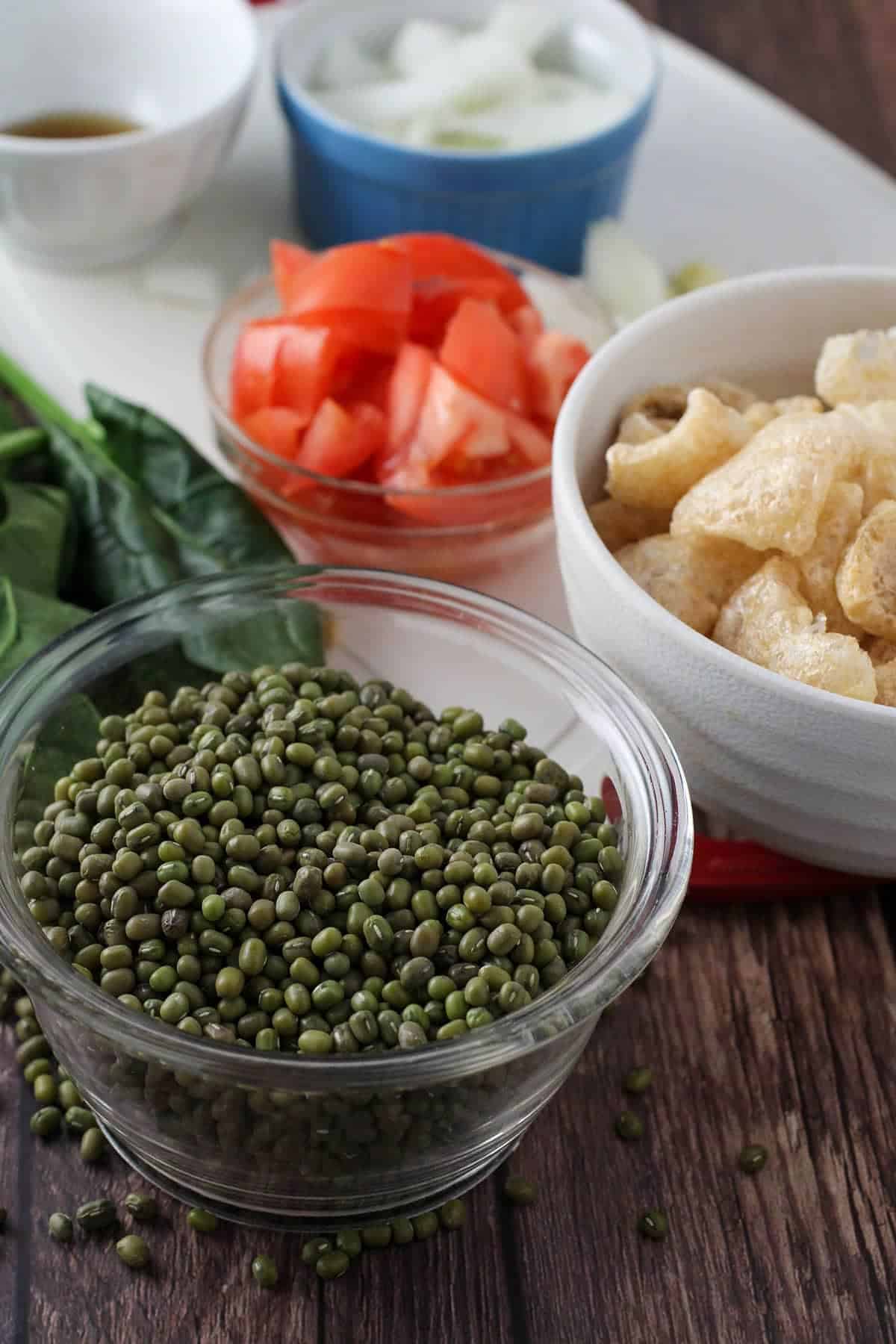 My favorite way to prepare this superfood was with shrimp, but a friend of mine introduced me to using pork cracklings years ago, and I haven't looked back since. Munggo with pork or with shrimp are indeed delicious versions in their own right, but the added taste and texture of chunks of fatty chicharon just can't be beaten!
As the crispy pork rinds simmer and soften in the broth, the rendered fat infuses the munggo soup with delectable flavor. And with verdant spinach leaves steamed in the pot just until wilted to round things up, this ginisang munggo is nutritious as it is delicious.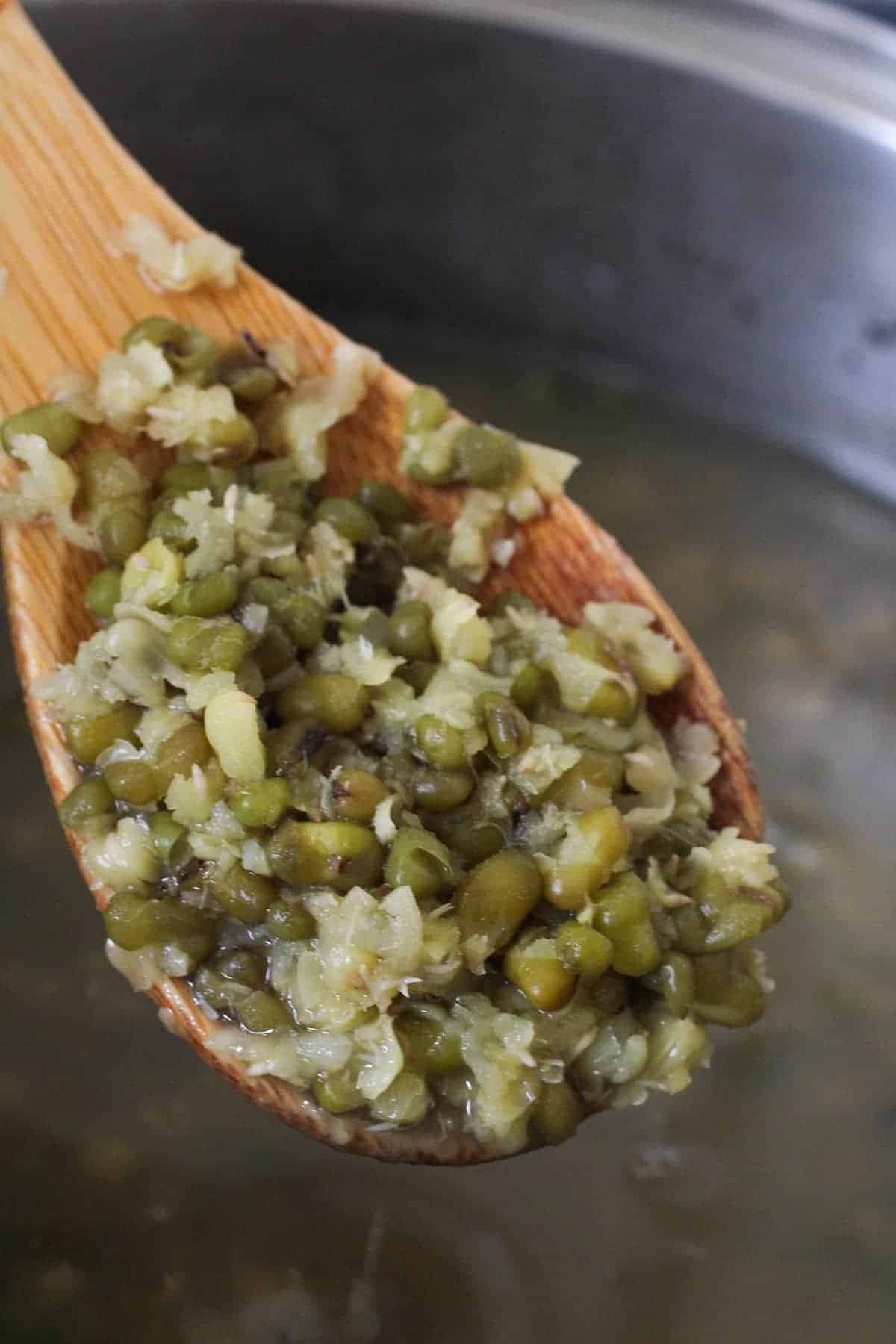 Cooking tips
For extra nutrition, add seeded and sliced ampalaya during the last 5 minutes of cook time.
You can substitute malunggay or chili leaves for the spinach.
I used the chicharon available at our neighborhood supermarket, but if you can, choose the pork crackling variety with a thick cap of meat attached.
Have lechon kawali on hand? Swap for the chicharon. For a less fat version, try flaked tinapa or crispy dilis.
There's no need to presoak the mung beans! They'll cook and be ready to saute in about an hour.
Check the package date. Older beans take longer to cook and soften.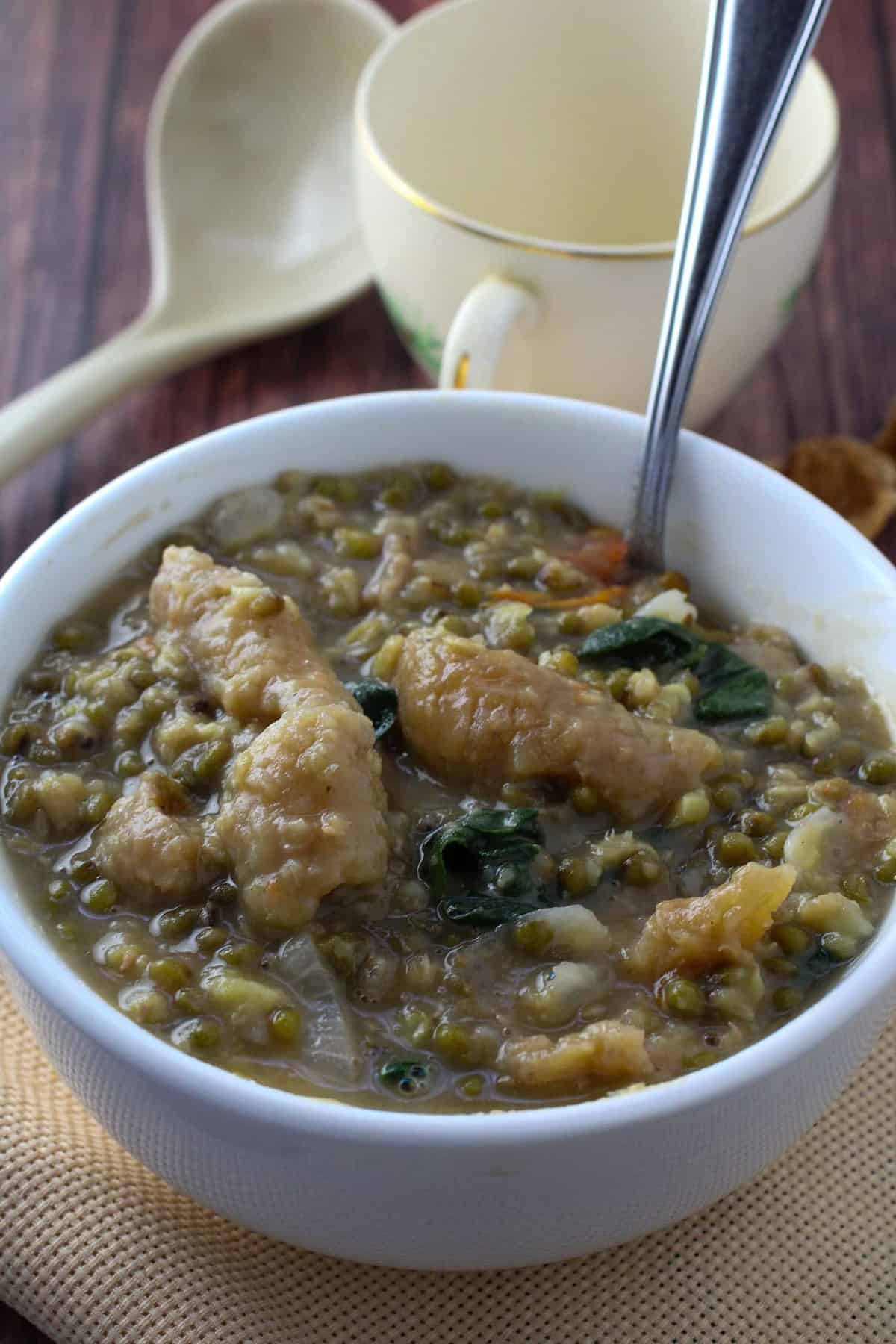 How to serve
Ginisang munggo at chicharon is delicious or served as the main dish with steamed and grilled meat or fish.
How to store leftovers
Transfer leftovers to a container with a lid and refrigerate for up to 3 days.
Reheat in a saucepan over medium heat until completely warmed through. Add more water to loosen consistency and adjust seasonings as needed.
Mung Bean stew with pork cracklings is hearty and full of flavor for the ultimate comfort food. It's easy to make, budget-friendly, and a great source of protein and fiber.
6 servings
Ingredients
1 cup dried mung beans
6 cups water
1 tablespoon vegetable oil
1 onion, peeled and sliced thinly
3 cloves garlic, peeled and minced
1 large tomato, chopped
2 cups chicharon (pork cracklings with attached meat)
1 bunch fresh spinach, stems trimmed
1 tablespoon fish sauce
Instructions
Sort through the mung beans, discarding discolored or shriveled beans and any grit or dirt. Rinse beans in cold, running water until water runs clear. Drain well.

In a large pot, combine mung beans and water. Over medium heat, bring to a boil skimming froth that floats on top.

Lower heat, cover, and continue to cook for about 45 to 50 minutes or until beans have softened and skins have burst. Add more water as needed to maintain about 4 cups.

In another pot over medium heat, heat oil. Add onions and garlic and cook until tender and aromatic.

Add tomatoes and cook, mashing with the back of the spoon, until softened.

Add fish sauce and continue to cook for about 1 to 2 minutes.

Add cooked mung beans including liquid. Bring to a boil.

Add pork cracklings and continue to cook until softened. Season with salt and pepper to taste.

Add spinach, turn off heat and cover pot for about 1 to 2 minutes or until spinach is just wilted. Serve hot.
Notes
No need to presoak the mung beans. They'll cook and be ready to saute in about an hour.
Older beans will take longer to soften.
"This website provides approximate nutrition information for convenience and as a courtesy only. Nutrition data is gathered primarily from the USDA Food Composition Database, whenever available, or otherwise other online calculators."