Bangus sa Tausi with tomatoes and black beans recipe is the perfect use of leftover fried fish! This Filipino fish stew is easy to make, filling, and delicious with steamed rice.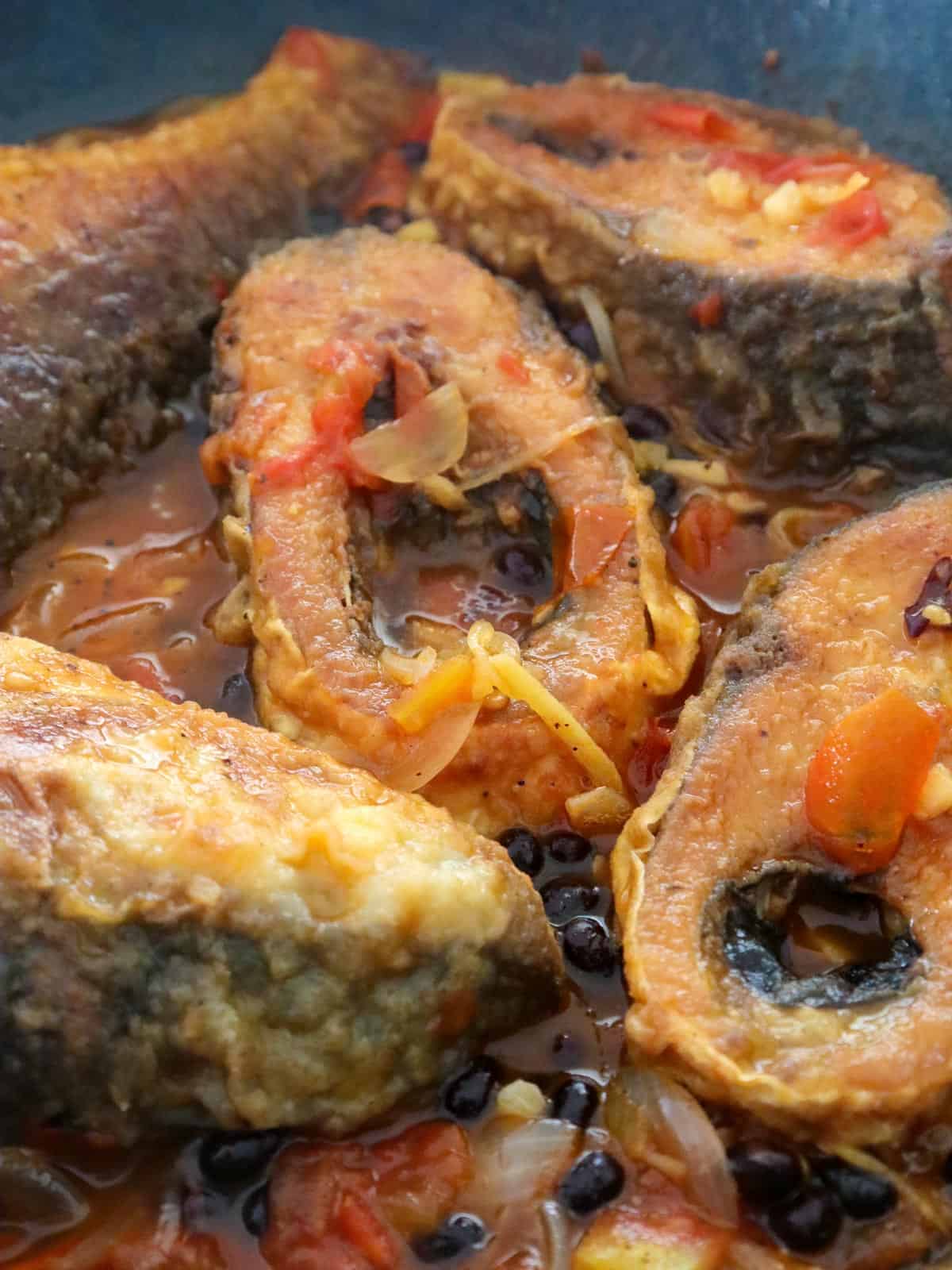 I love to cook, but there are times when I am too busy or too lazy to be bothered with a complicated recipe. One technique that takes the stress out of preparing dinner these days is planning our meals. On my free weekends, I usually make a few batches of siomai, tocino, longganisa, or lumpia and freeze them in airtight containers for weeknight dinners or impromptu parties.
I also like to do batch cooking. For example, when I fry bangus, I double the amount we consume in one meal. We eat the fried fish for dinner with vegetable sides such as pinakbet or ginataang gulay, and I turn the leftovers into a brand new dish for lunch by adding tomatoes and tausi.
These methods have saved my sanity on many occasions! I can be in and out of the kitchen in no time and still enjoy a hot home-cooked meal.
Ingredient notes
Fish- the recipe will also work on other meaty fish such as galunggong (round scad), tilapia, and dalagang bukid (yellow tail fusilier).
Tomatoes- use very ripe Roma tomatoes as they're juicier and sweeter.
Tausi- as black soybeans are fermented in brine, rinse and drain well to eliminate the excess saltiness.
Fish sauce- adds umami flavor; you can substitute salt.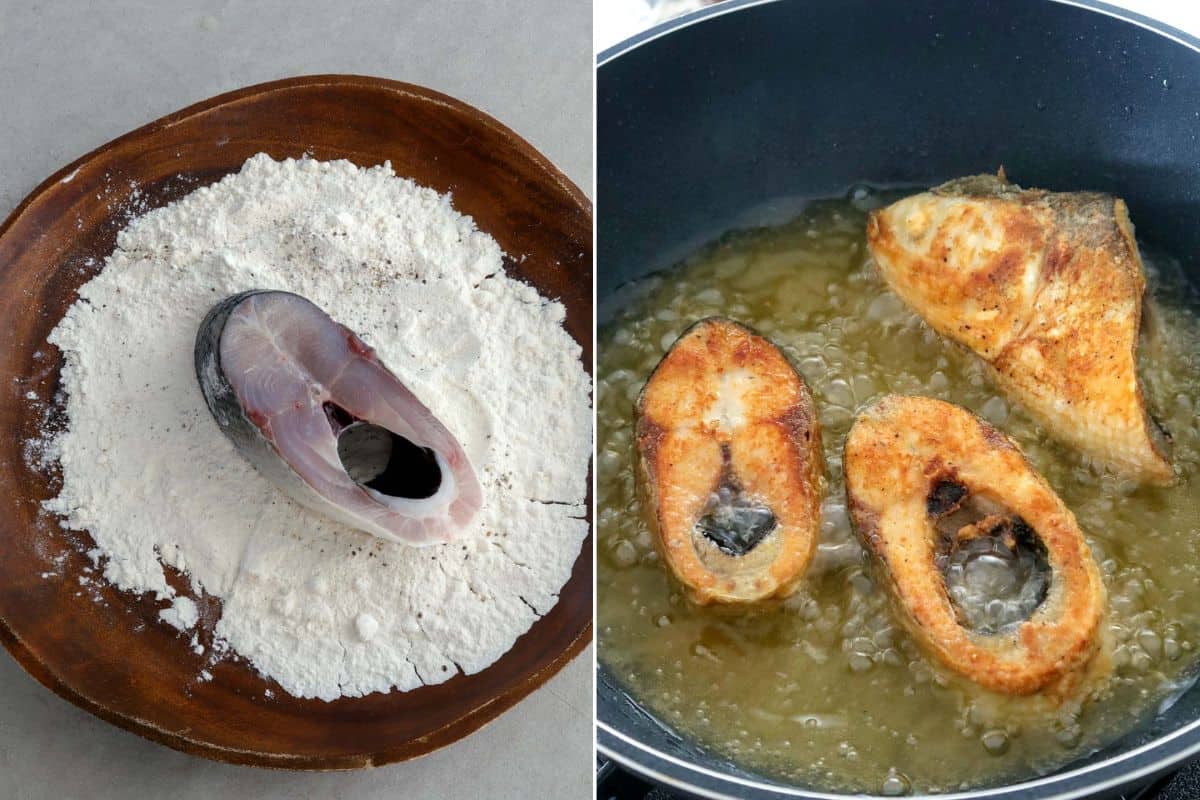 What is Tausi
Tausi is fermented and salted black soybeans used in many Asian and Chinese recipes. They are sold either in dry form, which needs to be rehydrated in water to use, or packed in brine which needs to be rinsed and drained to eliminate excess saltiness.
These pungent-tasting fermented soybeans are important in many Asian sauces and condiments, such as black beans sauce and chili dou-chi oil. They're also used to season fish and seafood as well as add complex flavors to various dishes such as steamed spareribs, mapo tofu, stir-fried bittermelon, and our very own humba.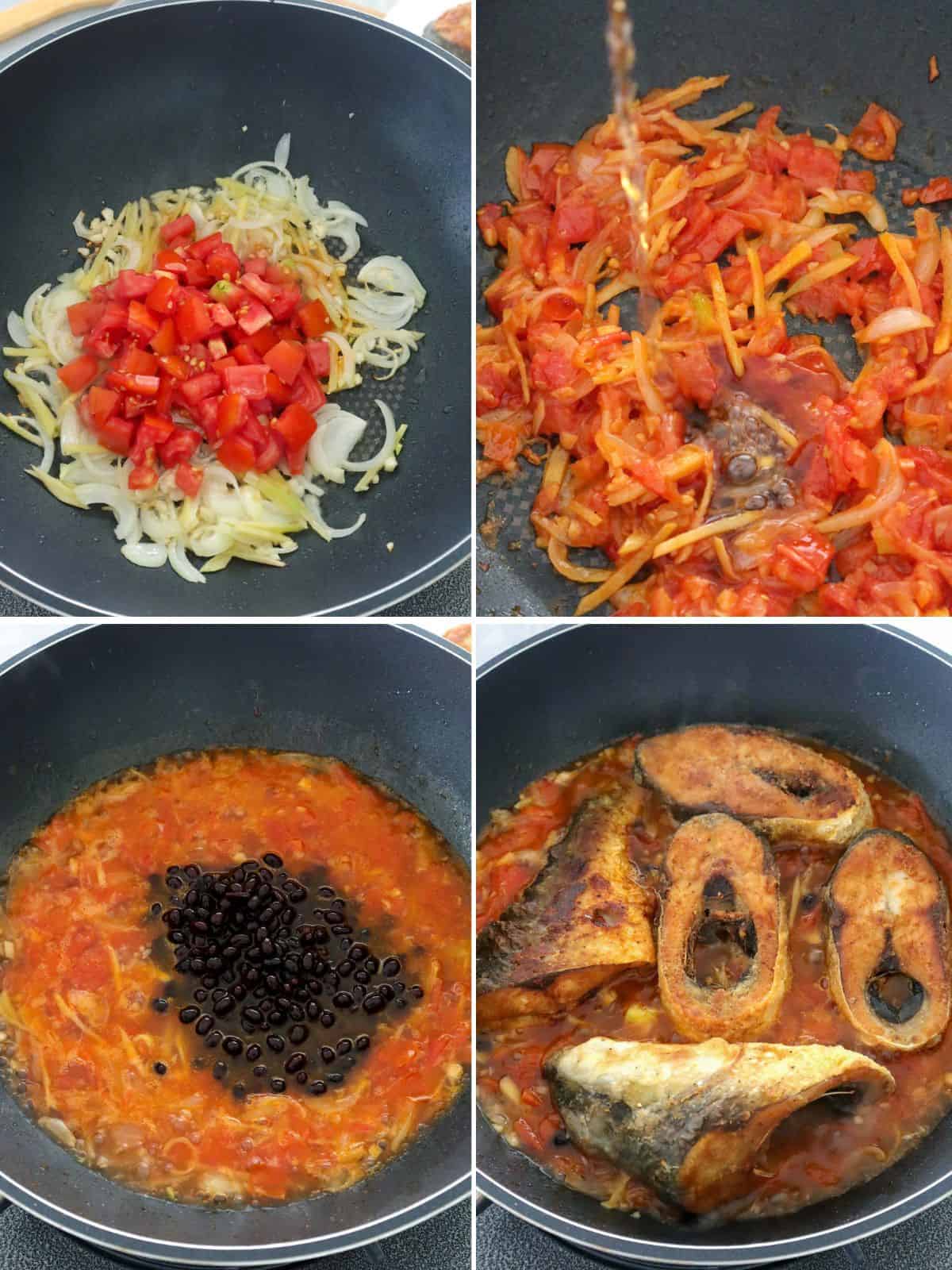 Frying bangus
Dredge the fish in the seasoned flour until lightly coated to prevent it from sticking on the pan during frying, and keep it moist through the twice-cook process.
Fry until golden and slightly crispy on the outside but not fully cooked. It will finish off in the black bean sauce.
Quick Tip
The fried bangus will absorb some of the sauce. Feel free to add more water if you like the dish saucy.
Serving suggestions
This milkfish with tausi is a delicious way to breathe new life into leftovers, but there is no reason why you shouldn't make it with freshly fried fish. Frying bangus is my least favorite chore, but this dish is so worth the effort!
It's hearty, full of flavor, and perfect with steamed rice!
Storage and reheating instructions
Store in a container with a tight-fitting lid and refrigerate for up to 3 days. Reheat in a wide pan or microwave at 1 to 2-minute intervals until completely heated.
Milkfish with fermented soybeans and tomatoes is easy to make for busy weeknights. This bangus sa tausi is hearty, full of flavor, and perfect with steamed.
4 Servings
Ingredients
1 whole milkfish, scaled, gutted, and cut into serving parts
salt and pepper to taste
½ cup flour
canola oil
1 onion, peeled and sliced
2 cloves garlic, peeled and minced
1 thumb-size ginger, julienned
2 large Roma tomatoes, chopped
1 tablespoon fish sauce
1 cup water
1 can (6.3 ounces) tausi (fermented black beans), drained and rinsed
Instructions
Rinse fish and pat dry. In a shallow dish, place flour and season with salt and pepper to taste. Dredge the fish with flour until lightly coated.

In a pan over medium heat, heat around 1-inch deep of oil. Add fish and cook, turning once or twice, until both sides are lightly browned. Remove from pan and drain on paper towels.

In a pan over medium heat, heat about 1 tablespoon oil. Add onions, garlic, and ginger and cook until aromatic.

Add tomatoes and cook, mashing regularly with the back of a spoon, until softened.

Add fish sauce and continue to cook for about 1 minute.

Add water and allow to a simmer.

Add black beans and continue to cook for about 3 to 5 minutes or until liquid is slightly reduced. .

Gently add fried fish and cook for about 3 to 5 minutes or until fully cooked and coated with sauce.

Season with salt and pepper to taste. Serve hot.
Notes
Fry the milkfish until golden and slightly crispy on the outside but not fully cooked. It will finish off in the black bean sauce.
Video
"This website provides approximate nutrition information for convenience and as a courtesy only. Nutrition data is gathered primarily from the USDA Food Composition Database, whenever available, or otherwise other online calculators."