Steamed Spareribs with Black Beans are your favorite dim sum made quick and easy right in your own home! With juicy pork ribs and flavorful sauce, they're perfect with rice.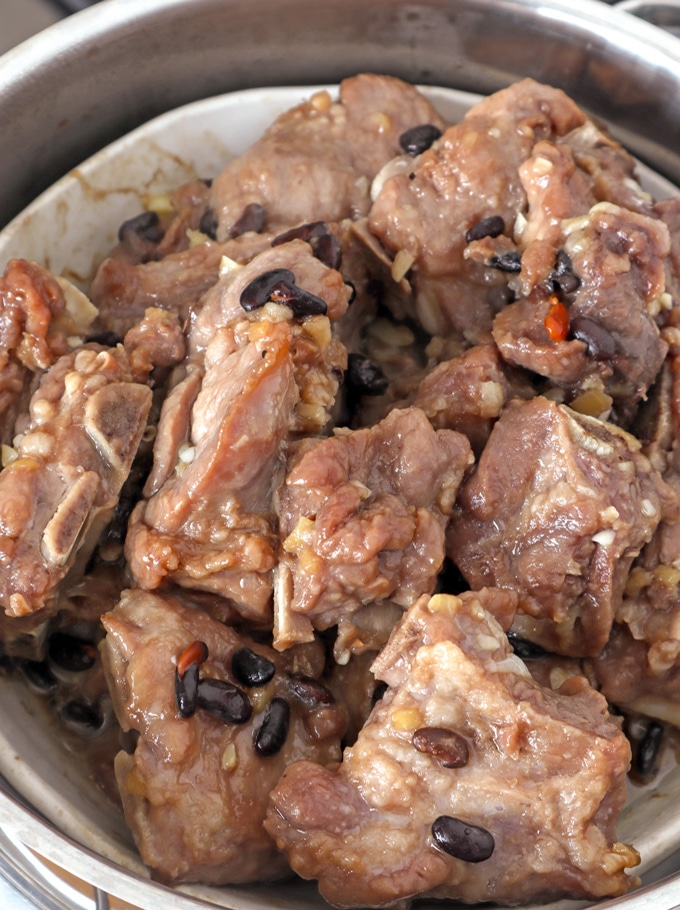 My daughter, Liane, has been living on her own for a while now, ever since she took a nursing position in Northern California a couple of years ago. Although I am already used to her being miles away, I still miss my big brat terribly.
Not only do I long for our long conversations about anything and everything, but I also miss our many food adventures. Eating out and discovering new restaurants have always been our favorite bonding activities.
We both enjoy Korean BBQs and all-you-can-eat sushi, but on the top of our list is dim sum. We used to go once a week when she was in college, and we'd always pile our table with mini bowls of congee and plates of chicken feet, dumplings, and of course, steamed spareribs with black beans.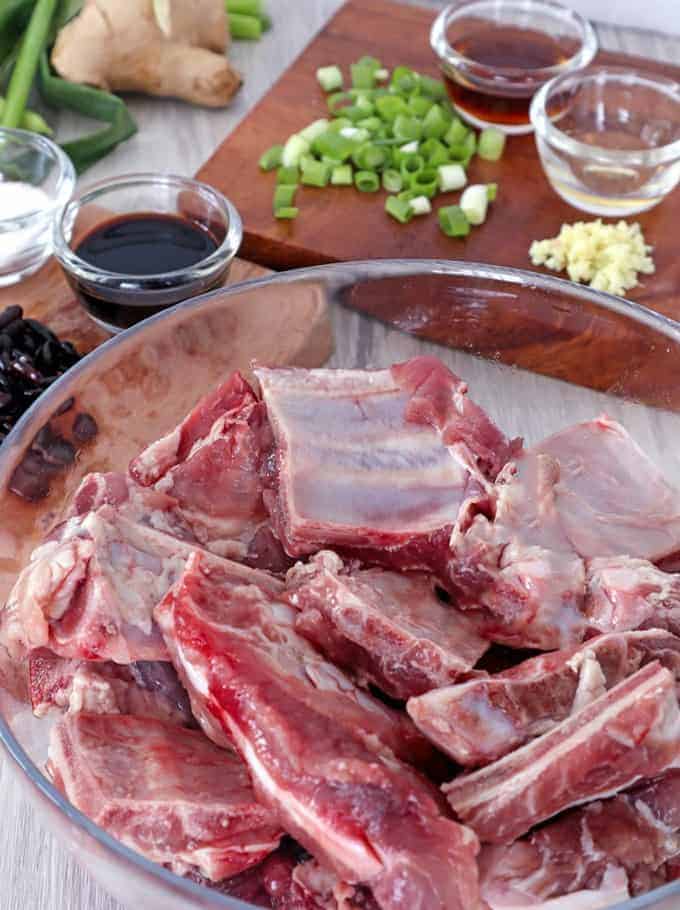 I was craving for these delectable pork ribs this weekend, but since going to a dim sum house by myself wouldn't have been as much fun, I decided to make them at home instead. And if I may say so, they turned out just as delicious as in our favorite Chinese restaurants!
The dish is so easy to put together, I can't believe how much restaurants charge for a small plateful. You're lucky if you got more than five riblets in one serving!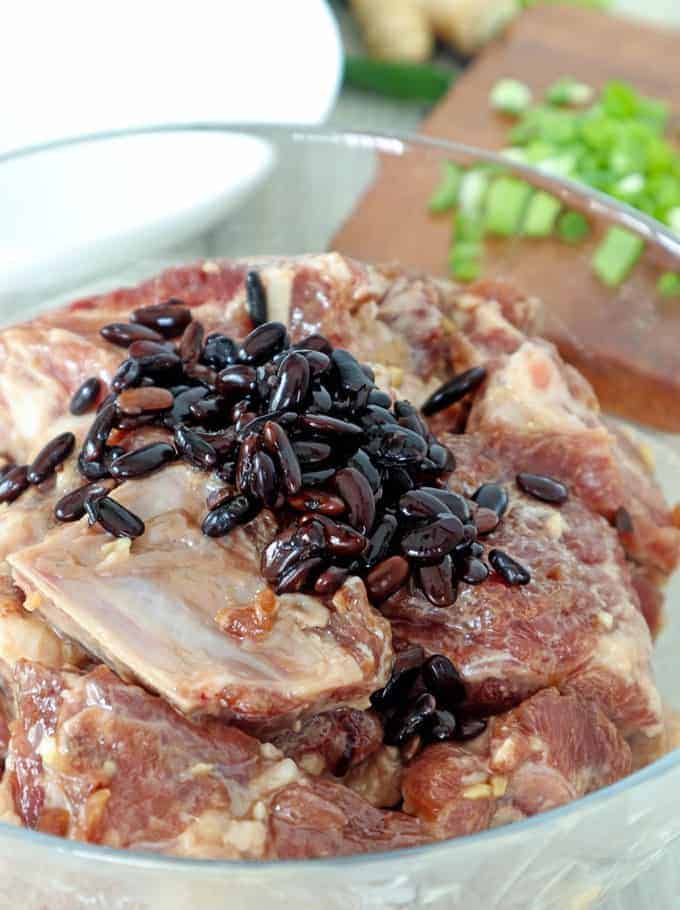 Cooking tips
I use pre-cut pork ribs called "soft bone" which has a bit more fat marbling and soft white bones. If using regular spareribs, have the butcher cut the slab lengthwise into halves and just cut into bite-sized pieces by slicing between the bones.
For extra depth of flavor, make sure to marinate the ribs for at least 30 minutes or overnight for best results.
Like in our salt and pepper pork chops recipe, the key to super tender and velvety meat is coating with cornstarch! Note that there will be barely any liquid once you add the cornstarch to the ribs and that is OK.
Use a shallow plate with about 1-inch depth to hold the flavorful juices dispelled during steaming. To ensure even cooking, make sure it's wide enough to place the meat in a single layer without too much overlapping. You can use small plates if you'd like to serve dim sum style.
Do not overcook the ribs or they'll turn tough and chewy. I usually cook small bite-sized pieces for about 15 to 20 minutes and another five minutes if they're extra meaty.
If you want a bit of heat, add chopped Thai chili peppers along with the green onions when ready to serve.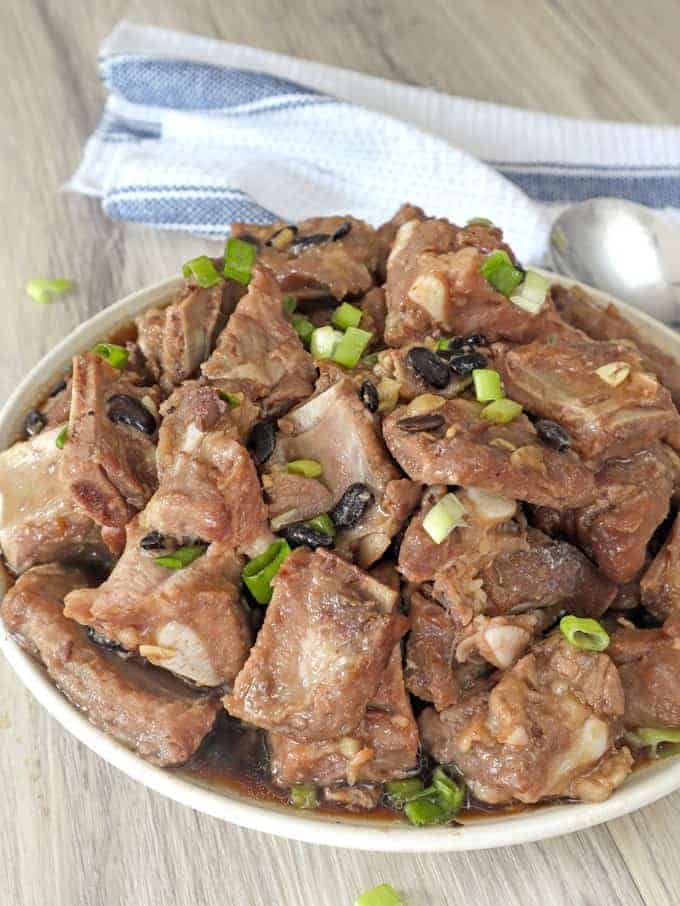 How to serve
These steamed pork ribs are filling and delicious on their own but also pair well with steamed rice. They make a great brunch or light dinner meal!
To store leftovers, keep in airtight containers and refrigerate for up 3 days or freeze for up to 3 months.
To reheat, steam for about 15 to 20 minutes or until heated through.
For more Asian favorites, check out these House Special Fried Rice, Cashew Chicken, and Chinese Pearl Balls recipes. Enjoy!
Did you make this? Be sure to leave a review below and tag me @kawalingpinoy on Facebook and Instagram!
Steamed Pork Ribs with fermented Black Beans are super tender, full of flavor, and perfect with steamed rice. They're so quick and easy to make, you can enjoy this popular dim sum right in your own home!
Servings
Ingredients
2 pounds pork spareribs, cut into 1-inch cubes
3 cloves garlic, peeled and minced
1 teaspoon ginger, peeled and minced
2 Tablespoons Chinese rice cooking wine
2 Tablespoons light soy sauce
1 teaspoon sesame oil
2 teaspoons sugar
1/2 teaspoon Salt
2 tablespoons cornstarch
2 Tablespoons fermented black beans, drained and rinsed
2 tablespoons green onions, chopped
Instructions
Rinse pork ribs and drain very well. Pat dry.

In a bowl, combine pork ribs, Chinese wine, soy sauce, sesame oil, ginger, garlic, salt, and sugar. Stir to fully coat meat and marinate for about 20 to 30 minutes.

Add cornstarch and combine until ribs are coated. Add black beans and stir to distribute.

Transfer pork into a heat-proof wide, shallow plate.

Prepare a steamer by bringing about two inches of water to a boil.

Place plate of ribs in the steamer basket, cover, and steam for about 15 to 20 minutes or until meat is no longer pink and cooked through.

Sprinkle with green onions if desired. Serve hot.
Nutrition Information
Calories: 453kcal, Carbohydrates: 5g, Protein: 24g, Fat: 36g, Saturated Fat: 11g, Cholesterol: 120mg, Sodium: 652mg, Potassium: 384mg, Sugar: 1g, Vitamin A: 20IU, Vitamin C: 0.8mg, Calcium: 25mg, Iron: 1.5mg
"This website provides approximate nutrition information for convenience and as a courtesy only. Nutrition data is gathered primarily from the USDA Food Composition Database, whenever available, or otherwise other online calculators."