Ahi Shoyu Poke is a Hawaiian raw fish salad with fresh ahi steaks, onions, macadamia nuts, and soy sauce. It's a refreshing and healthy meal that is perfect over sushi rice.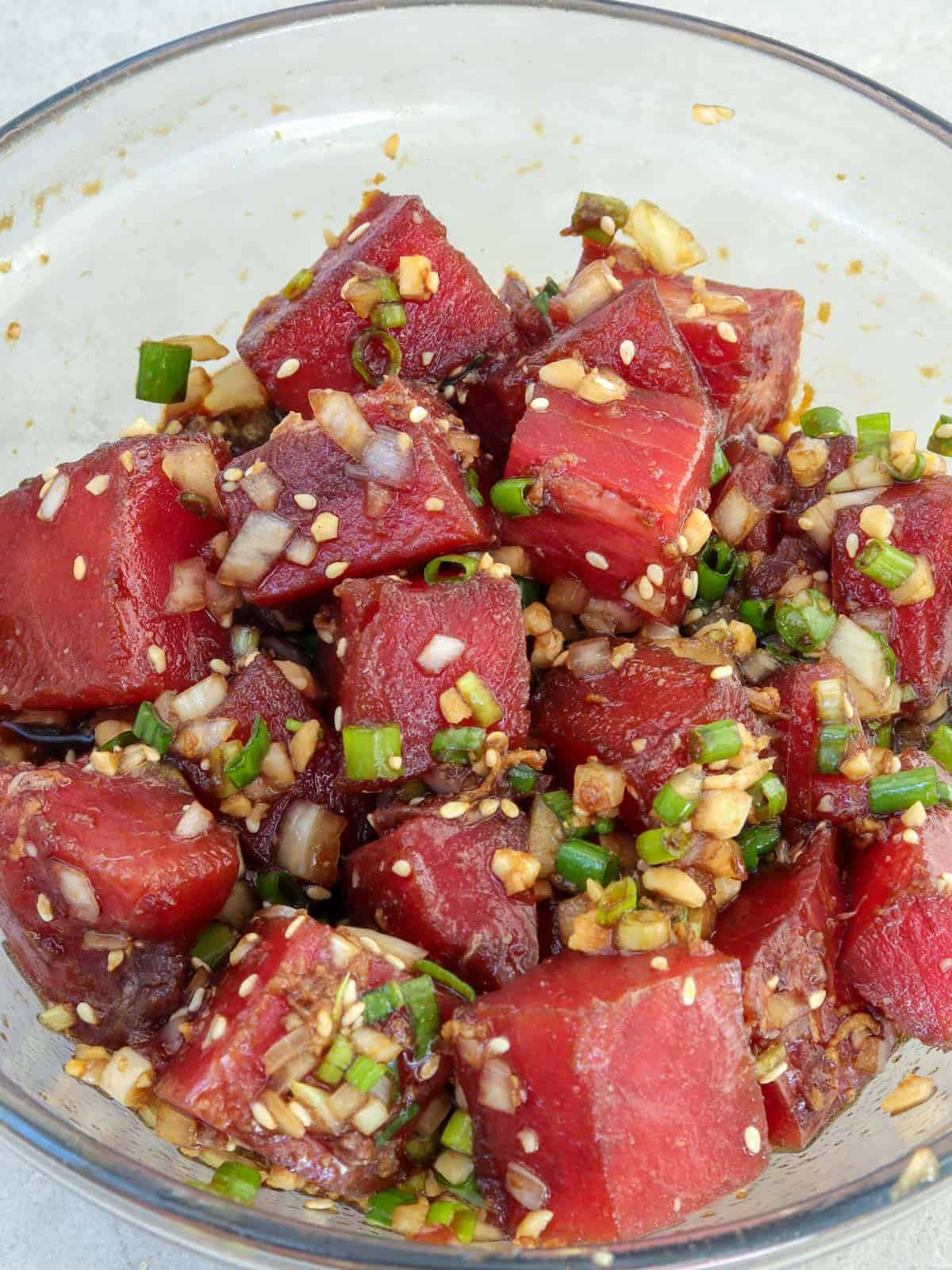 Any dish that will have me out of the kitchen in 20 minutes or less is golden in my book, and ahi shoyu poke, with its simple ingredients and easy steps, is becoming a fast favorite. Poke shops have been cropping up all over our neighborhood, and they've fueled my growing love for this Hawaiian delicacy.
Poke, which means "to cut into pieces" in Hawaiian, is one of the easiest dishes you can make. All it takes is slicing the fish fillet into cubes and then tossing the succulent morsels with your choice of poke seasonings.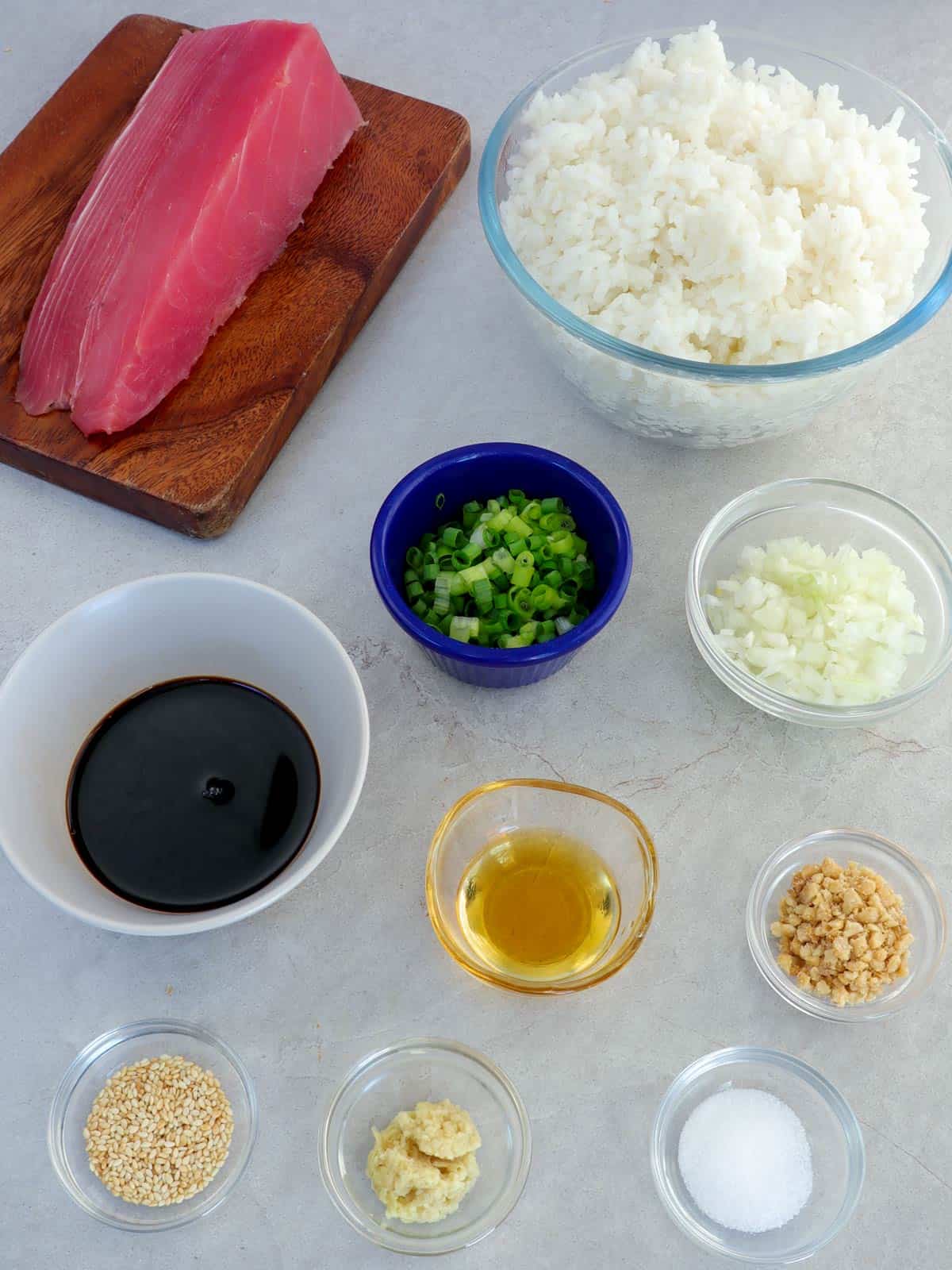 Ingredient notes
Tuna- use sashimi-grade high-quality ahi or yellowtail tuna.
Nuts- poke includes toasted kukui or candle nuts. Our recipe below uses macadamia nuts which are more accessible.
Salt- traditionally seasoned with alaea, a Hawaiian sea salt mixed with red volcanic clay. You can order it online or substitute pink Himalayan or regular sea salt.
Onions- use Maui onions, which have a sweeter, less pungent flavor due to their low sulfur and high water content.
Green onions- for color and fresh taste
Seasonings- the recipe uses soy sauce, sesame oil, freshly grated ginger, and sesame seeds. Furikake, fish eggs (roe), dried chili pepper flakes, or ponzu sauce are common add-ins to kick flavors up a notch.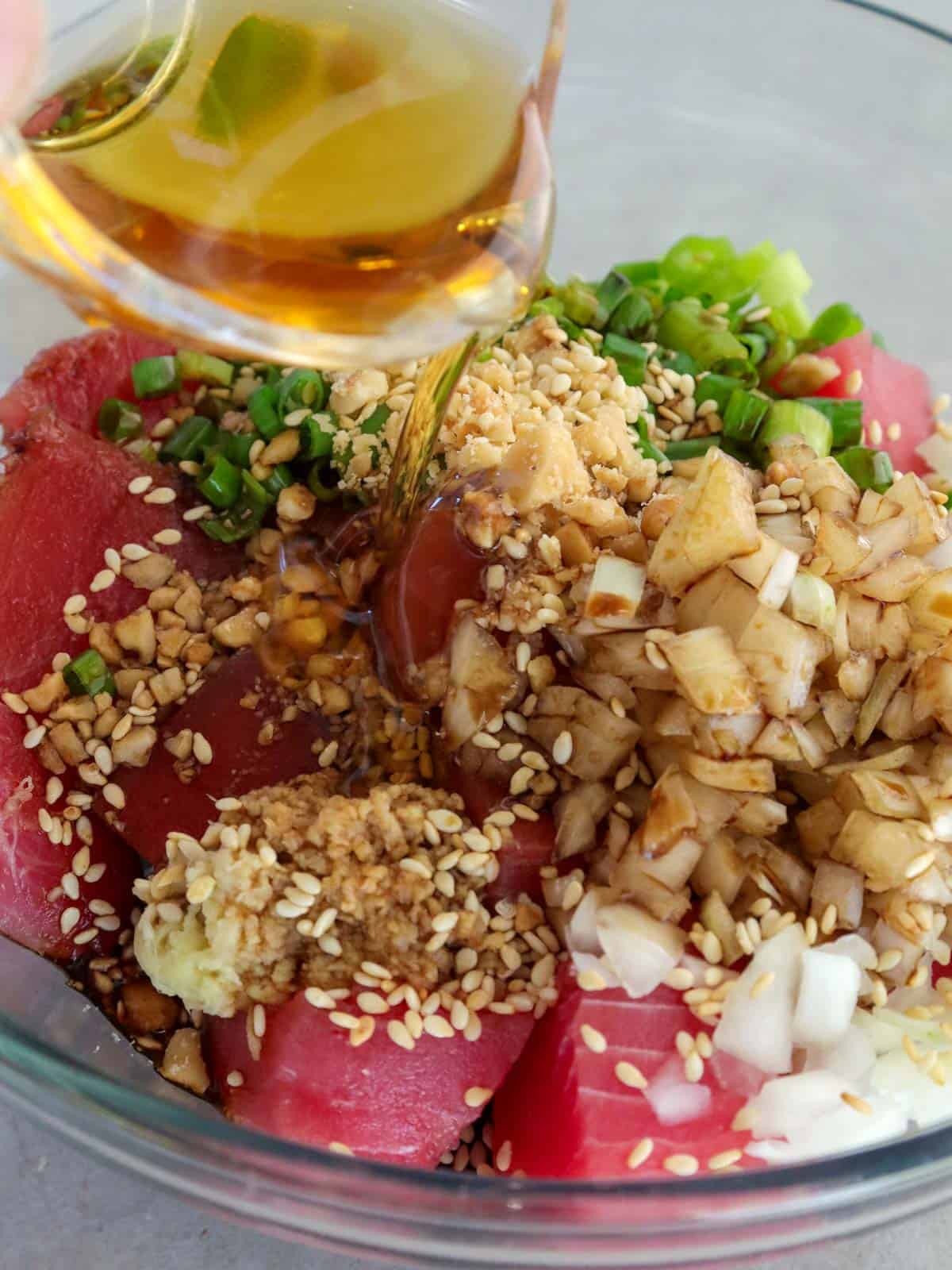 Quick tip
Since this is a RAW dish and doesn't have the benefit of cooking, I can't stress enough the importance of using high-quality ingredients. Please procure your fish from a reputable vendor and practice proper handling to ensure food safety and the best results.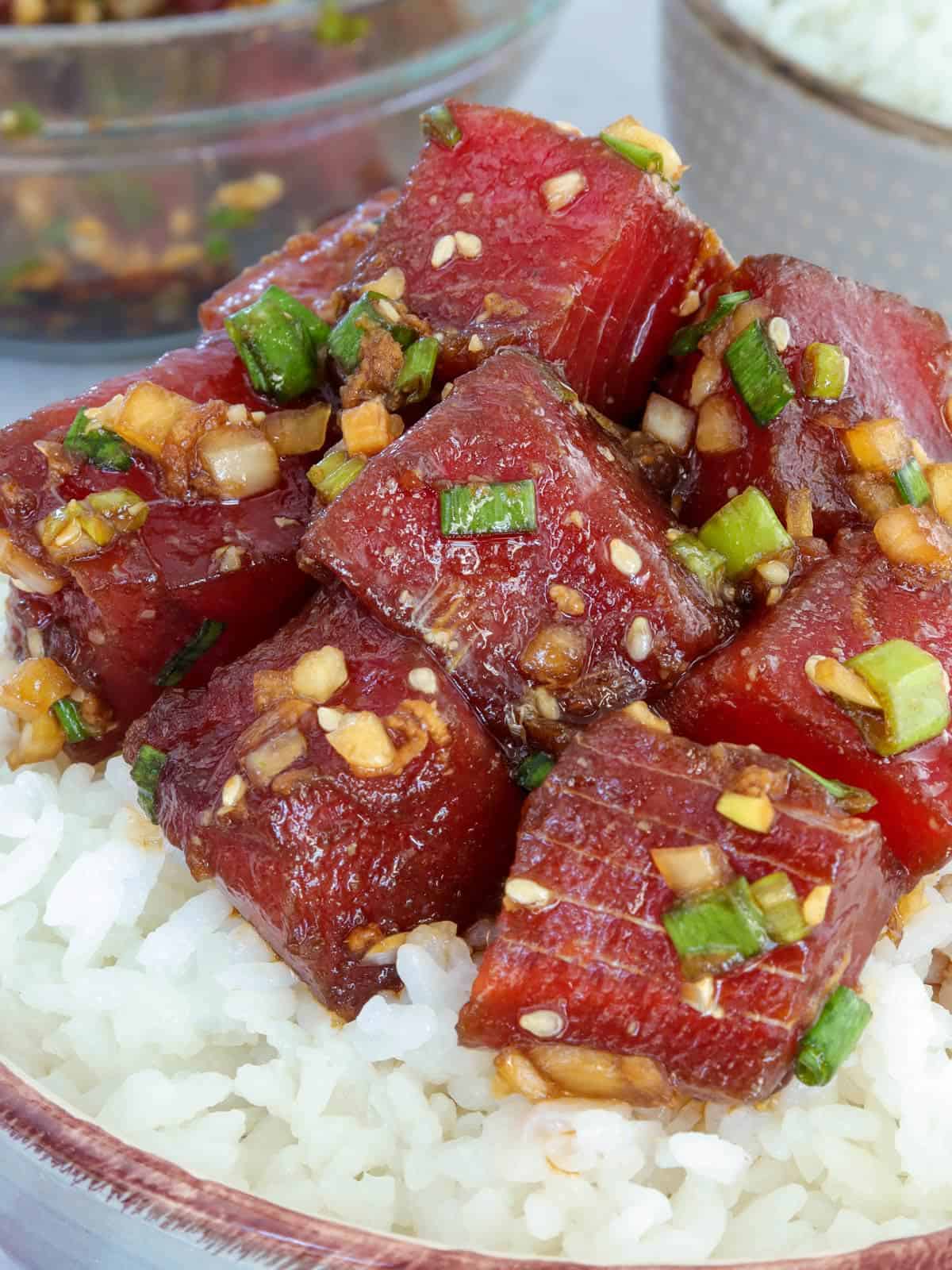 Serving suggestions
Tuna poke is usually served as an appetizer or an entree piled over sushi rice. If you love raw fish's bright, fresh taste and soft, velvety texture, this island staple is a must-try!
Storage instructions
For food safety and quality, keep the fish cold and store in the refrigerator until ready to cut. It's best to dress the tuna just before serving and enjoy the dish as fresh as possible.
Ahi Shoyu Poke is a Hawaiian raw fish salad with fresh ahi steaks, onions, macadamia nuts, and seasonings. It's refreshing and healthy meal perfect as an appetizer or entree served over sushi rice.
Course:
Appetizer, Main Entree
4 Servings
Ingredients
1 pound sushi-grade ahi (tuna) steaks, cut into 1-inch cubes
¼ cup green onions, chopped
¼ cup Maui onions, peeled and chopped
1 tablespoon macadamia nuts, crushed
1 teaspoon sesame seeds, toasted
1 teaspoon fresh ginger, peeled and grated
¼ cup soy sauce
1 tablespoon sesame oil
sea salt to taste
4 cups sushi rice, cooked
Instructions
In a large bowl, combine tuna, green onions, Maui onions, macadamia nuts, sesame seeds, and ginger.

Add soy sauce and sesame oil. Season with sea salt to taste. Gently stir until combined.

Serve poke over bowls of rice. 
"This website provides approximate nutrition information for convenience and as a courtesy only. Nutrition data is gathered primarily from the USDA Food Composition Database, whenever available, or otherwise other online calculators."