Golden crispy tofu and fork-tender pork belly with a tangy sauce and added tausi for that extra dose of yum. Try this Tokwa't Baboy with Tausi for your next family meal or even as an appetizer!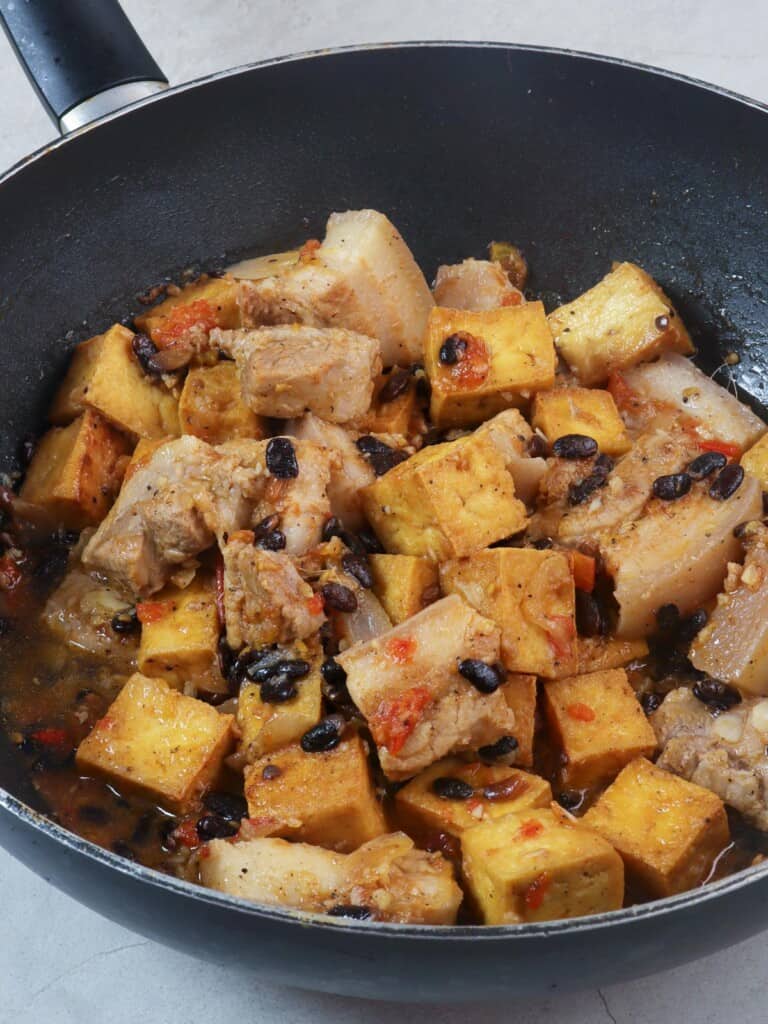 Tokwa't Baboy with Tausi is a simple and tasty Filipino dish made with pork belly, deep-fried crispy tofu, and salted black beans. Like the classic tokwa't baboy we commonly enjoy as an appetizer or topping for lugaw, its flavor comes from a mixture of vinegar and spices.
The pork is first simmered in vinegar, water, and crushed garlic until fork-tender and then sautéed in juicy, plump tomatoes. Golden crispy tofu cubes are added for extra texture along with tausi for umami flavor. The result is a hearty and tasty dish that's sure to hit the spot!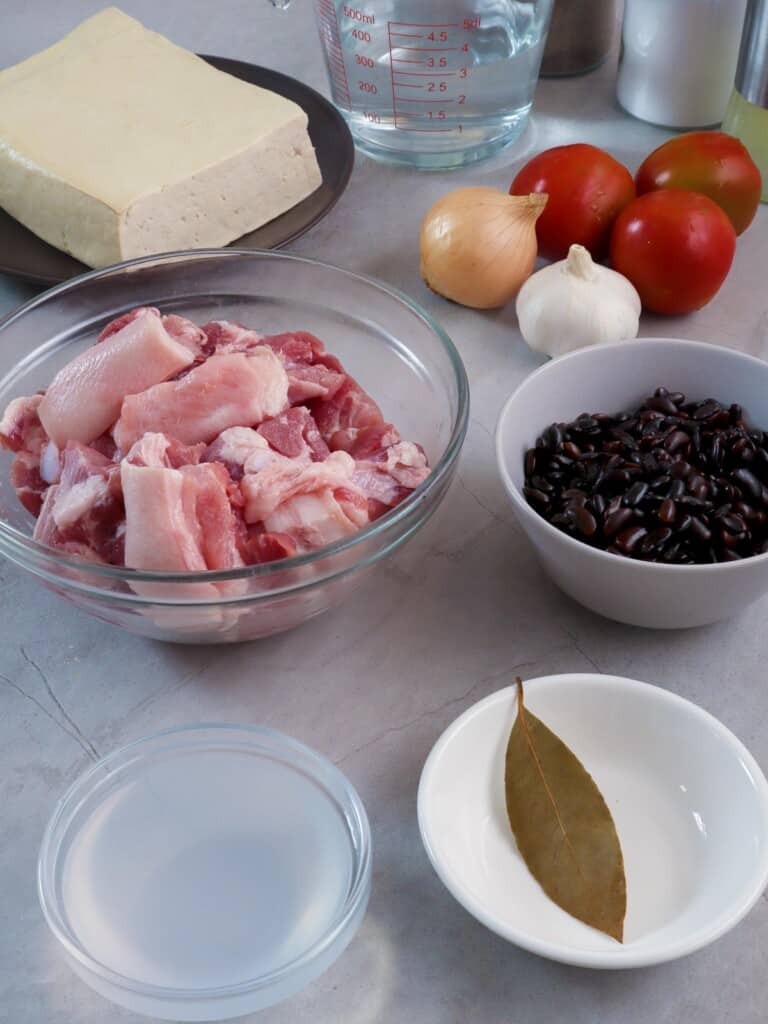 Ingredient notes
Pork belly– one of the most flavorful cuts with alternating layers of fat and meat. You can also use pork shoulder or kasim for leaner option or add pig's ear for texture.
Tokwa- use firm tofu which is ideal for frying.
Tausi- also known as douche or tochi, they're fermented and salted black soybeans used in many Asian and Chinese recipes. They're sold either in dry form, which needs to be rehydrated in water to use, or packed in brine, which needs to be rinsed and drained to rid of excess saltiness.
Roma Tomatoes– use ripe tomatoes which are sweeter and juicier
Vinegar– balances the savory dish with a hint of acidic flavor
Aromatics– garlic, onions, and bay leaves adds fragrance and boosts flavor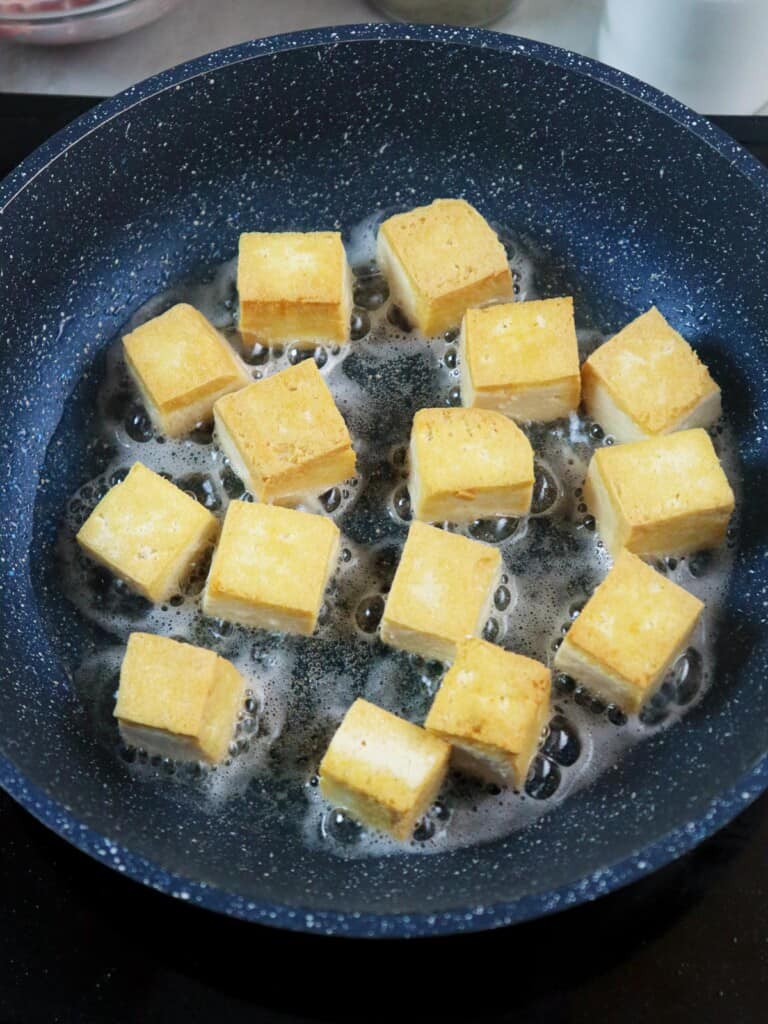 Frying the tofu
For easier frying and better texture, drain the tofu well from the packing liquid. Wrap it in a thick layer of paper towels, set it over a wire rack, and weigh it down with a saucer or plate for about 15 to 20 minutes to extract moisture.
Ensure the frying oil is of proper temperature (350F) to prevent tofu from sticking and absorbing too much grease.
Wait until tofu begins to brown before turning or they will stick to pan and fall apart.
You can shallow pan-fry the tofu to use less oil or deep-fry for a crispier texture. Read my how-to guide for best results!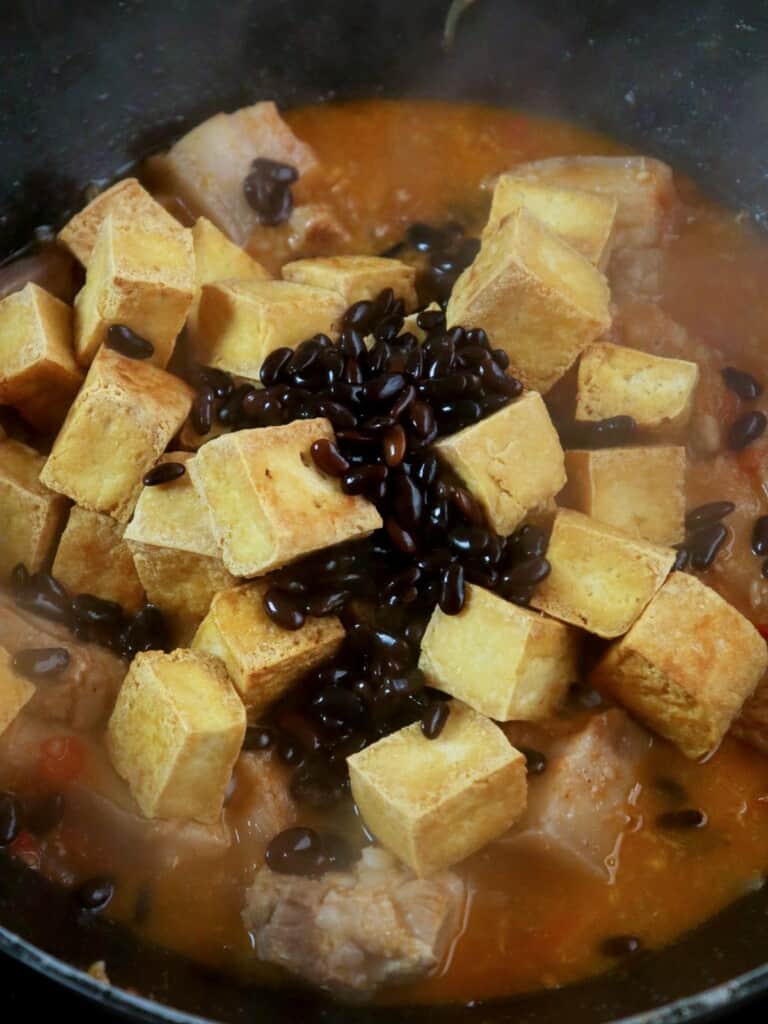 Cooking tips
Cut the pork in uniform size to ensure even cooking.
Very briefly toss the tofu in the mixture just until coated with sauce to maintain texture.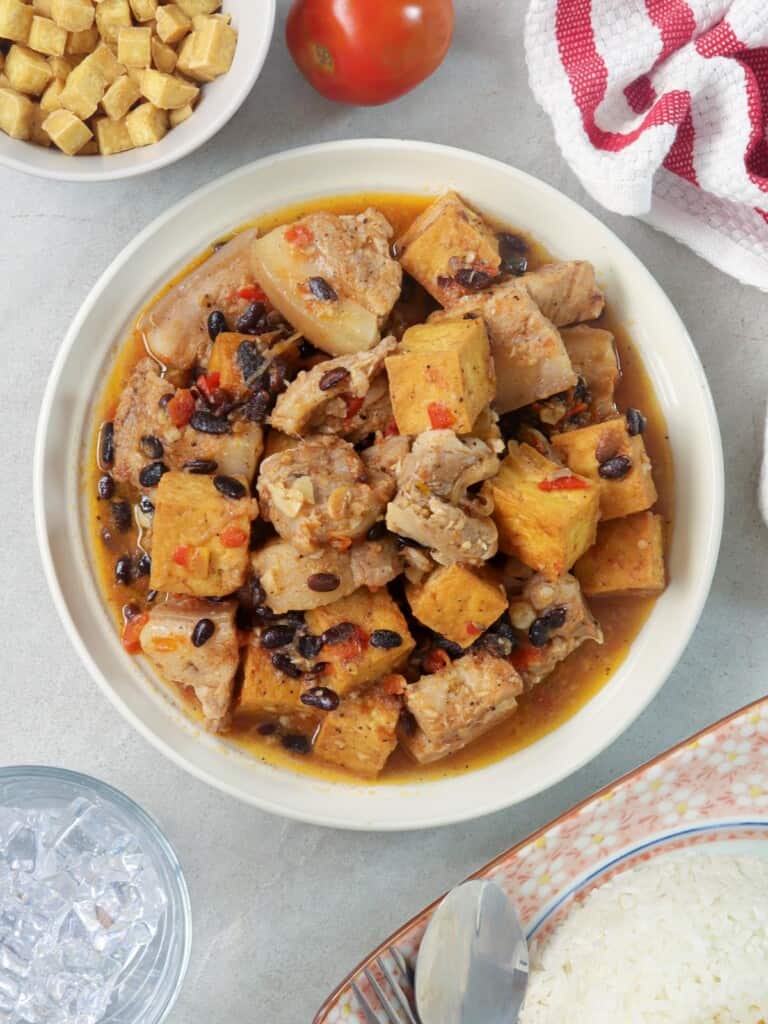 How to serve and store
Tokwa't Baboy with Tausi is a main dish for lunch or dinner. Pair it with hot steaming rice and you are on your way to an amazing meal!
Keep leftovers in an airtight container and refrigerate for up to 3 days. Reheat in the microwave until completely warmed through. Tofu might change texture and become chewy when reheated.
Tokwa't Baboy with Tausi is a delicious medley of succulent pork belly and crisp tofu cubes simmered in salted black beans sauce. Easy to make and best paired with steamed rice!
servings
Ingredients
2 pounds pork belly, cut into 2-inch cubes
1 cup water
1/2 cup vinegar
salt and pepper to taste
1 bay leaf
canola oil
1 onion, peeled and sliced thinly
3 cloves garlic, peeled and minced
3 Roma tomatoes, chopped
1 can (6.34 ounces) salted black beans (tausi), drained and rinsed
Instructions
Remove tofu from packaging and drain from packing liquid. Wrap in paper towels, set over a wire rack or colander, and weigh down with a saucer or cup for about 15 to 20 minutes to extract moisture. Cut into 1-inch cubes.

In a pot over medium heat, combine pork belly, water, vinegar, bay leaf, 1 teaspoon of salt, and 1/4 teaspoon pepper.

Bring to boil uncovered and without stirring for about 3 to 5 minutes. Skim scum that floats on top.

Lower heat, cover, and cook for about 30 to 40 minutes until meat is tender. Add more water as needed in 1/2 cup increments to maintain about 1 cup of liquid. Drain meat, reserving liquid.

Meanwhile, in a pan over medium heat, add about 2 tablespoons of oil and swirl to fully coat the bottom of the pan. Heat until oil begins to shimmer but not smoking.

Add tofu in a single layer and cook until it begins to crisp, then turn to brown to other side. Remove from pan and drain on paper towels.

Alternatively, in deep, wide pan, heat about 2-inches deep of oil until very hot but not smoking. Add tofu in batches and cook, turning as needed, until golden and crisp. With a slotted spoon, remove from pan and drain on paper towels. Set aside.

In a skillet over medium heat, heat about 1 tablespoon of oil. Add onions and garlic and cook until softened.

Add pork and cook, stirring regularly, until lightly browned.

Add tomatoes and cook, mashing with the back of a spoon, until softened and release juices.

Add reserved liquid and bring to a boil.

Add tausi. Season with salt and pepper to taste.

Add fried tofu and briefly toss until just coated with sauce. Serve hot.
Notes
Wait until tofu begins to brown before turning or they will stick to pan and fall apart.
Nutrition Information
Calories: 955kcal, Carbohydrates: 9g, Protein: 28g, Fat: 90g, Saturated Fat: 30g, Polyunsaturated Fat: 11g, Monounsaturated Fat: 41g, Trans Fat: 1g, Cholesterol: 109mg, Sodium: 1193mg, Potassium: 386mg, Fiber: 4g, Sugar: 3g, Vitamin A: 275IU, Vitamin C: 7mg, Calcium: 97mg, Iron: 2mg
"This website provides approximate nutrition information for convenience and as a courtesy only. Nutrition data is gathered primarily from the USDA Food Composition Database, whenever available, or otherwise other online calculators."