Sweet and Sour Pork with crisp bell peppers and juicy pineapple chunks is delicious as it's colorful! It's bursting with sweet and tangy flavors, perfect with steamed rice, noodles, or mashed potatoes!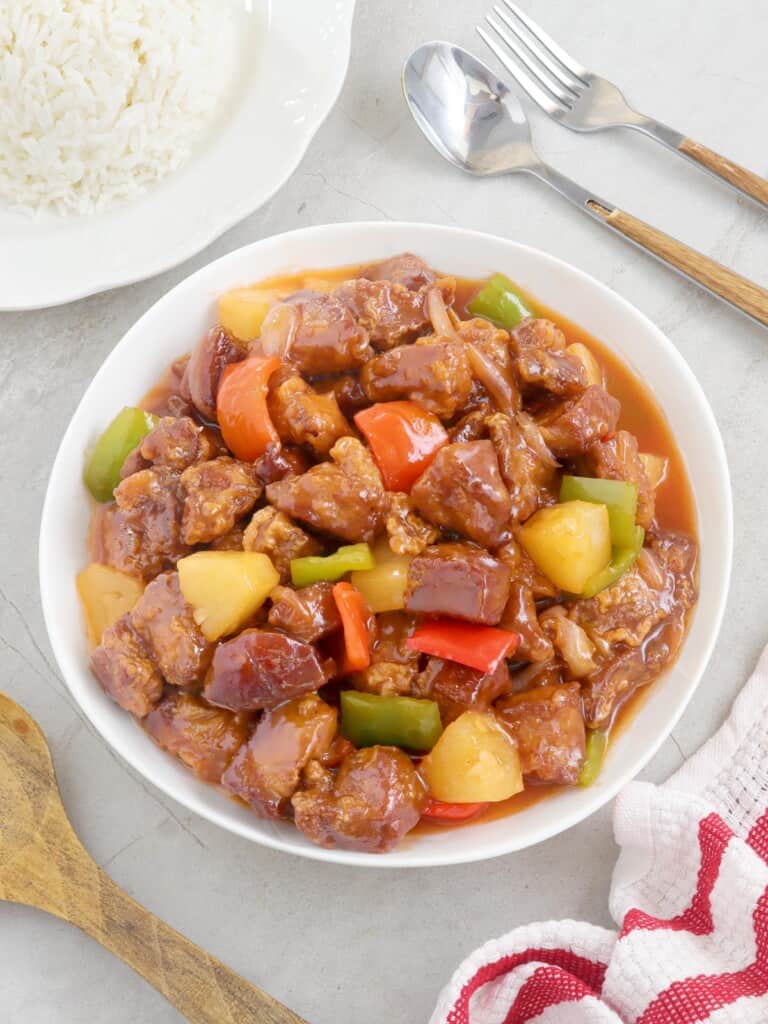 If you're looking for weeknight dinner ideas that are easy on prep yet big on taste, sweet and sour pork is a must on your list! You'll love how simple this Chinese restaurant favorite is to make at home and how flavorful it turns out in less time it would take for delivery to get to your doorstep.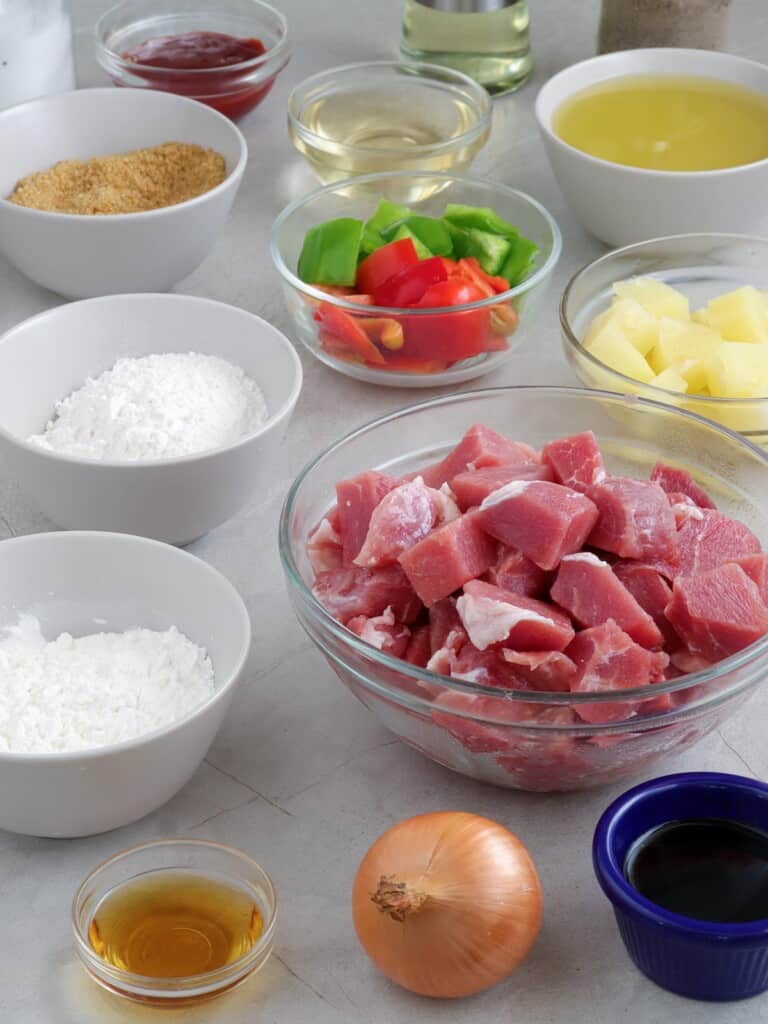 It's loaded with crispy-fried battered pork cubes, colorful red and green bell peppers, and juicy pineapple chunks that are sure to hit the spot. And that sweet and sour sauce? Pure gold over piping-hot steamed rice!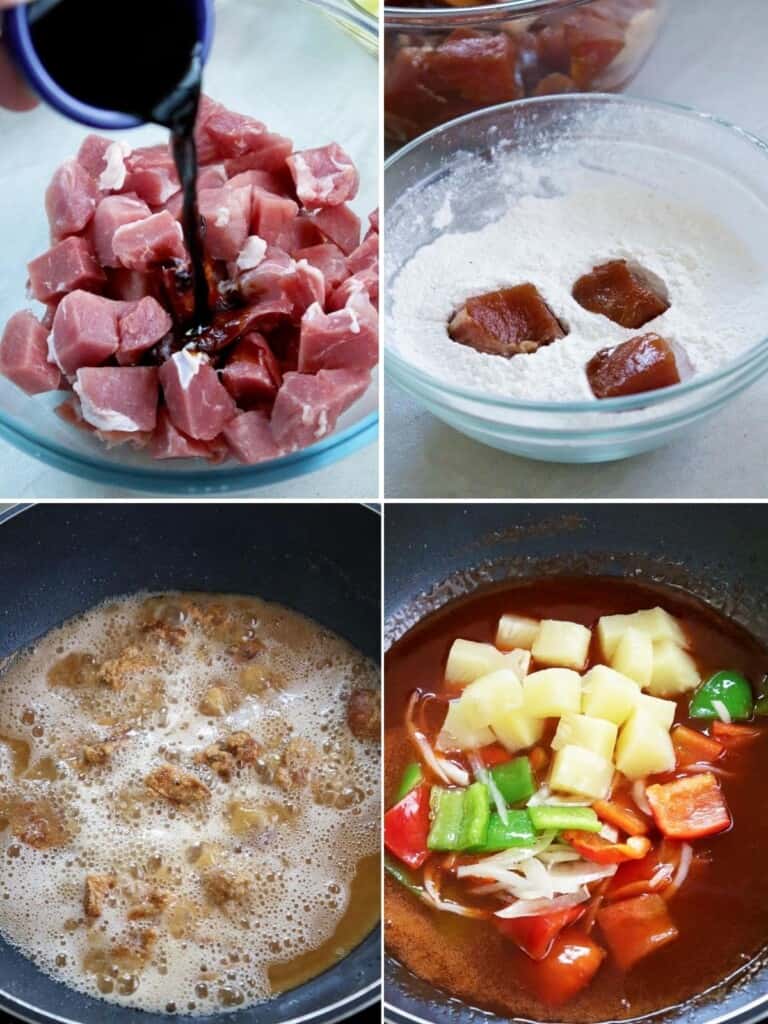 How to make sweet and sour pork
This pork with pineapple stir-fry has three simple parts, and the result is an impressive meal that's a guaranteed dinner winner.
Marinate pork cubes in soy sauce and Chinese cooking wine, coat in flour and cornstarch mixture, and then deep-fry to golden, crunchy perfection.
Make the deliciously sweet, tangy and sticky sauce from pineapple juice, rice vinegar, ketchup, salt, and pepper plus cornstarch to thicken.
Add tender-crisp bell peppers and pineapple chunks for extra color and flavor.
You can finish off the sweet and sour pork dish two ways. You can drizzle the sauce just before serving to keep the pork nice and crispy, or you can simmer the pork cubes in the sauce to soak it up. Either way, it's fantastic!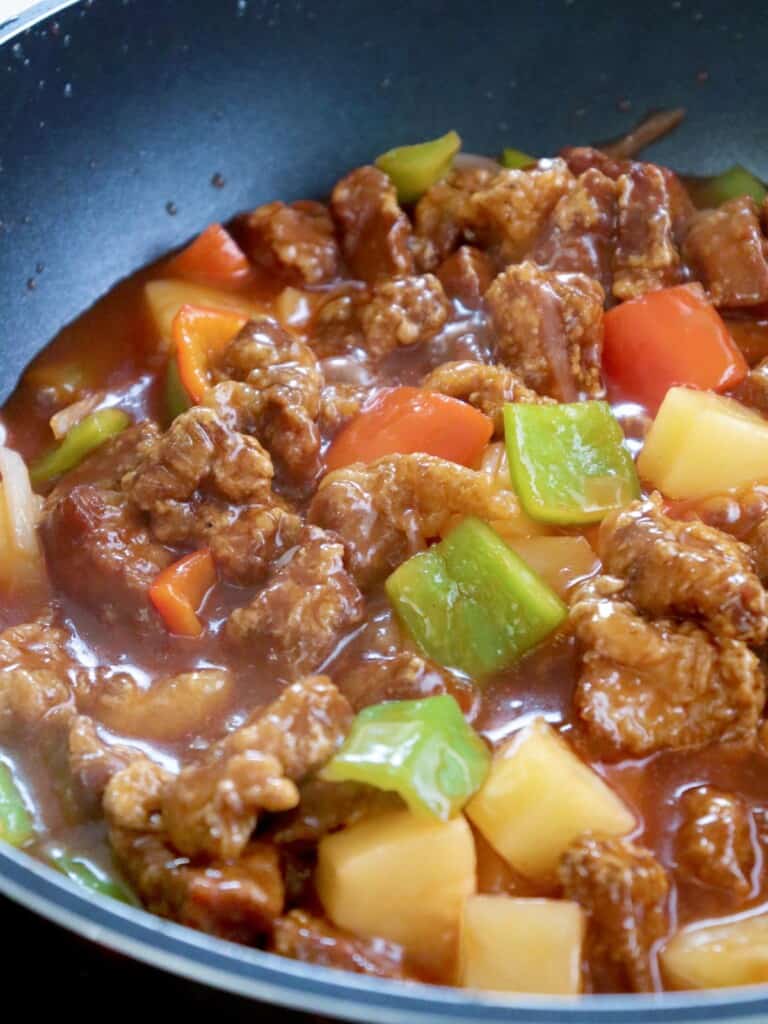 Slow-cooker version
Not in the mood for deep-frying or want to trim down the calories? Cook in the crockpot and enjoy a delicious, healthier meal without a lot of effort!
Season the pork with salt and pepper. In a pan, heat about one tablespoon oil. Add the meat and sear for about 2 to 3 minutes on each side or until lightly browned. Remove from pan and drain on paper towels.
In a bowl, combine pineapple juice, rice, vinegar, ketchup, and brown sugar. Whisk until well-blended.
Place the onions, bell peppers, and pineapples in the slow cooker. Arrange the pork on top of the vegetables and pour in the sauce.
Cover and cook on LOW for about for about 7 to 8 hours or on LOW for about 5 to 6 hours or until meat is tender.
In a small bowl, combine two tablespoons cornstarch and 1/4 cup water. Stir until dissolved.
Add the cornstarch and stir to combine. Continue to cook on HIGH for about 3 to 5 minutes or until thickened.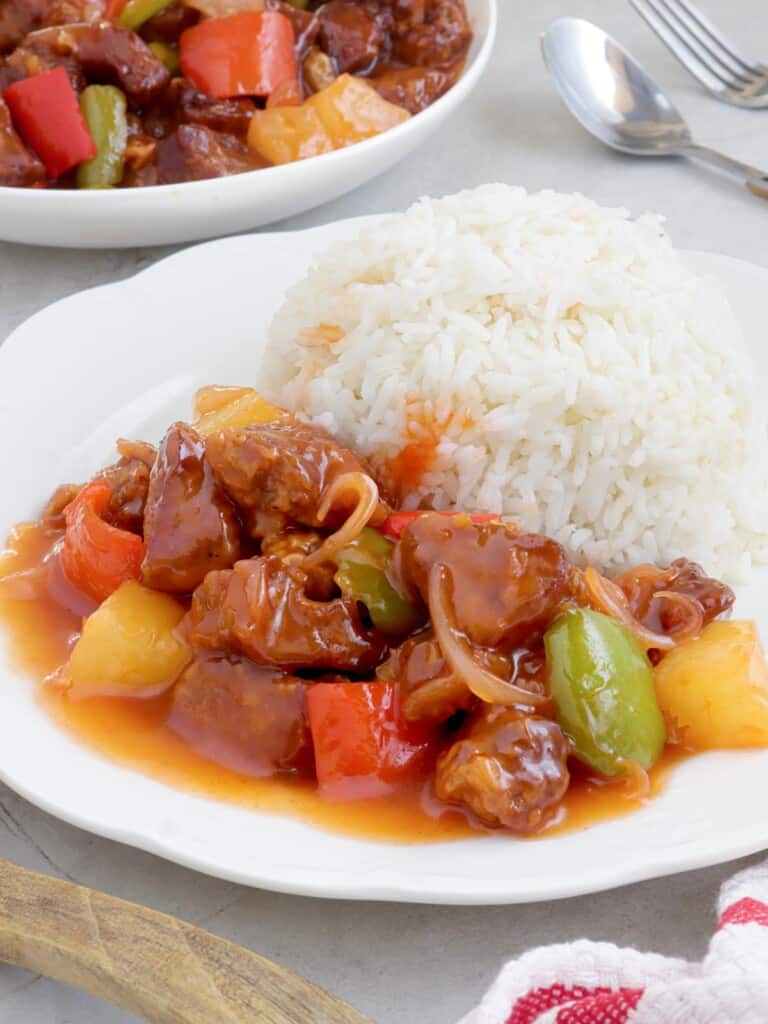 Serving suggestions
Sweet and sour pork is a delicious addition to any Asian-themed meal. Serve it with chow mein and steamed rice for a takeout fakeout dinner at home!
More pineapple recipes
Pork Adobo with Pineapple
Pineapple Chicken Afritada
Pininyahang Manok
Spareribs with Ketchup and Pineapple
Sweet and Sour Pork is a delightful dish made of crisp breaded pork cubes cooked in a sweet and sour sauce with bell peppers and pineapple chunks. Delicious over rice!
Servings
Ingredients
1 pound pork tenderloin, cut into 1-inch cubes
2 tablespoons soy sauce
1 tablespoon Chinese cooking wine
1/2 cup flour
1/2 cup cornstarch
salt and pepper to taste
canola oil
1/2 red bell pepper, cored, seeded, and cut into chunks
1/2 green bell pepper, cored, seeded, and cut into chunks
1 small onion, peeled and sliced thinly
1 cup pineapple chunks
For the Sweet and Sour Sauce
1 cup pineapple juice
½ cup rice vinegar
¼ cup ketchup
½ cup brown sugar
1 teaspoon salt
1 tablespoon cornstarch
Instructions
In a bowl, combine pork, soy sauce, and Chinese cooking wine. Stir until pork is coated and marinate for about 30 minutes. Drain well.

In a bowl, combine flour, cornstarch, and salt, and pepper to taste. Dredge pork in flour mixture to fully coat.

In a pan over medium heat, heat about 2 inches deep of oil. Add pork cubes and cook, turning as needed, for about 6 to 10 minutes or until golden, crisp, and cooked through.

With a slotted spoon, remove pork from the pan and drain on paper towels. Keep warm.

In a pan over medium heat, heat about 1 tablespoon oil. Add onions and bell peppers and cook, stirring regularly, for about 30 seconds or until half done. Remove from pan and drain on paper towels.

In the pan, add sweet and sour sauce mixture, whisking regularly, and bring to a boil. Continue to cook, whisking regularly, for about 2 to 3 minutes or until thickened.

Add onions, bell peppers, and pineapple chunks. Cook for about 30 to 40 seconds or until tender yet crisp. 

Add fried pork and quickly toss to coat. Remove from heat and serve immediately.

Alternatively, pan-fry the bell peppers, onions, and pineapple chunks until tender yet crisp. Arrange fried pork cubes on a platter and garnish with the sauteed bell peppers, onions and pineapple chunks. Drizzle with the prepared sweet and sour sauce just before serving.
Nutrition Information
Calories: 595kcal, Carbohydrates: 93g, Protein: 27g, Fat: 11g, Saturated Fat: 1g, Cholesterol: 73mg, Sodium: 1294mg, Potassium: 915mg, Fiber: 3g, Sugar: 58g, Vitamin A: 670IU, Vitamin C: 52.8mg, Calcium: 66mg, Iron: 3.1mg
"This website provides approximate nutrition information for convenience and as a courtesy only. Nutrition data is gathered primarily from the USDA Food Composition Database, whenever available, or otherwise other online calculators."