Rellenong Manok is impressive as it is delicious! This stuffed chicken with ground pork filling is baked to golden perfection for the perfect dinner entree your guests will be raving about!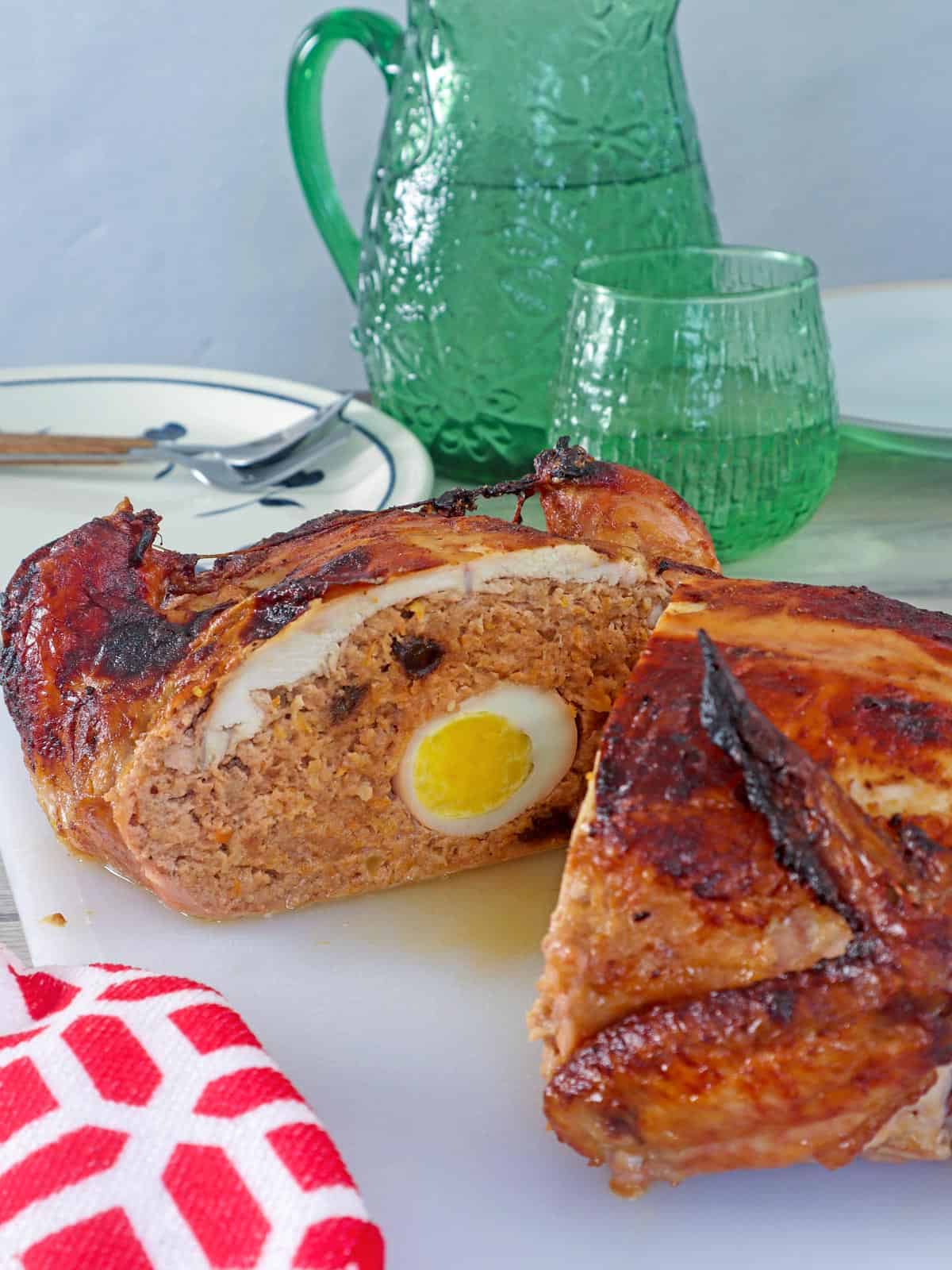 After wrestling and barely winning the fight with a roughly 5-pound bird the whole day, I now understand why something as simple as chicken can be the highlight of something as special as Noche Buena.
With the deboning, the stuffing, the sewing, and the roasting involved, rellenong manok is definitely not one I'll willingly tackle for my family's everyday dinner. I love them; they are precious to me, but no, thank you. It's the line my affection stops.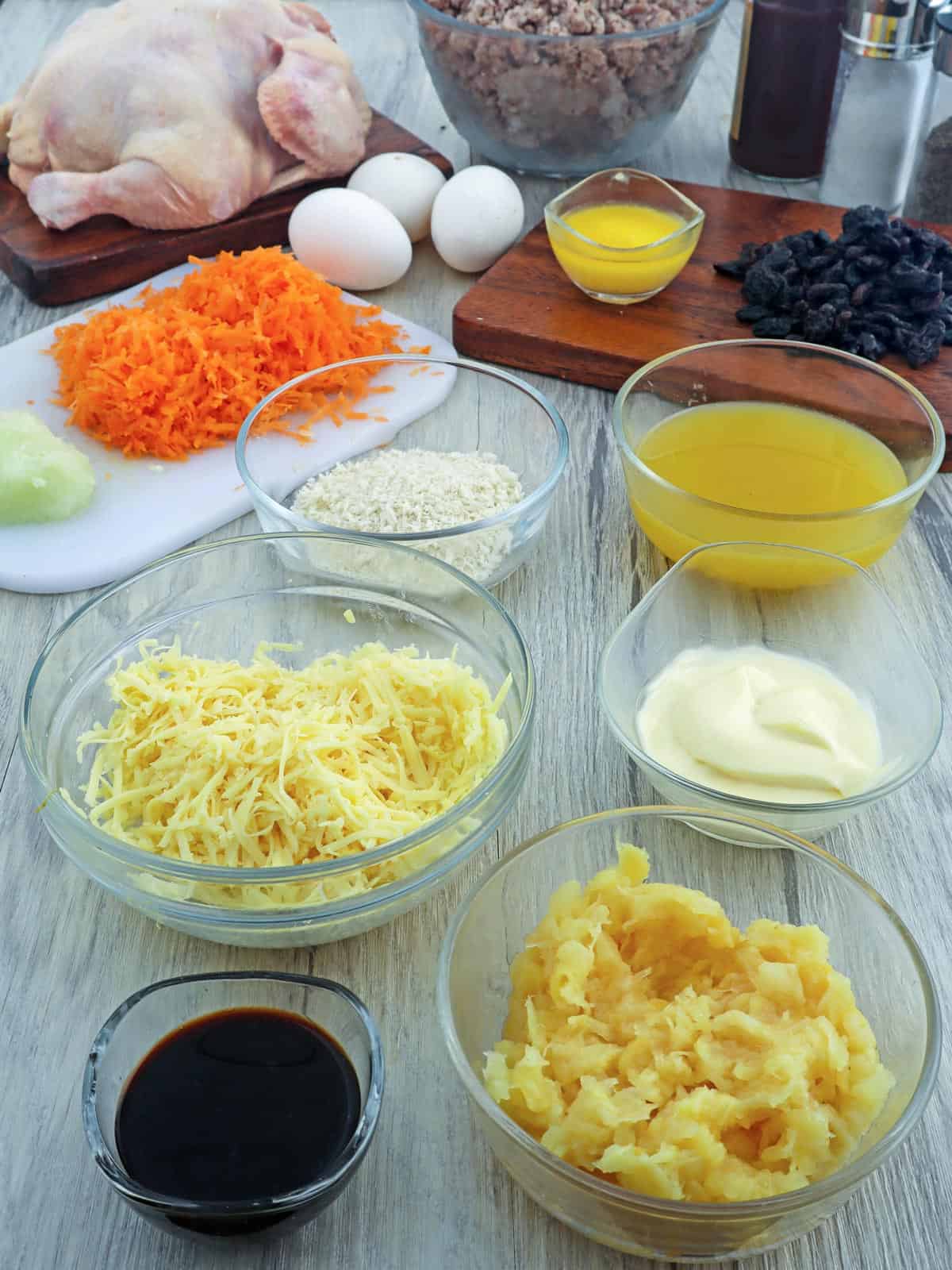 Of course, I exaggerate. This Filipino-style stuffed chicken is labor-intensive but not as complicated as it appears. Really, the hardest part is the deboning; once you have that down to pat, everything else is a walk in the park.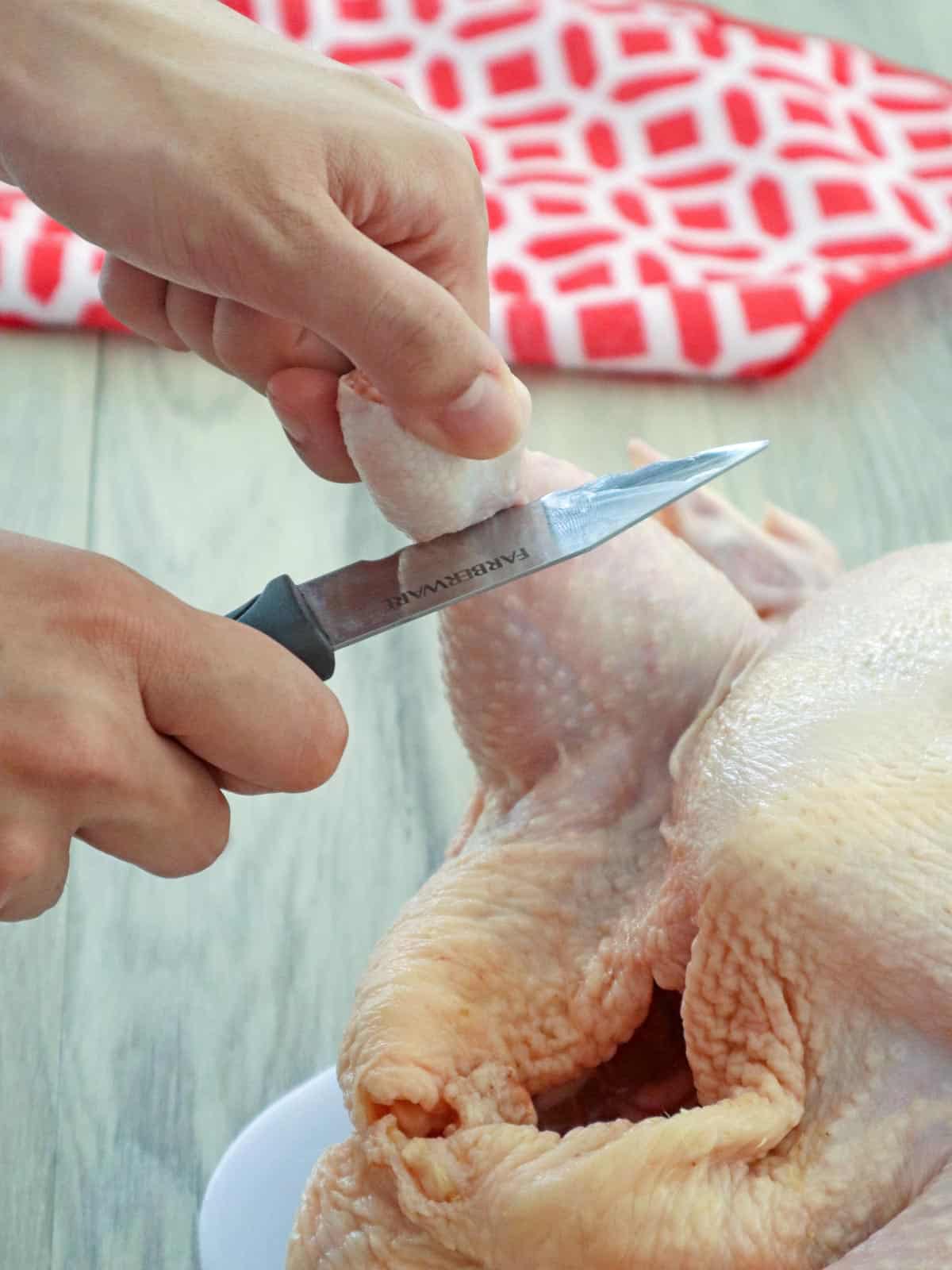 How to debone a whole chicken
There are two ways of deboning poultry. Choose which method works best for you!
One way is cutting across the rib cage to get to the bones and then sewing back the gap after stuffing. I am not really a fan of this method as I find it messier, and my relleno always ends scarier than the monster of Frankenstein.
The method I prefer requires more knife skills, but the end product comes out prettier and less stitched up. Through the bottom opening of the chicken, use a small sharp knife to gently nudge the meat from the bones and then pull the bones out in more or less one piece. Make sure to watch our video below to guide you through the process visually.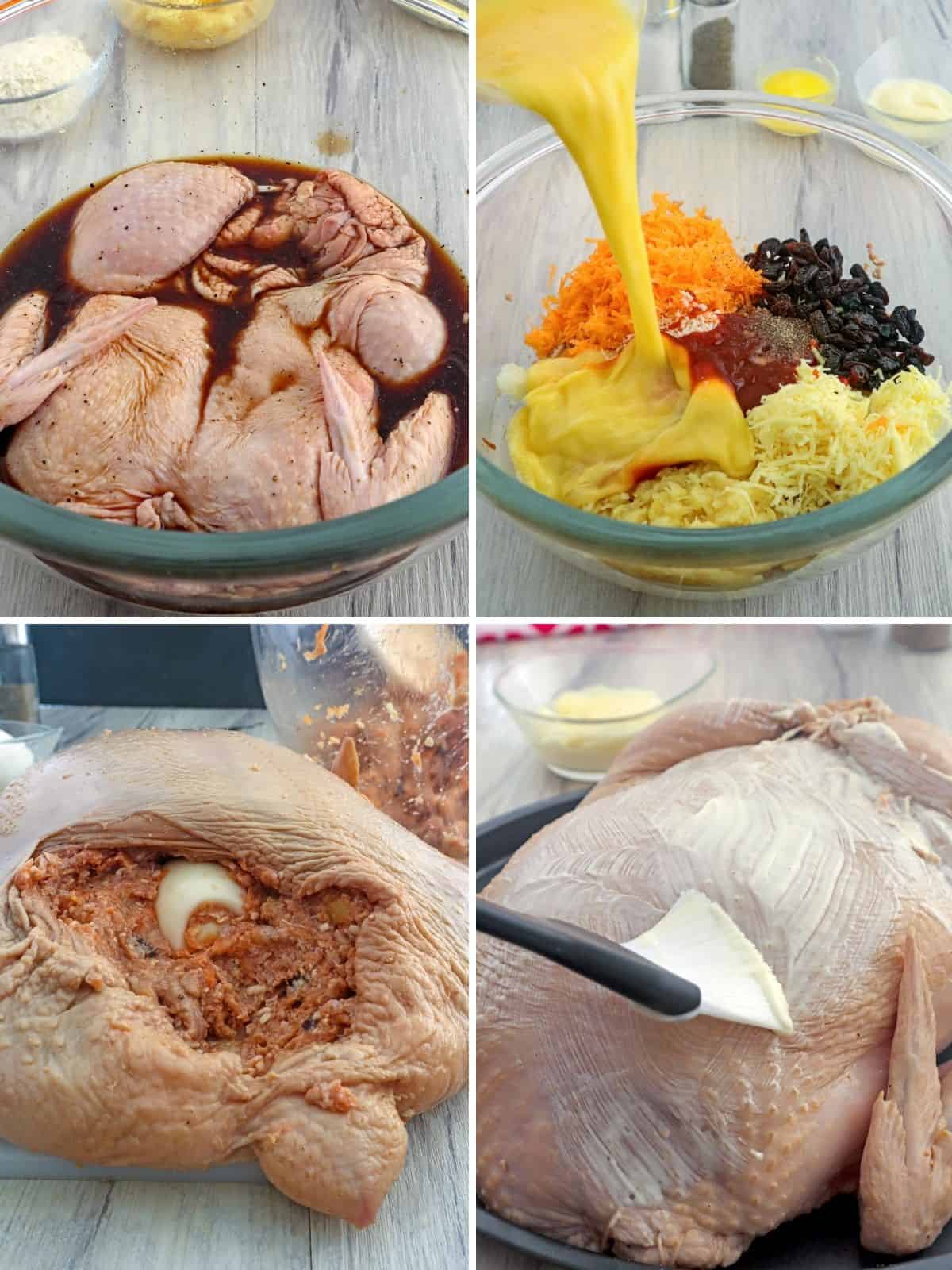 Assembly
After deboning, the chicken gets marinated in a mixture of soy sauce and calamansi juice to infuse flavor. Time to work on the stuffing!
I use my favorite pork embutido mix and added shredded cheese cheddar for extra flavor and bread crumbs to help the stuffing hold shape. Feel free to use your favorite ground meat filling or use this recipe as a base for other mix-ins such as chorizo, Chinese sausage, ham, pine nuts, olives, sweet pickle relish, and bell peppers.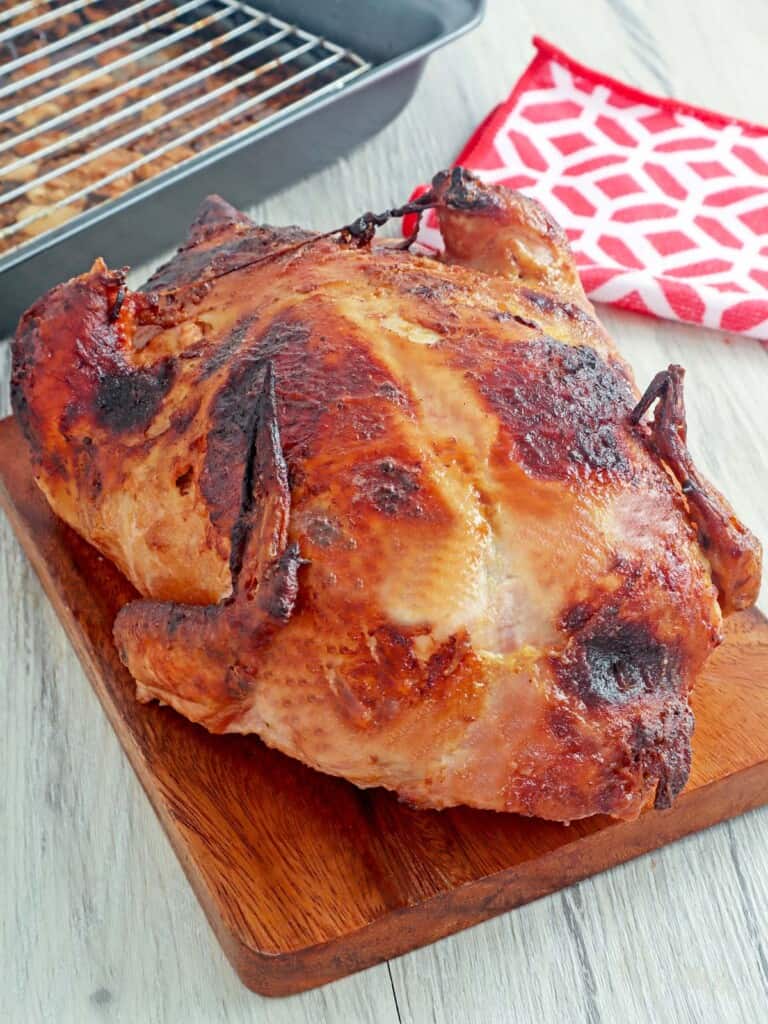 Helpful tips
Finely grate the onions (I used a fine grater) instead of chopping to keep the meat stuffing more moist and juicy.
Do not overstuff the chicken. The stuffing will expand during cooking as it will absorb the juices.
Use a roasting rack- bake the chicken in a roasting rack for heat circulation around the meat.
Use a meat thermometer to check for doneness. For food safety, use a meat thermometer to ensure the chicken and the filling reaches 165 F.  If the skin is browning too quickly before the stuffing is fully cooked, loosely tent with foil.
Let rest.  Allow the chicken to rest for about 10 to 15 minutes before slicing to redistribute the juices.
How to prep ahead
As this is a tedious and time-consuming dish, you might want to prep ahead of the event.
You can debone the chicken and make the filling a day in advance, but for food safety, stuff the chicken just before cooking to decrease the risk of bacteria growth.
Do not marinate the chicken in the calamansi-soy sauce mixture for too long, as the acids might denature the meat and produce a mushy texture.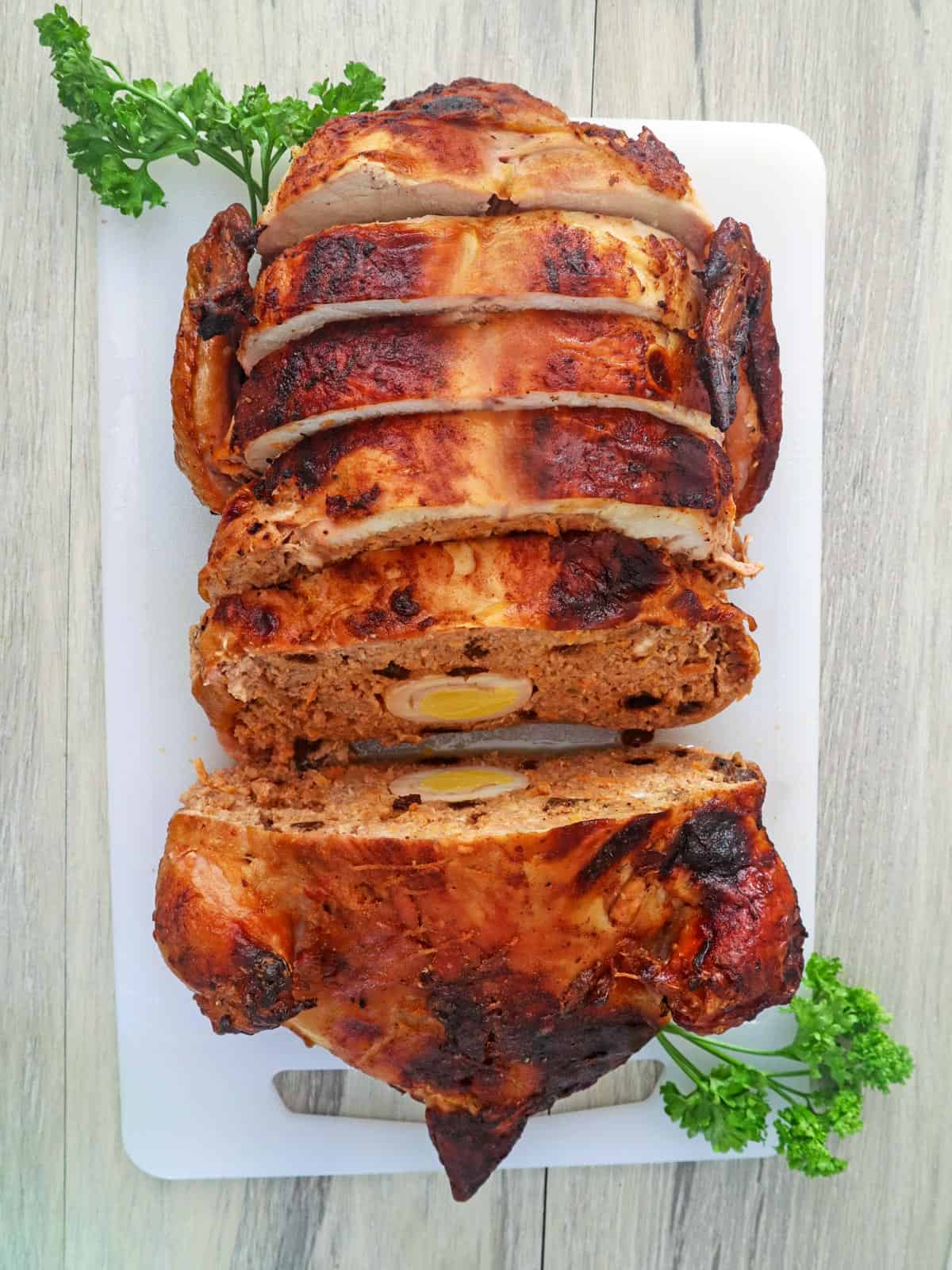 Serving suggestions
Rellenong manok takes a bit of work, but so worth the effort! It makes a festive and tasty addition to any special occasion or holiday celebration menu.
Serve it with banana ketchup or gravy along with sides like steamed rice, mashed potatoes, and vegetables such as buttered peas and carrots.
How to store leftovers
Transfer to an airtight container and refrigerate for up to 3 days or freeze for up to 2 months.
Reheating instructions
For food safety, use a thermometer to ensure the chicken and stuffing is reheated to 165 F.
Oven- arrange the chicken in an oven-safe dish. Add about ½ cup of chicken broth or water to the bottom of the dish to keep the chicken moist. Cover the tightly with foil and cook in a preheated 350 F oven for about 15 to 20 minutes or until completely heated. If you want crispier skin, carefully remove the foil and continue to cook at 400 F for about 3 to 5 minutes.
Air Fryer- place the chicken in the air fryer basket and cook at 350 F for about 4 to 5 minutes or until completely heated through.
Stovetop- spray a wide pan with non-stick cooking spray. Place chicken and heat over medium until completely heated, turning regularly to keep from burning.
Level up your special occasion menu with rellenong manok! This Filipino-style stuffed chicken takes a bit of work, but is so worth the effort. It's an festive and tasty dish that's sure to impress the crowd!
Servings
Ingredients
For the Meat Stuffing
1 ½ pounds ground pork
1 cup crushed pineapple, drained
1 onion, peeled and grated
1 large carrot, peeled and shredded
¼ cup bread crumbs
1 cup sharp cheddar, shredded
1 cup raisins
¼ cup banana ketchup
3 eggs, beaten
2 teaspoons salt
1 teaspoon pepper
Instructions
In a large bowl, combine calamansi juice, soy sauce and pepper. Marinate deboned chicken in mixture for about 1 hour (under refrigeration), turning chicken occasionally. Drain chicken well and pat dry.

In a large bowl, combine ground pork, pineapple, onion, carrots, bread crumbs, cheese, raisins, ketchup and beaten eggs until well-distributed. Add salt and pepper and combine well.

Through the lower opening, spoon half of the stuffing into the chicken. Insert the boiled eggs, positioning at the center line of chicken. Fill the chicken with the remaining half of the stuffing mixture.

Sew the neck and lower openings of the stuffed chicken. With a paper towel, gently wipe down the surface of chicken to remove stray bits and pieces of the meat stuffing. Tie legs together with kitchen twine.

Liberally brush the surface of chicken with mayonnaise.

Carefully transfer onto a lightly-greased roasting pan, tucking wings close to the body of the chicken to prevent them from burning before chicken is cooked through.

Roast in a 375 F oven for about 1 ½ hours, occasionally brushing with mayonnaise. At the last 20 minutes of cooking, liberally brush skin with butter and continue to roast until internal temperature reaches 165 F and skin is golden brown.

Remove from heat and let stand for about 10 to 15 minutes before slicing. Serve hot.
Notes
For food safety, make sure the filling reaches 165 F. If the skin is browning too quickly before the stuffing is fully cooked, loosely tent with foil.
Let rest before stuffing to re-distribute flavorful juices and to allow stuffing to set. 
Video
Nutrition Information
Calories: 558kcal, Carbohydrates: 32g, Protein: 29g, Fat: 34g, Saturated Fat: 12g, Cholesterol: 237mg, Sodium: 1087mg, Potassium: 609mg, Fiber: 2g, Sugar: 13g, Vitamin A: 1850IU, Vitamin C: 11.6mg, Calcium: 160mg, Iron: 2.5mg
"This website provides approximate nutrition information for convenience and as a courtesy only. Nutrition data is gathered primarily from the USDA Food Composition Database, whenever available, or otherwise other online calculators."