Lumpiang Ubod are fresh Filipino spring rolls made extra special with sautéed palm heart filling, homemade crepe wrappers, and a tasty garlic-peanut sauce. They're hearty and delicious as a midday snack or main dish.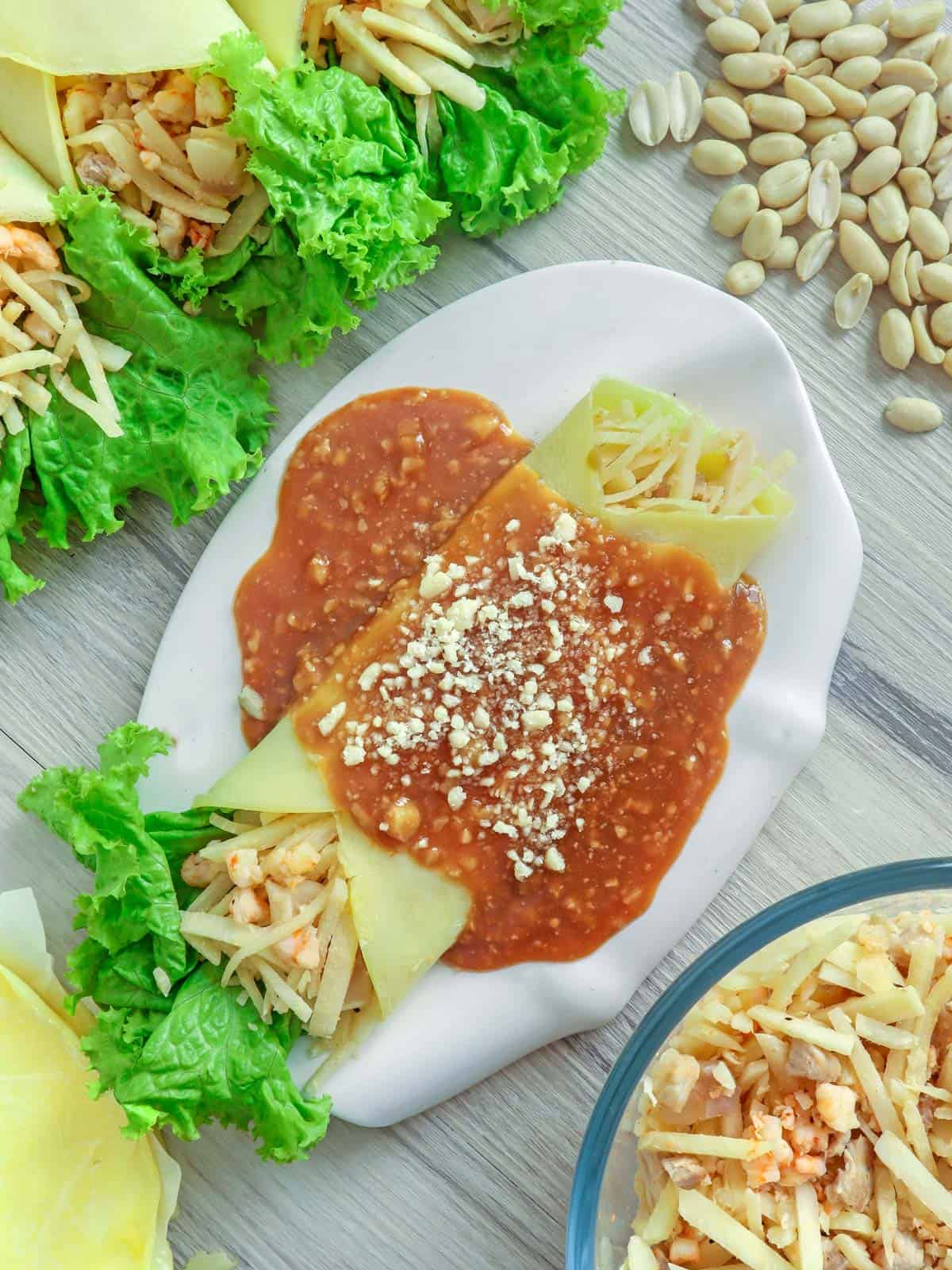 Lumpia are an adaptation of the Fujianese pokiah, a type of spring roll made of thin, paper-like crepe or pastry wrapped around a savory or sweet filling. They're popular in Indonesia as street hawker food and in the Philippines as a midday snack or appetizer for parties and special gatherings.
Filipino lumpia come in many varieties. Some are fresh with sweet and garlicky gravy, while others are fried with spicy vinegar on the side for dipping. The savory fillings like meat, fish, cheese, and vegetables are traditionally served as a light meal, while sweet choices such as fruits and sticky rice are enjoyed as dessert.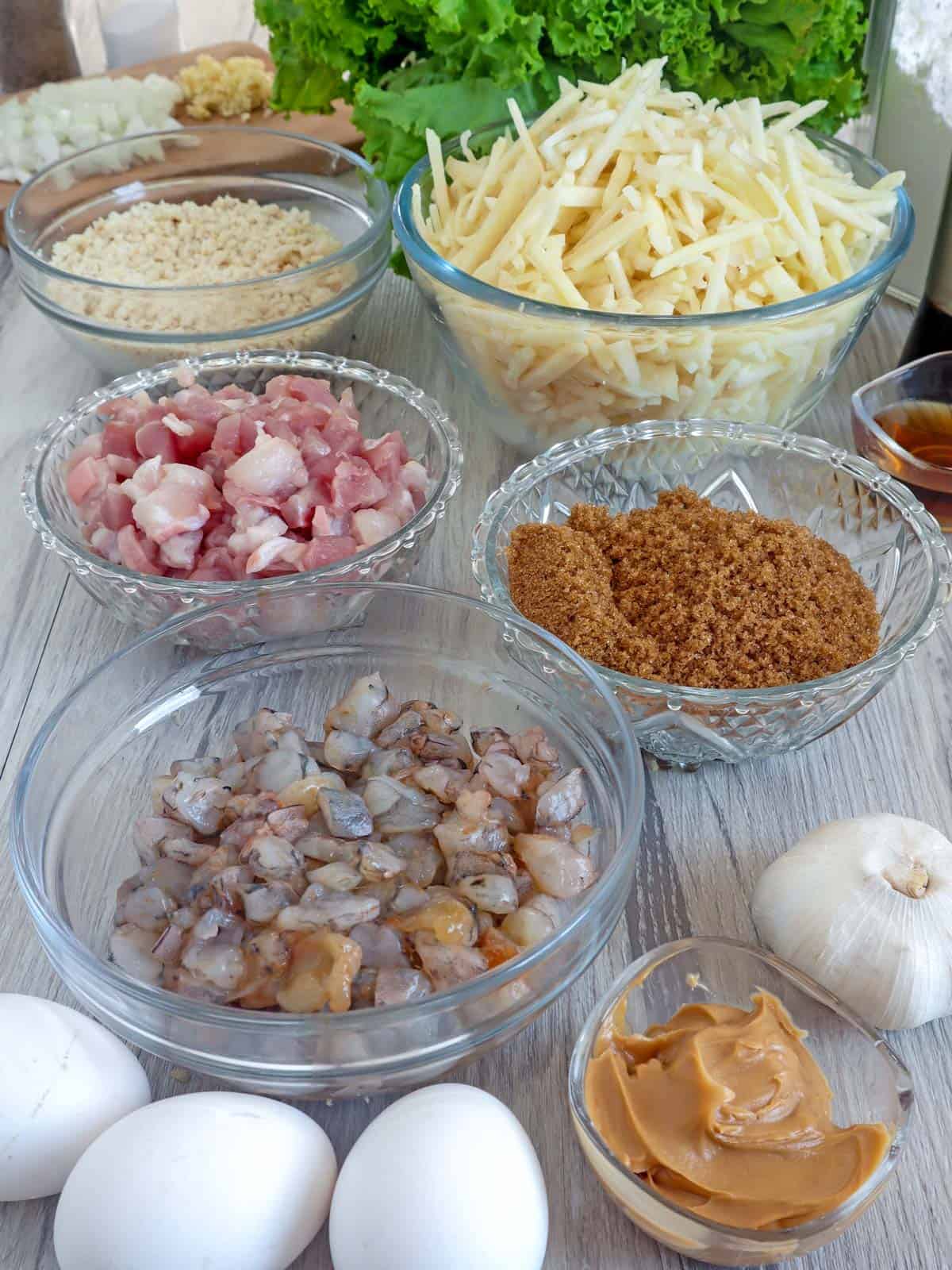 Lumpiang Ubod is a fresh variety of Filipino lumpia, filled with palm heart or ubod, the edible pith from coconut or palm tree. The dish originated from Silay, a city in the province of Negros Occidental, where Lumpiang Silay, the original variant, is still prevalent.
The lumpia has three components, the filling, the homemade wrapper, and the brown sauce.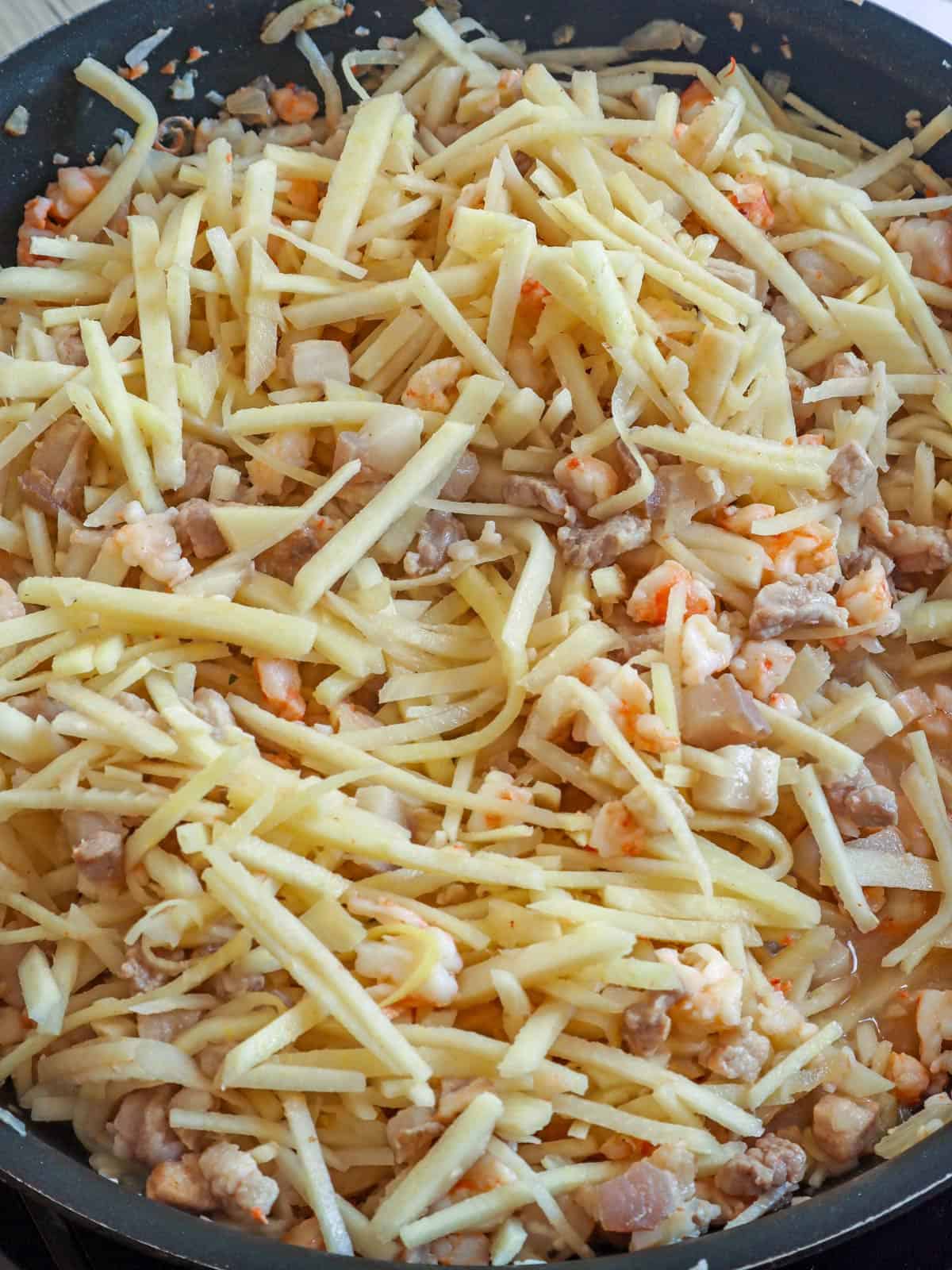 Vegetable filling
If ubod is unavailable, substitute bamboo shoots. You can also add julienned carrots for color and extend the servings.
Swap the pork and shrimp with crispy tofu cubes for a vegetarian option.
For lettuce, you can use green leaf, red leaf, butter, or batavia.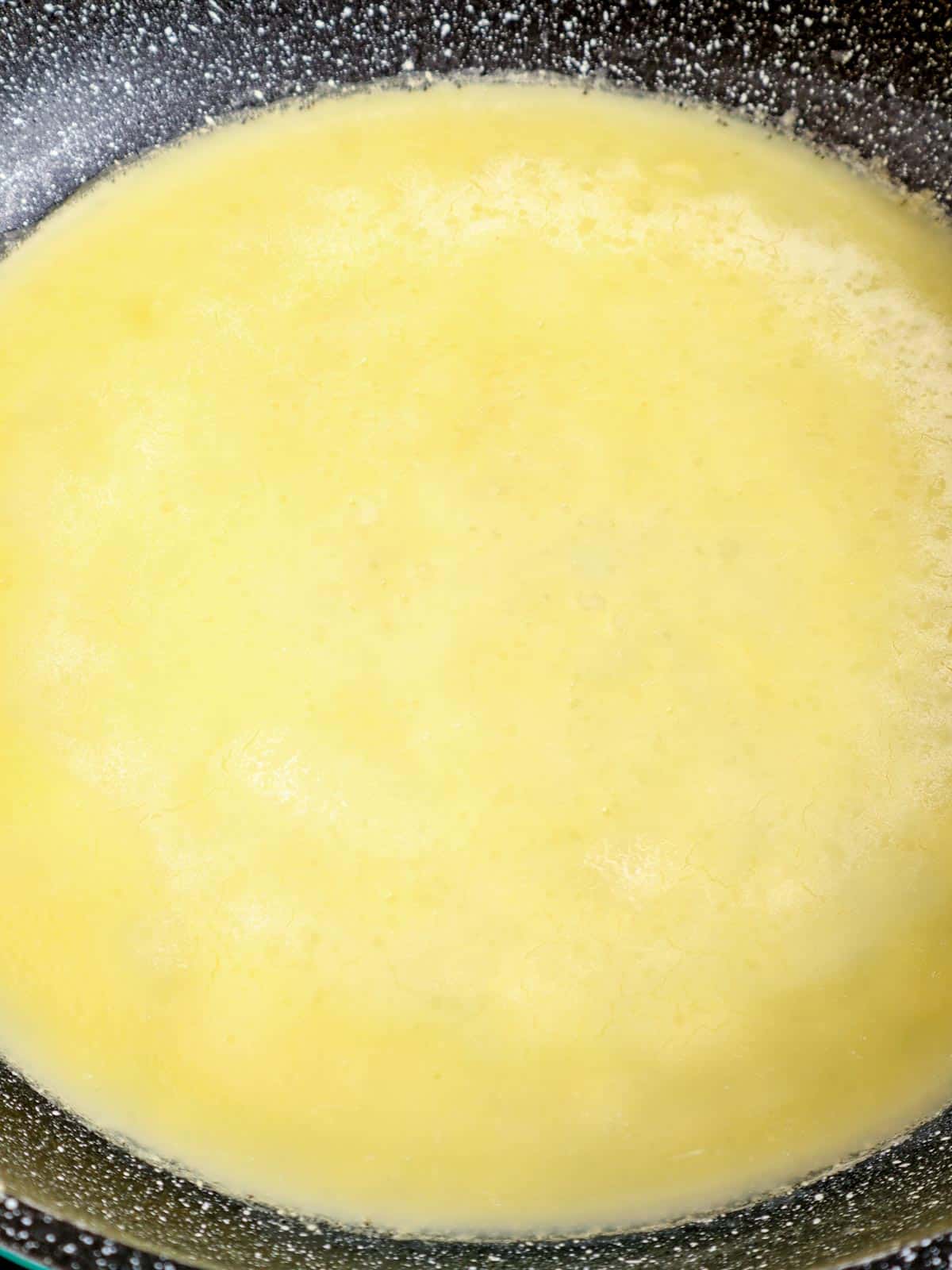 Homemade crepe wrapper
Although flour is traditionally used, I find cornstarch yields a softer texture and makes a great gluten-free alternative.
Eggs add color, provide structure, and act as a binder. Beat them first before adding to make mixing easier
Adjust the amount of water as needed. The consistency of the batter should be thin and runny.
Do not skip the sugar and salt! Use a small amount of sugar to sweeten the batter and salt to enhance flavor lightly.
Use a non-stick pan about the diameter you like for the lumpia wrapper. Brush the pan with oil or spray with cooking spray between EACH crepe to keep from sticking.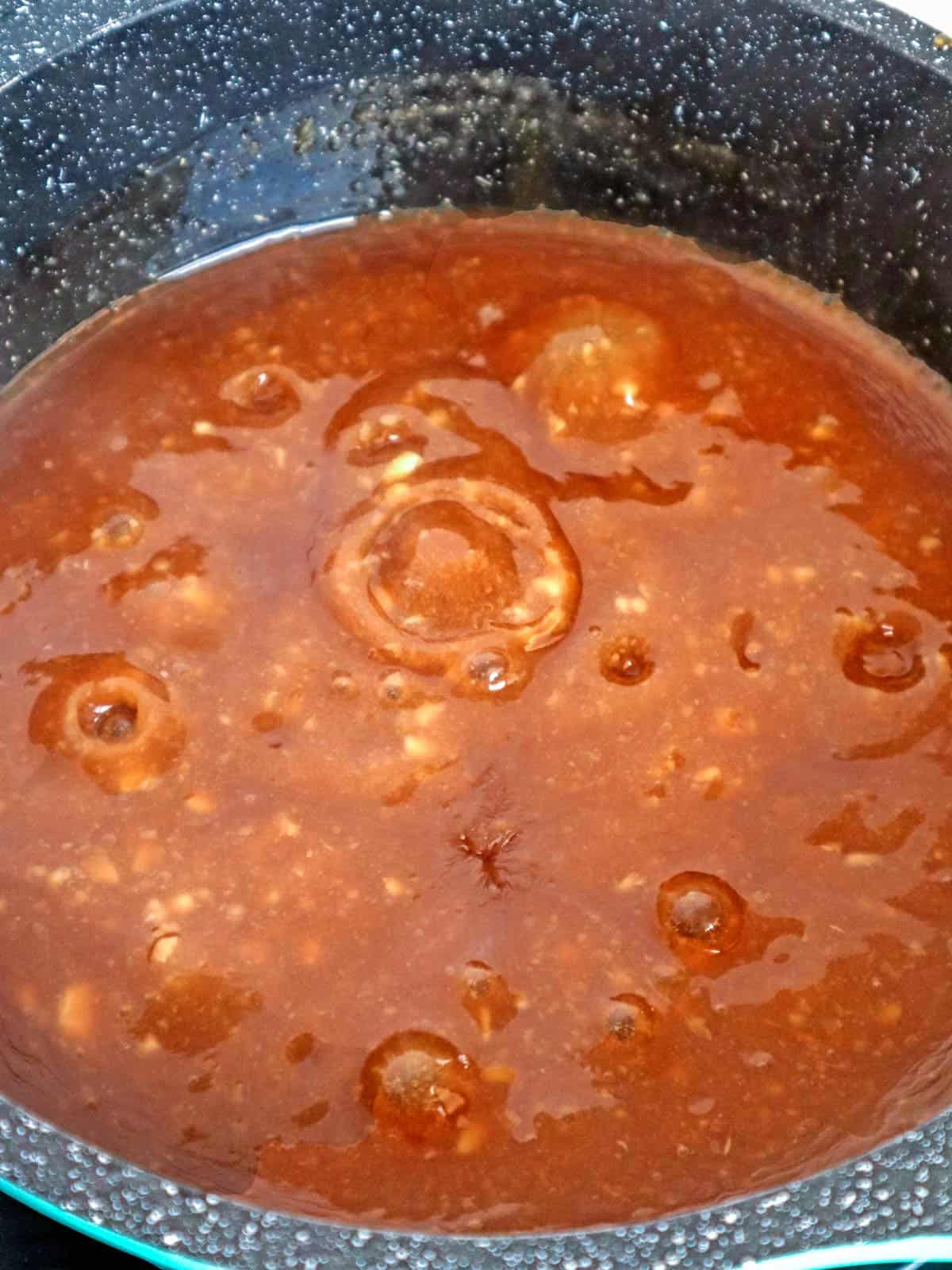 Peanut sauce
Soy sauce adds umami flavor and color. If you need to adjust the saltiness, use more salt instead of soy sauce to keep the sauce from darkening too much.
Use brown sugar and not white. It has a slightly less concentrated sweetness and contains molasses for a deep caramel flavor.
Check if using salted or unsalted peanuts, as you might need to adjust the amount of salt in the sauce.
You can use flour or cornstarch to thicken the sauce. I prefer the latter as it's quicker and easier to work with. Make sure to dilute into a slurry before adding to the hot liquid to prevent lumps.
Secret ingredient
Don't forget the peanut butter; this is the "secret ingredient" that makes my lumpia sauce extra special. Add a tablespoon or two, and thank me later. 🙂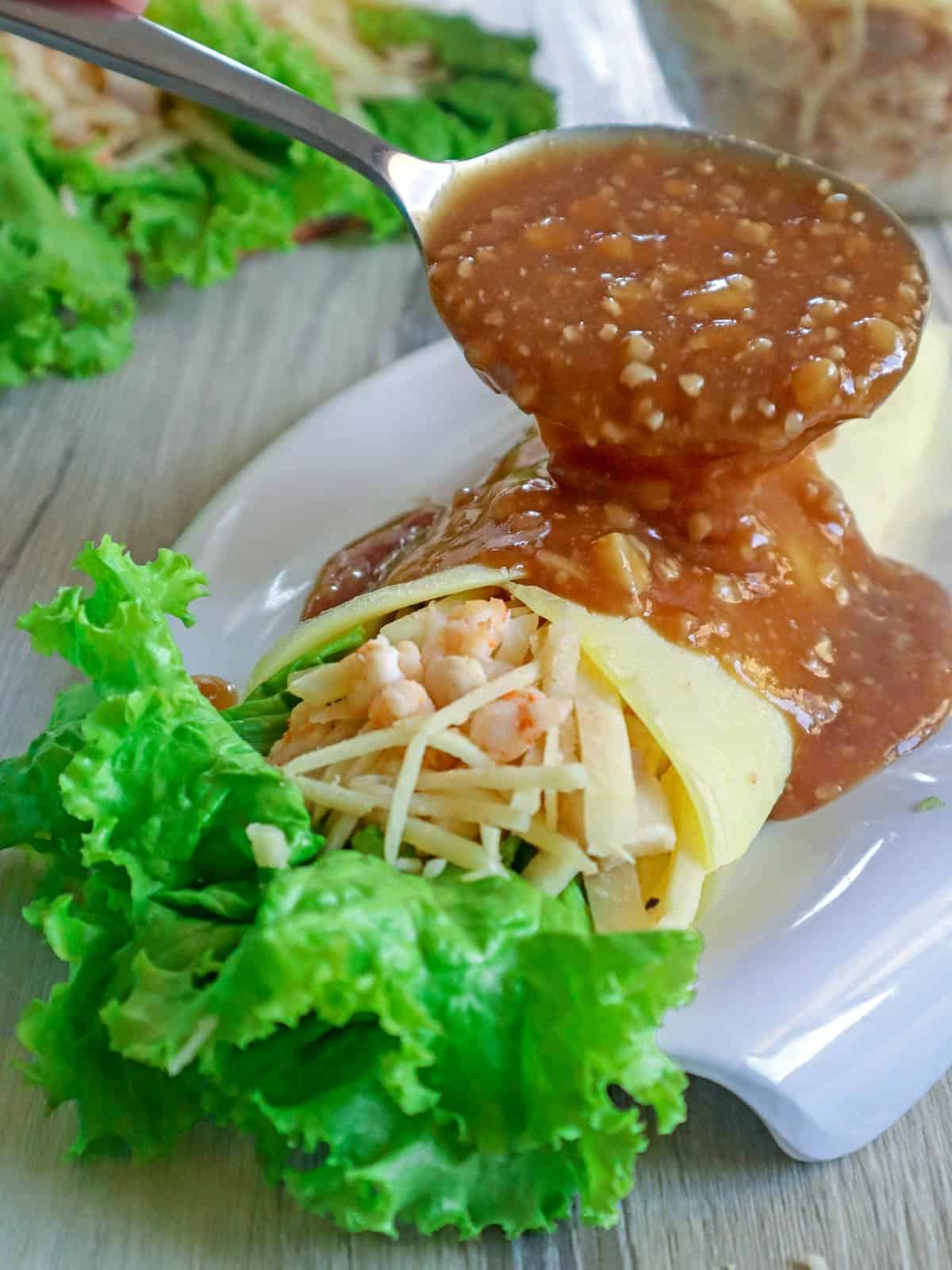 How to serve
Arrange the lumpiang ubod on a serving plate, top with a generous amount of sauce, and garnish with ground peanuts and freshly minced garlic.
It's delicious and filling as a midday snack or an appetizer. It also makes a tasty main dish with steamed rice on the side.
How to store
Store the sauce, filling, and lumpia wrappers in separate containers for best results. They'll keep in the refrigerator for up to 3 days.
To store cooked wrappers, stack separated with pieces of wax paper and place them in an airtight container. Refrigerate for up to 3 days or freeze for up to 4 months. Thaw completely before unwrapping and separating.
Warm the sauce in a saucepot until heated, adding more water as needed to loosen the consistency.
Lumpiang Ubod are a must for any party or special occasion! These fresh Filipino spring rolls with palm heart filling, homemade crepe wrappers, and sweet, garlicky brown sauce are hearty, tasty, and sure to be a favorite!
Course:
Appetizer, Main Entree, Snack
8 servings
Ingredients
For the Lumpia Filling
1 tablespoon canola oil
1 onion, peeled and chopped
2 cloves garlic, peeled and minced
¼ pound pork belly, diced
½ pound shrimp, peeled and coarsely chopped
1 tablespoon fish sauce
½ cup water
2 pounds about 4 cups ubod, cut into matchsticks
salt and pepper to taste
green leaf lettuce leaves, ends trimmed and leaves separated
For the Lumpia Sauce
2 ¾ cups water
¼ cup soy sauce
¾ cup brown sugar
½ teaspoon salt
1 cup unsalted peanuts, ground
1 head garlic, peeled and minced
3 tablespoons corn starch
2 tablespoons peanut butter
For the Lumpia Wrappers
1 cup cornstarch
1 ½ cups water
3 eggs, well beaten
1 teaspoon salt
1 teaspoon sugar
1 teaspoon canola oil
nonstick cooking spray
Instructions
In a wide pan over medium heat, heat oil. Add onions and garlic and cook until softened.

Add pork and cook until lightly browned.

Add shrimp and cook, stirring occasionally, until color changes.

Add fish sauce and cook for another 1 to 2 minutes.

Add water and continue to cook until pork is tender.

Add ubod. Lower heat, cover, and cook for about 10 to 15 minutes or until ubod is tender and pork is cooked through.

Season with salt and pepper to taste. Remove from pan and drain well.
For the Lumpia Sauce
In a saucepot over medium heat, combine 2 ½ cups of water, soy sauce, brown sugar, and salt. Bring to a boil, stirring regularly, until sugar is dissolved.

Add garlic and peanuts. Continue to cook for about 2 to 3 minutes.

In a bowl, combine corn starch and the remaining ¼ cup water. Stir until mixture is smooth.

Whisking vigorously, add corn starch mixture into soy sauce mixture. Continue to cook, whisking regularly, until thickened.

Add peanut butter and stir until dissolved and well combined.
For the Lumpia Wrappers
In a large bowl, combine cornstarch and water. Whisk together until smooth.

Add eggs, salt, sugar, and oil. Stir to combine until mixture is the consistency of a thin, runny batter.

Set a 9-inch nonstick pan over low heat. Lightly spray the surface of the pan with nonstick cooking spray.

Add ¼ cup batter and gently tilt pan on all sides to cover with batter. Cook for about 30 to 40 seconds. When edges of the batter begin to pull from sides and small bubbles begin to form in the middle of the crepe, gently flip to the other side using a spatula. Cook for another 10 seconds or until the top is set.

Remove crepe from pan by gently sliding onto a plate. Repeat with remaining batter, spraying the pan with nonstick cooking spray in between cooking.
For Assembly
Lay a wrapper on a flat surface and place a lettuce leaf on top. Spoon about ¼ cup filling across the middle of wrapper and fold sides to cover filling.

Pour sauce on top of prepared lumpia and garnish with additional minced garlic and ground peanuts, if desired.
"This website provides approximate nutrition information for convenience and as a courtesy only. Nutrition data is gathered primarily from the USDA Food Composition Database, whenever available, or otherwise other online calculators."