Pork Belly Lechon Roll slow roasted in the oven with super crispy skin and super moist meat. No need to order a whole pig; this Filipino-style porchetta is easy to make and sure to be the star of any party!
This pork belly lechon roll was first published on the blog in 2014, but since the biggest holidays of the year are at our doorstep, and this pork delicacy is a mainstay in Filipino's parties and celebrations, I am revamping my liempo version with brand new photos to give you a more accessible and economical option to serving a whole spit-roasted pig.
Oven-roasting has been my favorite way to cook lechon kawali ever since I learned the method by accident years ago. It's a technique I also use on crispy pork shoulder and always had great results.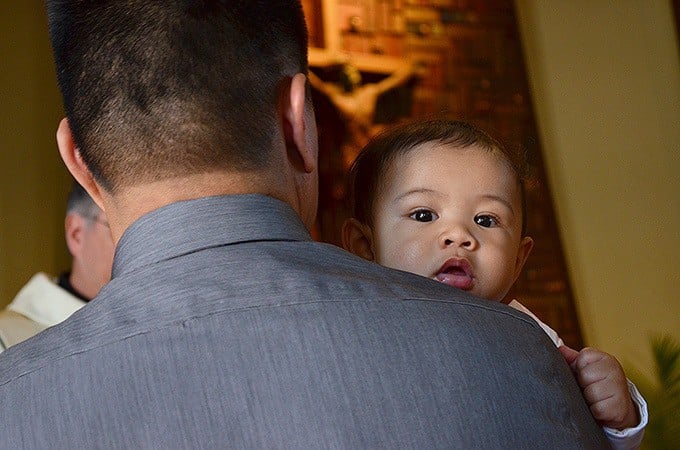 However, it never occurred to me that I could mimic the taste and appearance of a roast pig by stuffing the pork belly with lemongrass and rolling it into a log until I attended a family event in Northern California.
It was baptismal of this little cutie above, my brother's youngest boy, and a whole Lechon was the centerpiece of their party menu. Since they had a wide variety of food, it was mostly untouched.
I kept staring at the leftover carcass and thinking to myself how a lechon sa hurno would have cost lot way less than the $300 they paid for the suckling pig and would have had a lot more edible meat. It won't be as impressive on the buffet table, but turning the belly into porchetta would be fancy enough for company.
I left the party with a roasted liempo roll idea brewing in my head and feeling mighty proud of myself for coming up with an original recipe, only to have my vanity squashed fast. A quick research online, and I realized lechon pork belly had been a THING long before I even thought of it!
This oven-roasted pork belly I made last weekend was massive but lucky it even made it through the short photoshoot because I couldn't stop digging in between shots. Those crispy yet juicy pork morsels were just begging to be dipped in liver sauce!
Like I said before, I'm not sure what culinary wizardry happens during the low and slow roasting but this method absolutely turns the liempo into the moistest meat and crispiest crackling you'll ever have. Definitely a must on Noche Buena!
Tools you will need
Kitchen twine to secure the meat into a log
Roasting rack to allow heat to circulate around the pork. Make sure it's set on a pan to catch oil drips.
Cooking tips
This hurno method takes roughly 6 to 7 hours; use the largest piece of boneless pork belly you can find to make it worth your while.
Prick the skin all over without piercing the meat to help it crisp up.
Refrigerate the meat overnight uncovered and with skin side up to dry out. This step, again, is to make the skin super crunchy.
Do not overstuff the belly as you want to be able to roll it with a little overlap.
Tie the twine not too tight but just enough to fully secure the roll as the skin will expand as it crisps and puffs up during roasting.
Make sure to use a roasting rack set on a pan so the heat will circulate the pork and allow it to be brown all over.
For super moist meat, give the roast belly a few minutes before cutting to allow the juices to redistribute.
Lemongrass is very fibrous, and it's used in this recipe primarily to infuse flavor and aroma so you can pull the stalks out when ready to cut.
I hope you've been enjoying our holiday recipe series and check back here often as I have more delicious Noche Buena ideas coming up in the next few days to add to this list below.
Thank you so much for making Kawaling Pinoy a part of your holiday celebrations. I am grateful to you.
Did you make this? Be sure to leave a review below and tag me @kawalingpinoy on Facebook and Instagram!
Pork Belly Lechon Roll slow roasted in the oven with super crispy skin and super moist meat. No need to order a whole pig, this Filipino-style porchetta is easy to make and sure to be the star of any party!

Servings
Ingredients
1 (6 to 7 pounds) whole pork belly without ribs
2 tablespoons coarse salt
1/2 teaspoon pepper
1/2 cup vinegar
3 stalks lemongrass
4 shallots, peeled and sliced thinly
1 head garlic, peeled and crushed
Instructions
With a small knife, poke surface of the skin all over without piercing the meat.

Pour the vinegar, massaging onto the belly. Season with salt and pepper.

With a knife, cut the thinner top portion of the lemongrass stalk and the very woody base. Peel off the tougher outer layers to get to the tender part of the stalk. With the back of a knife, pound the stalk a few times.

Place the pork belly skin side down on a flat working surface. On the longer side of the belly, arrange the lemongrass stalks, onions, and garlic horizontally on the lower part of the belly.

Roll pork belly into a tight log, ending with skin side up. Using kitchen twine, tie on three to four places to secure shape.

Refrigerate, uncovered, overnight to chill.

Using paper towels, pat down surfaces of meat to completely dry. Place the belly roll on a roasting pan fitted with a rack.

Bake in a preheated 180 F oven for about 3 1/2 hours.

Increase temperature to 320 F and continue to cook for about 1 1/2 to 2 hours or until meat is cooked through and browns.

Increase temperature to 430 F and continue to cook for about 30 to 40 minutes or until skin is very crisp.

Remove from oven and let rest for about 10 to 15 minutes before slicing.
Nutrition Information
Calories: 1190kcal, Carbohydrates: 3g, Protein: 21g, Fat: 120g, Saturated Fat: 43g, Cholesterol: 163mg, Sodium: 1237mg, Potassium: 483mg, Vitamin A: 25IU, Vitamin C: 2.1mg, Calcium: 21mg, Iron: 1.6mg
"This website provides approximate nutrition information for convenience and as a courtesy only. Nutrition data is gathered primarily from the USDA Food Composition Database, whenever available, or otherwise other online calculators."