Pork Bulanglang is a refreshing sour soup made with pork belly, guava, kangkong, and gabi. This Kapampangan version of sinigang sa bayabas is delicious, comforting, and perfect with steamed rice.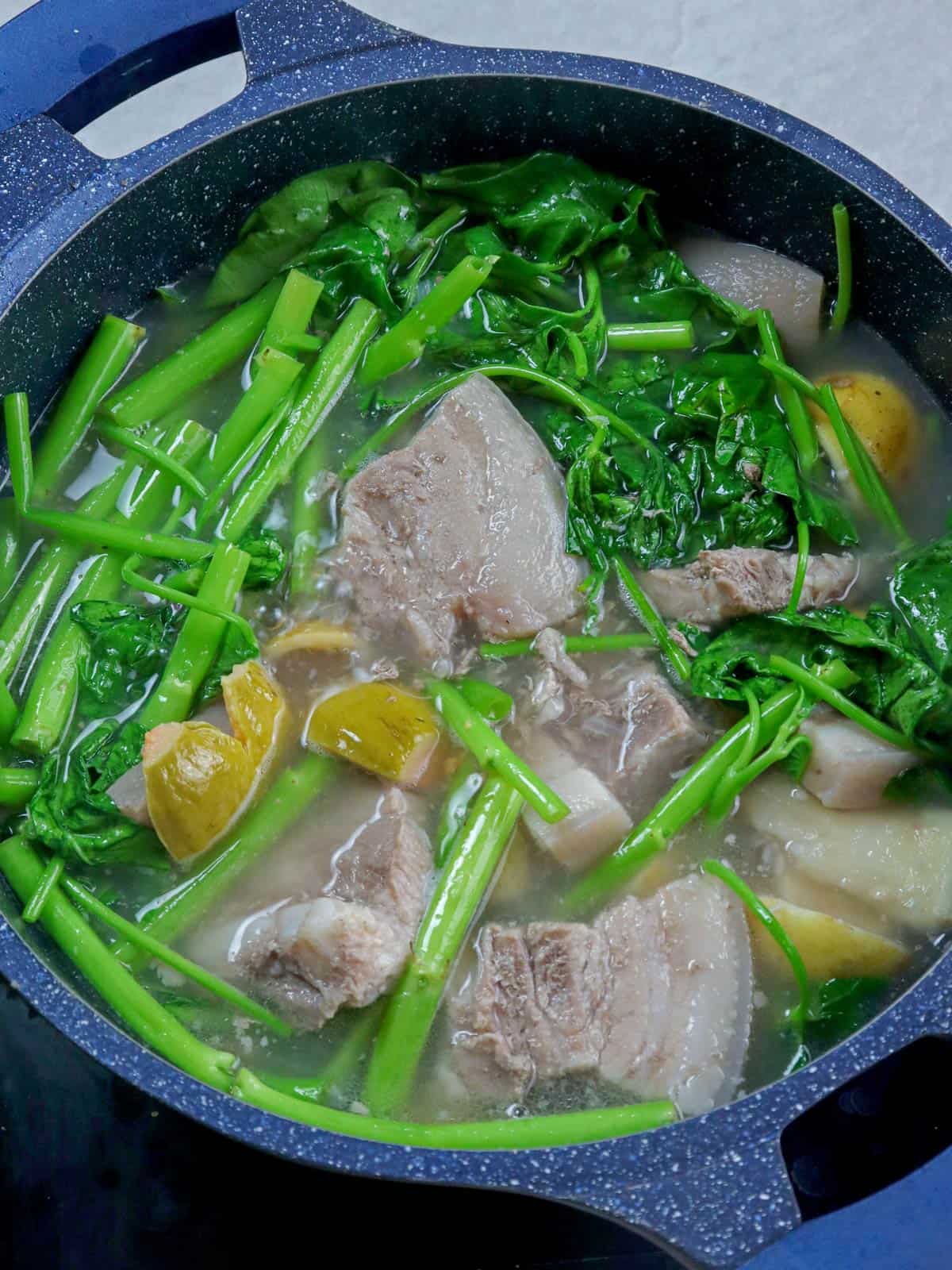 We moved from Southern California to Texas at the end of last year. We're happy about the change and love the overall culture here, but sourcing ingredients for the blog has been frustrating.
The nearest Asian supermarket is 20 miles away and is not as well-stocked as the Filipino grocery store I go to in SoCal. Just an example, we've been in Texas for six months, and I have yet to find sitaw!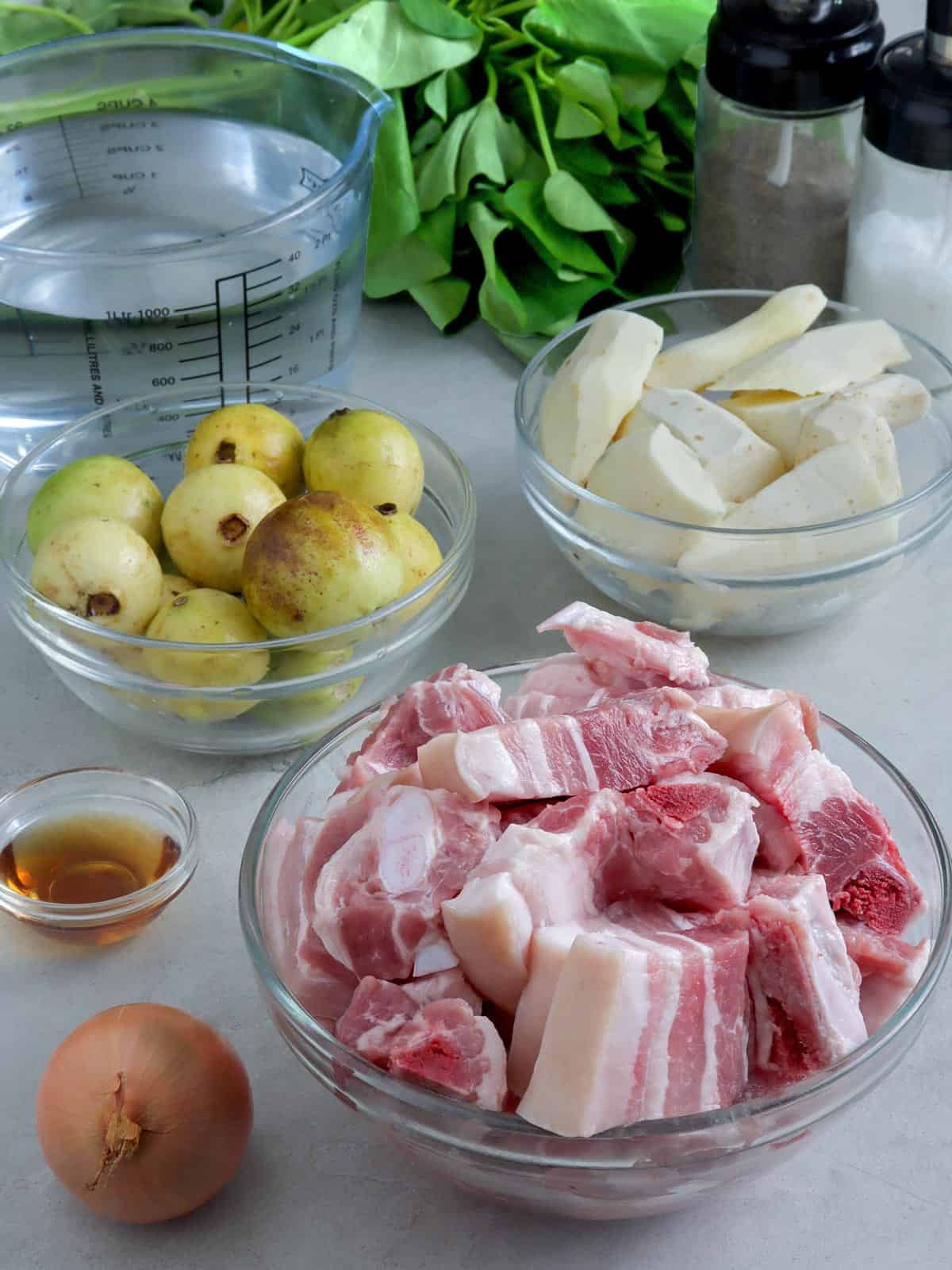 On a positive note, there seems to be an abundance of tropical fruits, probably because of its sub-tropical climate. I can go to any supermarket and access boatloads of papaya, star fruit, dragon fruit, mango, and guava!
And what does a Kapampangan do with boatloads of juicy guavas? Make pork bulanglang, of course. 🙂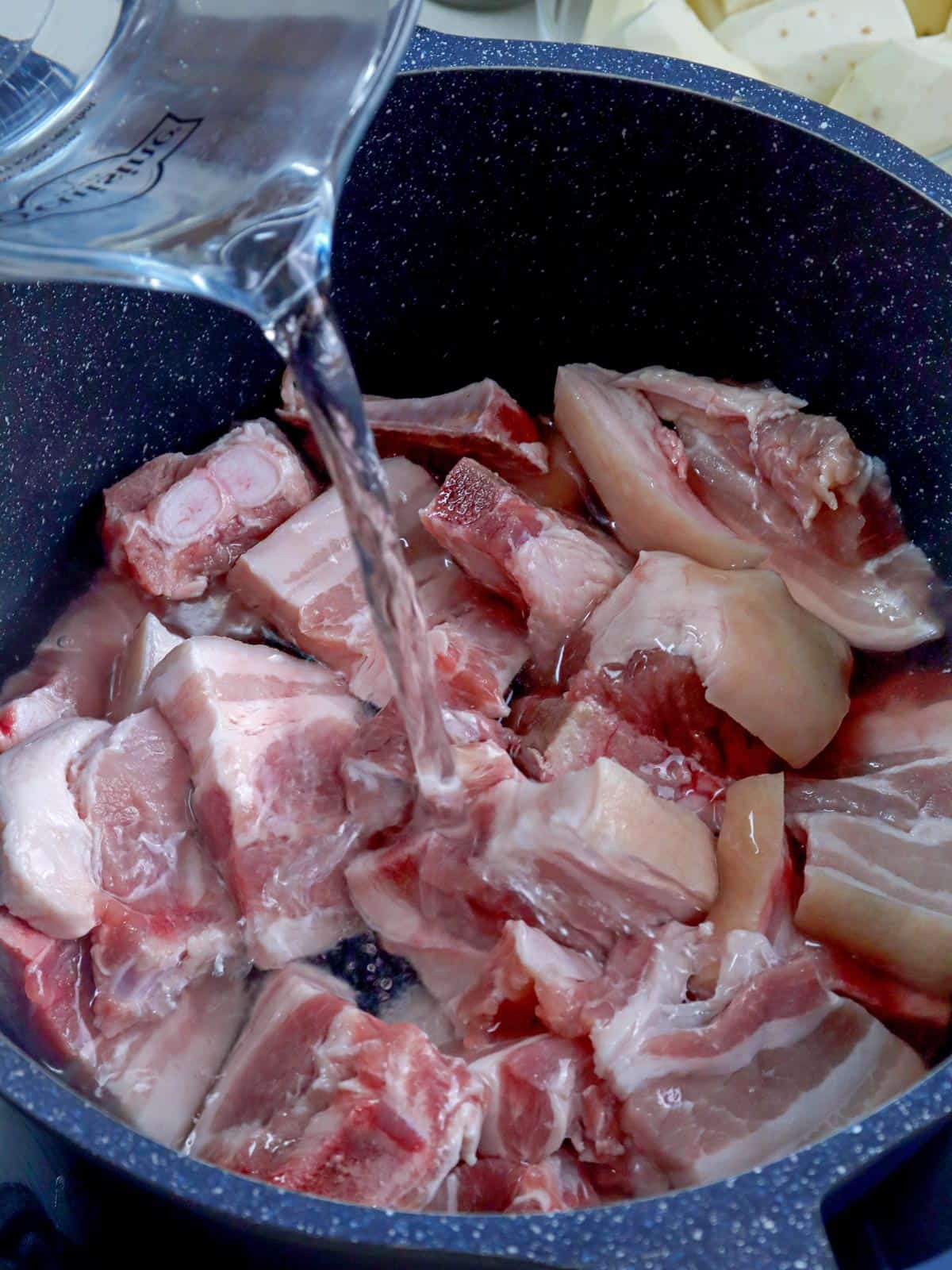 While bulanglang in other areas refers to a boiled vegetable dish flavored with fermented fish or bagoong, it is, in the Pampanga region, the collective term for the different kinds of sinigang na bayabas. This sinigang variant can be made with pork, shrimp, or milkfish, and traditionally includes kangkong, puso nang saging, and gabi.
In contrast to the sharp tang of the more popular tamarind-based sour soup, Kapampangan bulanglang is delicate tasting with a subtle note of sourness and a slight hint of sweetness from the fruit. Delicious on its own or served with steamed rice, it's a comforting soup to enjoy on a cold rainy day yet can be equally refreshing during the hot summer months.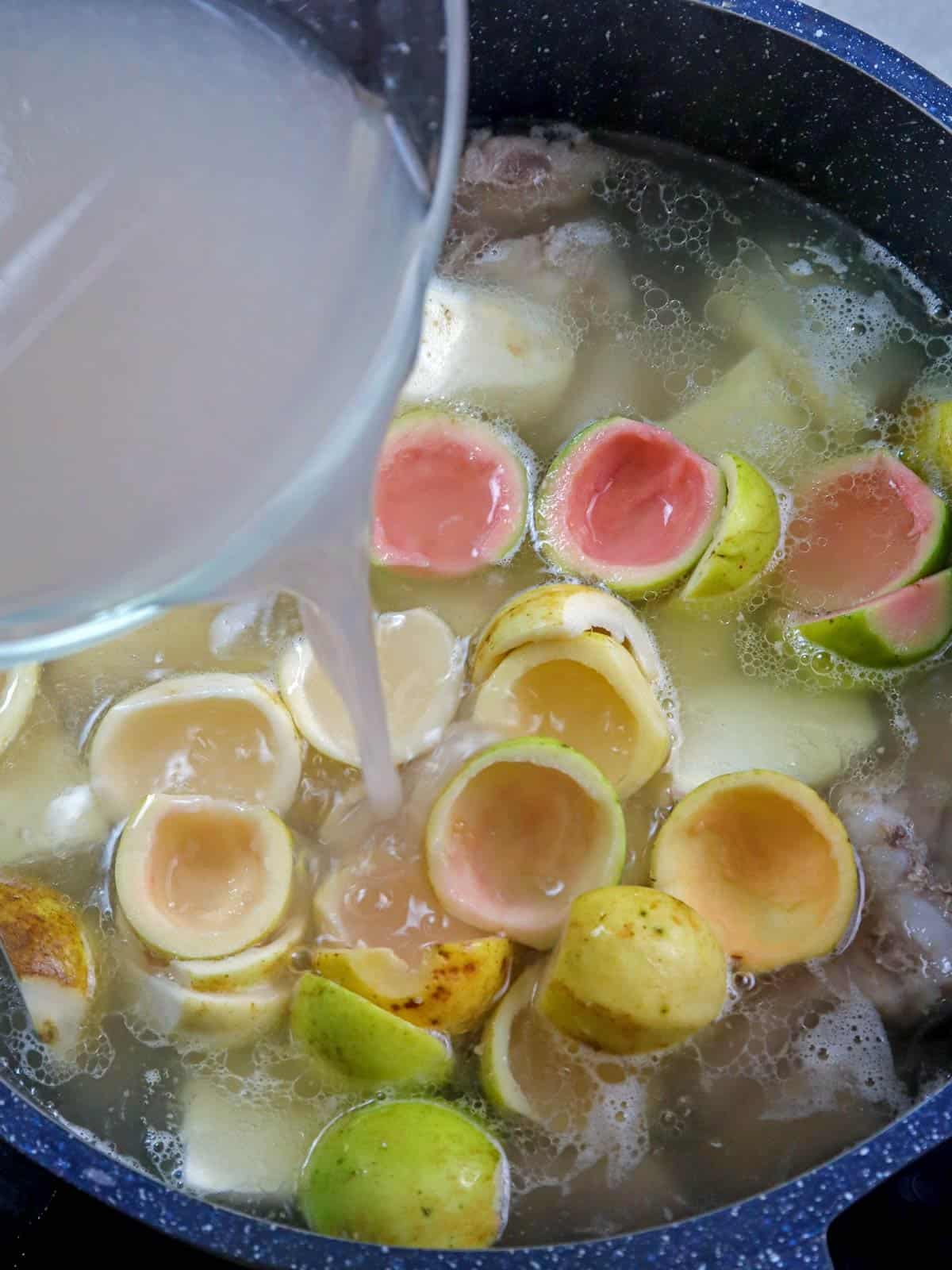 Ingredient notes
Meat- I like pork belly with ribs in my sinigang as it has a good mix of fat and meat. You can swap with pork shoulder as a leaner option or spare ribs for deeper flavor.
Guava- I use small Mexican cream guavas with thin pale-yellow skin,  creamy white flesh, and soft, edible seeds. Some varieties have harder seeds and thicker flesh, so you might have to peel them and cook them longer.
Vegetables- kangkong (swamp spinach) and gabi are traditional. Some versions also include puso ng saging.
Cooking tips
The seeds are not something you'd want to bite into in the soup but they do carry flavor. In a bowl, combine the scooped seeds with about a cup of water and mash with the back of a spoon. Strain in a fine-mesh sieve, discard the seeds and add the extracted juice to the pot.
Use a mix of almost ripe and still green guavas for a good balance of sour and sweet fruit taste.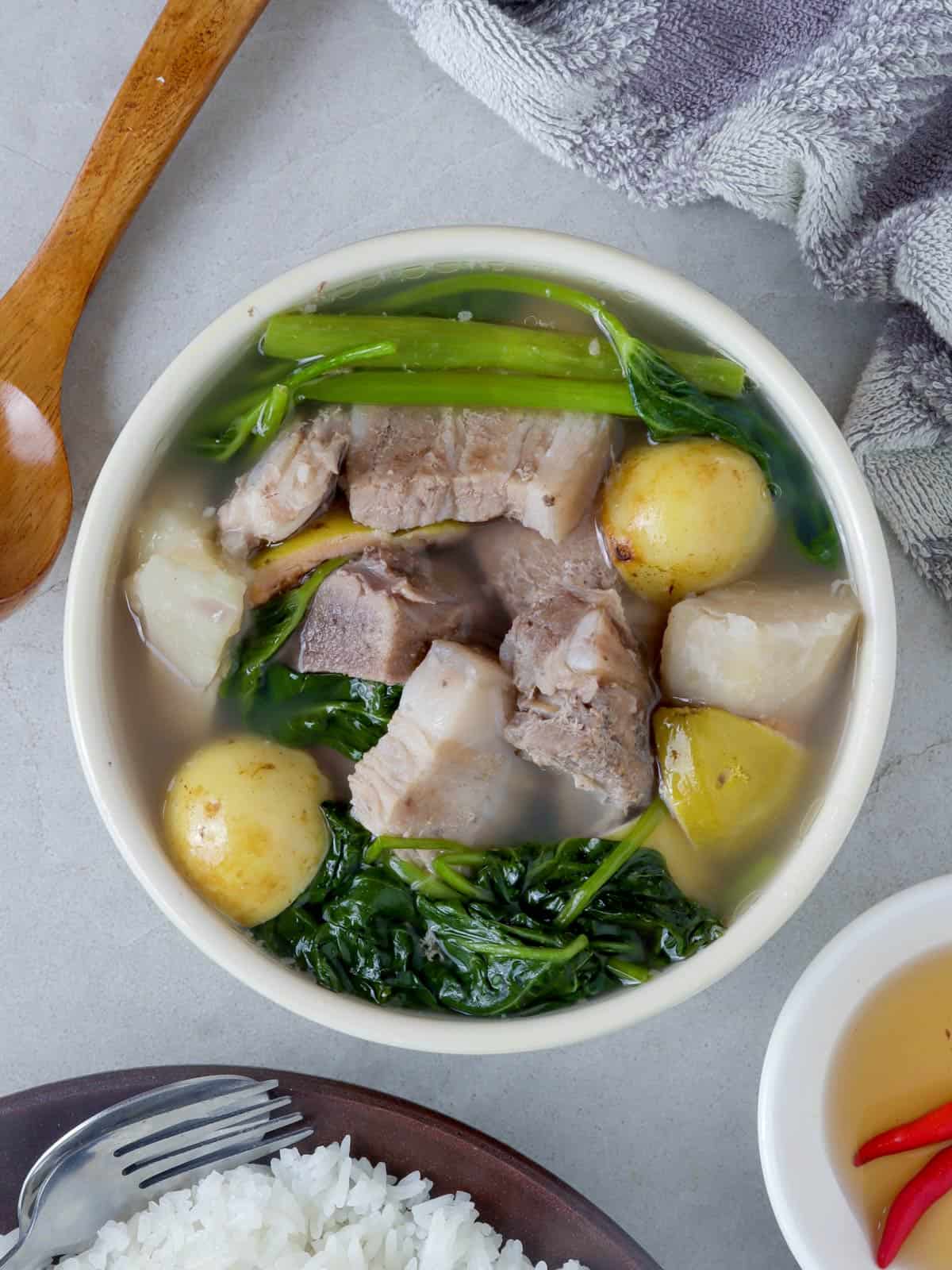 How to serve and store
Serve this Kapampangang Bulanglang na Baboy piping hot as a main dish for lunch or dinner with steamed rice and spiced fish sauce for dipping.
Store leftovers in a container and refrigerate for up to 3 days.
Reheat in a pot on the stove or in the microwave at 2 to 3-minute intervals until hot.
Kapampangan Sinigang sa Bayabas is a Filipino sour soup that's delicious with steamed rice. Loaded with tender pork belly, vegetables, and a refreshing guava flavor, it's the ultimate cold weather comfort food.
Course:
Main Entree, Soup
6 Servings
Ingredients
2 pounds pork belly, cut into 2-inch cubes
7 cups water
1 onion, peeled and quartered
1 tablespoon fish sauce
1 bunch kangkong
1 pound (about 10 to 12 pieces) fresh guava
8 pieces gabi, peeled and cut into 2-inch chunks
salt to taste
Instructions
In a pot over medium heat, combine pork and water. Bring to a boil, skimming scum that floats on top.

When the broth has cleared, add onions and fish sauce.

Lower heat, cover, and continue to cook for about 1 to 1 ½ hours or until pork is tender. Add more water in ½ cup increments, if needed, to maintain about 6 cups.

Meanwhile, cut into guavas into halves and using a small spoon, scoop out the seeds.

In a bowl, combine guava seeds and the remaining 1 cup water. Using the back of a spoon, mash to extract pulp and strain in a fine-mesh sieve. Reserve the guava juice and discard the seeds.

Trim about 2 inches from the kangkongs stalks and discard. Cut kangkong into 3-inch lengths, separating the sturdier stalks from the leaves. Wash thoroughly and drain well. Set aside.

Add gabi, sliced guava, and the guava juice to the pot and continue to cook for about 5 minutes or until tender.

Season with salt to taste.

Add kangkong beginning with the sturdier stalks and then the leaves. Continue to cook for about 1 to 2 minutes. Serve hot.
Notes
Use a mix of almost ripe and still green guavas for a good balance of sour and sweet fruit taste.
Video
"This website provides approximate nutrition information for convenience and as a courtesy only. Nutrition data is gathered primarily from the USDA Food Composition Database, whenever available, or otherwise other online calculators."