Pancit Palabok is a delicious Filipino noodle dish topped with shrimp gravy, shrimp, smoked fish flakes, pork cracklings, and eggs. Hearty and savory, it's perfect as a light meal or anytime snack.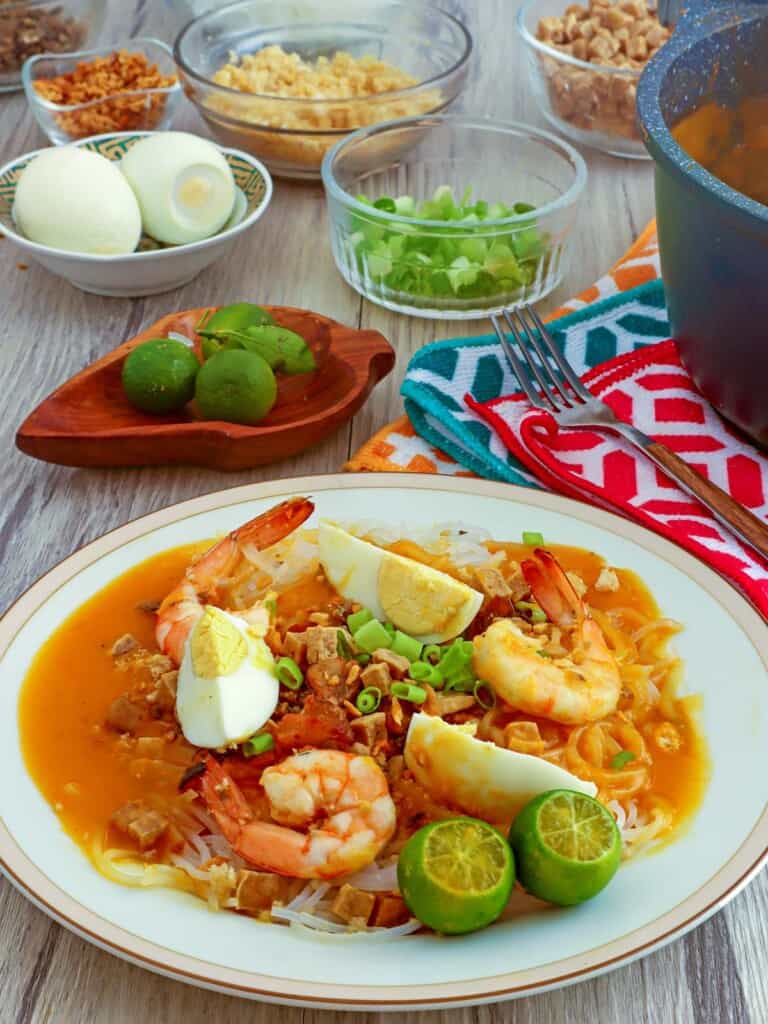 Pancit palabok is another example of the many noodle dishes in Filipino cuisine. But unlike the stir-fried bihon guisado or the broth-filled sotanghon soup, which have Chinese influences, the former is said to be uniquely Filipino.
The dish has three parts. The rice noodles are first cooked in boiling water and then smothered with a flavorful, orange-hued shrimp sauce and a delectable mishmash of toppings before serving.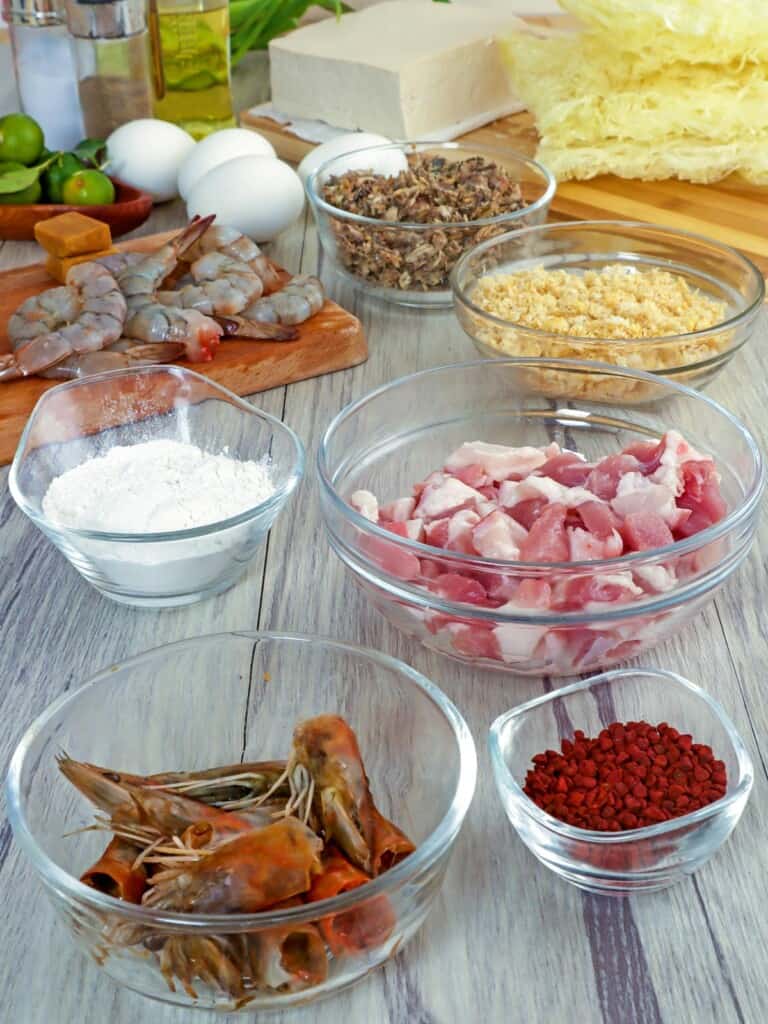 As you can see from the recipe below, pancit palabok can be a very elaborate process with a myriad of ingredients. You can make it as fancy as you like and load it up with all the toppings or make it a simple affair with two or three of your favorite mix-ins.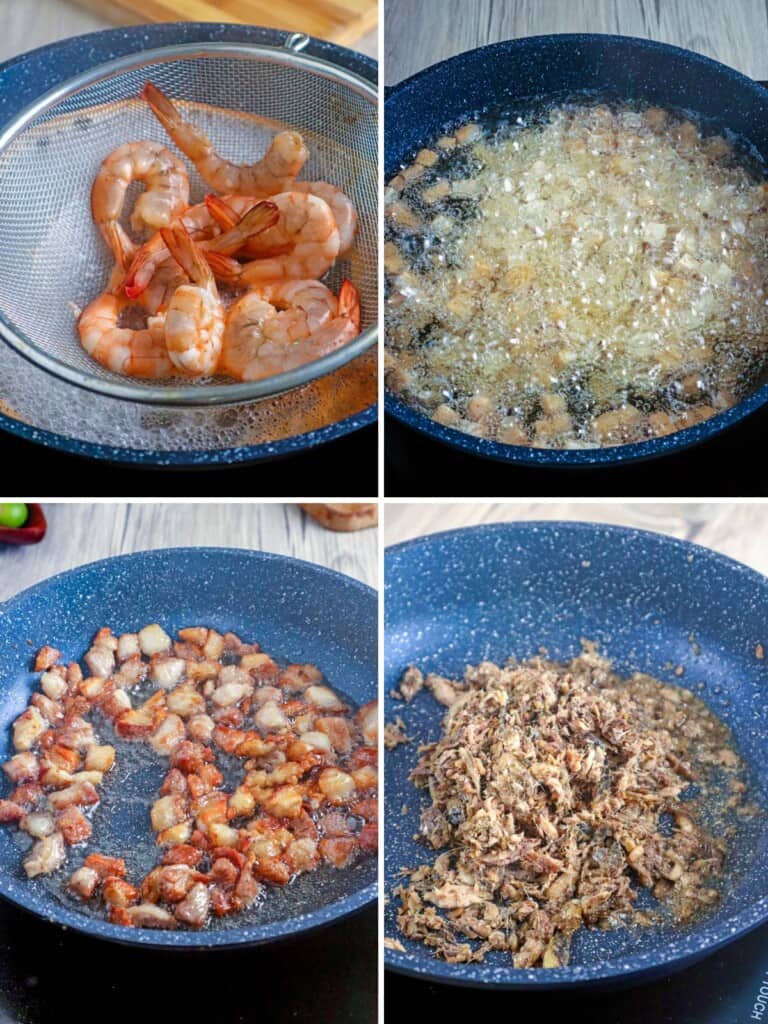 Topping choices
Smoked fish flakes (tinapa)
Crushed pork cracklings (chicharon)
Crisp bacon or chopped lechon kawali
Poached shrimp
Fried garlic bits or crispy fried shallots
Hard-boiled eggs
Green onions
Steamed squid, scallops, or mussels
Fried tofu cubes
Ground pork or diced pork belly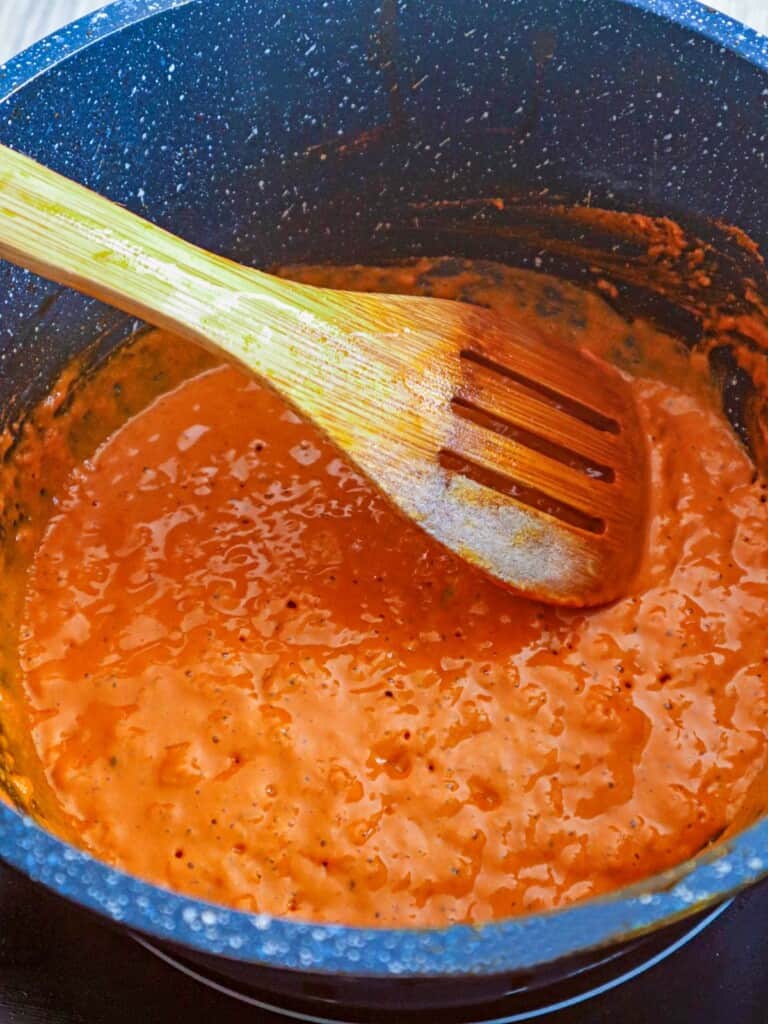 Shrimp gravy
The dish's foundation is a luscious orange-hued sauce or gravy made of shrimp stock, annatto seeds, and cornstarch.
I suggest preparing the toppings first, as you will need the rendered fat from the bacon, the oil used in frying garlic, and the liquid used in cooking the shrimp to bring an extra depth of flavor to the sauce.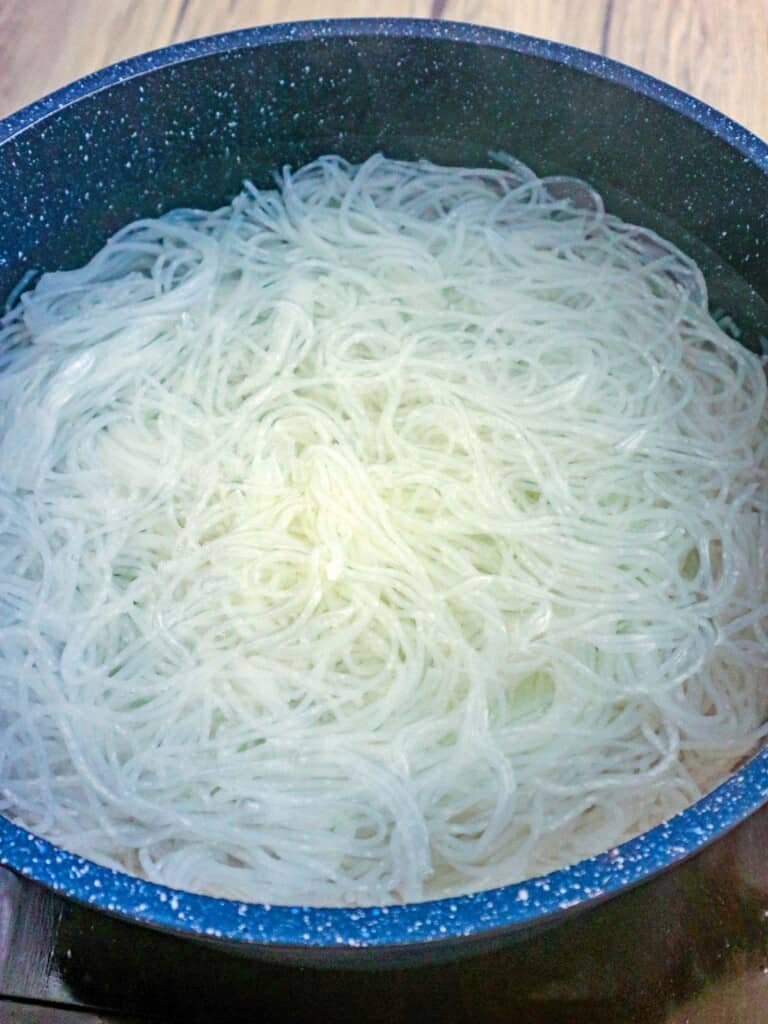 Noodles
You can use cornstarch or rice stick noodles, either thick or thin variety. Cook in a pot of boiling water just until al dente.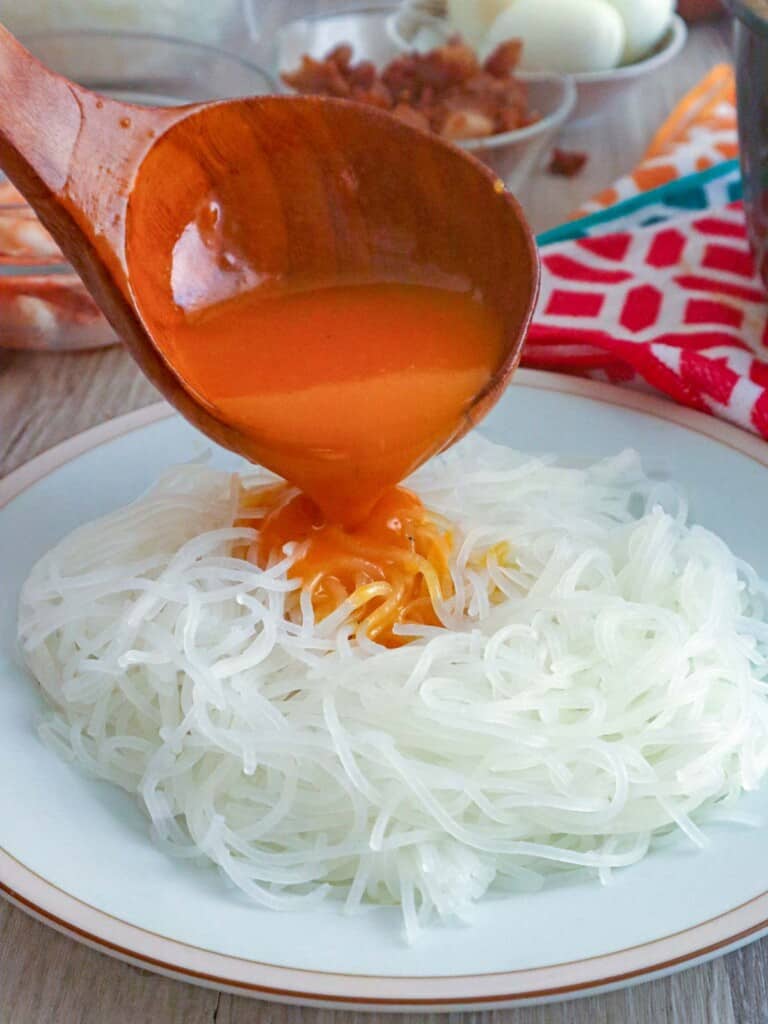 How to serve for a party
It is customary to pre-mix the noodles, sauce, and toppings before serving the Pancit palabok for a party, but although still flavorful, I find it a little less appetizing when dried out and barely warm.
The way I serve it for a crowd is I keep the shrimp gravy continuously heated in a crockpot. I set the various toppings individually in small serving containers and the cooked rice noodles on a large platter with a chafing dish filled with hot water alongside it on the buffet table.
The guests can then use a noodle strainer to dip the noodles briefly in hot water to reheat and pile on the shrimp sauce and toppings they like.
This method involves a bit more work, and the queue can get busy around the buffet table, but the guests appreciate the novelty of pulling together their own plate of palabok. Not only is the pancit fresh and hot, bonus points for being able to pick their own choice of toppings!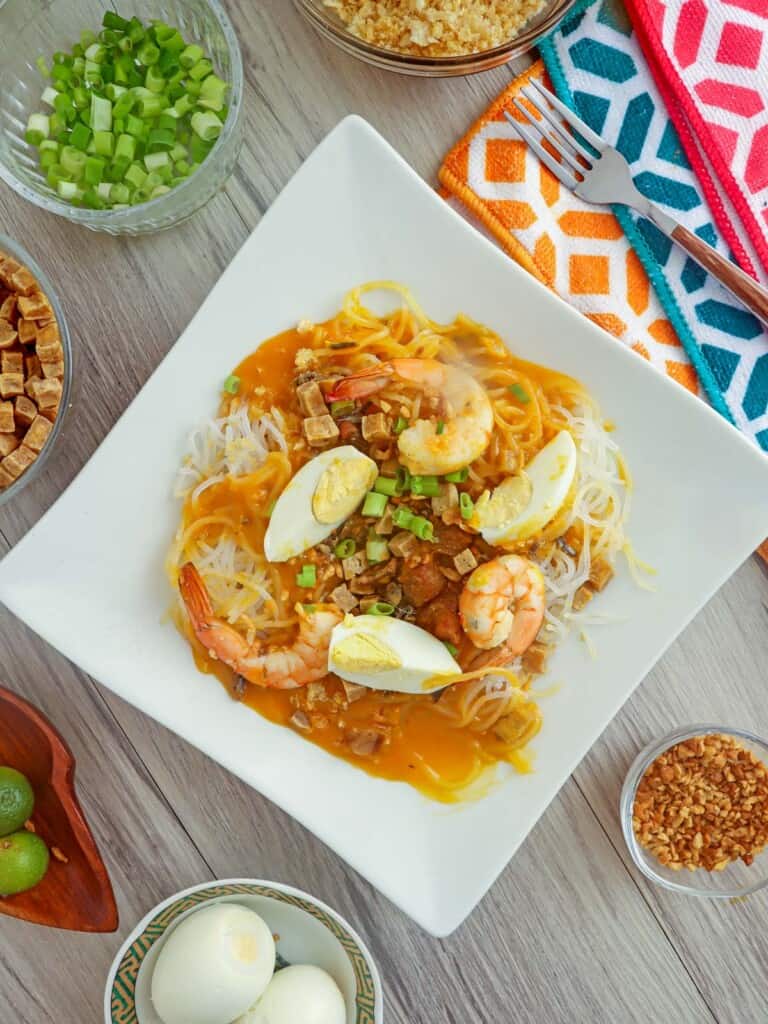 How to store
For best results, store the noodles, sauce, and toppings in individual containers. Refrigerate for up to 3 days.
The sauce can be frozen for up to 3 months. The pancit doesn't freeze well and might turn mushy when frozen and thawed.
How to reheat leftovers
Microwave- I find the most convenient method of reheating leftovers is in the microwave. Assemble the noodles, sauce, and toppings on a microwave-safe plate and warm up at 2 to 3-minute intervals until heated through.
On the stovetop- quickly plunge cooked noodles into boiling water. Reheat the sauce in a saucepan, adding more water or stock as needed to loosen the consistency. Heat the toppings on a dry skillet, turning as needed until completely warmed through.
Pancit Palabok with rice noodles, flavorful shrimp gravy, and assorted toppings makes a delicious midday snack or main meal and is sure to be a family favorite. Perfect for gatherings and special occasions!
Servings
Ingredients
For the Toppings
½ pound shrimp
½ pound pork belly, diced
8 ounces firm tofu
½ cup tinapa flakes
1 head garlic, peeled and minced
1 cup pork cracklings (chicharon), crushed
4 hardboiled eggs, peeled and quartered
¼ cup green onions, chopped
calamansi or lemon, cut into wedges
For the sauce
shrimp heads ( reserved from peeling the shrimp)
5 cups water
¼ cup canola oil
2 tablespoons annatto seeds
⅓ cup flour
2 pieces shrimp bouillon
For the noodles
1 package (8 ounces) cornstarch or rice stick noodles
Instructions
For the Toppings
Peel shrimp, leaving tail intact. Reserve shrimp heads. In a saucepan over medium heat, bring 1 cup water to a boil. Place shrimp in a fine-mesh sieve and dip in the boiling water until the shrimp change color. Remove from the pot and set aside. Reserve liquid.

In a skillet over medium heat, add pork belly and cook, stirring occasionally, it releases oil. Continue to cook until browned and cooked through. Remove from pan and drain on paper towels.

Drain tofu from packing liquid and wrap with paper towels to rid of extra moisture. Cut into ¼-inch cubes. In a wide pan, heat about 1-inch deep of oil. Add tofu and deep-fry until golden brown and crisp. Using a slotted spoon, remove from, and set aside.

In a pan over medium heat, add 1 tablespoon oil. Add tinapa flakes and cook, stirring regularly, for about 1 to 2 minutes or until lightly browned and heated through. Remove from pan and set aside.

In a small pan over low heat, heat about ¼ cup oil. Add garlic and cook until lightly browned and crisp. With a slotted spoon, remove toasted garlic and drain on paper towels. Reserve 3 tablespoons of the garlic oil.
For the Sauce
With a knife, coarsely chop reserved shrimp heads.

In a pot over medium heat, combine shrimp heads and 5 cups water. Bring to a boil, skimming any foam that rises on top. Lower heat and simmer for about 10 minutes to extract flavor. Using a fine-mesh strainer, strain liquid and discard shrimp solids. Reserve 5 cups of the stock.

In a saucepot over medium heat, heat ¼ cup canola oil. Add 2 tablespoons of annatto seeds and cook, stirring regularly, until oil is infused with deep-orange color. With a slotted spoon, remove seeds and discard.

Add flour to the annatto oil and cook, stirring constantly, for about 1 minute or until smooth.

Slowly add shrimp stock, whisking vigorously to prevent lumps. Bring to a boil and then lower heat to a simmer.

Add shrimp bouillon and stir until dissolved.

Cook, stirring regularly, for about 3 to 5 minutes or until thickened. Season with salt and pepper to taste.
For the noodles
In a large bowl, soak rice noodles in water for about 1 to 2 minutes or just until loosened. Drain well.

In a pot over medium heat, bring about 6 cups water to a brisk boil. Add noodles and cook for about 1 minute. Drain well.
To serve
Place noodles onto serving plates. Spoon sauce over noodles. 

Top with shrimp, chicharon, fried pork, crispy tofu, tinapa flakes, hardboiled eggs, toasted garlic bits, and green onions. Serve with calamansi wedges.
Video
Nutrition Information
Calories: 440kcal, Carbohydrates: 8g, Protein: 19g, Fat: 36g, Saturated Fat: 10g, Polyunsaturated Fat: 6g, Monounsaturated Fat: 17g, Trans Fat: 0.04g, Cholesterol: 166mg, Sodium: 242mg, Potassium: 210mg, Fiber: 1g, Sugar: 1g, Vitamin A: 221IU, Vitamin C: 2mg, Calcium: 88mg, Iron: 2mg
"This website provides approximate nutrition information for convenience and as a courtesy only. Nutrition data is gathered primarily from the USDA Food Composition Database, whenever available, or otherwise other online calculators."