Pancit Langlang is a delicious combination of fresh miki and cellophane noodles with ground pork, flaked chicken, and tender-crisp vegetables. It's hearty, tasty, and perfect for family dinners or special gatherings.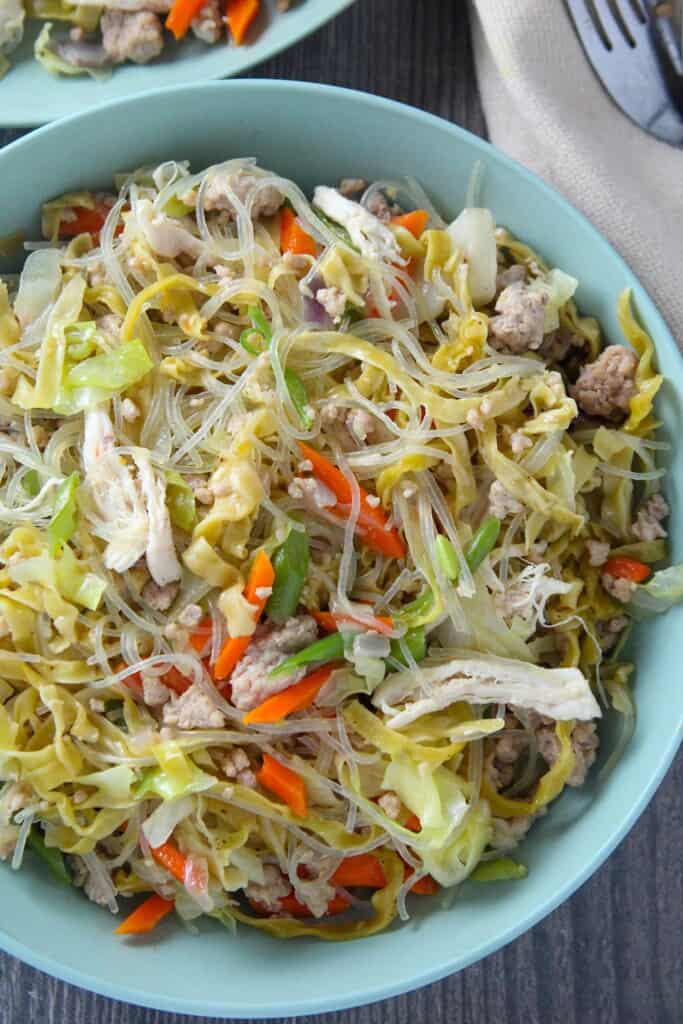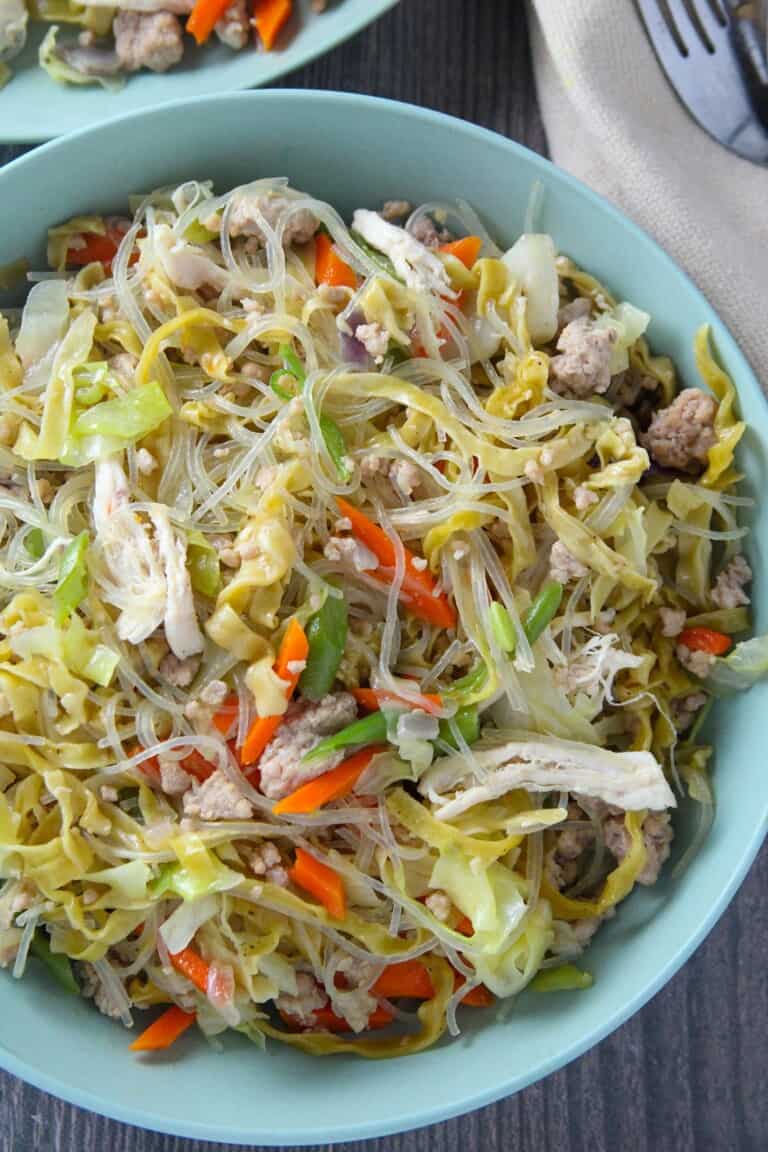 I shared a Panda Express chow mein copycat recipe a couple of weeks ago, and I realized it's been months since I last posted a traditional Filipino noodle dish. I have quite a few pancit recipes already on the blog, but there's a lot more to explore!
I came across this Pancit Langlang on Youtube when I was researching our regional varieties of pancit, and its list of ingredients caught my interest. It's not uncommon to combine different types of noodles in one pancit dish, miki bihon being a prime example, but the addition of ground pork was a new concept to me.
And the fact that Pancit Langlang is claimed to have been Jose Rizal's favorite was a selling point for me! Who can resist something so old and so rich in history, right?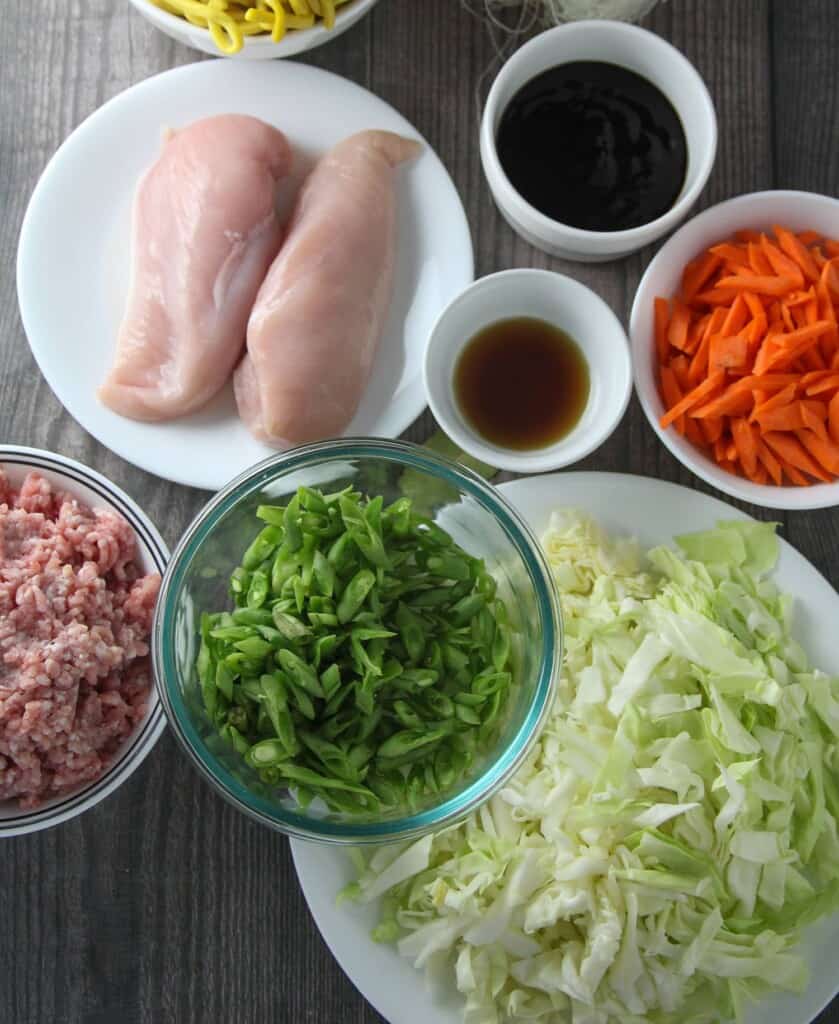 Rizal so loved this pancit, he often asked his brother, Paciano, to send him the noodles during his stay in Europe. There's even a passage in his novel, El Filibusterismo, he wrote about his favorite comfort food!
Mga ginoo; ang pansit-langlang ay siyang sopas na pinakamabuti! —ang sigaw ni Makaraig; —gaya nang makikita ninyo, Sandoval, ang halo ay kabuti, hipon, tiniping itlog, sutanghon, manok, at hindi ko na maalaman kung ano pa. Bilang pamago ay ihandog natin ang mga buto kay D. Custodio; tingnan natin, magpanukala siya tungkol dito!
Chapter XXV- Tawanan – Iyakan, El Filibusterismo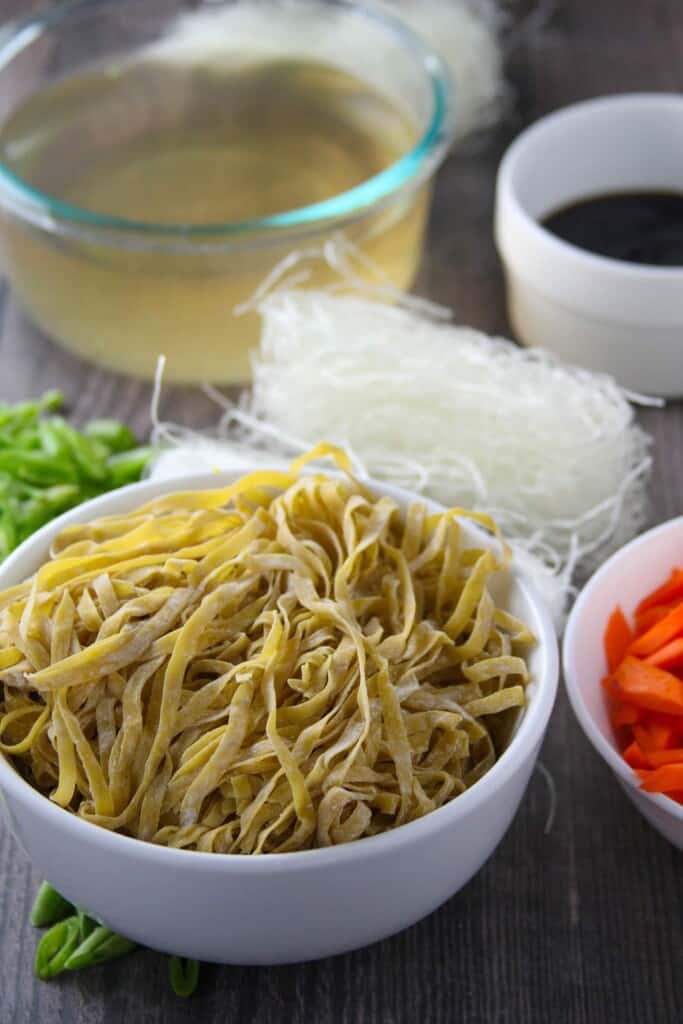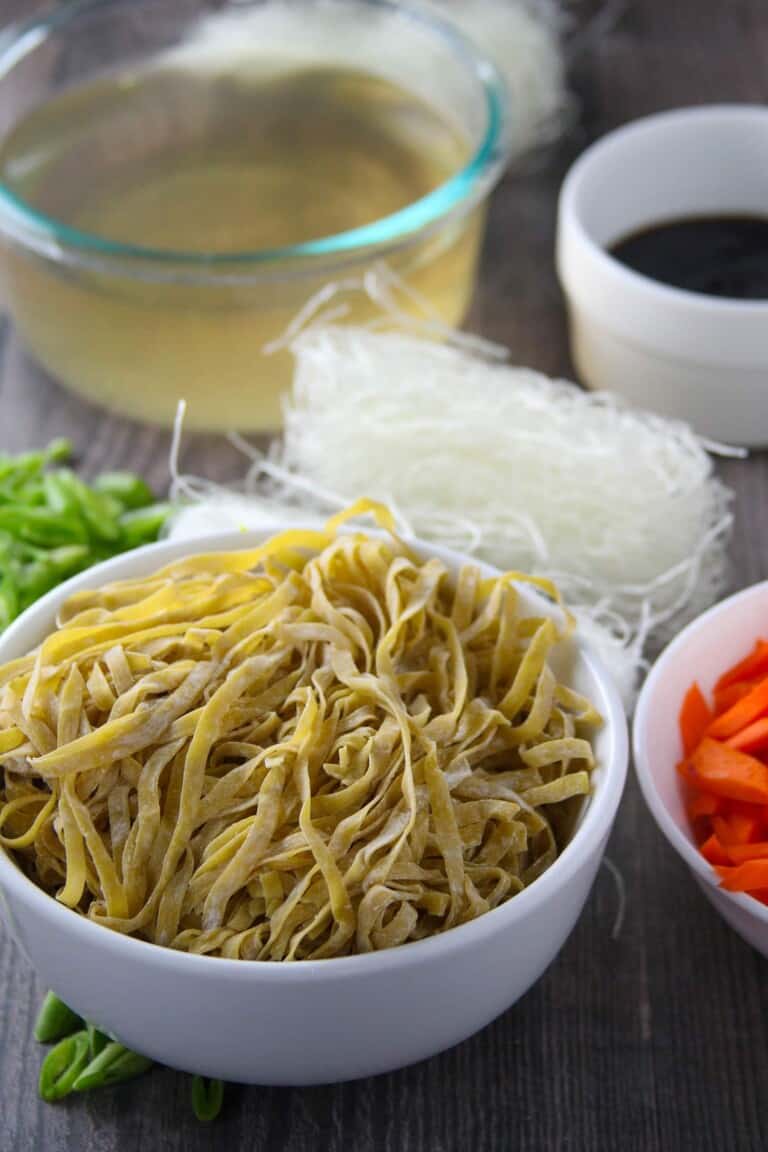 In the book, he actually referred to this pancit as sopas (soup). In my further readings, Pancit Langlang appears not a type of noodle dish but a type of noodle that is similar to our modern-day flat, thin miki.
Various regions in the Philippines have some form or another of Pancit Langlang. Iloilo has a noodle soup version which uses Pancit Molo while Cavite's similar to the Pancit Mami and Batangas' is a stir-fried combination of miki and either bihon or sotanghon.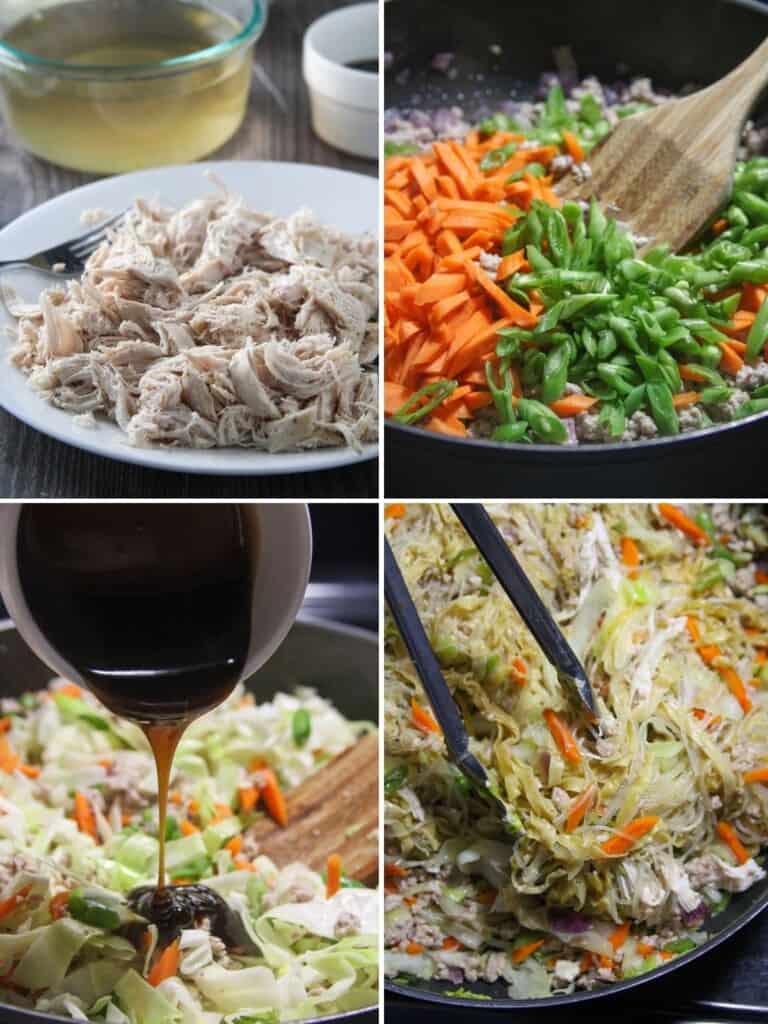 Enough of the history; let's get to the recipe!
Cooking tips
While ground pork is a standard ingredient, this pancit is the perfect canvas for whatever assortment of protein and veggies you have on hand. Feel free to add or swap Chinese-style sausage, kinchay (Chinese celery), tenga ng daga (black fungus), and hibi (dried baby shrimp).
You can also top the cooked noodles with toasted garlic, green onions, and crushed chicharon or chopped lechon kawali, if desired.
Poach the chicken instead of boiling. This low heat, moist cooking method helps food retain moisture resulting in juicy, flavorful chicken pieces. Plus you also get a full-bodied poaching liquid to pull together the stir-fried noodles!
For fast and even cooking, cut the vegetables in uniform and bite sizes.
To toss the ingredients freely and without spills, use a wok or a wide skillet with high sloping sides.
Use tongs to stir-fry to help keep the noodles intact and lessen breakage.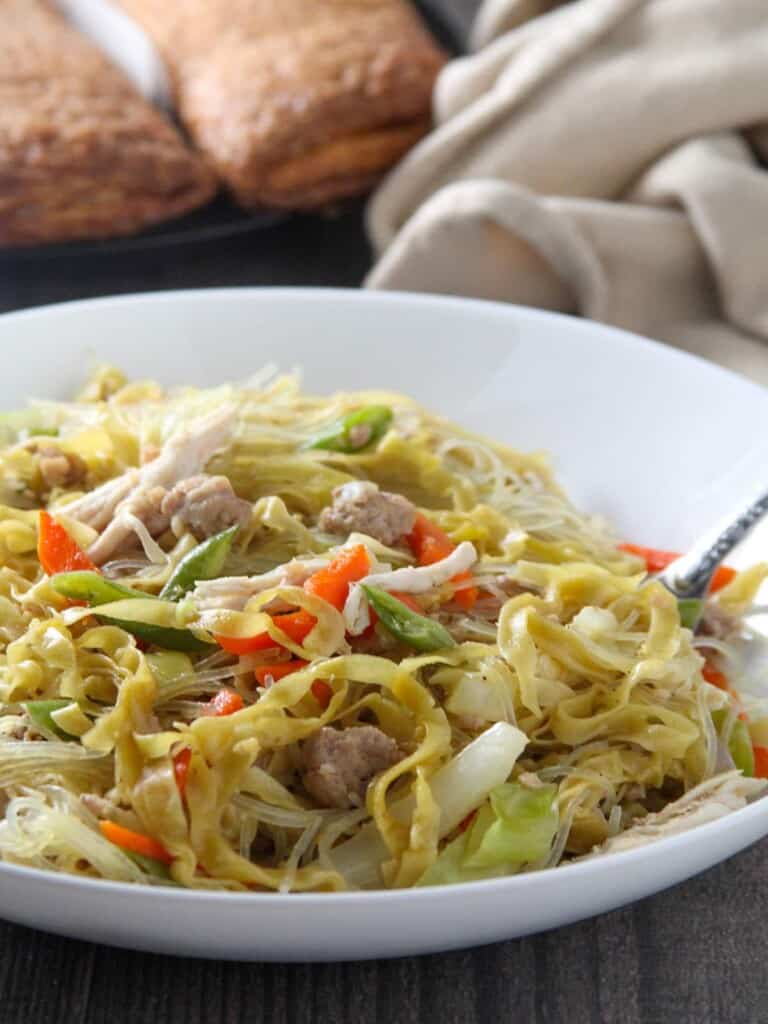 How to serve and store
As with other pancit dishes, pancit langlang is a delicious and filling midday snack or main meal. It also makes a tasty addition to parties or special occasions.
Enjoy with puto, pandesal, or steamed rice.
Transfer leftovers to a container with a lid and refrigerate for up to 3 days. This dish doesn't freeze well.
Pancit Langlang is a tasty addition to family dinners or special occasions. This Filipino noodle dish is loaded with ground pork, chicken, and veggies for a hearty and tasty meal.
Servings
Ingredients
1 pound boneless, skinless chicken breasts
1 onion, peeled and quartered
1 teaspoon salt
1 teaspoon peppercorns
2 bay leaves
4 ounces cellophane noodles (sotanghon)
2 tablespoons vegetable oil
1 onion, peeled and chopped
3 cloves garlic, peeled and minced
1 pound ground pork
1/4 cup oyster sauce
2 tablespoons sesame oil
1 cup carrots, peeled and julienned
1 cup green beans, cut thinly on a bias
1/2 small cabbage, sliced thinly
2 cups broth (reserved from poaching the chicken)
16 ounces fresh miki noodles (thin and flat)
Instructions
In a large pot, arrange chicken in a single layer. Add quartered onions, salt, peppercorns, and bay leaves.

Add enough cold water to cover chicken to about 1-inch high (I used about 6 cups). Bring to a boil, skimming scum floats on top.

Cover, reduce heat to low, and gently simmer for about 10 to 15 minutes or until the chicken breasts are just cooked through.

With a slotted spoon remove chicken and allow to cool. Shred chicken and set aside.

Strain the poaching liquid and reserve about 2 cups.

In a bowl, soak cellophane noodles in warm water just until softened. Drain and set aside.

In a wok or wide skillet over medium heat, heat canola oil. Add onions and garlic and cook until softened.

Add ground pork and cook, stirring occasionally, until lightly browned.

Add carrots and green beans. Cook for about 1 minute or until half-done.

Add cabbage and cook for another 1 minute or until half-done.

Add oyster sauce and sesame oil. Stir to combine.

Add miki noodles and cellophane noodles.

Add broth, starting with one cup and adding more as needed. 

Add shredded chicken.

Using tongs, gently toss together until combined. Season with salt and pepper to taste.

Continue to cook until the noodles are cooked yet firm to bite, the liquid is mostly reduced and the vegetables are tender-crisp. 

Remove from heat and transfer to a serving platter. Garnish with toasted garlic and green onions, if desired. Serve hot.
Notes
Use tongs to stir-fry to help keep the noodles intact and lessen breakage.
Video
Nutrition Information
Calories: 205kcal, Carbohydrates: 5g, Protein: 15g, Fat: 14g, Saturated Fat: 5g, Cholesterol: 51mg, Sodium: 398mg, Potassium: 353mg, Fiber: 1g, Sugar: 2g, Vitamin A: 105IU, Vitamin C: 14.4mg, Calcium: 31mg, Iron: 0.8mg
"This website provides approximate nutrition information for convenience and as a courtesy only. Nutrition data is gathered primarily from the USDA Food Composition Database, whenever available, or otherwise other online calculators."