Kalderetang Kambing is a rich, spicy, and hearty tomato-based stew made with goat meat, potatoes, and carrots. This classic Filipino dish is sure to be a crowd favorite at any special occasion or dinner party. Delicious as an appetizer with alcoholic drinks or a main dish with steamed rice!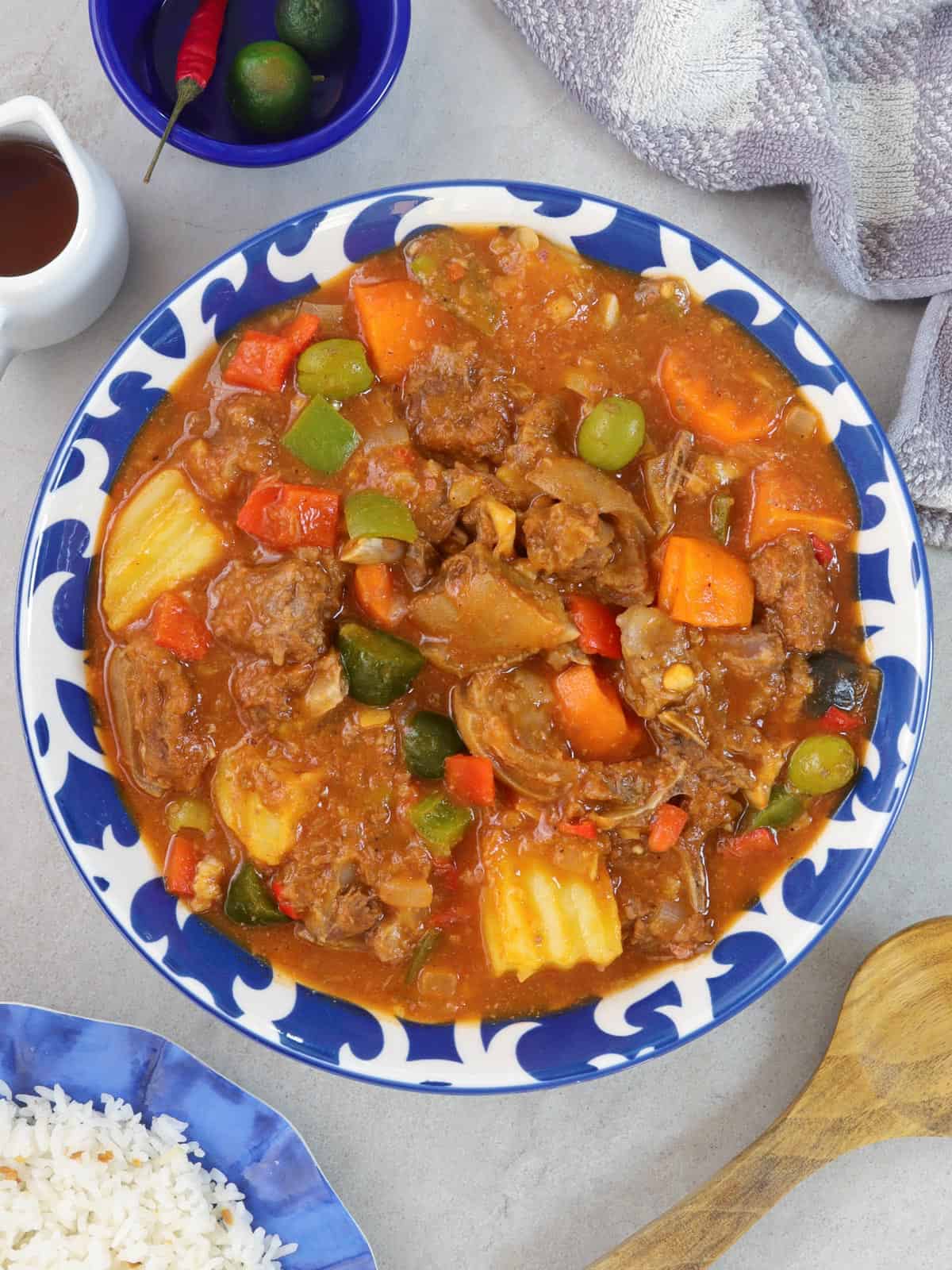 The name caldereta or kaldereta is derived from the Spanish word "caldera," which means cauldron. It originated from the meat stews that the Spaniards brought to the Philippines.
The dish is a staple in Filipino cuisine and uses almost any meat – from goat, beef, pork, chicken, and even fish. It's similar to mechado and afritada as it has almost the same ingredients. But the addition of liver spread or liver sauce makes kaldereta stand out from the other tomato-based stews.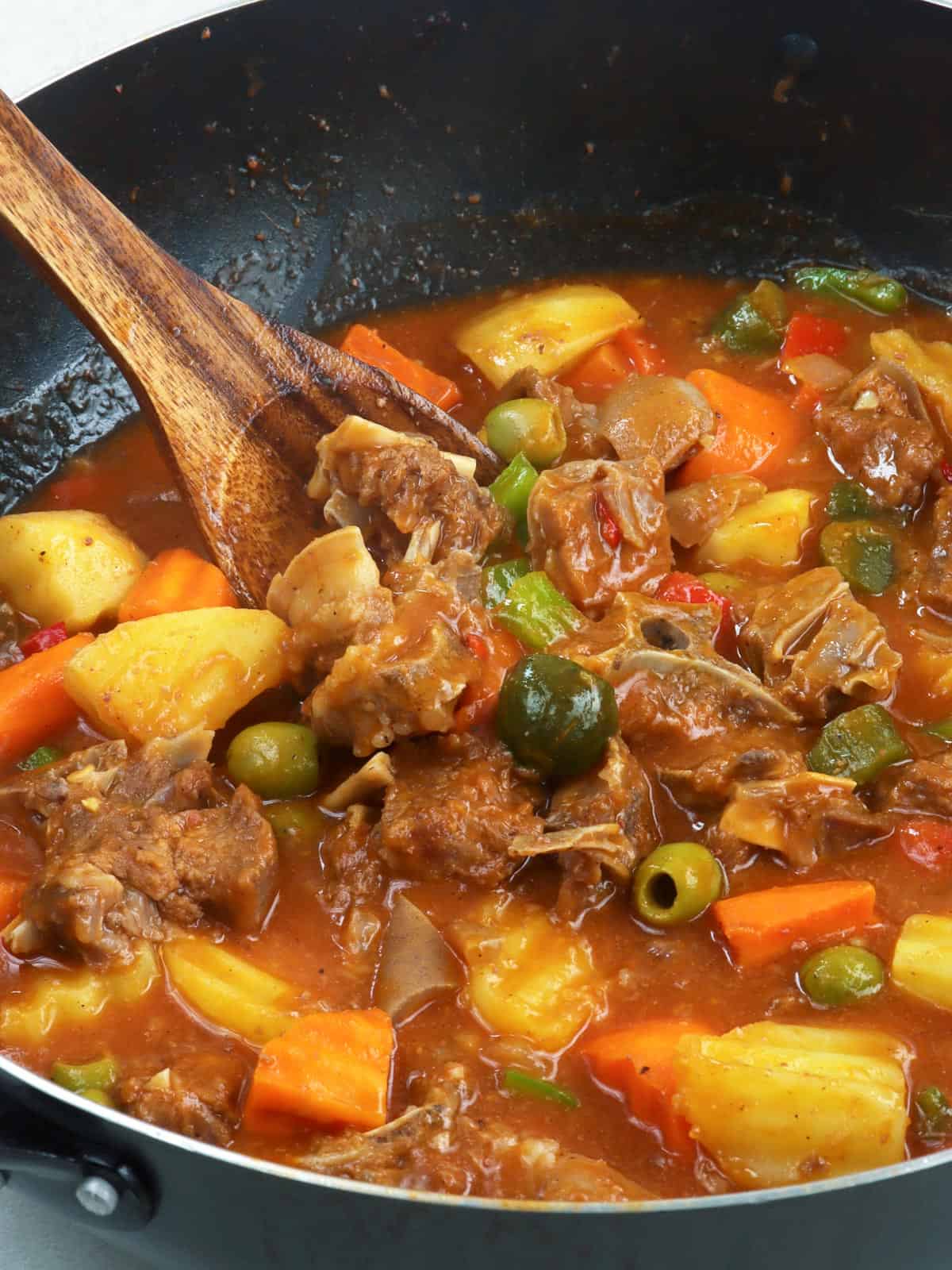 Kalderetang Kambing is a specialty dish of Central and Northern Luzon. It's made with adult goat meat (chevon) braised in spicy tomato sauce and liver paste with potatoes, carrots, olives, and bell peppers.
It's a favorite Filipino pulutan or bar food and is usually served with ice-cold or other hard drinks. Unlike its beef or chicken counterpart, the kambing version is mostly reserved for fiestas, special occasions, or holidays as the meat is not as readily available.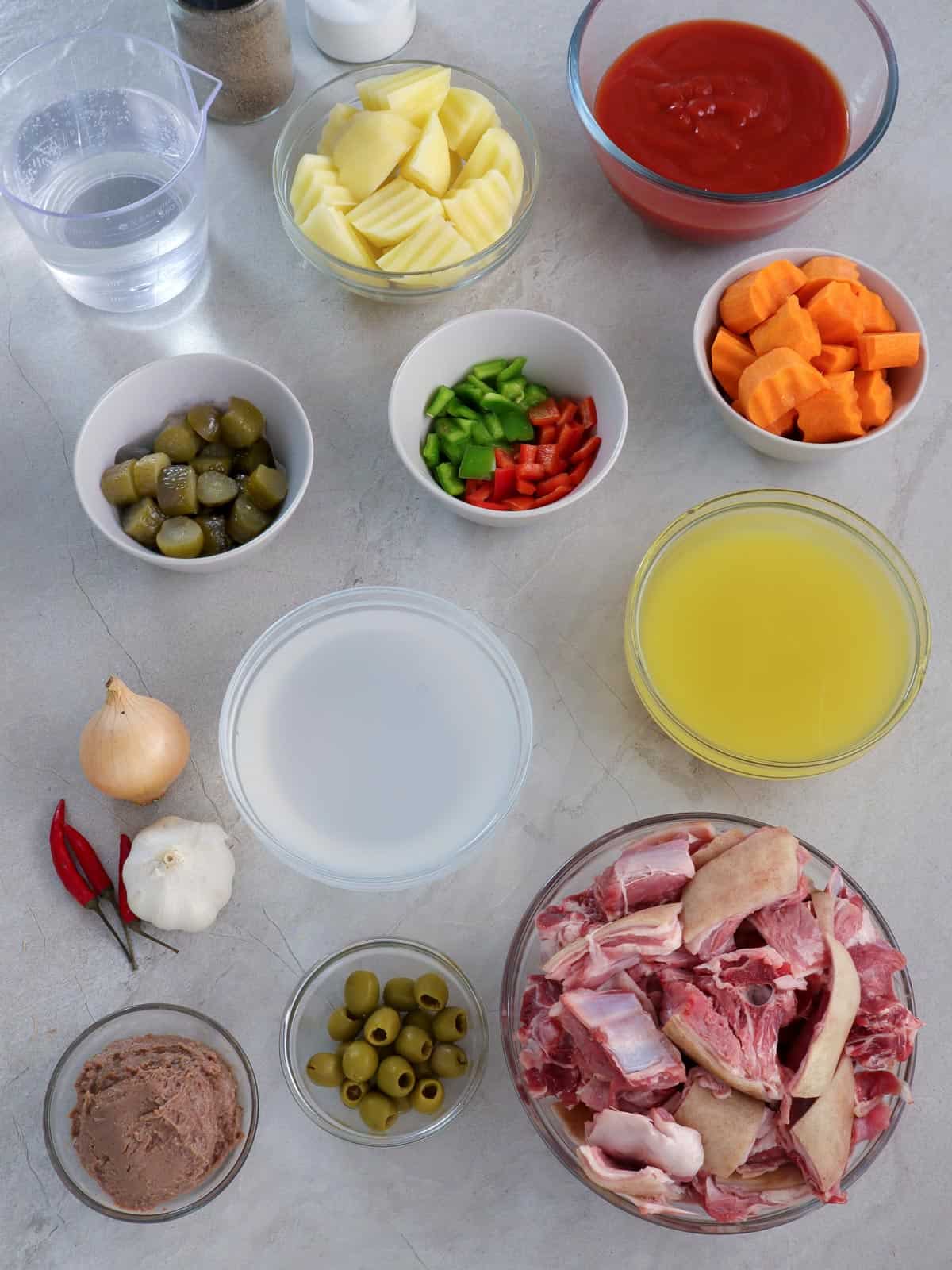 Ingredient notes
Goat- the meat used in this recipe is from adult goats or usually referred to as chevon. Chevon is derived from the French word chèvre, a female goat. It's savory and less sweet than beef but a tad sweeter than lamb.
Vinegar- marinating in an acidic medium such as vinegar or lemon juice helps tenderize the meat and tame the gamey odor and taste
Pineapple juice- adds a fruity sweetness.
Tomato sauce- you substitute with tomato paste; use about 2 tablespoons and add more water or broth
Vegetables- potatoes, carrots, and bell peppers extend servings and add color and texture. You can also add green peas if desired.
Thai Chili Pepper or Bird's eye chili- kicks up the dish with a punch of heat.
Liver Spread- a Filipino-style liverwurst that brings a savory flavor to the dish. You can use pureed fresh pork liver if tinned liver spread is not available. 
Sweet Gherkin Pickles- smaller kinds of cucumbers that have been pickled in vinegar or brine. 
Spanish Olives - Manzanilla is the most common green olive sold in supermarkets. It is added to the kaldereta to provide a nice sour flavor to complement the dish.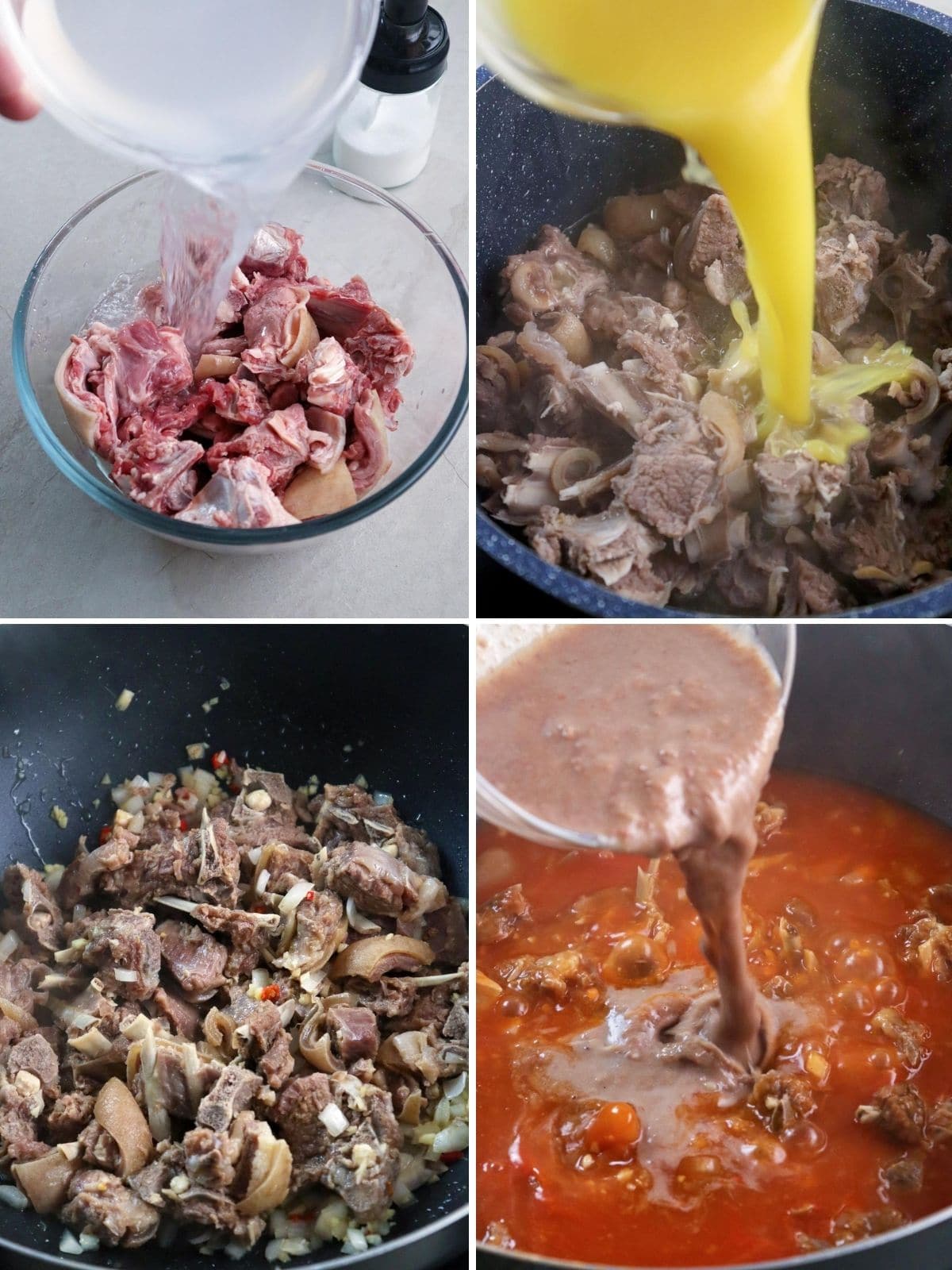 Goat meat is an acquired taste due to its barnyard flavor and odor. It takes a bit more preparation to take the edge off the gamey taste and make it less overpowering.
How to prepare goat meat
Soak the meat in vinegar to remove the gamey taste and speed up cook time. But don't marinate for too long, as vinegar is a strong acid and can dry out the meat, making it tough.
Aside from marinating in vinegar, you can boil the goat meat in pandan leaves to remove the smell.
You can also soak the goat meat in buttermilk or milk for 1 to 2 hours. It has the same effects as vinegar.
Cooking time depends on the goat's age; the older the goat, the longer it cooks. The best way to tell that it is done is when the skin is soft and gelatinous.
Quick tip
Fry the potatoes and carrots before adding them to the stew to help them hold shape in the stew and not fall apart.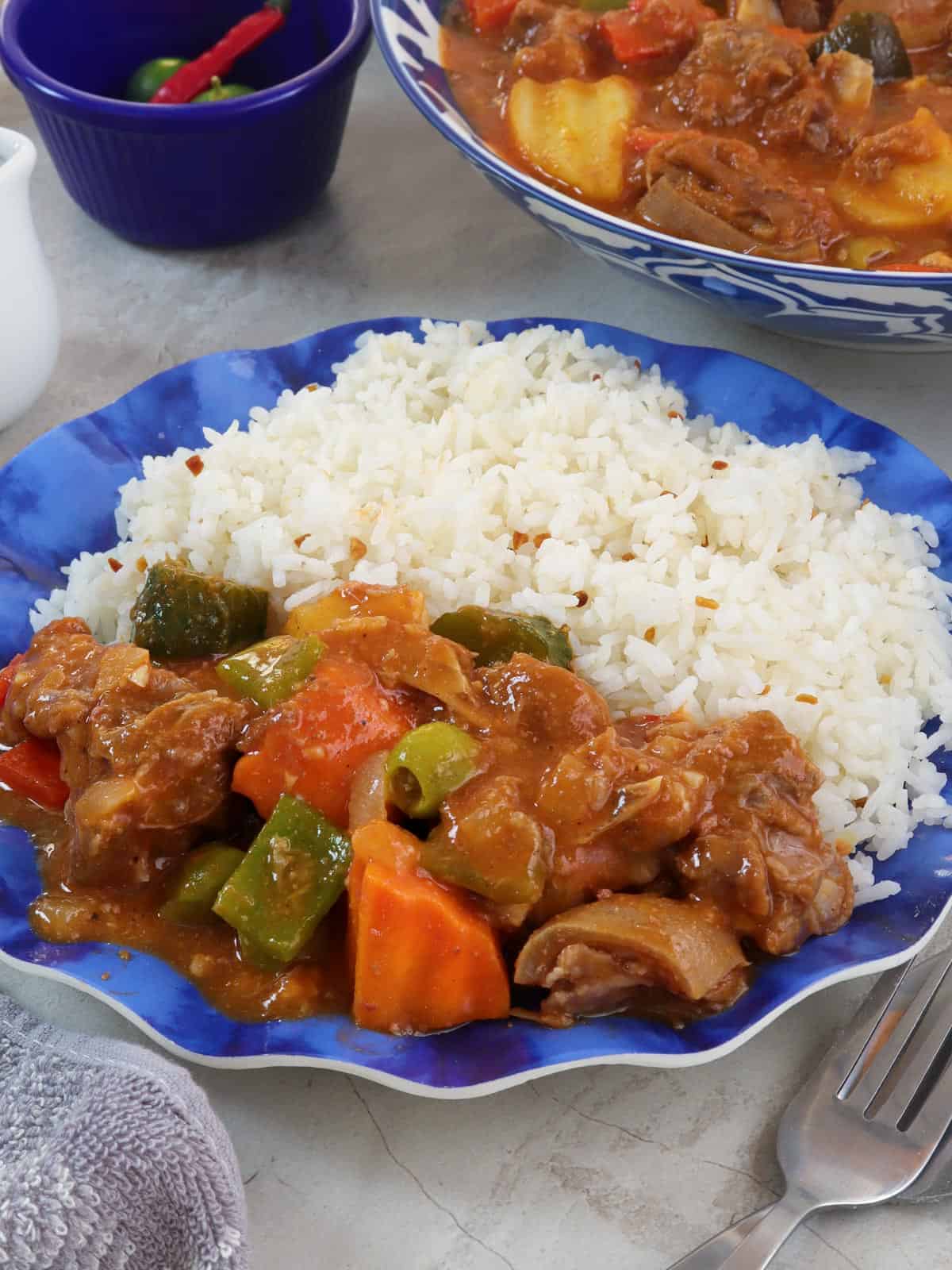 Serving suggestions
Kalderetang Kambing is delicious as a main dish for lunch or dinner with steamed rice. It also makes a tasty appetizer with an ice-cold beer.
It's great for festivities, parties, or special gatherings.
Storing leftovers
Store leftovers in airtight containers or resealable bags. Keep in the refrigerator for up to 3 days or in the freezer for up to 2 months.
To reheat, place in a saucepan and heat over medium heat.
For more kambing recipes, try this sinampalukang version or up-and-down soup!
Kambing Caldereta is a Filipino stew made with goat meat, potatoes, and carrots braised in a tomato and liver sauce. It's hearty, boldly-flavored, delicious as an appetizer with alcoholic drinks or a main dish with steamed rice.
Course:
Appetizer, Main Entree
6 servings
Ingredients
2 pounds goat meat, cut into serving portions
2 cups vinegar
1 tablespoon salt
water
1 cup pineapple juice
¼ cup canola oil
2 medium potatoes, peeled and quartered
1 large carrot, peeled and cut into cubes
½ red bell pepper, seeded, cored, and cubed
½ green bell pepper, seeded, cored, and cubed
1 onion, peeled and chopped
3 cloves garlic, peeled and minced
4 Thai chili peppers, stemmed and minced
1 cup tomato sauce
½ cup liver spread
6 pieces sweet gherkins pickles
¼ cup Spanish olives
salt and pepper to taste
Instructions
In a large bowl, combine goat meat, vinegar, and 1 tablespoon salt. Marinate in the refrigerator for about 1 hour. Rinse and drain well.

In a pot over medium heat, bring to a boil enough water to cover the meat. Add goat meat and boil for about 7 to 10 minutes or until scum begins to rise. In a colander, drain well. Rinse the meat and the pot.

In the clean pot, combine goat meat, pineapple juice, 4 cups of water, and 1 tablespoon salt. Bring to a boil, skimming scum that floats on top.

Lower heat, cover, and simmer for about 1 ½ to 2 hours or until meat is tender but not falling apart. Using a colander, drain meat and reserve about 2 cups of the liquid.

In a wide pan over medium heat, heat oil. Add potatoes and cook until lightly browned. Remove from pan and drain on paper towels.

Add carrots and cook until lightly browned. Remove from pan and drain on paper towels.

Add bell peppers and cook for about 30 seconds. Remove from pan and drain on paper

Remove excess oil from the pan except for about 2 tablespoons. Add onions and garlic and cook until softened.

Add goat meat and cook, stirring occasionally, until lightly browned.

Add tomato sauce, the 2 cups reserved broth, and chili peppers. Bring to a boil.

Lower heat, cover, and continue to cook for about 20 to 30 minutes or until meat is fork-tender and sauce is slightly reduced.

In a bowl, combine liver spread and about ½ cup broth from the pan. Stir until smooth and add to pan. Stir until well-dispersed.

Add pickles and olives.

Add potatoes and carrots and cook for about 3 to 5 minutes or until tender.

Add bell peppers and continue to cook for about 1 to 2 minutes or until tender yet crisp.

Season with salt and pepper to taste. Serve hot.
Notes
Don't marinate the meat for too long as vinegar is a strong acid and will break down the proteins, making the texture mushy.
Video
"This website provides approximate nutrition information for convenience and as a courtesy only. Nutrition data is gathered primarily from the USDA Food Composition Database, whenever available, or otherwise other online calculators."