Hoisin-Glazed Salmon with a simple 5-ingredient marinade is quick and easy to make for busy weeknights. Moist and tasty on the inside and golden and caramelized on the outside, it's a delicious meal everyone will love!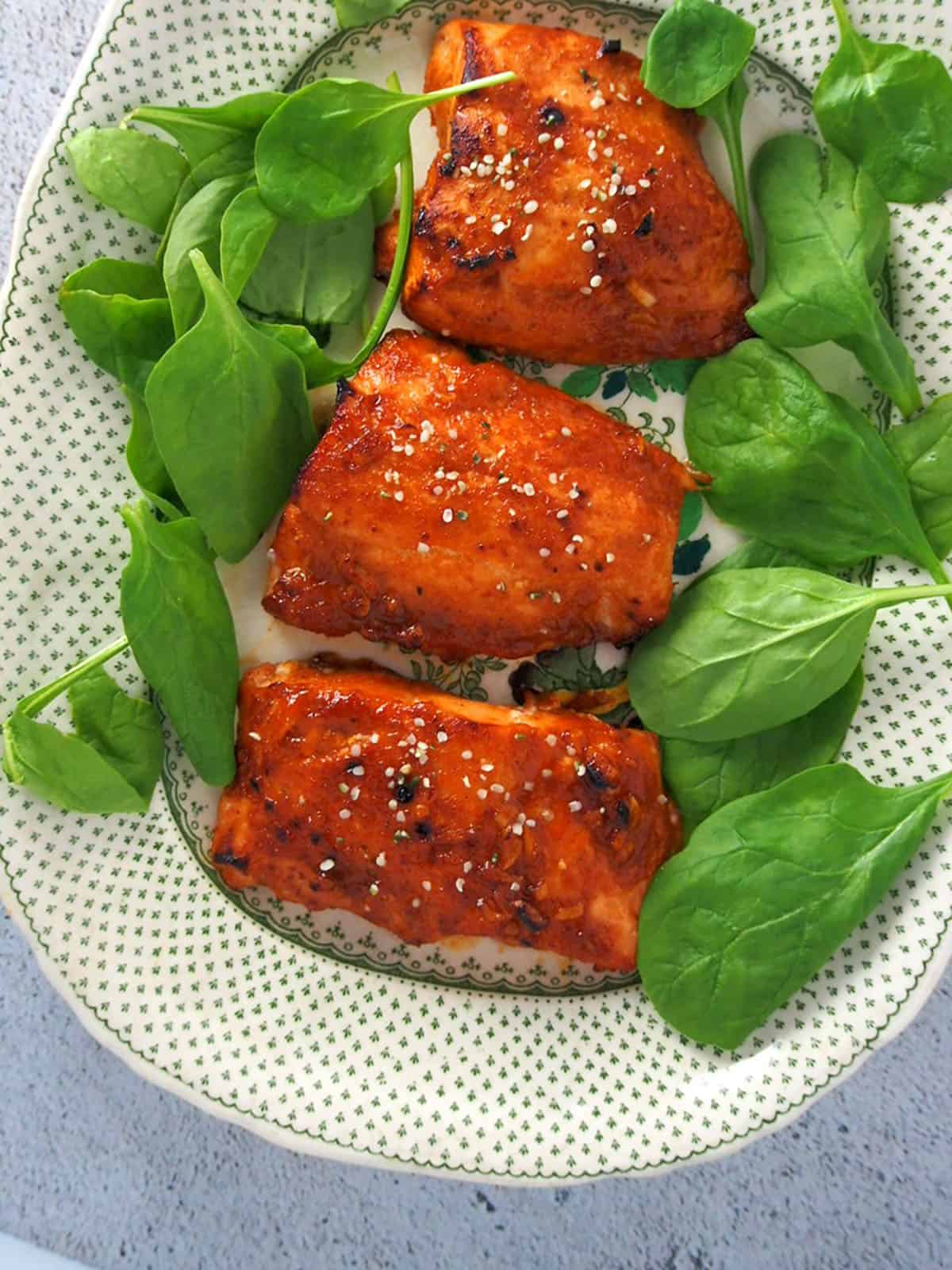 Are you looking for the perfect weeknight meal? This baked salmon with a delicious hoisin sauce is just the meal to make when you're pressed for time and want dinner in a hurry.
It's so simple to put together; a five-ingredient marinade plus five easy steps, and it's all done! The fish fillets take less than 30 minutes to cook yet taste like you slaved in the kitchen all afternoon long!
Just look at those beauties above! The outside comes out nicely caramelized with a sweet, salty, and slightly spicy glaze, while the inside stays super moist and tender.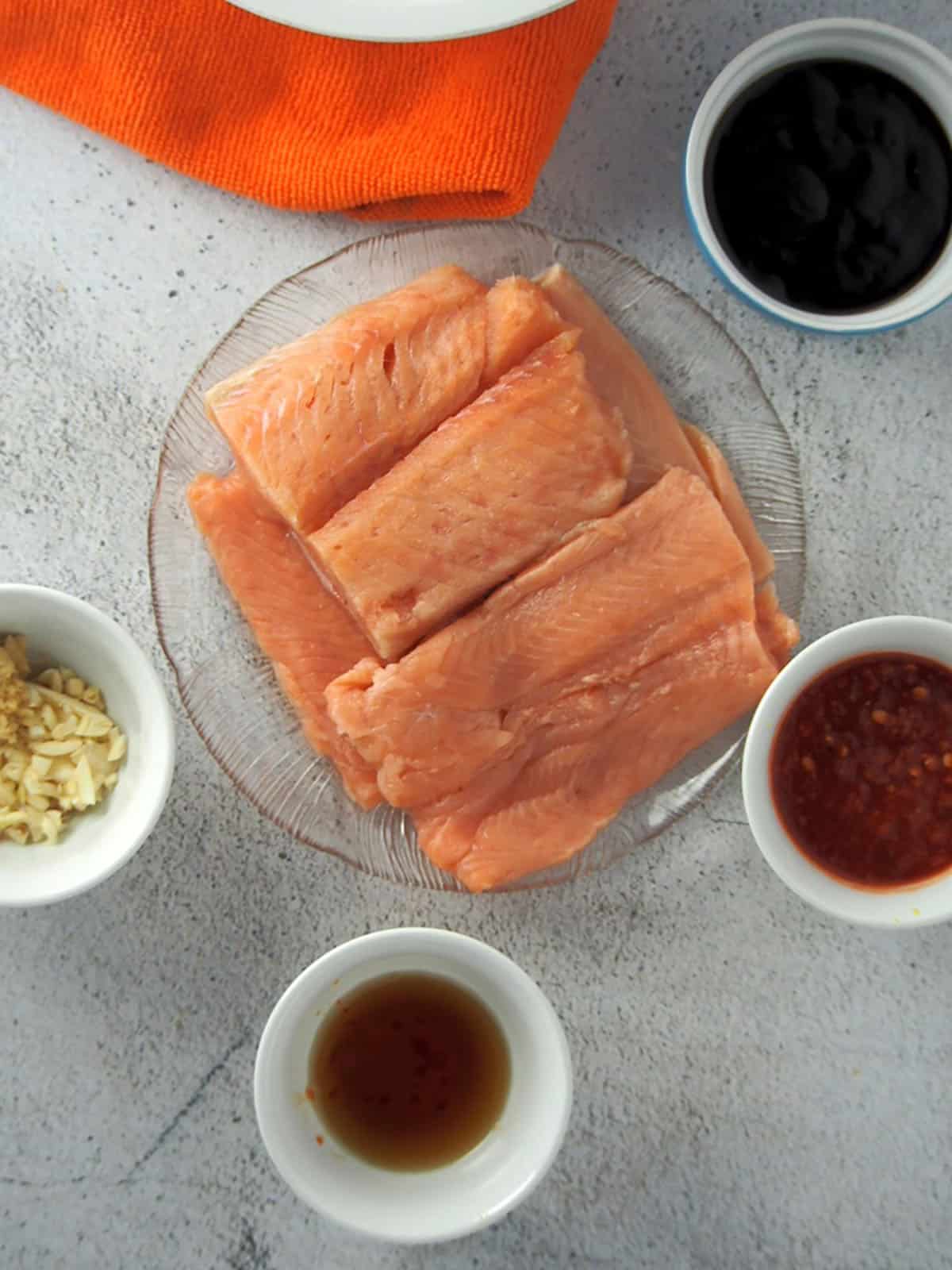 Ingredients for Hoisin Marinade
Hoisin sauce- its sweet, salty, and slightly spicy notes provide the perfect base for this easy marinade.
Sesame oil- adds an extra boost of flavor and aroma as well helps retain moisture, and gives the broiled fish a nice sheen.
Rice vinegar- the acids help tenderize the fish and balance the rich flavors of the sauce. You can substitute with lime, lemon, or orange juice for a bright, fresh taste.
Fresh ginger- grate the ginger to extract the most flavor. If you don't have fresh on hand, you can substitute one teaspoon of ground ginger.
Garlic- mince the fresh cloves to get the most flavor. I prefer to use fresh, but you can use ¼ teaspoon of garlic powder in a pinch.
Sriracha sauce- optional but highly recommended. You'll love that delicious punch of heat!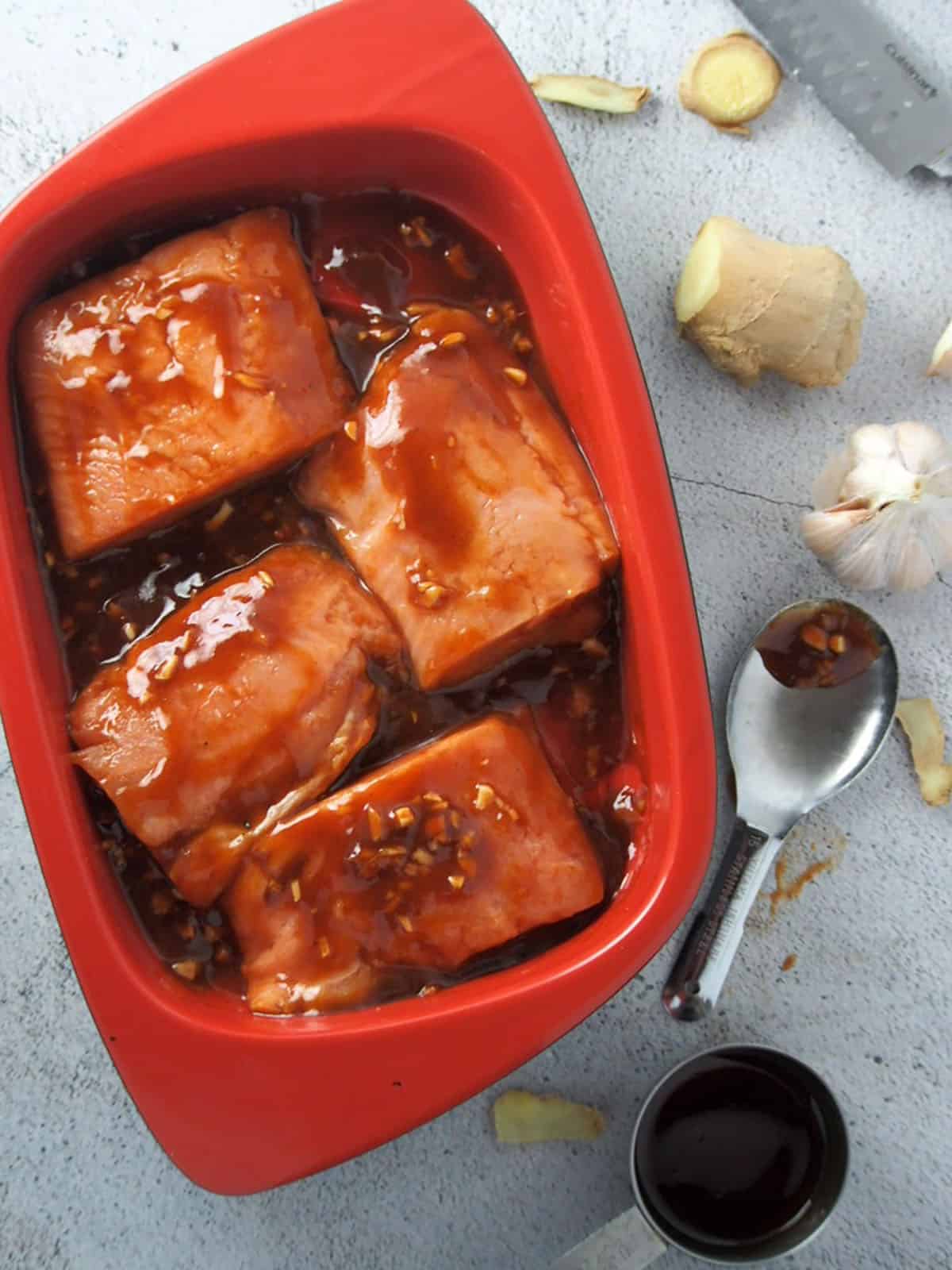 Cooking tips
Do not keep the salmon in the marinade for too long as the acids will break down the protein and make the texture mushy.
Use a non-reactive bowl such as glass or stainless steel as aluminum materials might react with the acids in the marinade.
Other cooking methods
Grill- Want to add a smoky flavor? Cook the salmon over hot coals for about 4 to 5 minutes on each side or until opaque and flakes easily with a fork and until a thermometer inserted in the thickest part reads 145 F.
Oven- Arrange in a single layer on a baking sheet and bake at 400 F for about 10 to 12 minutes or until a thermometer inserted at the thickest part reads 145 F.
Air Fryer- Brush the air fryer basket with oil and arrange the salmon in a single layer with enough space in between to allow air circulation. Air fry at 400 F for about 5 to 7 minutes or until internal temperature reads 145 F.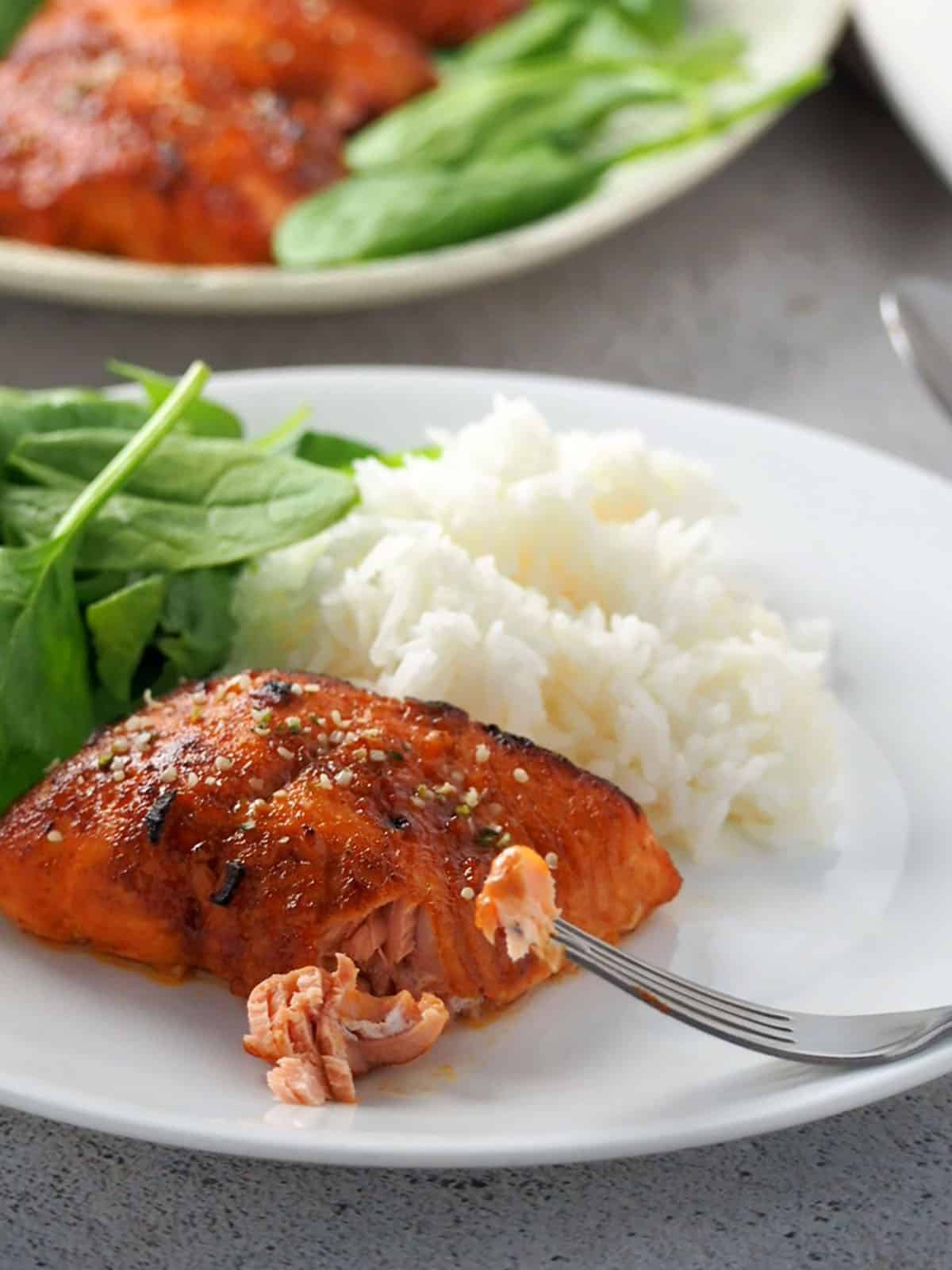 How to serve and store
Give this baked salmon with hoisin glaze a try for dinner tonight! Serve it with coconut rice and steamed broccoli or spinach for a hearty and tasty meal the whole family will love.
Keep leftovers in an airtight container and refrigerate for up to 3 days.
To reheat, brush the fillets with a light coat of olive oil or sesame oil. Wrap in aluminum foil and place in a 300 F oven for about 12 to 15 minutes or until internal temperature reads 165 F for food safety.
The salmon can also be enjoyed cold. Add to your favorite salad greens or turn into a creamy dip with mayo and chopped dill.
Baked Salmon with a Hoisin Glaze is moist, tender with a delicious caramelized crust. It's easy to make and makes a tasty meal with steamed rice.
4 Servings
Ingredients
4 (4 ounces each) salmon fillets
salt and pepper to taste
½ cup hoisin sauce
2 tablespoons rice vinegar
2 tablespoons Sriracha hot chili sauce, optional
1 tablespoon sesame oil
1 thumb-size ginger, peeled and finely grated
2 cloves garlic, peeled and minced
Instructions
Pat salmon dry and season with salt and pepper to taste.

In a bowl, combine hoisin sauce, rice vinegar, Sriracha hot sauce (if using), sesame oil, ginger, and garlic. Stir until blended.

Add salmon fillets and gently toss to fully coat. Marinate for about 20 to 30 minutes in the fridge.

Lightly grease a baking sheet or a cast iron skillet. Arrange salmon fillets in a single layer, spooning the marinade over fish.

Set oven rack to about 10 inches below heat source and turn broiler to high. Broil salmon for about 8 to 10 minutes or until the top is caramelized and fish easily flakes with a fork. Alternatively, grill fish over hot coals for about 4 to 5 minutes on each side, basting regularly with marinade.

Garnish with toasted sesame seeds, if desired. Serve hot.
Notes
Do not keep the salmon in the marinade for too long as the acids will break down the protein and make the texture mushy.
"This website provides approximate nutrition information for convenience and as a courtesy only. Nutrition data is gathered primarily from the USDA Food Composition Database, whenever available, or otherwise other online calculators."