Chicken Rice Congee is easy to prepare and great for chilly weather. Loaded with shredded chicken, carrots, celery, and ginger, it's a light yet comforting soup to warm you up!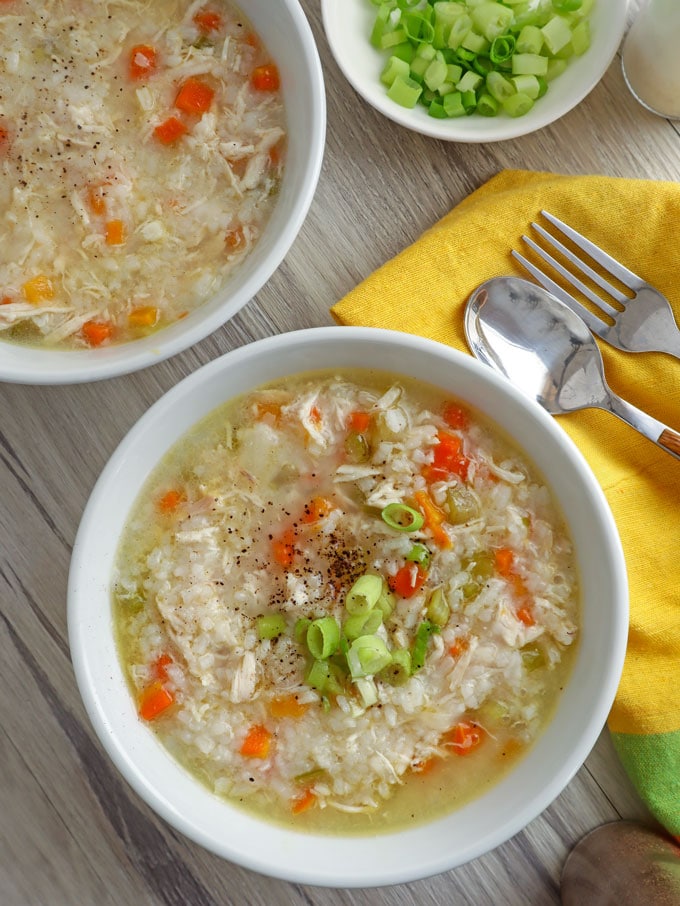 G was feeling under the weather and didn't have much of an appetite the past few days, so I decided to be a dutiful partner in life and made a big potful of rice soup to provide him with needed nourishment.
The poor guy must be starving because he gobbled up a huge bowlful and readily asked for seconds. Or maybe it's just because this soup is absolutely delicious!
Congee is a type of rice gruel or porridge popular in Asian cuisine. It's usually made of meat, seafood, and other regional ingredients for added flavor.
While it's served primarily for breakfast, rice congee can also be enjoyed at any time of the day as a side dish or meal on its own. Like most Asian countries, we also have our own local adaptation of this rice porridge such as arroz caldo, goto, and champorado.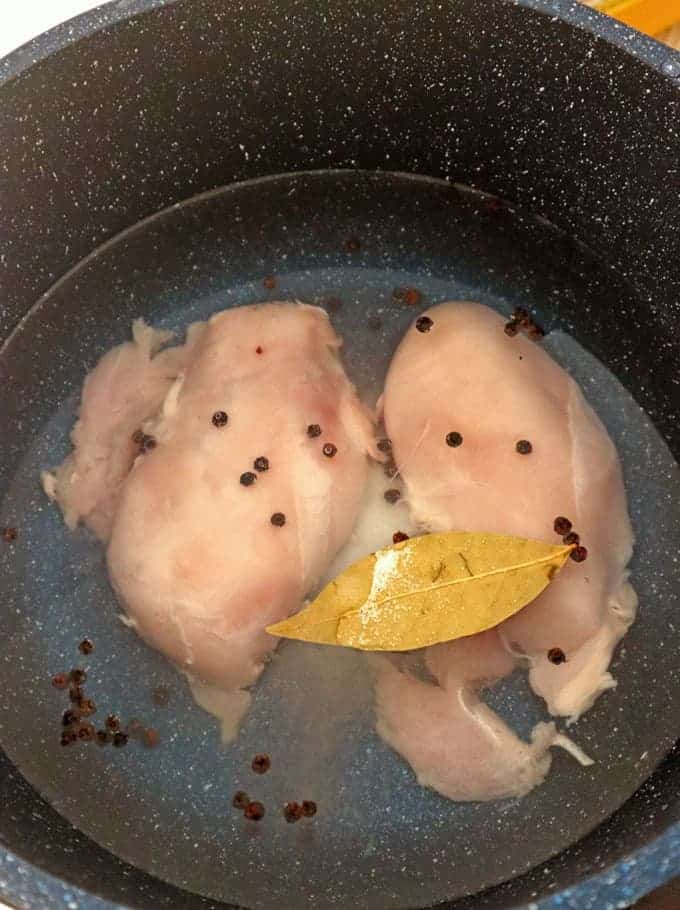 Although inspired by our local lugaw, I modified this chicken and rice congee slightly to fit G's particular taste. I used chicken breast in place of bone-in, poached it separately, and used the broth to pull the soup together.
I sauteed a mirepoix blend of carrots, celery, and onions for flavor and omitted the fish sauce. I also used steamed rice instead of raw grains to speed up the cooking time.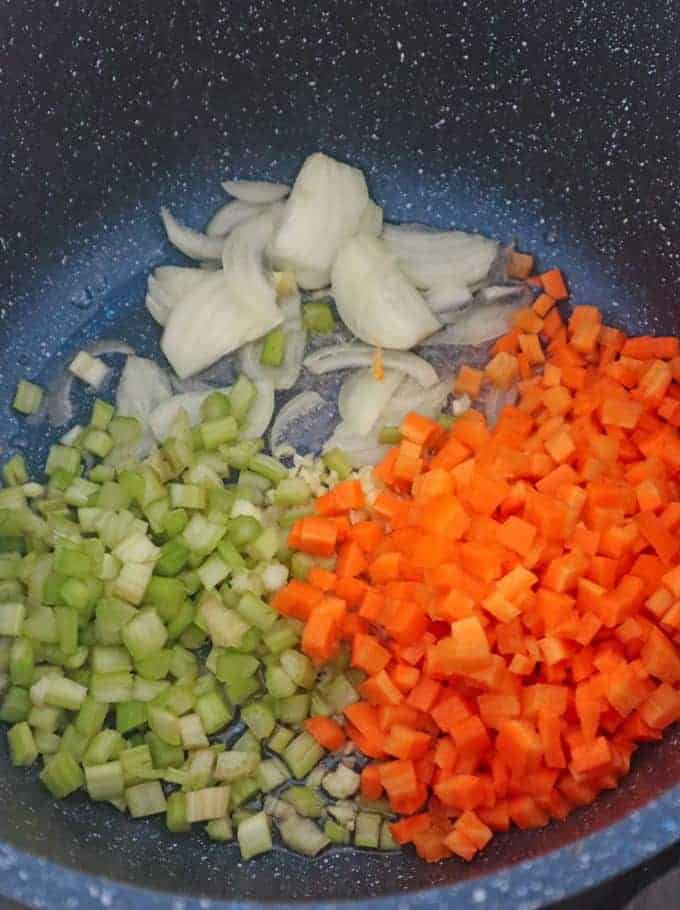 This chicken and rice soup is a great use for leftover steamed rice. If you're using uncooked rice, increase the broth or water to 6 to 7 cups.
G wanted something more light and bland so I skipped the extra trimmings I would have otherwise added to the soup. Feel free to turn yours into a hearty meal with the delicious topping suggestions below.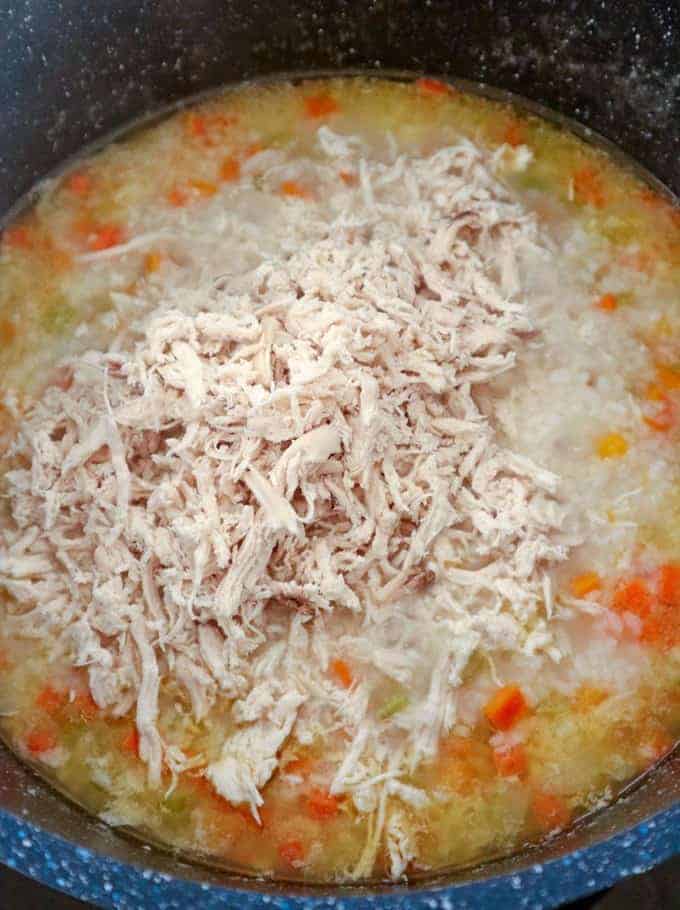 Congee toppings
soft or hard-boiled eggs or century eggs
toasted garlic or fried shallots
chopped scallions
pickled vegetables such as kimchi, pickled bamboo shoots, or umeboshi (plums)
wilted spinach
pork floss
cooked minced pork or beef
shredded nori sheets
sesame seeds or Japanese furikake
How to store
Allow leftovers to cool completely and transfer into a container with a tight-fitting lid. Refrigerate for up 3 days or freeze for up to 3 months.
To reheat, place in a pot and warm over medium heat, stirring occasionally, until completely heated through.
Add broth or water in 1/2 cup increments as needed to loosen the consistency.
Chicken Rice Congee is a comforting, warm soup with shredded chicken, tender rice, carrots, and ginger. The perfect cure for those under-the-weather days.
Course:
Main Entree, Soup
Servings
Ingredients
1 pound boneless, skinless chicken breast
5 cups water
salt
1/2 teaspoon pepper corns
1 bay leaf
1 tablespoon canola oil
1 onion, peeled and chopped
2 cloves garlic
1 large carrot, peeled and diced
2 stalks celery, diced
2 cups cooked rice (steamed)
1 thumb-size ginger, sliced and pounded
Instructions
In a large pot, In small, heavy-bottomed pot, arrange chicken breasts in a single layer. Add water, salt, peppercorns, and bay leaf.

Bring to a boil, skimming scum that floats on top. Lower heat, cover, and cook in a barely a simmer for about 10 to 15 minutes or until thermometer inserted in the thickest part of chicken reads 165 F.

With a slotted spoon, remove chicken from heat and allow to cool to touch. Coarsely shred chicken and keep warm.

Using a fine-mesh sieve, strain liquid. Discard aromatics and reserve about 4 cups of the broth.

In a large pot over medium heat, heat oil. When Add onions, garlic, celery, and carrots. Cook, stirring occasionally until softened.

Add reserved broth (from poaching chicken) and bring to a boil.

With hands, break rice into individual grains. Add to pot and stir to distribute.

Add ginger.

Lower heat, cover, simmer, stirring occasionally, for about 30 to 40 minutes or until the rice has softened and the congee has thickened to desired consistency.

Add shredded chicken and cook for another 8 to 10 minutes or until heated.

Season with salt and pepper to taste. Ladle to serving bowls and garnish with green onions, if desired.
Nutrition Information
Calories: 349kcal, Carbohydrates: 53g, Protein: 21g, Fat: 5g, Saturated Fat: 1g, Cholesterol: 48mg, Sodium: 120mg, Potassium: 445mg, Fiber: 2g, Sugar: 2g, Vitamin A: 1780IU, Vitamin C: 3.6mg, Calcium: 42mg, Iron: 0.9mg
"This website provides approximate nutrition information for convenience and as a courtesy only. Nutrition data is gathered primarily from the USDA Food Composition Database, whenever available, or otherwise other online calculators."