Lugaw at Tokwa is the perfect rainy day comfort food! Not only is it filling and delicious, but it's also easy to make and budget-friendly too. This rice congee and crispy tofu combination are sure to hit the spot!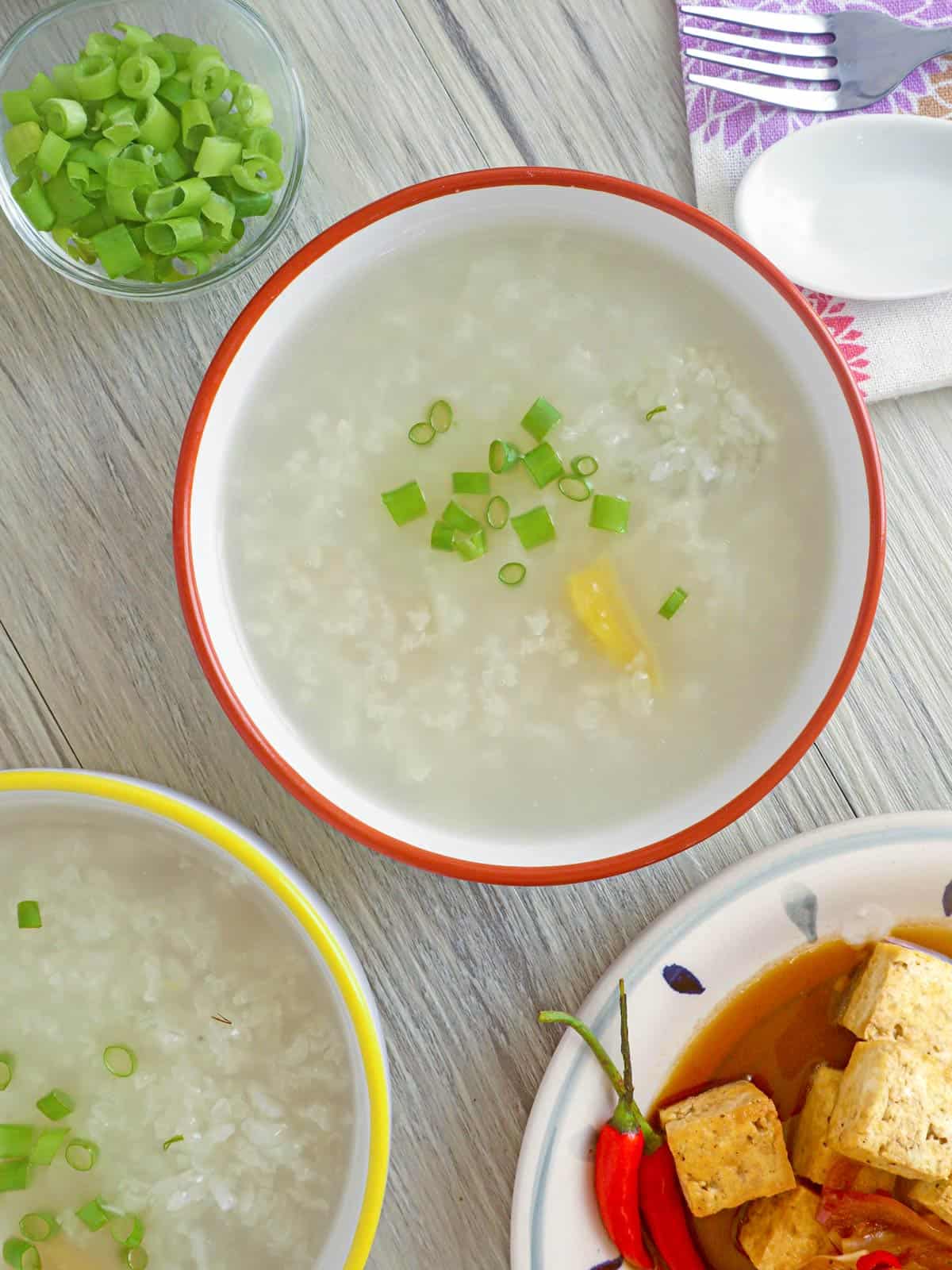 Lugaw with tokwa't baboy is a popular food pairing in the Philippines and is commonly served as a filling breakfast or midday snack. However, in this lugaw at tokwa version, I did away with the customary pork for quick gratification and used only firm tofu, which I deep-fried to a lovely crisp.
As I find the crispy tokwa and its soy sauce-vinegar dressing flavorful enough, I like to cook my congee in plain water with a basic seasoning of ginger and salt. Heaped together in a bowl, these two simple elements make a satisfying vegetarian treat.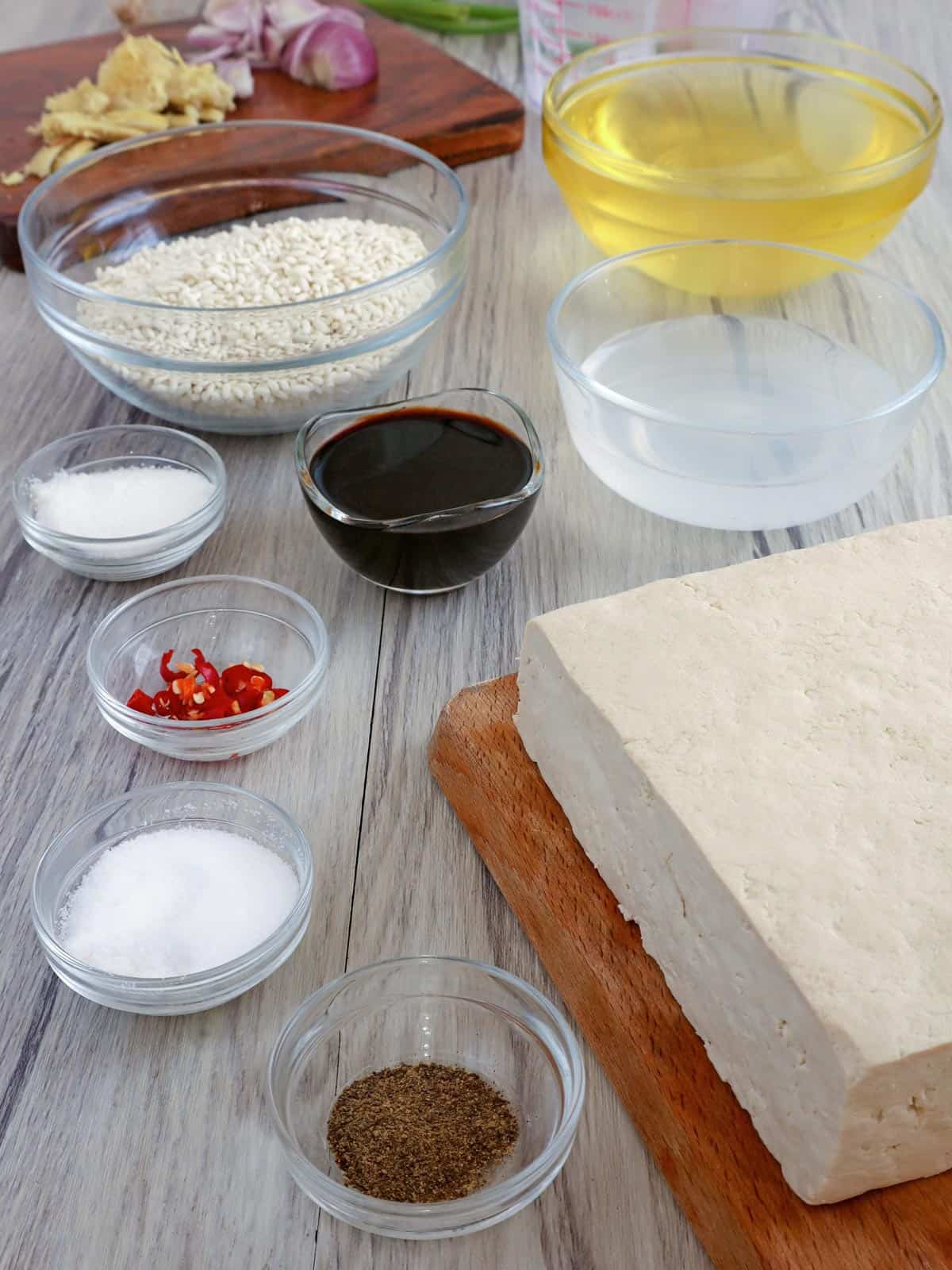 Making the congee
Soak the glutinous rice in water for an hour for speedy and even cooking.
Newly harvested rice contains more moisture, while older rice will require more liquid to turn soft and mushy. You may need to adjust the water depending on the rice used.
Quick tip
You can add a pinch of kasubha or dried safflower to the lugaw to give it a more vibrant color.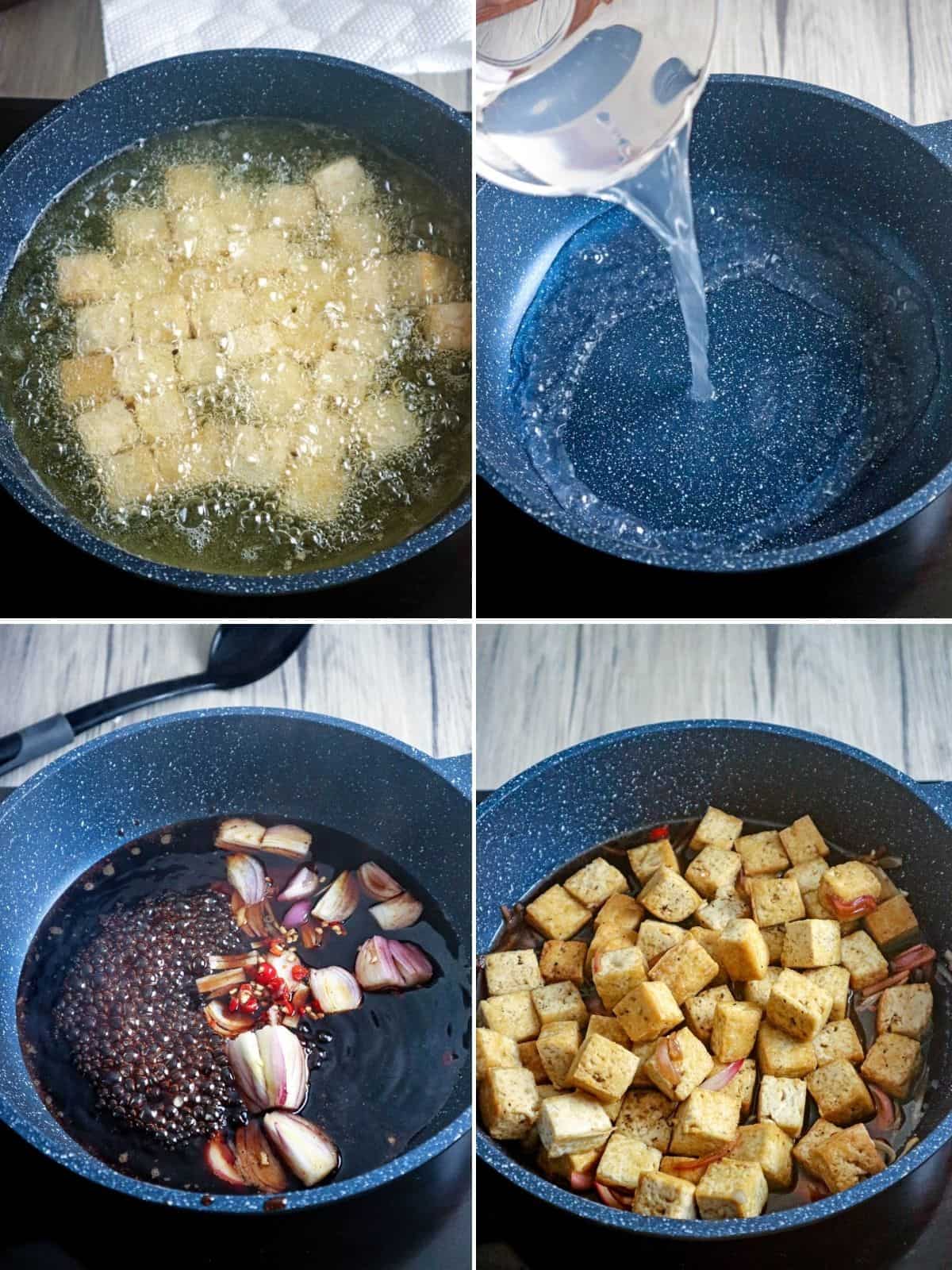 Making the tokwa
For best results, drain the tofu well from the packing liquid. Wrap the tofu block in a thick layer of paper towels, set it over a wire rack, and weigh it down with a saucer or plate for about 15 to 20 minutes to remove excess moisture.
Cut tofu block in uniform size to ensure even cooking.
Heat the oil to an optimal temperature of 350 F to prevent tofu from sticking and absorbing too much grease.
Use enough oil, and do not overcrowd the pan to allow enough room for the tofu to brown evenly. Read more of my tips on how to fry tofu in this simple guide.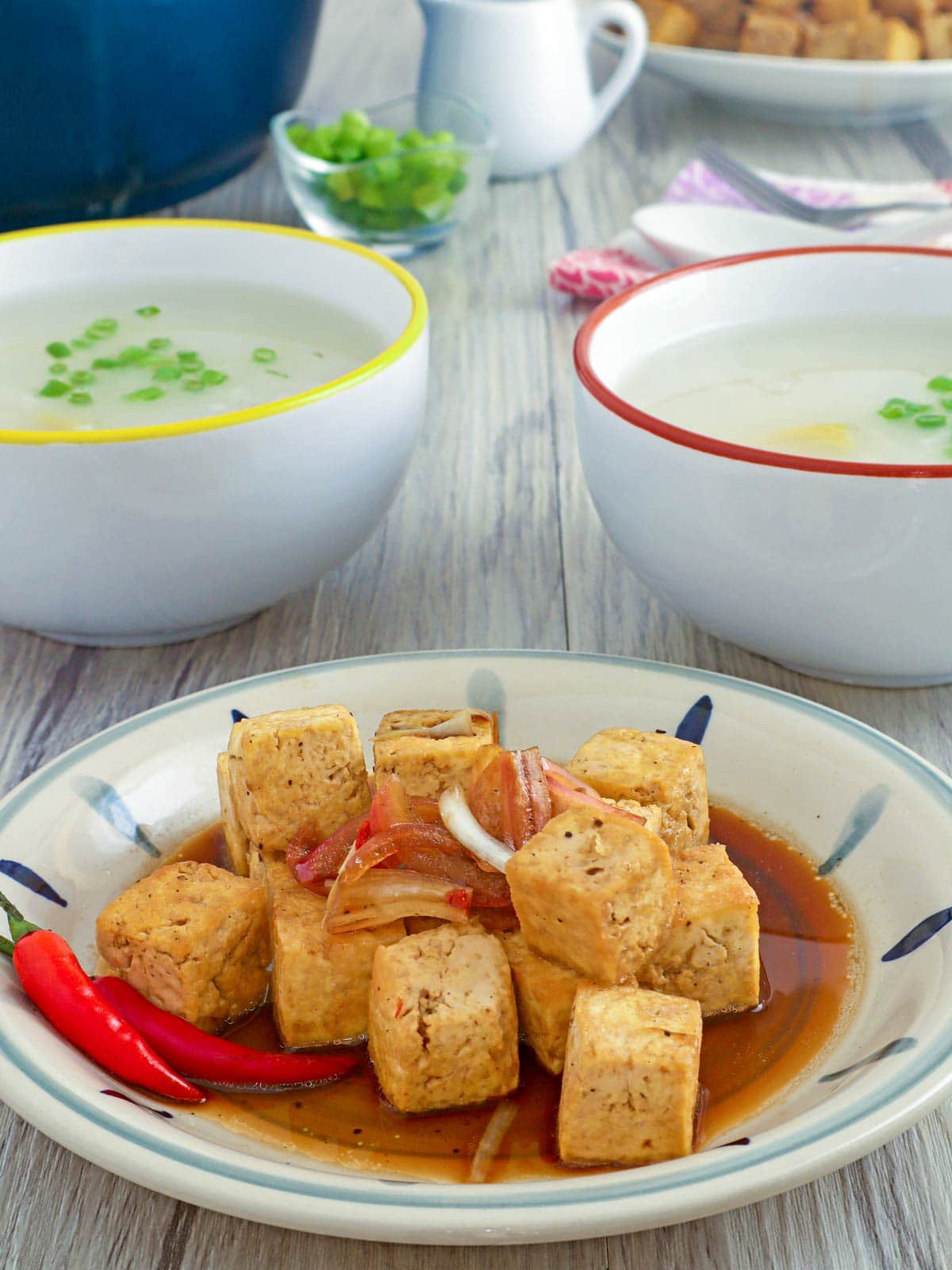 Serving suggestions
Ladle the lugaw in individual bowls and garnish with chopped green onions and fried garlic bits. You can also add a halved hard-boiled egg if you like. Serve the congee with the tokwa on the side.
How to store
Store the congee and tofu in separate containers. Refrigerate for up to 3 days.
Reheat the congee in a saucepot over medium heat to an internal temperature of 165 F, adding more water as needed to loosen the consistency. Or warm in the microwave until completely heated, stirring well to distribute heat.
Leftover tofu can be eaten cold or at room temperature.
Warm-up your tummy with a comforting bowl of lugaw at tokwa! This Filipino-style rice congee with crisp tofu and vinaigrette dressing is delicious and filling as a breakfast or midday snack. It's easy to make and budget-friendly, too.
8 servings
Ingredients
1 cup glutinous rice
8 cups water
2 thumb-size ginger, pounded
2 teaspoons salt
2 packages (19 ounces each) firm tofu
1 cup canola oil
½ cup vinegar
¼ cup soy sauce
½ teaspoon salt
¼ teaspoon pepper
1 tablespoon sugar
2 shallots, peeled and chopped
2 Thai chili pepper, minced
Instructions
Rinse rice with cold water two or three times.

In a pot over medium heat, combine rice and 8 cups of water. Bring to a boil, stirring occasionally.

Add ginger and salt.

Lower heat, cover, and cook for about 25 to 30 minutes or until rice grains are softened and have burst, with congee thickened as desired.

Drain tofu from packing liquid. Wrap tofu block in paper towels and weigh down with a small plate or cup for about 15 to 20 minutes to rid of excess moisture. Cut into 1-inch cubes.

In a cast-iron skillet over high heat, heat oil until very hot but not smoking. Add tofu and deep-fry, turning as necessary, until golden brown and crisp. Do not overcrowd the pan and cook tofu in batches as needed.

With a slotted spoon, remove tofu from the skillet and drain on paper towels.

In a pan over medium heat, combine vinegar, soy sauce, sugar, salt, and pepper. Bring to a boil, stirring occasionally, until sugar and salt are dissolved.

Add shallots and chili peppers and cook for about 30 to 40 seconds.

Add tofu cubes. Cook, tossing gently to combine, for about 30 seconds or just until heated through and coated with sauce. Remove from heat.

Ladle congee into serving bowls and garnish with green onions and fried garlic bits. Serve with a side of tofu.
Notes
You can add a pinch of kasubha or dried safflower to the lugaw to give it a more vibrant color.
"This website provides approximate nutrition information for convenience and as a courtesy only. Nutrition data is gathered primarily from the USDA Food Composition Database, whenever available, or otherwise other online calculators."