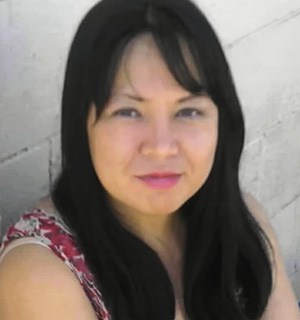 Hello! My name is Lalaine and welcome to Kawaling Pinoy, my little block of the world wide web where I share Filipino and Asian-inspired recipes, cooking tips and how to videos (soon!) one pot at a time.
I work as a Food Service Director in a skilled nursing facility. Monday to Friday, I manage the daily operations of a full-scale kitchen which produces hundreds of mostly-from-scratch meals a day. Saturdays, Sundays and nights, I develop recipes, shoot food photos and write about my culinary experiences. I guess you can say I do for fun what I do for work.
I was born and raised in the Philippines. In 1990, I migrated to California with my family. I never really learned, or should I say, never had the necessity to learn to cook in the Philippines. Upon my arrival in the U.S., I realized I had to find my way in the kitchen lest live on Mickey D's.
My family meals are mostly the simple and basic afritada, adobo or sinigang but I certainly do not shy away from the balut, the isaw, the adidas and such that make the Filipino cuisine unique. One of the dishes I terribly miss from home is ginisang camaro or sauteed crickets in tomatoes. Yes, crickets.
I try to keep the recipes as authentic and as close to home as possible but there are occasions I need to substitute due to limited or lack of access to indigenous ingredients. Cooking is subjective. The recipes here reflect my personal tastes and they are for you to tweak, as necessary, to suit yours.
This website is a work in progress. If you come back and find the accompanying photo, ingredients and/or procedures for a recipe modified, it was probably because I cooked the dish again and had time to take another photo or learned of ways to improve the recipe.
I hold monthly giveaways here at Kawaling Pinoy as my way of giving back to you, my readers. If you want to read about our past giveaways or join the current one, you can do so here. Please note that these giveaways are wholly supported by me and I do not receive any compensation for the products I present as prizes.
In some of the recipes, I provide links on Amazon.com for kitchen tools and food ingredients you may need in recreating these said recipes at home. I do receive a small commission for any sales made from these links. These commissions, along with fees earned from various advertisements displayed on the site, support the running of Kawaling Pinoy.
Your comments, suggestions and feedback are always welcome. I love hearing what you think. If you want to receive updates on recipes, cooking tips and giveaways via email, please feel free to subscribe to Kawaling Pinoy's newsletter. You can also connect with me via Facebook, Twitter, Google+ or Pinterest.
Read our Privacy Policy.
Happy Cooking!