Chicken Kare-Kare is quick and easy to make and so hearty and tasty. Made of flavorful chicken, tender vegetables, and a thick peanut sauce, it's perfect with steamed rice!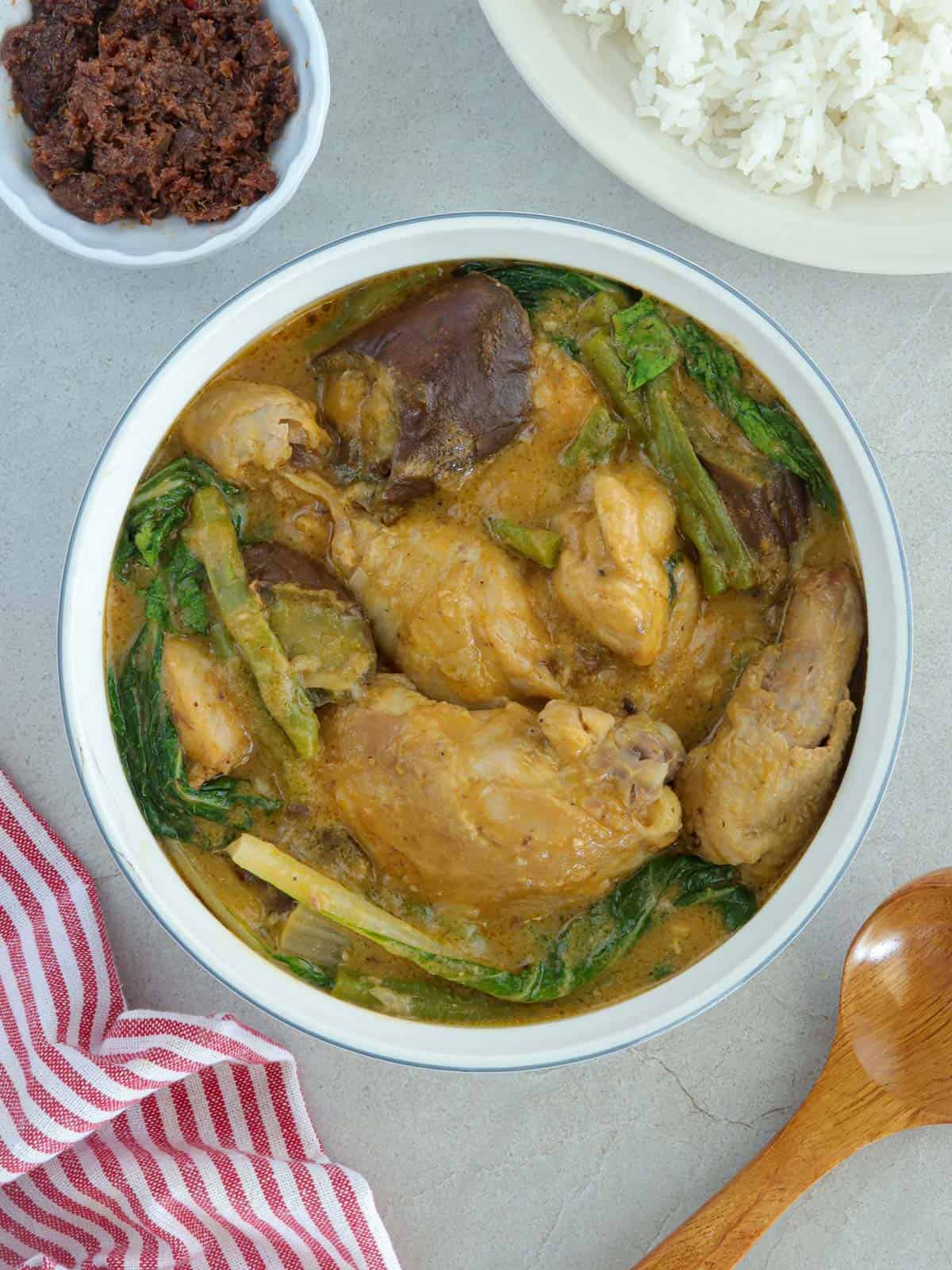 Guys, allow me to get emotional for a quick minute. When I think of how this blog has grown and how it has changed my path in the process, I get overwhelmed with gratitude. I'm so thankful for the many cheerleaders in my life and the people who rally behind me. I might be working for myself, but this blog is not a one-woman show.
A good friend of mine, for instance, sent me a photo of the chicken kare-kare he had for lunch at a Filipino restaurant. He said it was delicious and I should recreate it for my blog. How can I say no to such a sweet gesture?
Kare-kareng manok did turn out delicious as he said. Not only is it quicker and easier to make than the beef or pork versions of kare-kare, but it's also more economical and perfect for everyday family dinners.
Ingredient notes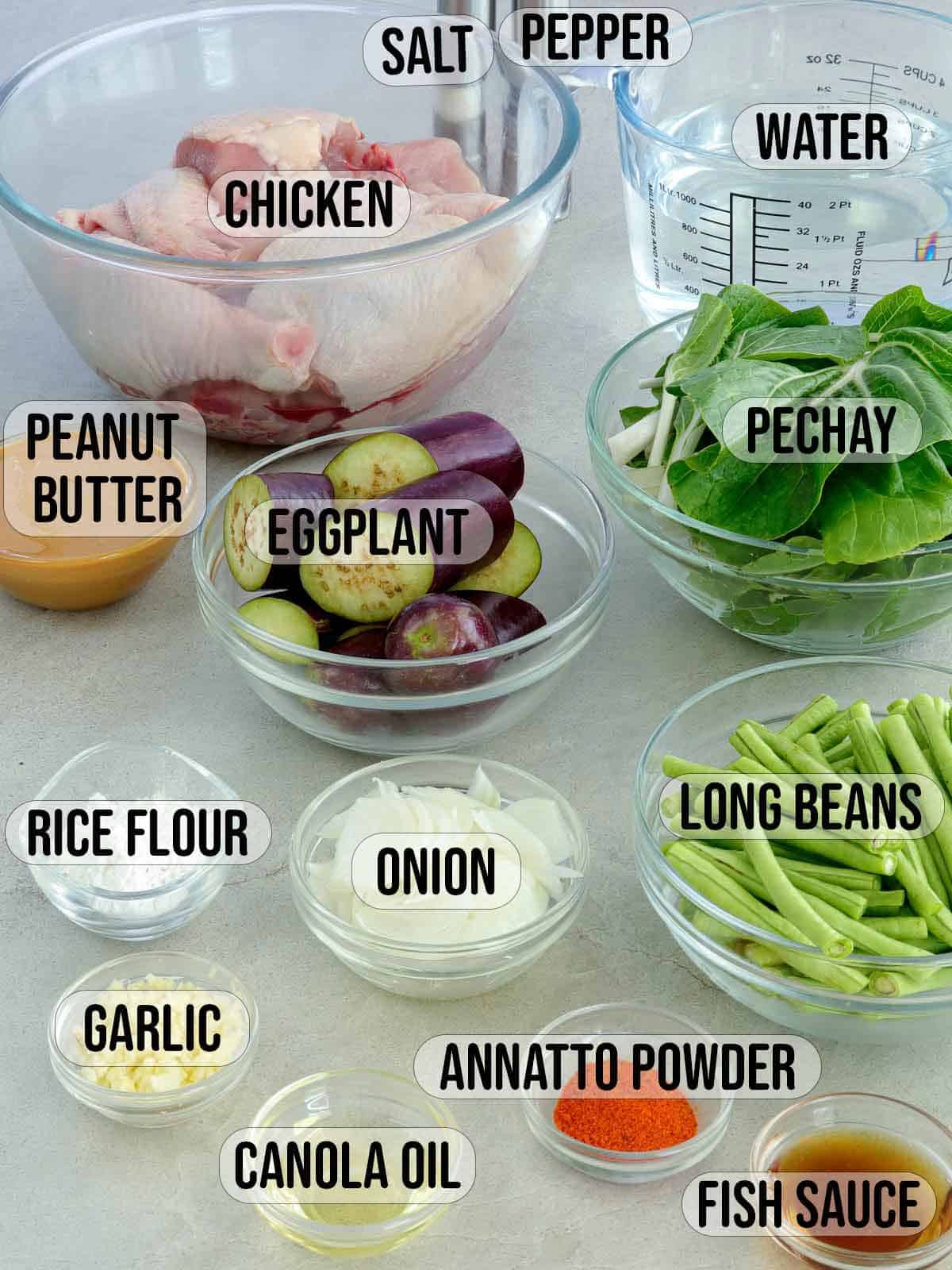 Chicken- Kare-Kare is a classic Filipino stew traditionally made with oxtail, beef, pork hocks, or tripe. This recipe uses cut-up chicken as an easy meat substitute.
Vegetables- use an assortment of vegetables such as eggplant, sitaw, cabbage, green beans, banana heart, and pechay.
Rice flour and peanut butter- the sauce is traditioally flavored and thickened with ground toasted rice and ground roasted peanuts, but we're simplifying the process by using rice flour and peanut butter instead.
Annatto powder- adds the characteristic orange-yellow color. You can use more or less depending on the depth of color you like. If using annatto seeds, soak in water for a few minutes until it bleeds into the liquid.
Fish sauce- for umami flavor
Oil- for sauteing
Aromatics- onions and garlic enhance flavor
Water- or chicken broth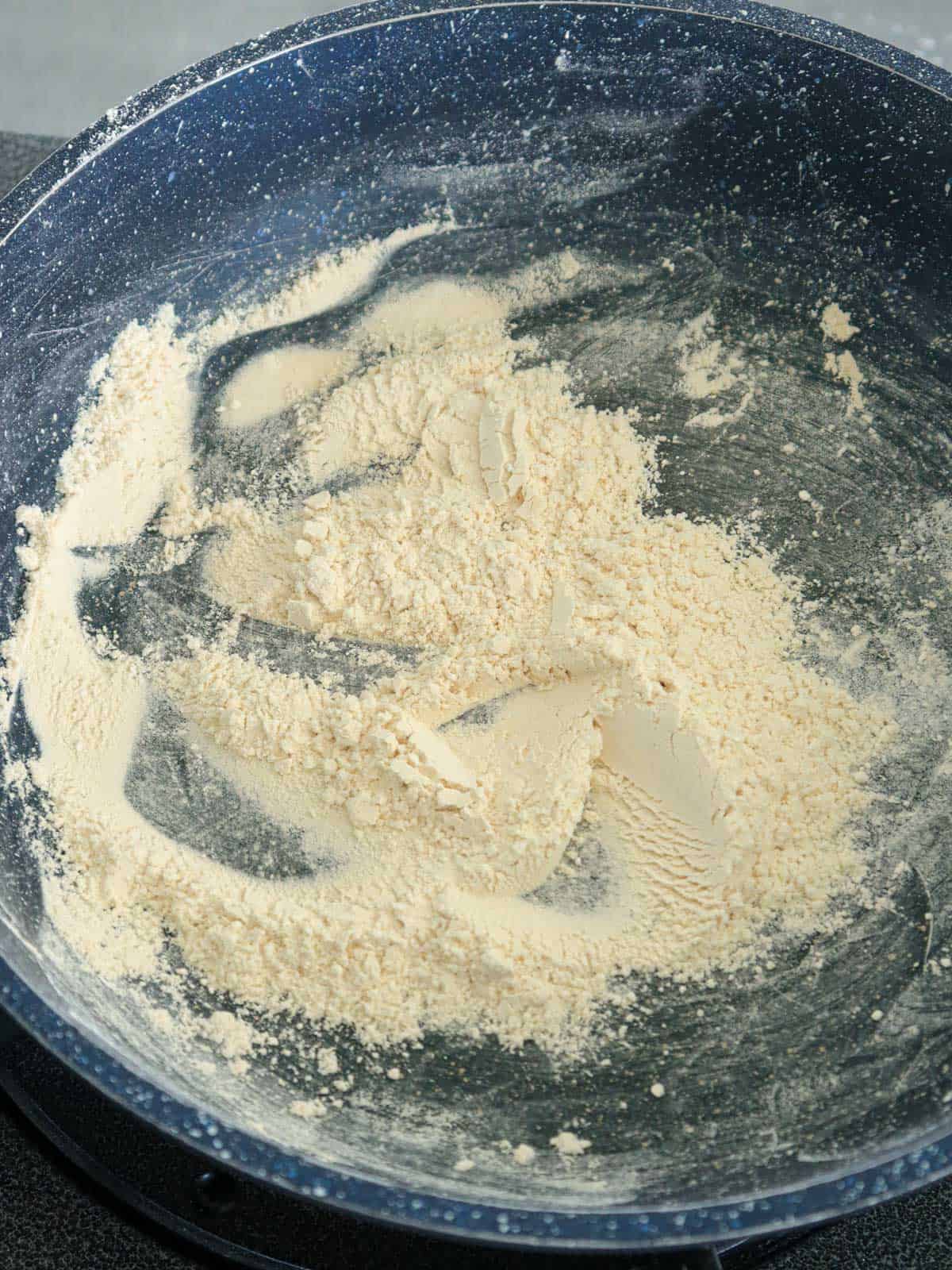 How to toast rice
If using rice grains- In a wide, ungreased skillet over medium heat, add raw rice grains. Cook, stirring regularly, for about 10 to 15 minutes or until golden and have a nutty aroma. Using a mortar and pestle or a food processor, ground the rice to a powder form (make sure it's ground to a fine POWDER or you'll end up with bits of cooked rice in the stew!). Use in the recipe as directed.
If using rice flour- place in a wide, ungreased skillet and cook over medium heat, stirring regularly, for about 8 to 10 minutes or until golden in color.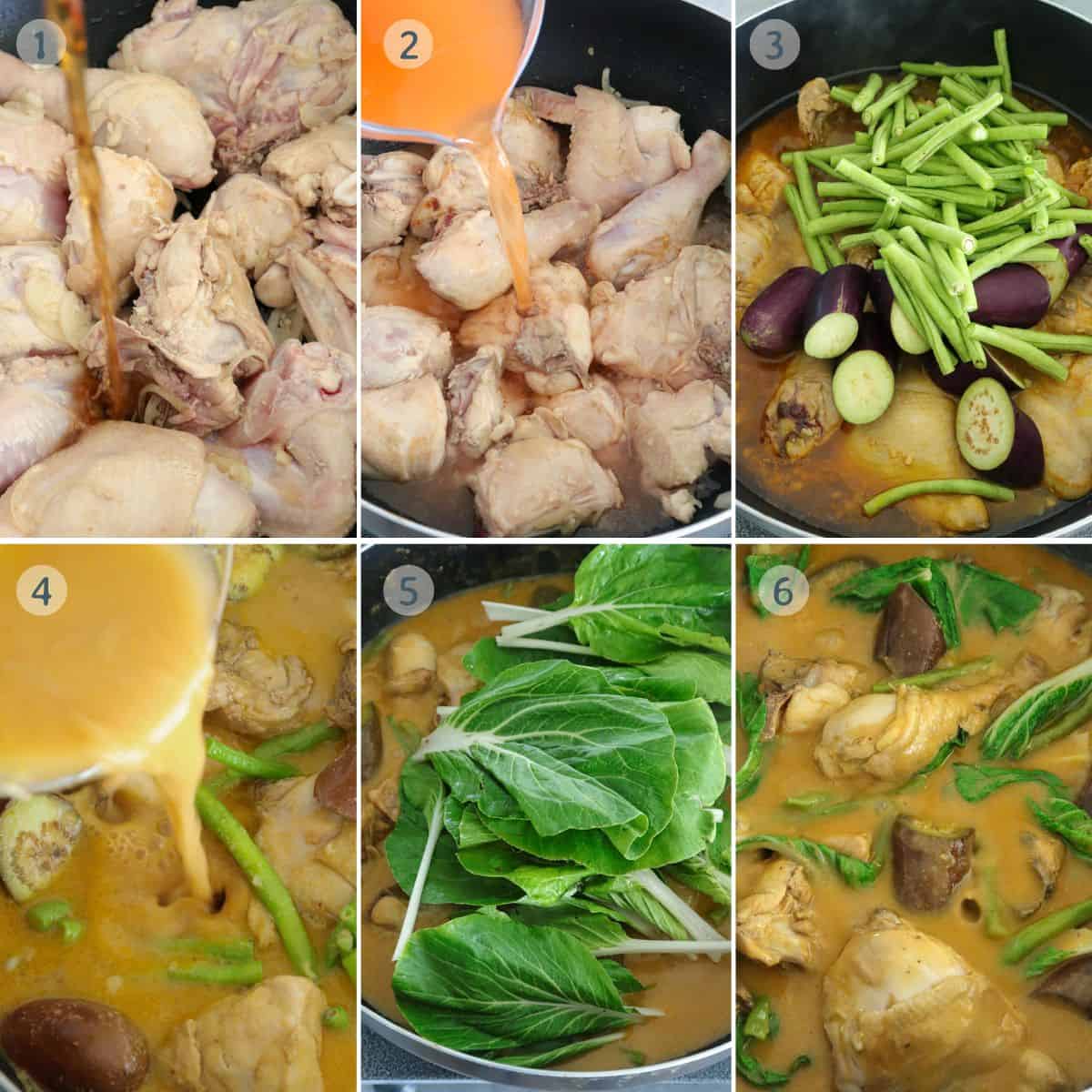 Cooking tips
Worried about overcooking your vegetables? Steam them first and then add to the stew in the last few minutes.
Cook the peanut sauce a little thinner than you like as it will continue to thicken as it sits.
Frequently Asked Questions
What is the difference between kare kare and caldereta?

Both stews can be made with various cuts of meat such as beef, pork, or chicken. But while Kare-kare has a savory orange-colored sauce thickened with toasted rice flour and flavored with peanut butter, the classic caldereta is tomato-based with added chili peppers and liver spread. The former includes vegetables such as eggplant, long beans, and pechay while the latter uses potatoes, carrots, olives, and bell peppers.
What does karekare taste like?

Kare-kare is rich and savory with a meaty flavor from slow-cooking cuts of beef, pork, or chicken, and a creamy and nutty taste from ground toasted rice flour and peanuts.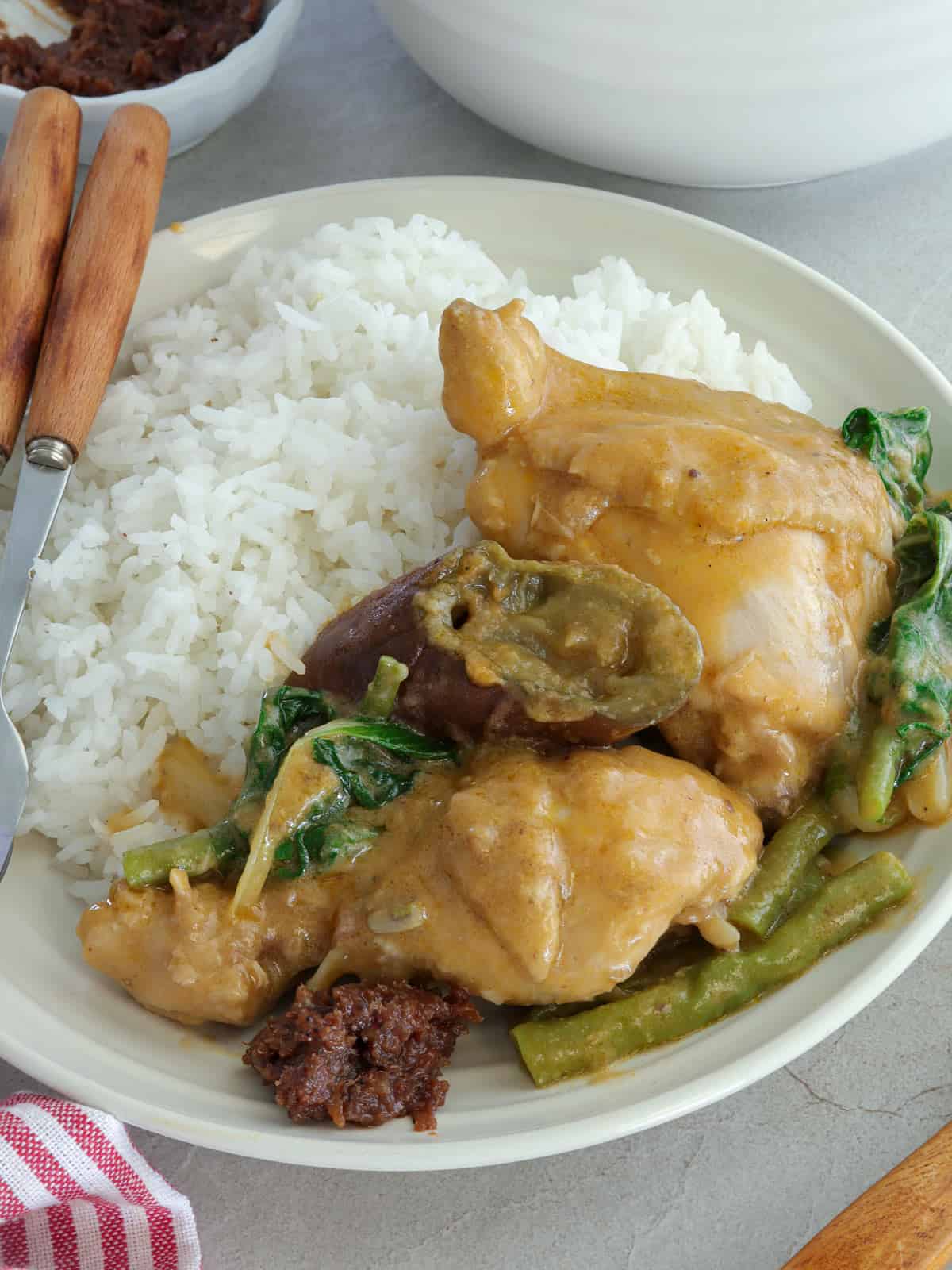 Serving suggestions
Kare-kareng manok is easy to make for everyday family dinners but also makes a great main dish for special occasions. The flavorful stew is often served with steamed rice and sauteed shrimp paste as a condiment.
Storage instructions
Transfer to a container with a tight-fitting lid and refrigerate for up to 3 days or freeze for up to 2 months.
To reheat, place in a sauce pan and heat on medium heat to 165 F. Add water or meat broth to loosen consistency and adjust seasonings as needed.
Chicken Kare-Kare with tender vegetables and flavorful peanut sauce is easy to make and so tasty. Perfect for family dinners or special occasions.
6 Servings
Ingredients
2 tablespoons rice flour
1 tablespoon canola oil
1 onion, peeled and sliced thinly
3 cloves garlic, peeled and minced
3 pounds chicken, cut into serving parts
1 tablespoon fish sauce
1 teaspoon annatto powder
3 cups water
2 large eggplant, cut into chunks
½ bundle long beans, ends trimmed and cut into 3-inch lengths
1 bundle pechay, ends trimmed and leaves separated
½ cup peanut butter
salt and pepper to taste
Instructions
In a wide pan over medium heat, add rice flour. Cook, stirring regularly, for about 3 to 5 minutes or until lightly golden. Remove from pan and set aside.

In a pot over medium heat, heat oil. Add onions and garlic and cook until softened.

Add chicken and cook, stirring regularly, until lightly browned.

Add fish sauce and cook for another 1 to 2 minutes.

In a bowl, combine water and annatto powder. Stir until well-dispersed and add to pan.

Bring to a boil, skimming scum that may float on top. Lower heat, cover, and simmer until chicken is tender.

Add eggplant and long beans and cook until tender yet crisp.

Add peanut butter and stir until well blended.

In a bowl, combine rice flour and one cup of broth from the pot. Stir until very smooth and without lumps.

Slowly add to the pot, whisking to prevent lumps. Season with salt and pepper to taste. Continue to simmer until sauce is slightly thickened.

Add pechay and cook for another 2 to 3 minutes or until tender yet crisp.

Serve hot with sauteed shrimp paste on the side.
Notes
To keep from overcooking the vegetables, steam them first and then add to the stew in the last few minutes.
Cook the peanut sauce a little thinner than you like as it will continue to thicken as it sits.
Video
"This website provides approximate nutrition information for convenience and as a courtesy only. Nutrition data is gathered primarily from the USDA Food Composition Database, whenever available, or otherwise other online calculators."