Tortang Dulong is a tasty egg omelet made of silverfish, tomatoes, and onions. Delicious with steamed rice for breakfast or any meal of the day!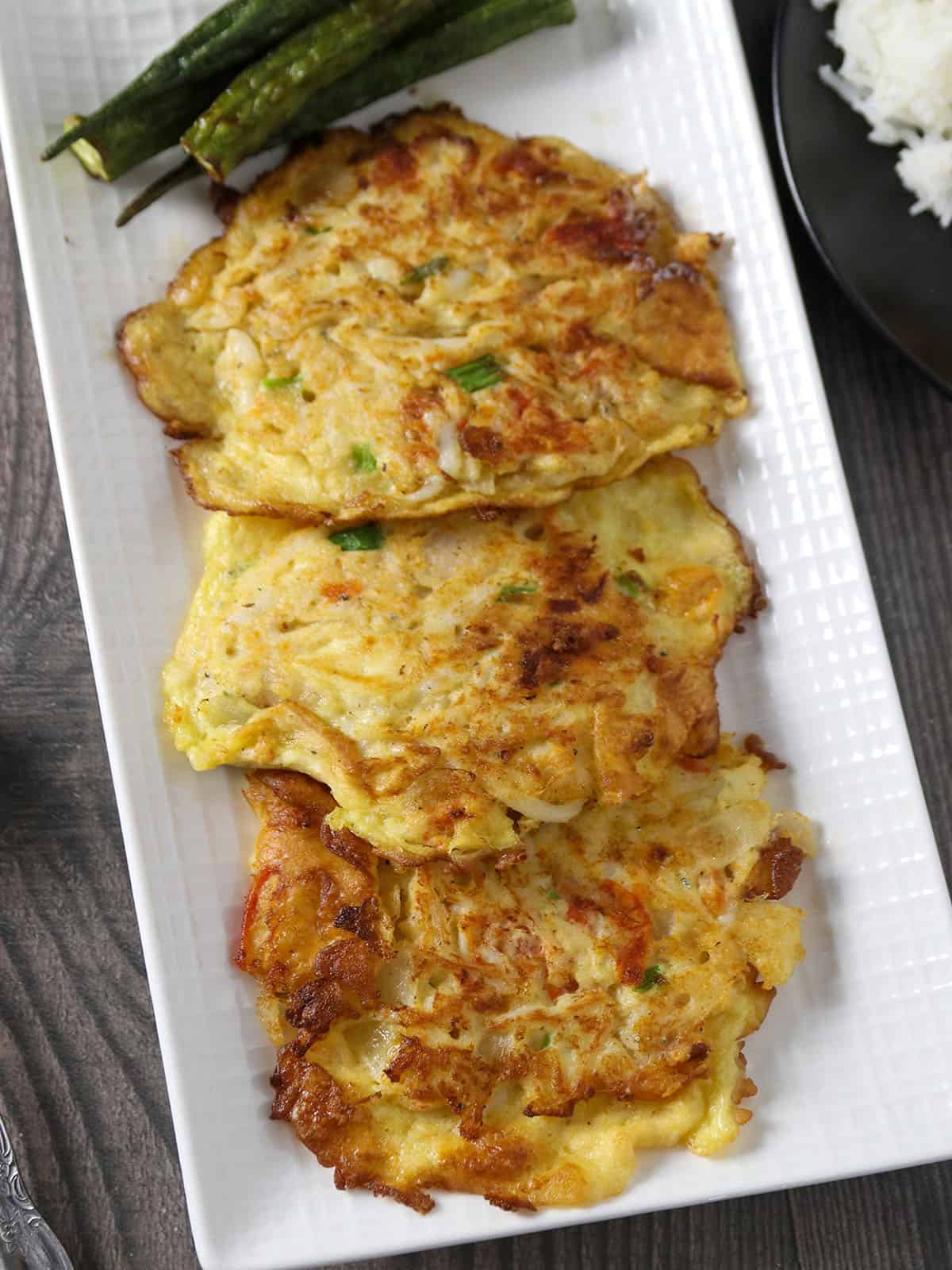 In our house, I do the cooking and the house cleaning while G is in charge of the laundry and the dishwashing. Have I ever told you how much I ♥ this guy?
There's nothing sexier, in my opinion than the sight of a 6-ft-1, blue-eyed man with hot ass scrubbing pots and pans. Makes me weak in the knees, I tell ya.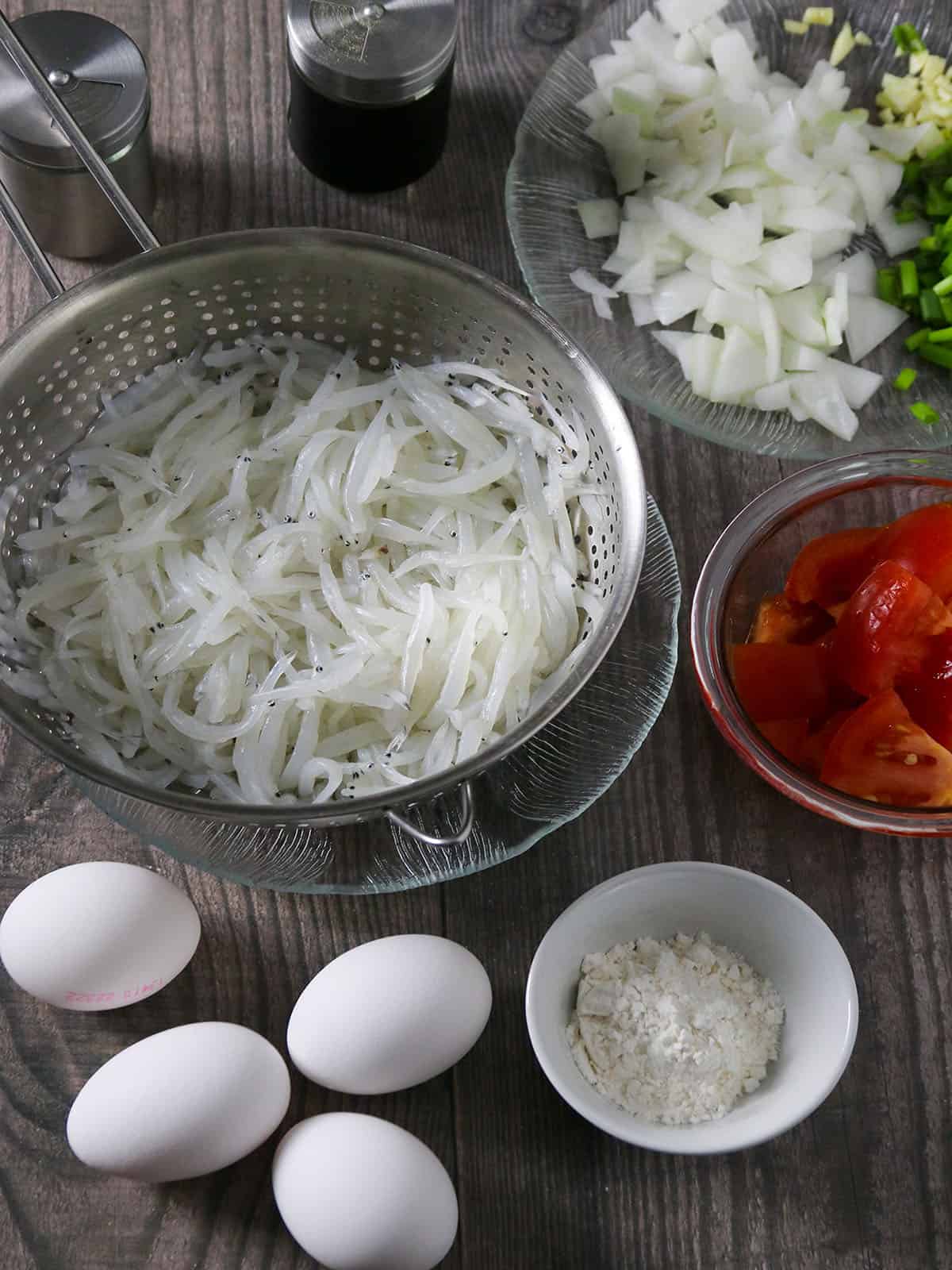 I digress. Getting back to my short story, I cooked tortang dulong for my lunch yesterday. I drained the silverfish in a colander, transferred them into a bowl, and went upstairs for a minute to find my recipe notes. Halfway back down, I heard G shout a few expletives I can't repeat here.
It seemed my poor chap started to wash whatever soiled dishes were in the sink, and he got freaked out with the few stray fish that got stuck on the colander. He thought they were maggots!
Needless to say, I was the only one who ate this fish omelet.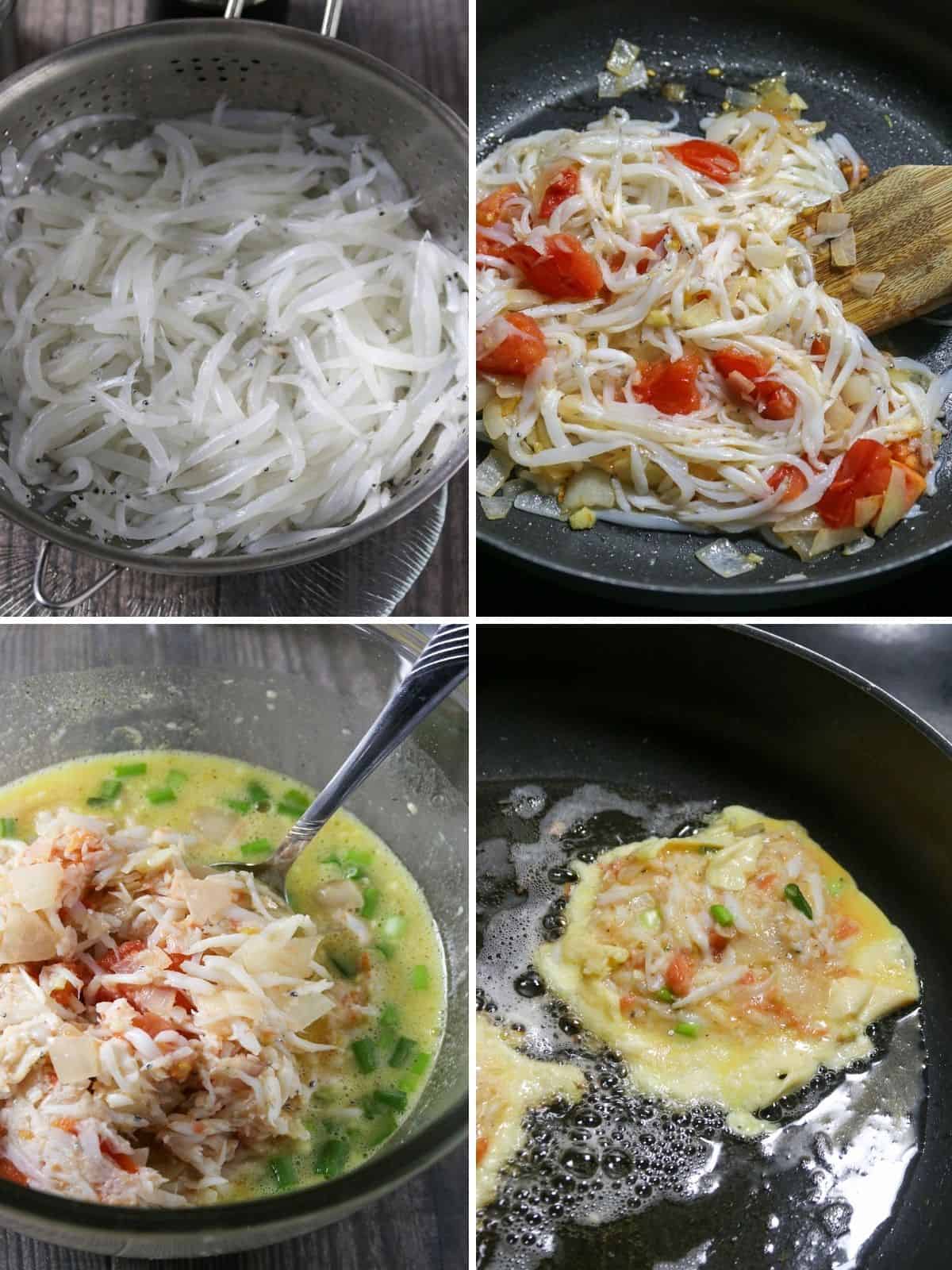 Cooking steps
This is one recipe I had to cook a few times before I got it right. On my first try, I combined the silverfish, fresh tomatoes, chopped green onions, and beaten eggs and pan-fried the mixture. It was a disaster! The omelet was too watery, and I couldn't even flip it without making a royal mess. Also, as I added the fish raw, it was hard to have them completely done without overcooking the eggs.
On my second go-round, I decided to saute the dulong with onions, garlic, and tomatoes and made sure I drained the excess liquid well. My torta didn't fall apart as much, but it was still hard to form into sturdy patties.
I just about gave up on ever making the omelet successfully when, last weekend, I was in line at Seafood City to pay for my week's worth of groceries when I saw the lady before me with a container of the minute fish. While the cashier was ringing up her purchases, I quickly asked her how she cooks them into torta. "Add flour," she answered.
Ha! Why didn't I think of that? Makes a lot of sense as the flour in ukoy works in tandem with eggs as a binder. Her tip worked like a charm.
Quick tip
Drain the fish mixture well before mixing with the eggs to keep the omelet from falling apart.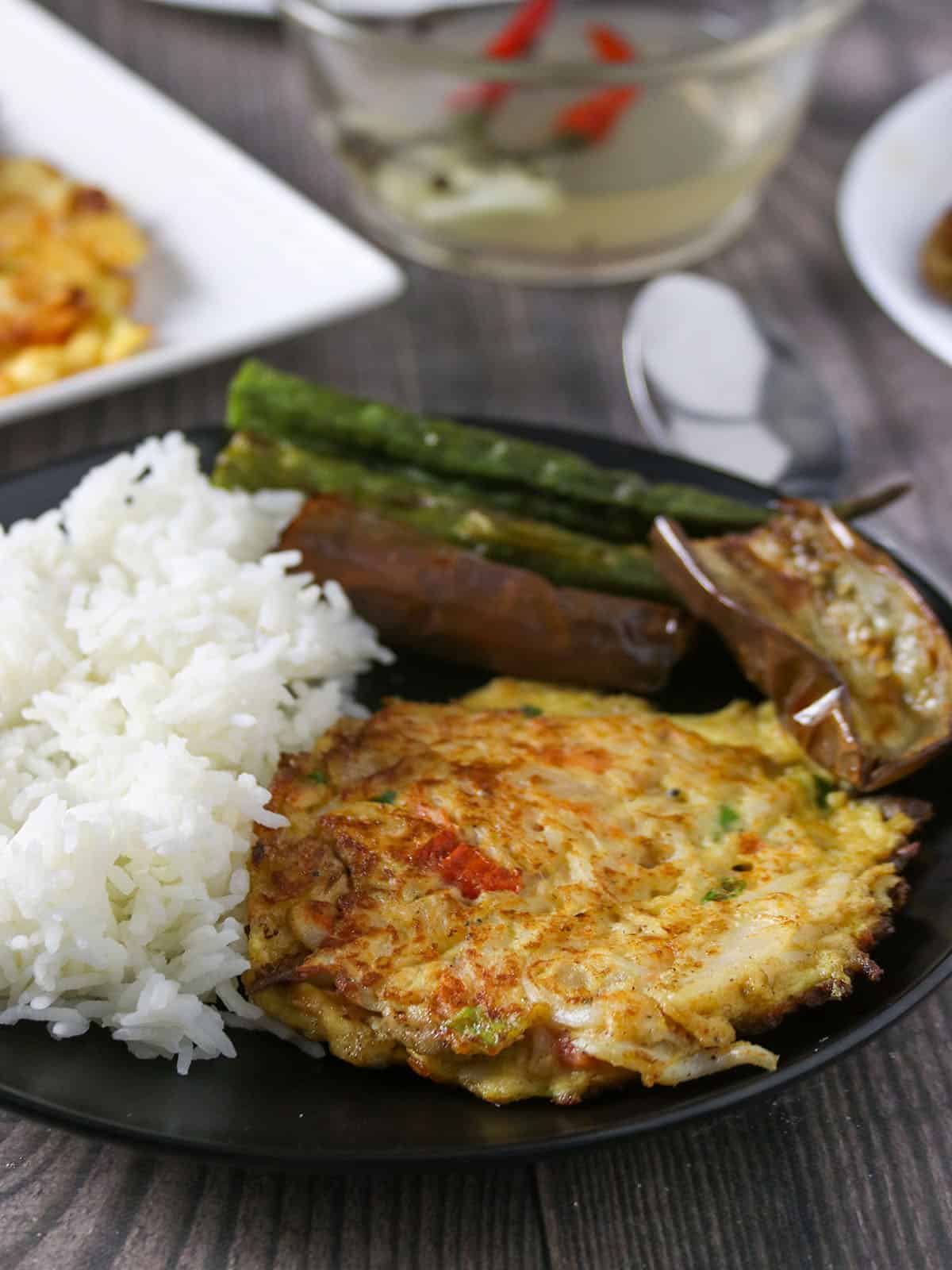 How to serve and store
I enjoy the fish patties with steamed okra, pan-fried eggplant, steamed rice, and spicy vinegar for dipping. Best lunch or dinner combo ever!
They're equally delicious for breakfast with garlic fried rice and banana ketchup. A tasty and filling meal to start the day!
Store leftovers in airtight containers and keep in the refrigerator for up to 3 days.
To reheat, heat a dry skillet over medium heat until evenly hot. Place torta in a single layer and heat for 2 to 3 minutes per side or until hot. Or, reheat, covered, in the microwave for about 1 to 1 ½ minutes.
Looking for more quick egg recipes? Try this tortang tahong or corned beef frittata for easy weeknight dinners the whole family will love!
M
Filipino-style egg omelet made with silverfish, tomatoes, and onions. Delicious and filling, this tortang dulong is perfect for breakfast or any time of the day meal with steamed rice.
4 Servings
Ingredients
3 tablespoons canola oil
2 cloves garlic. peeled and minced
1 small onion, peeled and chopped
1 Roma tomato, chopped
2 cups silverfish, drained well
4 eggs
salt and pepper to taste
2 tablespoons flour
2 tablespoons green onions, chopped
Instructions
In a pan over medium heat, heat about 1 tablespoon oil. Add onions and garlic and cook until softened.

Add tomatoes and cook for about 1 to 2 minutes or until slightly softened.

Add silverfish and cook for about 1 to 2 minutes or until heated through. Drain mixture VERY well.

In a bowl, add eggs and whisk until well beaten. Season with salt and pepper to taste.

Add flour and stir until smooth.

Add fish mixture and green onions. Stir until just combined.

In a wide, nonstick skillet over medium heat, heat another 2 tablespoons oil and swirl around to fully coat bottom of the pan.

Add about ½ cup of egg mixture and cook for about 1 to 2 minutes or until eggs begin to set and lightly brown. Using a spatula, gently flip to the other side. Continue to cook for another 1 minute or until both sides are lightly browned.

Remove from pan. Repeat with the remaining egg mixture. Serve hot.
Notes
Drain the fish mixture well before mixing with the eggs to keep the omelet from falling apart.
"This website provides approximate nutrition information for convenience and as a courtesy only. Nutrition data is gathered primarily from the USDA Food Composition Database, whenever available, or otherwise other online calculators."