Stewed chicken and potatoes in fish sauce is hearty, delicious, and the perfect pair for piping hot steamed rice. It's easy to make, full of flavor, and budget-friendly, too. A sure dinner winner!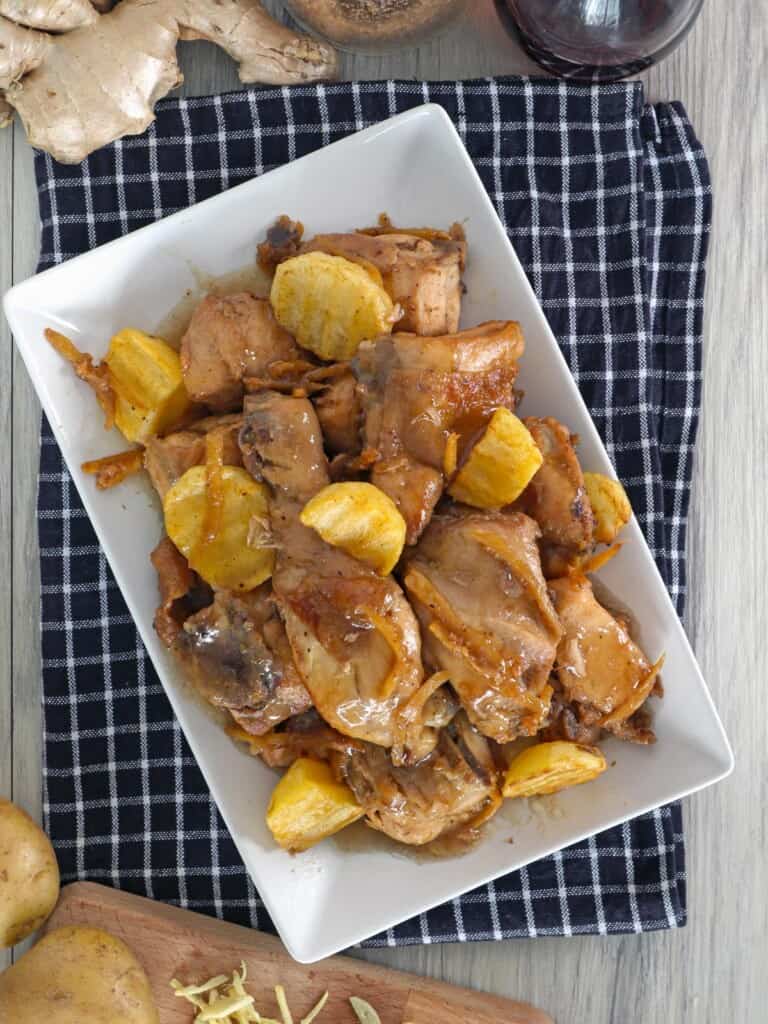 Ok, guys, here's the rundown of Lalaine's stewed chicken and potatoes in fish sauce. I was in the mood for a good bowl of tinola for lunch today and set out early in the morning to make it happen. I was happily sauteing the chicken in the customary onions, ginger, and garlic, eager for the delicious soup to come when I opened my fridge to prep the papaya and found none!
Even the fresh bunch of spinach I was sure I had bought, along with the missing papaya, was gone. I checked my receipt from Seafood City, and the two items were on the list. When I asked G, he said he didn't remember seeing them when he unloaded the groceries.
I did pay for them but most probably forgot the bag they were in at the cashier, from the look of things. Drat.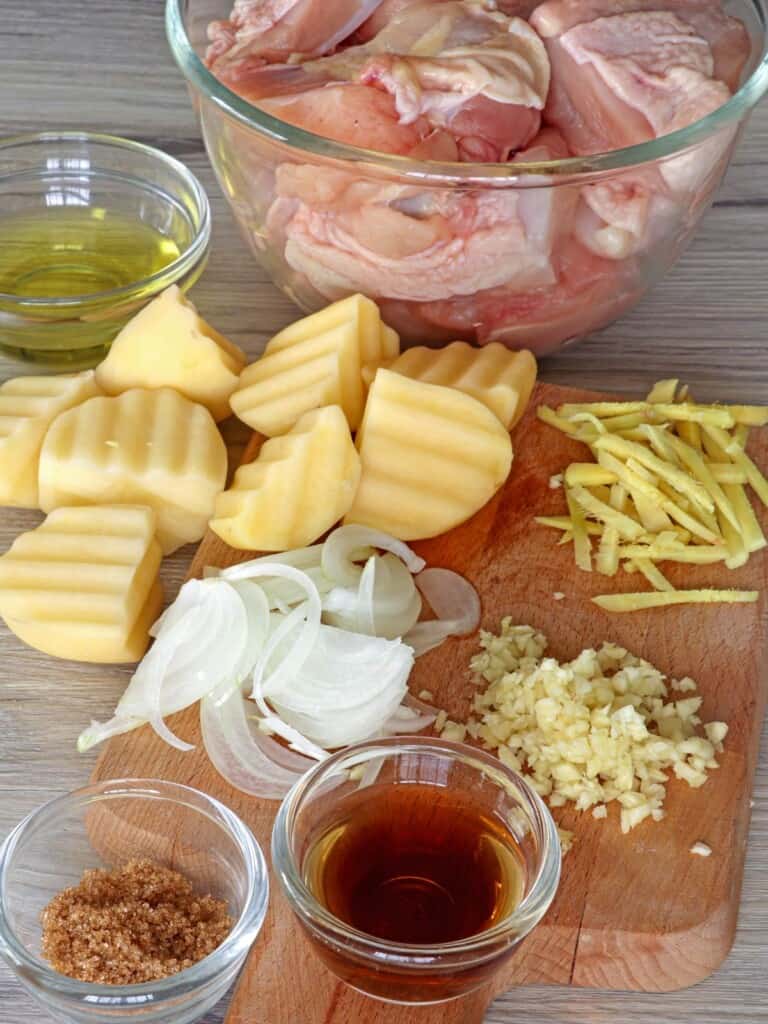 To say I was peeved with myself would have been an understatement. Not only did I craving to be appeased, but I also had about three pounds of chicken pieces already bubbling in fish sauce on the stove.
What to do, what to do? This stewed chicken, that's what!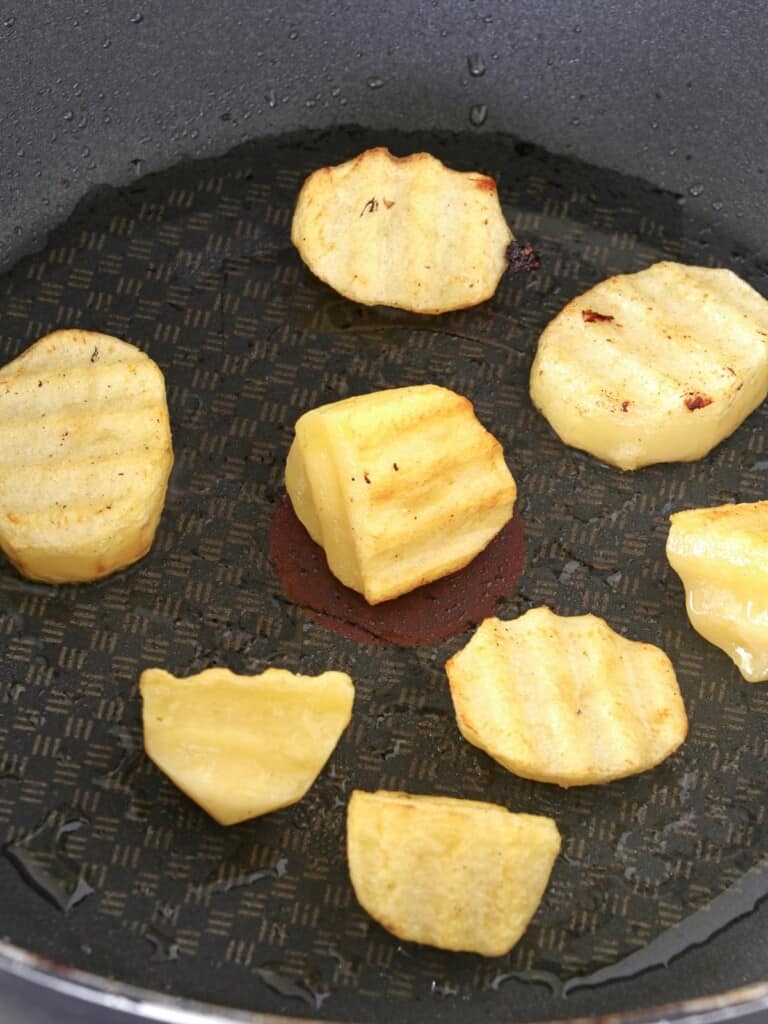 I added just enough water to the pot to allow the chicken to cook through instead of the quart if I was making the soup. I then pan-fried a couple of potatoes and dumped them in when the chicken pieces were tender.
When the sauce was almost reduced, I added about half a teaspoonful of brown sugar to balance off the saltiness of the fish sauce.
Oh, my sweet heavens! The stew was so hearty and delicious with a steaming heap (alright, two) of rice that the good old bowl of tinolang manok was all forgotten.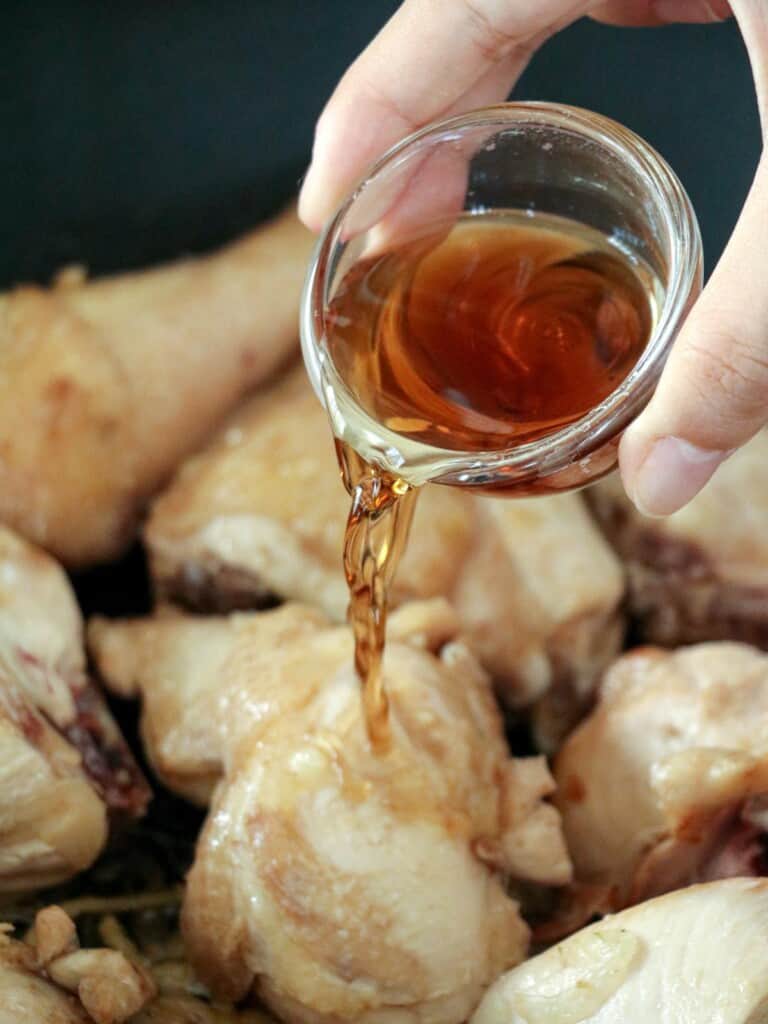 Cooking tips
I use bone-in chicken in the recipe, but feel free to swap boneless chicken thigh or breast to cut cooking time.
Pan-fry the potatoes until lightly browned and halfway cooked to keep from falling apart in the stew.
Do not skip the sugar! It might sound like an off ingredient in a savory stew, but it does help round off the overall flavor of the dish.
For color and extra nutrition, you can add a bunch of fresh spinach or chili leaves during the last minute.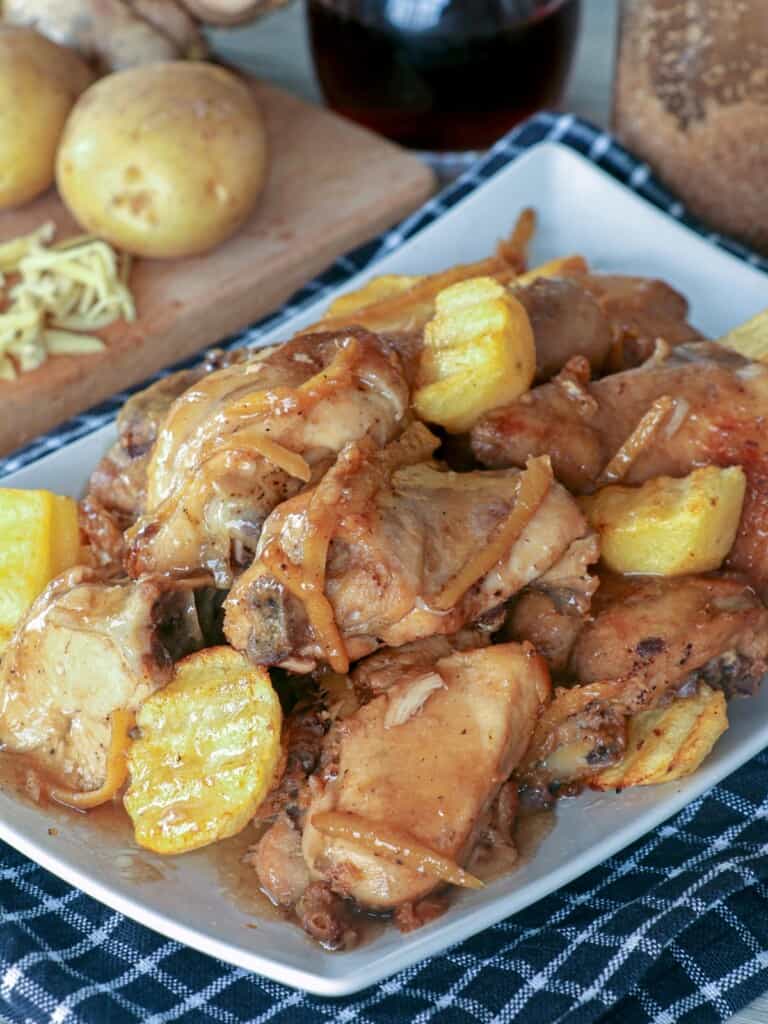 How to serve and store
This chicken and potato stew makes a hearty and tasty lunch or dinner meal paired with steamed rice.
To store leftovers, let cool completely and transfer to a container with a tight-fitting lid. Keep in the refrigerator for up to 3 days or in the freezer for up to 2 months.
To reheat, place in a saucepot and heat to an internal temperature of 165 F. Alternatively, warm in the microwave at 2 to 3-minute intervals until heated through.
More chicken stew recipes
Chicken and Potato stew is a hearty and tasty dish that's perfect with steamed rice. Easy to make with simple ingredients and cooks in one pan.
4 Servings
Ingredients
¼ cup canola oil
2 medium potatoes, peeled and quartered
1 onion, peeled and sliced
3 cloves garlic, peeled and minced
2 thumb-size ginger, peeled and julienned
3 pounds bone-in chicken, cut up into serving pieces
2 tablespoons fish sauce
1 cup water
½ teaspoon brown sugar
salt and pepper to taste
Instructions
In a wide pan over medium heat, heat oil. Add potatoes and cook, turning as needed, until lightly browned and almost tender. Using a slotted spoon, remove from pan and drain on paper towels.

Remove excess oil except about 1 tablespoon. Add onions, ginger, and garlic and cook until limp softened.

Add chicken and cook, stirring occasionally, for about 5 to 7 minutes or until chicken starts to change color and juices run clear.

Add fish sauce and cook, stirring occasionally, for about 1 to 2 minutes.

Add water and bring to a boil, skimming scum that floats on top.

Lower heat, cover, and simmer for about 25 to 30 minutes or until chicken is cooked through.

Add potatoes and cook for about 3 to 5 minutes or until tender.

Add sugar and stir to combine. Season with salt and pepper to taste.

Continue to cook until liquid is reduced. Serve hot.
"This website provides approximate nutrition information for convenience and as a courtesy only. Nutrition data is gathered primarily from the USDA Food Composition Database, whenever available, or otherwise other online calculators."