Tinolang Manok is the ultimate comfort food! Made of chicken, green papaya, fresh spinach, and ginger-flavored broth, this Filipino soup is hearty, healthy, and tasty.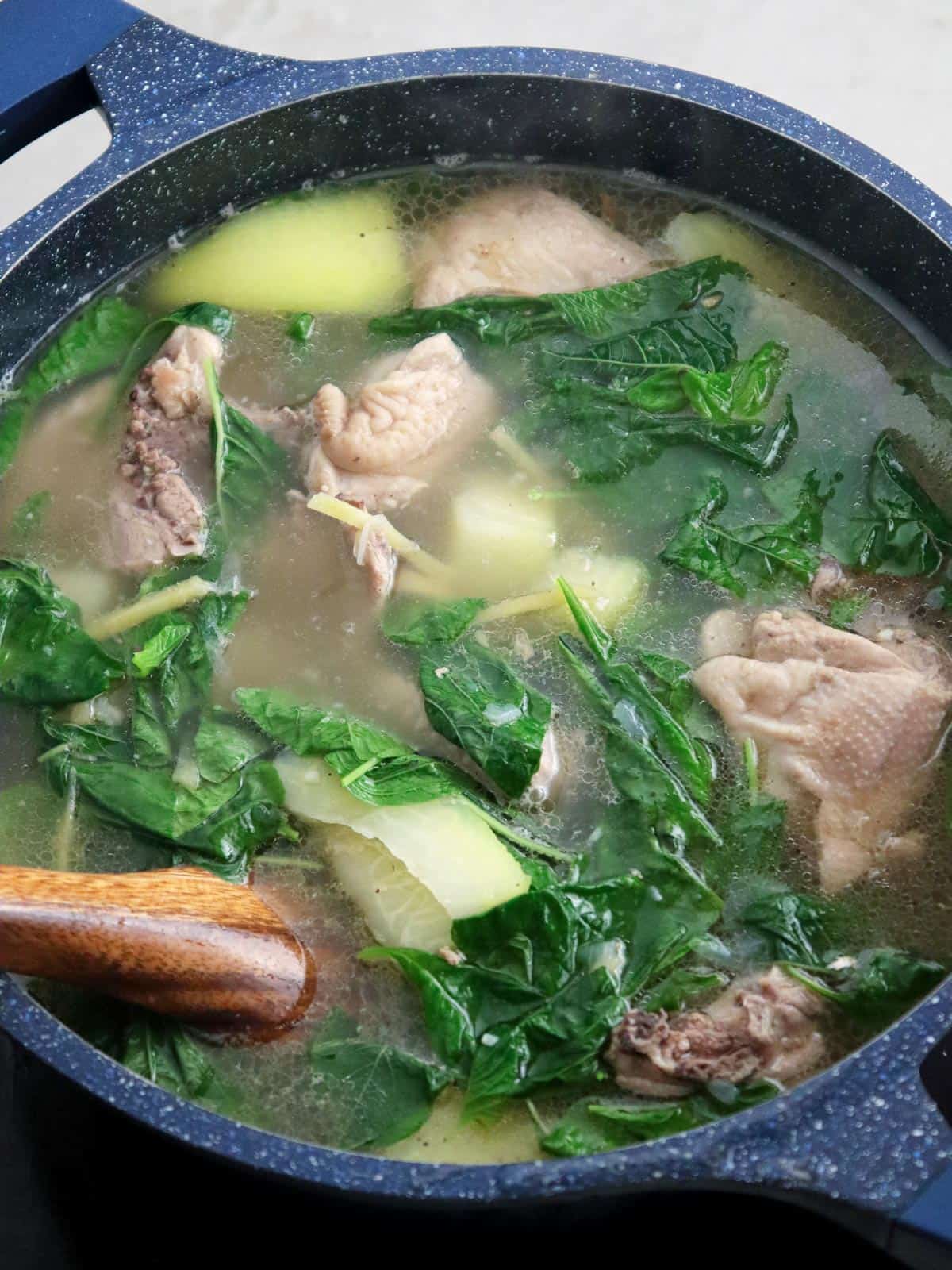 How amazing it is to be human. The things we disregard, the things we hold dear, the things we remember. I am now a forty-two-year-old woman who has gone through life and seen too much of life, and yet, every time I cook a pot of tinolang manok, a memory from an already distant past can still grip my heart and tear it apart.
I was five years old when my parents separated, and soon after, my father began another family. On one of the rare occasions we did visit him, my brothers, my father, his new wife, and his then 2-year-old son gathered around the table for a lunch of chicken tinola.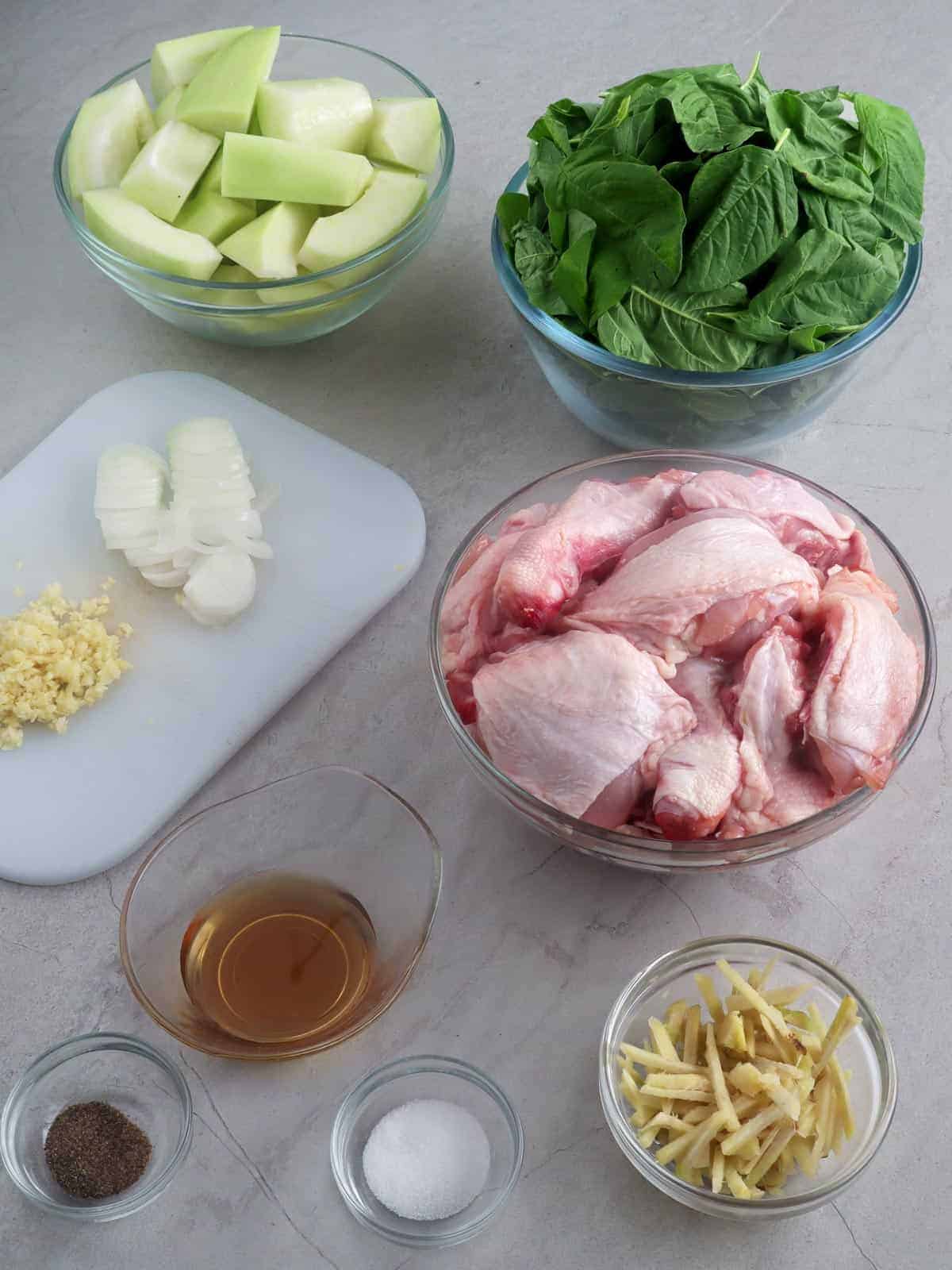 In the Philippines, or at least in our household, all edible parts of the fowl~liver, gizzards, neck, and all, are used in the soup. As there is only ONE liver, considered the most nutritious, it's usually given to the precious child of the house. When my father ladled our portions of the soup, I reached out for my bowl with a certainty that only comes from the naivety of a child that THE liver was in mine. Instead, my father, cooing as he did, plopped the coveted piece into his boy's.
I was too young then to explain the onslaught of tears, to even understand what I was crying about. All I remember was the desperate need to be back home at my mother's house, my mother's house, where I would have been the ONE with the liver in her bowl.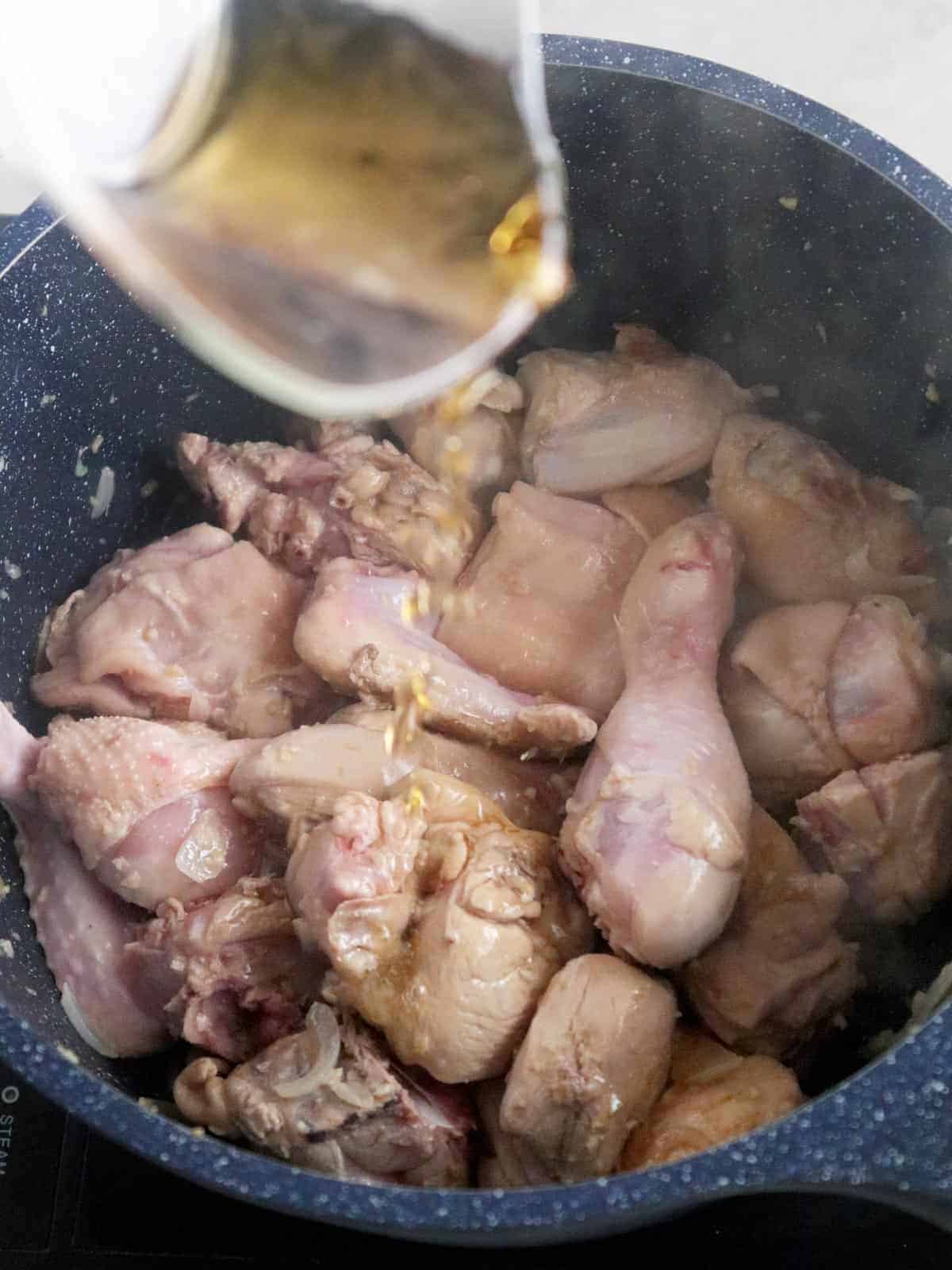 Cooking tips
Cut the chicken in uniform size to ensure even cooking.
Although you can use boneless chicken meat,  bone-in parts yield the best flavor.
The recipe calls for green papaya but you can also use chayote, potatoes or upo.
I use fresh spinach leaves as they are more accessible, but Malunggay or chili leaves are more traditional options.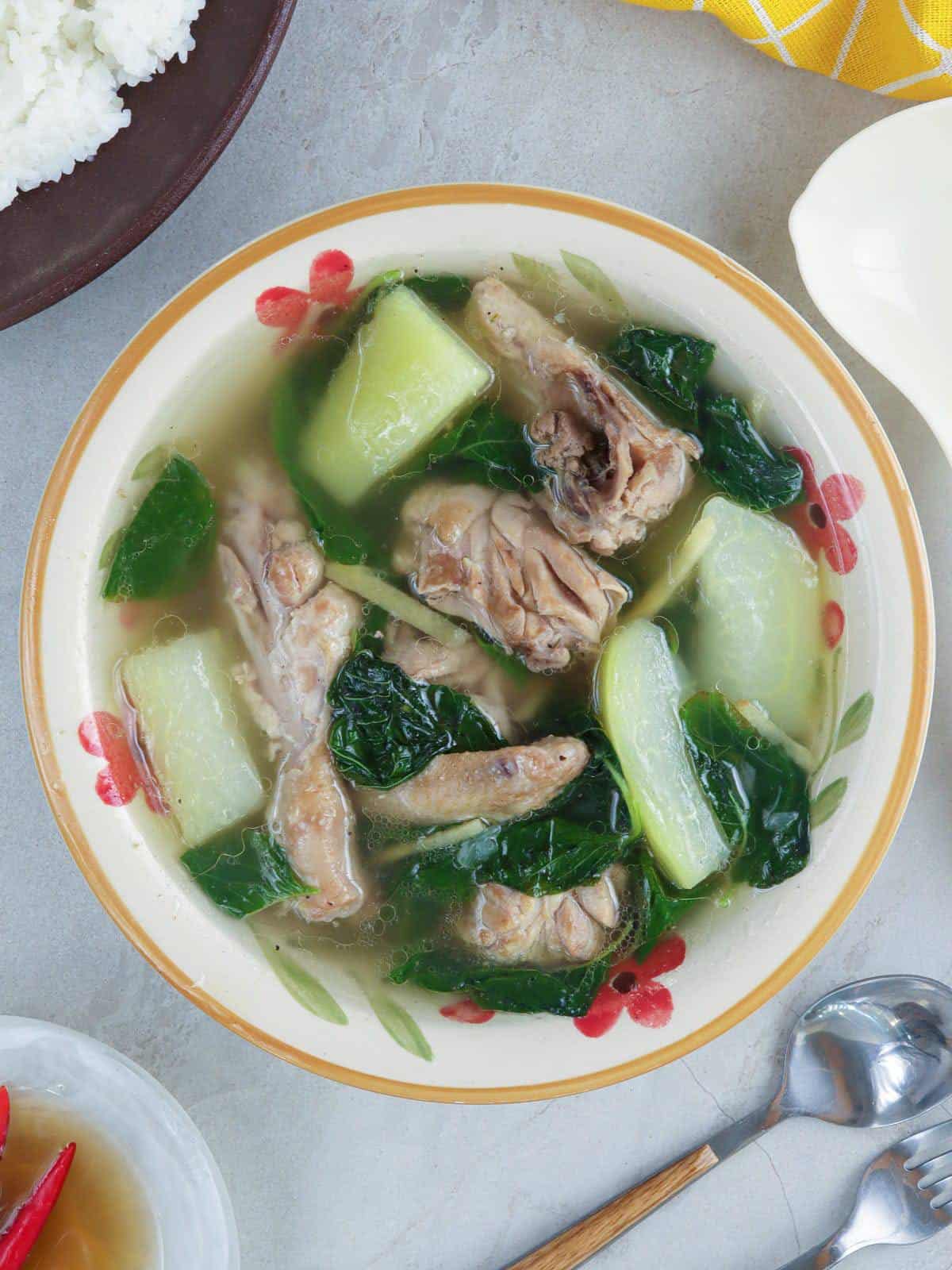 How to serve
Tinola is traditionally served as a main dish for lunch or dinner. It's common to partake of the dish with steamed rice and fish sauce as a condiment on the side.
Storing leftovers
To store, transfer in a container with a tight-fitting lid and refrigerate for 3 days or freeze for up to 2 months.
To reheat, place in a saucepan and cook to an internal temperature of 165 F.
Chicken tinola is a healthy, tasty, and comforting soup that's perfect for cold weather. It's delicious on its own or with steamed rice.
4 Servings
Ingredients
1 tablespoon canola oil
1 small onion, peeled and sliced thinly
3 cloves garlic, peeled and minced
2 thumb-sized fresh ginger
1 (3 to 4 pounds) whole chicken, cut into serving pieces
2 tablespoons fish sauce
5 cups water
1 small green papaya, pared, seeded and cut into 2-inch wedges
1 bunch fresh spinach leaves, stems trimmed
salt and pepper to taste
Instructions
In a pot over medium heat, heat oil. Add onions, ginger, and garlic and cook until softened.

Add chicken and cook, stirring occasionally, for about 5 to 7 minutes or until chicken starts to change color and juices run clear.

Add fish sauce and cook, stirring occasionally, for about 1 to 2 minutes.

Add water and bring to a boil, skimming scum that floats on top. Lower heat, cover and simmer for about 30 to 35 minutes or until chicken is cooked through.

Add papaya and cook for about 3 to 5 minutes or until tender yet crisp.

Season with salt and pepper to taste.

Add spinach and push down into broth. Cook until just wilted. Serve hot.
Notes
Cut the chicken in uniform size to ensure even cooking.
For a clear, cloud-free broth, remove any scum that floats on top.
Video
"This website provides approximate nutrition information for convenience and as a courtesy only. Nutrition data is gathered primarily from the USDA Food Composition Database, whenever available, or otherwise other online calculators."