Chicken Asado is easy to make and so flavorful! Marinated in soy sauce and citrus juice and then braised in tomato sauce, this Kapampangan-style stew is full of tangy and savory flavors that are perfect with steamed rice.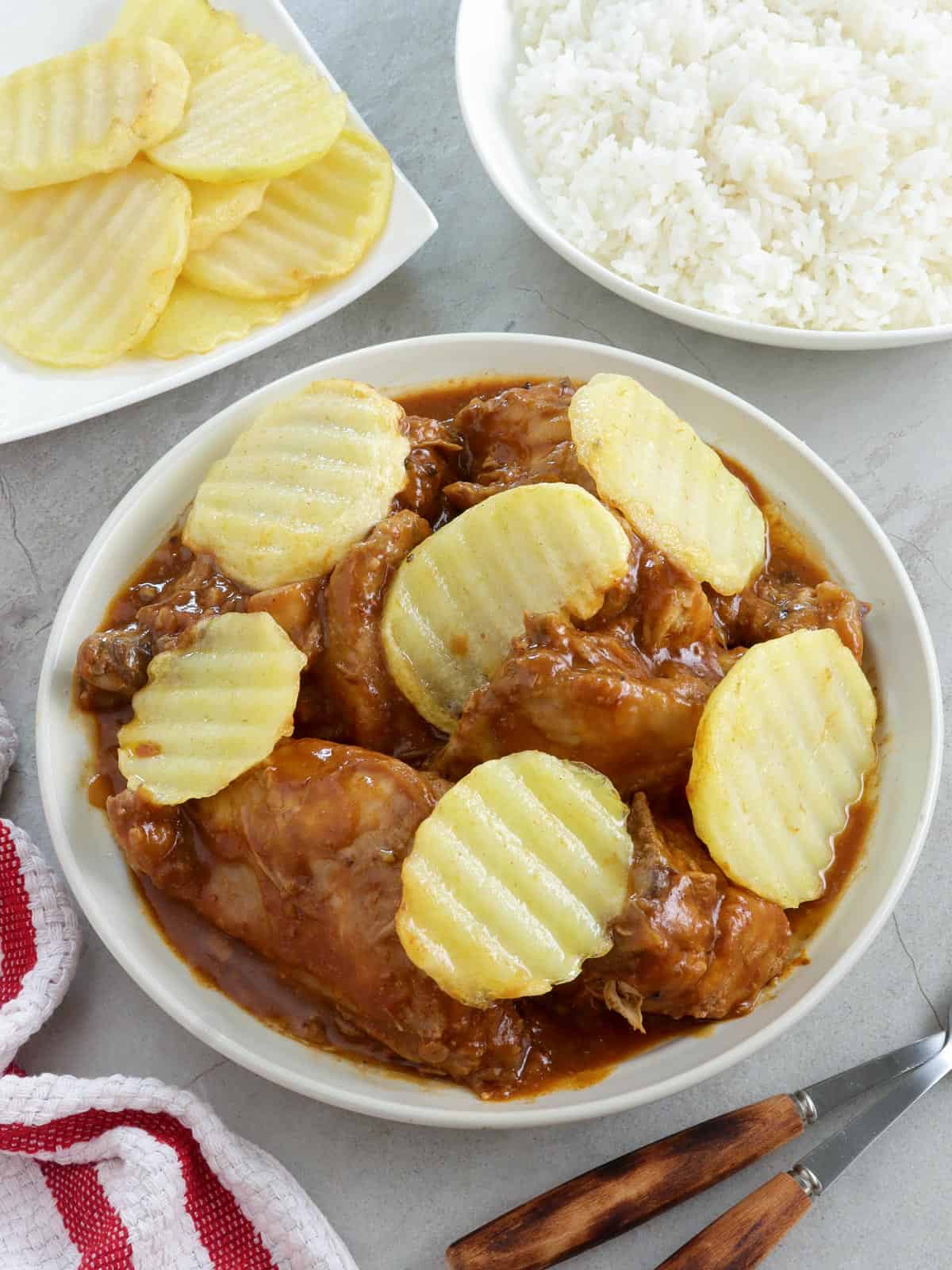 This chicken asado recipe is an old post from 2016 and needed a little brush-up. I cooked it yesterday to reshoot the dish and give it better justice. Unfortunately, I wasn't able to take decent pictures.
The asadong manok smelled so inviting, and I couldn't help but dig in before I could take photos. By the time I plowed through almost half the juicy meat and most of the sauce with generous helpings of steamed rice, it no longer looked as good as when I first took it off the heat.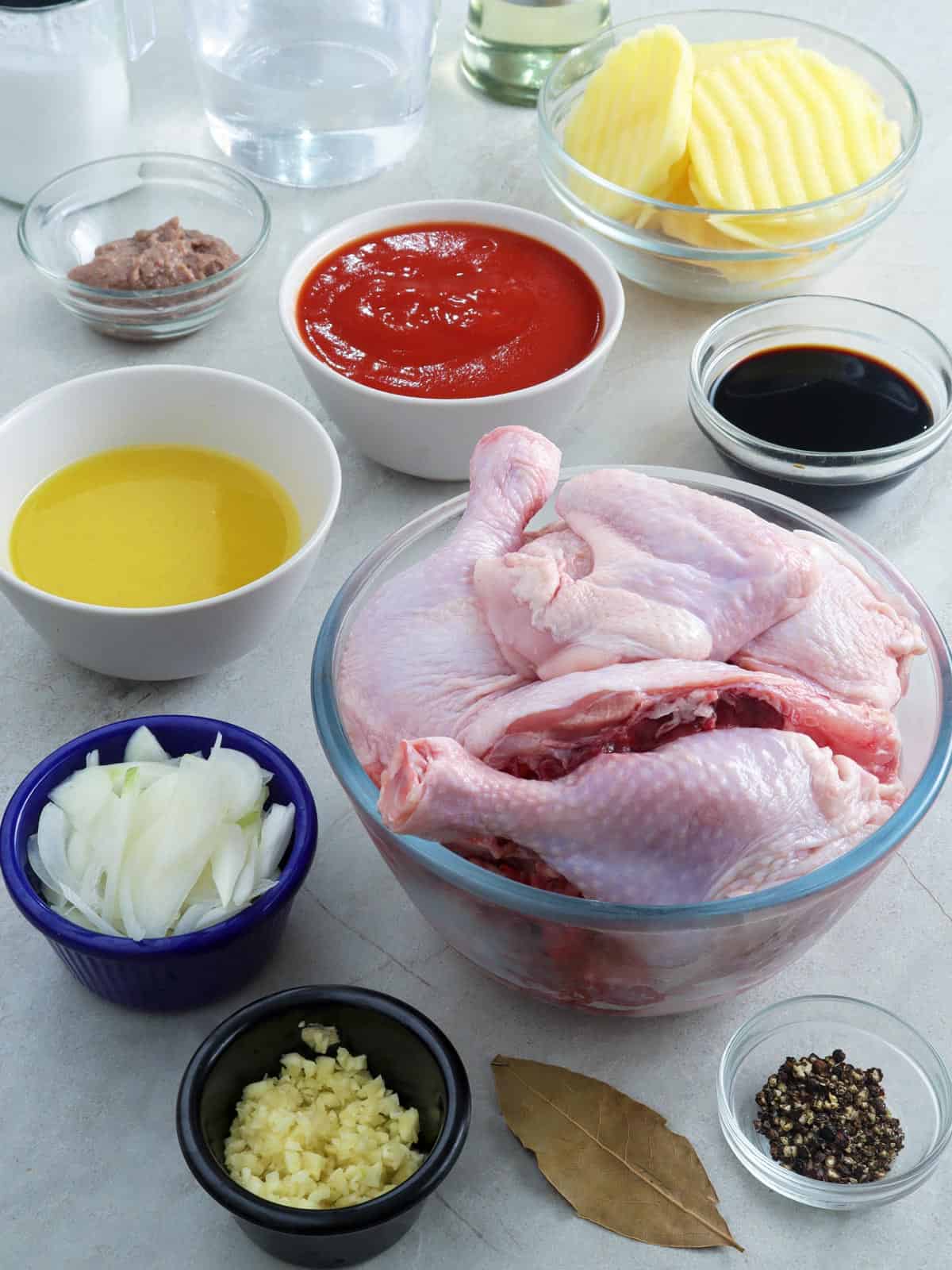 So, today, I cooked the asado again so I could do another photoshoot, and there there were no complaints in the house for having the same dish two days in a row. Everyone loved it so much; they had already requested I make it again just minutes after lunch.
I can't blame them because it's seriously the BOMB! As one of my aunts said, "sarsa pa lang ulam na."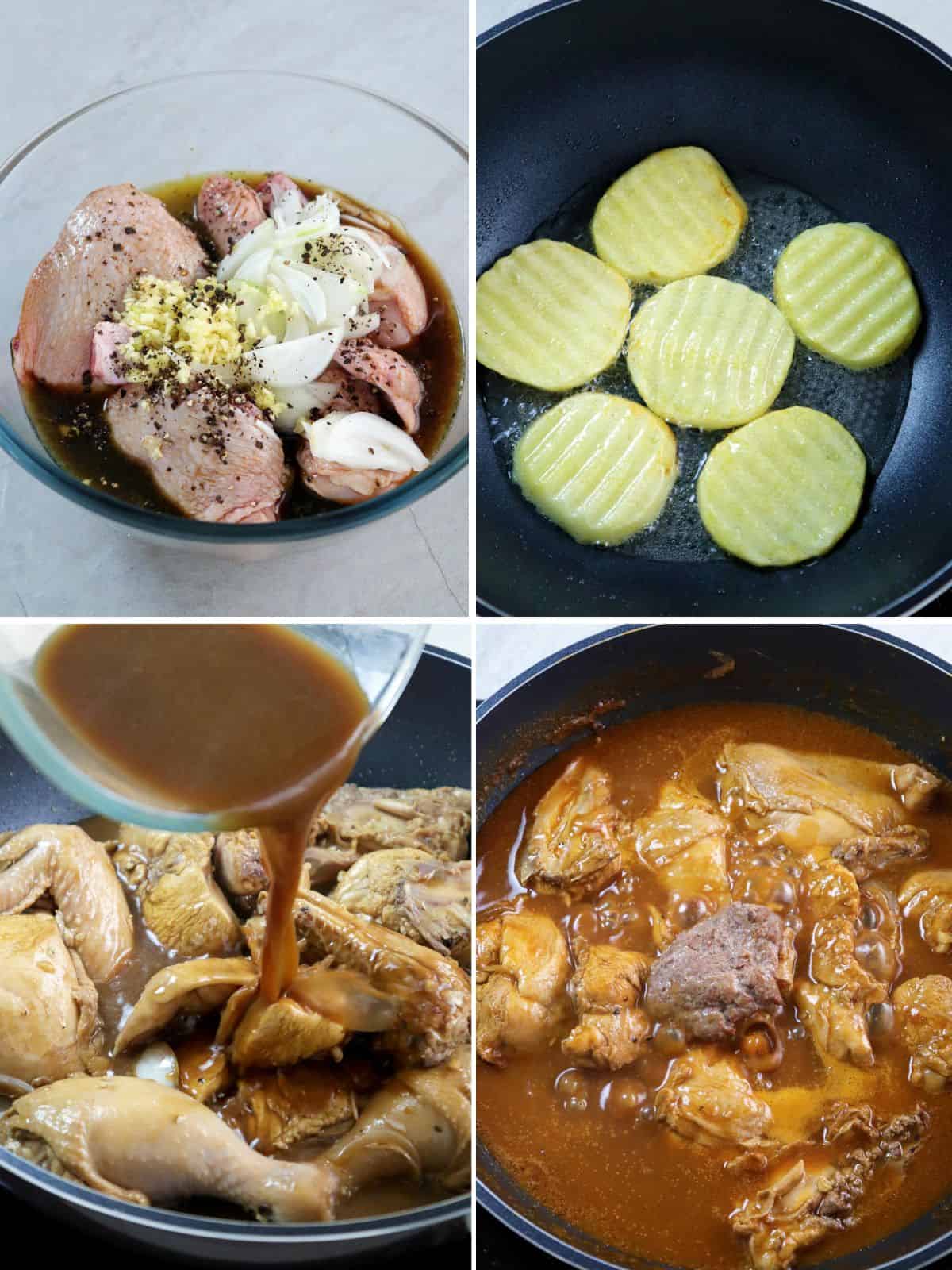 Kapampangan asado
Although a derivation of the Spanish word "asar," which means grilled or barbecue, the word asado refers to two different braised meat dishes in Philippine cuisine. It's prepared in our local food scene as either a sweet and salty Chinese style or a tangy and savory asado de carajay.
While the Chinese-derived variant is braised in soy sauce, brown sugar, and Chinese spices such as star anise and five-spice, the native asado uses soy sauce, calamansi, and aromatics such as onions, garlic, bay leaves, and peppercorns.
Like mechado, this Kapampangan version is braised in citrus juice, soy sauce, and tomato sauce until tender and flavorful. However, it is finished with a generous dollop of liver spread to help thicken the sauce and add depth of flavor.
Pan-fried potatoes are usually added as an economical way to extend the dish and provide a contrast of flavor and texture.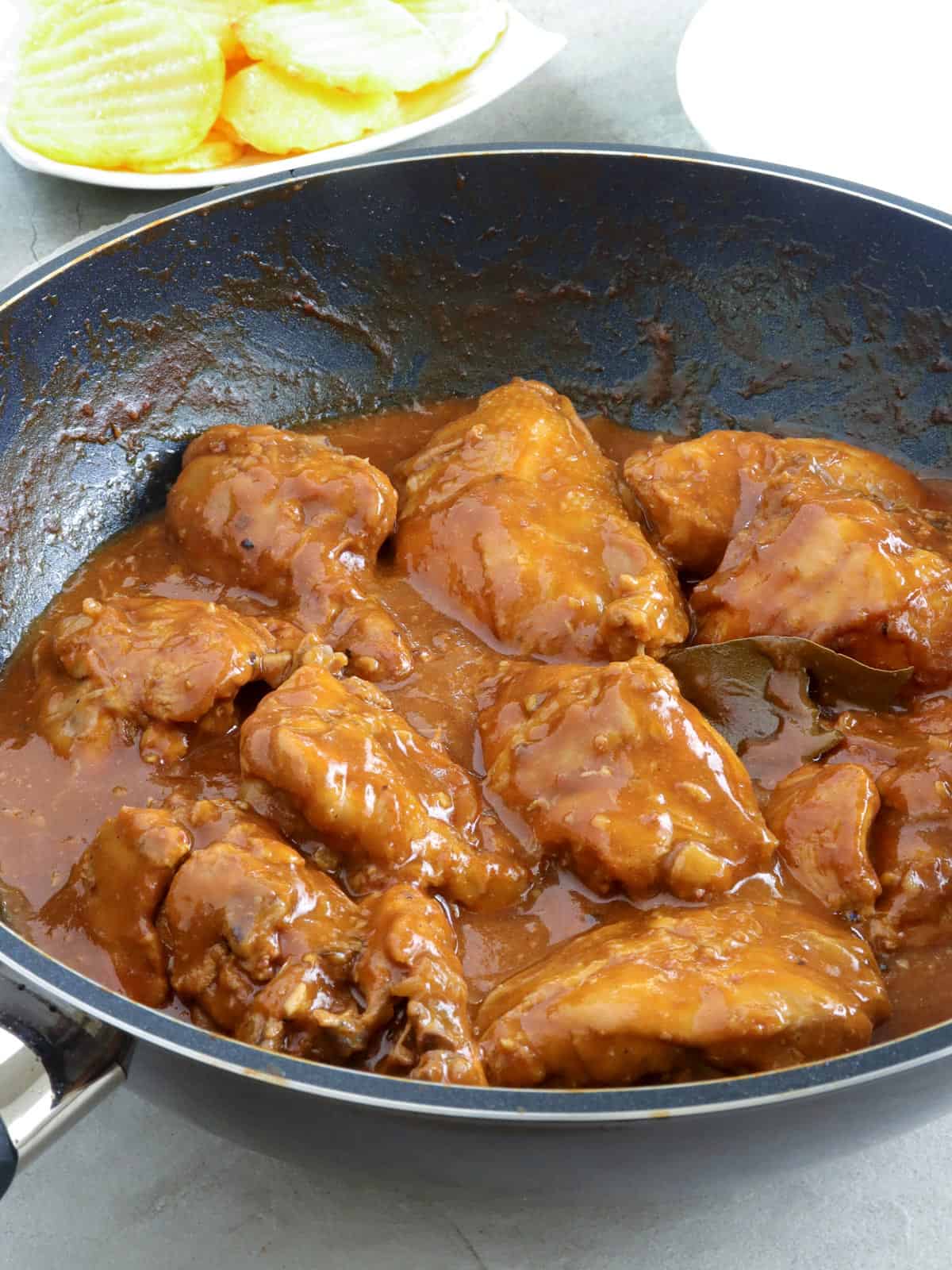 Cooking tips
For even cooking, cut the chicken in uniform sizes.
Do not marinate for long periods as the acids in the calamansi will break down the protein fibers of the meat and make the texture mushy. Thirty minutes up to four hours should be adequate to infuse flavor.
Pan-fry the potatoes until lightly-browned to keep them from falling apart when simmered in the sauce. I prefer to fry them all the way cooked and use to garnish the dish.
Like adobo, you can simmer the asado just until the sauce is nice and thick or reduce until it begins to render fat.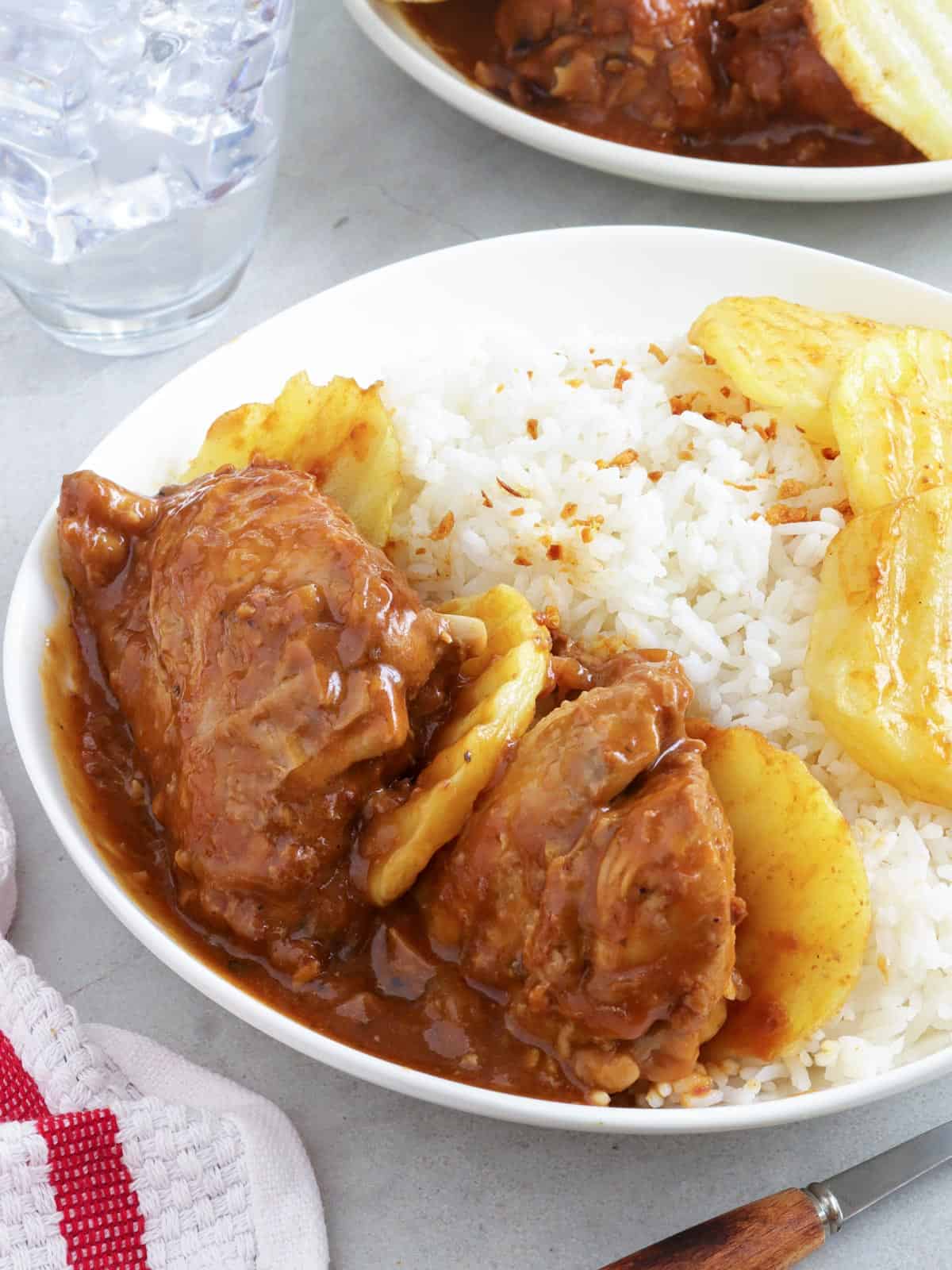 How to serve and store
Serve chicken asado as a main dish for lunch or dinner with a side of steamed rice.
Transfer leftovers in a container with a tight-fitting lid and refrigerate for up to 3 days or freeze for up to 2 months.
Reheat in a saucepan over medium heat to 165 F or in the microwave at 2 to 3-minute intervals, stirring well after each interval.
Kapampangan-style Asadong Manok is marinated in citrus juice and soy sauce and then braised in tomato sauce until tender and flavorful. It's a delicious dish perfect for family dinners or special occasions!
4 Servings
Ingredients
3 pounds chicken, cut into serving parts
½ cup calamansi juice
¼ cup soy sauce
1 onion, peeled and sliced thinly
3 cloves garlic, peeled and minced
¼ teaspoon peppercorns, cracked
¼ cup canola oil
2 large potatoes, peeled and sliced into ¼ inch thickness
1 cup tomato sauce
1 cup water
1 bay leaf
2 tablespoons liver spread
salt to taste
Instructions
In a bowl, combine chicken, calamansi juice, soy sauce, onions, garlic, and pepper. Massage marinade on meat and marinate for about 20 to 30 minutes.

Drain chicken, squeezing meat and aromatics to extract liquid. Reserve marinade.

In a skillet or wide pan over medium heat, heat oil. Add potatoes and cook until lightly browned and cooked through. With a slotted spoon, remove from pan and drain on paper towels. Keep warm.

Remove excess oil from pan except for about 2 tablespoons. Add chicken, onions, and garlic. Cook, stirring occasionally until chicken is lightly browned and onions and garlic are softened.

Add reserved marinade and bring to a boil for about 2 to 3 minutes.

Add tomato sauce, water, and bay leaf. Bring to a boil.

Lower heat, cover, and cook for about 30 to 40 minutes or until chicken is cooked through and sauce is reduced. Skim the sauce of rendered fat as needed.

Add liver sauce and stir to distribute. Continue to cook for another 1 to 2 minutes or until sauce is thickened.

Season with salt to taste. Transfer onto a serving platter and garnish with potatoes. Serve hot.
Notes
Do not marinate for long periods as the acids in the calamansi will break down the protein fibers of the meat and make the texture mushy. Thirty minutes up to four hours should be adequate to infuse flavor.
Video
"This website provides approximate nutrition information for convenience and as a courtesy only. Nutrition data is gathered primarily from the USDA Food Composition Database, whenever available, or otherwise other online calculators."