Miswa are thin salted noodles made from wheat flour and eggs. The noodles strands are extremely delicate and require just about a minute or two of cooking. As they are a frugal way to extend portions, I like adding them to a few of my favorite dishes such as sardines and miswa. Miswa at patola soup pairs well with rice and your choice of meat or fish but it's equally delicious enjoyed all on its own.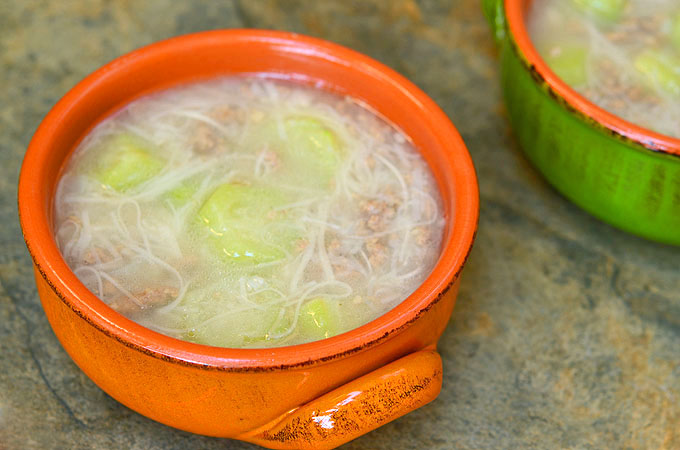 Miswa at Patola Soup
Ingredients
1 tablespoon oil
1 small onion
1 to 2 cloves garlic
½ pound ground pork
1 tablespoon fish sauce
2 cups water
2 ounces miswa noodles
2 to 3 medium loofah gourd (patola)
salt and pepper to taste
Instructions
In a pot over medium heat, heat oil. Add onions and garlic and cook until softened. Add pork and cook, breaking apart with back of spoon, until lightly browned. Add fish sauce and continue to cook, stirring occasionally, for about 1 to 2 minutes.
Add water and bring to a boil, skimming any scum that may float on top. Lower heat and cook for about 10 minutes or until pork is fully cooked. Add patola and cook for about 3 to 5 minutes or until tender yet crisp. Add miswa noodles and cook for about 1 to 2 minutes or until softened. Season with salt and pepper to taste. Serve hot.