It has always been a dream of mine to have my own restaurant or catering company. I considered many times in the past to quit my full time job and just take the plunge into a business of my own. However, the prospect of jumping into the water with both feet was intimidating especially with a dependent child going to college. All I could do then was take minute steps and see where they brought me. A couple of years ago, I contacted a few restaurants and Asian supermarkets to offer my mini eggpies, leche flan and cassava cake on consignment basis. My bestfriend, Edwin, who is proficient with Photoshop even made packaging labels for me.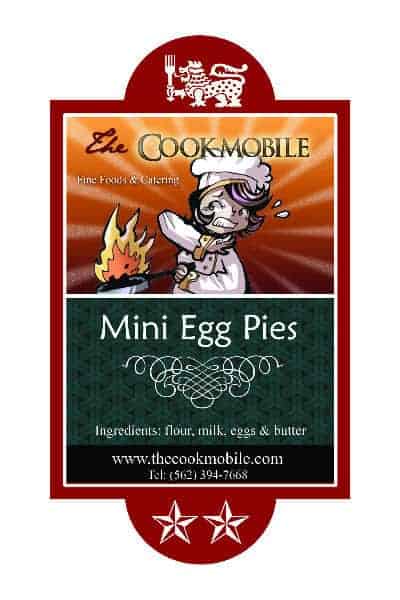 I'd come home from work late in the afternoon, bake my goodies till dawn and deliver them the next day before I went to work again. It was an exhausting one-man show but nonetheless, exciting.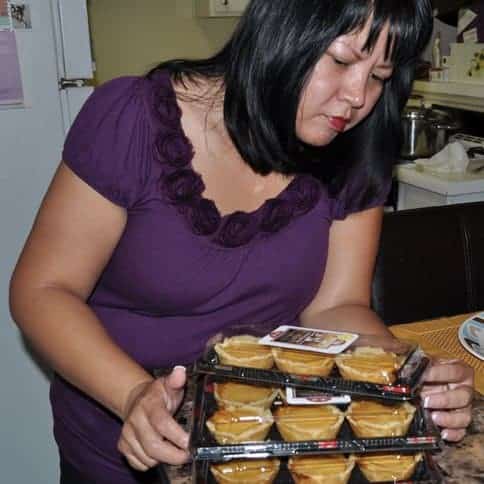 If you happened to be at a certain Asian supermarket in Carson, California mid October of 2010 and saw a suspicious-looking woman taking pictures of their refrigerator, that would have been me. As you see from the photo below, only one was left out of the 40 packs I brought in. It was so surreal to see something I baked actually on the shelves for sale.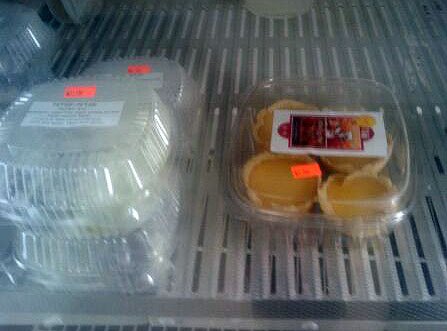 Unfortunately, after almost a year of sweating it out, I eventually had to let go. Although the venture was successful on its own merits, it was too small-scaled to warrant hiring another pair of hands to help or to give up my job to focus on it hundred percent. But even if I don't sell these mini eggpies anymore, I still regularly make them to bring to potlucks or gatherings. Conveniently bite-sized and with a crust so crisp and flaky and a custard filling so smooth and velvety, they are always a hit. Give them a try and let me know if I could have been the next Sara Lee if I held on to the dream a little longer.
Print Recipe
Mini Eggpies
Ingredients
6

egg yolks

1

12 ounces can evaporated milk

1

14 ounces can sweetened condensed milk
For the Crust
8

ounces

2 sticks butter

2

cups

flour

1

teaspoon

salt

2

tablespoons

sugar

1/4

cup

ice water
Instructions
In a bowl, combine egg yolks, evaporated milk and condensed milk until blended. Using a cheesecloth, strain egg-milk mixture.

Pour egg-milk mixture into prepared dough-lined muffin pan up to 3/4 full and bake in a 350 F oven for about 20 to 25 minutes or until crust is golden and toothpick inserted in middle of custard comes out clean. Remove from oven and allow to cool before removing from pan. Best served at room temperature.
For the Crust
Cut butter into cubes and freeze for about 1 hour. In a bowl, whisk together flour, salt and sugar and chill in refrigerator for about 30 minutes.

Add butter to flour mixture. Cut the butter into the flour using a pastry blender or by pinching the fat into the flour mixture with hands. Work them together until resembling coarse cornmeal with pea-like, butter-speckled pieces.

Slowly drizzle water to flour-butter mixture and with hands, mix until just combined. Gently gather dough and press into a ball. If dough is too crumbly and does not hold together, add more water a tablespoon at a time. DO NOT ADD TOO MUCH LIQUID and DO NOT OVERWORK DOUGH. Wrap dough with plastic wrap and chill in the refrigerator for about 2 hours.

Divide dough into 12 balls. Place each ball between two sheets of parchment paper and with a rolling pin, gently flatten each ball into 4-inch diameter and 1/8-inch thickness.

Spray holes of a 12-hole muffin pan with nonstick cooking spray. Lift each flattened dough and place into each muffin holes and with hands, gently press on sides and bottom. Trim off excess dough on edges.
Notes
The key to buttery, flaky crusts is starting with VERY cold ingredients. I like to freeze my butter cubes and chill my flour mixture to help maintain temperature. Handle dough gently and do not over manipulate to prevent gluten formation. The dough needs to rest in the refrigerator, chill it for 2 hours (it will keep up to 3 days) to keep the embedded fat in pieces, making a lighter, flakier texture when baked. Work on the dough quickly while rolling and lining muffin pans. If it begins to soften, tear apart or stick on work surface, return to refrigerator to chill for about 5 minutes.