When I migrated to the U.S. twenty some years ago, there were many things I missed from back home. The simple stuff like pandesal, pastillas de leche, kutsinta, espasol and pichi pichi I used to take for granted became longed-for treats.  Of course, indigenous products are more readily available these recent years but they can be outrageously expensive and at times, not the best quality.  Now that I've been constantly learning how to re-create many of our Pinoy classics for the blog, I am able to enjoy childhood favorites any time craving hits.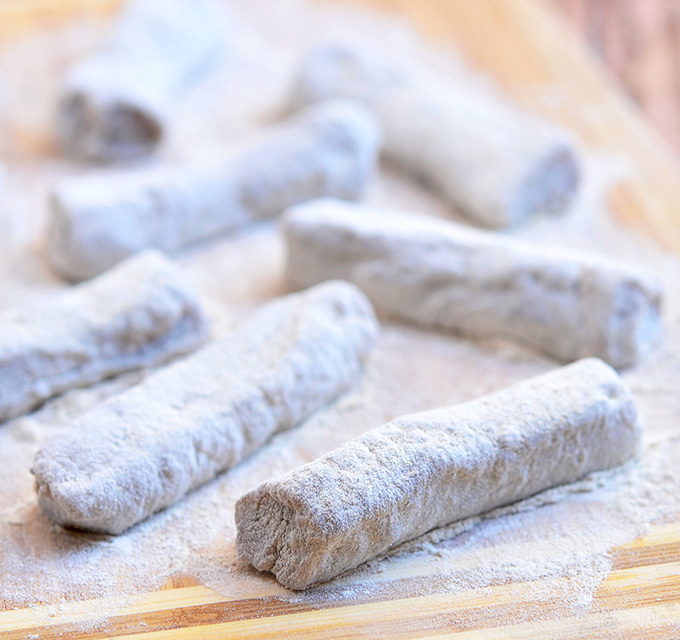 Espasol is a type of rice cake made of toasted glutinous rice flour cooked low and slow in coconut milk. Once the right consistency is reached, the mixture is divided and formed into tubular shapes of desired lengths. The rice cake logs are then rolled in toasted rice flour and wrapped in banana leaves or flimsy Japanese for serving. Although ingredients are few and the procedure is pretty straightforward, please be forewarned that making espasol is not an easy feat. It involves quite a bit of physical effort as the mixture has to be painstakingly stirred and turned over low heat for about 30 to 40 minutes or until it's very sticky or "makunat" (what is the English translation for this word anyway?). You'll know it's ready when it's tensile enough to spring back with a slight pull.
Espasol
Ingredients
4 cups glutinous rice flour
4 cups coconut milk
2 cups sugar
1 teaspoon vanilla extract
1 teaspoon salt
Instructions
In a skillet over medium heat, toast rice flour, stirring frequently, for about 20 to 30 minutes or until color changes to pale gold and aroma becomes nutty. Set aside ½ cup (for rolling espasol).
In a wide pan over medium heat, combine coconut milk, sugar, vanilla extract and salt. Bring to a boil, stirring frequently, until sugar and salt are dissolved.
Slowly add 3-1/2 cups of the toasted rice flour, stirring regularly to prevent lumps. Lower heat and continue to cook, stirring and turning regularly, for about 30 to 40 minutes or until mixture is very sticky and becomes oily.
Transfer mixture onto a flat, working surface dusted with the remaining toasted flour. Dust with more toasted flour. Using a rolling pin or a spatula, spread and flatten mixture to about ½-inch thick. With a lightly-greased knife, cut espasol into strips and then roll espasol on toasted flour until fully coated. Shake to rid of excess flour and wrap each piece in Japanese paper or banana leaves.