These deliciously addictive and aromatic Chinese Boiled Peanuts are super easy to prepare in the crockpot. Slow-cooked in soy sauce, sugar, and aromatic spices, they make a nutritious and delicious appetizer, snack, or side dish.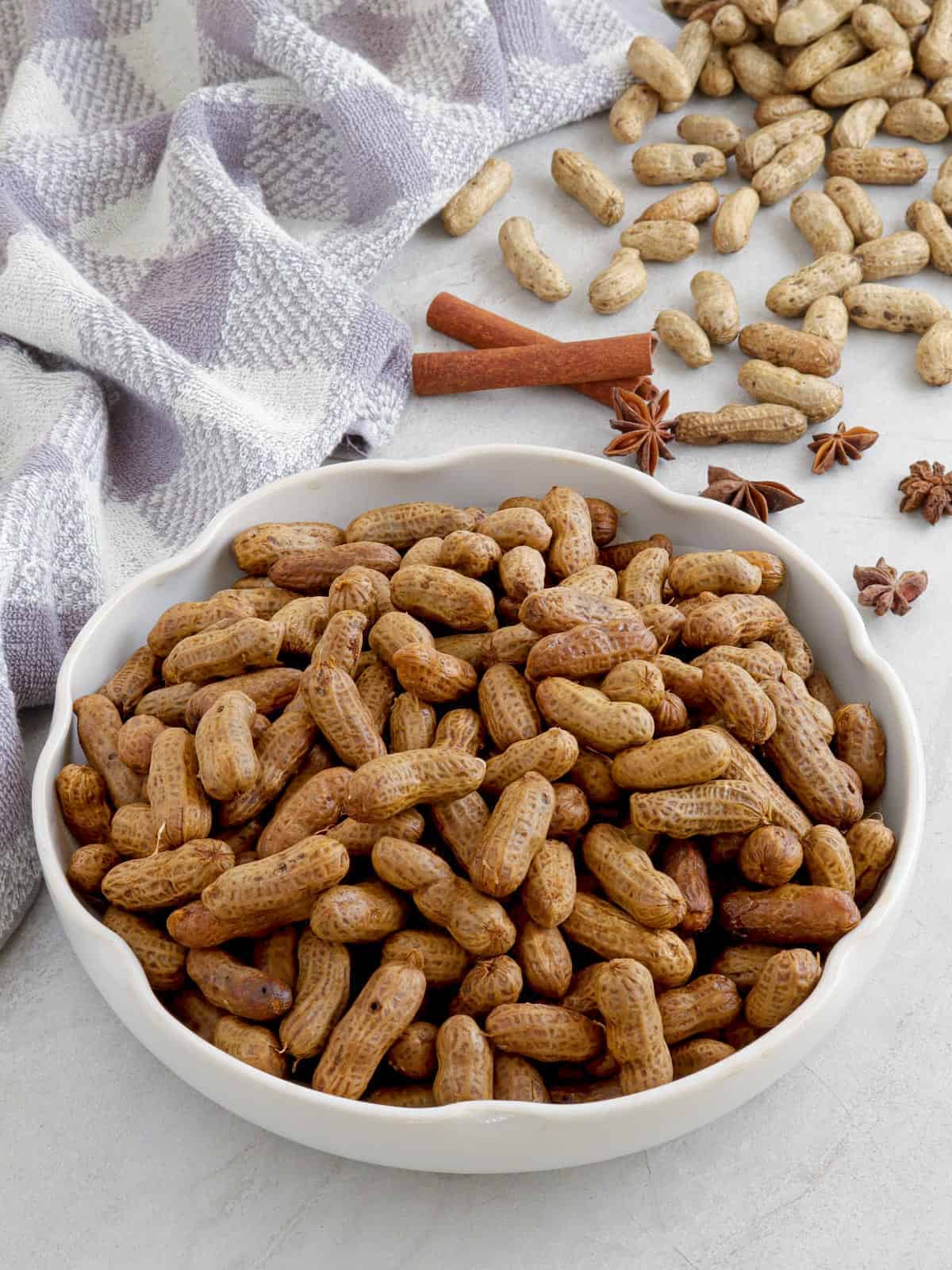 The first time I tried Chinese boiled peanuts was on our grocery trips to the Asian supermarket I used to shop at in California. I picked up a few bags from the bin they had near the cashier area and found myself polishing the whole 2 pounds within our 20-minute drive home.
They were so addictive I couldn't stop shell-shucking and popping them in my mouth! I loved them so much that I make a batch at least once weekly. They're great as an appetizer when I'm entertaining or whenever I want a salty, soft snack.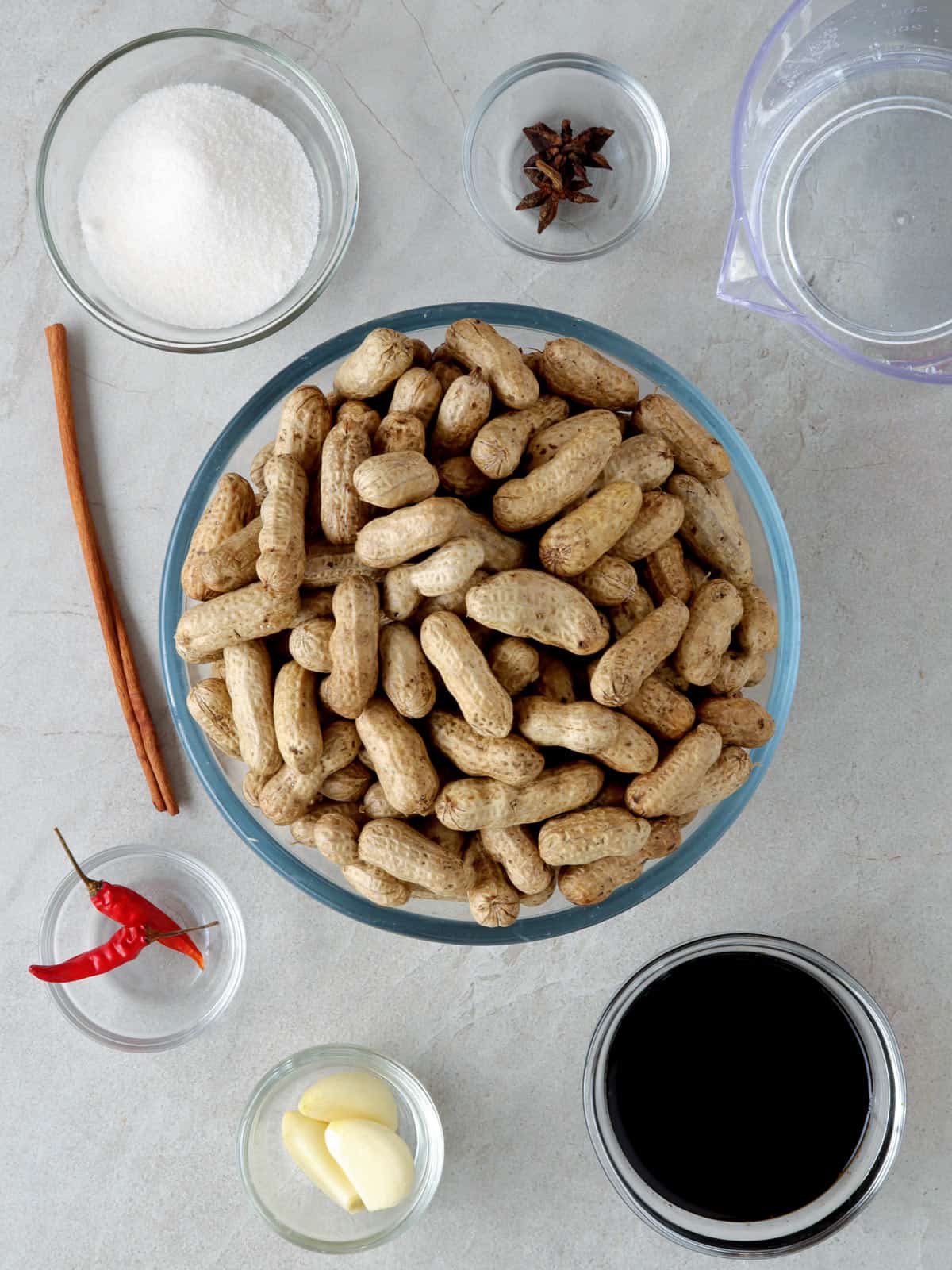 Boiled peanuts are also a common street food in the Filipino food scene.  But while they are cooked in a simple mixture of water and salt, the Chinese Boiled Peanuts have a more complex flavor from adding various spices.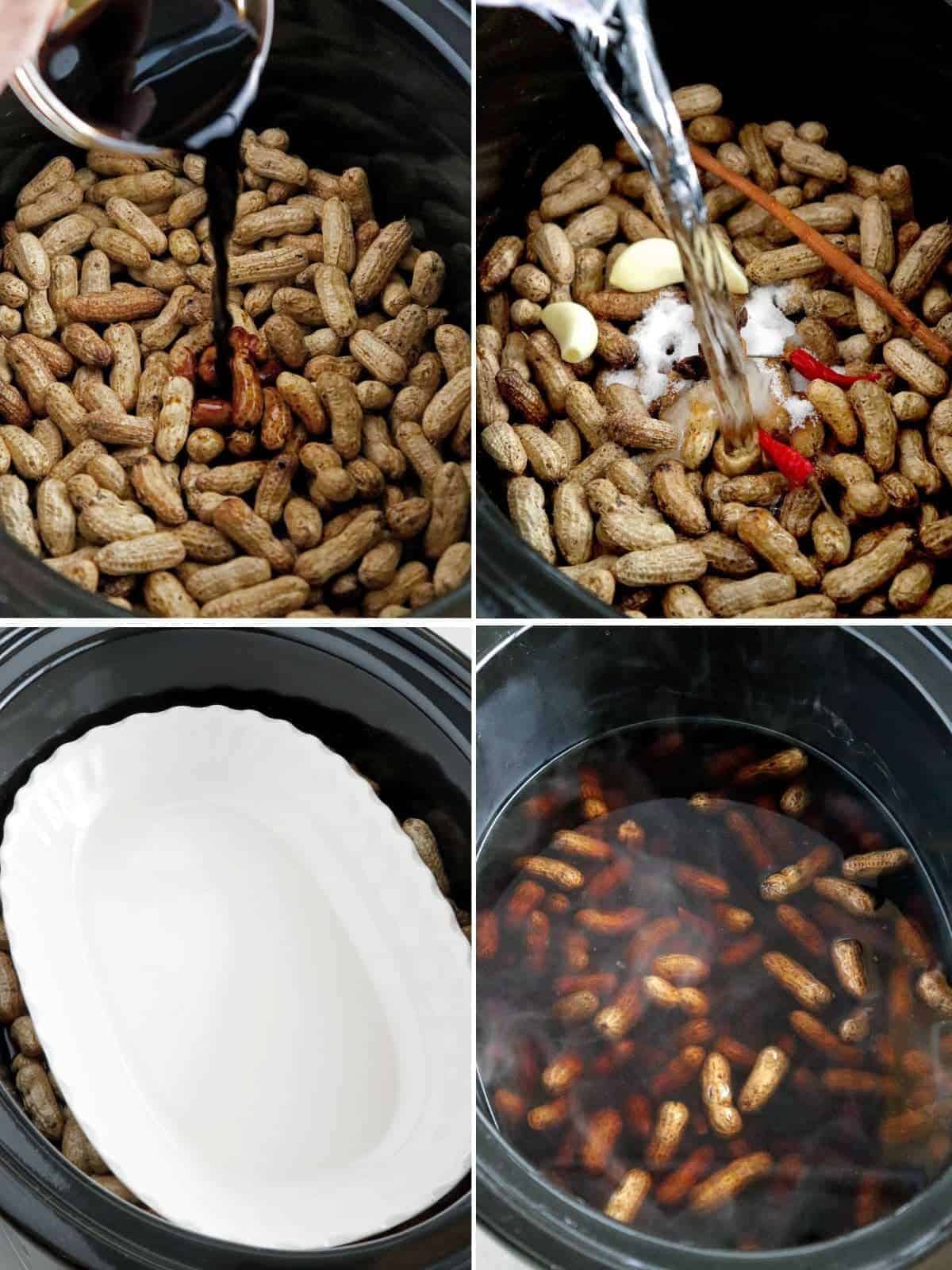 Ingredient notes
Unshelled Peanuts - surprisingly, peanuts do not fall under the nut family. They are considered legumes, green peas, soybeans, and lentils. You can use raw "green peanuts" freshly dug from the soil and still very moist in their shell or raw peanuts that have been air-dried for longer storage and have a much lower moisture content.
Spices – garlic, cinnamon sticks, star anise, and dried chili are used in this recipe. For variety, experiment with spices like Sichuan peppercorns, lemongrass, and bay leaves.
Seasonings – the combination of soy sauce and sugar adds a delicious medley of sweet and savory flavor.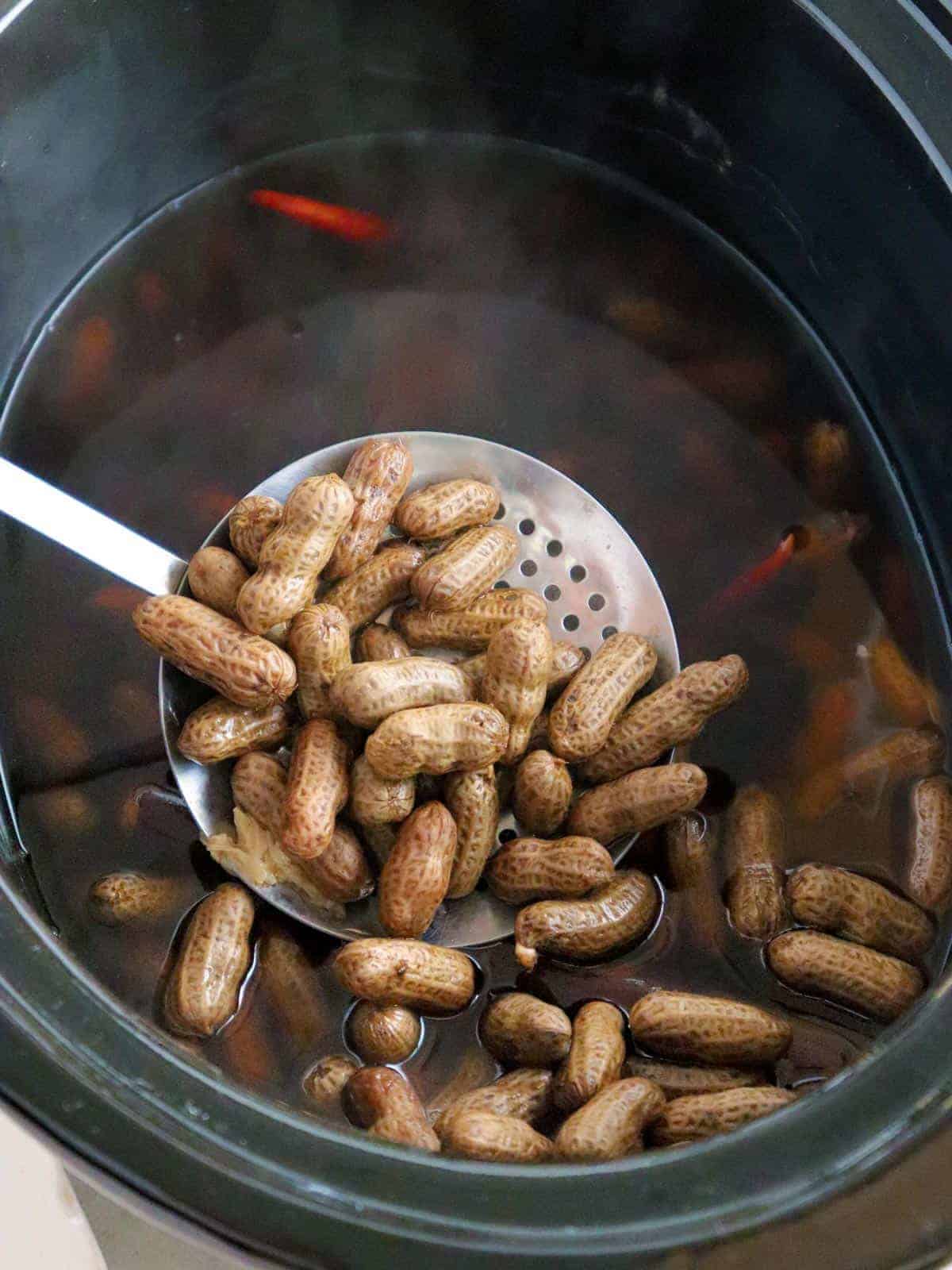 Cooking instructions
Soak the peanuts in cold water to loosen dirt or grit clinging to the shells. Wash thoroughly until the water runs clear. Pick out and discard any stray twigs or roots.
Ensure the raw peanuts are completely submerged in water to ensure even cooking. Place a plate or trivet over the peanuts to weigh them down and keep them from floating.
To help them absorb more flavor, press each peanut at the tip to give it a little crack.
You can cook the peanuts on the stovetop, the slow cooker, or the pressure cooker. Please check the recipe card for the easy steps.
Once cooked, leave the peanuts in the liquid until cooled and well-flavored.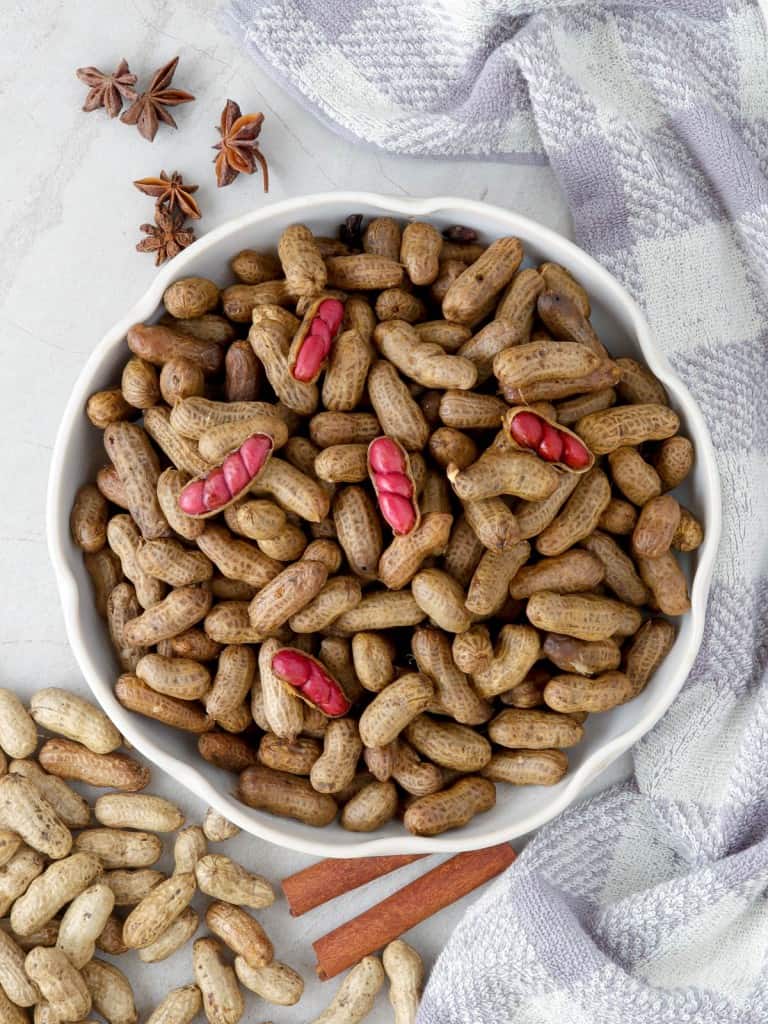 How to serve
Chinese boiled peanuts can be eaten warm or cold. They make a great appetizer or snack and go great with an ice-cold beer or your favorite drink.
Cook's tip
To prevent the peanuts from drying out, keep them in the braising liquid. When you're ready to eat, drain well and enjoy!
How to store
Drain leftover boiled peanuts well and transfer to an airtight container and refrigerate for up to 7 days or freeze for about 3 months.
Want a tasty snack? These Chinese boiled peanuts are unshelled peanuts cooked in soy sauce, garlic, cinnamon, star anise, and dried chilis! They make a nutritious and delicious snack or appetizer.
4 servings
Ingredients
1 pound raw peanuts
¼ cup soy sauce
3 tbsp. sugar
1 cinnamon stick
3 cloves garlic, peeled
2 star anise
2 Japanese dried chili
water
Instructions
In a deep pan, soak peanuts for about 30 minutes to rid of dirt and grit. Rinse well until water runs clear and drain well.

In a slow cooker, combine peanuts, soy sauce, sugar, salt, cinnamon stick, garlic, star anise, and dried chili peppers.

Add enough water to cover peanuts and place a plate on top to keep them submerged during cooking.

Cook on high for about 6 to 8 hours or until desired tenderness.

Allow cooked peanuts to cool slightly in the braising liquid.

Using a slotted spoon, remove from the pot and discard spices. Serve warm or cold.
Notes
To cook on the stovetop, combine all ingredients in a large pot and cover with water. Over medium heat, bring to a boil. Lower heat and simmer, adding more water as needed, for about 3 to 4 hours or until desired tenderness. Stir every 10 to 15 minutes to allow peanuts to cook evenly.
To cook in a pressure cooker, combine all ingredients in the pressure cooker. and add enough water to cover. Lock on the lid and close the pressure valve. Cook on HIGH for about 60 minutes. When the pressure cooker beeps, release pressure naturally and let the cooked peanuts sit for about 30 minutes.
"This website provides approximate nutrition information for convenience and as a courtesy only. Nutrition data is gathered primarily from the USDA Food Composition Database, whenever available, or otherwise other online calculators."