Eggplant with spicy garlic sauce is a quick stir-fry, perfect with steamed rice and grilled fish or meat. Vegetarian-friendly and ready in just 30 minutes!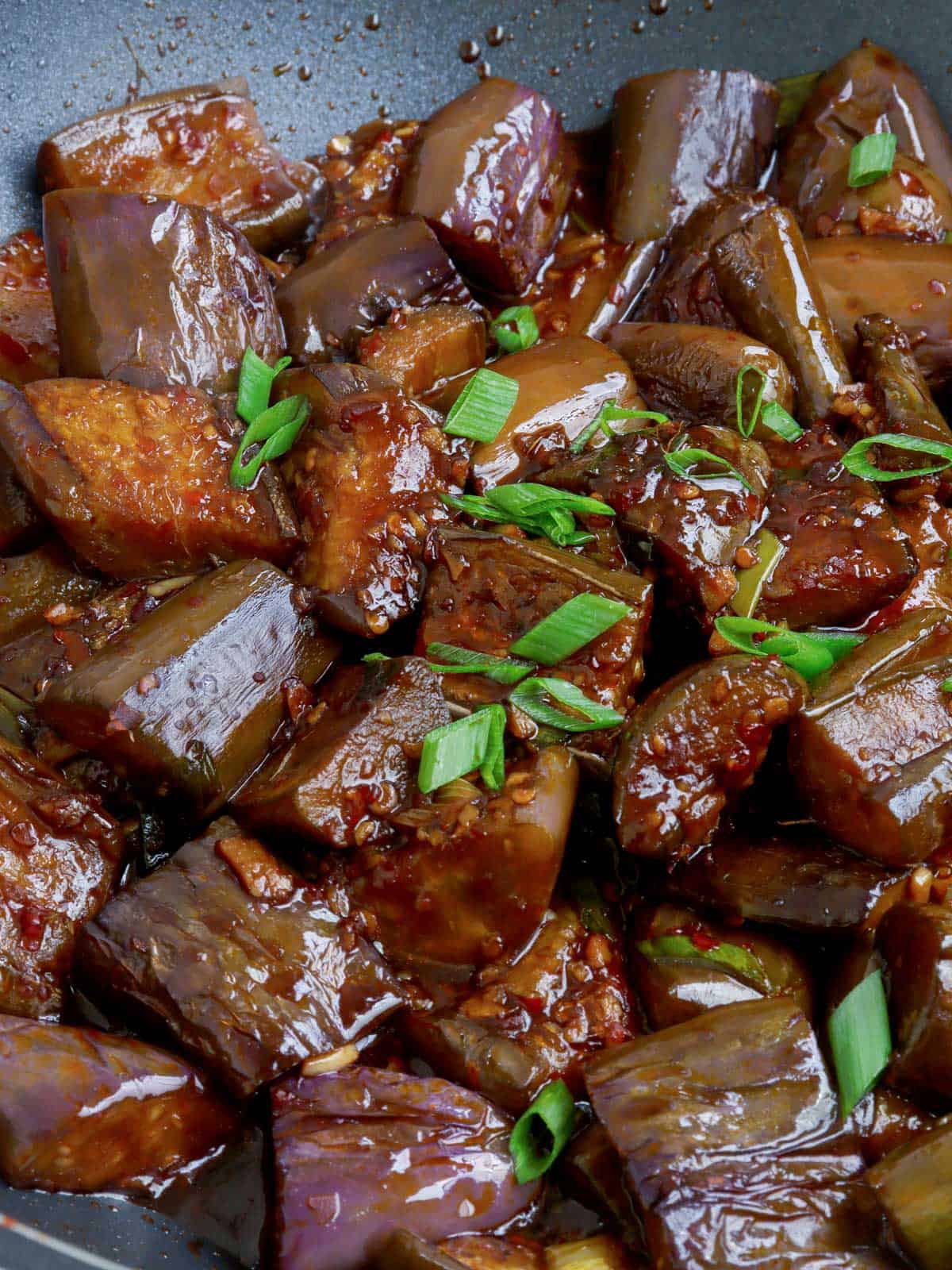 Eggplant is a staple in my kitchen. It's relatively expensive, nutritious, and lends well to various preparations, such as roasting, stewing, pan-frying, and steaming.
I love a good eggplant omelet for breakfast or binagoongan talong over piping hot steamed rice for lunch, but a simple stir fry with spicy garlic sauce is my favorite way to cook this berry. And yes, it is, botanically speaking, a fruit.
This recipe is quick and easy but packs big, bold flavors. With just a handful of ingredients and in less than 30 minutes, you'll have a fantastic side dish perfect to pair with lots of rice and grilled fish or meat.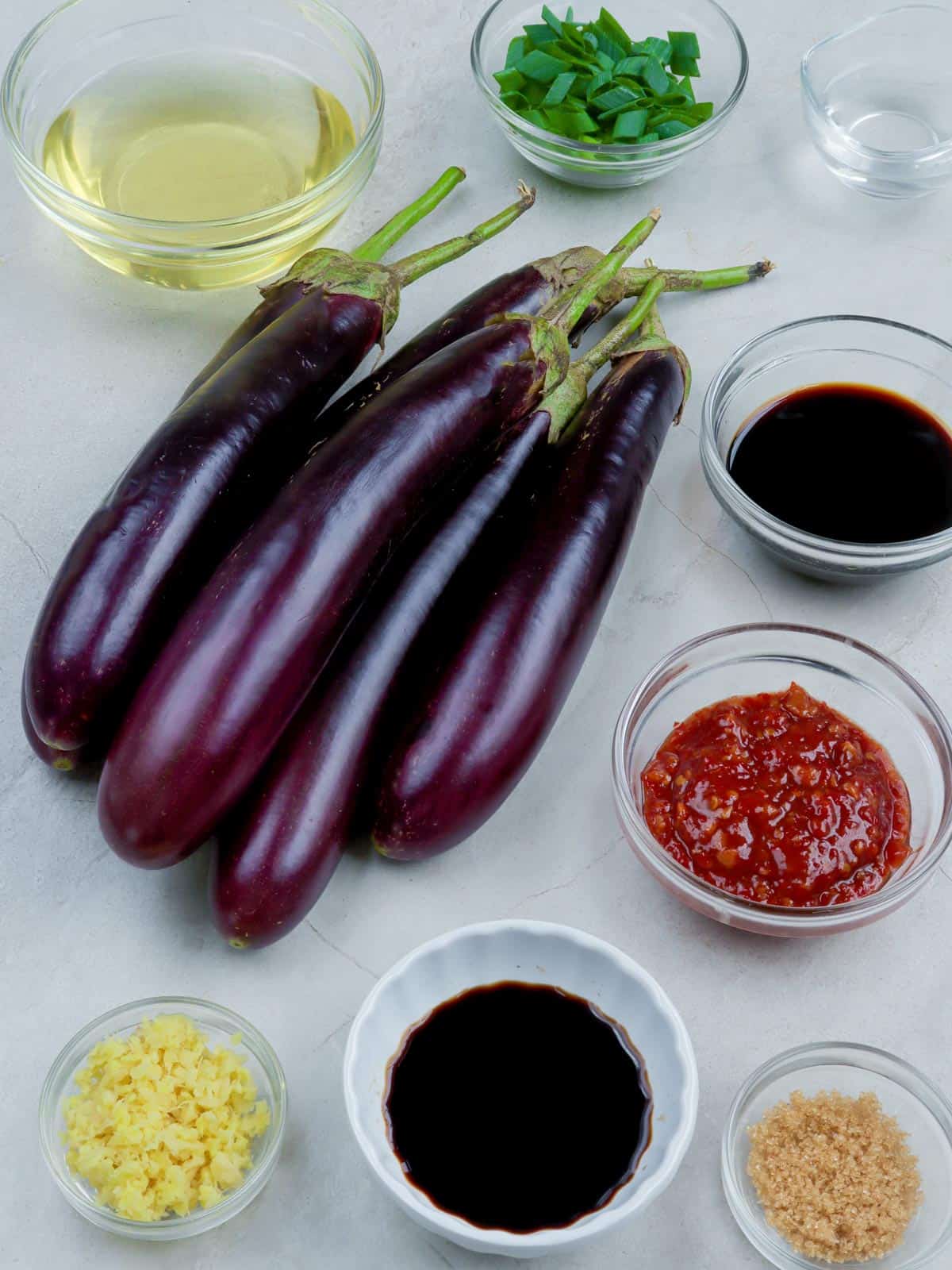 Ingredient substitutions
Eggplant- the long, skinny Asian eggplant variety works best in this recipe. You can use medium-sized Italian or large globe eggplants in a pinch.
Chili garlic sauce- my favorite brands are Hoy Fung or Lee Kum Kee. If you'd like to use fresh garlic and chili peppers in place of the sauce, adjust the amount of vinegar, salt, and sugar to taste
Chinese black vinegar- also called Chinkiang vinegar. You can substitute balsamic vinegar but make sure to taste test as some balsamic vinegar can be very sweet and syrupy.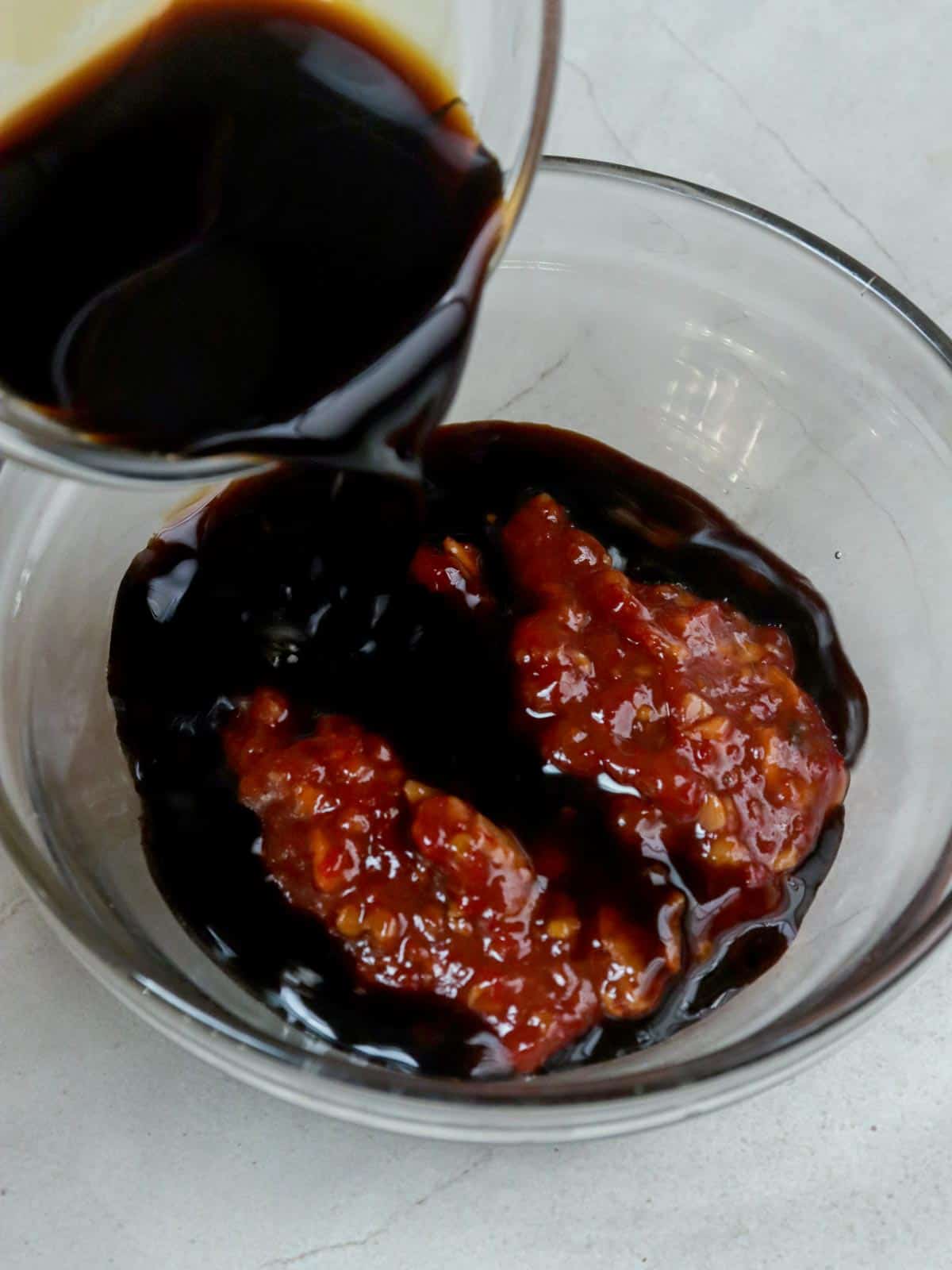 Fish fragrant sauce
The sauce was inspired by yuxiang or fish fragrant, a popular seasoning mixture in Sichuanese cuisine. This Chinese sauce is traditionally made with pickled chili peppers, garlic, ginger, scallions, soy sauce, vinegar, and sugar, resulting in a complex medley of sweet, sour, and spicy flavors.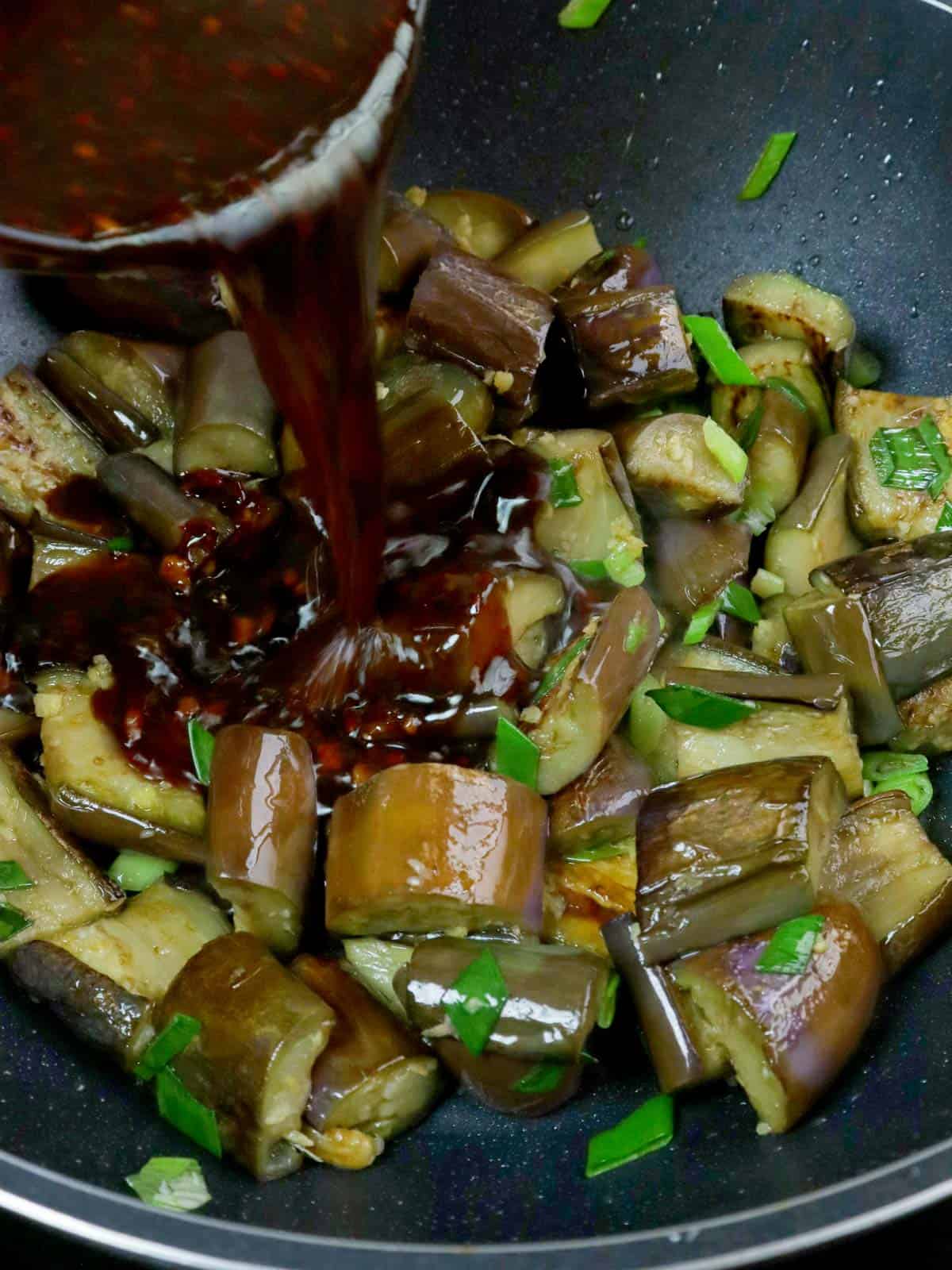 Preparing eggplant
Peel or not to peel- the skin is totally edible and contains some important nutrients. It also provides structure, keeping the flesh together.
Prevent enzymatic browning- freshly cut eggplant quickly turns black due to oxidation. To prevent discoloration, immediately plunge eggplant after cutting in a bowl of cold water with a few drops of lemon juice.
To salt or not to salt- old cooking practices call for salting the eggplant before cooking to draw out excess moisture and help mask the bitterness. It can't hurt, but it's not really necessary. Advancements in farming have long bred out the unpleasant flavor, and current varieties of eggplant have a sweeter, more palatable taste.
Frying- eggplants are like sponges and absorb a lot of oil during frying. For less fat, roast the eggplant in the oven instead. Toss with about 1 tablespoon of olive or canola oil, arrange in a single layer on a baking sheet, and bake in a preheated 450 F oven for about 20 to 25 minutes or until soft and caramelized but not falling apart.
Quick tip
Add crispy fried tofu cubes for a hearty vegan protein option!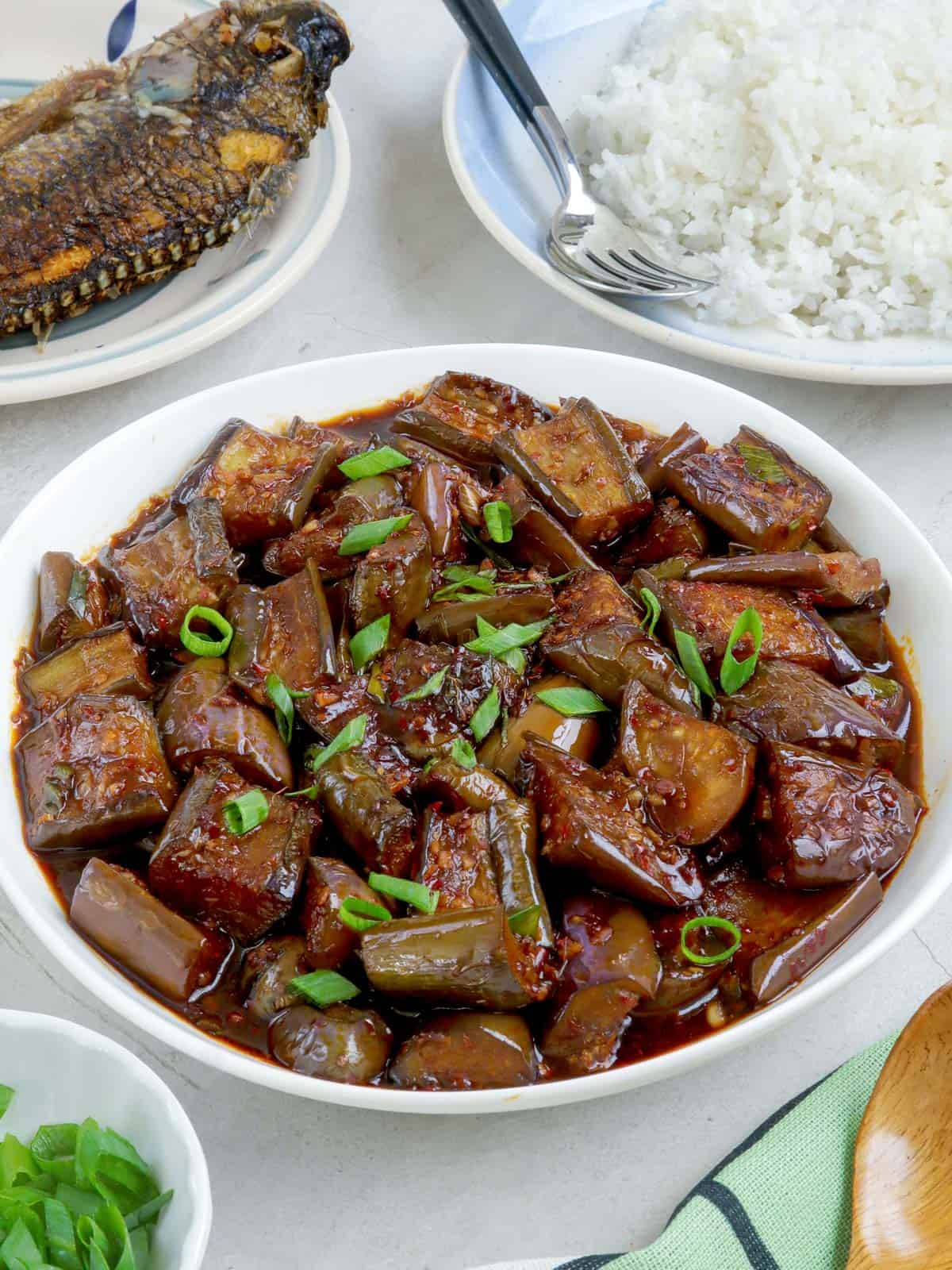 How to serve and store
Serve with steamed rice as a main or side dish for lunch or dinner.
Store leftovers in a container with a tight-fitting lid and refrigerate for up to 3 days.
Reheat in a wide pan at medium heat or microwave at 1 to 2-minute intervals to 165 F.
This simple Eggplant with spicy garlic sauce stir fry is ready in minutes. Packed with bold flavor, serve with rice alongside chicken or fish for a delicious meal.
4 servings
Ingredients
canola oil
4 medium Asian eggplants, stems removed and cut into 1-inch pieces
3 tablespoons chili garlic sauce
3 tablespoons soy sauce
2 tablespoons balsamic vinegar
2 tablespoons water
1 teaspoon brown sugar
1 thumb-size ginger, peeled and minced
2 green onions, chopped
Instructions
In a wide pan over medium heat, heat about 2 tablespoons of oil.

Add eggplant and cook, turning as needed, until lightly browned. With a slotted spoon, remove from the pan and drain on paper towels.

In a bowl, combine chili garlic sauce, soy sauce, balsamic vinegar, water, and brown sugar. Whisk together until blended.

In the pan over medium heat, add and heat another 1 tablespoon of oil as needed.

Add ginger and cook, stirring regularly, until fragrant.

Add eggplants and green onions and cook for about 30 seconds, stirring regularly.

Add chili garlic sauce mixture and bring to a boil. Continue to cook for about 2 to 3 minutes or until the sauce is reduced.

Season with salt to taste. Serve hot.
Notes
To prevent discoloration, immediately plunge eggplant after cutting in a bowl of cold water with a few drops of lemon juice.
Eggplant absorbs plenty of oil; you may need to add more oil, a tablespoon at a time, during the brief pan-frying. 
"This website provides approximate nutrition information for convenience and as a courtesy only. Nutrition data is gathered primarily from the USDA Food Composition Database, whenever available, or otherwise other online calculators."